Best Home Office Ideas for Women: 15 Feminine Decor Ideas
This post may contain affiliate links that won't change your price but will share some commission.
If we are crushing on a color today it would be pink and sparkle – yes sparkle is a color! Didn't you know?
We are rounding up the trendiest Best Home Office Ideas for Women. This list will include great feminine inspired products to dress up your home office as well as some DIYs that can help you make your space your own. Creating an inspired space is important if you are a work at home go-getter. Personally more then anything I absolutely love bold colors and textures. Ahem, so I might throw some in today.
Each item below is linked to it's creator and we greatly appreciate all you fabulous makers and entrepreneurs who design such amazing products and projects for us to enjoy! Here on my blog you know how much I love to connect with creative business owners and if you have a dreamy studio space be sure to share it with me here!
It all starts with the walls. The walls are the canvas that sets the tone for the rest of the room. I love that there are so many wallpaper options out there like this peel and stick wallpaper, which is great if you need to remove it easily!
This massive paper roll holder ideas is amazing for several reasons, first it adds a unique and minimalist touch to any room. Second, its a great way to collectively takes note. I don't know about you but I'm always scribbling on note pads and loosing track of ideas. And lastly, it can serve as a easy way to add decor to a wall that is blank and needs some love.
The desk is one of the most important parts of an office aside from the walls. There are many different style you may want to consider depending on your niche, such as craft desks, executive desks, writing desks etc.
If you are not the wall paper type then wall art may be a better approach. There are tons of motivational wall art printables out there. I love the one above personally and think it would be even more gorgeous in 3 fun colors!
Now we can't leave out an awesome mouse pad! Everyone is going to have a different decor style and a mouse pad is a simple way to capture that.
Every she boss needs her coffee to keep her going! Make sure to have a fabulous cup to sip from.
Pink Vintage Typewriter Makeover DIY
This DIY will be the retro touch you may be looking for in a classy space. Why not re-purpose an old typewriter with some new color?
Oh course every office needs a throne. This hot pink chair may be right up your ally or choose it in another color that fits you!
If you need a little break mid day you may love the idea of a DIY day bed couch in your office. Even just having a more cozy spot to work on a rainy day can make the day bed a perfect office addition.
This donut pouf will be the cuteness touch in your office space! Find a friend who crochets or if you have the skill make it yourself with the pattern.
Unicorn fans will be all over this fun piece. Oh course it helps that it is in pink as well.
Hanging Flower Heart DIY by A Beautiful Mess
Here is another DIY that you can really make your own. Pick your favorite colors style to this large heart wall statement piece.
DIY wood painted vases by Tell, Love and Party
Every office needs a little greenery. If you aren't blessed with a green thumb you can always rely on air plants and succulents to be your best friends. Why not make some colored vases to fit your style and theme?!
Whether you use your own initials or your business' initials this DIY is a great way to personalize an office space.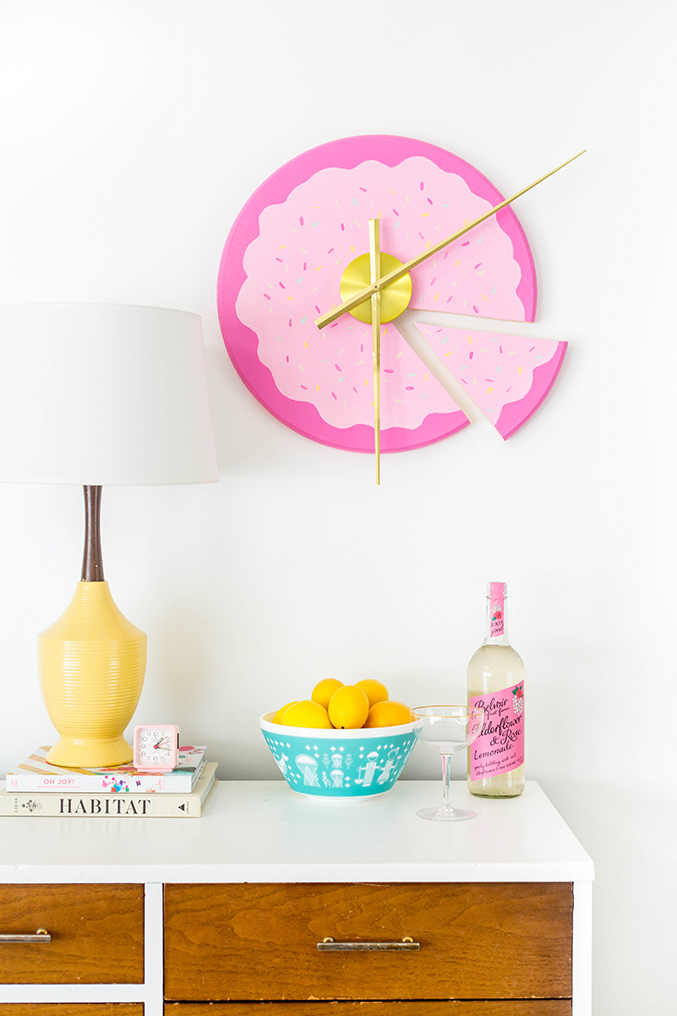 Pink Cake Clock by Dream Green DIY
This one is probably one of my most favorite pieces in this post. A cake clock. I don't think is gets any more fun and cute than that.
Whether you are in the process of redecorating or starting with a fresh space you now some of the quirkiest, cutest and best office ideas. To find more of the best office decor ideas search on Pinterest!
Which of these ideas is your favorite? Tell me below!