DIY Home Renovation: Our Home Renovation Journey
This post may contain affiliate links that won't change your price but will share some commission.
Home Renovation Ideas – Our Journey Home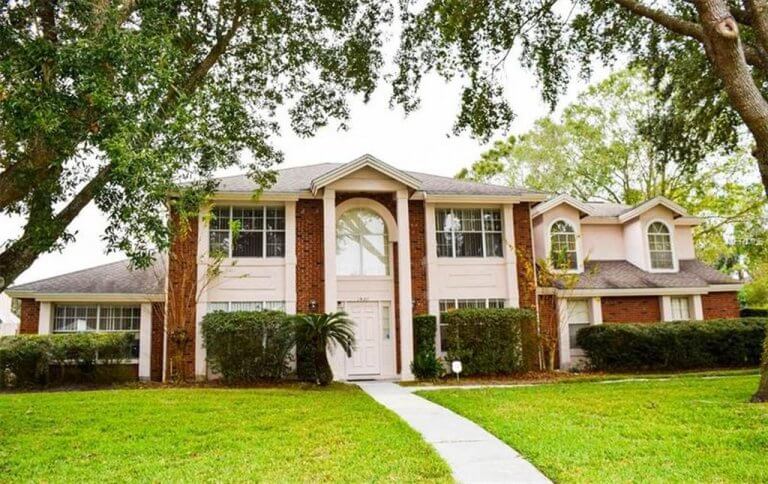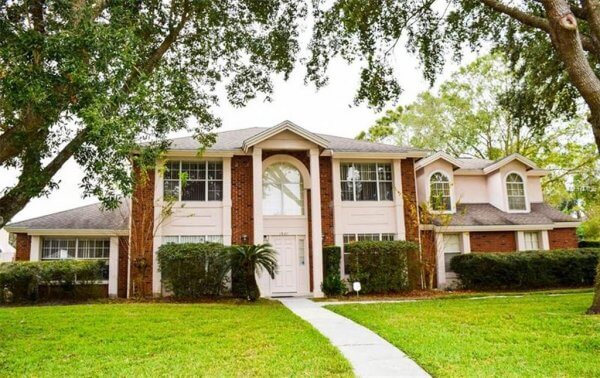 Our Personal Journey Home
The year 2018 has been the most exciting, emotional, frustrating, overwhelming, change filled and ultimately blessed year. Why? 2018 was the year we bought a house and all our home renovation ideas came to life.
To give you a little back story, my husband and I have been wanting to buy a home for over 5 years and have constantly had one unexpected problem after another move us away from that goal.
We didn't understand why certain things were happening to us. Between financial troubles, multiple job losses that made no sense and my ongoing crippling health struggles, we often thought about giving up on the dream of home ownership entirely.
But God had a different plan.
I've come to learn one very important lesson that will answer every question you ever ask God when you don't understand. God's answer is never no. Instead, he always responds with 1 of 3 answers – yes, wait, or I have something better in store for you. And WOW, did he ever. But yet, he also picked something for us that requires us to continue to walk the path by faith and not sight.
When my husband's calling came to be a teacher, we knew one thing for sure – I was now the primary breadwinner, which was and sometimes is still scary. Like I said, every day we have to wake up and believe that we will be provided for because let me be honestly this home remodel was decision made with wisdom but was not cheap. So on that note, let me proudly share my new home!
My hope for the rest of this article is that you will gather inspiration for your own homes and hopefully it will give you an idea of how to accomplish it!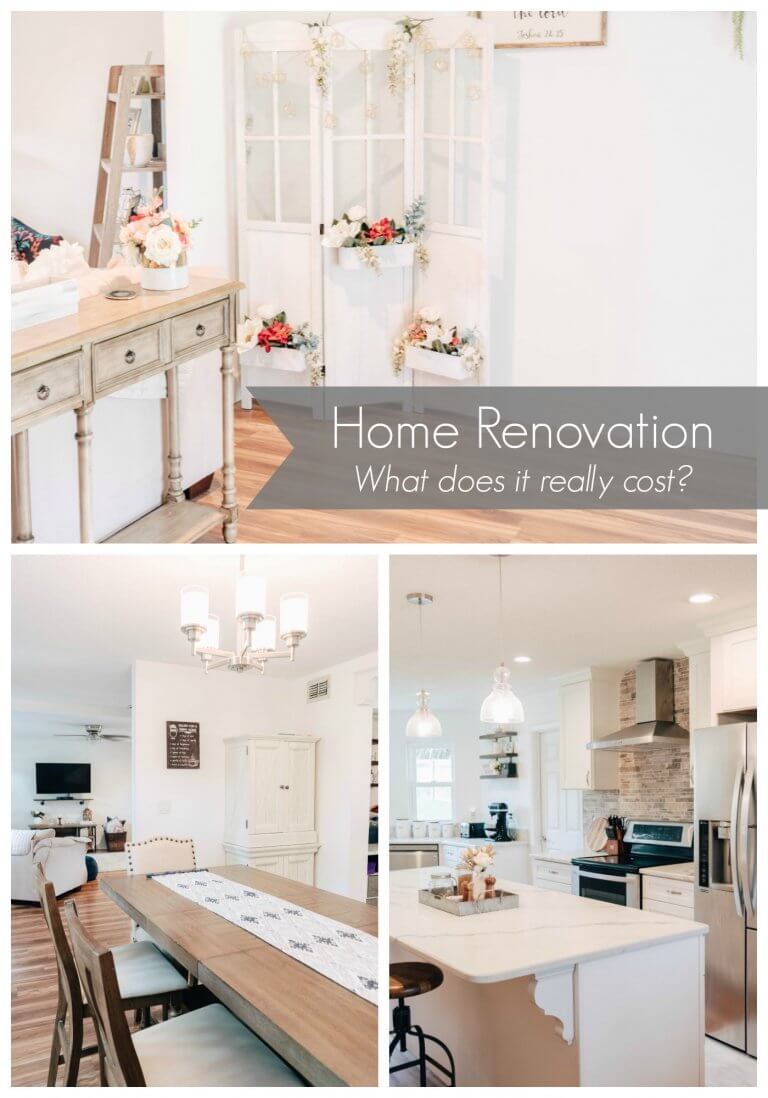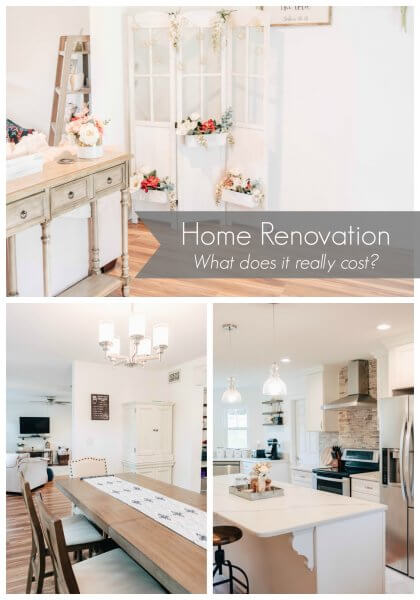 Renovation Project List
Here is a breakdown of all the projects we had done listed out by the work we did verse what contractors had to do to follow code etc.
Our Project DIY List
New ceiling fans
Update electrical outlets
Remove drop down kitchen ceiling
New light fixtures
Demo kitchen
Demo 1 bedroom to convert to loft
Knock down ceiling (bye bye popcorn)
New paint (yes, everywhere my arms still hurt)
Kitchen/dining wall removed
Brand new appliances
New floors (Laminate and carpet in the bedrooms)
New base boards
Stone backsplash
Contractors Project List
Move master door down
Treads and risers for stairs
Rework kitchen plumbing
Install loft floors and drywall
New drywall
New headers and footers
Kitchen cabiniets
Quartz counter tops
The Cost
Yes, I know most of you are thinking, "dang, what did this cost?" You know by now I like to be transparent because I believe it can help someone else – maybe you plan your own home renovation project?!
Keep in mind this house had been untouched since it was built in 1990. All the floors, kitchen, appliances, paint, EVERYTHING was like a time capsule. This house need A LOT of TLC since it was nearing 30 years old. Not all houses will need this much work.
The cost for the total remodel including materials and all the work we did personally to save some dough plus contractor work and permits was $50,000. We purchased the house for $295,00 at 3600 square ft, which turned to 3700 once complete! Total investment $345,000 which is the upper median price for central Florida.
Before Renovations
Although we knew that this house was meant to be ours, we knew it was not meant to be ours as is. Major work had to go in. So we grabbed an extra scoop of faith and jumping in with both feet.
The Kitchen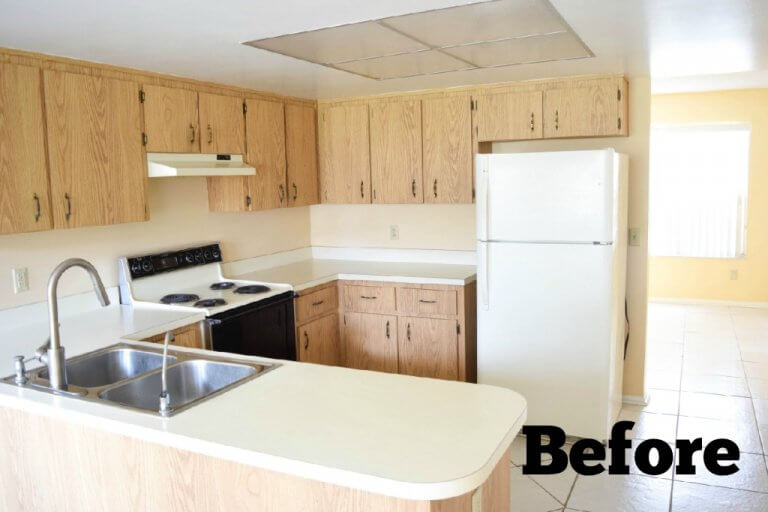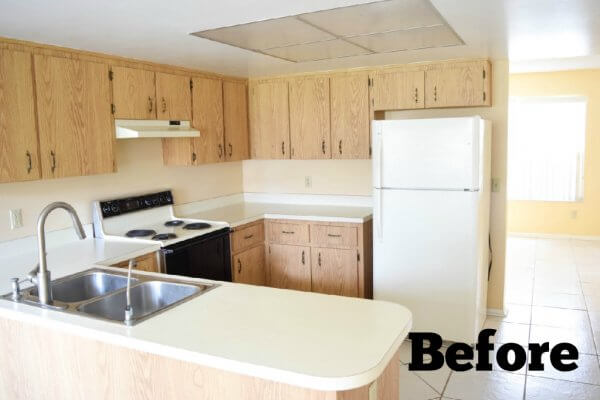 Like most older homes, the kitchen was the biggest focus and priority. We knew from the start the kitchen had to be opened up and fully gutted. My family and I were moving from a 2400 square foot house into a 3600 square ft house and the kitchen was half the size of the smaller house. Go figure right?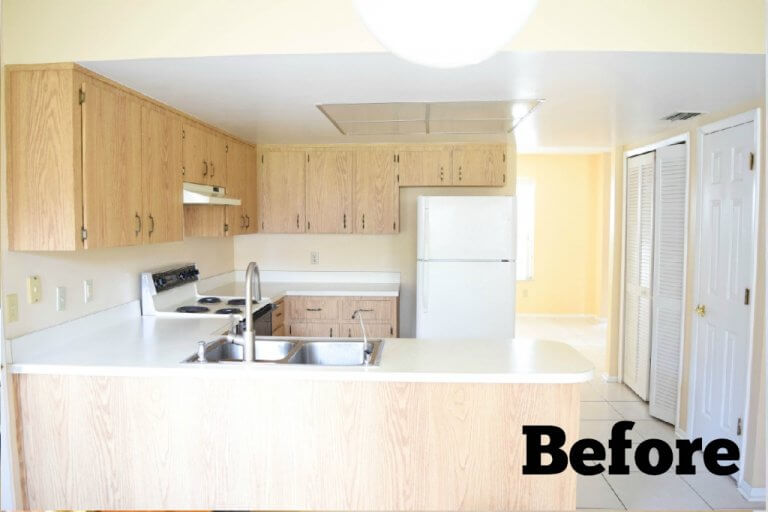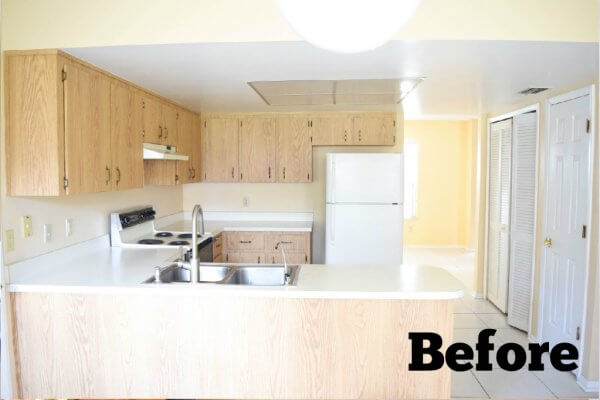 There was a ton of potential here. In addition to a formal dining area there was a window breakfast nook. It just made sense to covert that to part of the kitchen and let the light from those windows flow through the kitchen.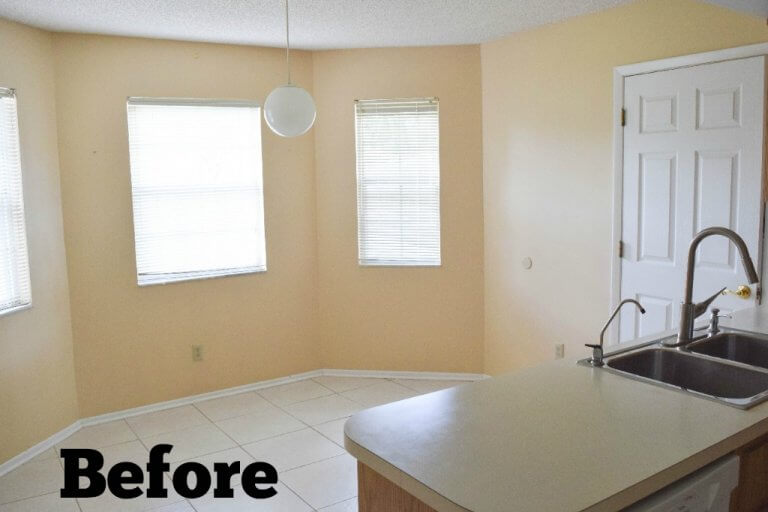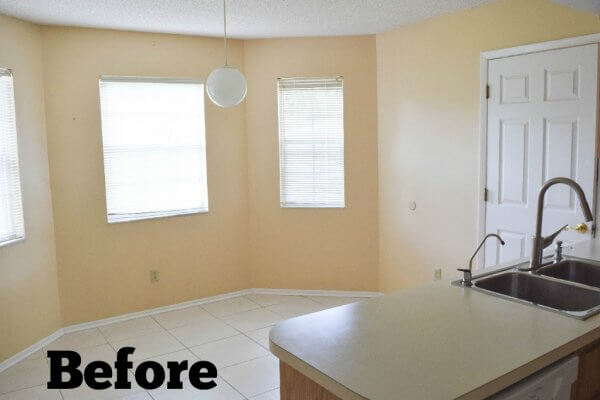 After Kitchen Renovations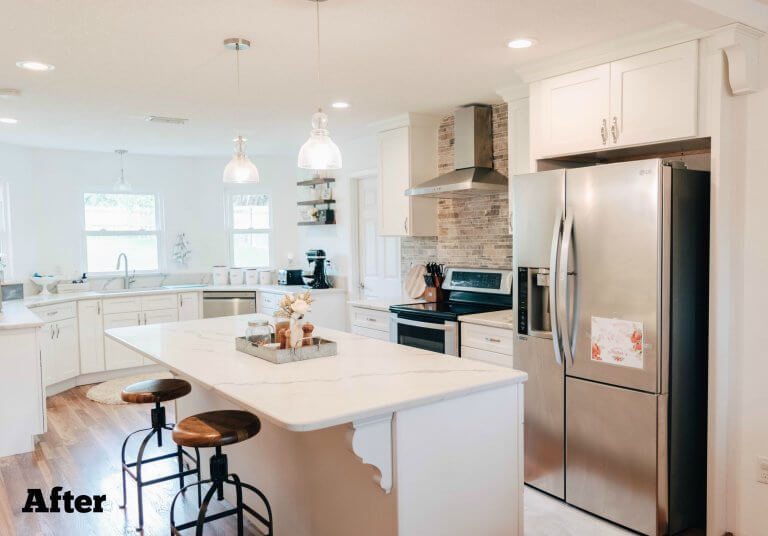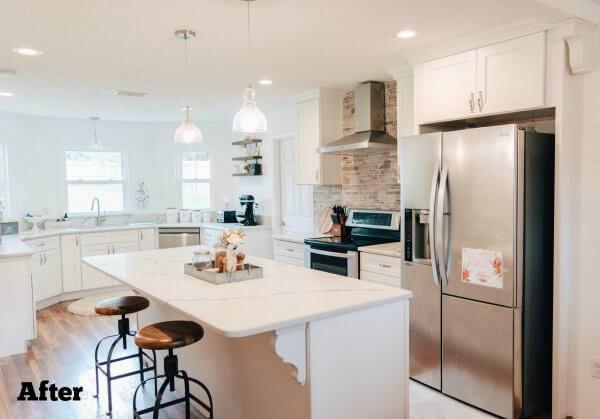 I've always wanted an island in my kitchen and it was worth every penny!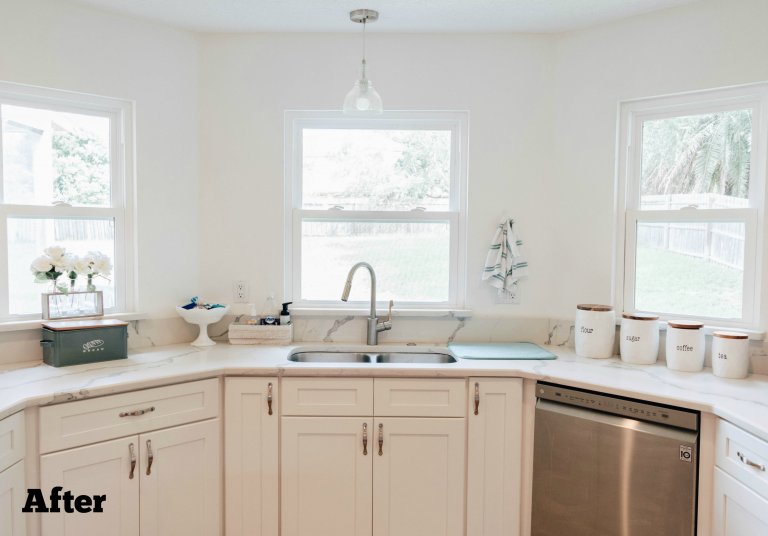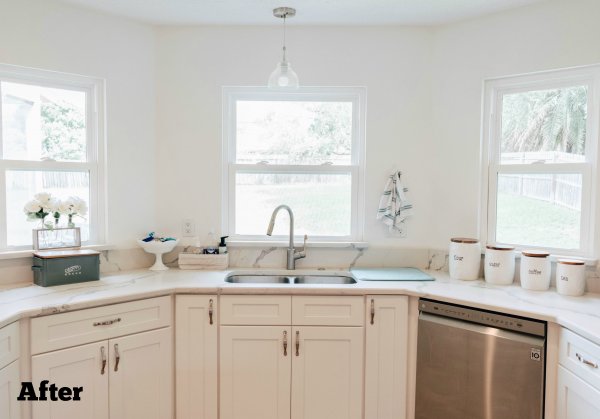 I think the nook looks so much better used this way. I can enjoy watching my kids play outside in the backyard while washing dishes! And did I mention the sunlight? I love natural light.
The Living and Family Rooms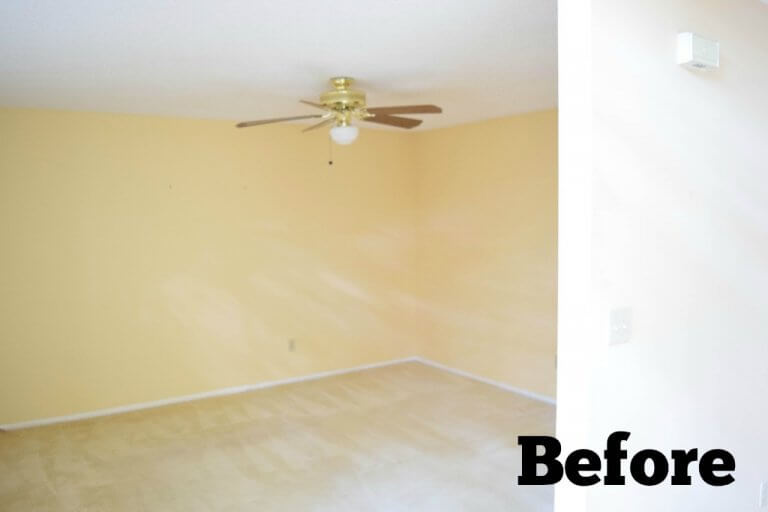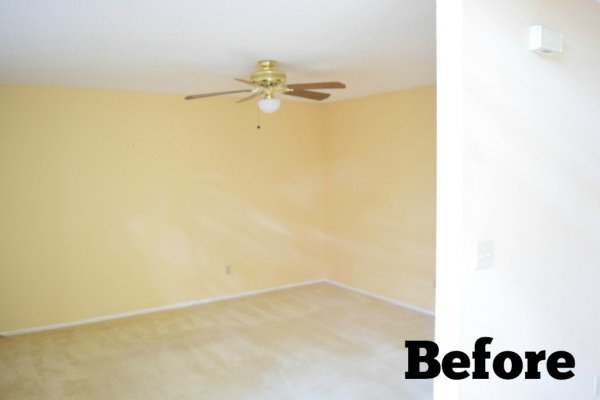 While I can appreciate that some may want the division, it seemed so silly to me that living and family room were literally back to back. The only thing that made them "separate" was a big wall dividing them that you had to walk around. Right away we knew the wall coming down was on our top priority list.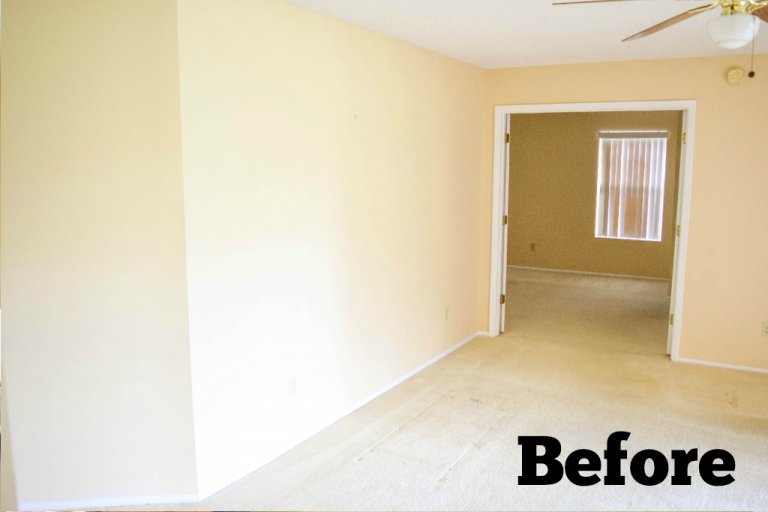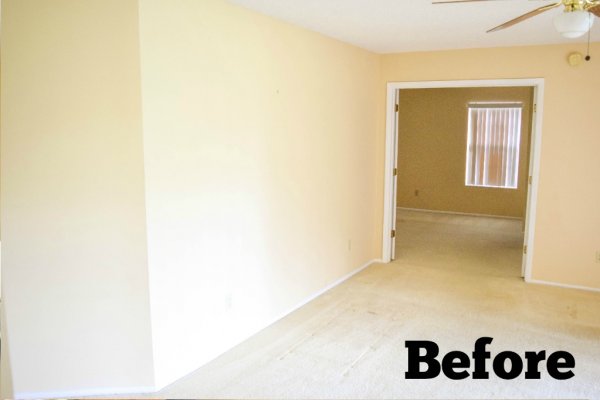 Furthermore, the downstairs master door was also centered in the family room, making it hard to style any furniture. I decided changing the placement of the door would create much more space to work with.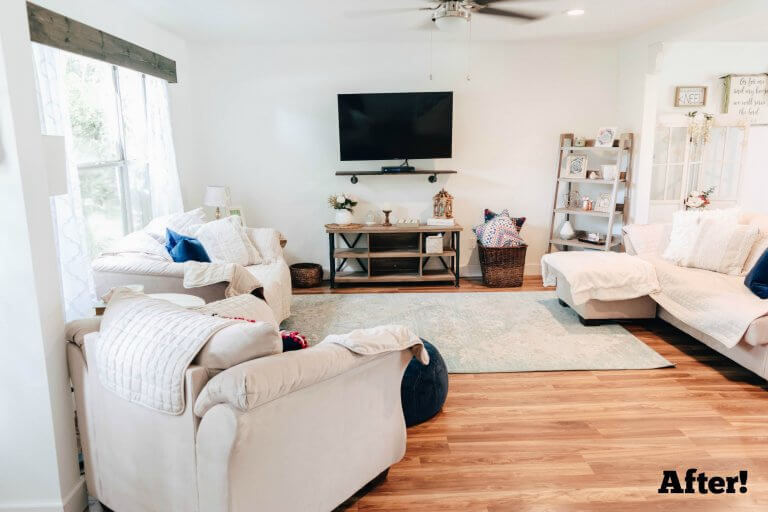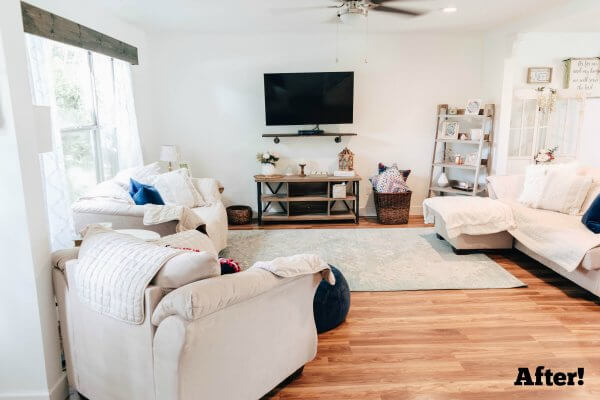 Hello open space! We now have one large great room and its amazing! I even had a corner for the kiddos to play with their toys.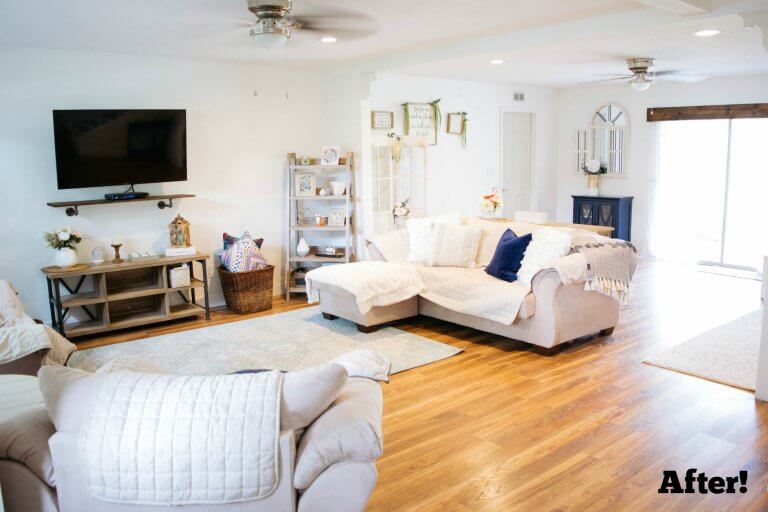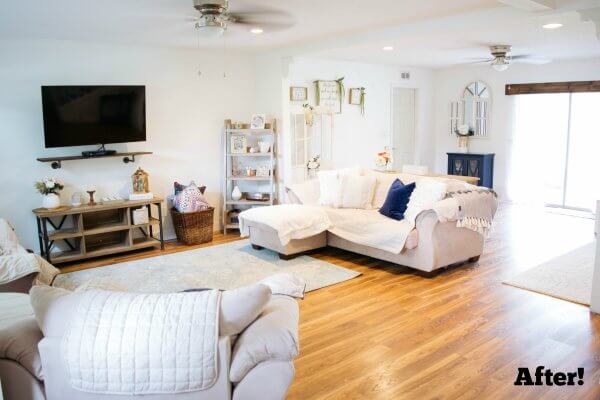 The laminate floors were such a spotlight upgrade compared to carpet. Not to mention when you have kids, carpet is your sworn enemy! Mom friends I know your nodding your heads with me. 🙂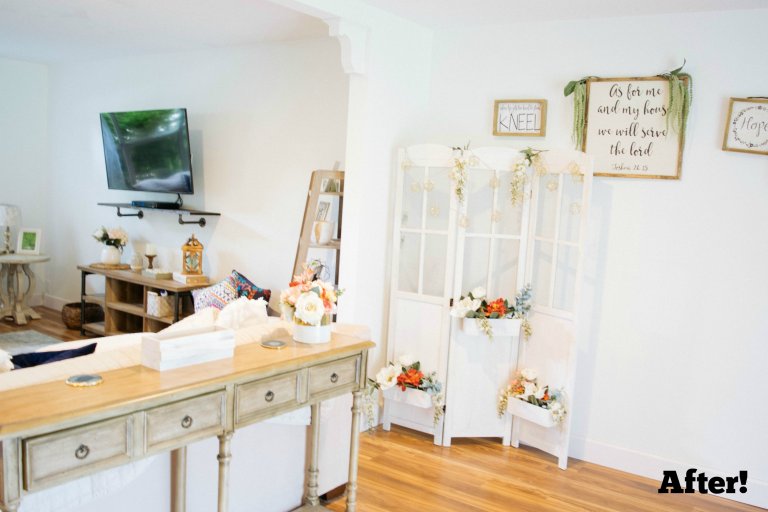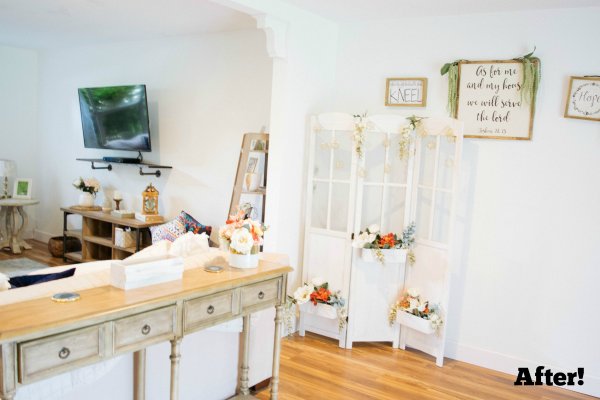 Oh and by the way Wayfair is my new BFF. I will share with you guys in a different post all the pieces I purchased to style this room and you will even be able to shop my home!
The Dining Room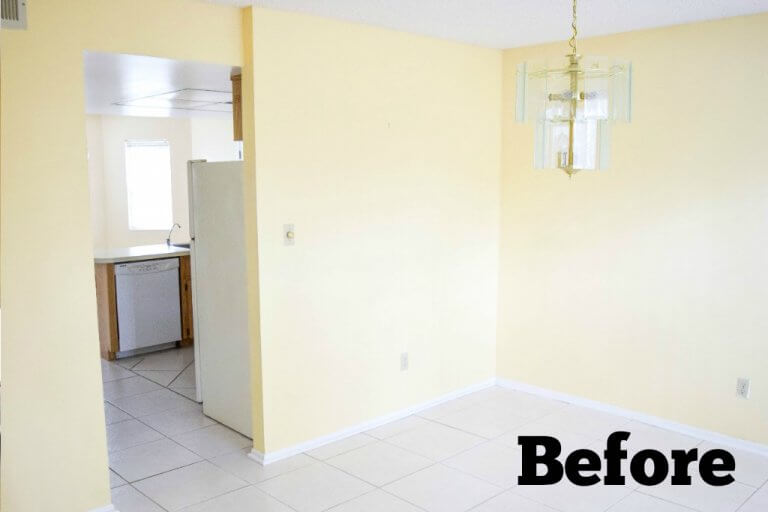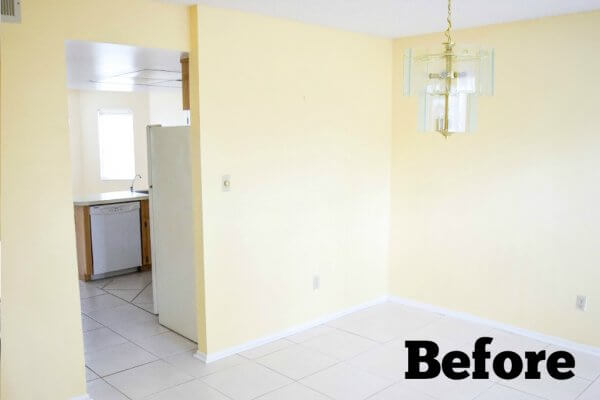 Once again the dining room was closed off from the kitchen with a big wall. Maybe I have been watching too many home renovation ideas from Fixer Upper but you guessed it, down it came. I wanted open space!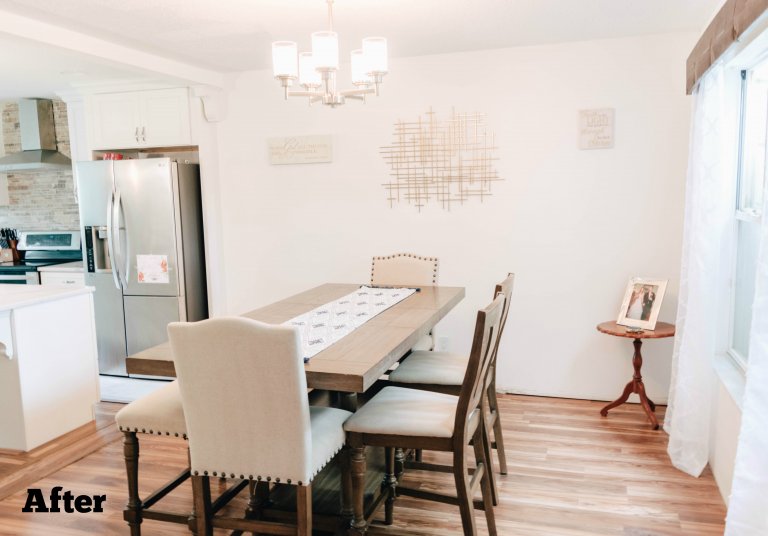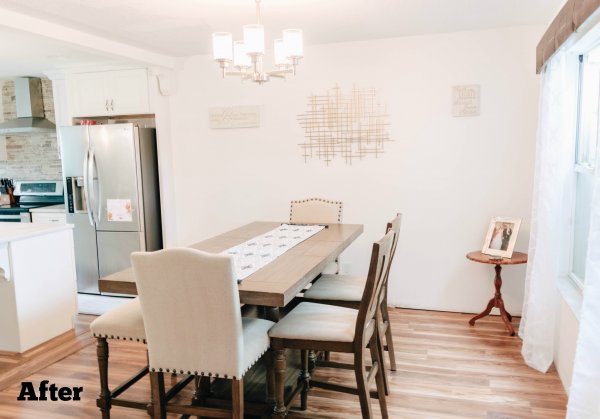 Now we have a kitchen that we managed to double the size of plus it flowed straight into the dining room for a big open entertainment space.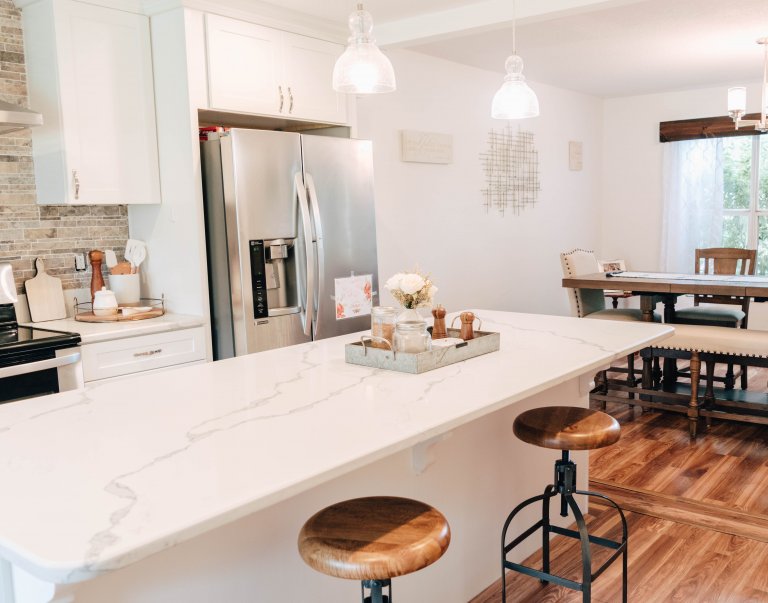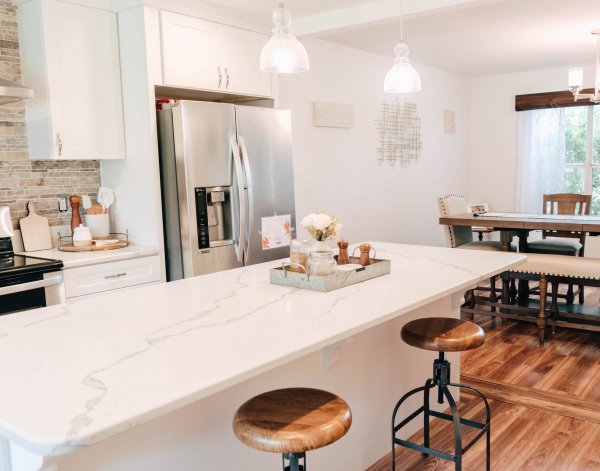 Extra seats at the island make the kitchen ideal for guests and family members!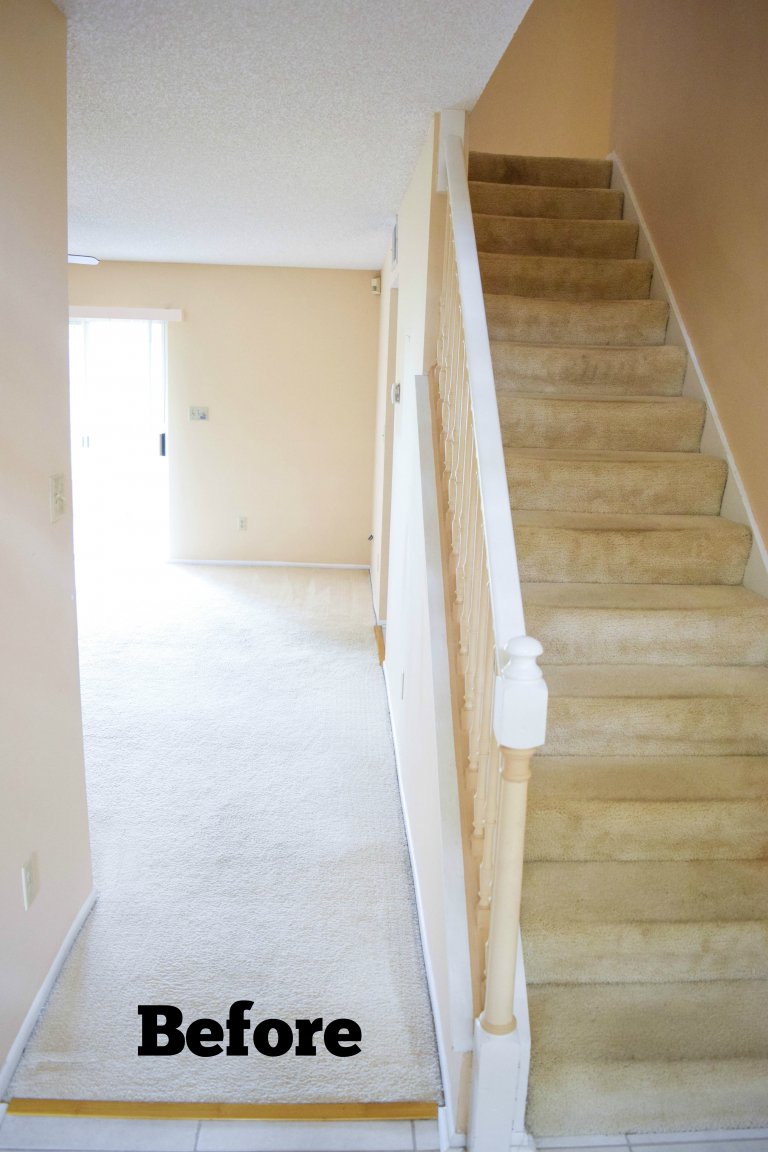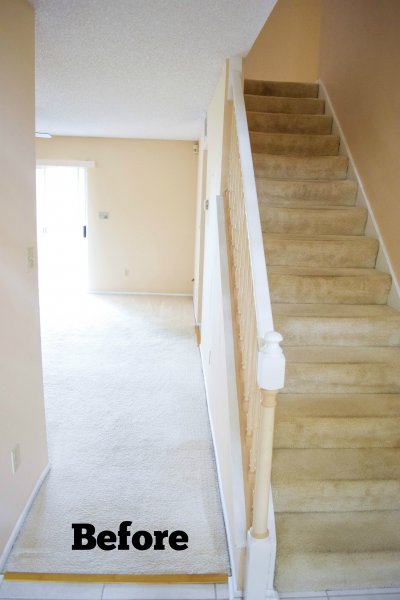 The stairs were very outdated as well and I personally feel carpet on stair is a big faux pas plus it can be easy for the kids to slip on. And boy can you tell that carpet is old!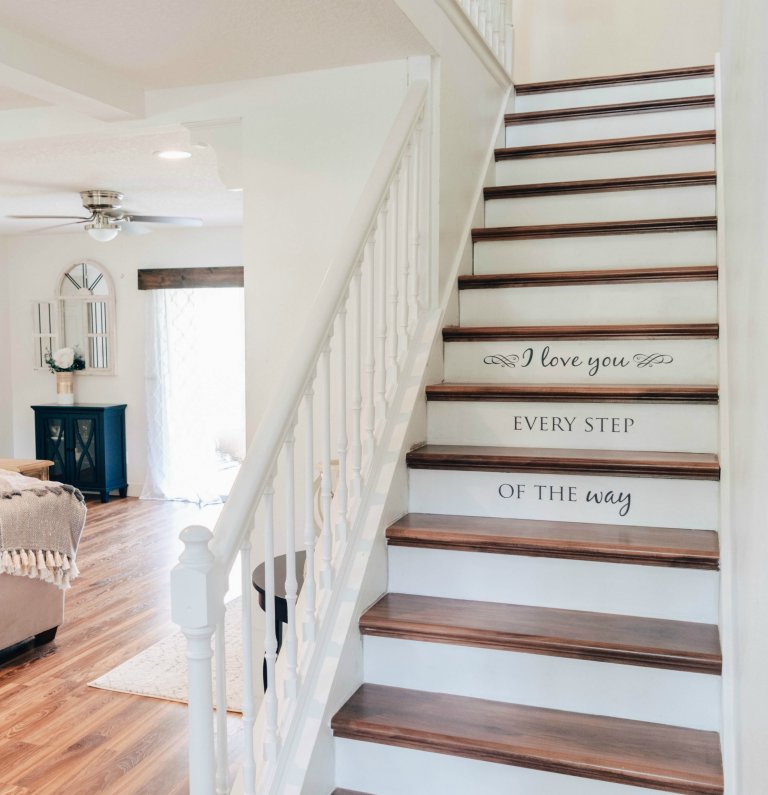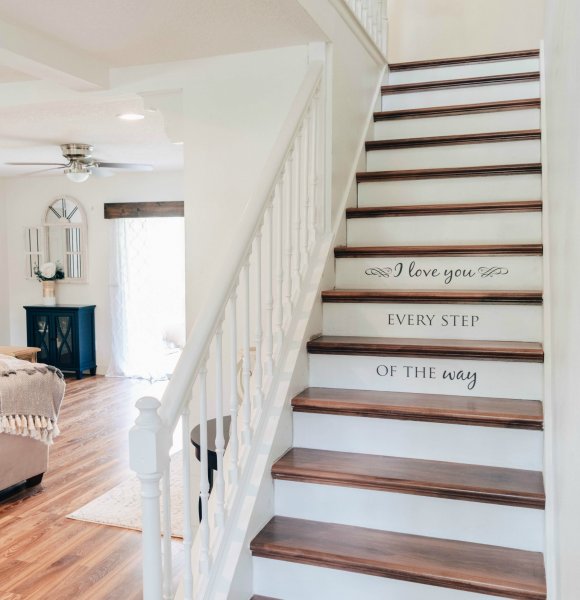 Honestly the stairs were one of my favorite elements to transform because they are such a focal point in this home! They are facing my front door.
Future Remodels
The house has been transformed from a 90's outdated time capsule into a fresh modern home. However there is much work still to come including a total remodel of our "stuck in the 20th century" 3 1/2 baths.
We have endless home renovation ideas for the exterior of the house such as fresh paint, landscaping and an entertainment deck in the back yard are on our list! While our journey is long from over, I am excited to see where it goes and share with you many DIY tutorials to make this a dream home.
If you could change 1 thing about your house what would it be? Tell me your dream home renovation ideas below! Remember a dream home isn't about being extravagant but creating a space you can call home.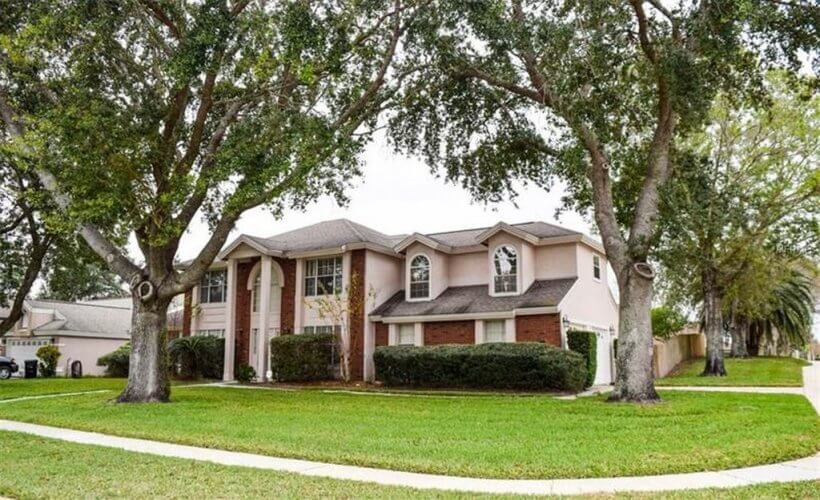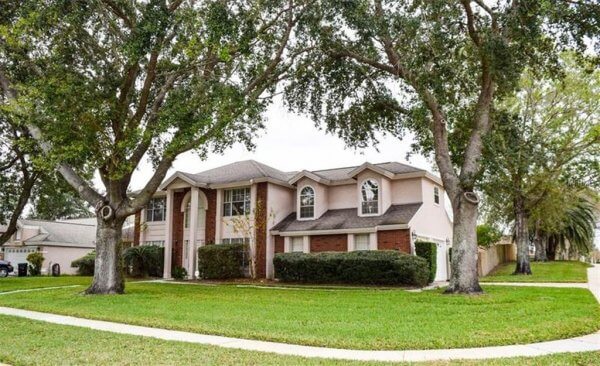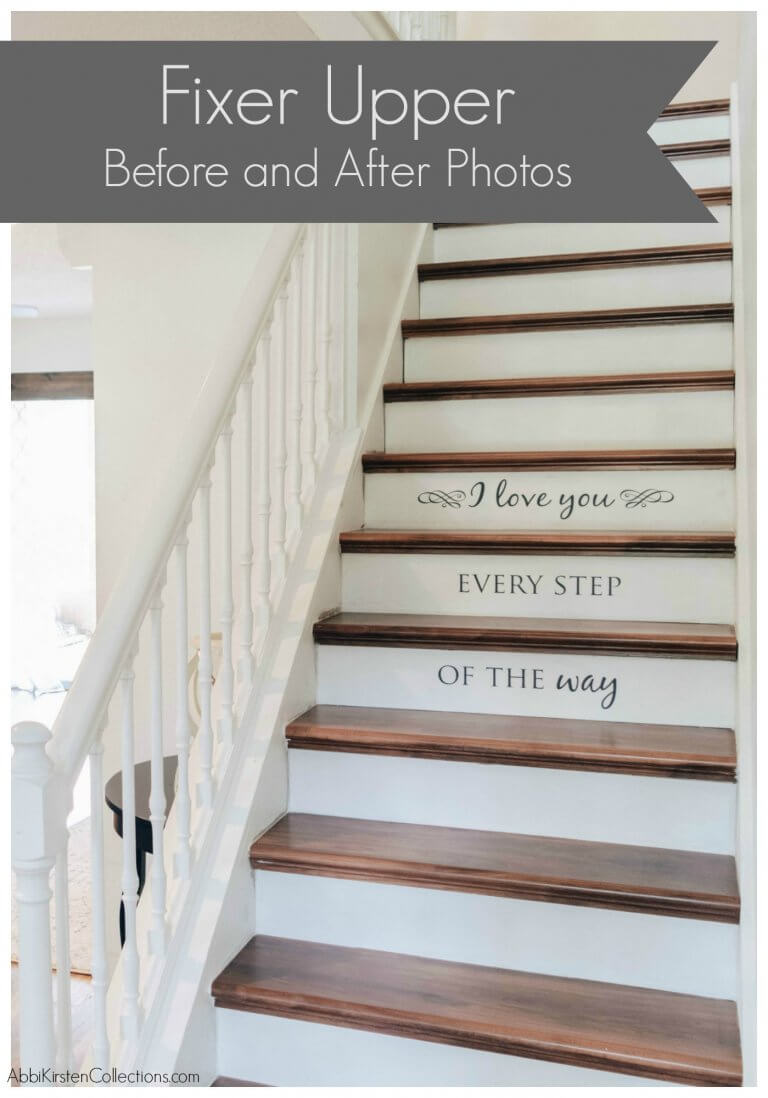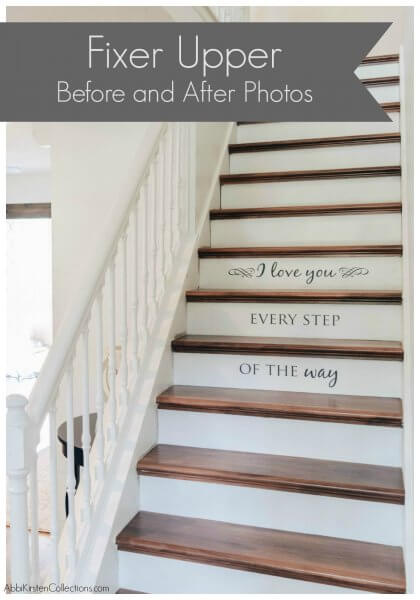 More to Come
Abbi Kirsten Collections started out as a small paper flower blog years ago. Since then Abbi's blog has grown into a full DIY, craft and home decor/ remodel blog. Abbi is opening her newest category, DIY Home Collections to share not just her creative work life but now her personal life projects to inspire you with more easy DIY tutorials!