How to Make Crepe Paper Hibiscus Flowers
This post may contain affiliate links that won't change your price but will share some commission.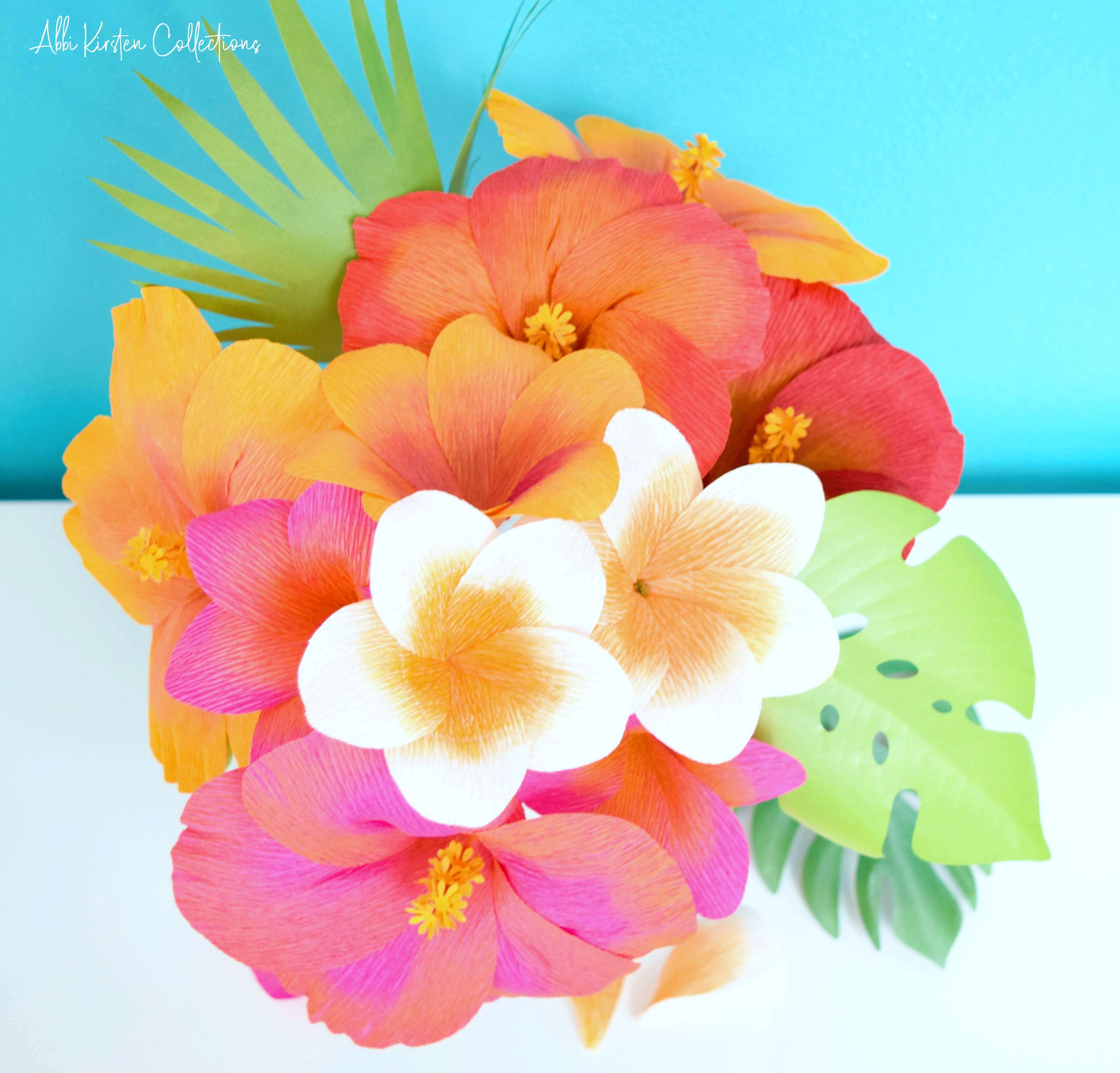 Tropical blooms like this hibiscus flower template in today's tutorial are always my favorite because of the vibrant colors.
If you have looked around at my crafts here on the blog, you know I am a huge lover of color.
I have spent a lot of time conquering cardstock paper flowers over the last few years and sharing with you all along the way, but now I am venturing into crepe paper. Even though both have their unique looks, like my giant paper hibiscus and giant Hawaiian plumeria, I really love the realistic touch of the crepe paper.
DIY Crepe Paper Hibiscus Flower Template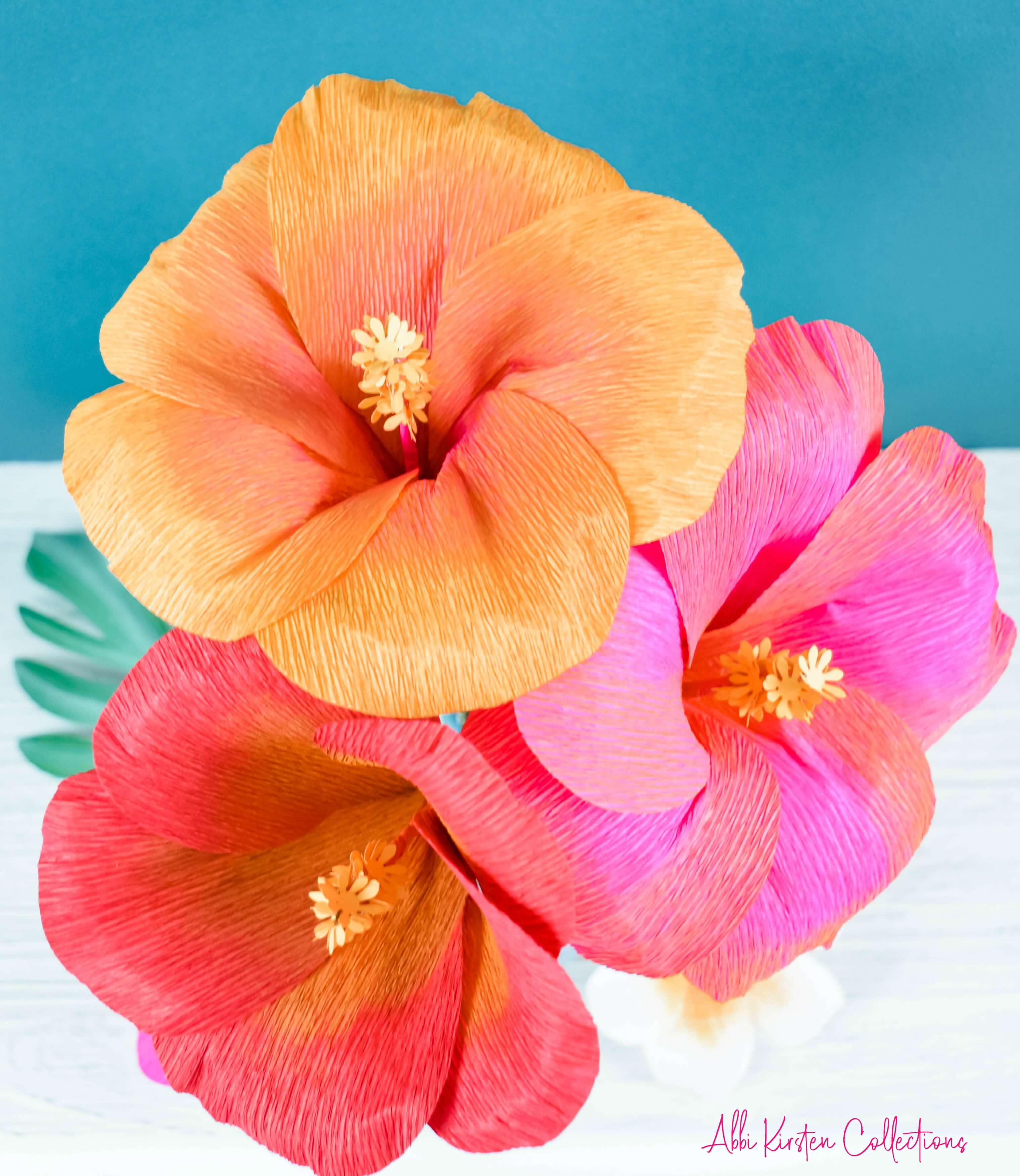 Below are the supply resources I used to create these tropical blooms. These hibiscus flower templates pair wonderfully with my free plumeria templates too!
Supplies for Crepe Paper Hibiscus
Download The Hibiscus Flower Templates
Member Vault (Best Value)
Find these hibiscus templates available inside the AKC Member Vault! You can log in below and find them by searching the keywords "hibiscus" or designs #249
If you aren't a member yet, you will want to sign up for all our crafts here. There are currently hundreds of designs, such as paper flower templates, SVG cut files, and printables, plus a dozen new ones added each month! You will also get access to all my other flower designs!
Download The Templates In The Shop
While the Member Vault is the best value because you gain access to every template I've ever made, you can also pick up just the hibiscus flower templates in the shop.
Crepe Hibiscus Flower Video Tutorial
When you are ready to create these beauties, click play to watch the full video tutorial below or continue reading for a quick step-by-step guide!
You will need to cut out the following number of petals: Cut out 5 hibiscus petals, 10-12 center petals, plus leaves to your preference.
With this hibiscus flower template, you can hand-cut with the printable PDF outline files or use the SVG cut files with a cutting machine. Cricut Maker is the only one I know of that works with crepe paper using the rotary blade. Thinking of getting a Cricut but not sure which one is best for your needs? I can help with that here.
To build the hibiscus flowers you will need to start with wrapping the stem with a crepe paper strip the same color as the center of your hibiscus. Be sure to leave about 1-inch at the top as bare wire.
Use the 10-12 center pieces to poke through the top of the wire and create the traditional hibiscus center.
After you distress your hibiscus petals glue all 5 together at a 45 degree angle.
Place your stem with the center in the middle of the petals and close the flower around the stem securing with glue.
Next, wrap your stem in floral tape.
And finally, gently bend out your petals away from the center, so your hisbicus flower looks full bloom.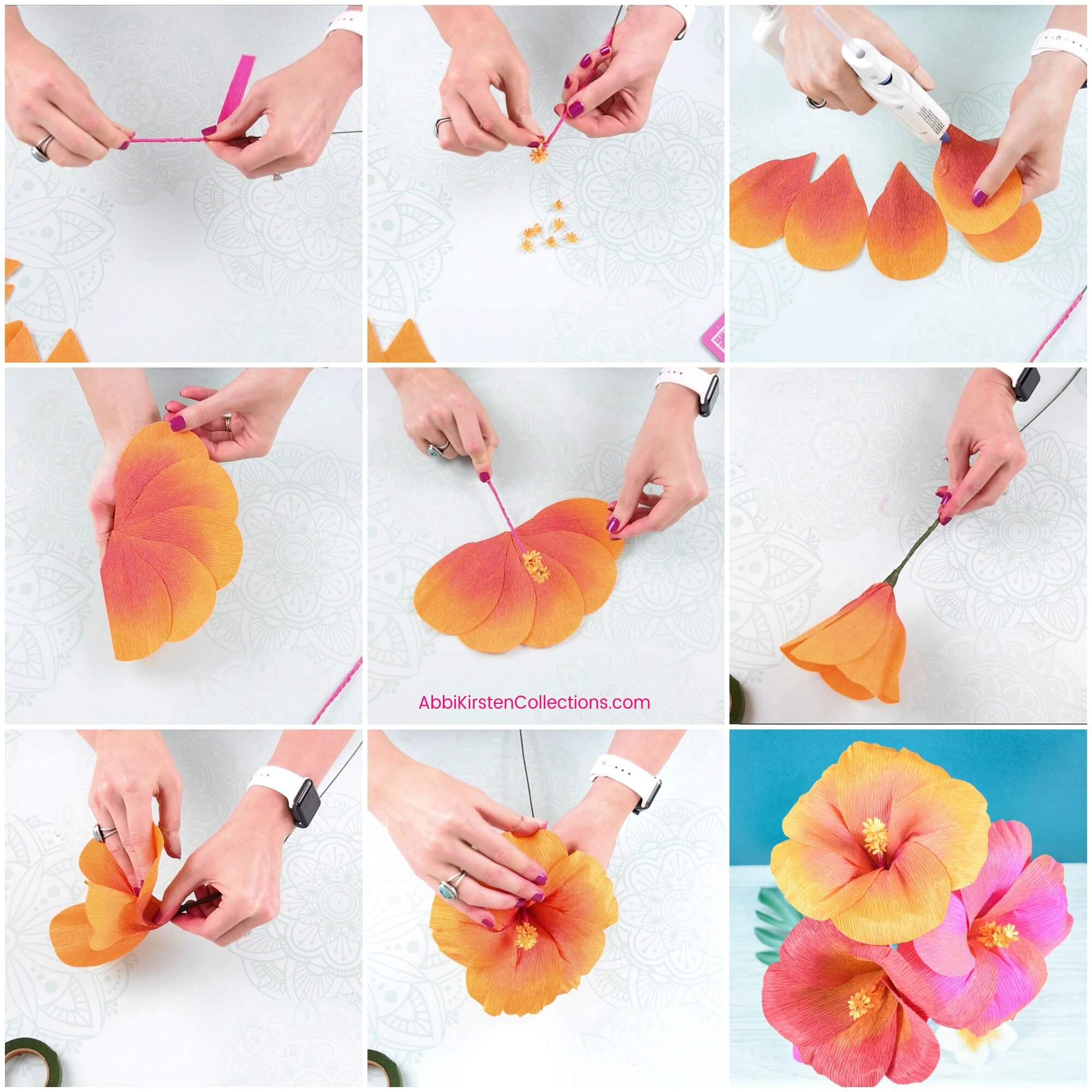 Hey, Crafty bestie! I'm Abbi!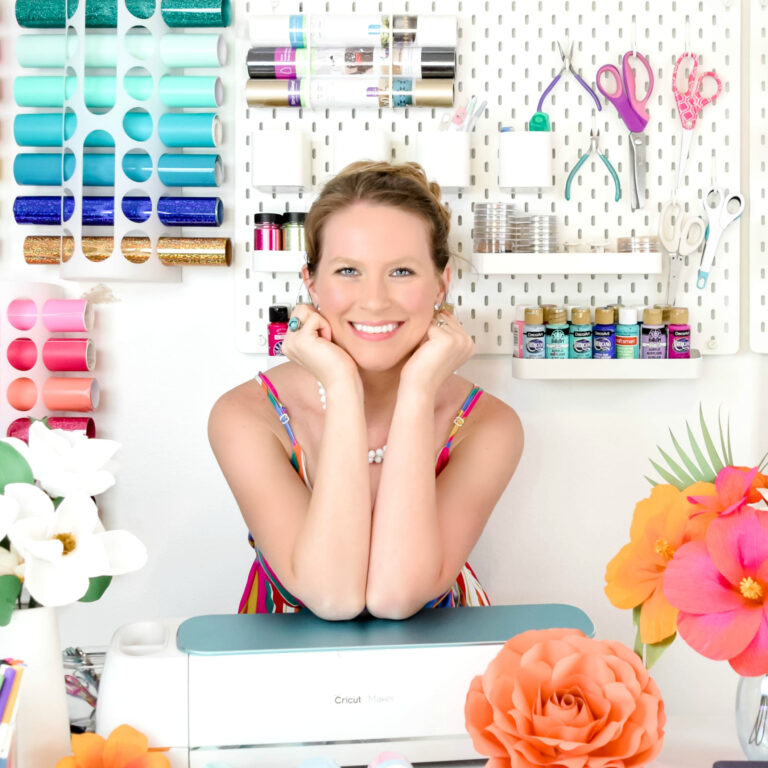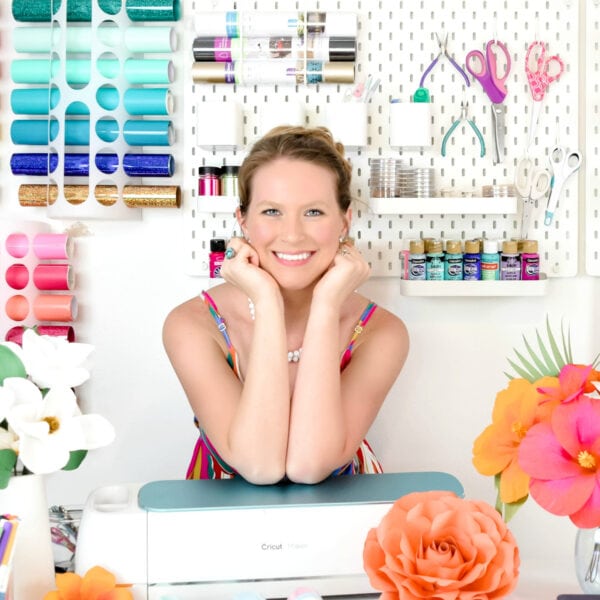 I'm thrilled you are here! I have spent the last 10+ years making messes and magic in my home studio to make the world a more colorful place, one craft at a time! I'm on a mission to nurture the creative magic inside your soul and bring that bursting imagination inside you to life with easy-to-learn tutorials. If you haven't yet, be sure to join the subscriber community to gain access to all my freebies or visit my signature design shop, Catching Colorflies!
Trending in the Shop
Leafy Vine Set, Leaf SVG Template
Giant Leafy Fern Vine- SVG Vine Cut Files
Jungle Safari Leaf Templates- Set of 8
Printable Tropical Leaf Template Set
Whimsical Vine Leaf Template
Elegant Vine Set of 6 Templates
Small Flower Leaf Stemming Base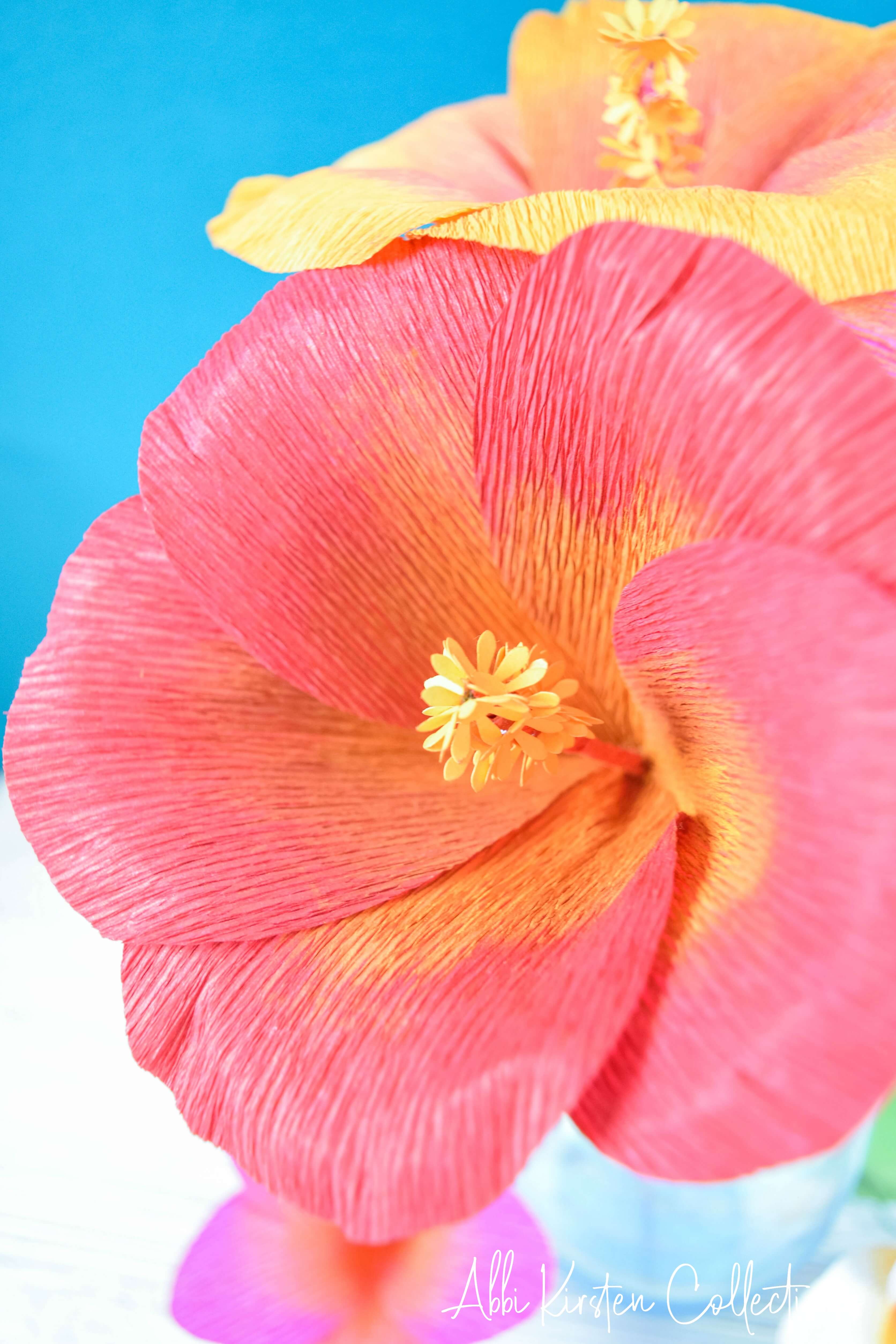 Wanna be a Cricut Master and learn to create your own craft design files like me?
Do you own a Cricut machine or want to own a Cricut but maybe you are overwhelmed when you look at the Design Space software and feel lost with all the functions?
Maybe you wish you could create your own design files rather than being forced to spend money on every design for each project you make?
If that sounds like you be sure to join me here in my FREE masterclass!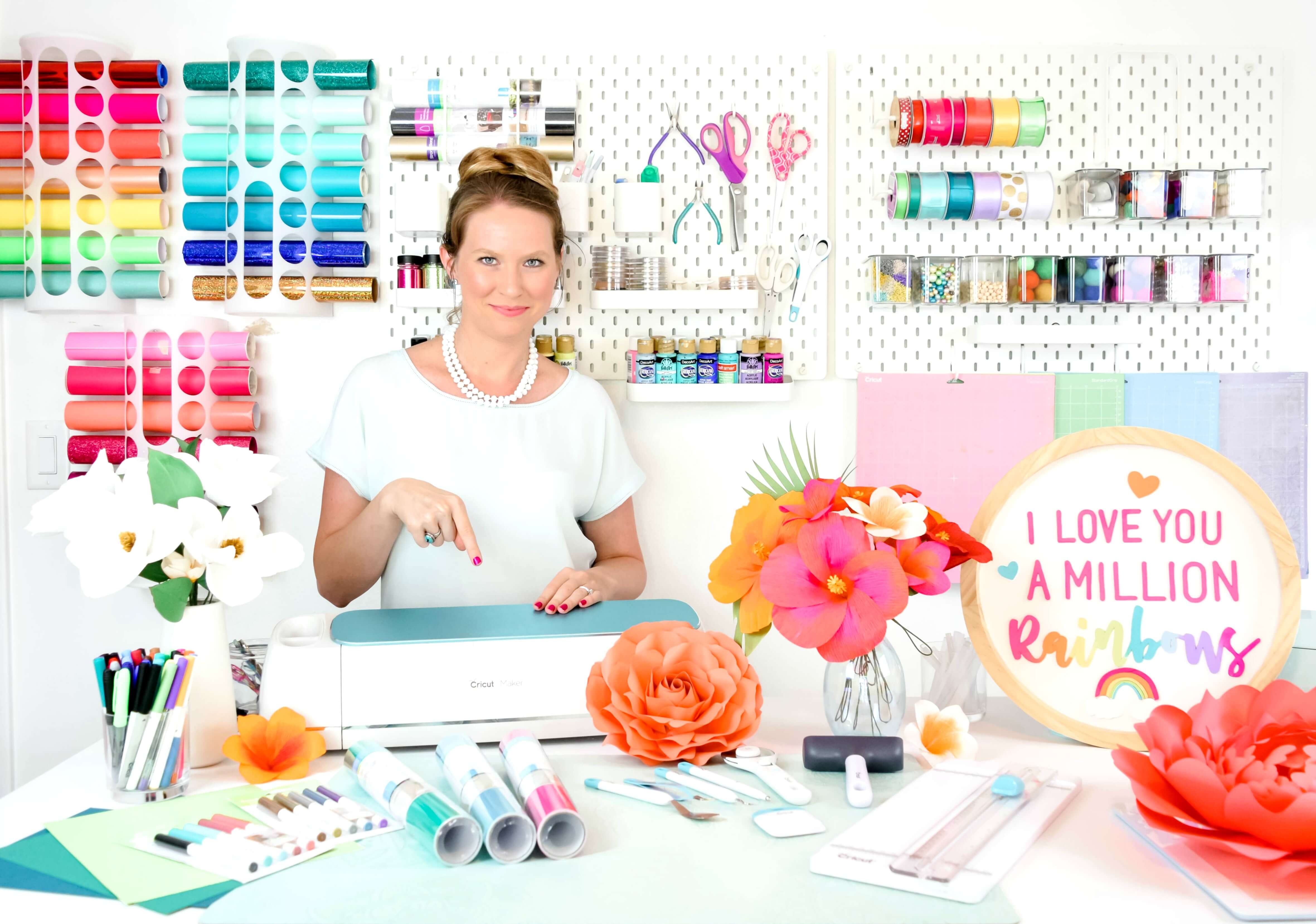 More Crafts to Love!