Craft Storage Solutions: Best Storage Ideas to Organize Your Craft Room
This post may contain affiliate links that won't change your price but will share some commission.
---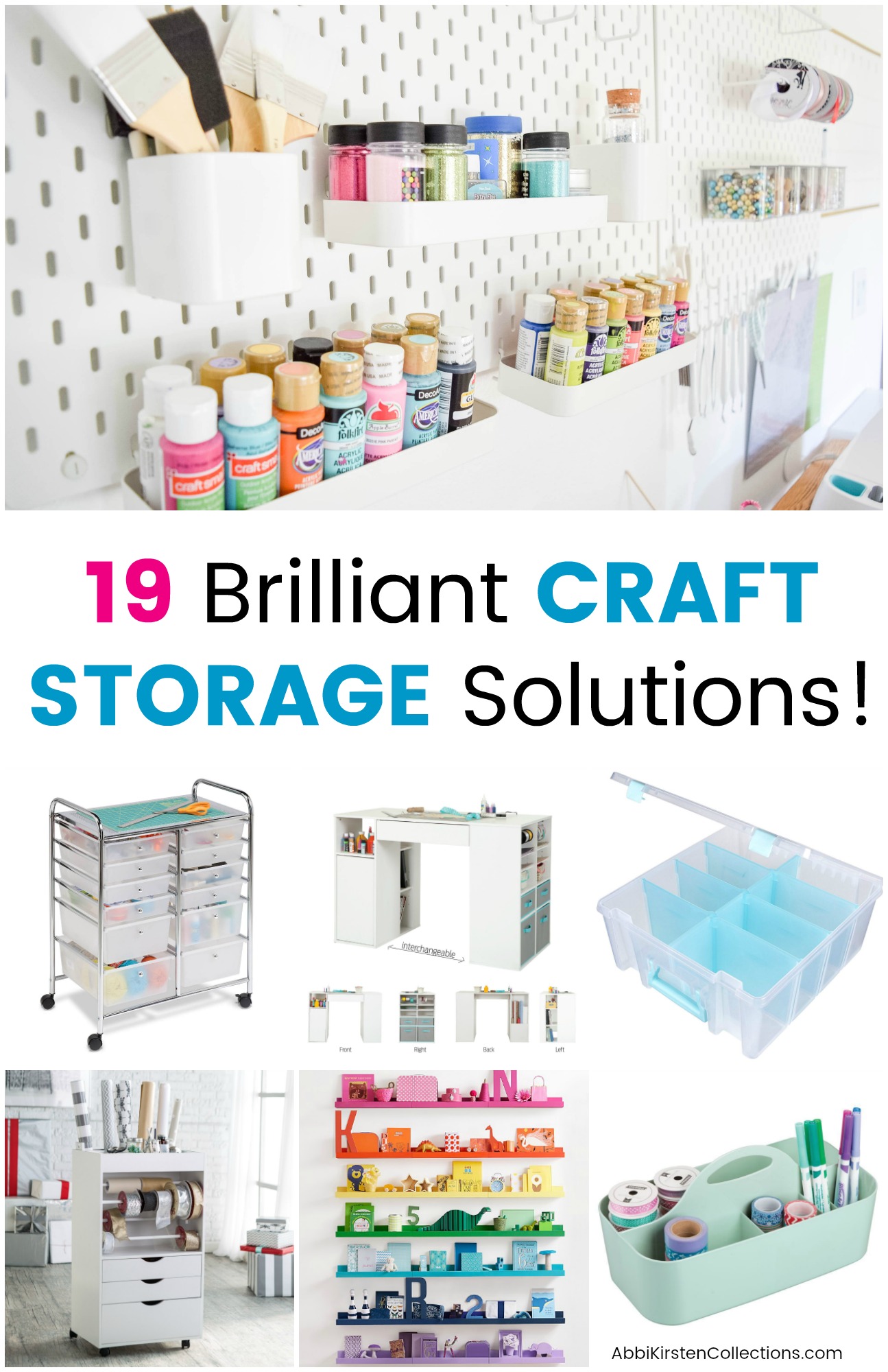 As winter is slowly changing into spring, everyone is usually itching to get clean and organized after holiday clutter. I recently completely revolutionized my entire craft loft to maximize my amount of space, and it turned out amazing! So today, I am giving you all my best craft storage solutions to get your space organized!
One of the biggest keys to my success with craft organization is learning to select the right craft storage solutions. I even took it to the next level by creating a craft stock inventory and category system, so I always know what I have for a project. It is a huge money and time saver! I also created some labels (download below) to make sure everything was appropriately marked and easy to find.
Craft Storage Means Shaking Out the Clutter
Reducing and decluttering our supply piles is hard for crafters. We want to keep everything because we believe there will be a purpose for this item in the future. The funny part is that I have had things in my craft room for over eight years and still haven't found a project for them. So let me give you a tip: Before you start putting everything into new craft storage containers, PLEASE clear out some clutter first.
Ask yourself two questions:
Do I currently have any projects planned for this supply or item now or in the near future?
Have I been holding onto this item for over a year?
If you've been holding onto something longer than a year and don't see a clear purpose, then out it goes!
If it's in good shape with lots of life left to it, consider donating it. Alternatively, you can find a crafty friend or Facebook group member to swap supplies with you.
And if you just can't bring yourself to throw it out, then move it to a deep craft storage pile. Get it out of your craft storage space and into an attic or closet. I would encourage you to take stock of what this item(s) is, so you can refer to it if you ever want to pull it out and use it.
I go much deeper into this concept in my 3 Day Craft Revolution Challenge, so be sure to sign up!
Ready to see all my favorite craft storage solutions? Links for each to buy your own are included as well! And if you want my free craft labels click the button below to download them in my subscriber resource library!
Creative Craft Storage Solutions for the Ultimate Organized Craft Space
1. Maximize Craft Storage with Built-Ins and Bookshelves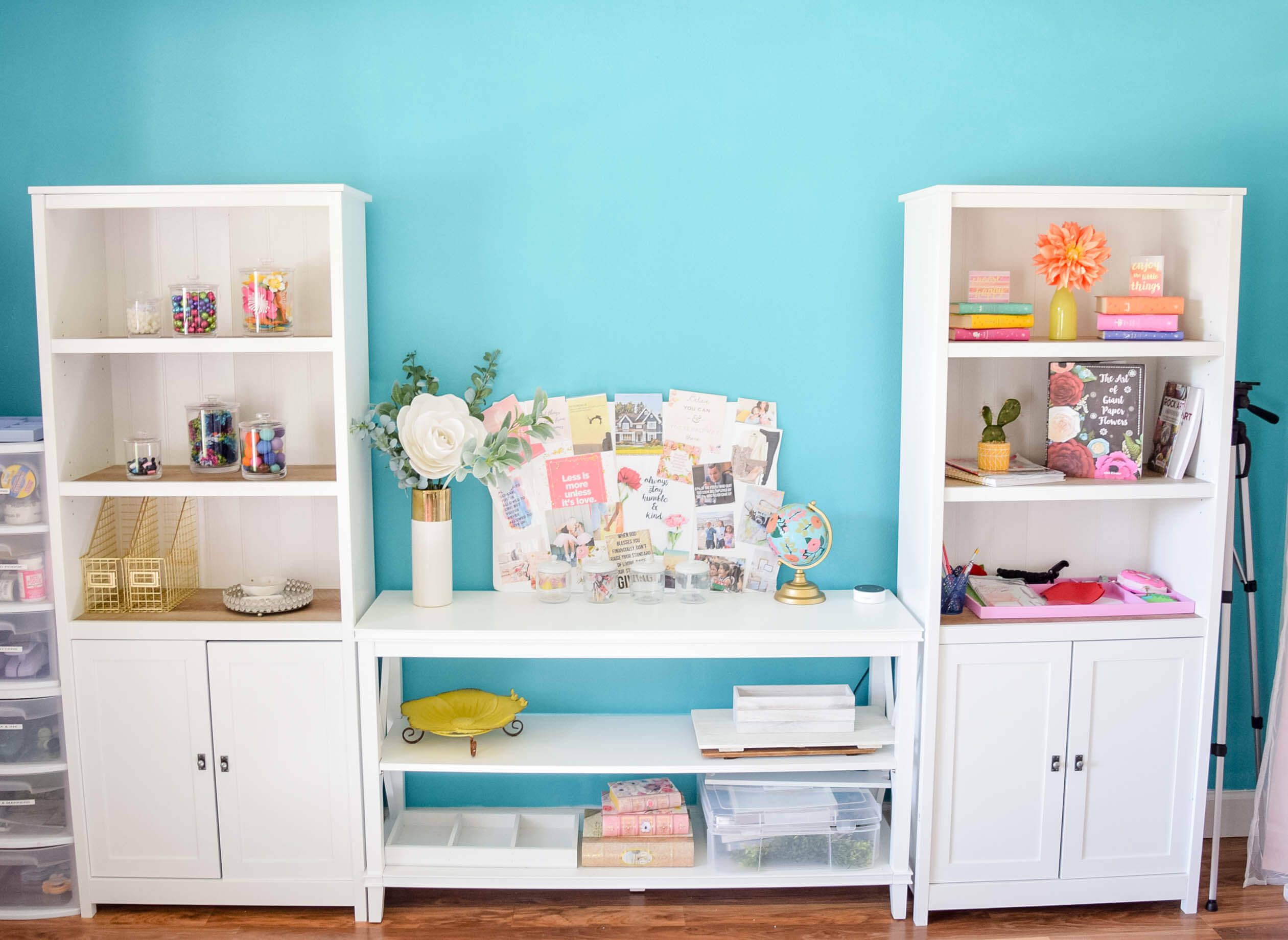 I really desired a wall of built-ins, but that was a little out of my price range. When I found these fantastic storage bookshelves that looked like built-ins, I knew I needed to have them for my craft room storage! Not only could the shelves hold a lot of arts and craft supplies, but I loved that there were cabinets at the bottom to hide other items I didn't want to be on display, like unfinished gifts.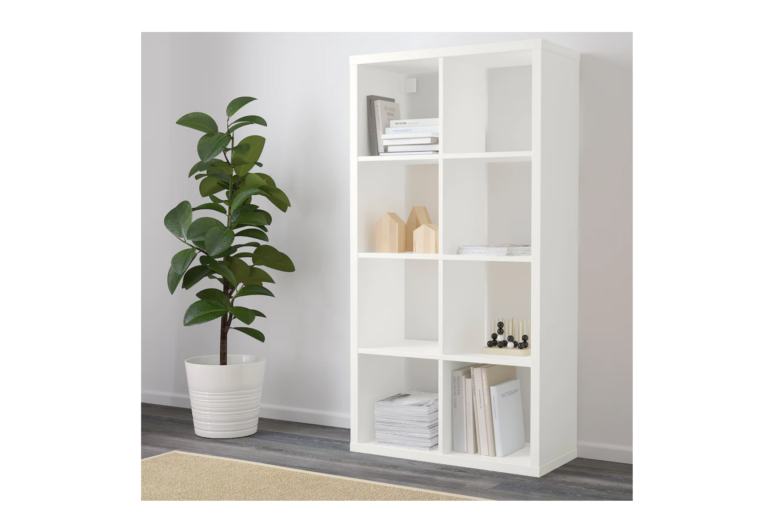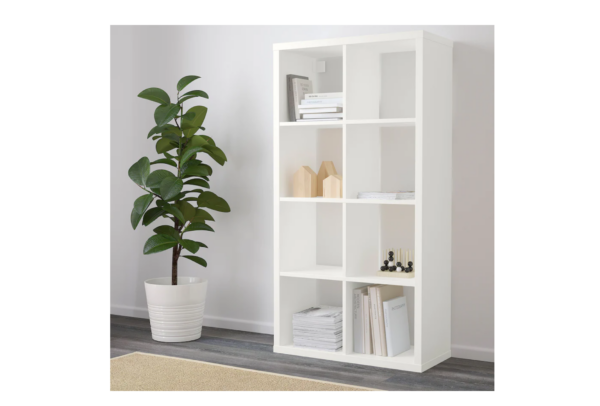 Another similar-looking shelving unit I love is from IKEA. This bookshelf has eight cubic units that are perfect for versatile storage. You can display craft projects, store craft books and magazines, or even use fabric drawers to store craft supplies out of sight. You could also turn this bookshelf on its side the long way, making it a convenient console for more storage or even as a crafting surface!
This long craft storage system from IKEA not only has a spacious top to set things on but also has valuable shelving and covered storage. This is one of the ultimate craft storage solutions, whether for your crafting needs or as a place to stow away kid's craft supplies.
2. Floating Shelves
If you are really into color, like I am, you might fall in love with these colorful floating ledge bookshelves from Pottery Barn! Mix and match, or just buy your favorite color! Utilizing vertical storage ideas really optimizes your craft room space.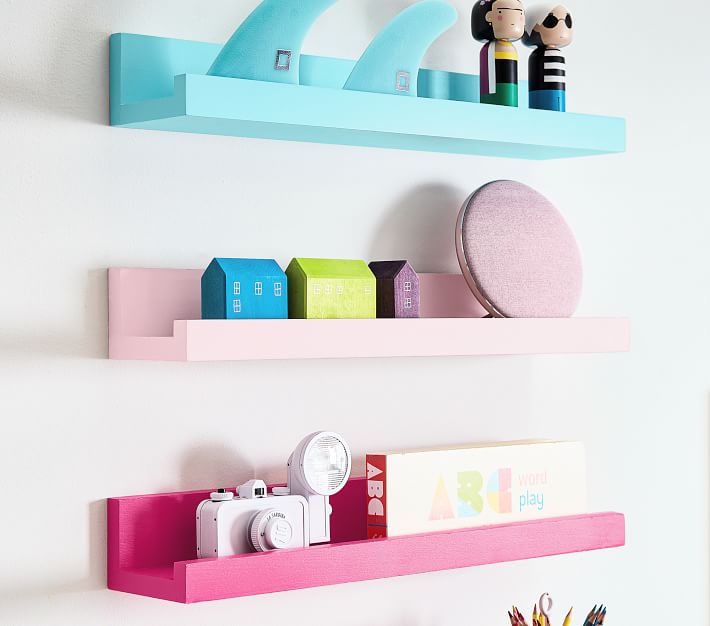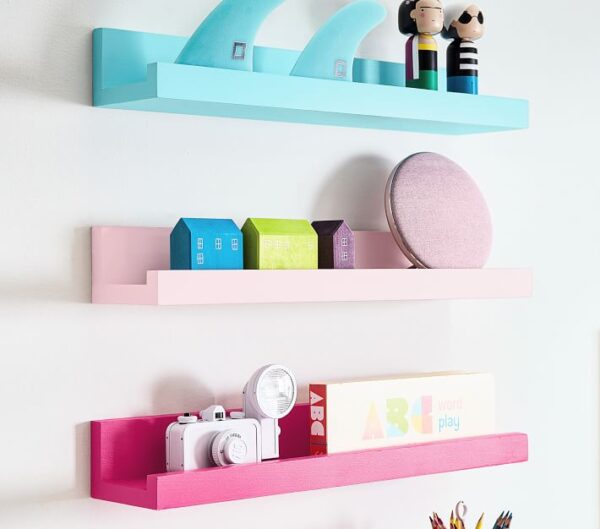 3. Craft Tables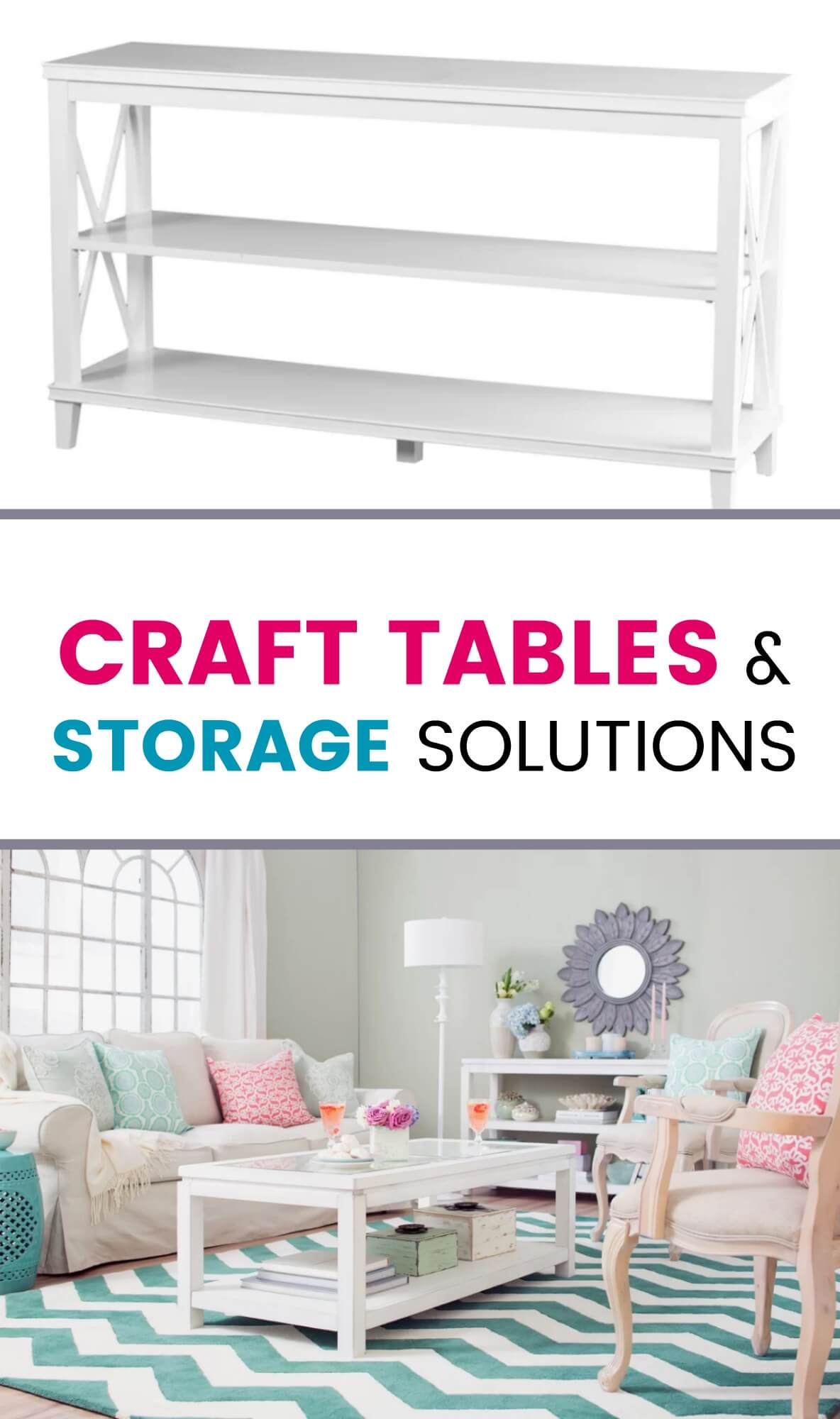 I used this lovely white console table between my two bookcase cabinets, and I love it! It's great because of the abundance of shelves and its clean white look.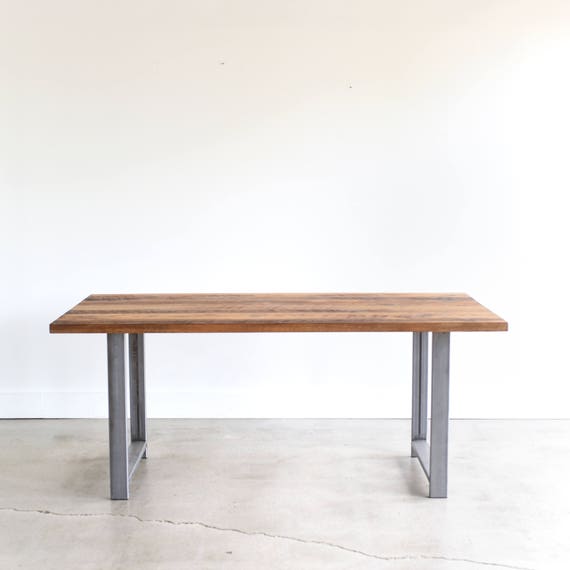 In addition to craft storage furniture, a craft room needs surface space to work. This counter-height industrial woodcraft table provides ample work area for even small spaces. I LOVE my table from WWMAKE. It is exceptionally high quality, and my table measures 72 x 36 inches – more than enough room to work on most projects.
4. Coffee Tables
A coffee table? Yes, really! I have a coffee table in my craft space for two reasons: first, I can slide storage bins underneath, and second, it is the perfect height to shoot craft videos or picture tutorials at a 90-degree angle!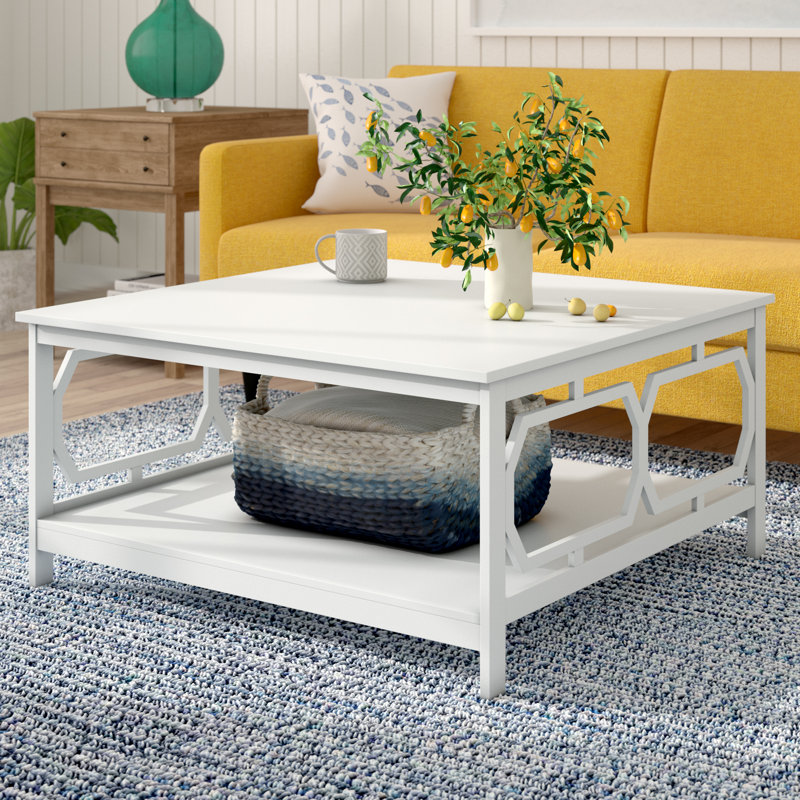 5. Craft Desks
There are a lot of options for craft tables out there. This multi-purpose craft table is one of my top favorites. Not only does it have a worktop, but each end of the desk is also interchangeable and provides ample art supply storage. This one desk can be a whole craft storage system!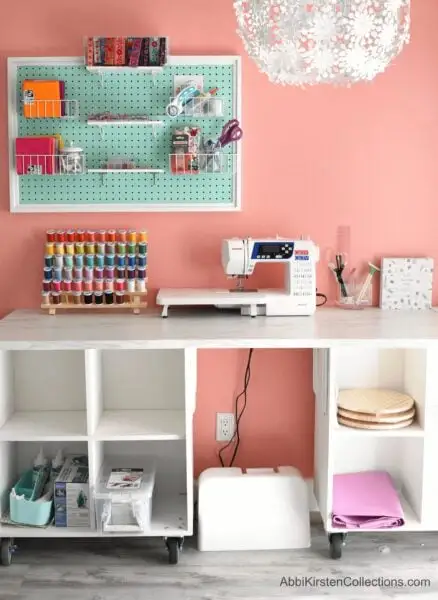 Craft desks can be purchased ready-to-be-used, such as this one here. I also love to build my own, which doesn't have to be hard! I used two cube organizers from IKEA and a tabletop that my husband easily screwed together for the perfect sewing desk.
Pro Tip: I like to keep commonly used craft supplies, like glue sticks, tape, and ribbons, in a craft storage caddy on the tabletop of my working space.
6. Cart & Drawer Storage
In addition to the core storage units for craft rooms we have covered so far, you will find that you need some more versatile and movable storage furniture. I definitely recommend this gift paper wrapping cart!
Boy, do I love this thing! It stores all of my background paper for my photoshoots and three drawers full of any smaller craft supplies or, in my case, where I like to keep the extra camera and computer equipment!
This little laundry cart is amazing for paper storage. I like to use these magazine holders for some of my paper storage and then stack them along this cart. Plus, it has wheels, so it will slide in and out of small, slim spaces!
This twelve-drawer stainless steel rolling craft storage cart is the juggernaut of all rolling craft carts and storage ideas. Because the drawers vary in-depth, you can store paper, embellishments, vinyl, cutters, and more! Plus, the wheels make it easy to move around your craft space.
Rolling storage carts are a perfect craft room organization hack for small spaces. Other rolling carts I love are Michaels Recollections Rolling Cart, this 4-drawer storage cart, and an Origami shelf and drawer cart from Home Shopping Network.
Small Craft Storage Solutions: Space-Saving Options for Smaller Crafting Spaces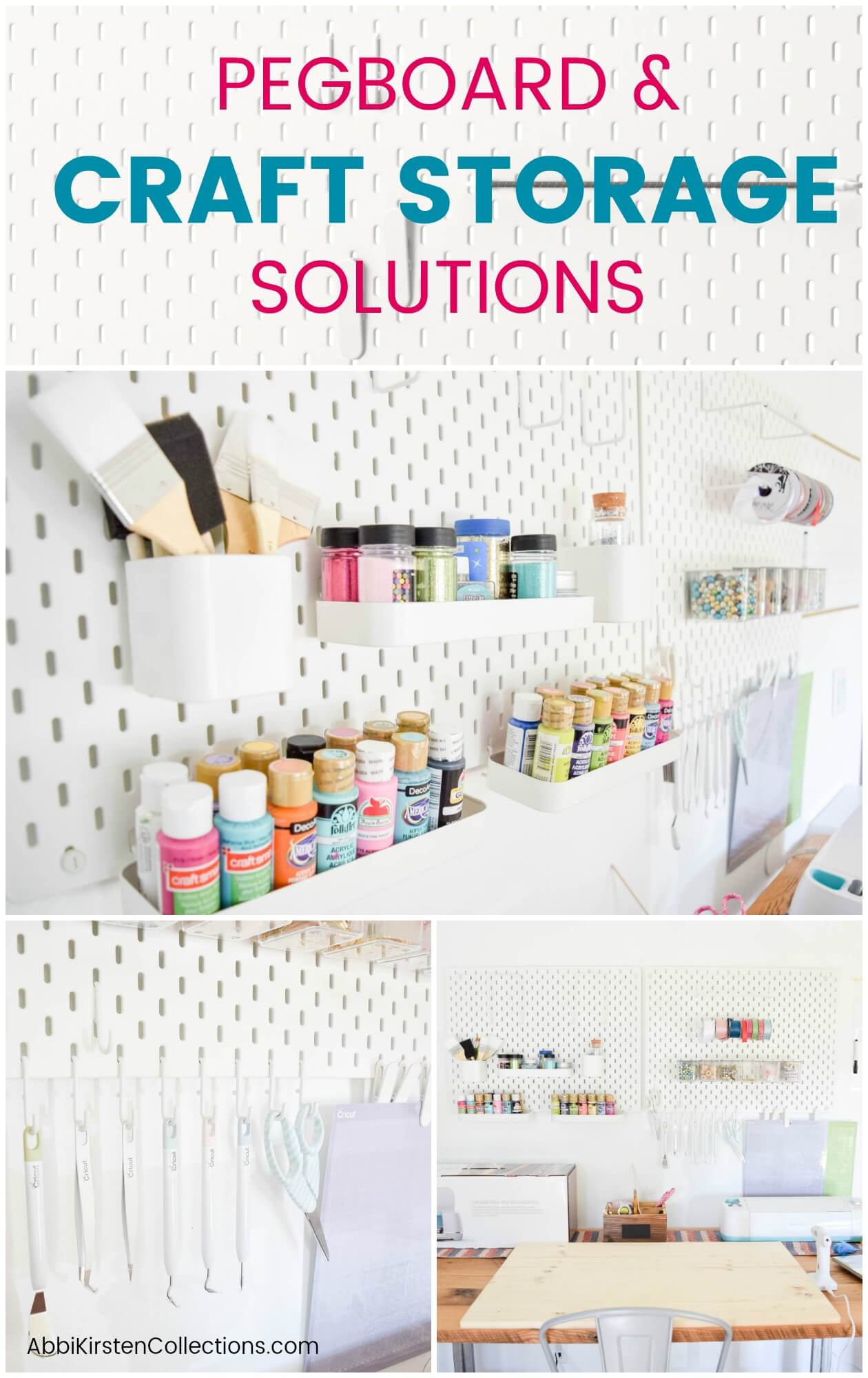 Looking for craft storage solutions for smaller craft spaces? If you don't have room for rolling carts, large crafting tables, and bulky bookshelves, you need smaller solutions for storing your ever-growing crafting supplies! You can declutter, clear tabletops, store small craft items, and decorate your craft room with these small craft storage solutions.
7. Wall-Mounted Pegboards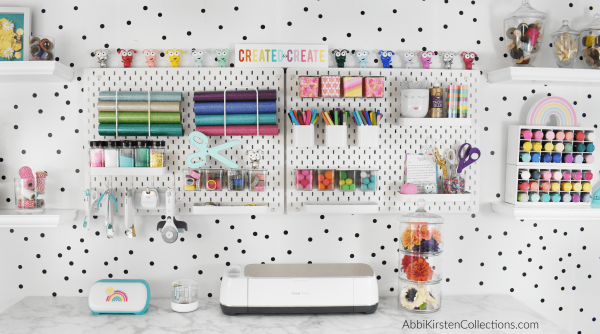 The best craft storage solution is the Ikea pegboard. They are awesome because they lift so much clutter up and off your desk. You can store small items, paint tubes, scissors, tools, ribbons, and much more on these boards by hanging small bins on the pegboard or just hanging up your tools individually. Remember, vertical storage optimizes your space. I highly recommend you purchase pegboards if you are serious about craft storage!
8. Apothecary Jars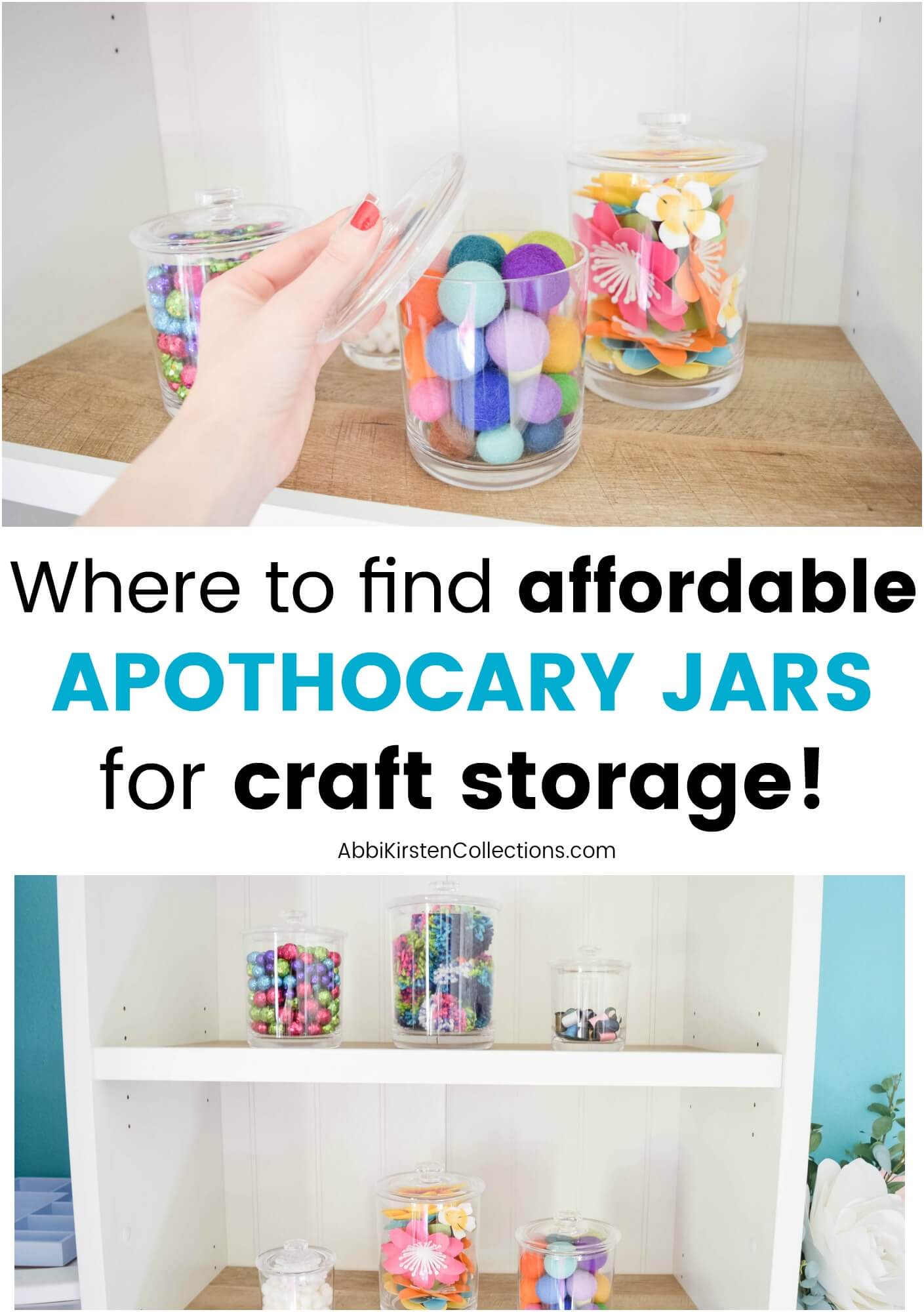 I love using apothecary jars to store smaller items and embellishments. Craft storage jars are great for bead storage and other small things that you may want to display in your craft room. I filled mine with felt balls, pompoms that I made, and small paper flowers.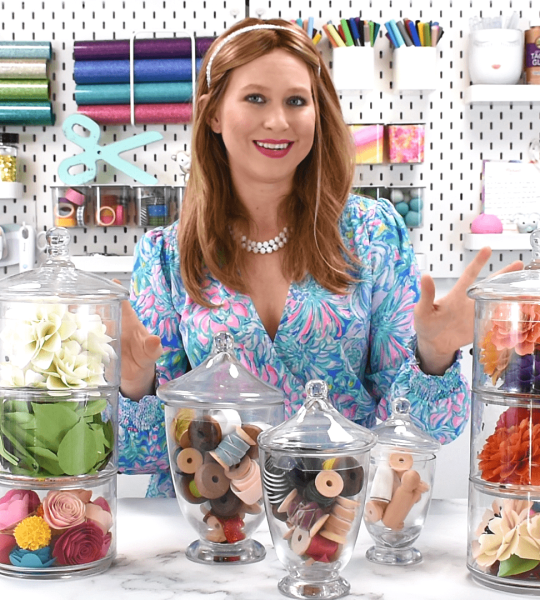 Pro Tip: I also love to use mini glass jars for really small items like sequins and pearls.
9. Clear Drawer Organizers
I use clear drawer organizers for all those items that are too big to be stored in jars but small enough they need an organized out-of-the-way spot. I store my small punch cutters, glue guns, spray paint, wire, and more in these stackable units.
My top two favorite ways to organize paper are with 12 x 12 paper drawer containers and magazine holders for tabletop or shelf paper storage.
Craft Storage Solutions to Declutter Your Desk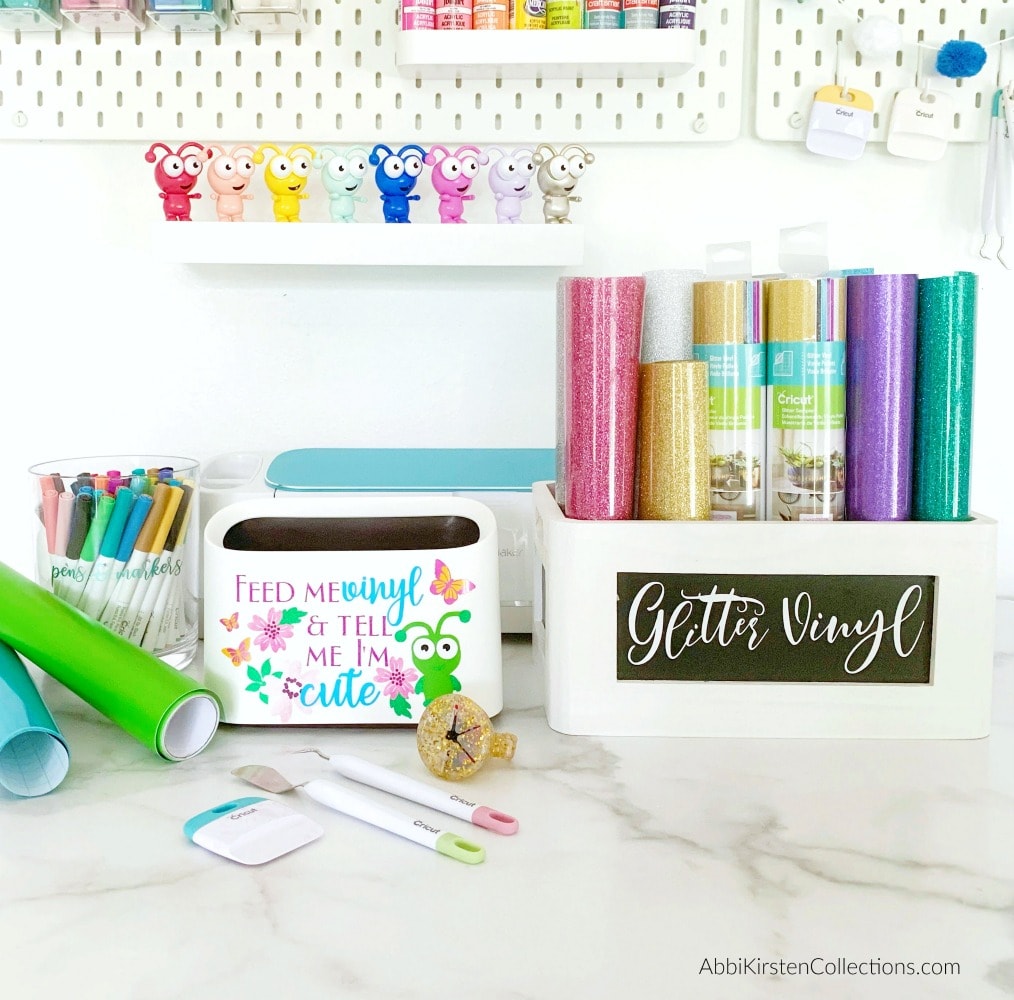 Let's be honest, organization is one thing; trying to keep your desk tidy enough while crafting is another. Tabletop or desk space is valuable in a craft room—not just for organizing your craft storage solutions, but for space to make all your crafts! Luckily, there are solutions to keep you neat and tidy before, during, and after creating.
10. Tabletop Trash Cans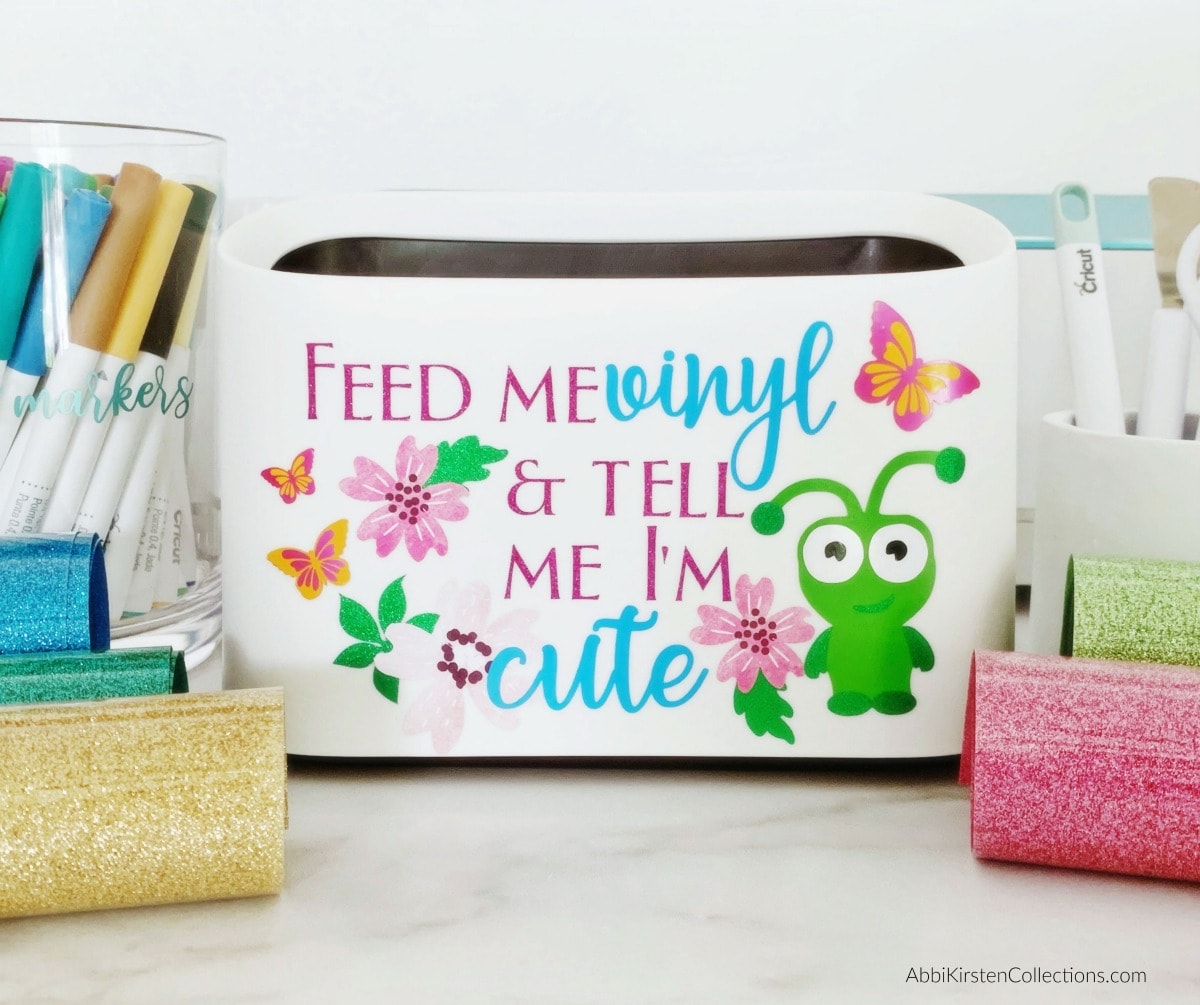 Recently I discovered a tabletop wastebasket by Lots of Style that makes it so much easier to keep my workspace clutter-free when working with vinyl and paper projects. These little tabletop trash cans are also very fun to decorate! Now when I have a pile of vinyl scraps, I just throw them right in this trash can to keep them from hitting the floor.
Pro-Tip: If you want your own trash can for your tabletop, be sure to use my coupon code for a discount at Lots of Style using the link above and code: ABBI30
11. Clear Stackable Containers and Decorative Storage Boxes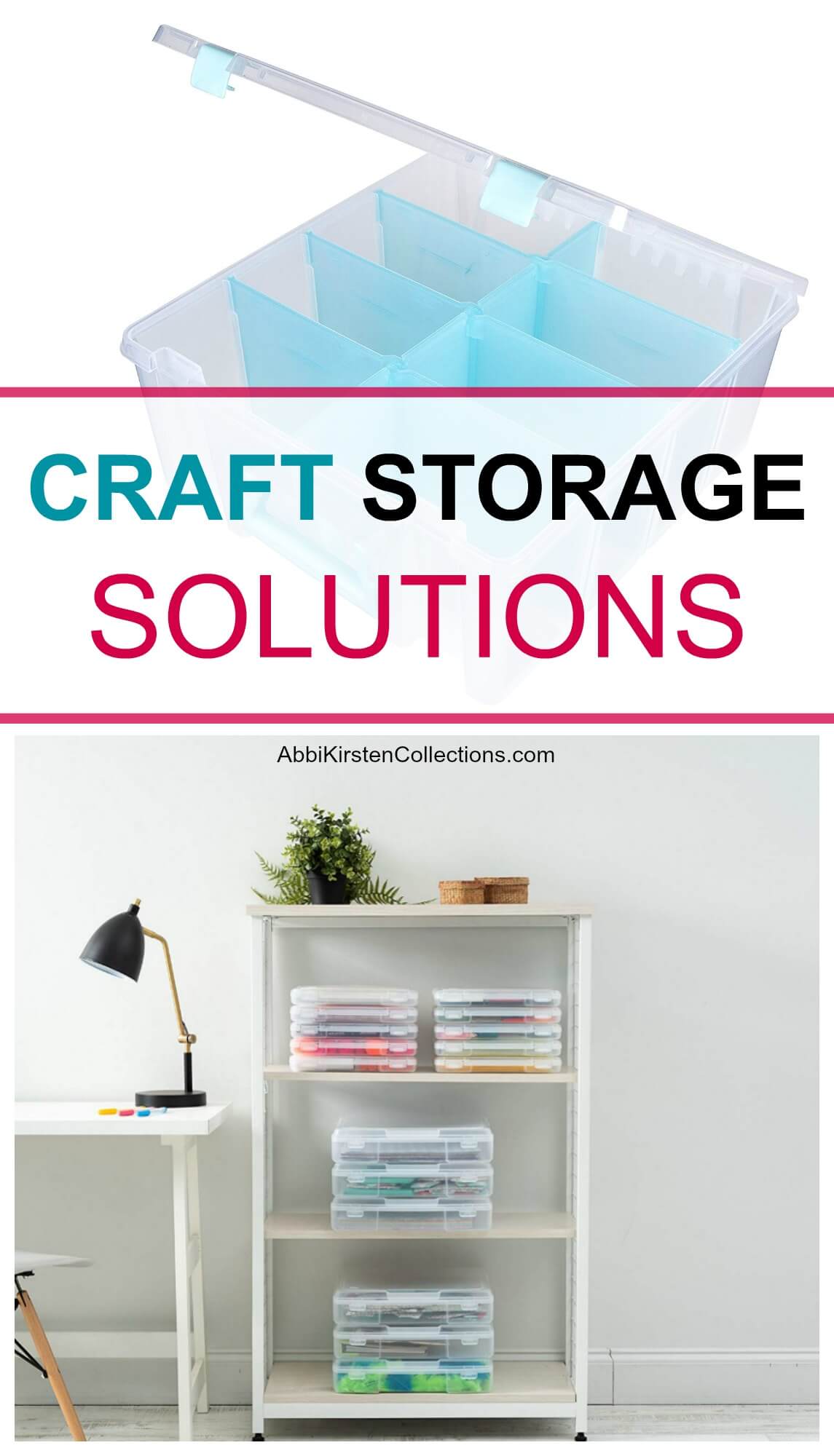 I always keep several different-size storage bins and containers on hand to store in my closet space, shelves, or under desks. These are great to store past projects or scraps and leftovers. Storage bins can also keep your workspace free from clutter by keeping all the specific craft materials for your current project in one place.
Whenever I add something to my closed cabinet storage, I always place the smaller items into clear containers or photo boxes so the space stays neat and can easily find things. These stackable square containers are one of my favorites to easily see what's inside without opening them. Deflecto also has some amazing drawer storage like this one here.
Michaels Craft Store also has beautiful cardboard storage boxes (aka photo boxes). The prints on the containers are determined by Michaels each season.
Cricut Crafting Supplies Storage Solutions
12. Iron-on and Vinyl Storage
I have gone through many methods of organizing and storing my vinyl. Some smaller-scale solutions included cart storage with drawers or these craft vinyl holders that can be mounted on the wall.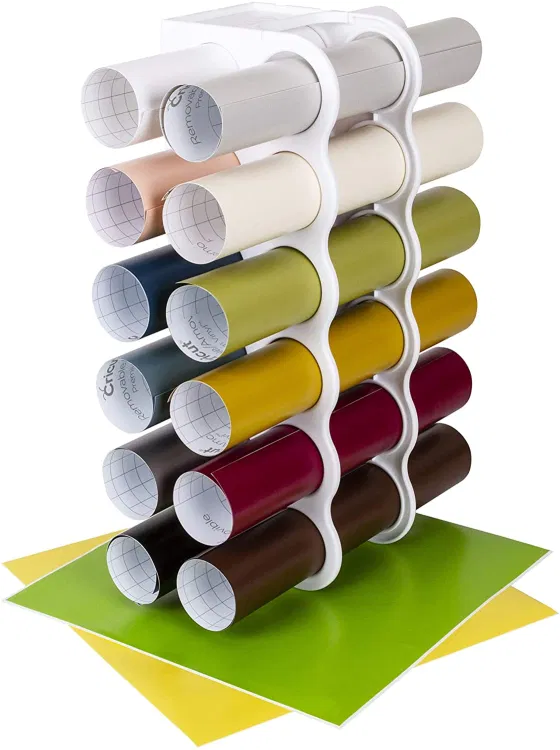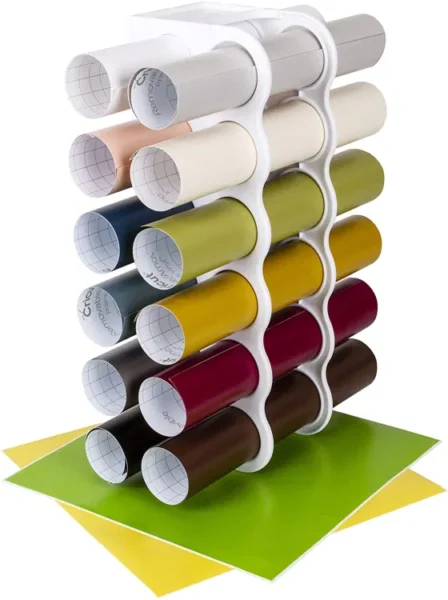 For me, my vinyl stash has taken on a life of its own, and I began using a bookshelf with these rectangle containers to make it super easy to find the type and color of vinyl I need. Be sure to also check out my label tutorial here and how I use the Cricut gold foil tool to decorate my labels.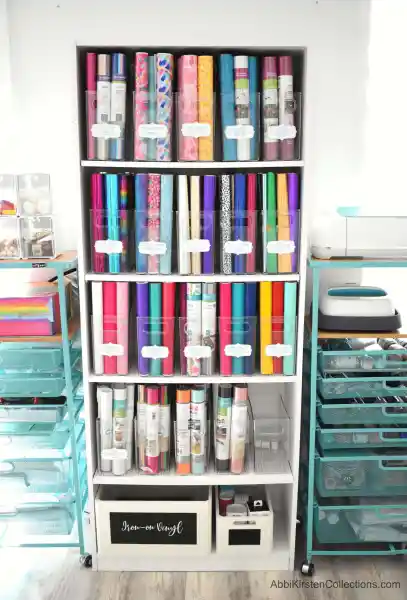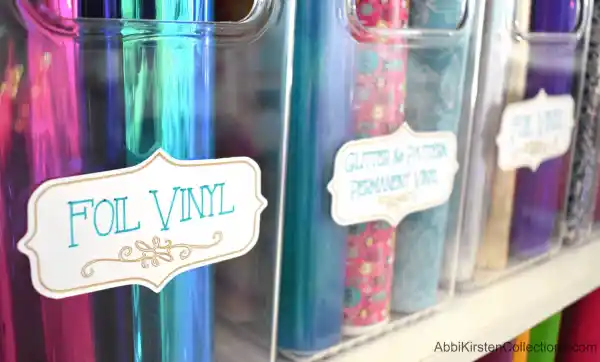 13. Cricut Mat & Cutting Mat Storage
Mat storage! If you own a Cricut machine or even just have some self-healing cutting mats in your space, you may want to think about how you store them efficiently. For me, I love to use heavy-duty command hooks to hand my mats on the wall. Wall space is crucial for craft storage; when you can, go vertical and save space!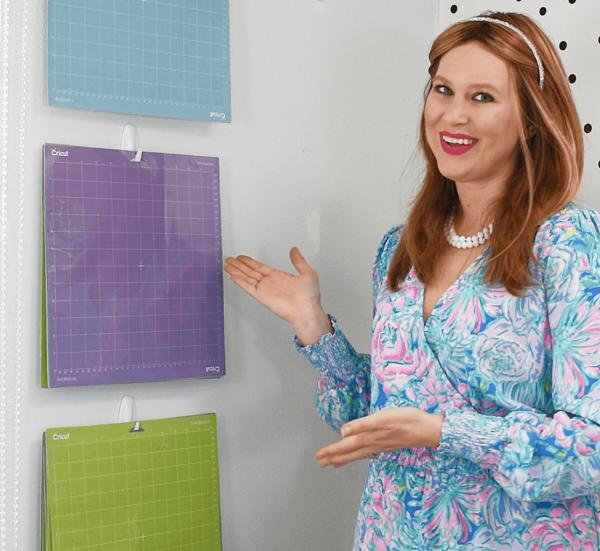 Enjoy all of these new craft storage solutions! Almost all of these I have purchased myself and used in my craft room renovation!
Have you come up with a unique storage idea? Take a picture of your DIY craft storage solutions and adding #DIYwithAbbi. Which one of these do you feel would benefit you the most? Let me know in the comments below.
I hope this will help you gather inspiration for your craft room storage! If you want to learn more about what I create in my space, check out my favorite projects here!
Don't forget to download your free craft storage label printables in my Freebie Vault!
Get the FREE Craft Room Organization Binder with Printable Labels!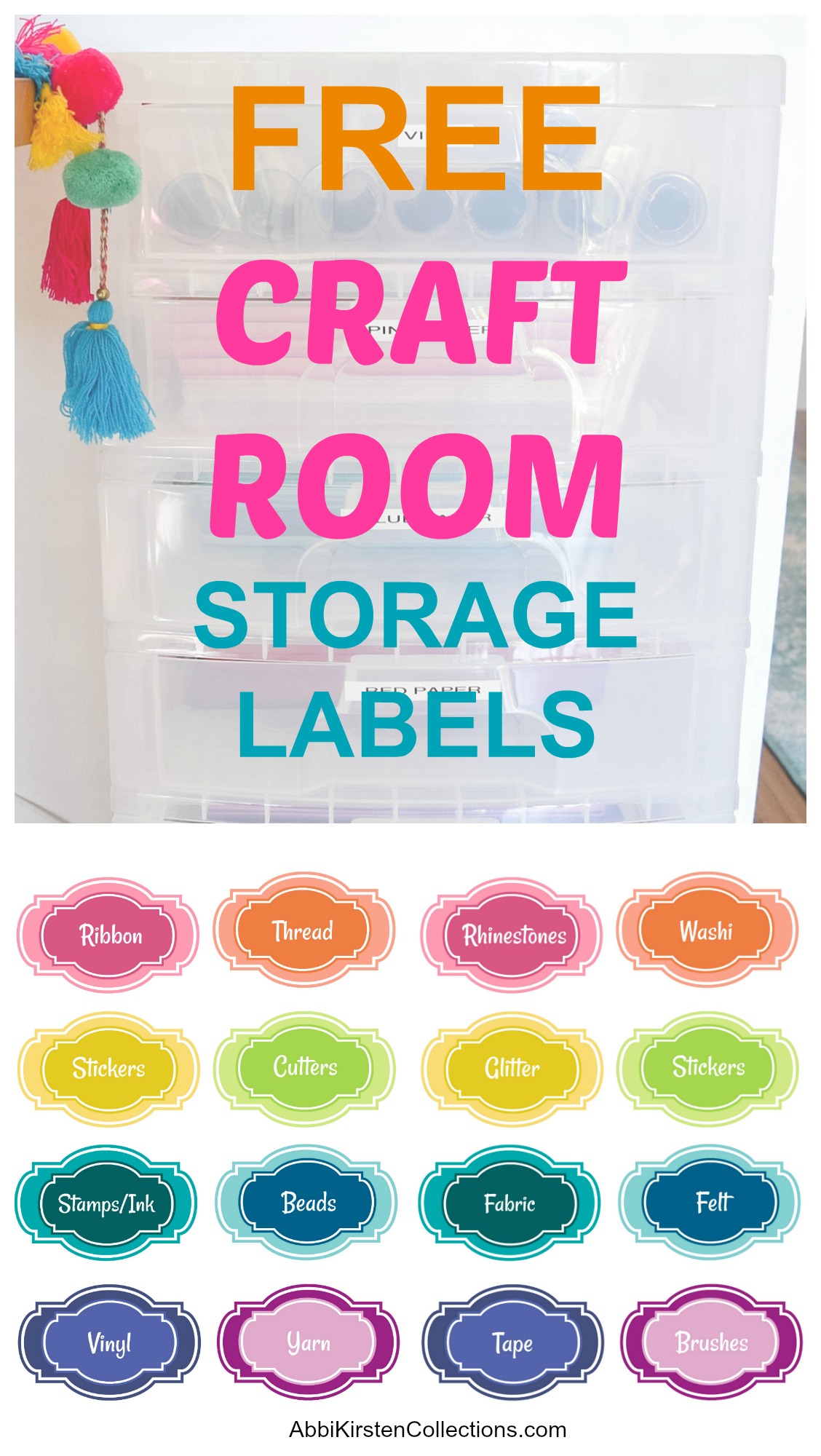 About Abbi Kirsten
Welcome to my colorful corner of the internet, where we play with vibrant crafts and unlock your creative magic! Hang out with me and get lost in a fun array of projects, tutorials, and products, from stunning papercraft ideas to flower templates, Cricut help for beginners, and endless crafter's hacks.
Join the Member Vault and participate in my monthly Craft-Alongs in my Facebook group to access all the magic!