How to Make a Puzzle with Cricut – Free DIY Puzzle Template SVG for Cricut
This post may contain affiliate links that won't change your price but will share some commission.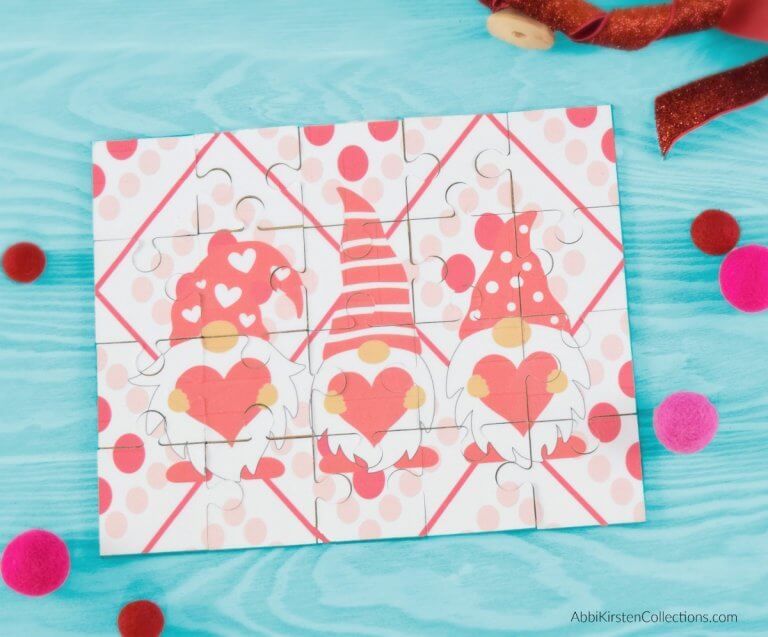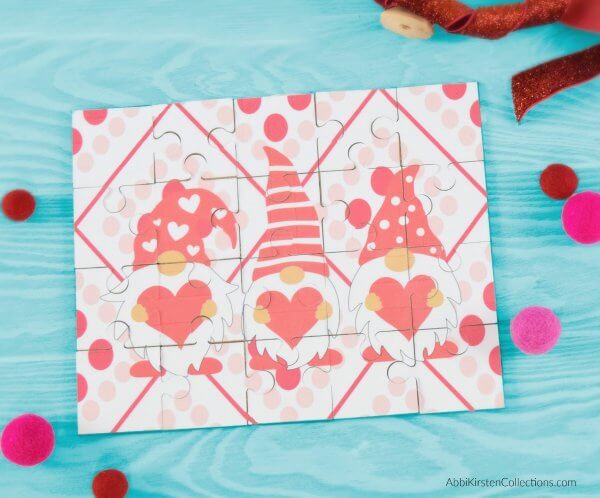 I have wanted to make a puzzle with my Cricut for a while now but honestly was worried about dealing with torn edges. I also wondered can I make a puzzle with my Explore Air 2 as easily with my Maker machine?
But my mission here is to always test and share my results even if they are a total fail! I also thought it would be fun to design and share a free Cricut puzzle template for you to enjoy which you can grab below.
Torn Edges On Cricut Made Puzzles
When I started off making my puzzle with Cricut, I tried chipboard first with my Maker machine and became very frustrated that no matter what I did, my image would end up torn, and my puzzle not pretty enough for keeping in the end. 🙁
I also heard the frustrations of others who owned the Explore machine and wished they could make puzzles, but since the heavy chipboard doesn't work with Explore, because the knife blade isn't compatible, Explore users felt stuck.
Today I am going to give you a free Cricut puzzle template in both rectangle and heart shapes. Plus I will show you how to make your own puzzle, whether you have an Explore machine or the Cricut Maker machine.
I'll be using kraft board for one example with my Explore machine and chipboard with my Maker machine for my puzzles. If you want to discover all the materials Cricut can cut for you read my post here!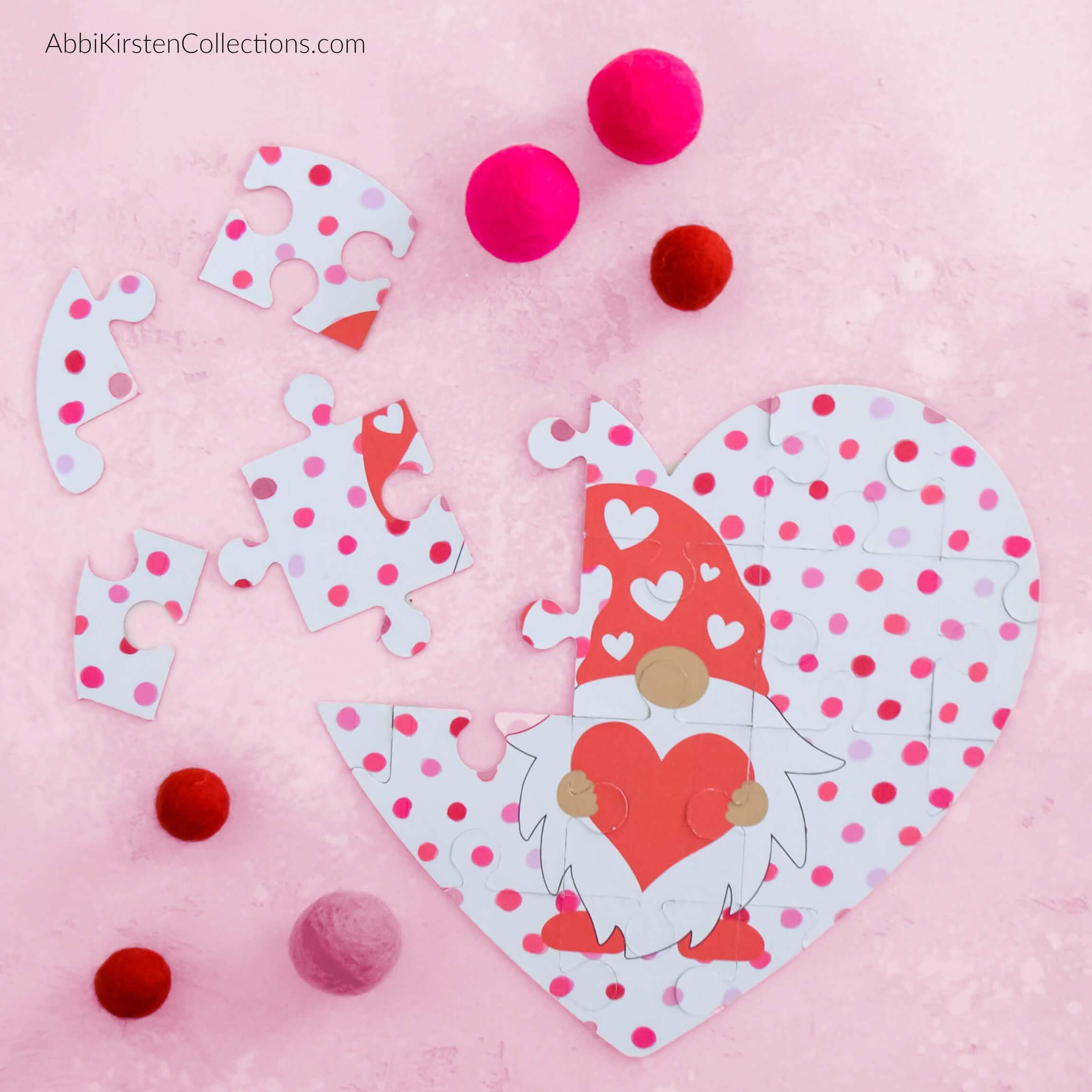 For Explore Users
I will be teaching you how to cut your puzzle with Kraft Board – a material still sturdy enough for puzzle making BUT can be easily cut with the fine-point blade.
For Maker Users
You can use the Kraft board method mentioned above or you can use the heavy chipboard and I will show you the two extra steps I take to make the puzzle turn out with SMOOTH TEAR-FREE edges!
How to Make Puzzles with Cricut Explore (Scroll Down for the Maker!)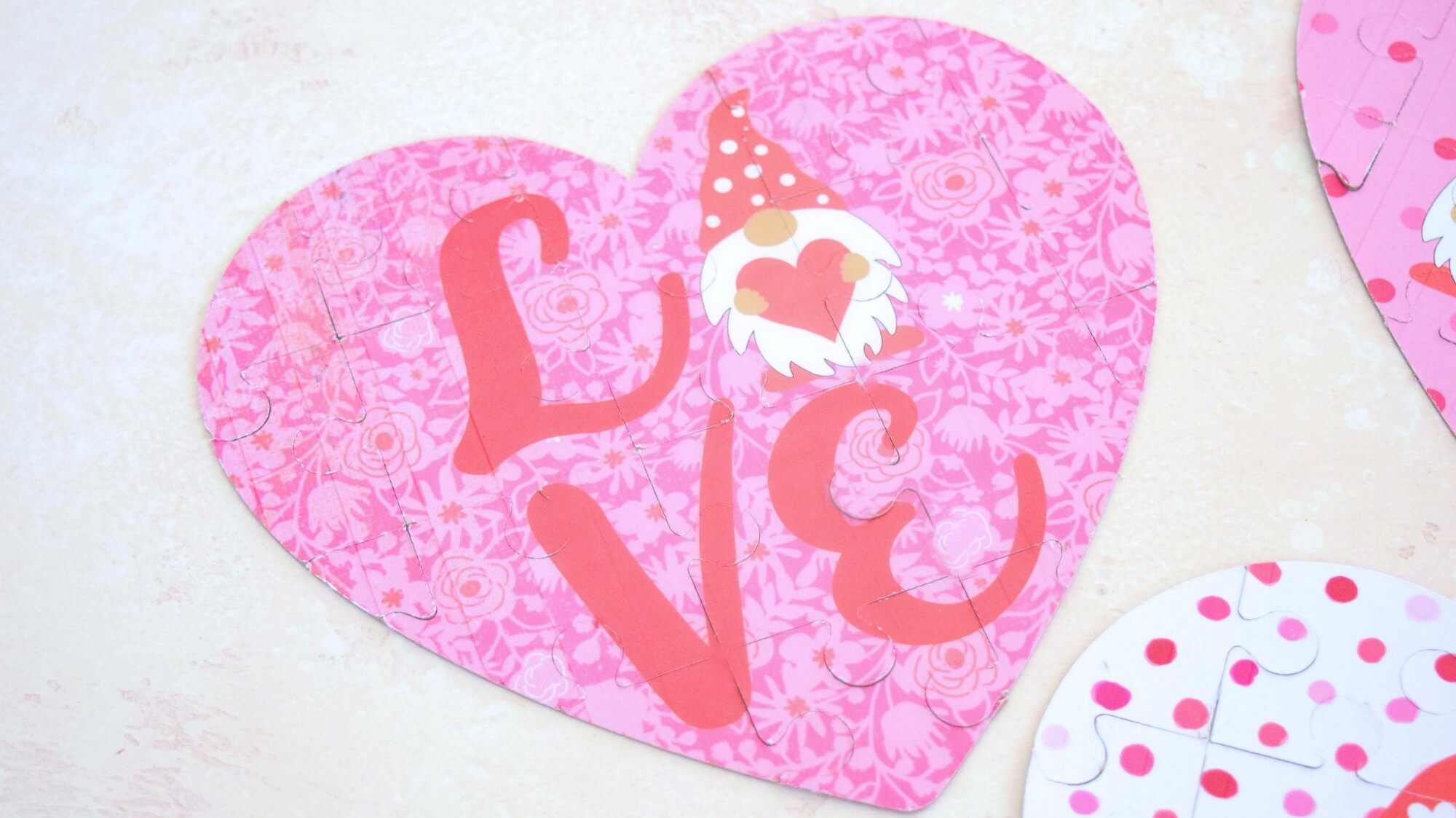 Let's start with the Explore puzzle tutorial. Here are the supplies I used to create my gnome heart puzzles with my Cricut.
Supplies
Fine-point blade (comes with both Cricut machines)
Cricut puzzle template, which is FREE when you sign up via the form below or log into your account here and search 'puzzle.'
Image of your choice (gnomes files are included in my freebies!)
Cricut Puzzle Template Freebie
Download these free templates by signing up via the form below. If you are already a member, log in right here and find it by searching 'puzzle' or Design #52 at the top of the vault. Need help entering the vault? Read this helpful post here.
Once you have those supplies in hand go ahead and watch the video below where I will show you exactly how to set up your template in design space and cut out the puzzle on kraft board.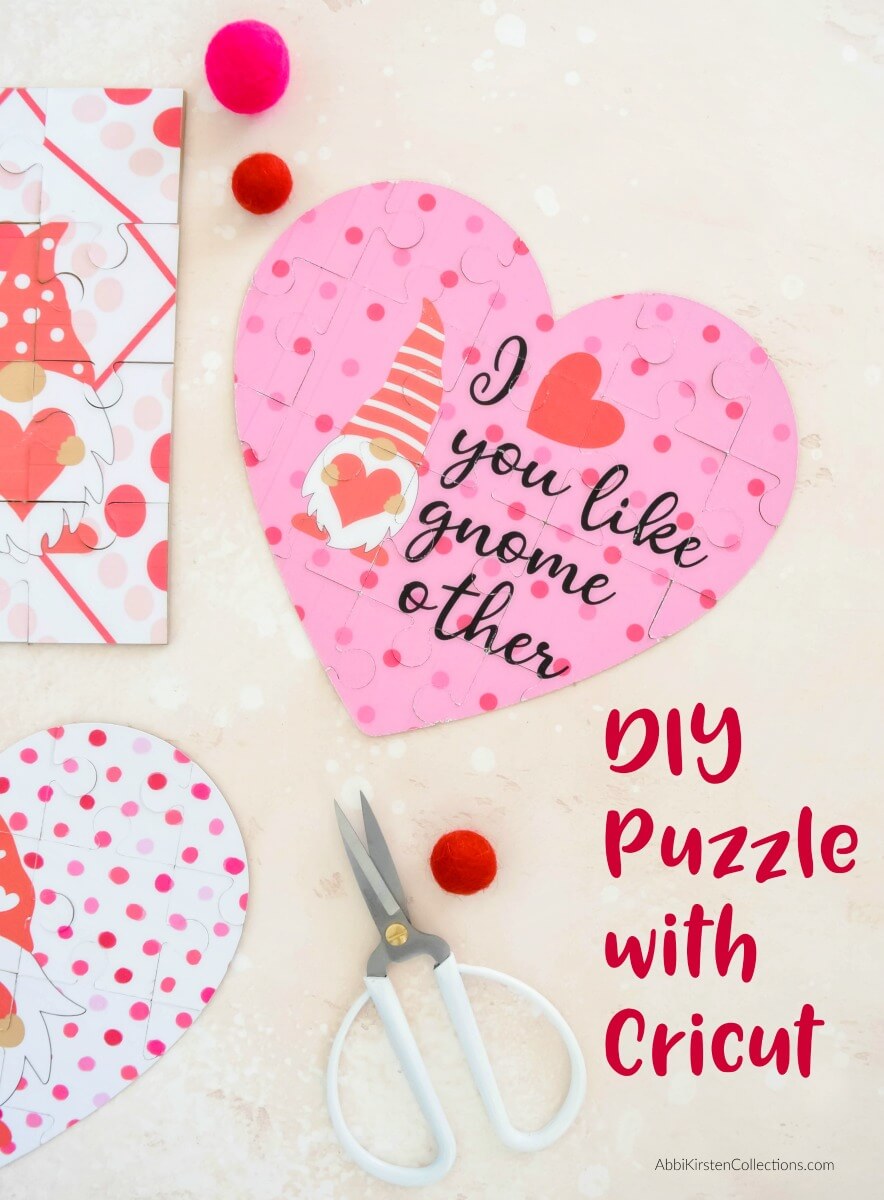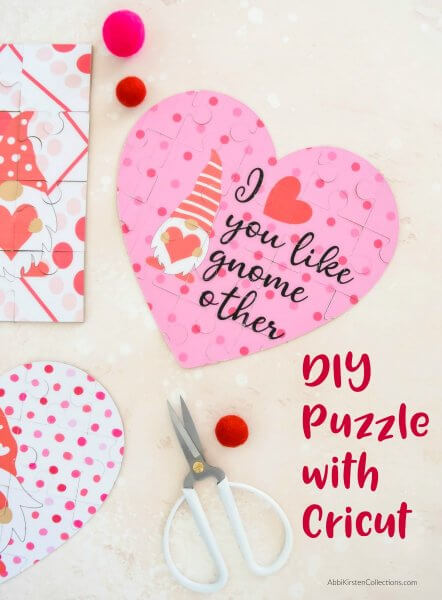 How to Make A Puzzle with Cricut – Part 1
How to Make a Custom Puzzle with Chipboard Using the Cricut Maker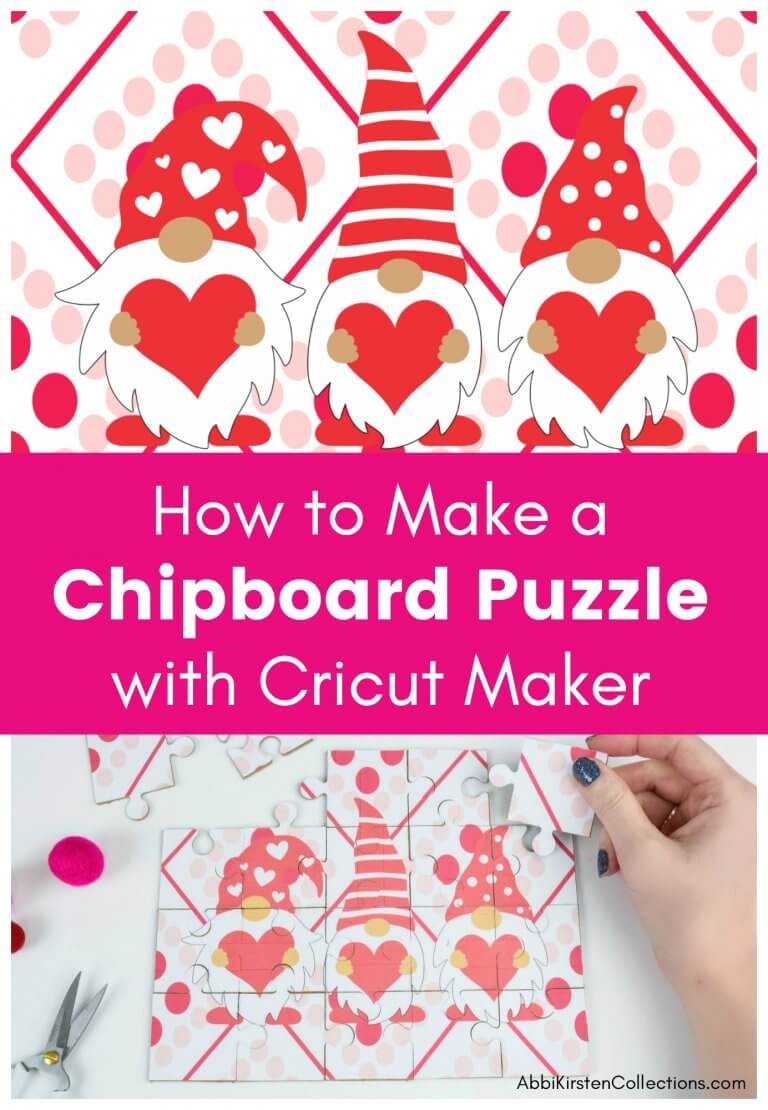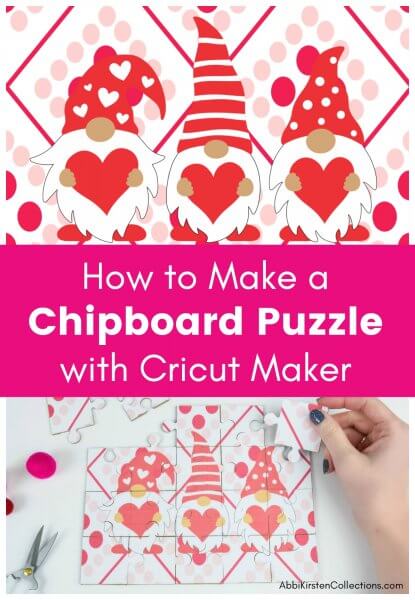 Okay, so obviously using the method above with kraft board is quick, easy and can be done with the Explore or Maker. But what about using heavier chipboard for those who own a Maker?
You can make a puzzle with your Cricut Maker with the knife blade and use the Damask chipboard setting for the 1.5mm chipboard. Sounds easy right?
I tested this again and again only to find out that my image would tear because Cricut has to make 12-20 passes (depending on the thickness) to cut through the chipboard.
The result?
A torn tattered image and A LOT of wasted time. My printable vinyl just couldn't withstand the stress.
So I thought, why not slice the image and cut the chipboard and printable vinyl separately? Then I could layer the vinyl on the chipboard puzzle pieces, just like we layer vinyl in so many other projects!
The result? I extra hour of work for a flawless puzzle cut from thick chipboard! I'm talking clean crisp edges. Take a look at my picture below to see the difference (and the bad piece on the left was the best of the worse!).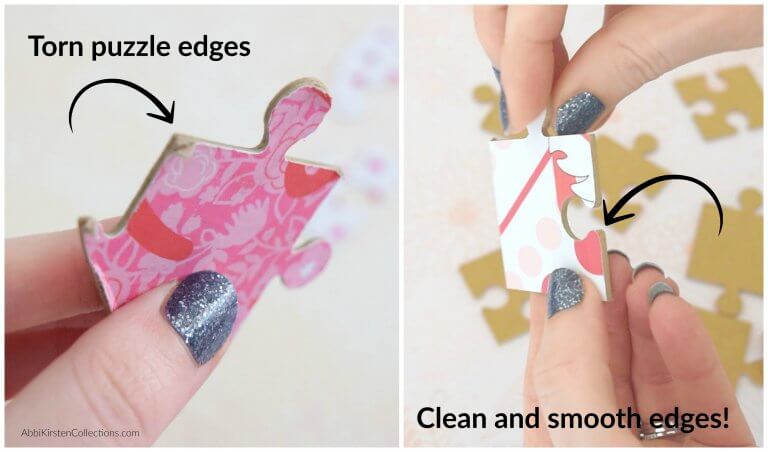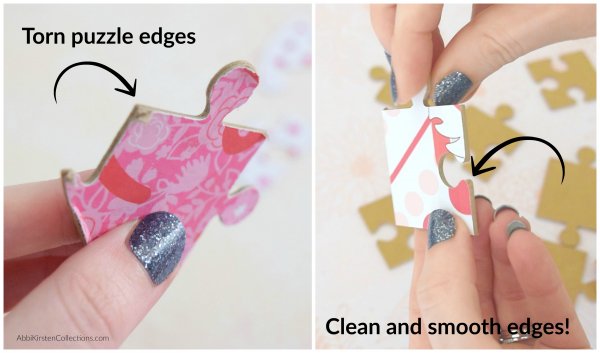 Keep reading to find out what supplies I used to make the heavy chipboard puzzle and watch part 2 of my puzzle video to see how it's done!
More Crafty Goodness
Supplies for Making a Puzzile with Chipboard and The Cricut Maker
Chipboard (I use the 1.5 mm by Cricut. I personally recommend you only use Cricut chipboard. I tested over half a dozen different brands and Cricut's was the best simply because they designed it to work with their machines.)
Cricut puzzle template, which is FREE when you sign up via the form below or log into your account here and search 'puzzle.'
Image of your choice (gnomes files are included in my freebies)
Get these puzzle templates and my gnome images when you sign up below!
How to Make a Custom Puzzle – Part 2 (Maker Only)
FAQs about Cutting the Chipboard Puzzle
Q: How do I make sure my chipboard pieces are being matched to the right vinyl piece?
A: First, if you use my puzzle templates they should match up pretty effortlessly without keeping serious track piece by piece. However, if you are using another puzzle template or worry about this, you can still arrange the pieces as I suggest in the video, but if you want to keep track then arrange them in the order you slice the pieces from the puzzle and use your "ATTACH" tool to make sure they remain the same on the cut screen as they show on the canvas. Once cut out just follow your canvas as a guide piece by piece.
Q: Why can't I cut the puzzle from the chipboard assembled together? Why do you want us to arrange the pieces undone?
A: The reason this is so important is that Cricut will have to make many passes around each piece. If the puzzle is together that means where the puzzle piece touch will receive double the amount of needed passes and therefore you will still end up with ripped torn edges. Watch the video above for more explanation.
Q: How much extra time did this take over the kraft board method above?
A: All in all the time it took to slice my image into the puzzle pieces and layer my vinyl on top each piece was about an hour more. To me, one extra hour of work is well worth a clean neat puzzle!
Have another question? Kindly leave a comment below and I will be happy to help!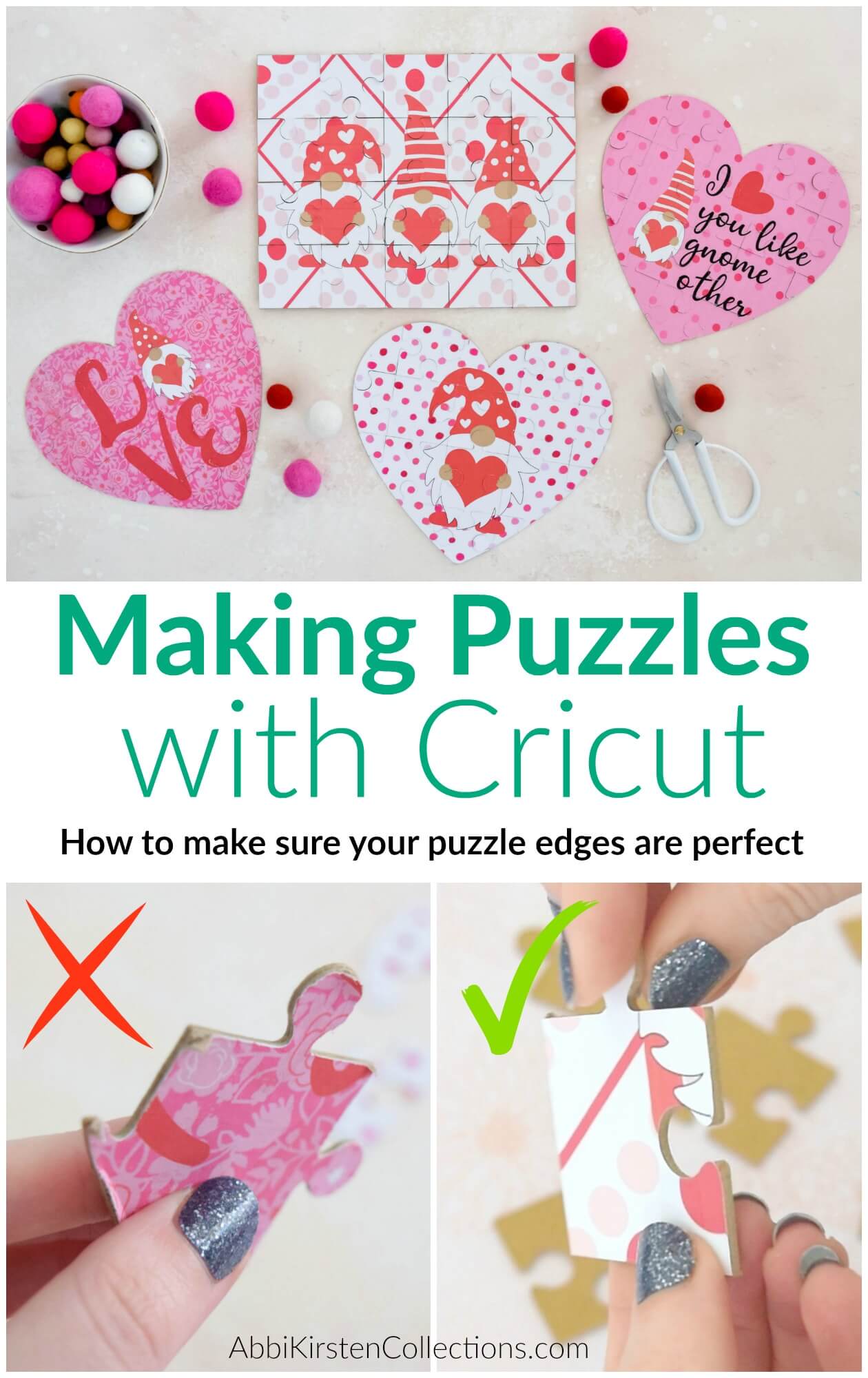 Wanna be a Cricut Master and learn to create your own craft design files like me?
Do you own a Cricut machine or want to own a Cricut but maybe you are overwhelmed when you look at the Design Space software and feel lost with all the functions?
Maybe you wish you could create your own design files rather than being forced to spend money on every design for each project you make?
Let me share with you the 3 biggest mistakes Cricut crafters make and my proven steps to not only master your Cricut but also transform yourself into a craft designer!
If that sounds like it's for you be sure to join me here in my FREE masterclass!