The Best 15 Spring Easter Decorations
This post may contain affiliate links that won't change your price but will share some commission.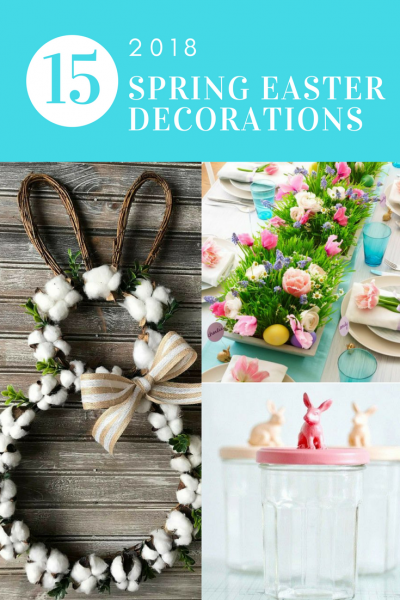 Spring is nature's way of saying "let's party!" (Robin Williams), and we ALL know you can't throw a good party without decorations. So, I've done some digging, and I've put together a list of The Best 15 Spring Easter Decorations for 2018. It's become clear that the bright and airy trend is in this season, and I couldn't be more thrilled to fill my home, office, and everywhere in between with some hoppin' good decor. So let's get to these Spring Easter Decorations!
The Best 15 Spring Easter Decorations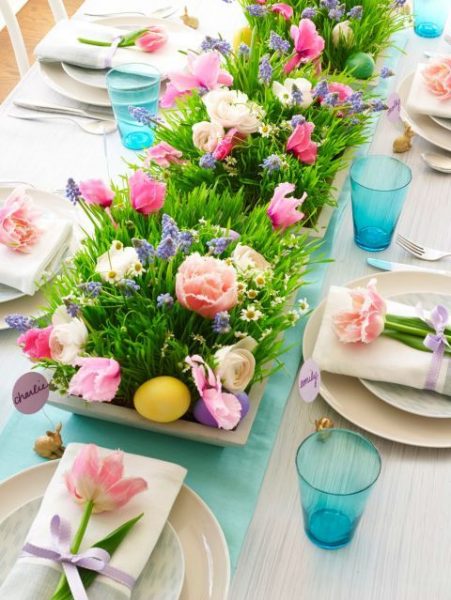 1. A Colorful Centerpiece
Up first is the gorgeous table centerpiece. By now you know I have a deep-rooted love of flowers, and this arrangement of florals is a wonderful way to craft your way into a noteworthy centerpiece. Thank's Woman's Day for the inspiration and instructions!!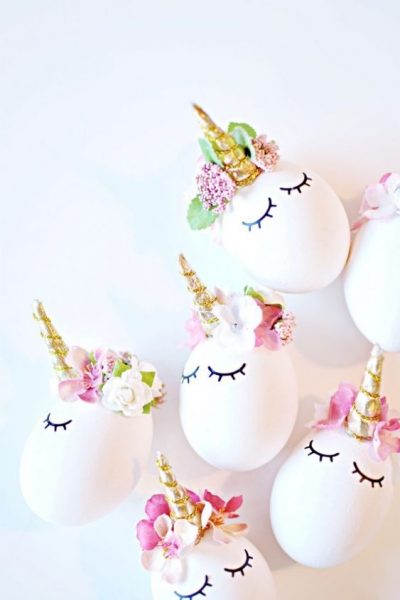 2. Unicorn Easter Eggs
Can you get over these Unicorn Easter Eggs? These are an adorable addition and a unique flair to the traditional Easter Egg. Head over to my link on Pinterest and check out the inspiration behind these eggs, and visit Little Inspiration blog for more Unicorn Themed decor.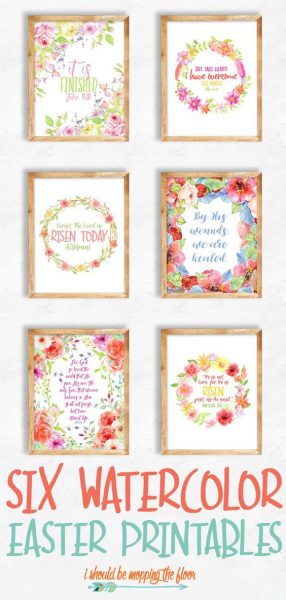 3. Watercolor Printables
Who doesn't love a good Spring Easter Printable? I know I do! It's such a quick and easy way to change the feel of any room and create space to highlight what we are looking for in the current season. Snag up these Watercolor Easter Printables from "I Should Be Mopping the Floor" blog.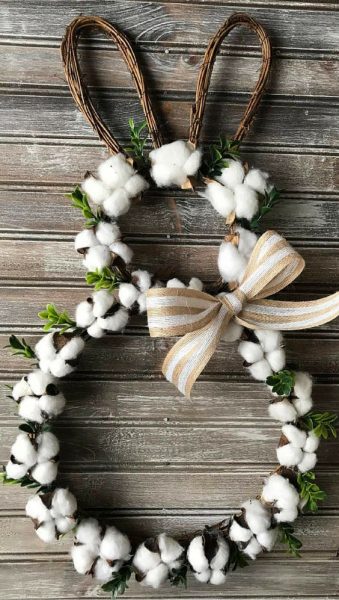 4. Cotton Bunny Wreath
This cutie gives a whole new life to "Here Comes Peter Cottontail," am I right? This little goodie is a simple statement piece that will add a rustic charm and a fresh feel to your home as you are creating your Spring Easter decorations. SO lovely! Hop on over to ToadStoolPond on Etsy and grab this charming piece just in time for the Easter season.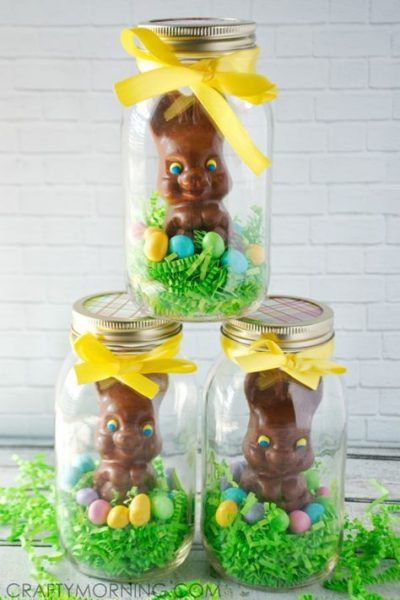 5. Chocolate Bunny Mason Jars
Is it even Easter without a chocolate bunny? I say NO! And this DIY Candy Jar adds a new spin to the traditional candy we put (and hope for) in our Easter Baskets. What a thoughtful touch to take the candy out of a box and make it extra-special in an inexpensive mason jar. Find the instructions on the 11Best.Com!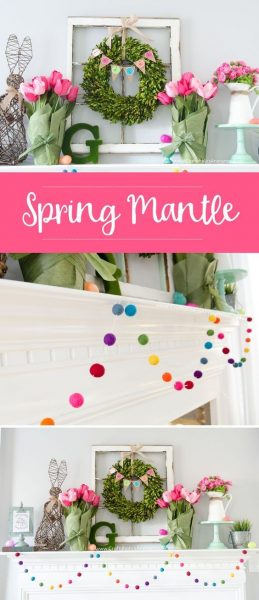 6. Spring Mantle Decor
If you are looking for some fabulous inspiration for a fun and springy bit of inspiration for your mantle for this Spring Easter season- look no further than Craftaholics Anonymous. This entire post is FULL of everything she did to create a happy space for a colorful time of year.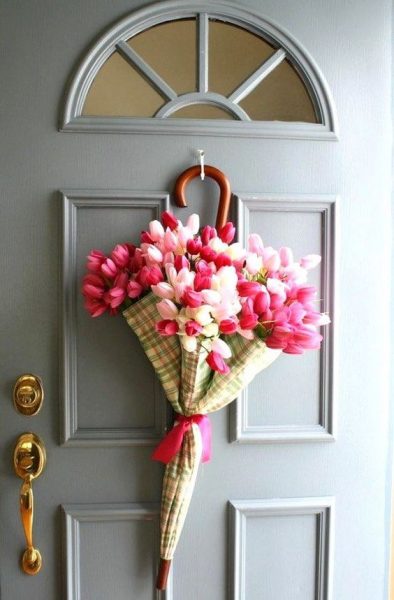 7. Tulip Umbrella Door Decor
Oh. My. Word. Is this not the most wonderful thing you've seen in ages? It's frugal, it's stylish, it's clever, and it's something you could easily DIY yourself. Thank you, God Father Style! You are this seasons MVP! Head over to The Wardrobe Stylist to find links to all the materials you need to start this project.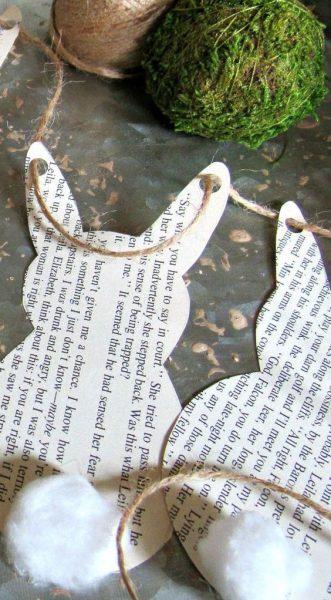 8. Paper Bunny Garland
As much as I love bright colors during spring there is something to be said for a classy and neutral color palette that brings a level of sophistication- even when you are DIYing an Easter Bunny banner. Something about this reminds me of the feeling of windows open, the smell of a new book in hand, and a quiet afternoon exploring the world between the pages. That's my kind of spring day! DECORATOP has all of the details to make this come to life in your home or office.

9. Golden Easter Eggs
These are not your 5-year old self's Easter Eggs. No way! These are sophisticated and full of… Oh, who am I kidding- these are perfect for any glam girl. Regardless of age. These dyed eggs flourished with gold leafing are a snazzy touch to this year's Easter Egg Hunt. If you ask me I say these get the gold medal. See what I did there?? Anywho, you can stop by She Knows for step-by-step instructions. Your Instagram followers are going to thank-you for this one!

10. Egg and Flower Centerpiece
Grab some eggs and fresh flowers and, before you know it, you've put together a sweet and pink bouquet that will dress up your table, mantle, or desk. When trying to come up with time-saving ideas I love tips and inspiration like this. It's beautiful to look at and is almost effortless in execution. This is no doubt a fantastic and easy way to add Spring Easter decorations to your home. Thank you Build Direct for the idea!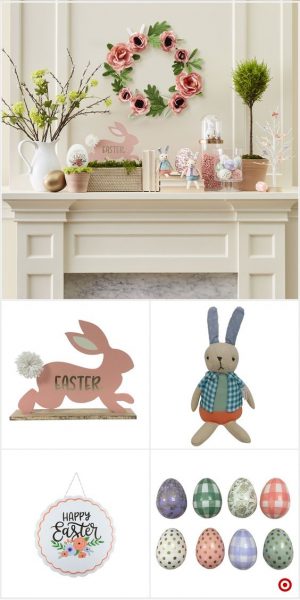 11. New Easter Picks
Not that we need another excuse to go to Target, but I'm giving you one anyway. As much as I love a good DIY project sometimes there is nothing better than a coffee in hand and a stroll through a Target aisle to grab their newest seasonal decorations. My friend, this year's Spring Easter lineup is adorable, and I love everything about it. AND, the best part is, even if you don't want to leave the house, you can shop Target.Com. What a life!

12. Colored Eggs With a Twist
I'm always on the hunt for a fun new way to make decorating eggs an exciting family memory. When I saw this project I knew I had to share it. Not only is this the traditional 'dip the egg' process but now we are creating designs and making our dipped eggs something spectacular. Currently, the kit is sold out at Kohls, but I'm sure you can buy your favorite egg dying kit and use some painters tape to create a similar effect. Let me know how it goes! Aren't you excited?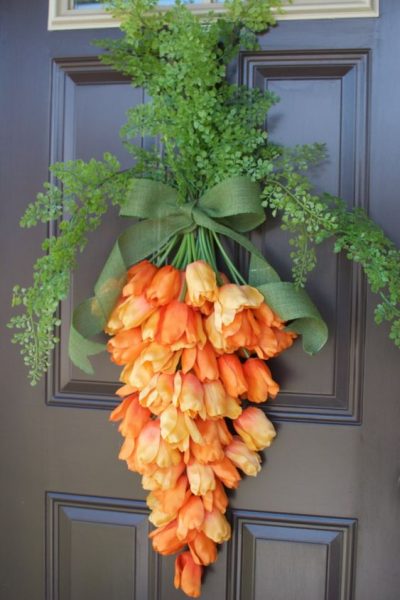 13. Carrot Wreath
Love the Tompkins has done it again! I'm heart eyes all over the place with this ADORABLE carrot inspired Tulip Wreath/Door Hanger. There is no doubt the Easter Bunny is going to feel right at home with this crafty bit of decor welcoming him in. Be sure to visit the blog for step-by-step instructions for this Easter Carrot Tulip Wreath!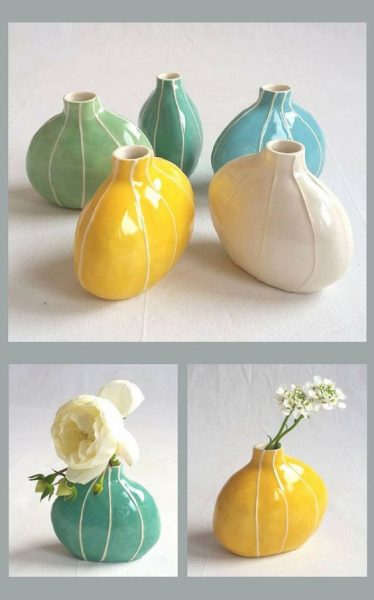 14. Pastel Easter Vases
I'm a sucker for anything handmade. Something about it makes me feel like there was an extra bit of love worked into that creation just for me. Kri Kri Creations, an up-and-coming Etsy shop, creates these adorable vases by hand and they are perfect for your Spring Easter Decorations! What are you waiting for?? Go grab a few!
15. Bunny Candy Jars
Last, but certainly not least, are these adorable DIY Easter Bunny Jars. I'm a big fan of thoughtful and intentional gifts that are themed around seasonal events and these jars are a wonderful, inexpensive way to let someone you know feel loved and appreciated. Fill them with jelly-beans, chocolate eggs, or whatever you choose! Visit the Craftionary site for more info!
Whatever you decide to do to spruce up your home for spring, I hope you find a renewed sense of joy, light, and happiness as we close out our cold season and embrace newness and freshness in the coming months!
Happy Spring!!