Crepe Paper Poinsettia Tutorial: Free Poinsettia Flower Template
This post may contain affiliate links that won't change your price but will share some commission.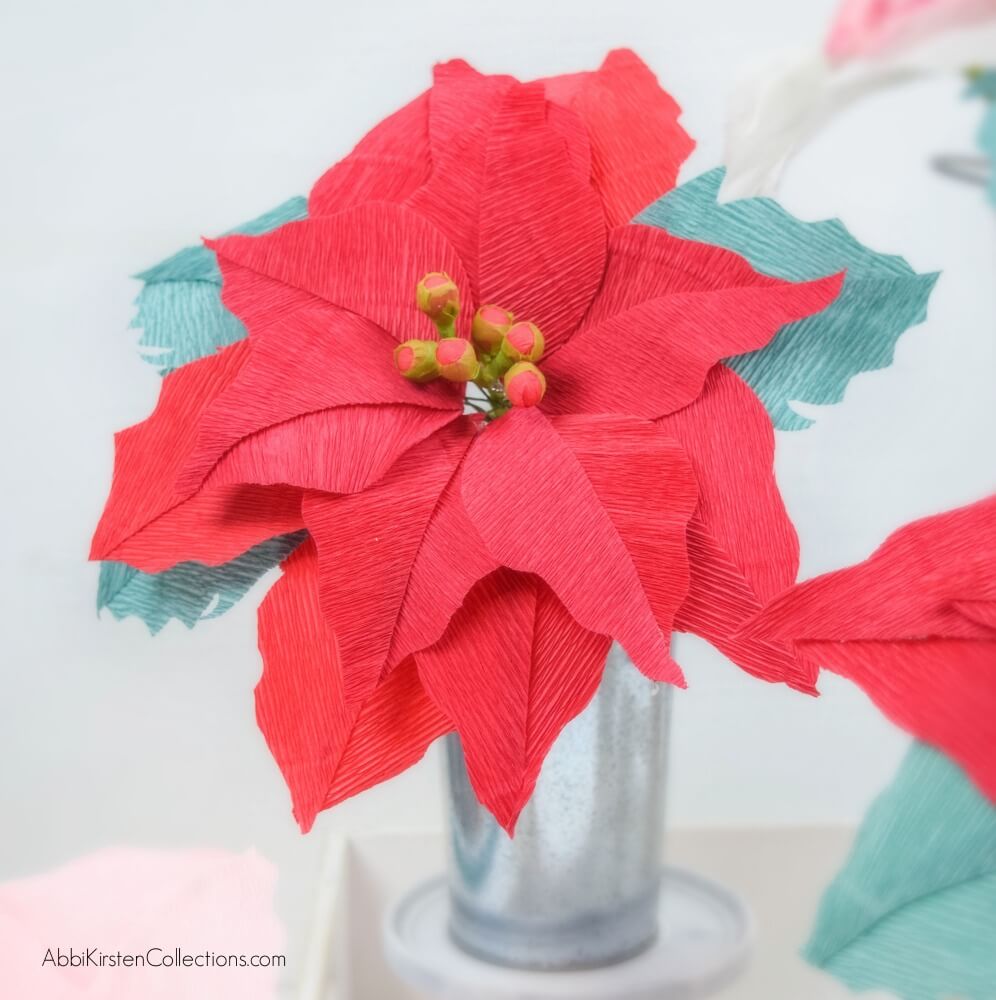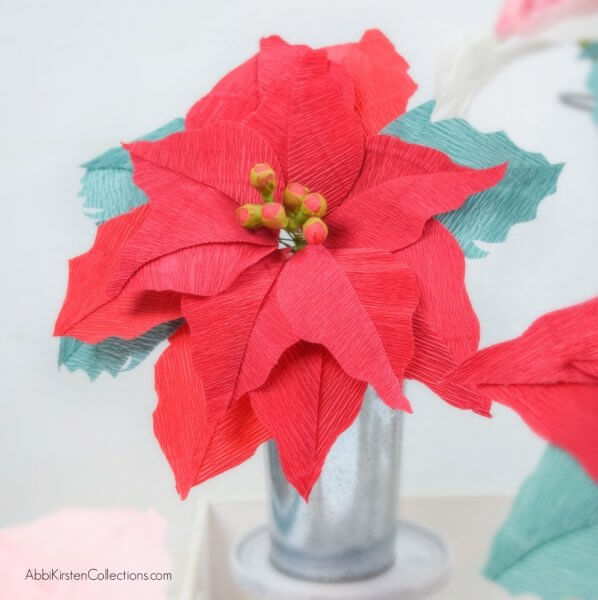 Poinsettias are definitely the flower that comes to mine at Christmas time. Every year I expand my DIY paper poinsettia collection. And this year I am adding a new crepe paper poinsettia flower that looks very realistic. Past years have included some rather large wall poinsettias – check out the classic style and my Noel style here.
But this year, I wanted to make a paper poinsettia that really looks as close to the real thing as possible. Crepe paper is your best friend for making realistic paper flowers, and I am going to teach you a fun technique to use the grain of the crepe paper to your advantage.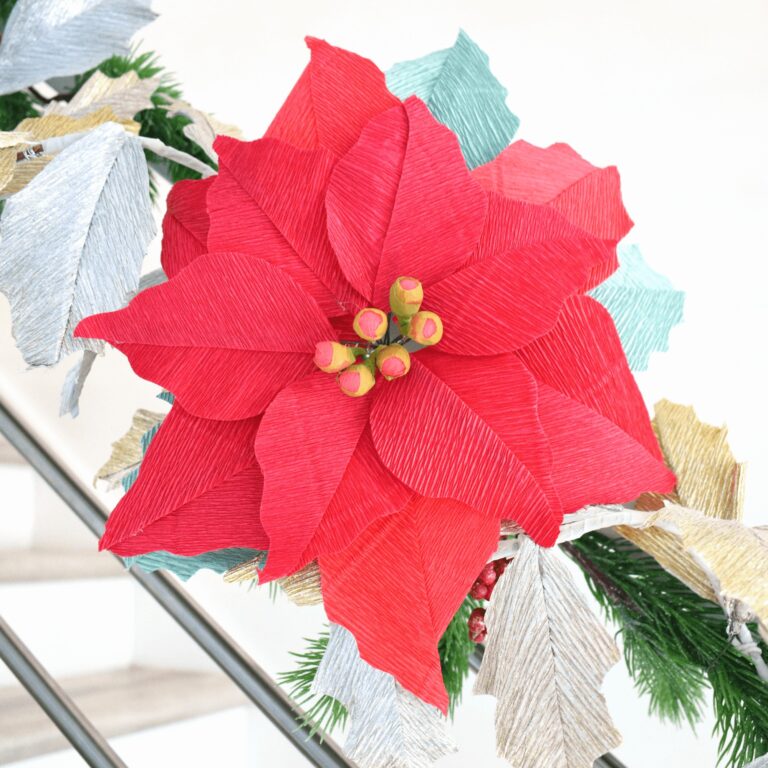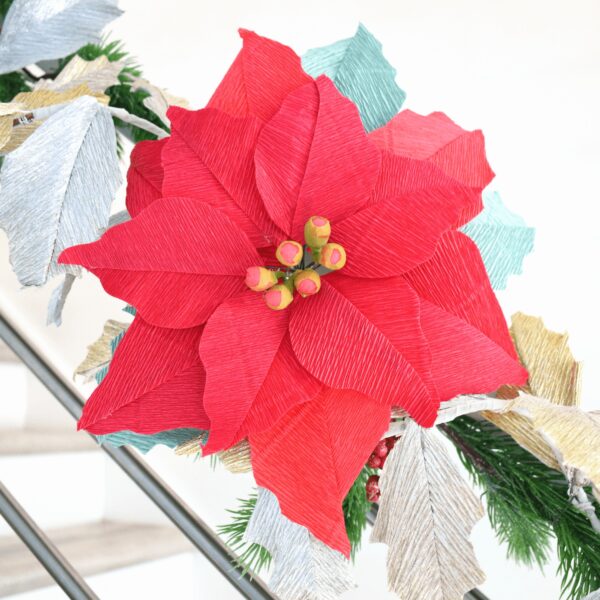 This crepe paper poinsettia flower tutorial is ideal for beginners and can easily be cut by hand with scissors or use your Cricut Maker to cut them for you with the rotary blade! Be sure to read this guide on cutting crepe paper with your Maker.
Want more Christmas Crafts? View everything I have here!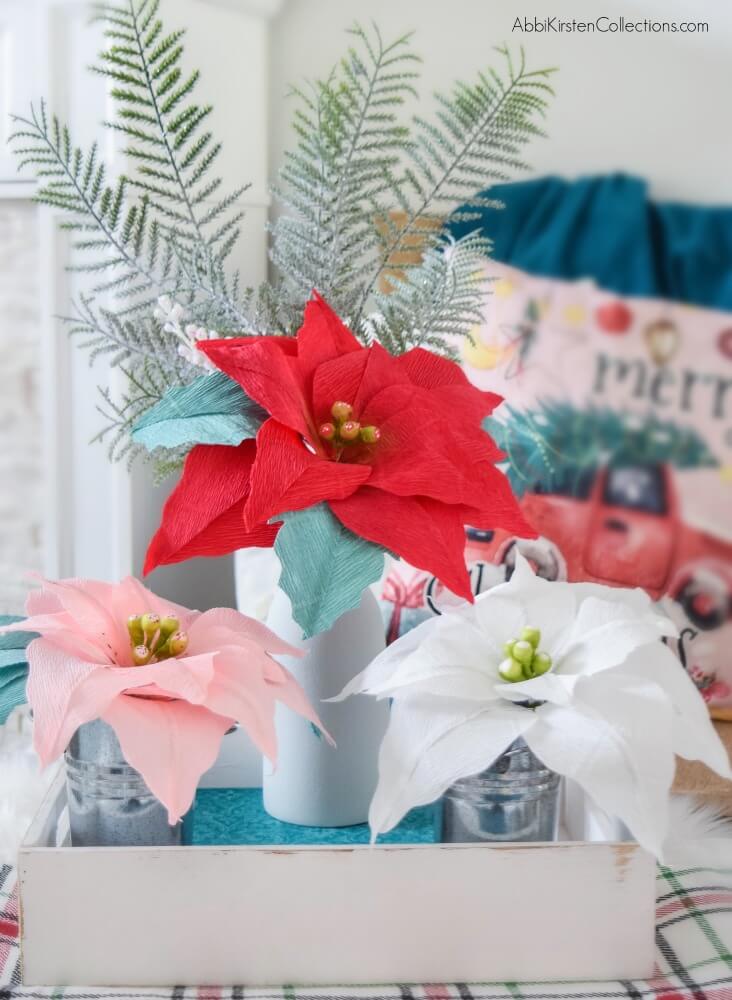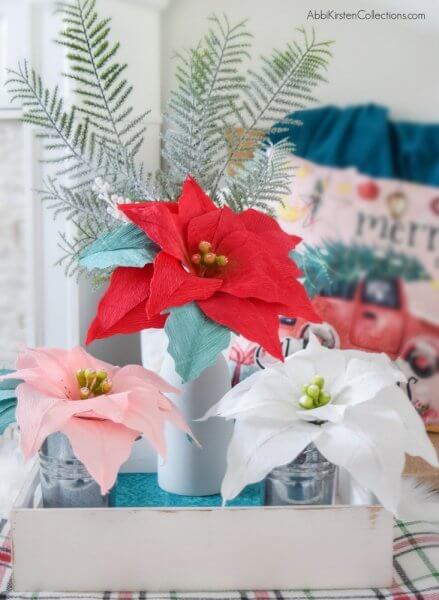 Review the supplies you will need for this project below then scroll down for a full step-by-step video tutorial! You can also check out my entire list of Pro Paper Flower Supplies here!
Supplies for Crepe Paper Poinsettia Flowers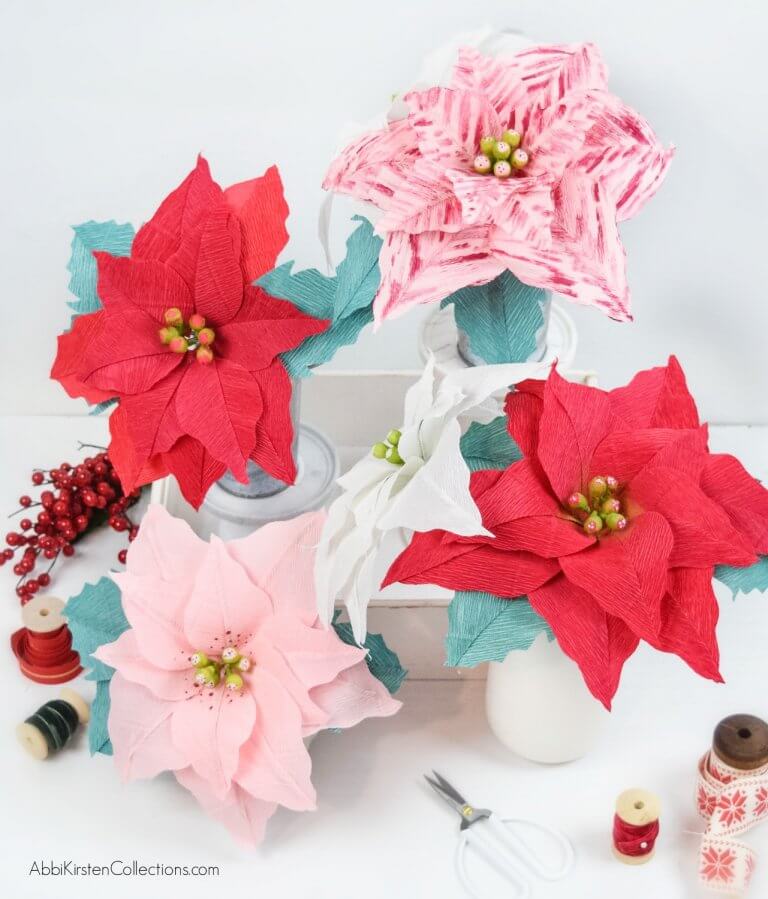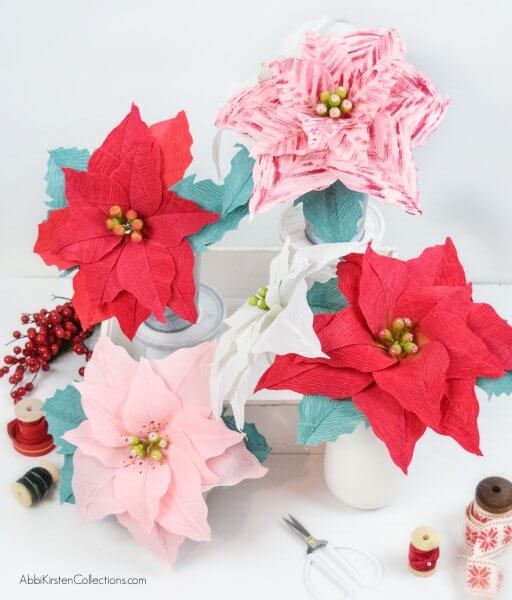 Cutting Your Crepe Paper Poinsettia Petals
12 smaller petal halves
12 larger petal halves
6 leaf petal halves
Cut your crepe paper so the grain runs diagonally. You can see how I set mine up in Design Space below
6 one-inch squares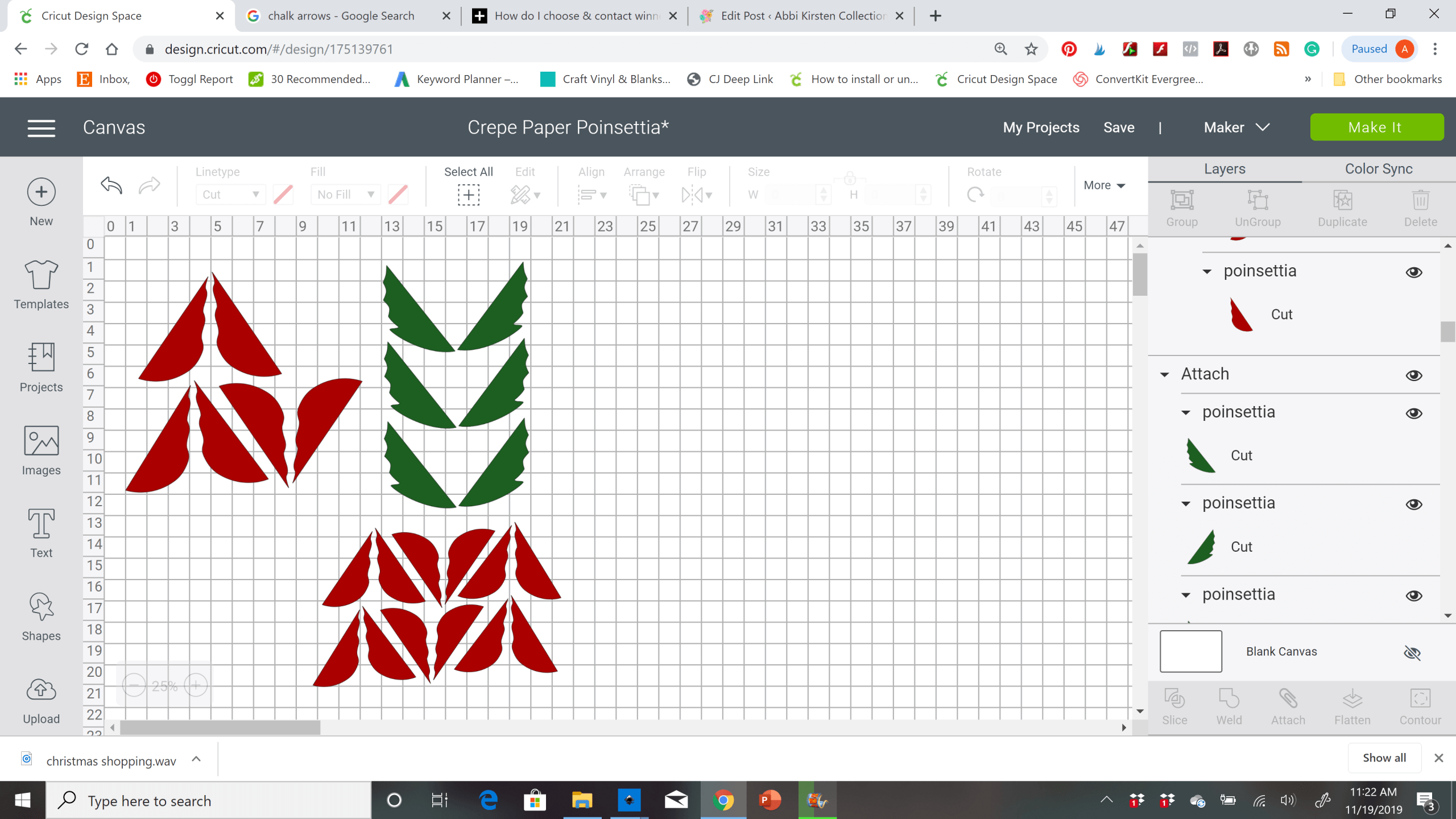 Cutting machine measurements (H x W)
The measurements written below are the size of the petals when they are NOT turned at a diagonal in Design Space. Your bound box will change these measurements when you rotate them. I recommend setting your measurements (if needed) then rotating your petals after.
Larger petal: 5.7 x 1.8 inches
Smaller petal: 4.1 x 1.3 inches
Leaf petal: 5.1 x 1.8 inches
6 one inch squares
Note: If you are cutting by hand just print the template on cardstock and cut your petals out with the template running diagonally to the grain of the paper.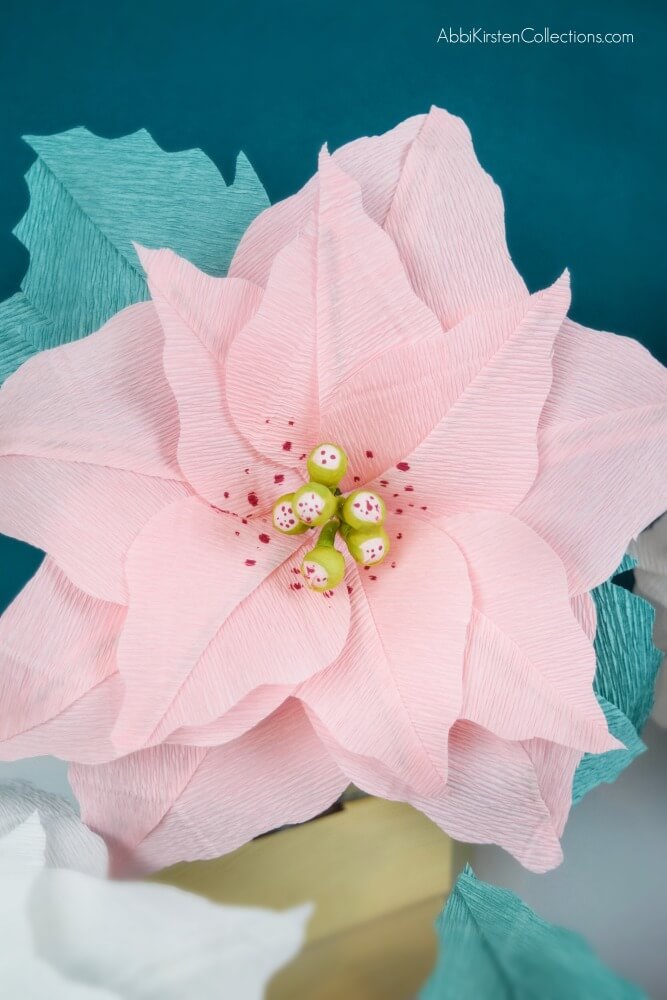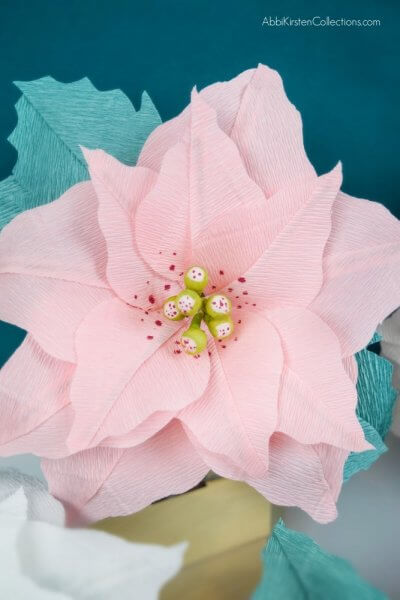 DIY Poinsettia Flower Video Tutorial
Ready to make these festive holiday blooms? Watch the full crepe paper poinsettia flower tutorial video below or review the quick-glance picture tutorial!
How to Make A Poinsettia Flower Craft From Crepe Paper
Create the poinsettia center stamen by wrapping crepe paper around the pearl and wire clusters. Hold the crepe paper on by wrapping corsage tape around the base and down the stem.
Cut out your crepe poinsettia petals and glue them overlapping each other with a thin wire in between. Repeat that six times.
Holding your poinsettia stamen, begin adding the smaller poinsettia petals to the center, wrapping with floral corsage tape down the stems to secure.
Repeat this until you have added all the petals onto the flower.
Fan out the poinsettia crepe petals to shape the flower.
Repeat steps 2 and 3 for the leaves as well.
Make a bunch of paper poinsettias and add them to an arrangement or vase!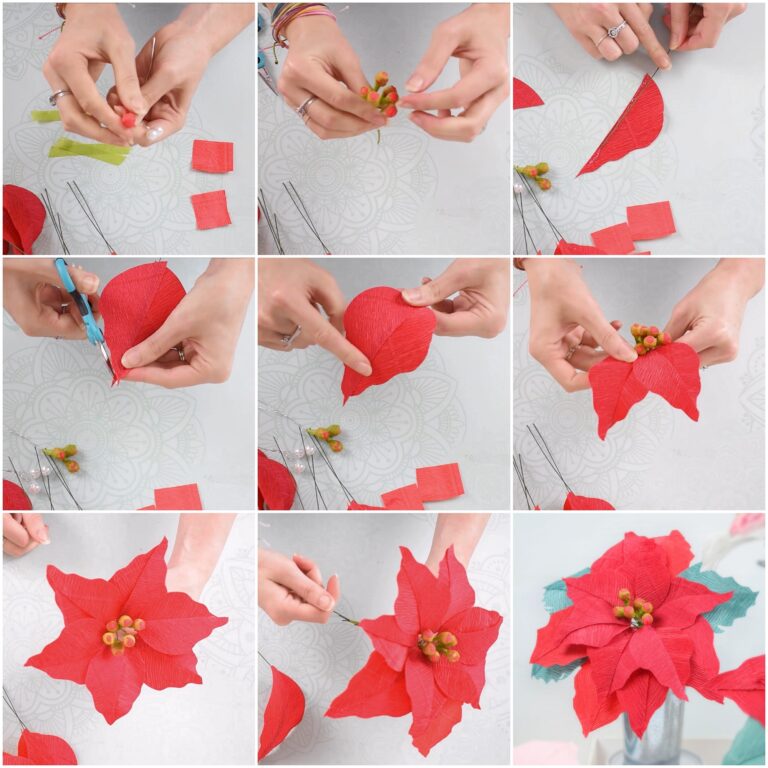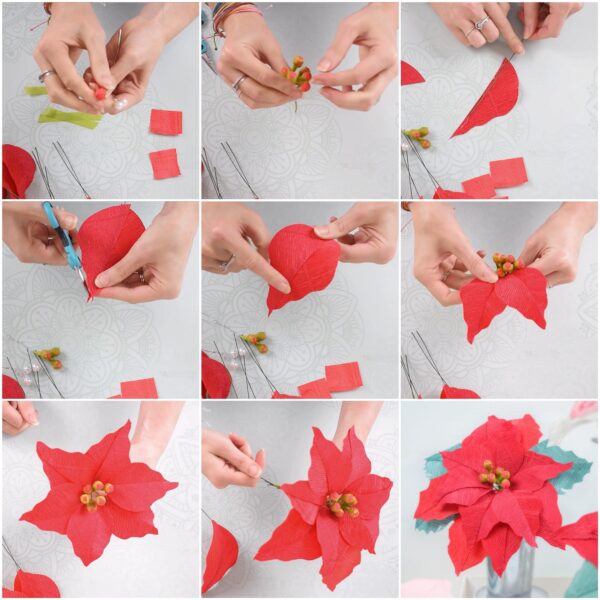 Hey, Crafty bestie! I'm Abbi!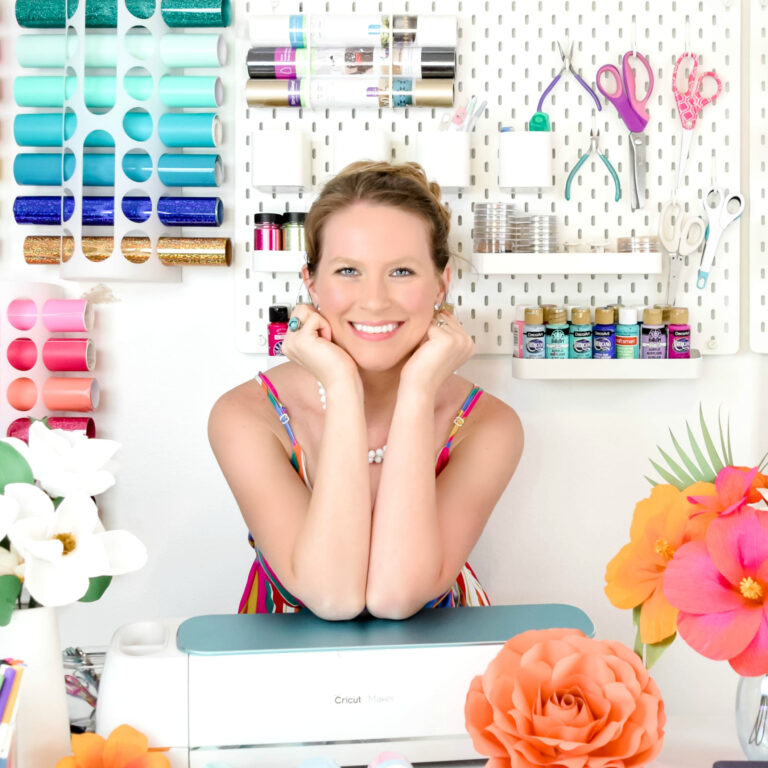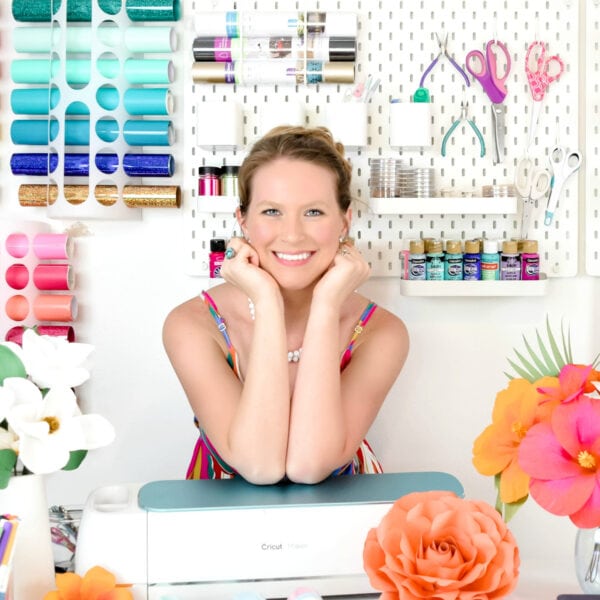 I'm thrilled you are here! I have spent the last 10+ years making messes and magic in my home studio to make the world a more colorful place, one craft at a time! I'm on a mission to nurture the creative magic inside your soul and bring that bursting imagination inside you to life with easy-to-learn tutorials. If you haven't yet, be sure to join the subscriber community to gain access to all my freebies or visit my signature design shop, Catching Colorflies!
Related Posts