How to Make Giant Paper Flower Stem
This post may contain affiliate links that won't change your price but will share some commission.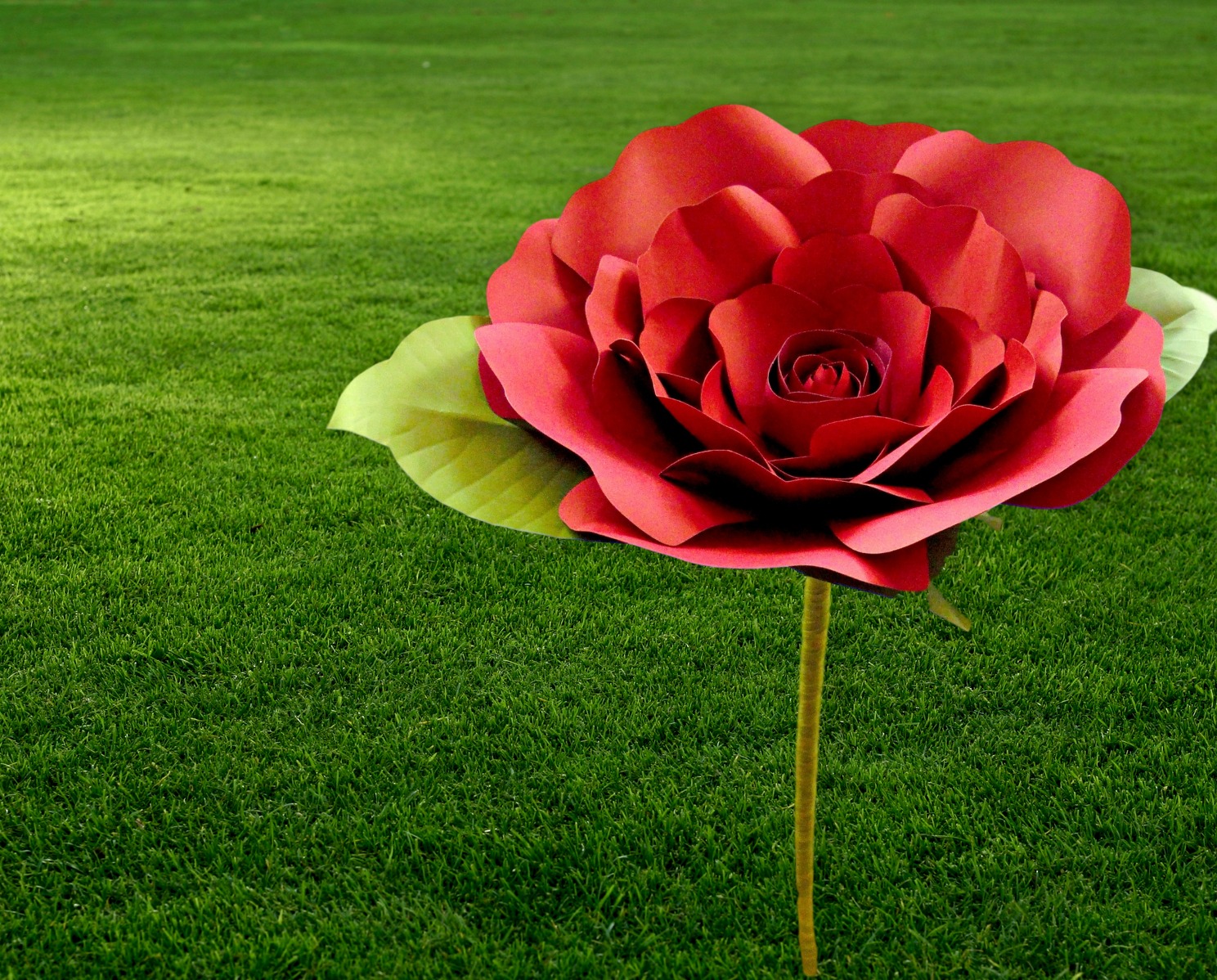 Paper flowers are a lovely craft project. Your flowers can be bright or patterned, large or small, and in any quantity you want. The biggest problem when making or purchasing paper flowers is how to make stems stable enough that they support the large flowers and can stand upright. This giant paper flower stem tutorial will teach you how to make DIY flower stems and a DIY flower display stand. I've divided the lesson into two parts to make it easier to follow. Be sure to check both sections for supply lists!
Part 1: How to Make Giant Paper Flower Stems
Learning to stem a giant flower is quite simple because you can find all the necessary supplies at a craft store, and the steps aren't complicated. It took me a while to figure out how to create a flower stem that made a solid connection to the flower – but once the epiphany struck, everything fell into place. You are probably asking, "Can I learn how to make stems for giant paper flowers too?" Well, yes! I'm going to teach you!
First, let's review the supplies you will need for Part 1.
Supplies for a giant paper flower stem:
Wood dowel (3/4 – 1-inch diameter, 3 ft. long)
1 3-4 inch diameter foam balls, cut in half
Green tulle or green spray paint
3-4 large leaves
One ready-made paper flower – shop templates here!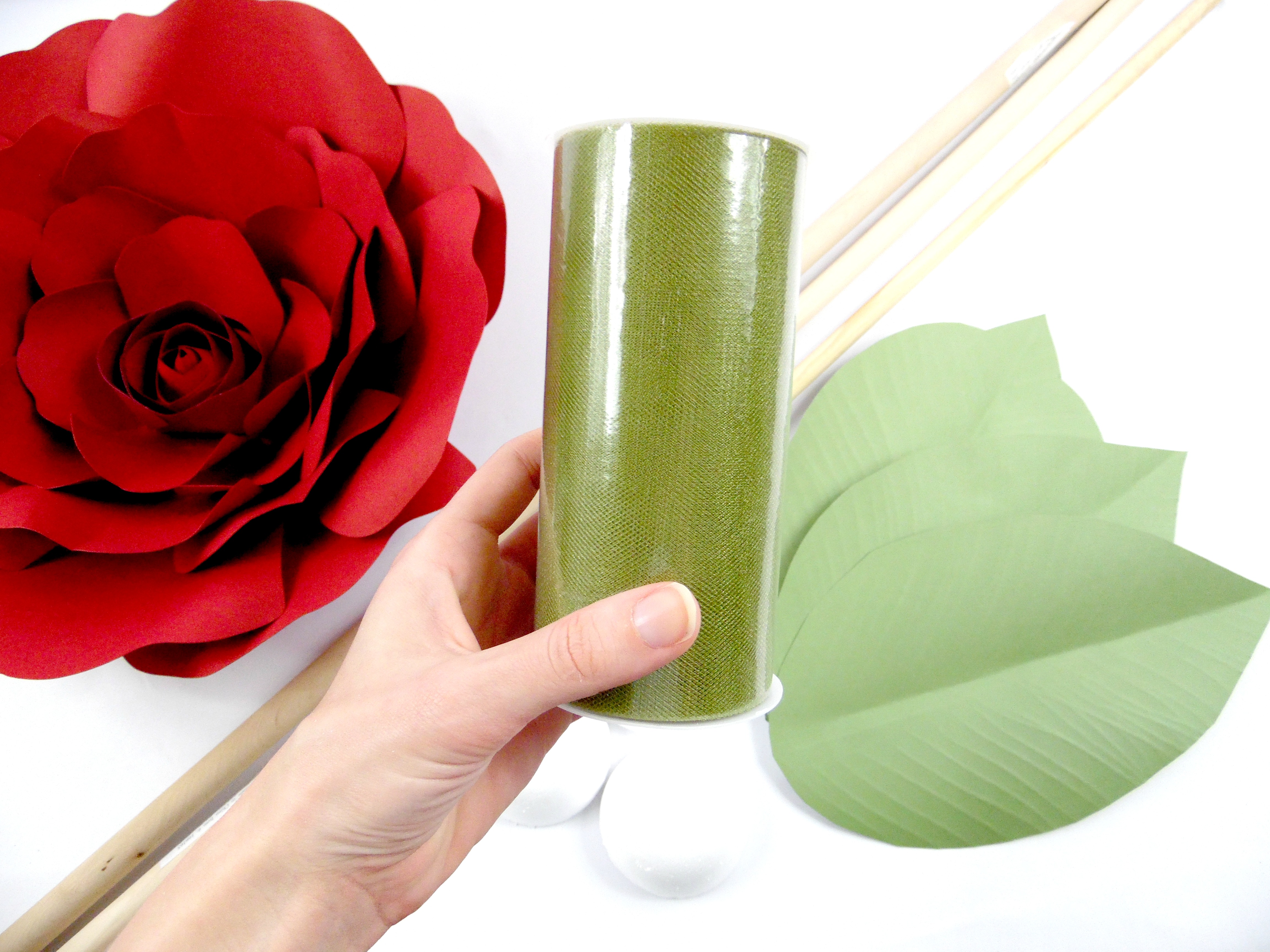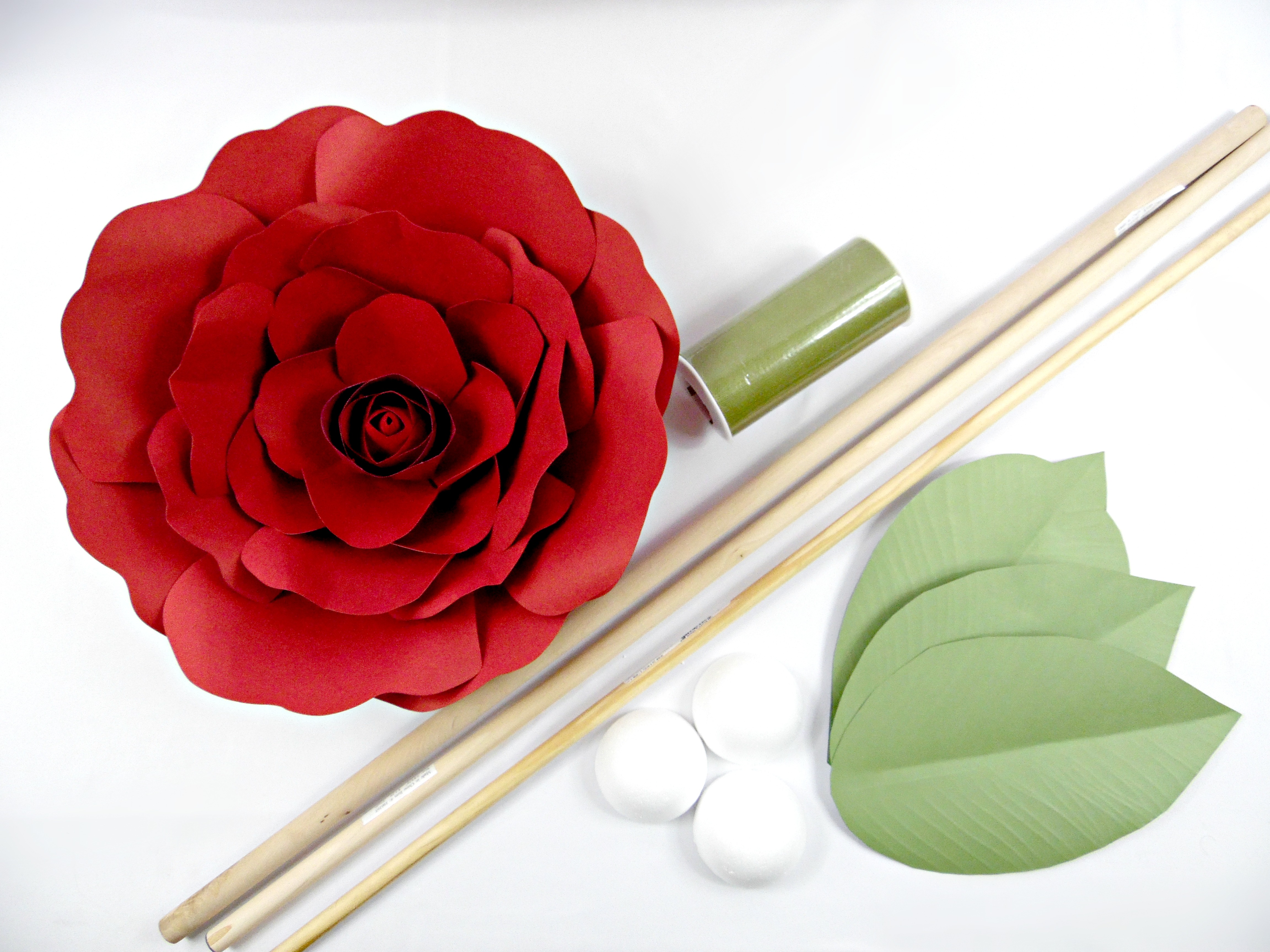 Step 1: Gather Your Supplies to Make A Giant Paper Flower Stem
Before you begin any project, prepare your workspace and gather your supplies. You may be able to find foam balls already cut in half at your craft store. If not, you can cut them yourself. I used a small saw. Be careful when cutting or get someone to help you!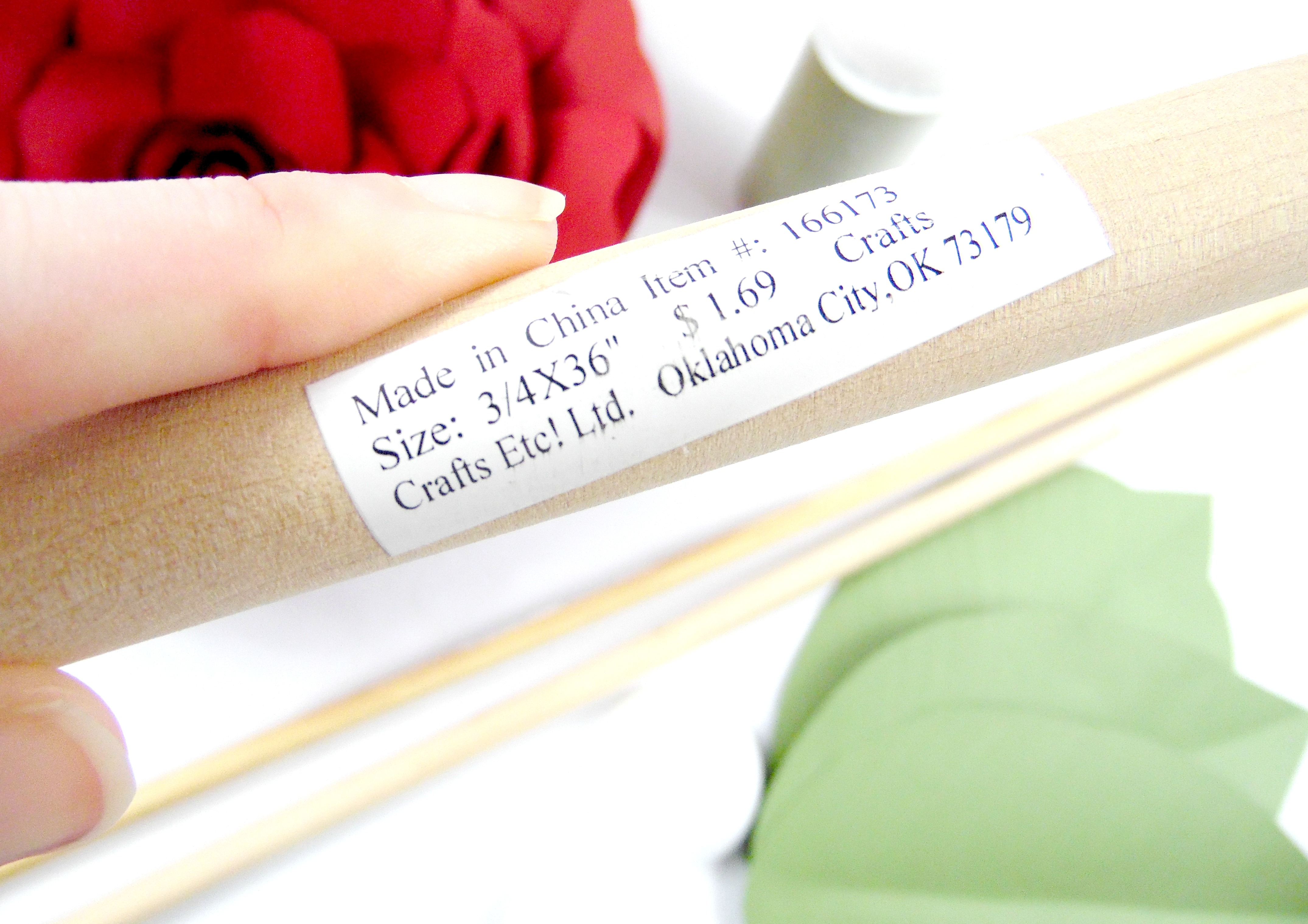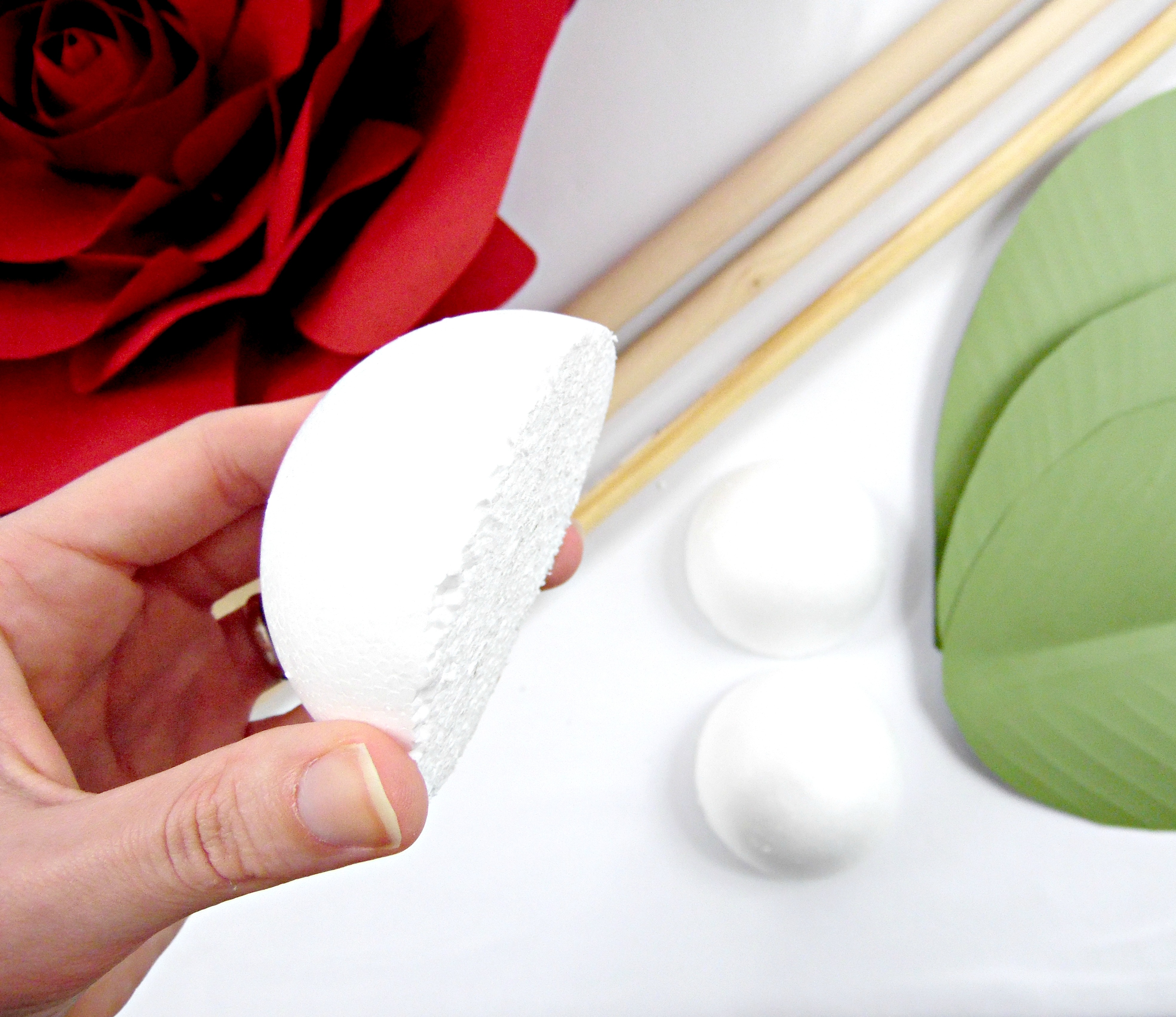 Step 2: Decorating the Giant Paper Flower Stem
Personally, I like to wrap my dowels in tulle because it adds a whimsical texture. However, using green spray paint will work as well too.
In this example, I'm using a 3/4 of an inch thick dowel. If you used card stock heavier than 65 lb. to make your paper flowers, I recommend going up to a 1-inch dowel. Start wrapping the dowel tightly with your tulle, adding bits of glue as you go so everything stays put. If you decide to spray paint, then do that in this step.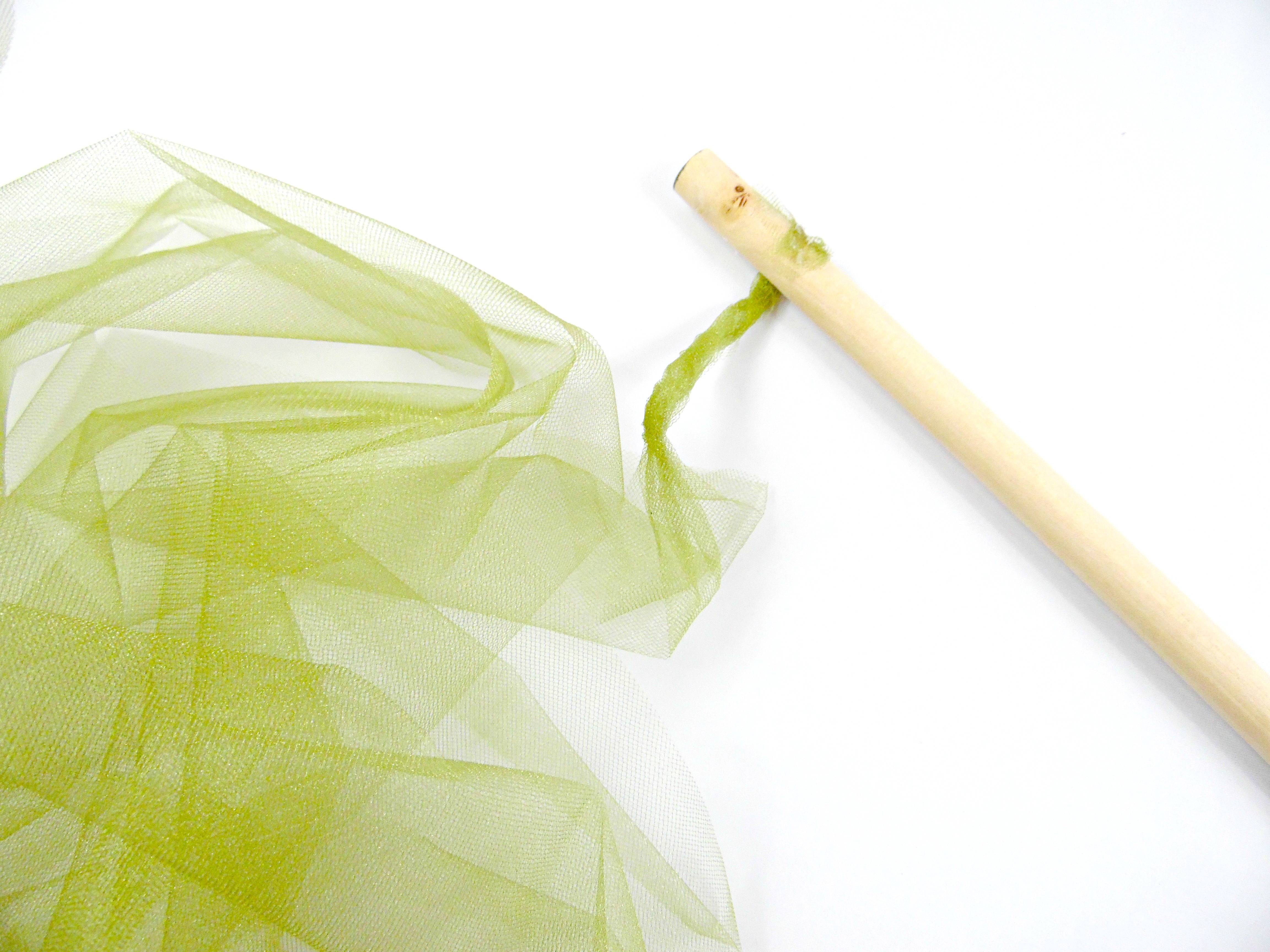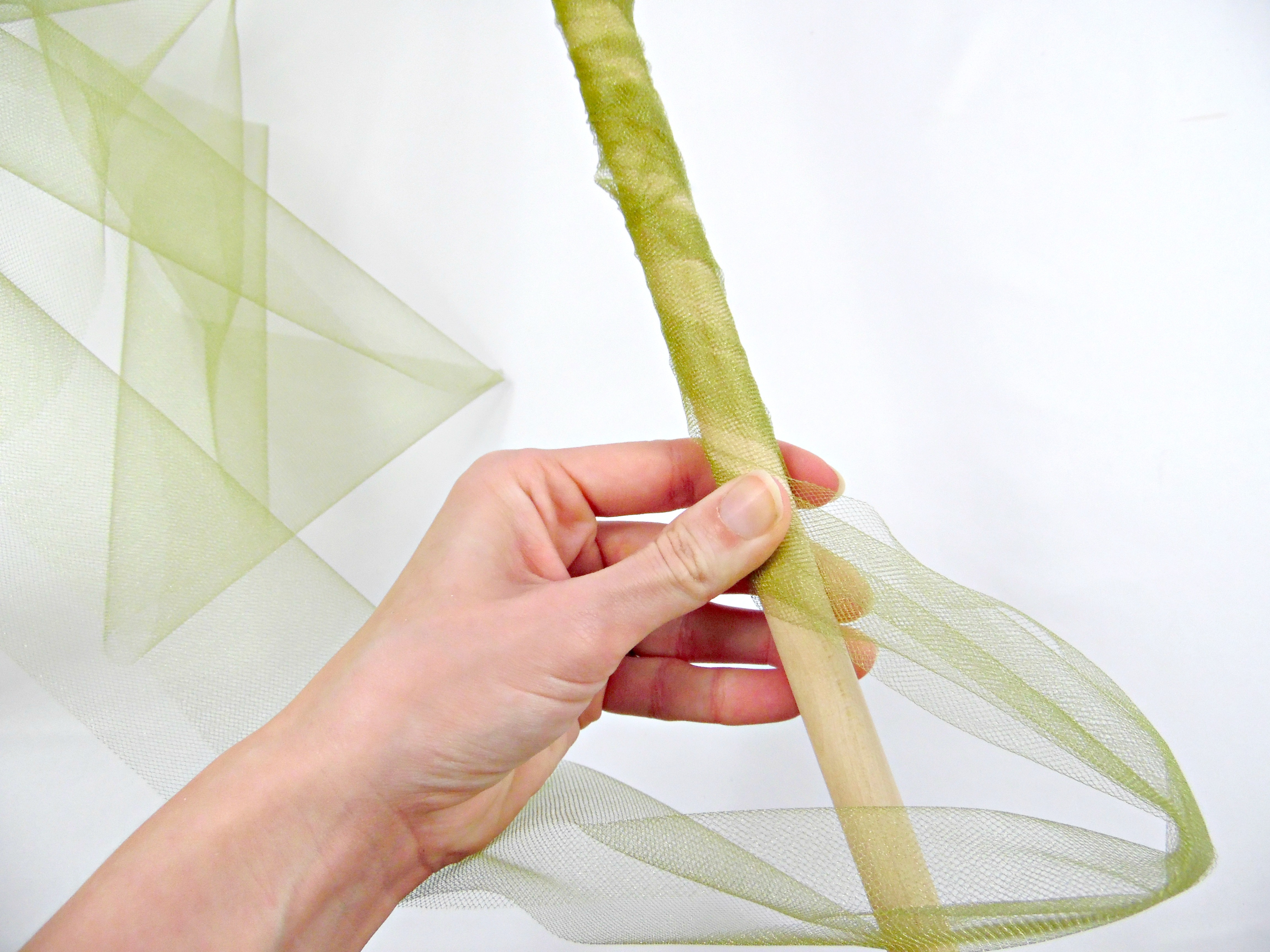 Step 3: Creating A Hole For The Dowel Stem
Connect the wooden dowel for the DIY flower stem to the half foam ball. Make sure the foam ball is flat side down. Aim for the center of the foam ball and push in the wood stem very firmly until you carve a hole with the dowel. Do not punch the hole all the way through the foam ball; only go about halfway or a little further. If you used tulle or another material to cover your giant paper flower stem, it might ride up a little, but that's fine.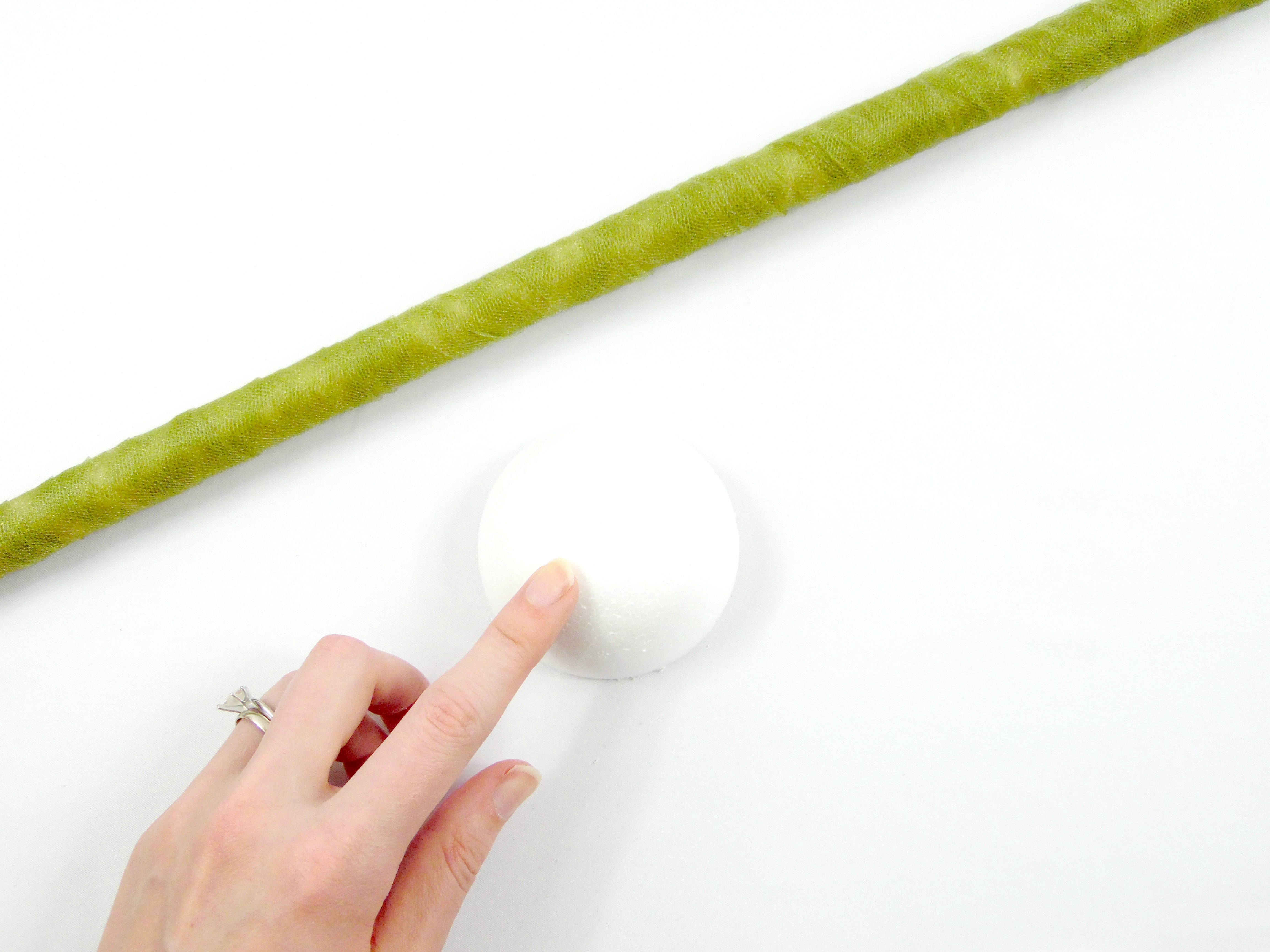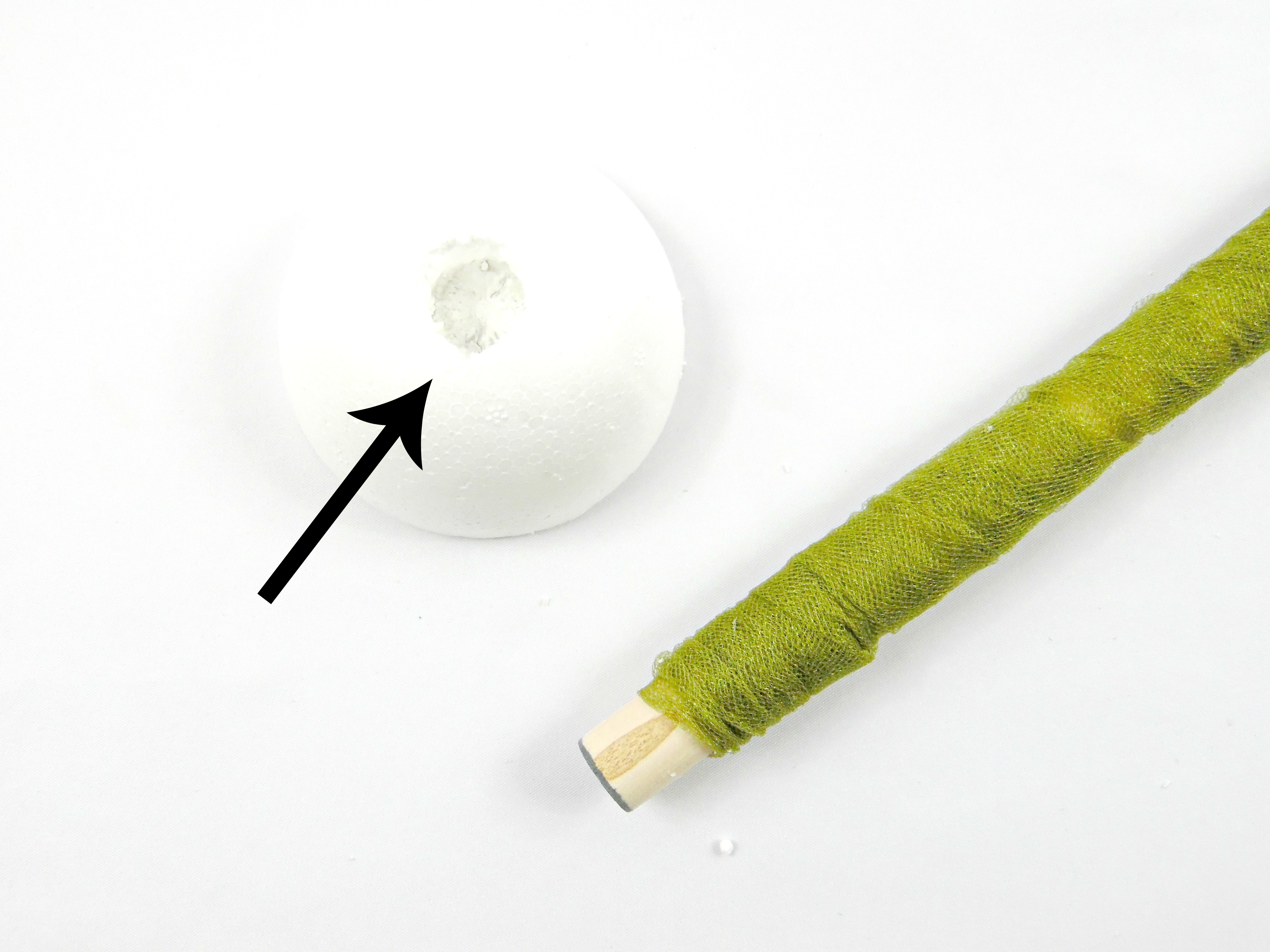 Step 4: Attaching The Foam Ball To The Dowel Stem
After you've carved the hole into the foam ball, generously fill the hole and cover the tip of the dowel with clear hot glue. Then, firmly press into the ball. It's important to press the stem and ball together until the glue completely dries, usually 1-2 full minutes. If some glue squeezes out when you press the stem in, that's a good sign you've added enough glue!
Pro Tip: To have the flower face at more of an angle than straight up, cut off 1/3 of the foam ball and push in the dowel so the flat side is at a 45-degree angle, as shown in the example photo.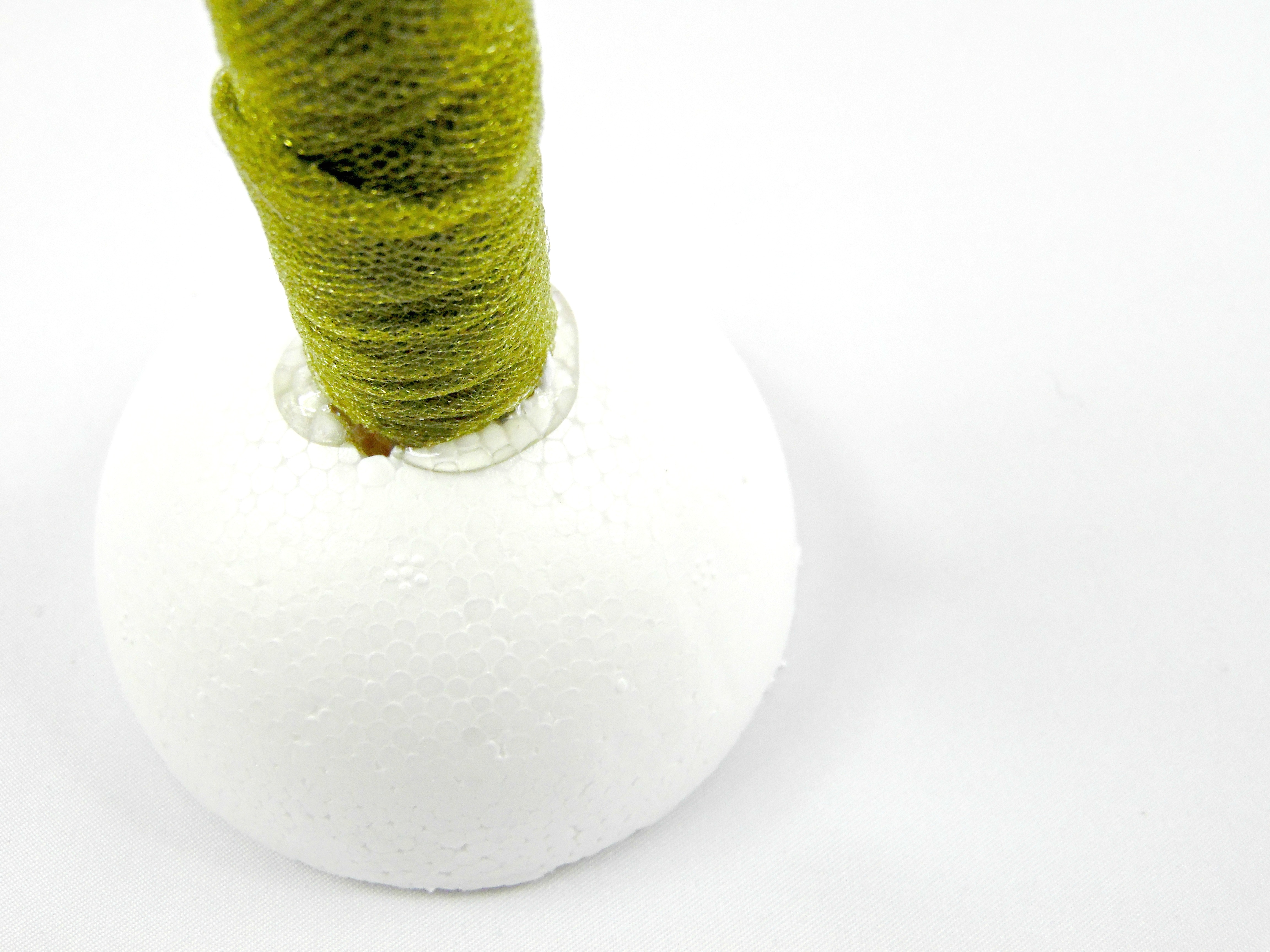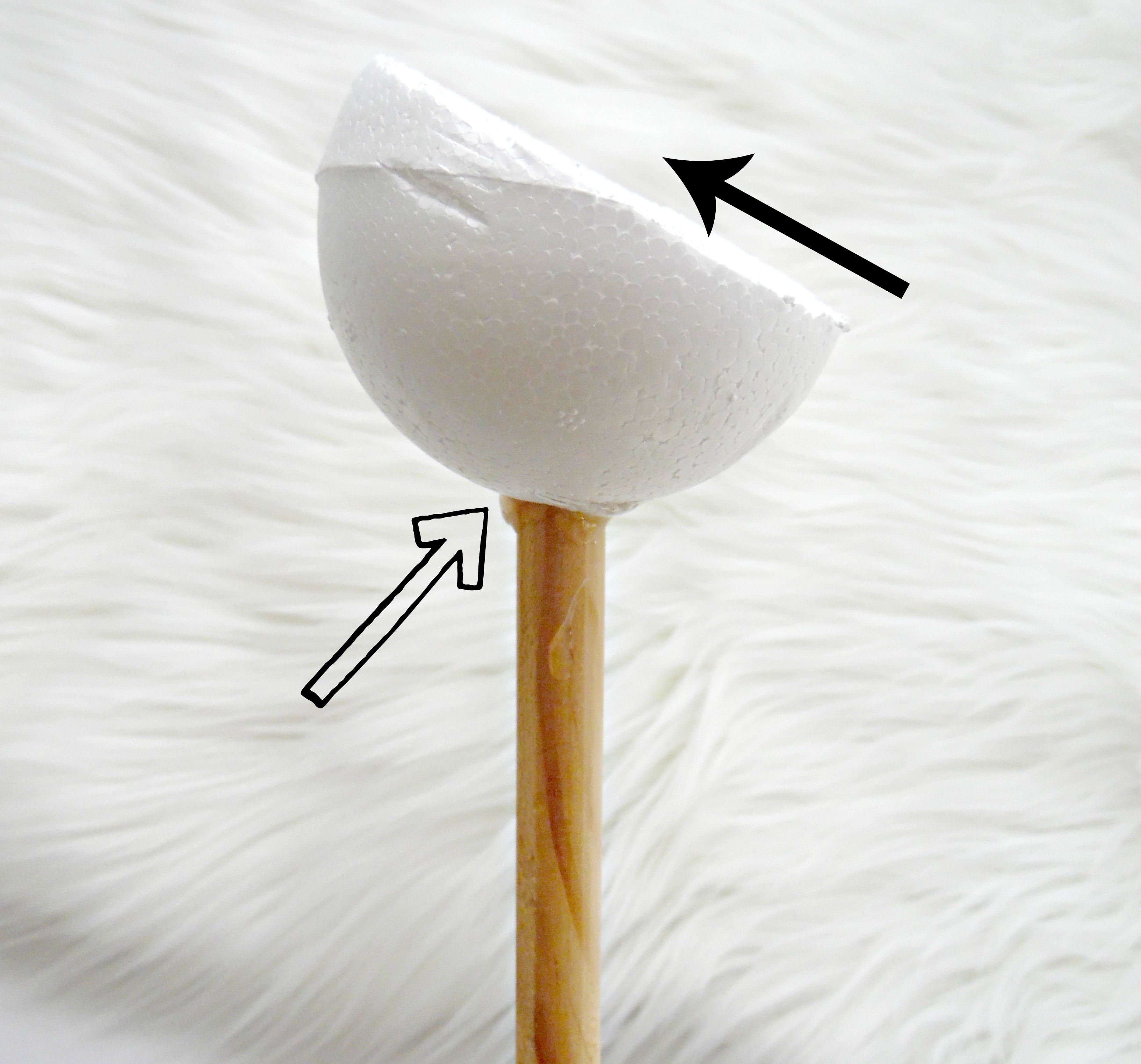 Related Posts
Serena Rose Tutorial | Bella Rose Tutorial | Alora Rose Tutorial | Majesty Rose Tutorial | Eden Garden Rose Tutorial
Step 5: Attaching the Leaves to the Flower Stem
To reinforce the stem further, glue the leaves opposite each other around the base and fold them out. When you fold the leaves down, try to get them closer in line with the foam ball. This creates a wider gluing surface for the flower.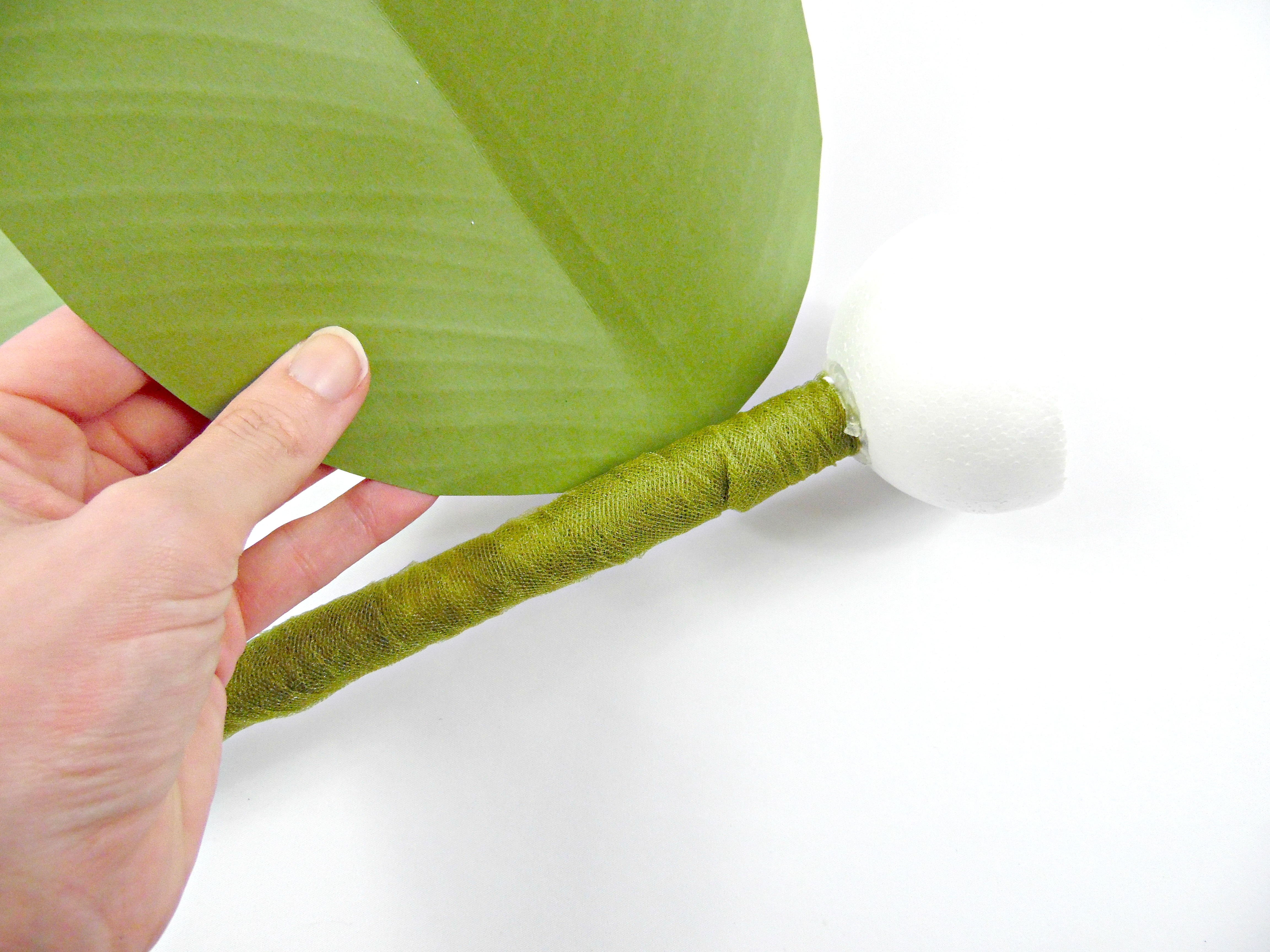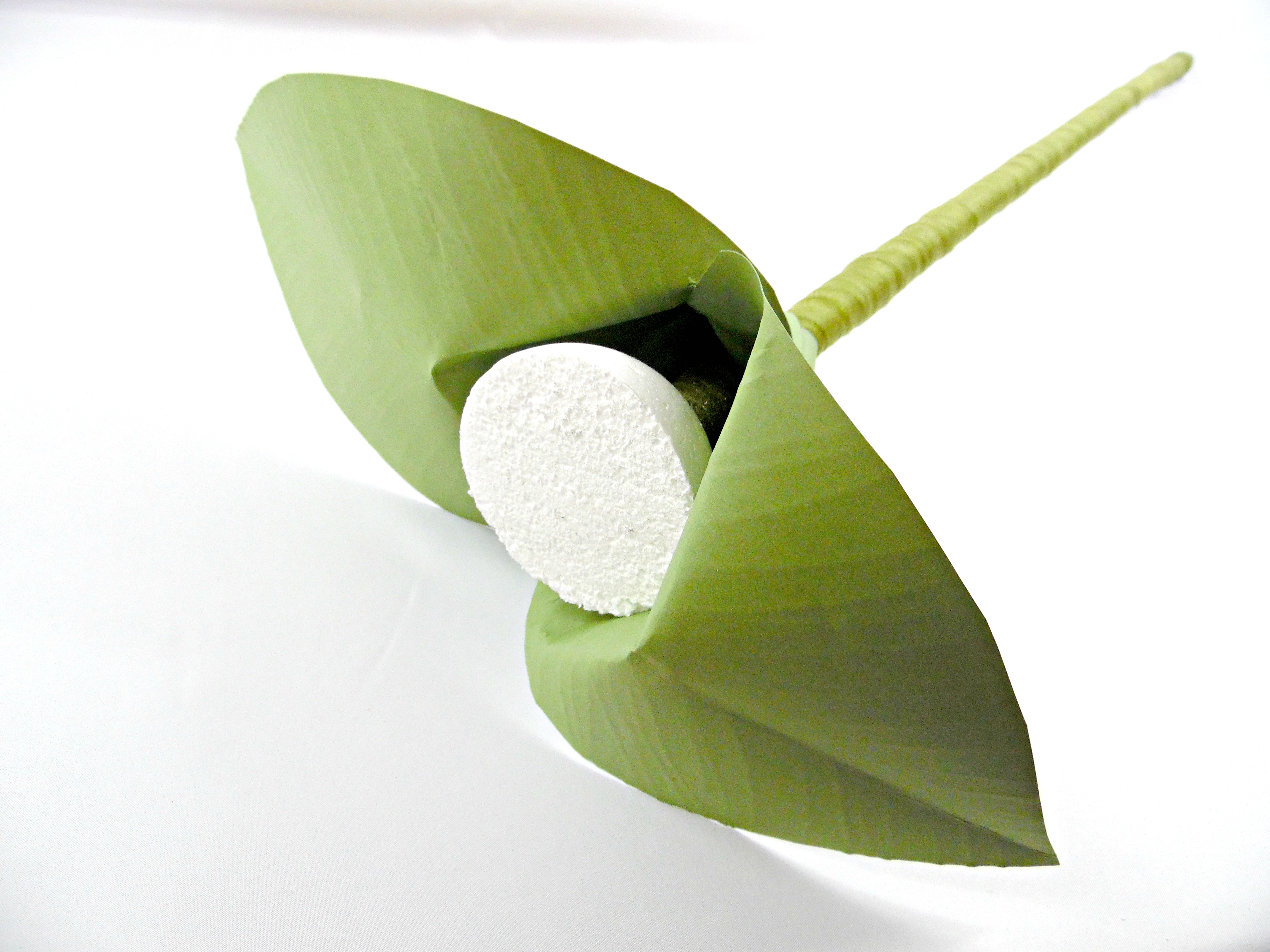 Step 6: Attaching the Giant Paper Flower to the DIY Stem
This first step in attaching the flower to the giant paper flower stem is solely focused on loading up the foam ball's flat side with glue and pressing firmly to the base of your flower. Again, hold this in place until completely dry to ensure a solid connection. Now add glue to the two leaves you attached and press those into the bottom.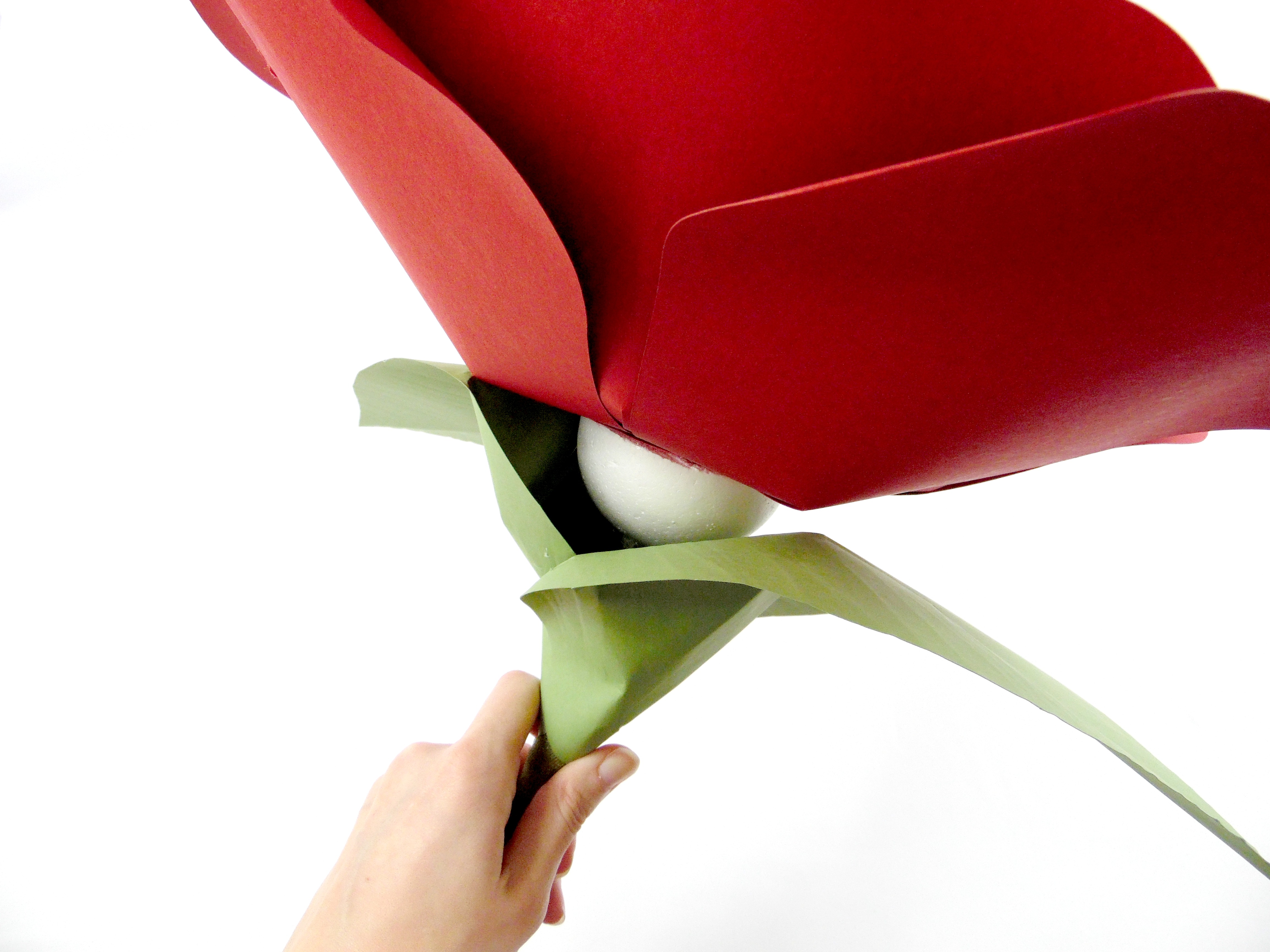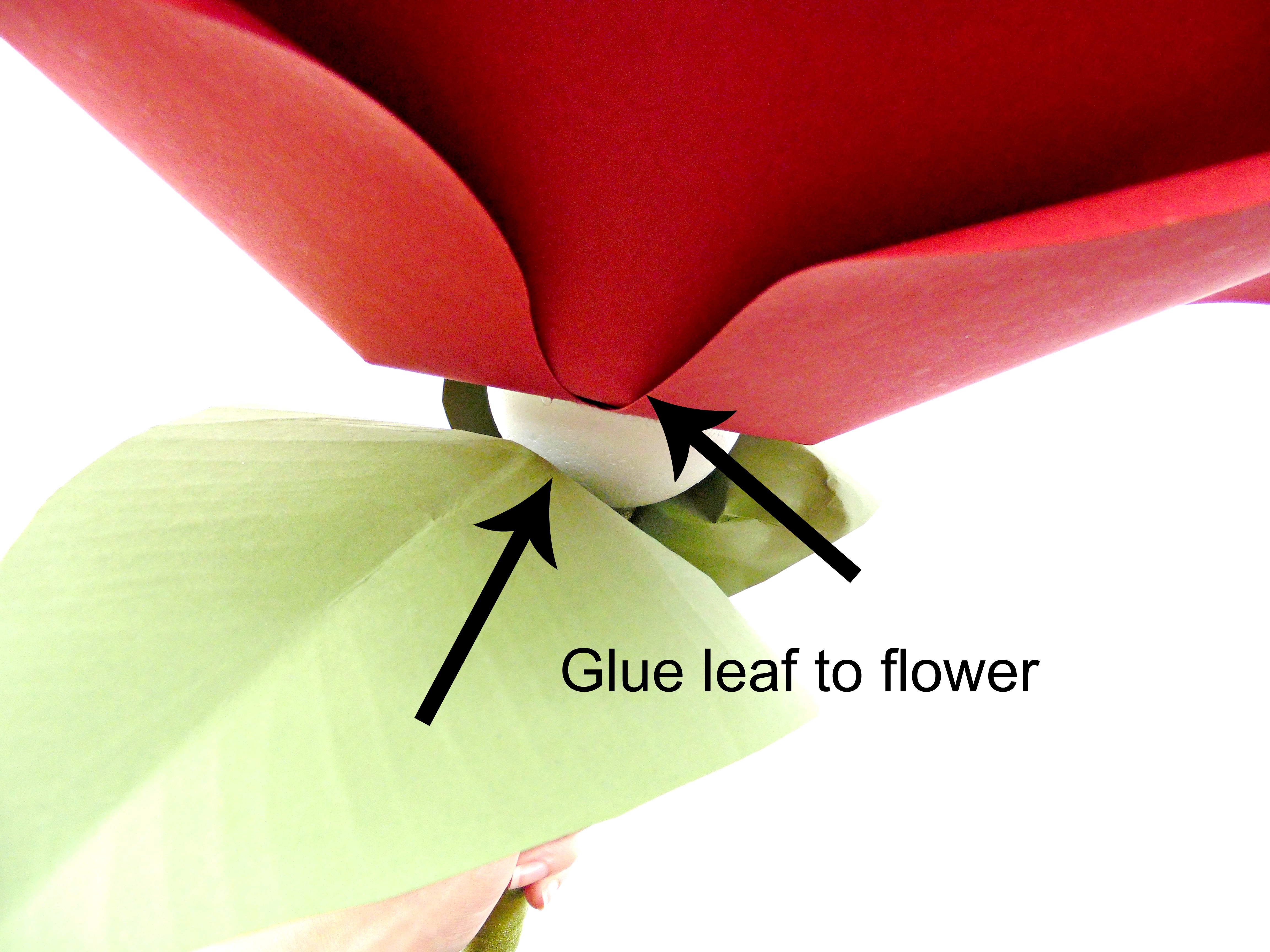 Step 7: Hide the Foam Ball with the Giant Paper Flower Leaves
To cover the rest of the ball, add a few more leaves. If you're concerned about the white ball showing, you can still paint it green.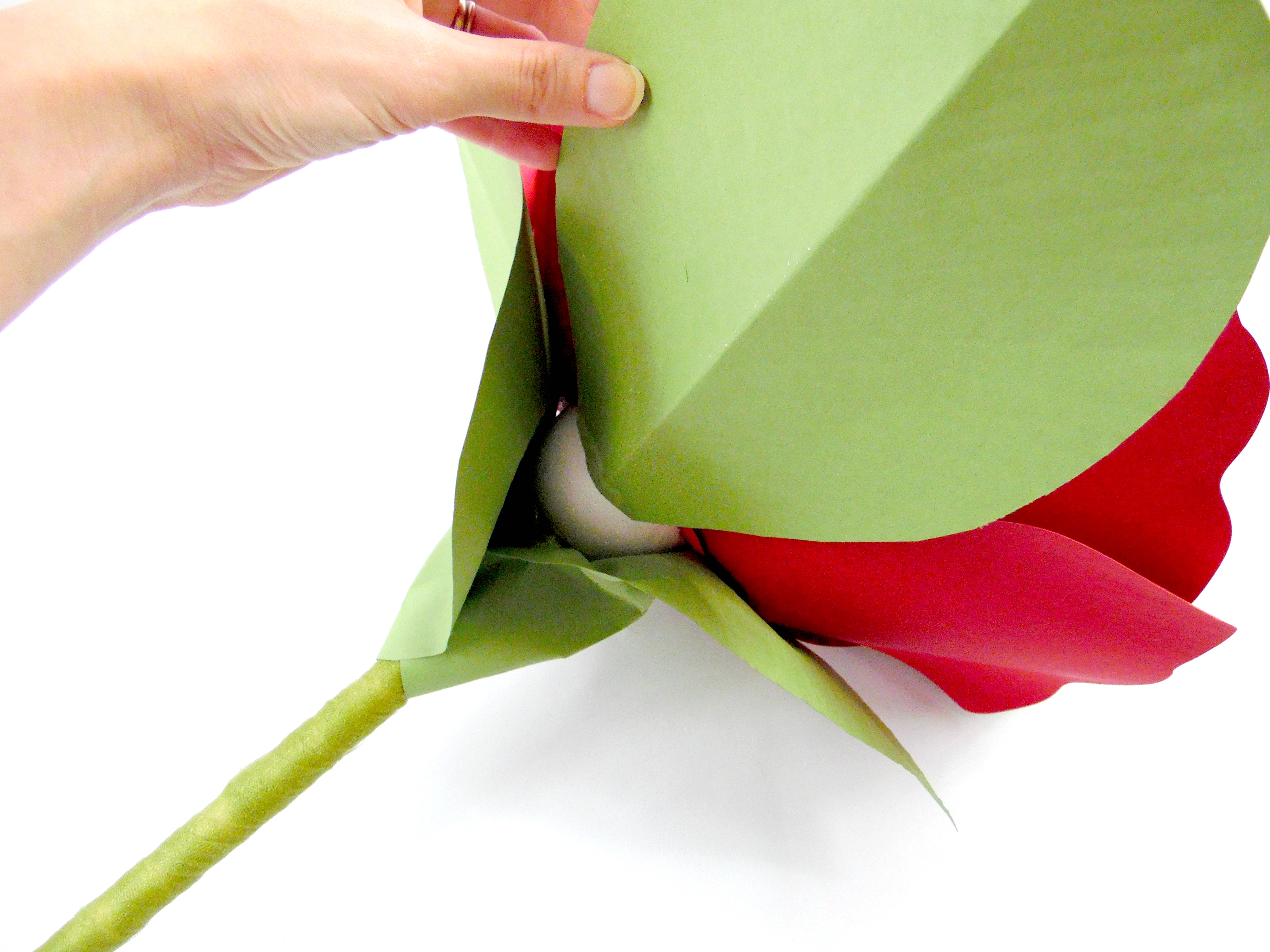 Step 8: Making the Giant Paper Flower Stand
You have several options for making the flower stand. The challenge with giant wood-stemmed flowers is that they're top-heavy; you need the base to be heavy enough to hold the flower upright.
The easiest way to stand your flower up is to shove the dowel into the ground. However, if you aren't using these giant flowers outside, there is another way to stand the giant paper flower stems upright.
The second option is to build a small flower display stand from PVC tubing, weigh it down with sand or concrete, and place the stem into this heavier material to keep your giant paper flowers inside.
In the following sections of this giant paper flower stem tutorial, we'll cover how to make this PVC stand and how to make a backdrop. Keep reading for Part 2 below.
Loving this tutorial? Have you ordered your copy of The Art of Giant Paper Flowers yet? Don't miss out on all the amazing tutorials in store! The workbook is included!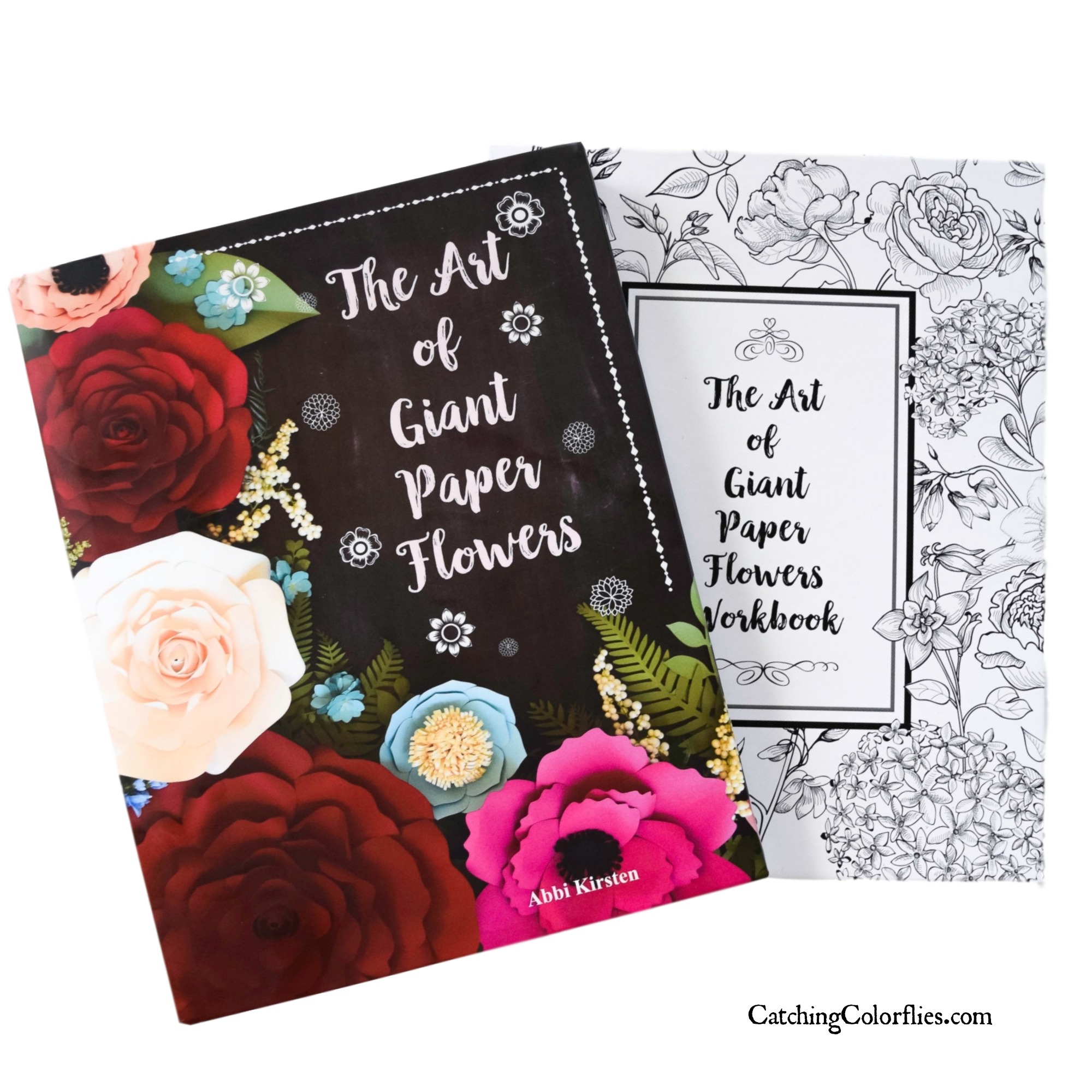 Related Posts
Easy Beginner's Method When Making a Large Paper Flower | 37 Inspiring Paper Flower Tutorials | Easy Backdrop Assembly
Part 2: Giant Paper Flower Display Stand
In Part 2 of this giant paper flower stem tutorial, you'll learn how to make a DIY flower display stand holder to keep your flowers standing upright and beautifully displayed. Believe me when I tell you that PVC will be your best friend when creating free-standing holders for giant paper flower stems or as a backdrop frame. You'll find this DIY PVC wood stem stand is exactly what you need.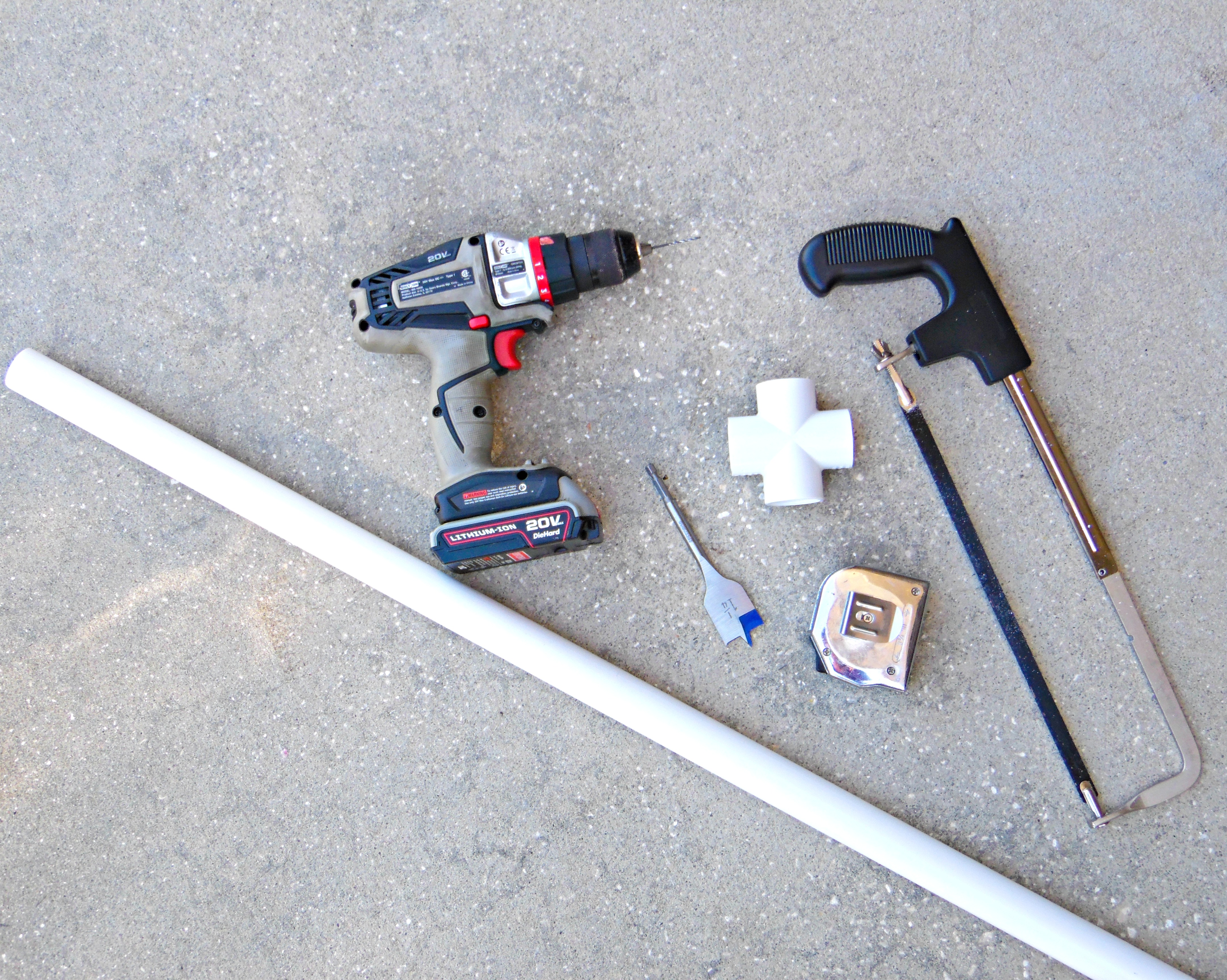 Step 1: Gather the Supplies to Make a Giant Paper Flower Display Stand
Creating a free-standing flower display has its perks: it's super simple, you get to use power tools, and you make a fancy system for your DIY Paper Flowers!
Part 2 supplies for a giant paper flower display stand:
Drill
Small drill bit -1/16 inch
3/4 inch spade or drill bit
Small saw
PVC tubing – 1 1/4 inch size
1 PVC four-way cross-piece – 1 1/4 inch to match the tubing
4 PVC end caps
Safety eyeglasses
Step 2: Prepare the PVC 4-Way Cross
Using your drill with the small bit, drill a pilot hole on both sides of the center of the 4-way cross. This will make it easier to drill in the larger hole for your DIY flower display stand. Please be sure to wear safety glasses in case of flying plastic pieces.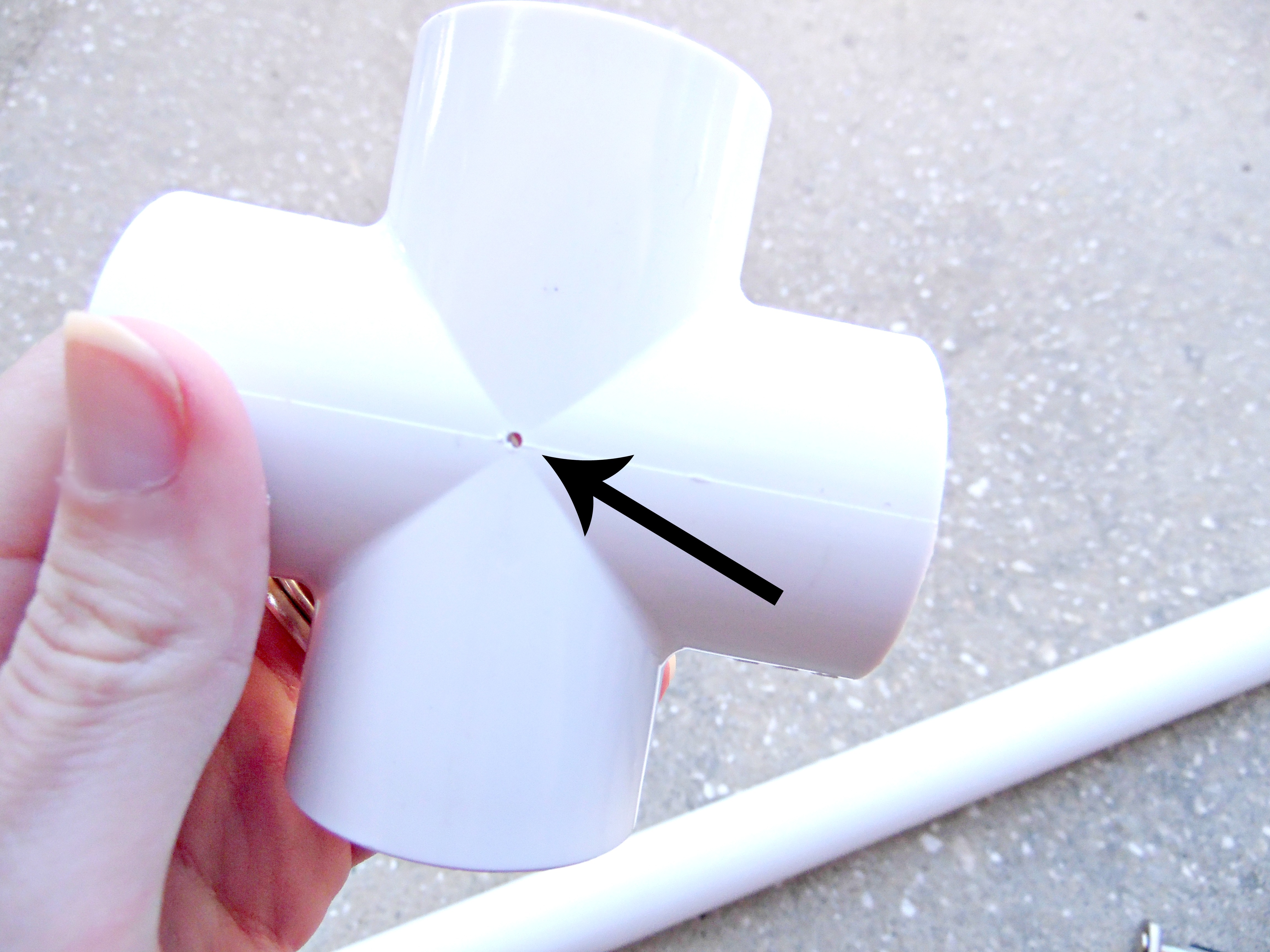 Step 3: Drill Bigger Holes
After the pilot holes have been drilled, use your 3/4 inch spade and drill entirely through one side, then the other. It's helpful to put the 4-way cross onto the longer piece of PVC to get a safe and good grip for drilling with the spade.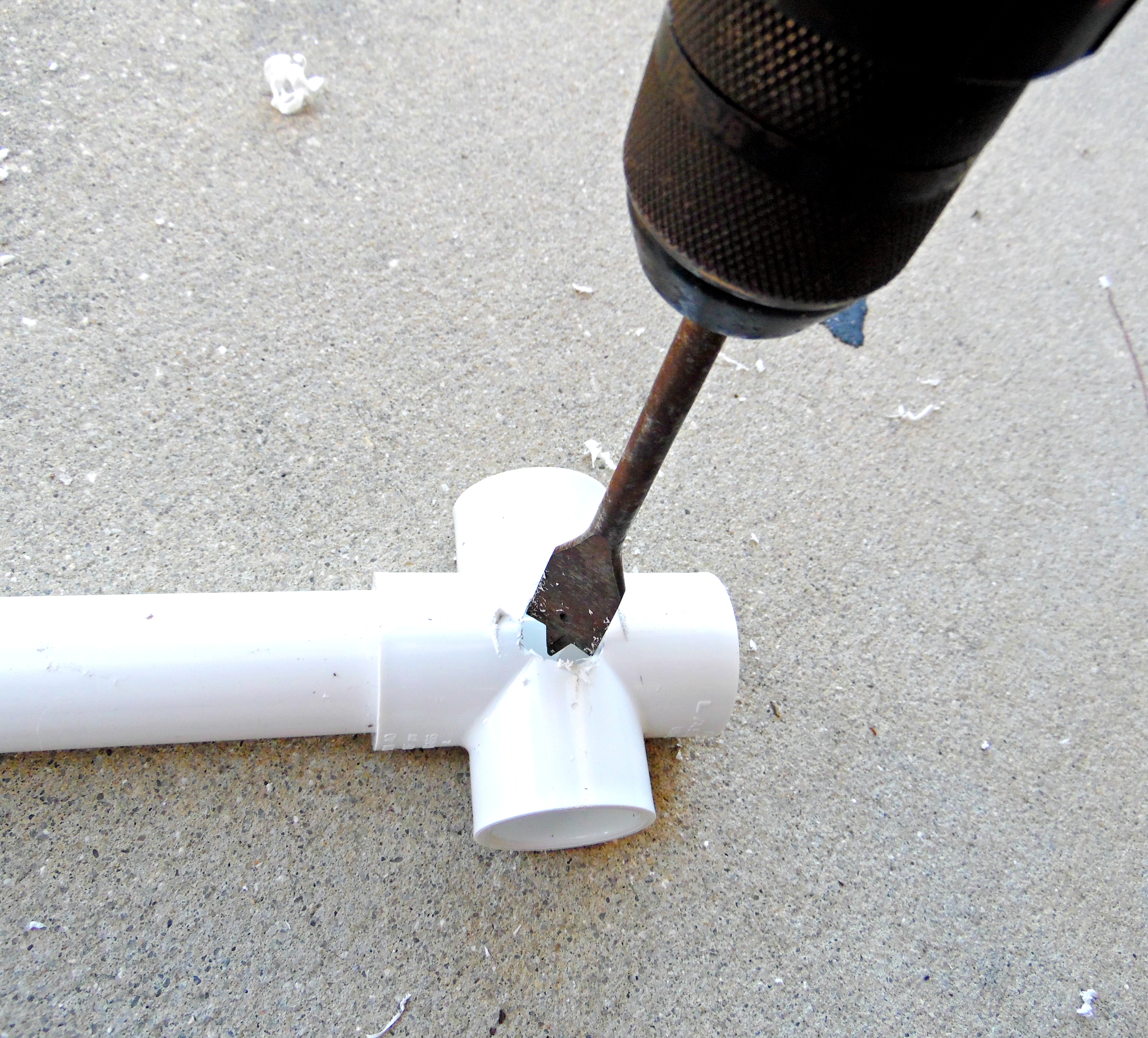 The goal is to use the same size spade as the thickness of the dowel for the stemmed flower. In my photo example, I'm using a 3/4 inch dowel and drilling with a 3/4 inch spade.
Step 4: Make the Legs for the DIY Flower Stand
Next, create the four legs that will balance the stand from the PVC piece. Measure out an 8 to 9-inch section of PVC and cut it off using a handsaw. Repeat for a total of four pieces to be used as the legs of your flower display stand. Be careful when sawing; use safety glasses and proper leverage.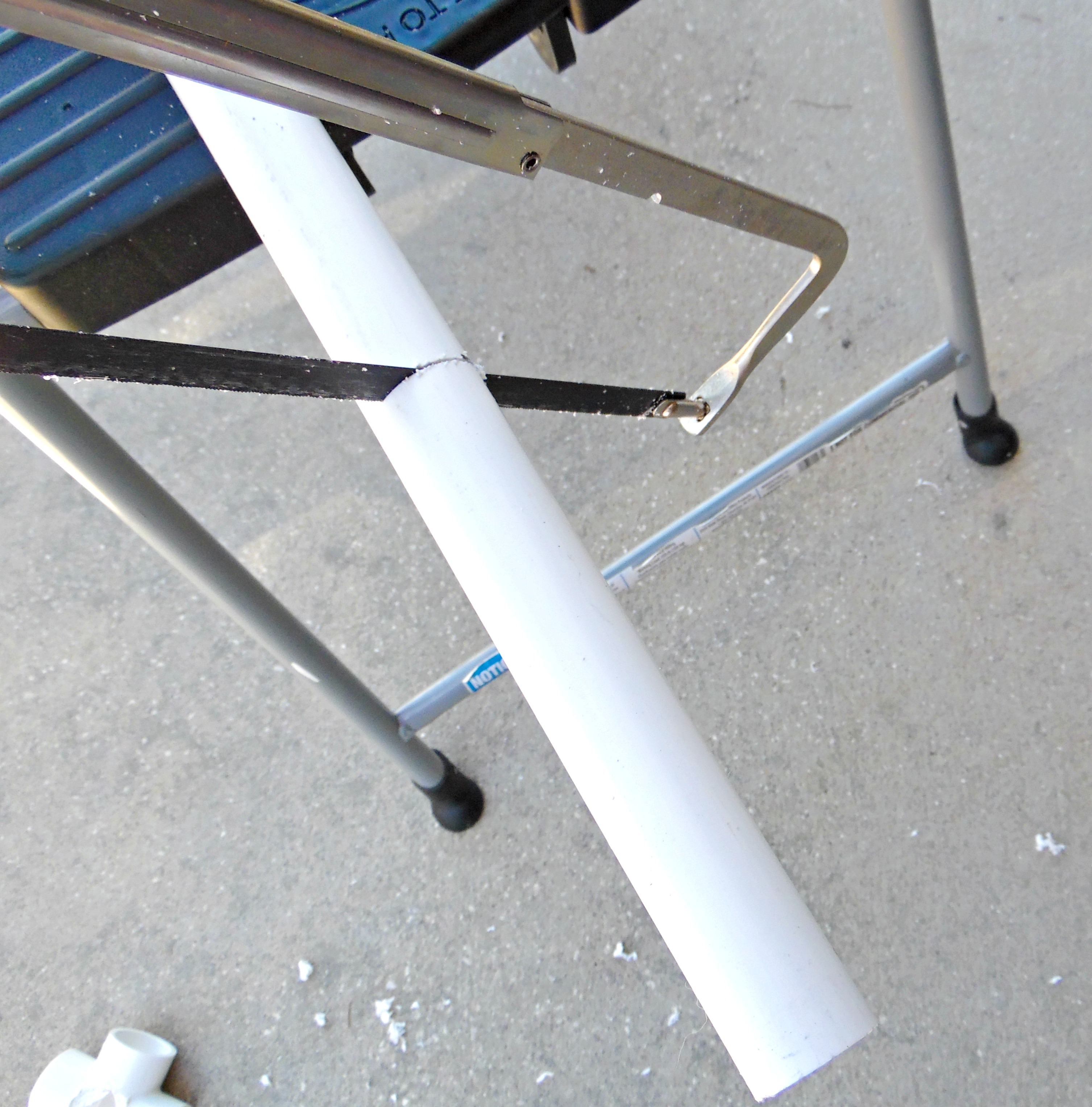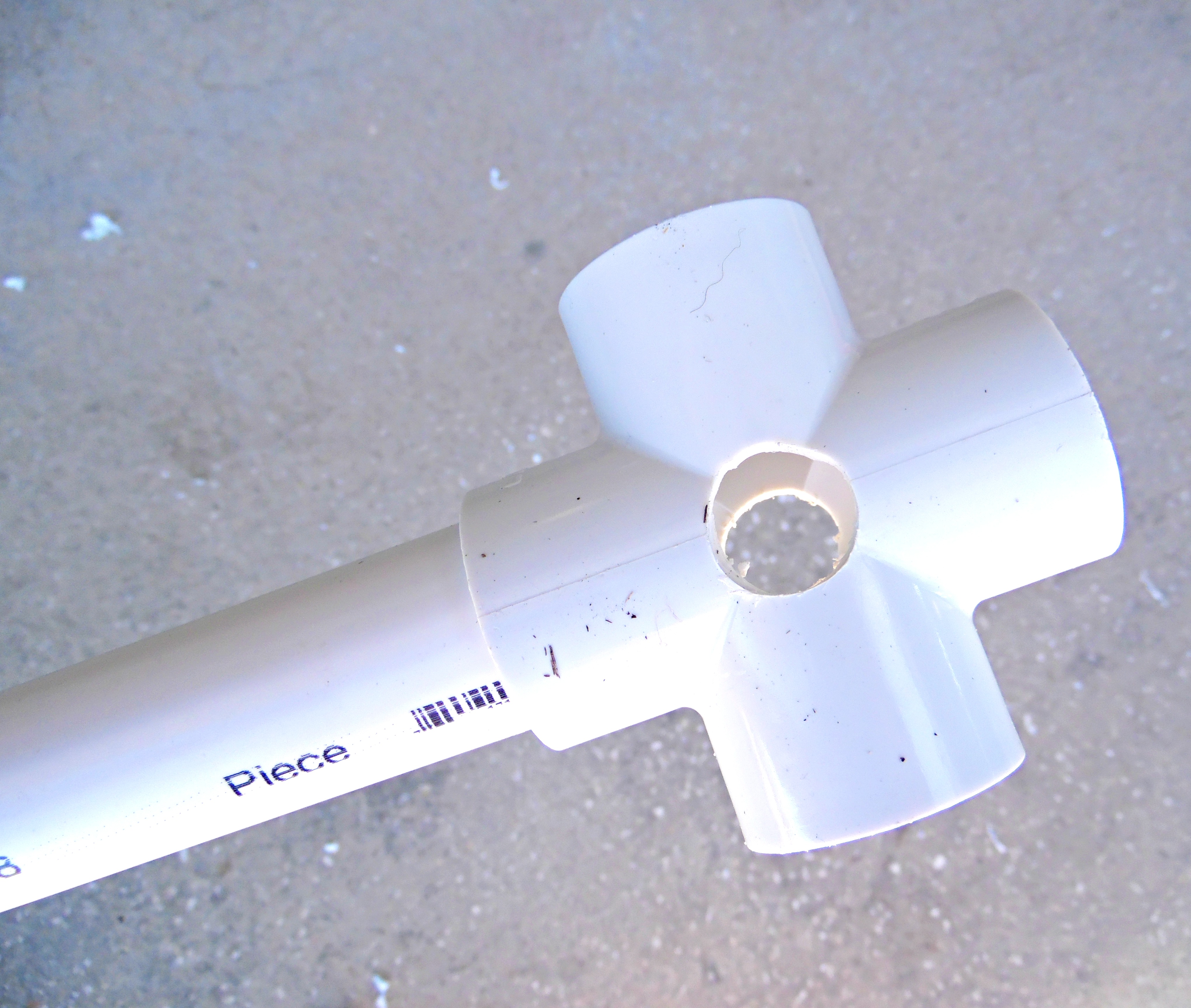 Step 5: Inserting the Legs
Place the four legs you created from the long PVC pipe into each of the 4-way PVC cross centerpiece holes.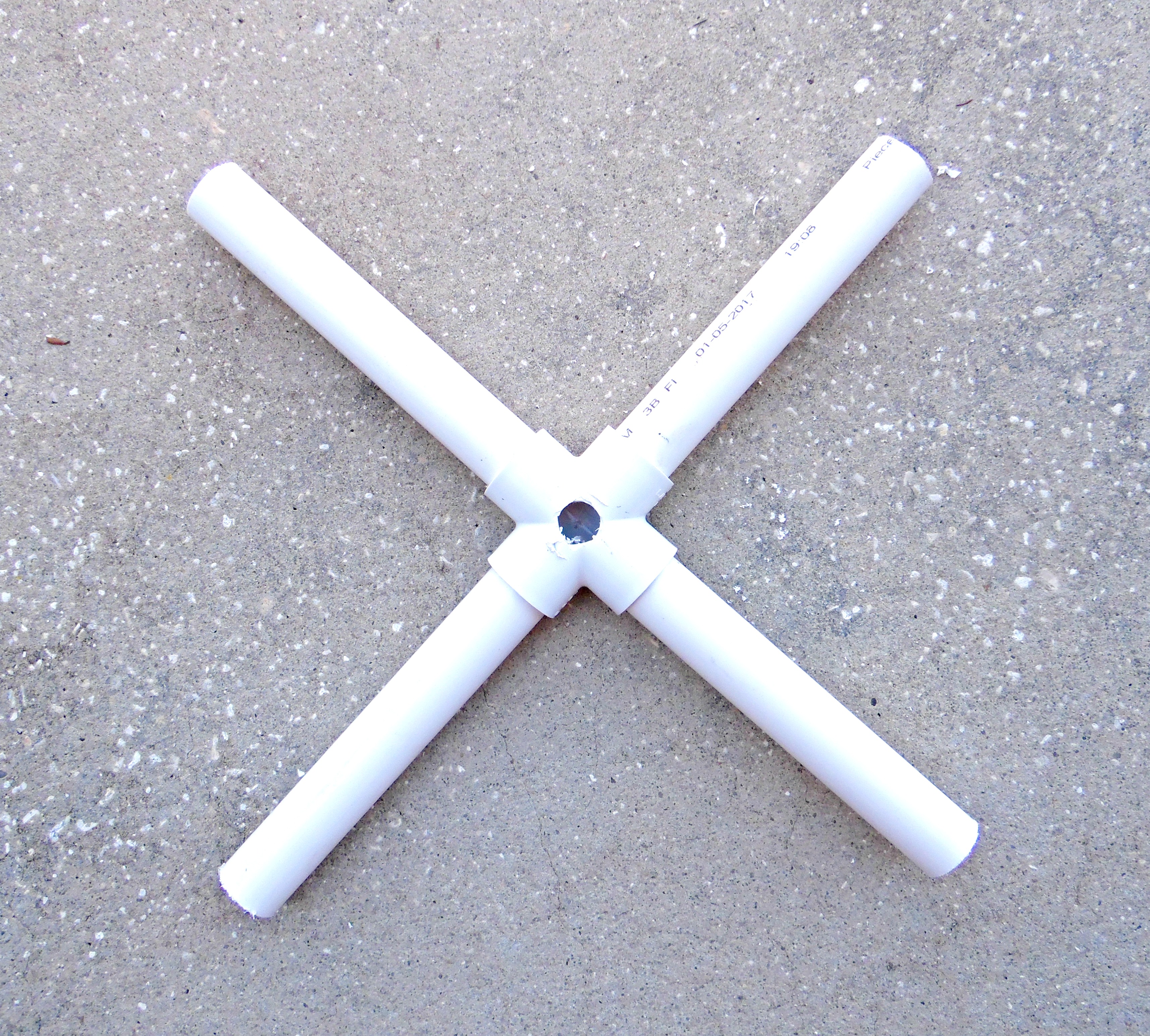 Step 6: Cap the Leg Ends
Finish placing all the legs into the cross center. Add the four end caps for a more finished look.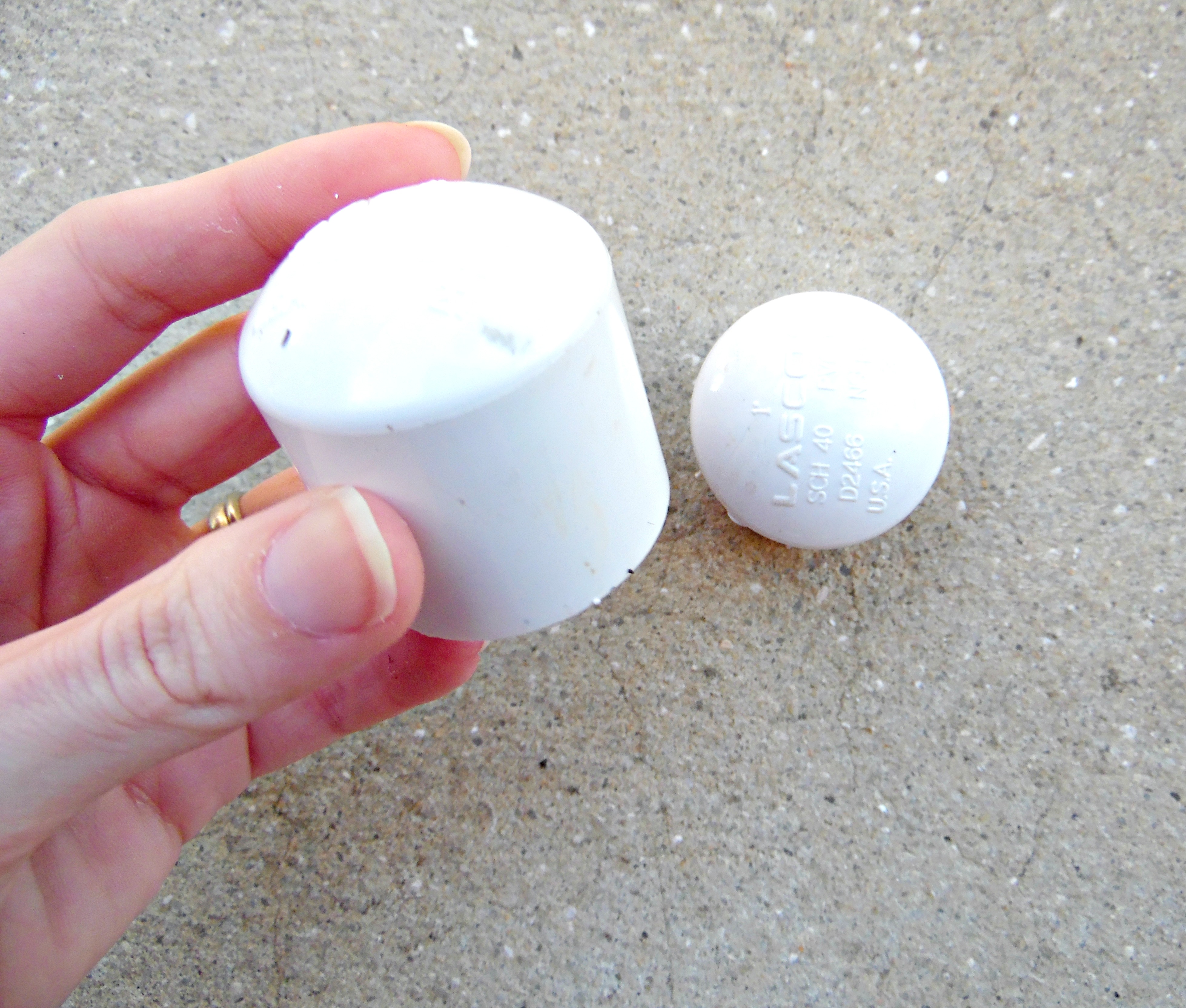 Step 7: Plant Your Giant Paper Flower
Place your wood dowel (the finished flower you made in Part 1 of this giant paper flower stem tutorial) in the center. If you want to provide more stability, add some cement in the ends of the legs of the stand, allowing room for the pieces to connect.
This stand will be the perfect addition to your giant paper flower display system. Do you have any other ideas on how to DIY a giant paper flower stem? Tell me below!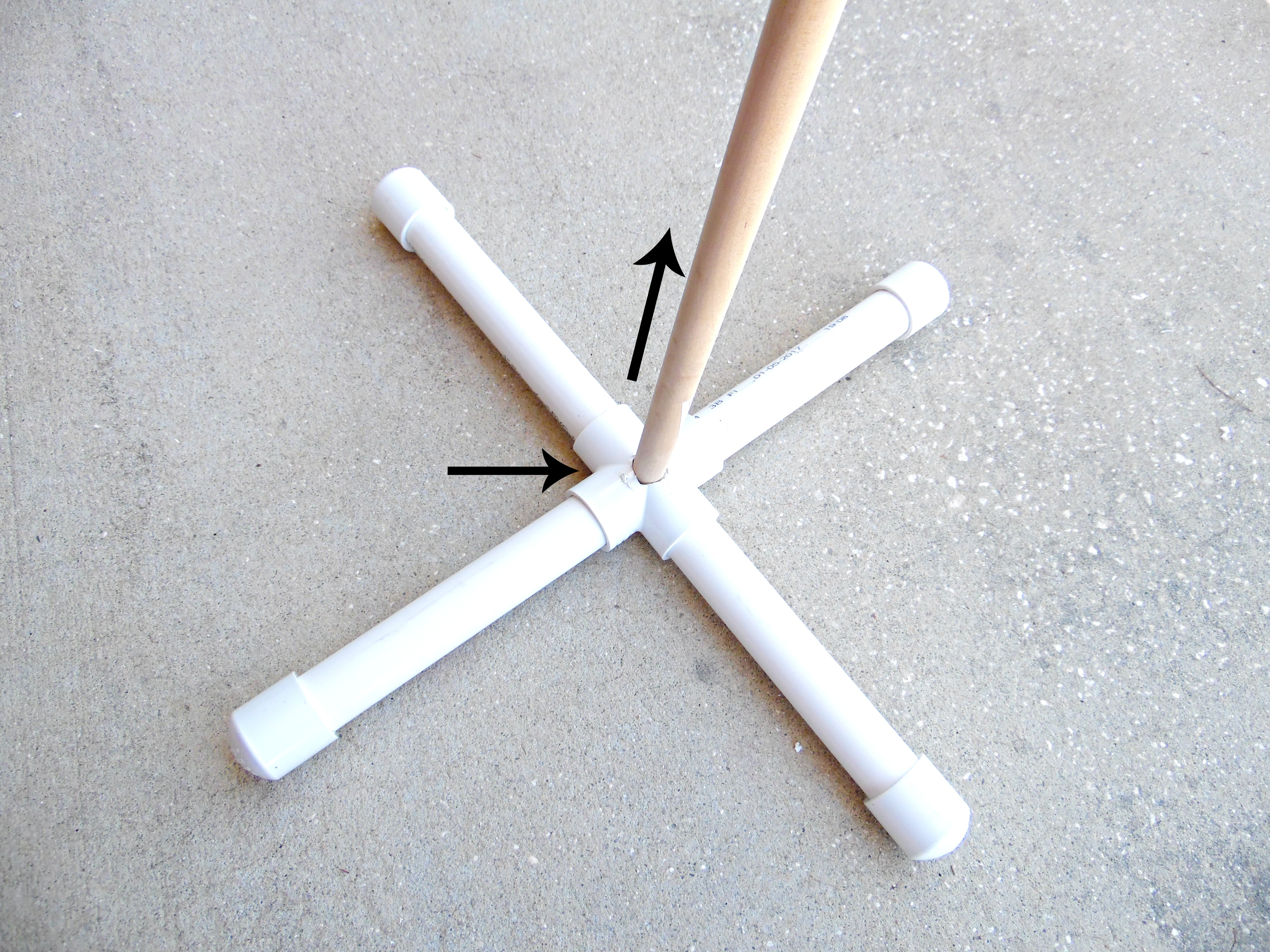 Step 7
Place your wood dowel (finished flower stem) in the center. If you want to provide more stability, add some cement into the ends of the legs of the stand, allowing room for the pieces to connect together.
This stand is going to the perfect addition to your paper flower display system. Do you have any other ideas as to how to DIY a flower stem? Tell me below!
Discover More Paper Craft Tutorials
Share what you've been up to by tagging your craft project pictures with #DIYwithAbbi. I would love to see your creativity flourish, so flaunt your flower power magic! You are a huge source of my inspiration!
My mission is to inspire you to nurture the creative magic inside your soul by bringing you fun, easy-to-learn DIY projects, and quality template designs. I share a variety of projects but specifically love paper crafting and paper flowers. Interested in more flower tutorials?! I've created dozens of signature designs for you to enjoy – starting with my bestseller, The Art of Giant Paper Flowers, the Giant Flower Library, and my shop of endless paper designs and flower templates.
Feeling overwhelmed? Start here with my tried and true Resource List!
Thanks for letting me pop into your day!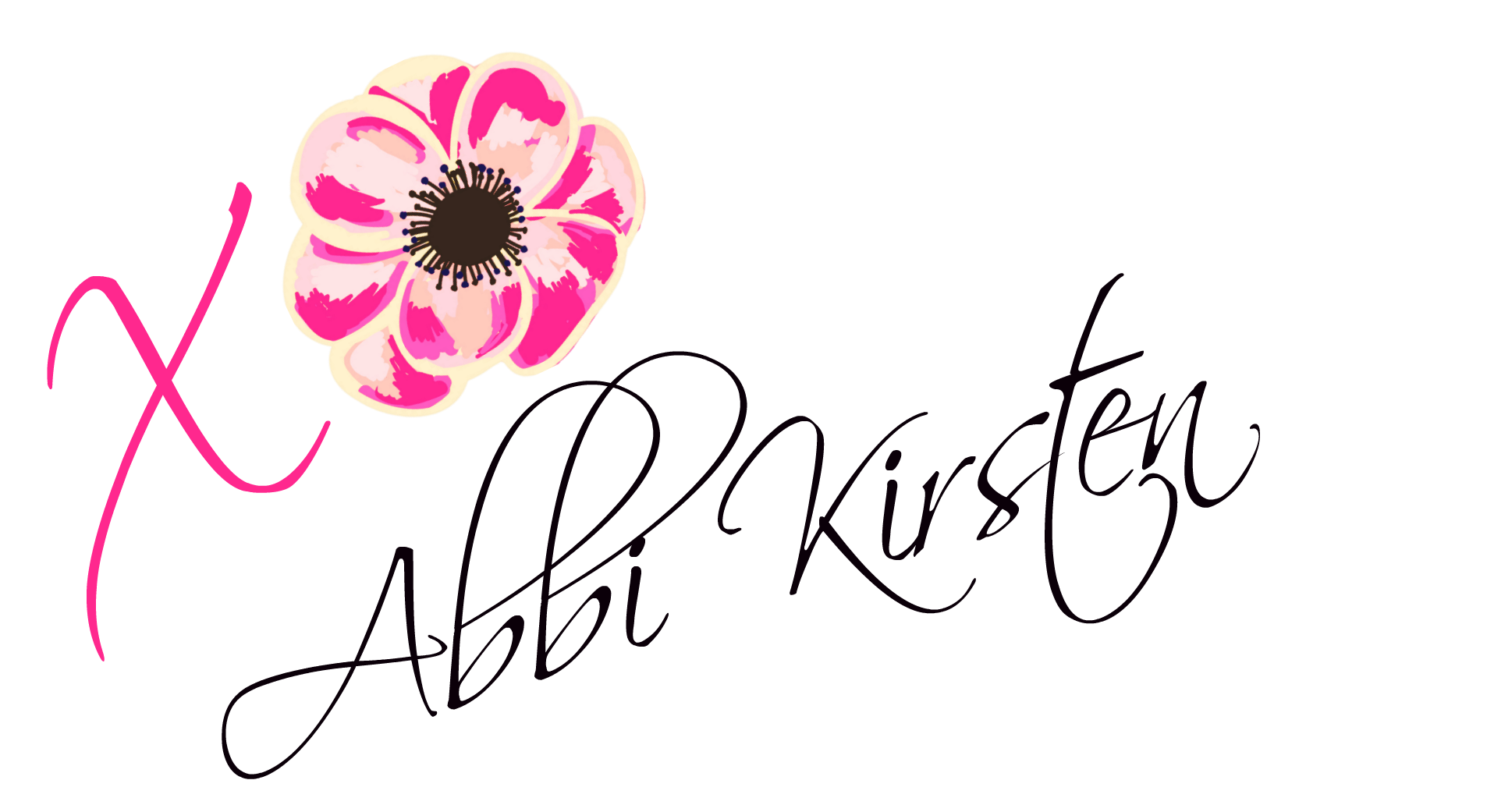 Giant Bella Style Paper Flower Templates
Alana Style Giant Flower Templates
Eden Style Giant Paper Rose
Set of 5 Large Giant Flower Templates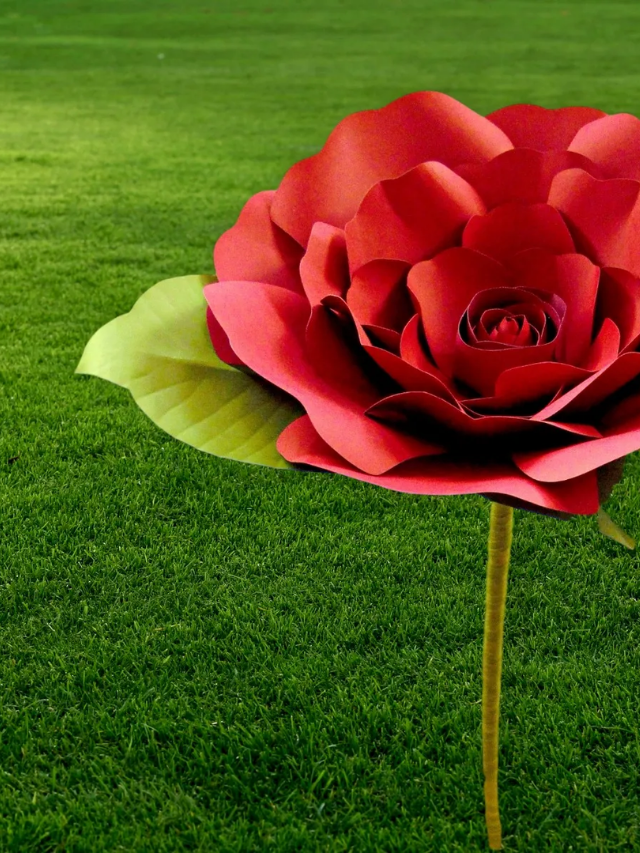 How to Make Giant Paper Flower Stem
Difficulty:
Easy to Intermediate
Use this giant paper flower stem tutorial to make sturdy flower stems and a PVC pipe stand to display your gorgeous giant paper flowers. This tutorial walks you through the step-by-step instructions.
Materials
Supplies for a giant paper flower stem:
Wood dowel (3/4 to 1-inch diameter, three ft. long)
For each stem, 1 3/4 inch diameter foam balls, cut in half
Green tulle or green spray paint
Three to four large paper leaves
One ready-made paper flower
Supplies for a giant paper flower display stand
Drill
Small drill bit: 1/16 inch
3/4 inch spade or drill bit
Small saw
PVC tubing: 1 1/4 inch size
1 PVC four-way cross-piece: 1 1/4 inch to match the tubing
4 PVC end caps
Safety eyeglasses
Instructions
Part 1: How to Make Giant Paper Flower Stems
Gather Your Supplies to Make A Giant Paper Flower Stem
Decorate the Giant Paper Flower Stem
Create A Hole For The Dowel Stem
Attach The Foam Ball To The Dowel Stem
Attach the Leaves to the Flower Stem
Attach the Giant Paper Flower to the DIY Stem
Hide the Foam Ball with the Giant Paper Flower Leaves
Part 2: Giant Paper Flower Display Stand
Gather the Supplies to Make a Giant Paper Flower Display Stand
Prepare the PVC 4-Way Cross
Drill Bigger Holes
Make the Legs for the DIY Flower Stand
Insert the Legs
Cap the Leg Ends
Plant Your Giant Paper Flower