How to Make Crepe Paper Tulips – Paper Tulip Templates With Step-By-Step Tutorial
This post may contain affiliate links that won't change your price but will share some commission.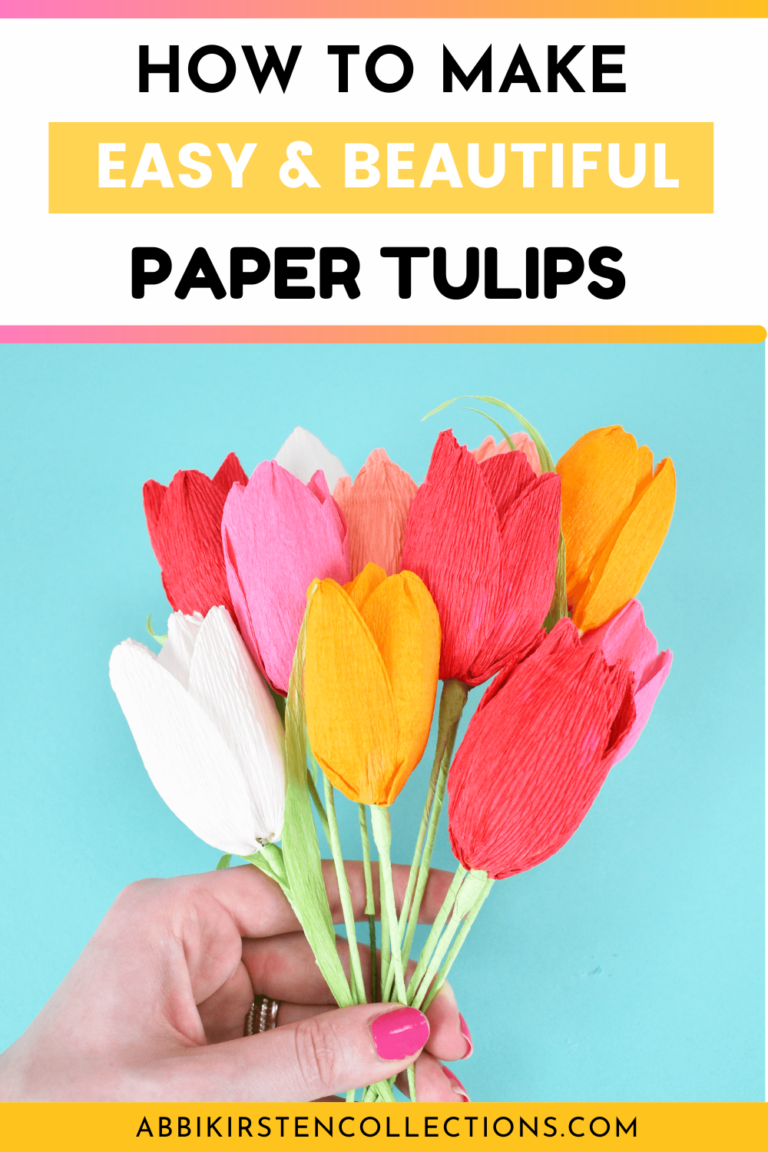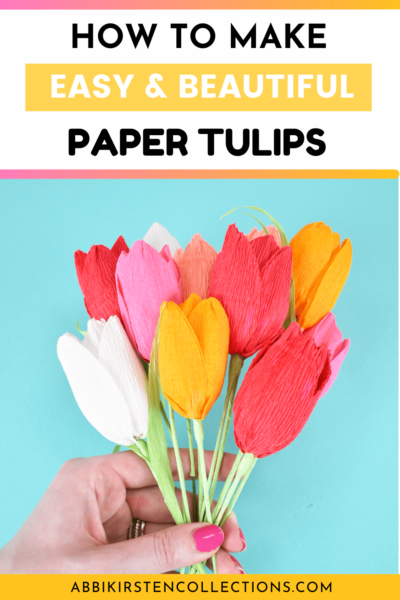 Some flowers, such as tulips, instantly bring the feeling of Spring. Today I will teach you how to make these colorful and cheerful crepe paper tulips! Our unique paper tulip template makes these crepe paper flowers very realistic but easy enough for beginners to make them.
You can make these crepe tulip flowers with just a pair of scissors using the 3D tulip PDF printable flower template or use your Cricut Maker to cut the crepe paper with the tulip SVG cut files.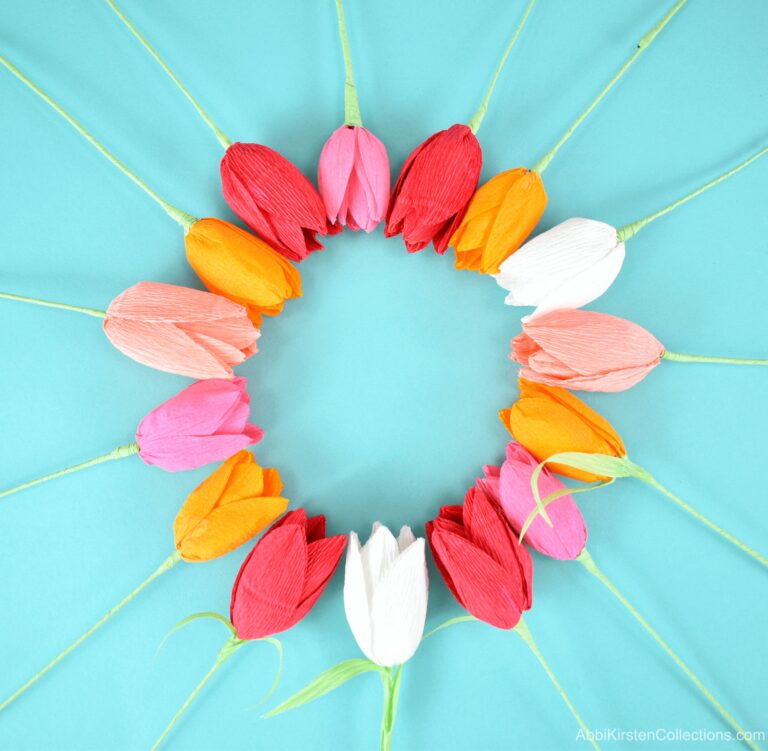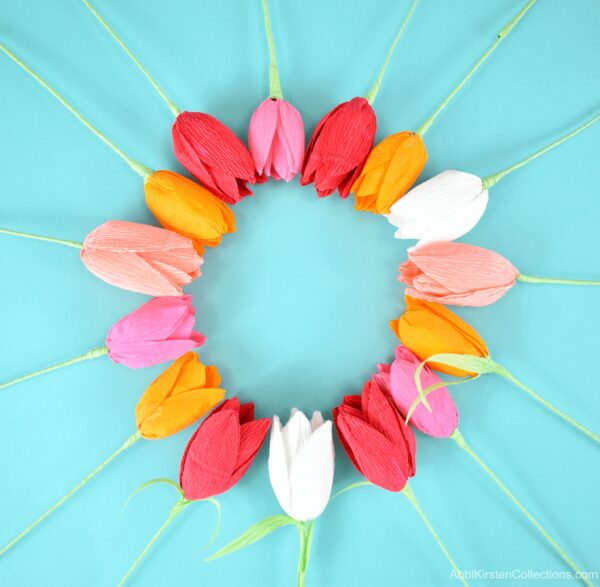 How to make tulip flowers step by step – Video Tutorial
In the video below, I will show you step-by-step how to make these easy crepe paper tulip flowers. You can also keep reading for links to my supplies and written instructions for this tulip tutorial!
Supplies for Crepe Paper Tulip Flowers – Where To Find Crepe Paper for Flowers
Download the Crepe Paper Tulip Templates
Firstly you will need to download the tulip templates. Find these paper flower tulip templates inside our Member Vault and hundreds of other premium flower crafts! Once logged in, type in 'tulip' or design #481 at the top search to find these flower templates.
Want to get buy this tulip template individually? Grab the download here in my shop!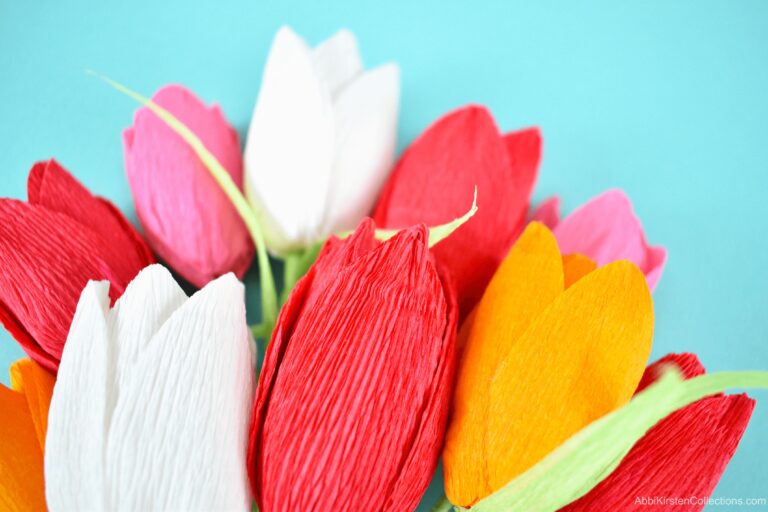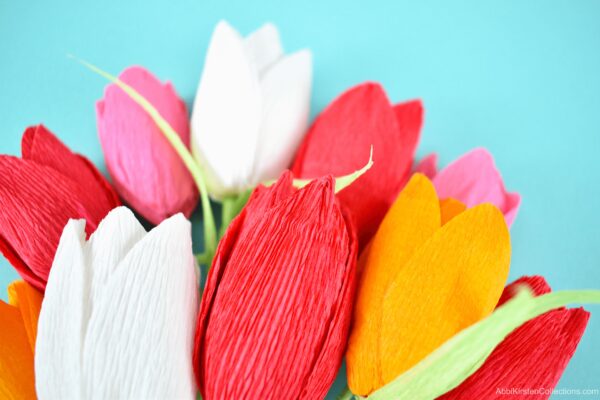 Cutting the Tulip Templates by Hand or with Your Cricut Maker
The crepe paper tulip flower design is very simple and easy to cut by hand with a pair of detail scissors using PDF printables. Those who own a Cricut Maker or Maker 3, which works with the Rotary blade, let your cutting machine do the work for you! If you have never cut crepe paper with your machine before, it can be tricky. Make sure to check out my full step-by-step tutorial on cutting crepe paper with your Cricut Maker machine!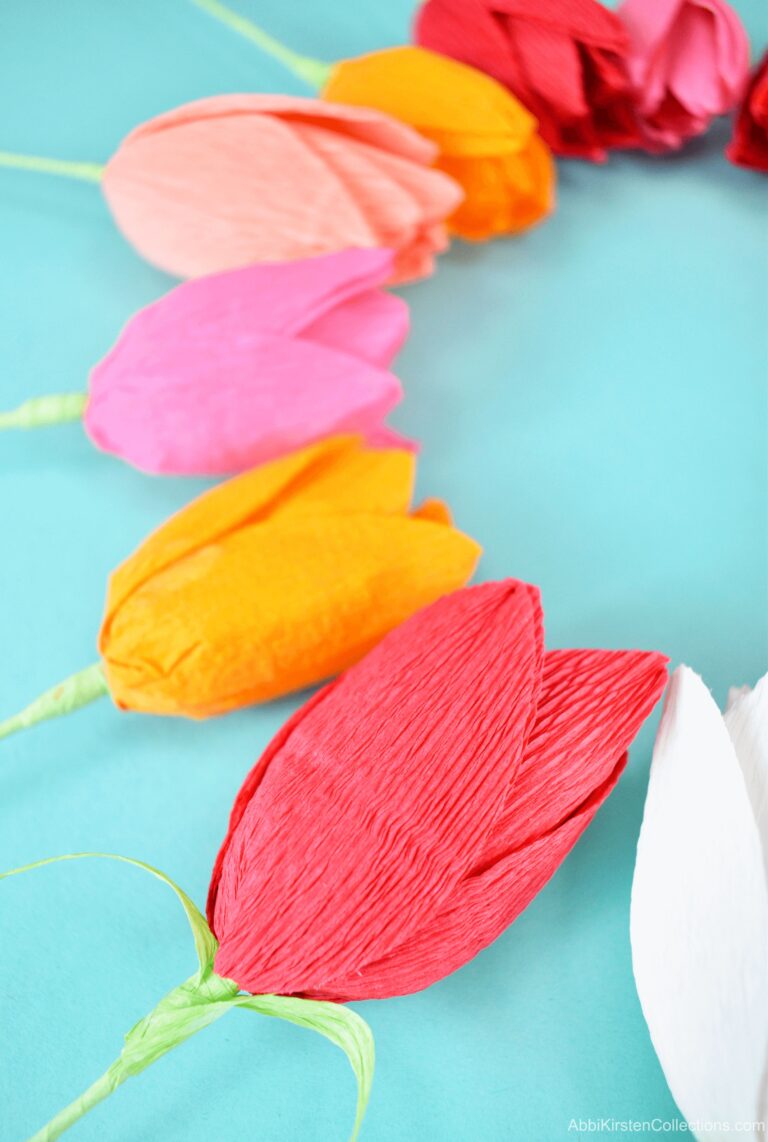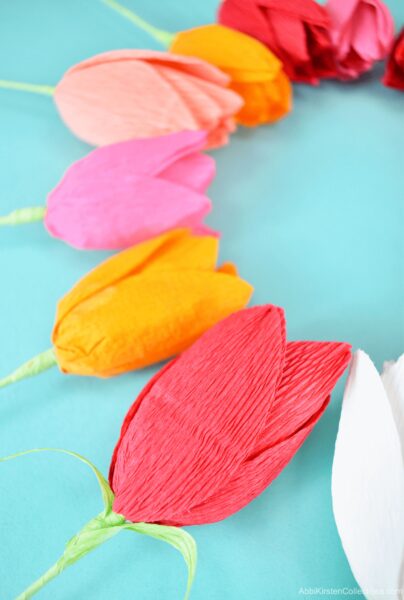 One of the reasons I love to craft with crepe paper is because of how realistic the flowers can look! See my crepe plumeria, southern magnolias, tropical hibiscus, and crepe Easter lilies DIY tutorials for more crepe paper flowers!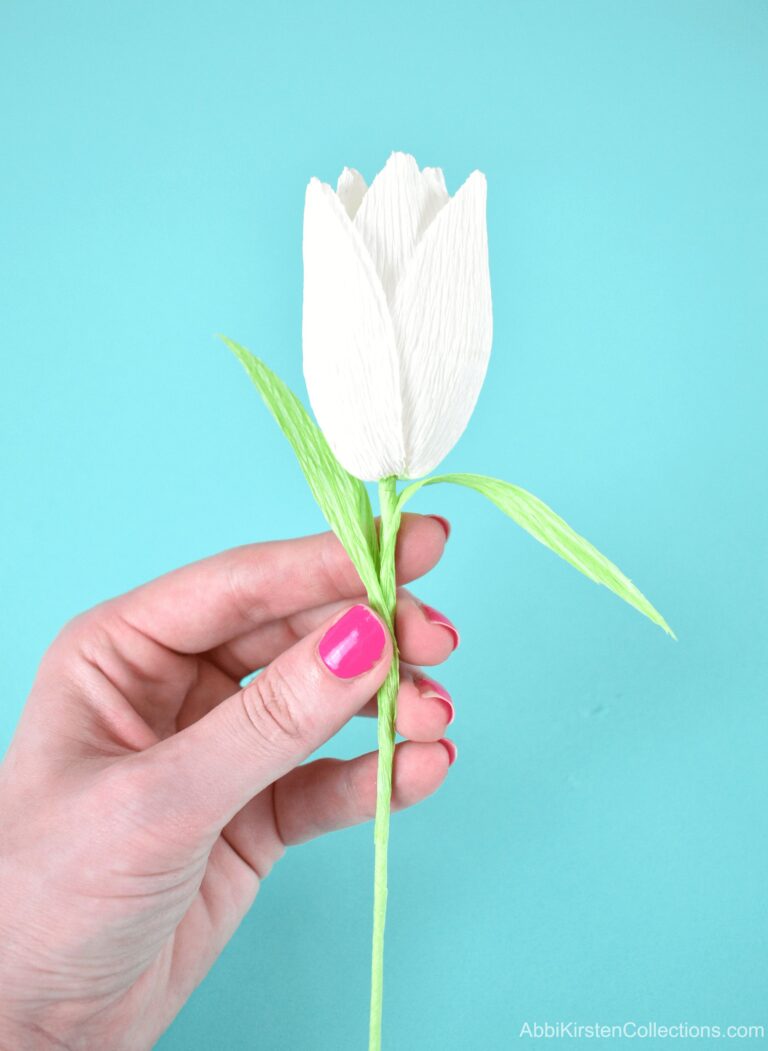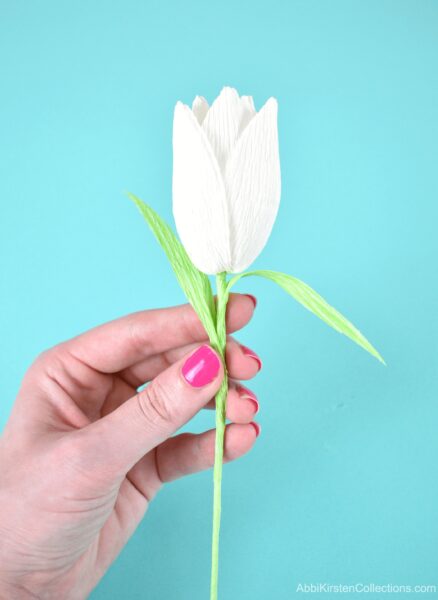 Crepe Paper Tulip Flower Tutorial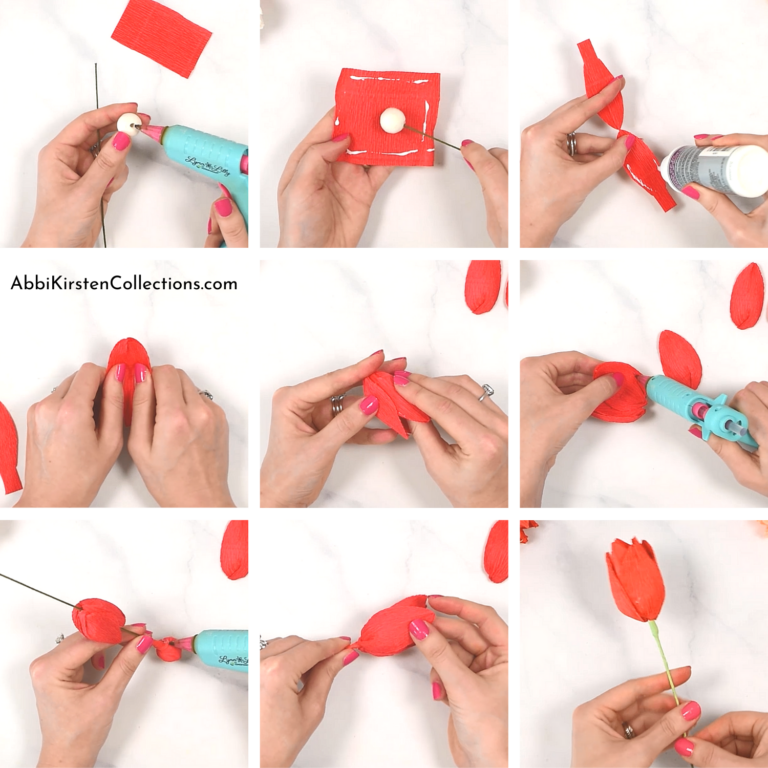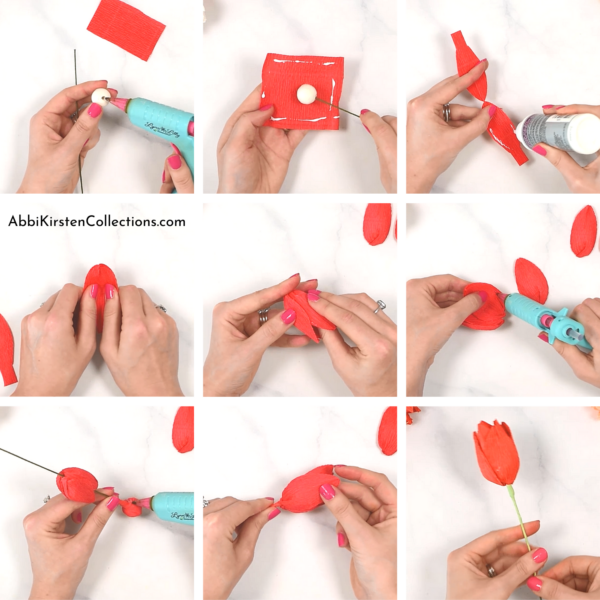 Build the crepe paper tulip bulb center and stem. Use your glue gun to connect the cotton spun balls or wood bead to the tip of your floral wire. Cut a small square of crepe paper (about 2 x 2 inches) and cover the ball tip twisting at the bottom with easy tack glue.
Cut your tulip petals using the templates. Using a pair of detail scissors or your Cricut Maker machine, cut out the tulip petals. You will need 3 small and 3 larger tulip petals for one flower.
Shape the tulip petals. Twist the tulip petal at the center point twice, add glue on the inside petal, and press down the top petal. See how in the video here.
Connect the paper tulip petals – With the three smaller petals overlap each one slightly with hot glue.
Stem the tulip. Once you have closed the three smaller petals together slide the crepe paper cover tulip bulb down the stem and secure it with hot glue.
Add more tulip petals. Add the three remaining slightly smaller petals, gluing them in between the first set of three petals. Cover the stem with floral tape.
Add leaves to the crepe paper tulips. Cut the crepe tulip leaves, curl them slightly with a Cricut scraper or wood dowel (optional) and glue them around the stem at random. And you are finished with your crepe paper tulips!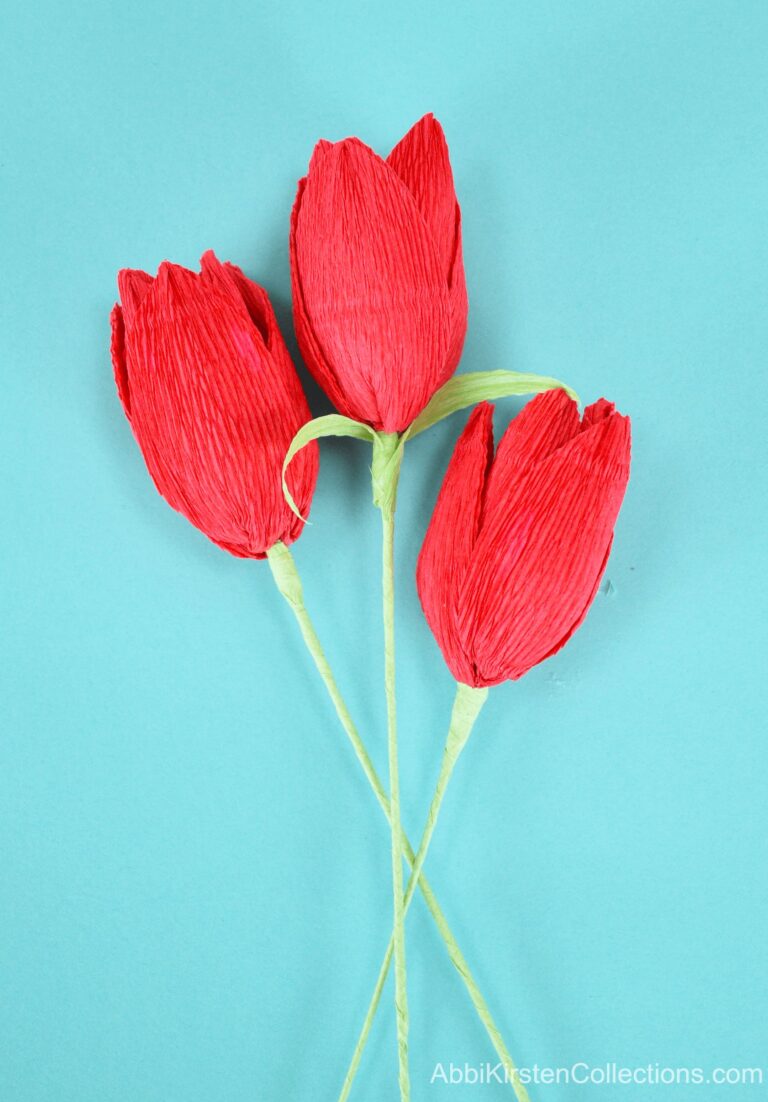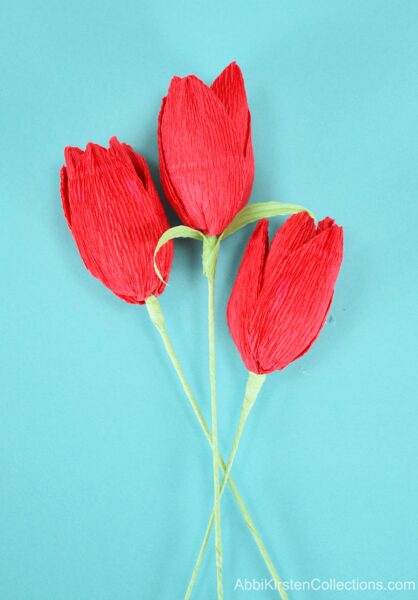 What is your favorite Springtime bloom? I'd love to know! Tell me in the comments, and I just might make them! Be sure to check out my Easter lily tutorial, plus all my crepe paper flowers!
Hey, Crafty bestie! I'm Abbi!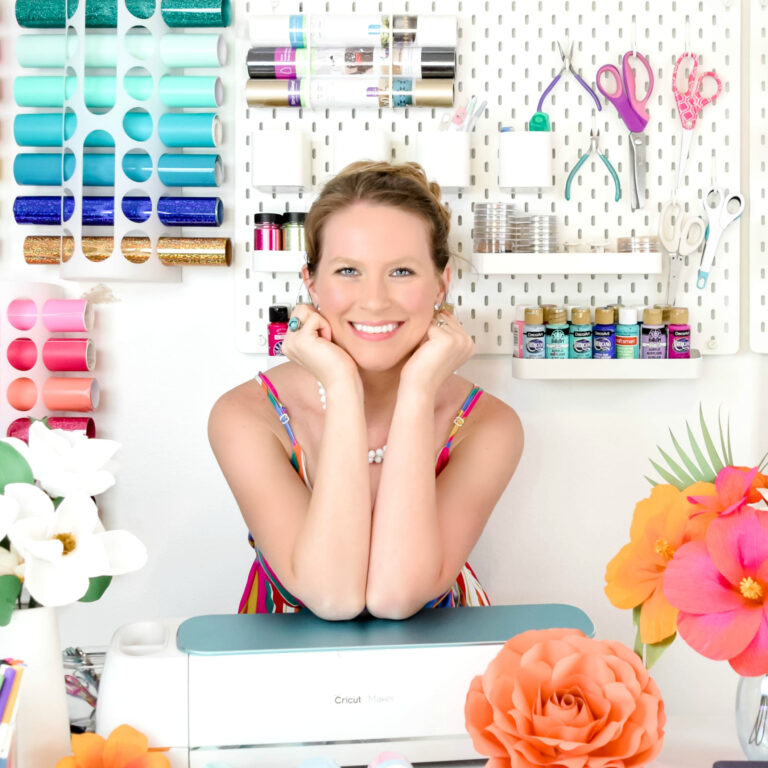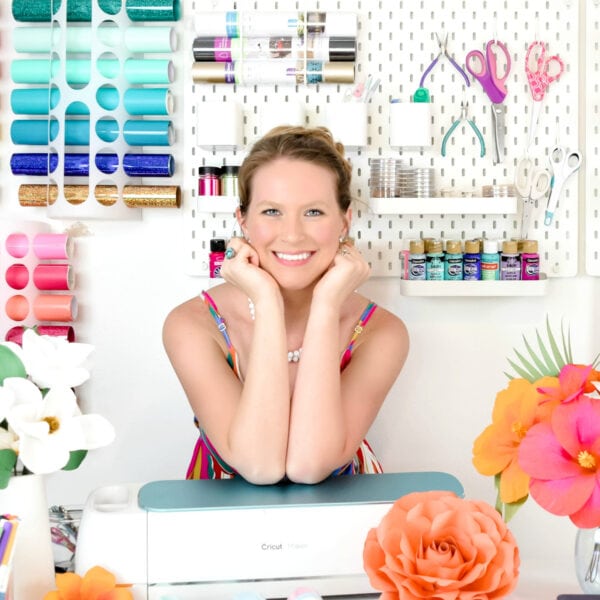 I'm thrilled you are here! I have spent the last 10+ years making messes and magic in my home studio to make the world a more colorful place, one craft at a time! I'm on a mission to nurture the creative magic inside your soul and bring that bursting imagination inside you to life with easy-to-learn tutorials. If you haven't yet, be sure to join the subscriber community to gain access to all my freebies or visit my signature design shop, Catching Colorflies!