Giant Spiral Paper Rose Tutorial: Step by Step Instructions & Templates
This post may contain affiliate links that won't change your price but will share some commission.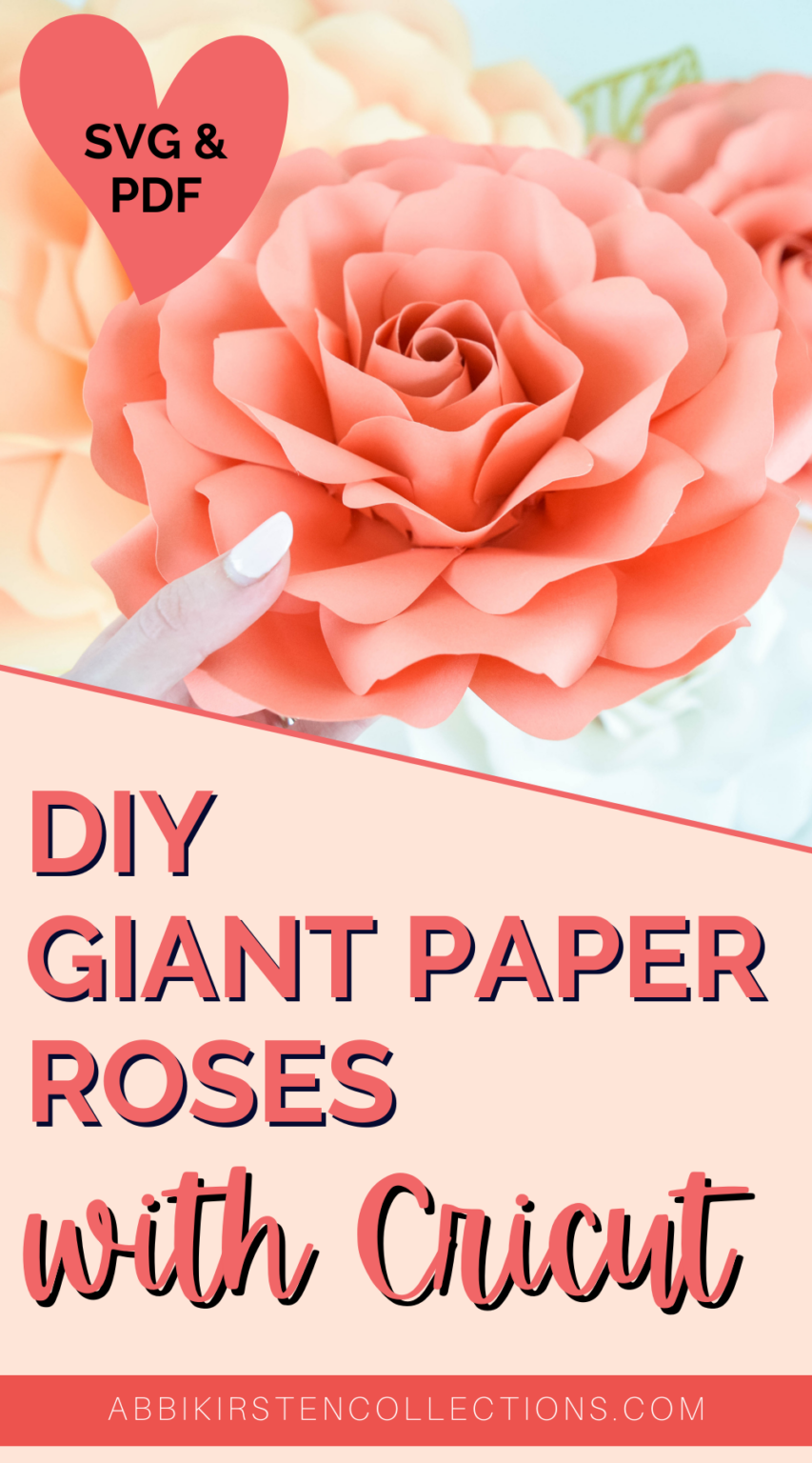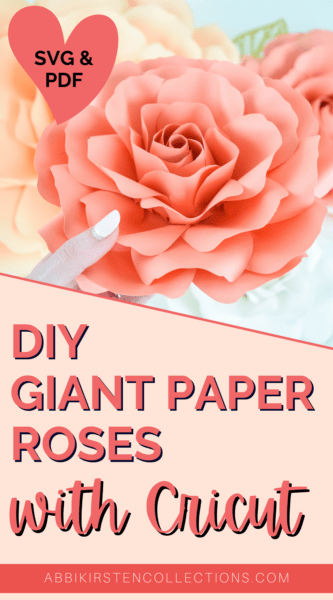 One of the very first flowers I ever made almost over ten years ago was a paper rose. Since then, I have created and perfected well over a dozen giant paper roses and small paper roses combined.
While I am no stranger to giant paper roses (this free Cami rose has gone viral!) I decided that it was time to construct a new rose center – a spiral paper rose center, to be exact.
This is one of the few times in my crafty career I can say that my flower turned out better than I planned! In fact, when I released first look photos and video, my community showed it a lot of love!
So today, I am posting here my full supply list for creating this beauty, known as Ella Paper Flower Rose (named for my daughter), and my full video tutorial below.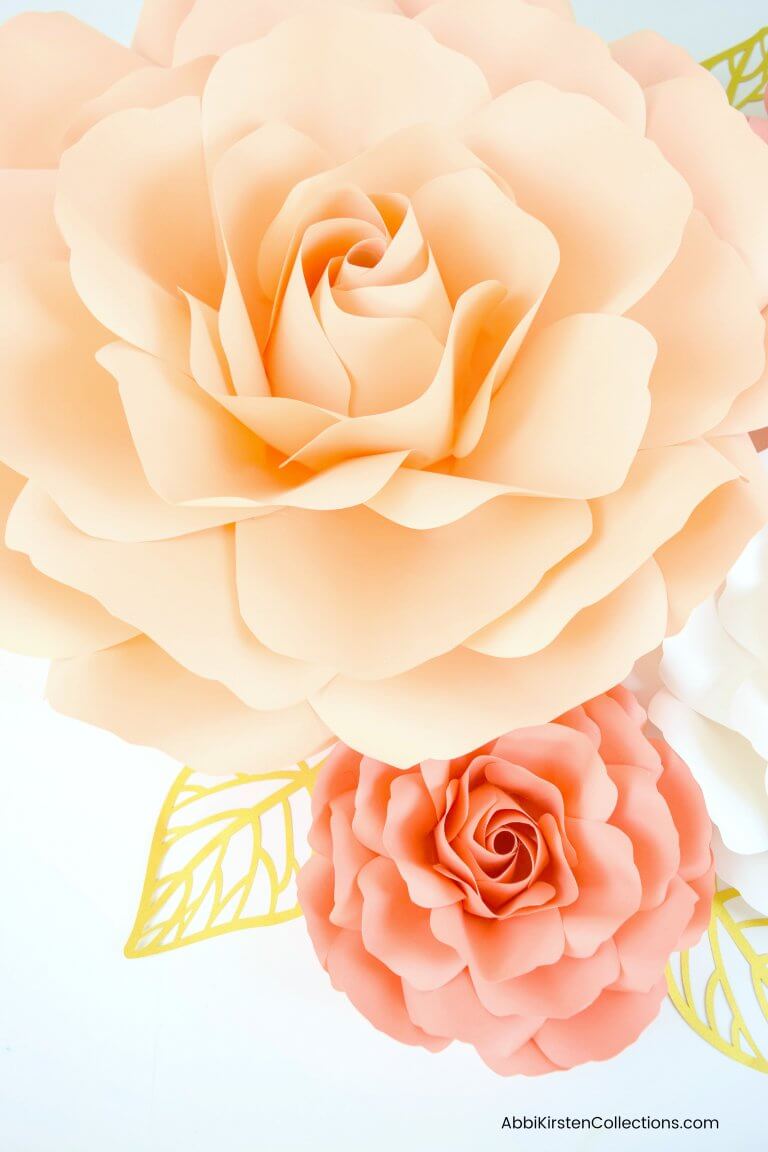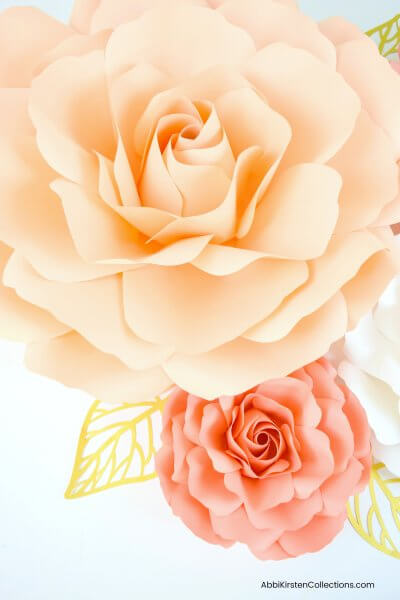 How to Make Ella Style Paper Roses
Supplies for Making Paper Roses
New to paper flowers? Be sure to check out my full mega supply list here!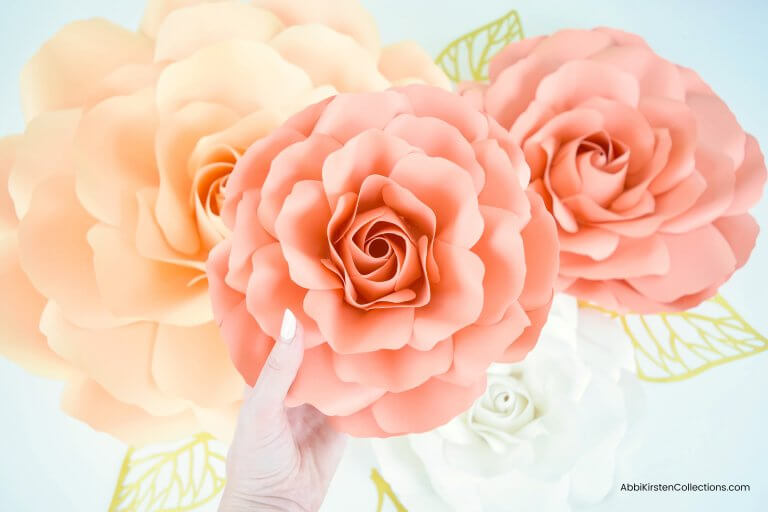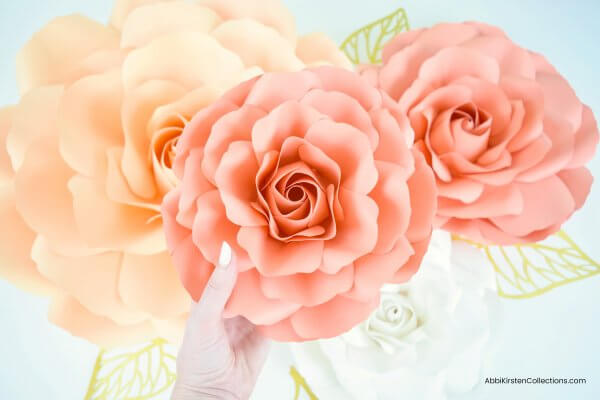 Join 250,000 crafters in my community!
Love freebies?! Me too! I have a gorgeous freebie vault you will love playing in. Create a free account by signing up via the form below to access hundreds of crafts!
You will need to cut out the following number of petals to create one giant paper rose. You can hand-cut with the printable PDF files or use the SVG cut files with a cutting machine.
The beauty of making these new giant paper roses is the design is that you can follow this same petal count no matter if you make the XL, L, M, or S rose templates! And all 4 size templates are included in the set!
DIY Giant Paper Flower Rose Tutorial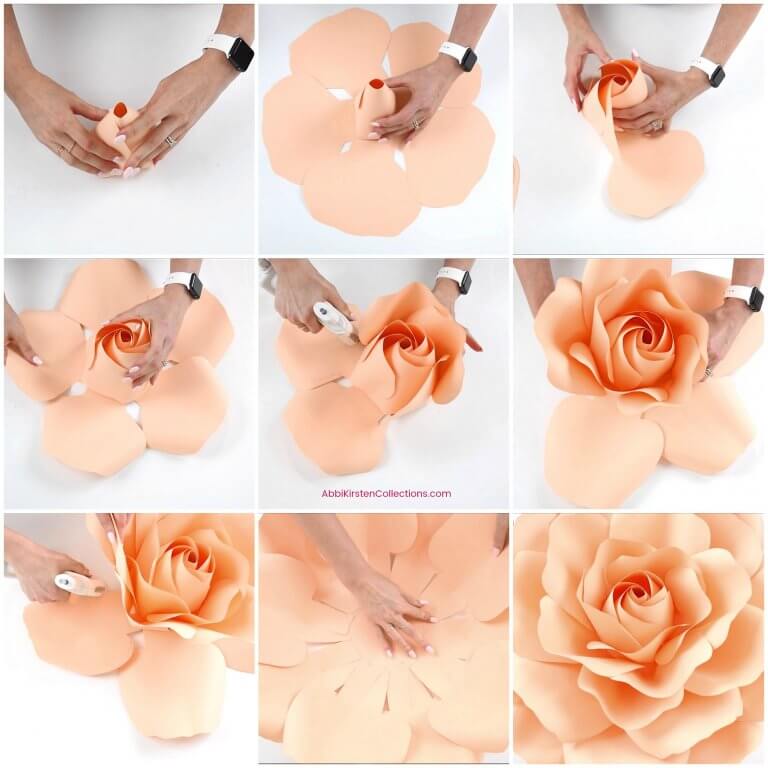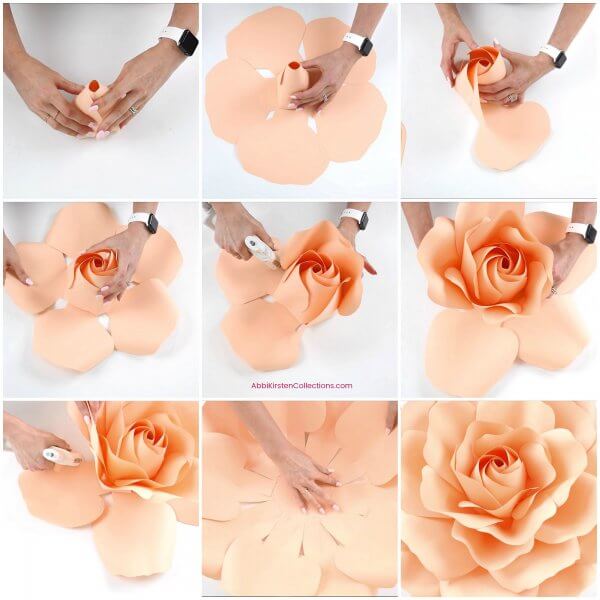 Cut out 12 center petals, 15 base petals, 1 small center base, 1 larger base. And for the amendment to a fuller rose cut 10 more base petals.
Start with two petals across from one another. Overlap the bottoms then fold the petals up and wrap them around each other as if hugging each other.
Using the 5-sided base and glue 5 center rose petals around the base, one for each side.
With the remaining 5 center petals curl the top edge backward with your wood dowel then glue them to the under of the rose center in between each of the previous petals.
Once they have been glue to the bottom fold up each petal, add dots of glue to each side near the base and press firmly to the rose center. Repeat with the other 4 petals.
Repeat steps 4-5 again with 5 of the base petals.
With the remainng 10 base petals, glue 5 to the large 5-sided base place evenly around after you have curled back the top edges with a wood dowel.
Add the last 5 base petals in between the first 5 that you glued to the large base.
Add glue to the bottom of your paper rose center and place it in the open space of the base of the rose, completing your paper rose flower.
Scroll down and click play once you get your petals cut out to watch the full video tutorial!
How to Make Giant Paper Roses – Video Tutorial
About Abbi Kirsten
Welcome to my colorful corner of the internet, where we play with vibrant crafts and unlock your creative magic! Hang out with me and get lost in a fun array of projects, tutorials, and products, from stunning papercraft ideas to flower templates, Cricut help for beginners, and endless crafter's hacks.
To access all the magic, join the Member Vault and participate in my monthly Craft-Alongs in my Facebook group!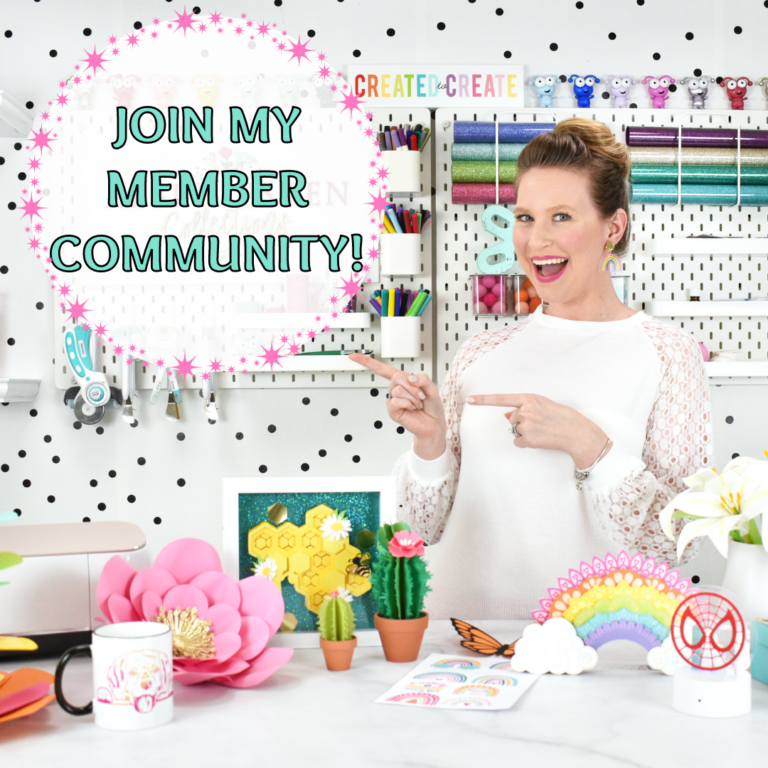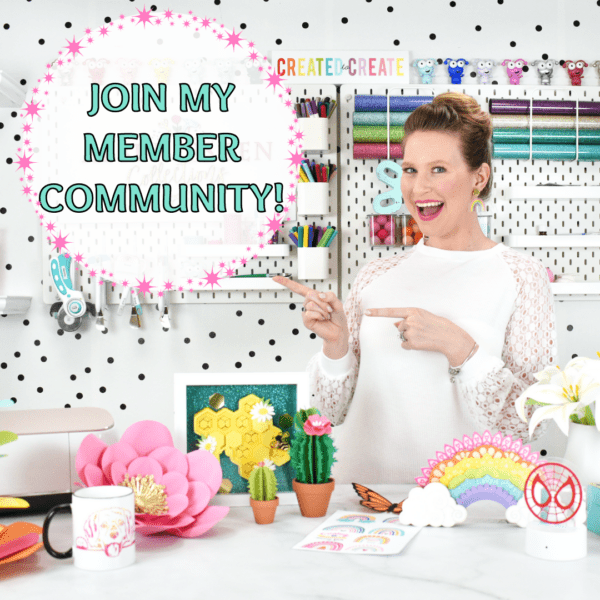 Visit the Shop!
Leafy Vine Set, Leaf SVG Template
Giant Leafy Fern Vine- SVG Vine Cut Files
Jungle Safari Leaf Templates- Set of 8
Printable Tropical Leaf Template Set
Whimsical Vine Leaf Template
Elegant Vine Set of 6 Templates
Small Flower Leaf Stemming Base
Wanna be a Cricut Master and learn to create your own craft design files like me?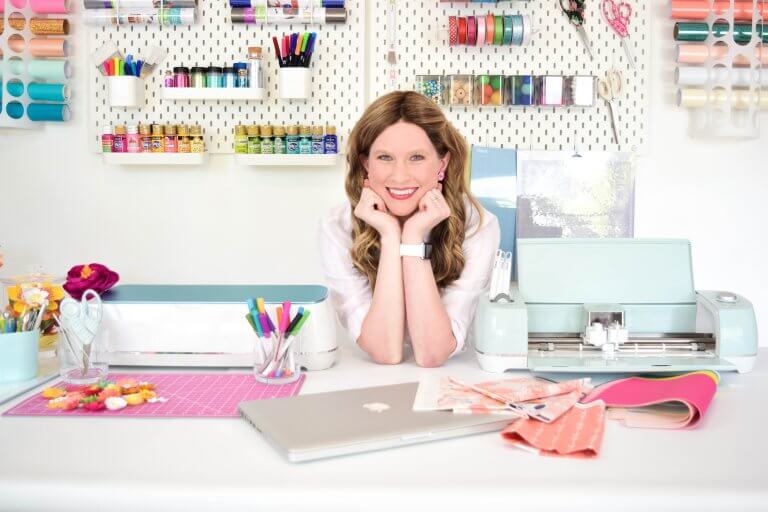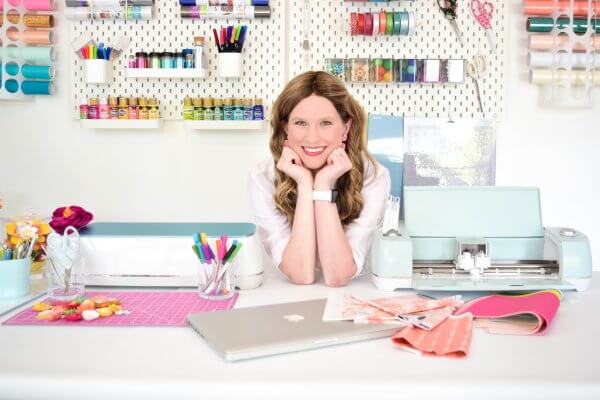 Do you own a Cricut machine or want to own a Cricut but are intimidated when it comes to learning the equipment or even opening the box?! Are you overwhelmed when you look at the Design Space software and feel lost with all the functions? Maybe you wish you could create your own design files rather than being forced to spend money on every design for each project you make? If that sounds like you, be sure to join me here in my FREE masterclass!