Free Father's Day SVG – DIY Shirts For Dad With Iron-On Vinyl
This post may contain affiliate links that won't change your price but will share some commission.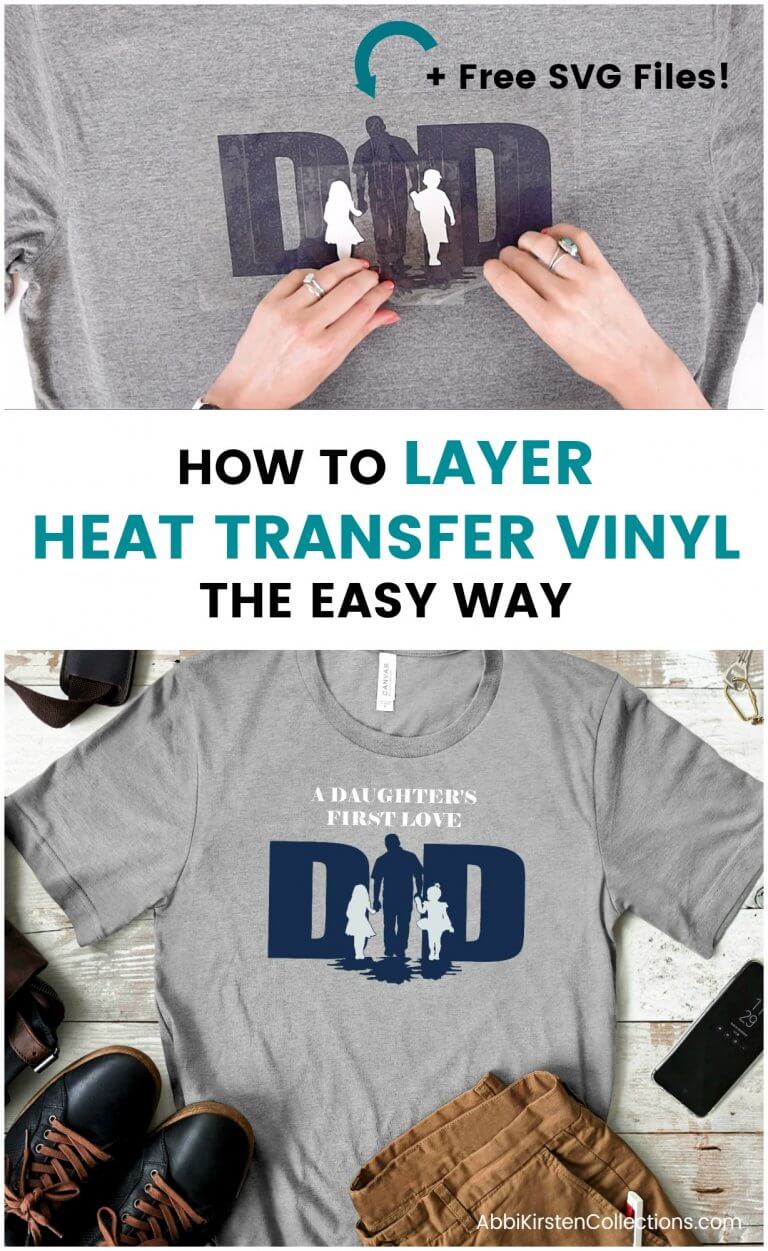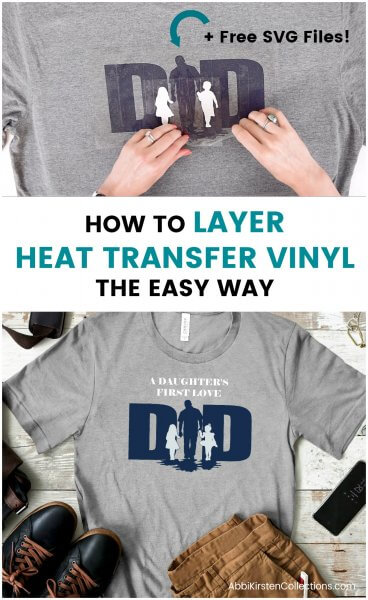 Free Father's Day SVG Cut Files For Cricut
When you own a cutting machine, learning to work with iron-on and vinyl is very exciting. And learning to layer heat transfer vinyl is a big step in that. There are actually a few ways to layer iron-on vinyl, including the slice technique we use with Infusible Ink, but today I am going to teach you the simplest way to layer iron-on vinyl with this free Father's Day SVG file.
I've heard many of you say that you are afraid to get started with iron-on vinyl. I totally understand. I used to be intimated by new things like the many different Cricut materials too.
Today I have a step-by-step easy approach to learning how to layer heat transfer vinyl on your projects! In this example, I'll be adding two layers of iron-on vinyl to a t-shirt blank as we create these DIY Father's Day shirts which are the perfect easy gifts for Dad!
DIY Father's Day Shirt Gift Supply List
Let's review the supplies you will need for our Father's Day shirt project with iron-on vinyl.
DOWNLOAD THE FREE FATHER'S DAY SVG CUT FILES
If you love any of the designs you see in this tutorial, you can find several SVG designs in my Freebie Vault! If you are already a member, log in to my Freebie Vault and search "Father's Day" or Design #87.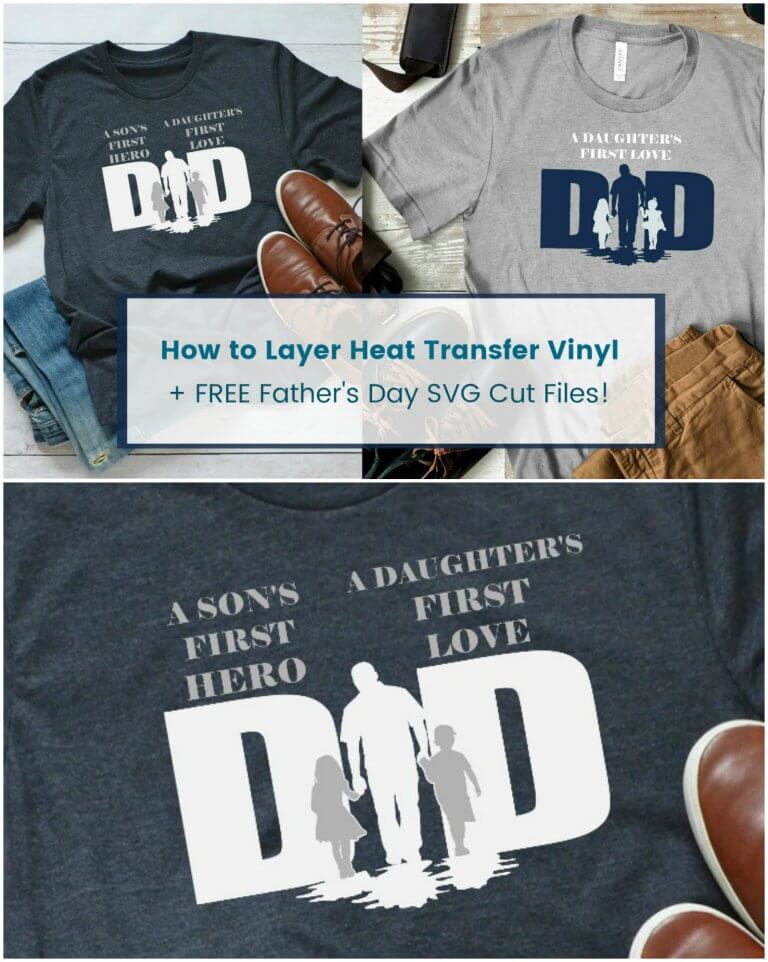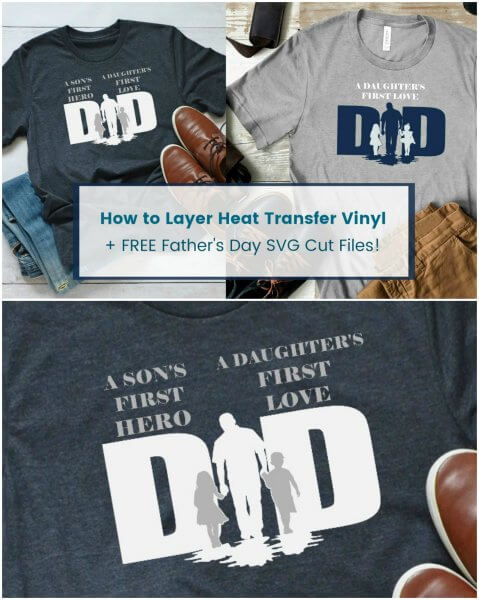 Now let's talk about the process. The two most important things to remember when layering your heat transfer vinyl are:
Always iron on the largest vinyl layer design first.
Save the plastic coating for that largest vinyl layer design!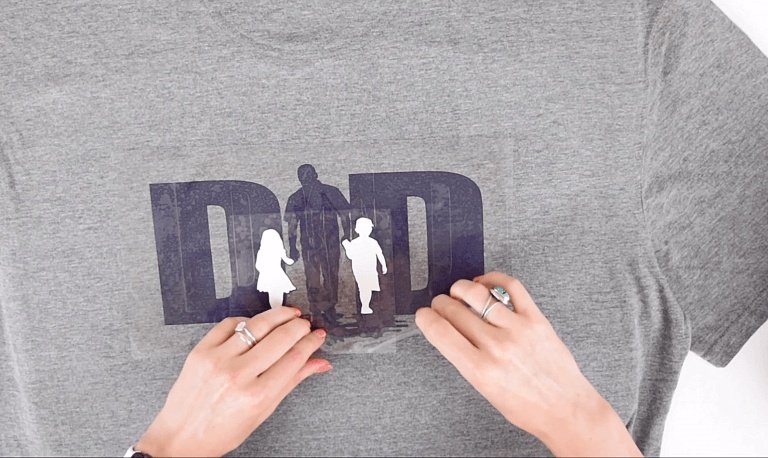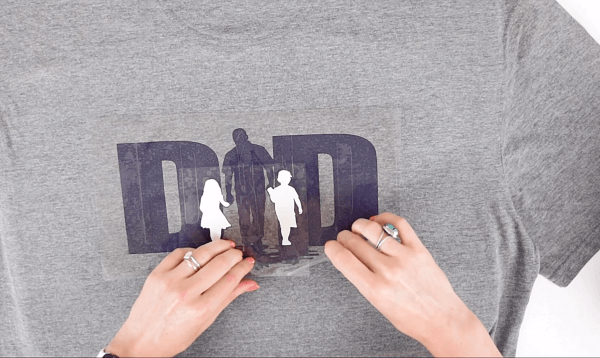 Remember, you can use this technique no matter what type of heat transfer layered vinyl project you use. You can do 2 or 3 layers of vinyl!
I do not recommend more than 3 for quality's sake, and in the event, you use 3 layers of iron-on vinyl, I strongly recommend using the Slice Method so that each layer is making contact with the shirt below and not two or three other layers of heat transfer vinyl. Otherwise, it will just peel up in the wash.
DIY Father's Day T-Shirt with cricut – How to Layer Heat Transfer Vinyl
After you download the free Father's Day SVG cut file above, watch the video tutorial below or continue reading for this easy Father's Day shirt made with Cricut!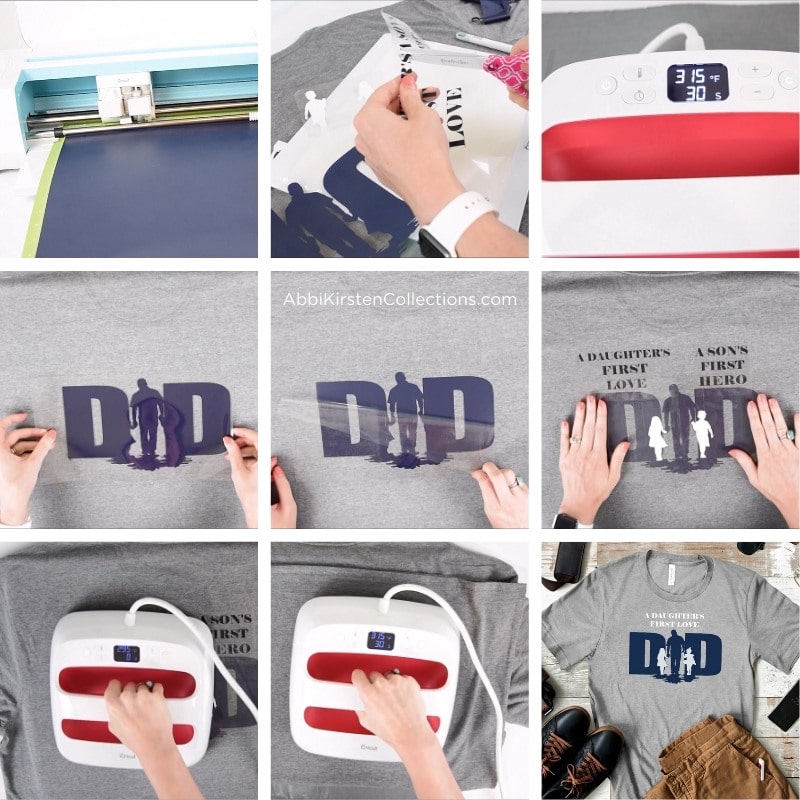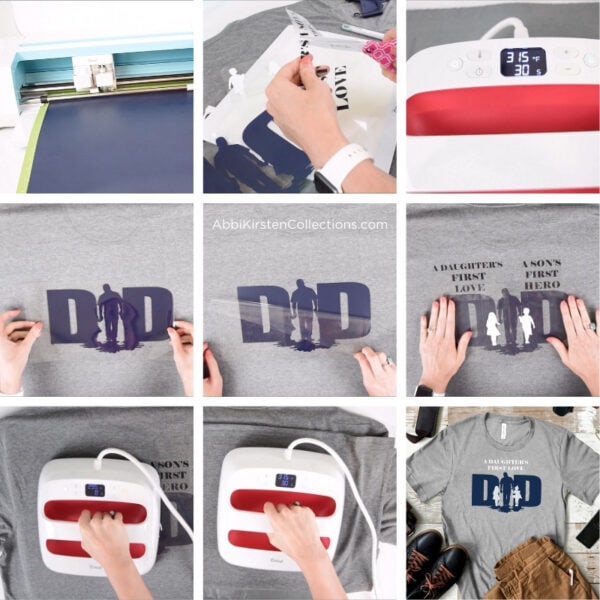 How to Layer Heat Transfer Vinyl Tutorial With Free Father's Day SVG Files
Cut out your layered SVG design. If you are new to Cricut here is how to upload an SVG file to Design Space.
Weed your design. For tips on weeding, check out my 25 Sanity-Saving Vinyl Hacks post here.
Press your t-shirt or blank for 15 seconds. Pressing your shirt before adding HTV gets out wrinkles and warms the material which makes it ready to receive your HTV.
To layer heat transfer vinyl, place the largest design first. To center the design, you can eyeball it or fold the shirt in half, and crease it with the heat press to create a center point.
Press your largest design for 30 seconds. You do not need to move the heat press around. You will see me do that a bit in the video, but I do not recommend though. One of those times where Mom says, do as I say and not as I do!
Let your HTV cool for at least 1 minute, then remove the liner. Save the liner!
Add your next layer of the design. Then using the liner you saved lay it over the whole design, protecting your first layer of HTV.
Press again for 30 seconds. Cool and lift liners.
Adding Additional Layers To Your Shirt
In my video, I added a third color of iron-on vinyl for the words. Even though this wasn't on top of my other HTV I still used that large liner to protect my other layers.
For good measure, I also fold the bottom of my shirt over the top half, covering the design, and give it one last 15-second press.
Now you know how to layer heat transfer vinyl! For more than two layers I recommend layering by Slice Method – see how I set up a multiple-layers file in this video, which is the process you have to use with Infusible Ink!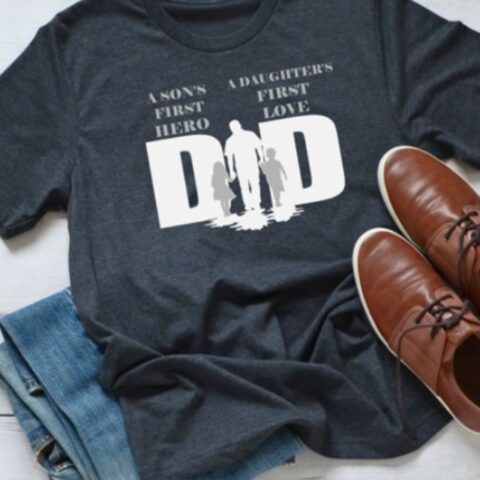 DIY Shirts For Dad With Layered Iron-On Vinyl
Free Father's Day SVG – DIY Shirts For Dad With Iron-On Vinyl
Instructions
Three Important Notes
Use the largest vinyl layer first
Save the plastic coating for the largest vinyl layer
Use no more than 3 layers
DIY T-Shirts for Father's Day
Upload the free SVG to Design Space (if using Cricut).
Cut out the layers of the SVG files using your Cricut or other cutting machine.
Weed the design layers.
Iron or press the T-shirt to make a smooth surface.
Allow the T-shirt to cool.
Place the largest layer on the cool T-shirt where you want it to go.
Press the heat transfer vinyl of the largest layer onto the T-shirt for 30 seconds.
Let cool for at least one minute.
Remove the liner and put it aside.
Place the next layer on the cooled T-shirt.
Cover the whole design with the liner from the 1st layer to protect the first layer.
Press your 2nd layer for 30 seconds.
Let the T-shirt and liners cool, then remove them.
Continue adding additional layers in the same fashion as needed.
Optional: Fold the clean bottom of the T-shirt over the design, and press again for 15 seconds.
New to Cricut?
Join me for my FREE Cricut masterclass on the 3 Biggest Beginner Cricut Crafter Misconceptions and the framework to fix them!
This masterclass is for you if you…
..own a Cricut machine or want to own a Cricut but are intimidated when it comes to learning the equipment or even opening the box!
…find yourself often wishing you could design custom project files to use with your Cricut crafts but you are confused and overwhelmed by the expensive and fancy software out there.
…are tired of searching Pinterest and Google for free templates and files or wish you didn't have to always spend money on a cut file and still can't find exactly what you envisioned.
…craft several times a week, you want to make trendy home décor, you want to create personalized things for your school-aged child or grandchild, or are considering selling your handmade items.
Hey, Crafty bestie! I'm Abbi!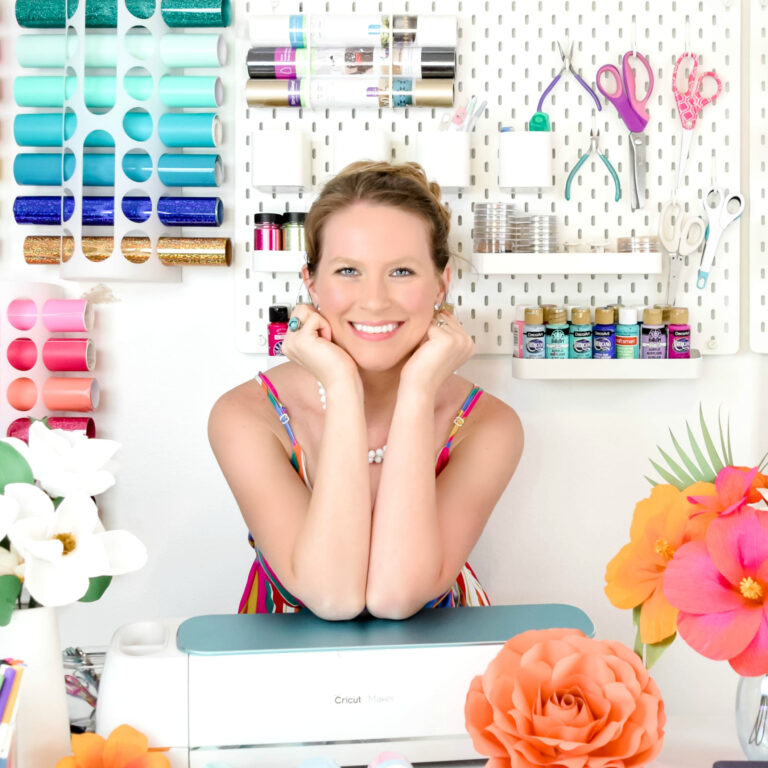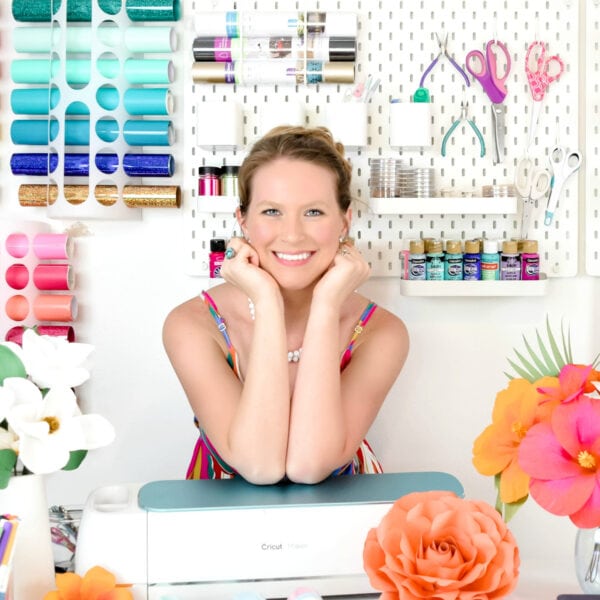 I'm thrilled you are here! I have spent the last 10+ years making messes and magic in my home studio to make the world a more colorful place, one craft at a time! I'm on a mission to nurture the creative magic inside your soul and bring that bursting imagination inside you to life with easy-to-learn tutorials. If you haven't yet, be sure to join the subscriber community to gain access to all my freebies or visit my signature design shop, Catching Colorflies!