How to Make Giant Paper Succulents – DIY Succulent Tutorial
This post may contain affiliate links that won't change your price but will share some commission.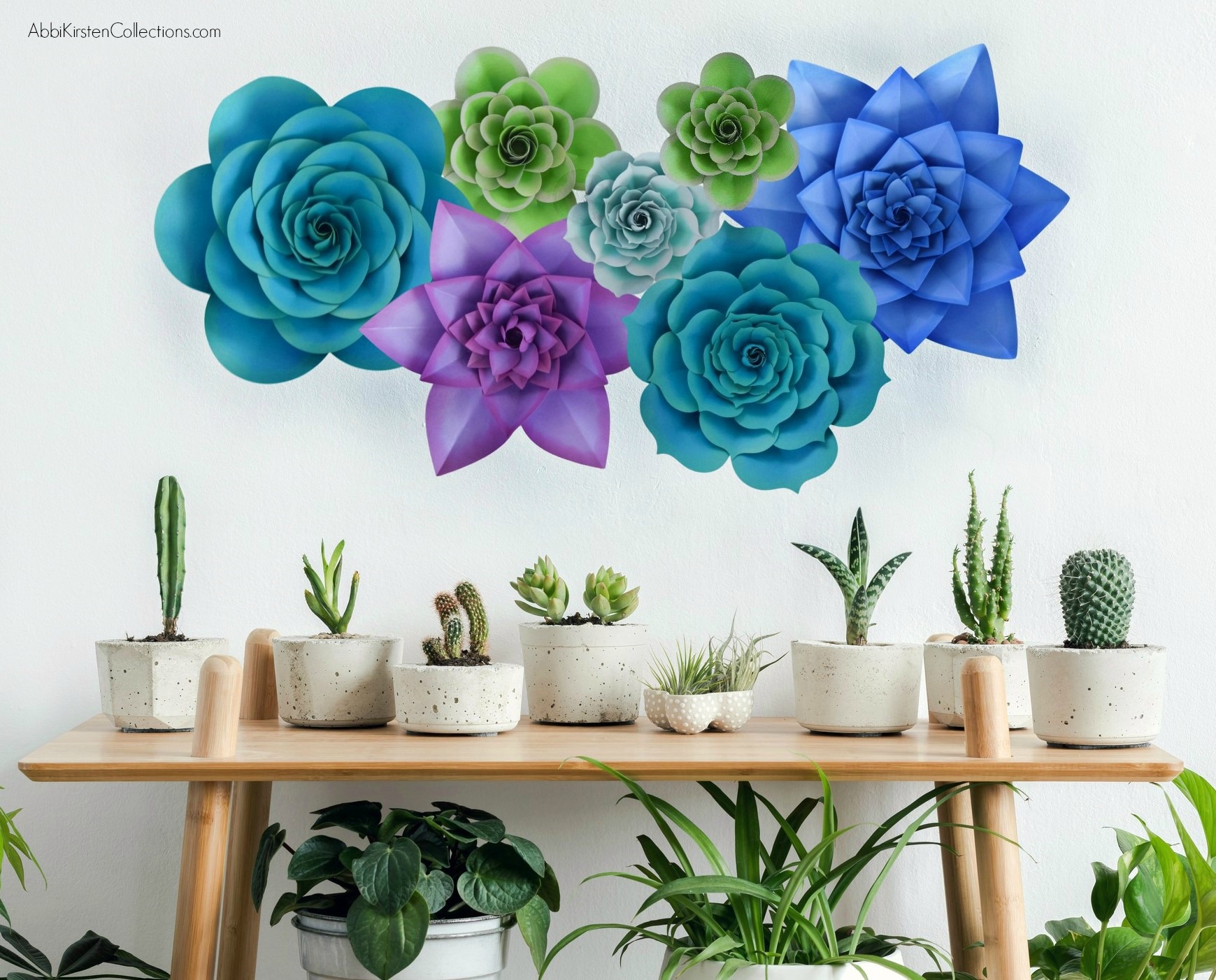 For such a long time, I have wanted to make some giant paper succulents. I wanted to take my time and create some stunning designs, so the project got put off, but now I have finally created not just one large succulent but three! Real plants inspired me in nature, just like my original small succulent designs. The succulents are so named Viva, Sunburst, and Rose succulents!
My new giant paper succulent templates come in both printable PDF and SVG cut files so you can easily hand-cut with scissors or use your favorite cutting machine like Cricut Maker or Cricut Explore.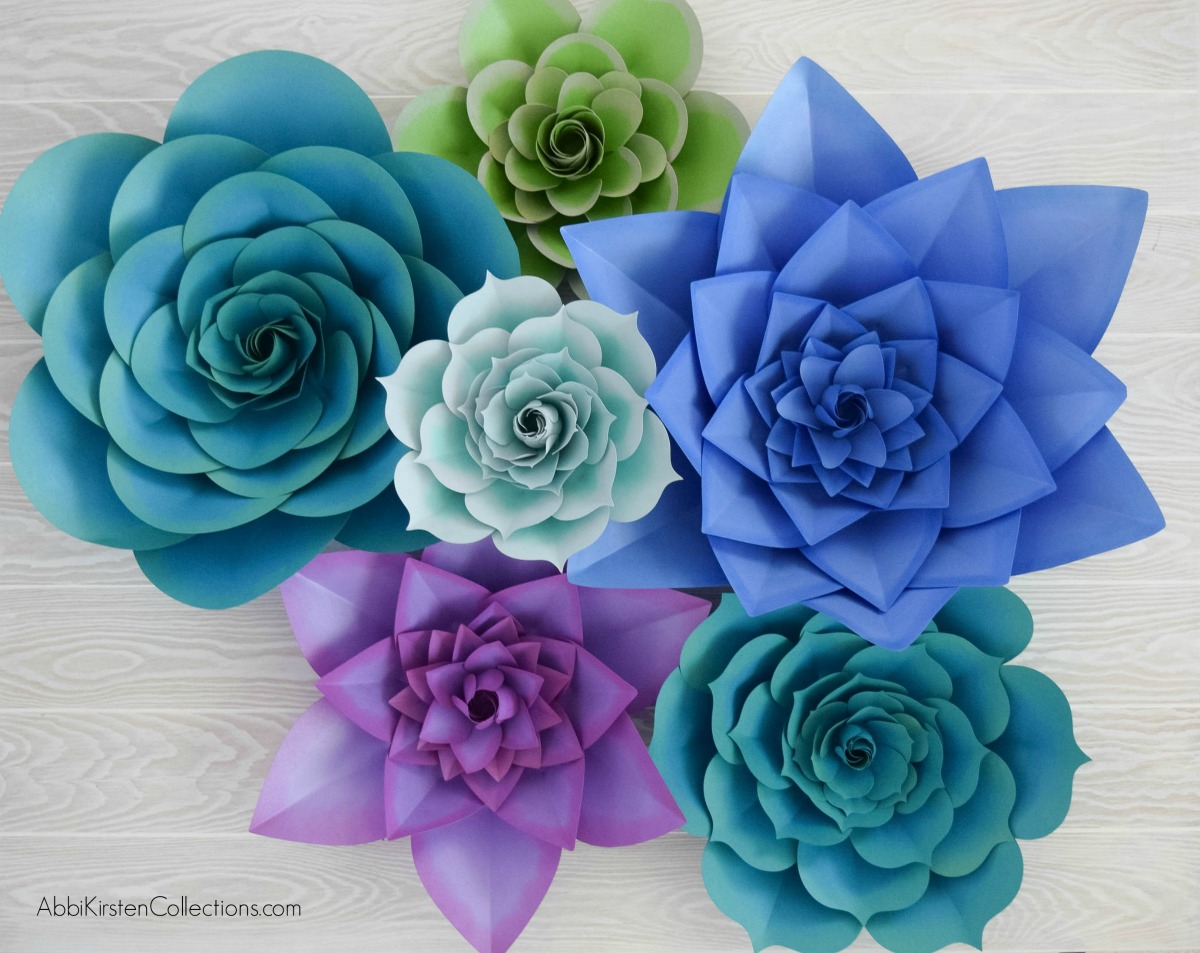 Giant Paper Succulents
The best part about these succulent templates is that you can easily create extra-large, large, medium and small flowers!
Downsizing this desert bloom is as simple as subtracting the use of the extra-large petal to downsize to a large. Likewise, you can deduct the extra-large and large petal to downsize to a medium and so forth with a small.
You can still create 3 or 4 layers to keep the flower full, but only use 2 or 3 of the smaller petal sizes instead of all five-petal sizes for an overall smaller flower – and I go over this in the full step by step video below!
Giant Paper Succulent Flower Video Tutorial
Giant Succulent Supply List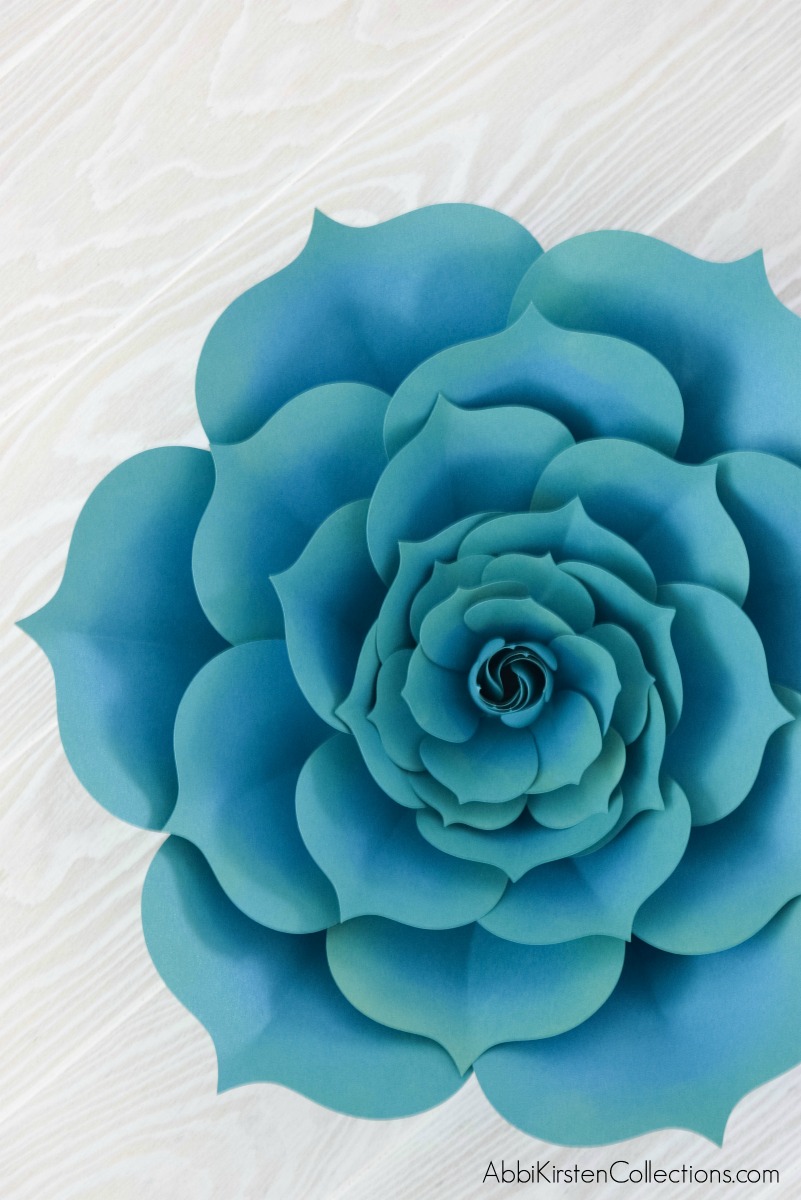 Shaping Succulent Petals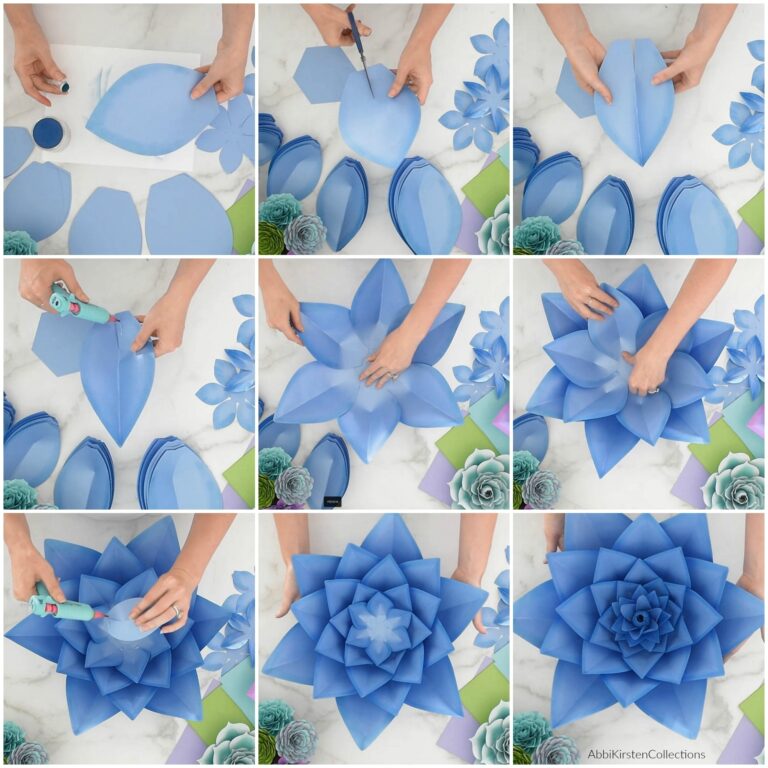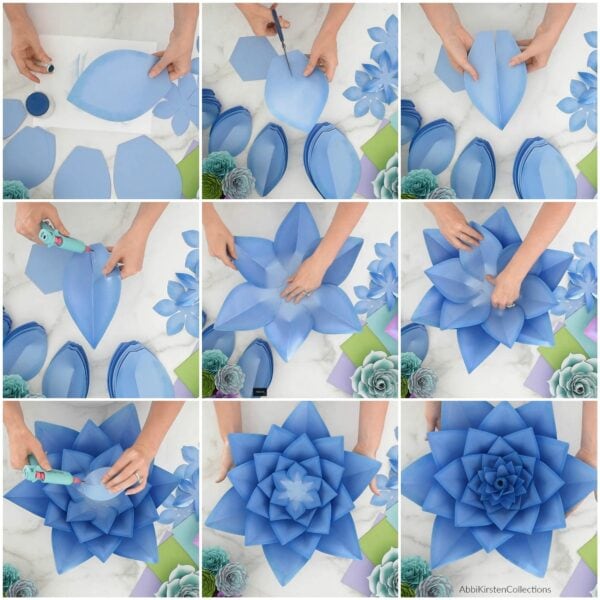 The templates for these paper succulents also include a six-sided hexagon base that can help you achieve an even petal look.
For each flower, you will cut out six petals in every size – one of each side of the 6-sided base, and then four center petals.
To shape the petals I used a thin wood dowel for the smallest center ones.
The extra-large through extra small petals I cut about a 1.5 -2-inch slit at the very bottom, creased the petal down the center gently then overlapped the slit at the base.
Using the 6-sided base start by adding all 6 extra large petals – one to each side of the base.
Repeat the process with the large petals now, placing them in between the extra large petals below.
For the medium, small and extra small petals repeat until you only have the center petals remaining.
Gather the center pieces together and place each one in the center aiming to alternate the petal points until you reach the last center piece.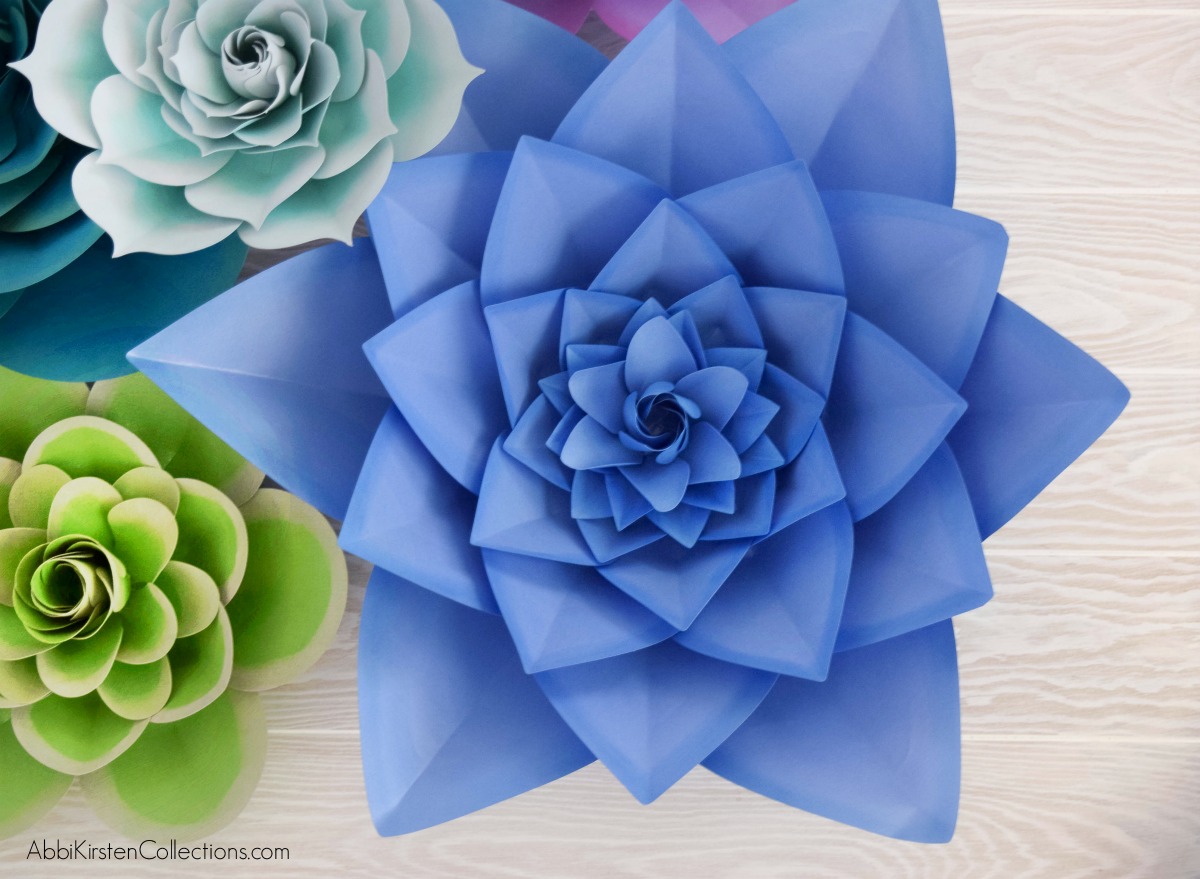 Scroll up to view my step by step video tutorial or follow the picture guide above! Additionally, you can find cutting machine measurements if you need them outlined at the bottom of this post.
I'd love to see how your succulents turned out, so be sure to join my community here and show off your talent!
If you have any questions after watching the video please leave me a comment below!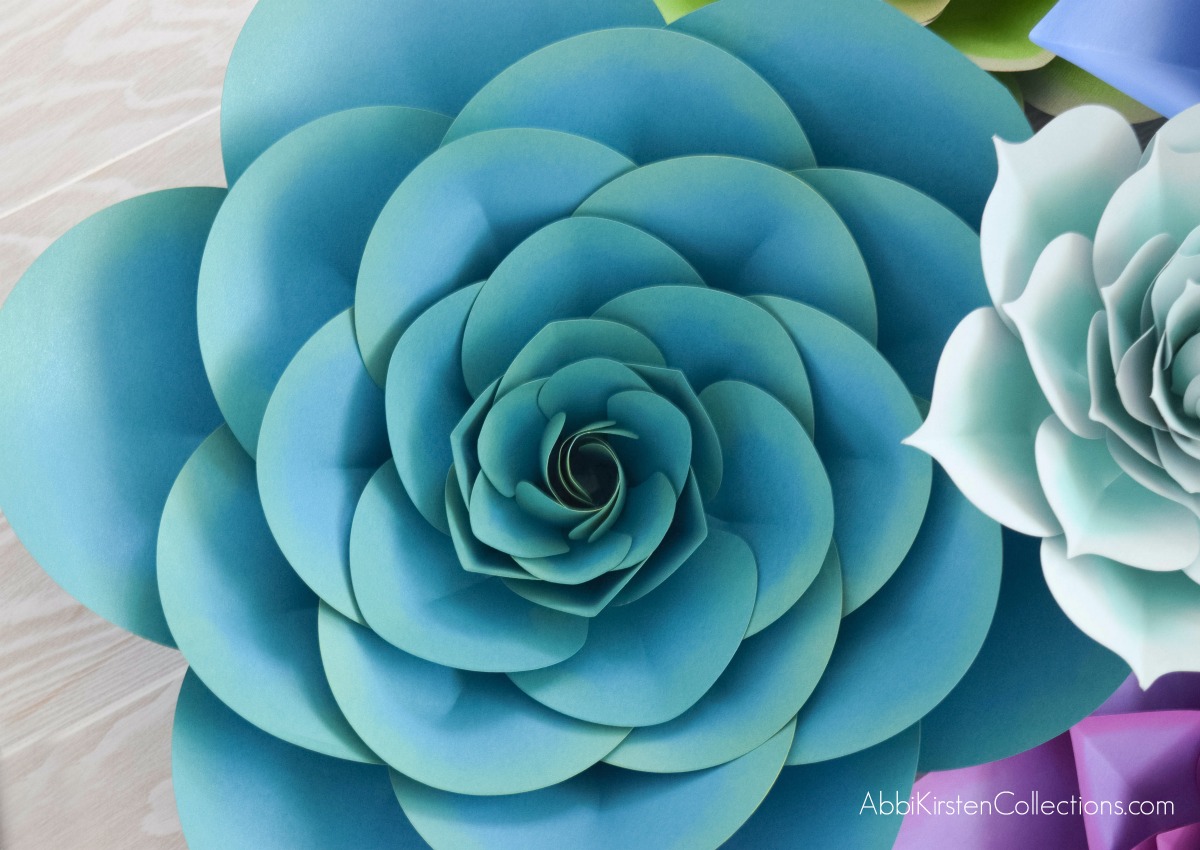 Cutting Machine Measurements
ROSE SUCCULENT (6 petals in each size and then 4 center petals)
XL petal – 6.7 x 8 inches Large petal – 5.7 x 6.8 inches Medium petal – 5 x 6 inches Small petal – 4 x 4.8 inches Extra small petal – 2.8 x 3.4 inches Center petal – 5.6 x 5.8 inches
VIVA SUCCULENT (6 petals in each size and then 4 center petals)
XL petal – 6.6 x 8.1 inches Large petal – 5.1 x 6.2 inches Medium petal – 3.9 x 4.8 inches Small petal – 3.3 x 4 inches Extra small petal – 2.7 x 3.6 inches Center petal – 4.6 x 4.9 inches
SUNBURST SUCCULENT (6 petals in each size and then 4 center petals)
XL petal – 6.2 x 9.2 inches Large petal – 5.3 x 7.8 inches Medium petal – 4.5 x 6.6 inches Small petal – 3.4 x 5 inches Extra small petal – 2.5 x 3.7 inches Center petal – 5.5 x 6 inches
XL base 5.3 x 4.6 inches Large base 4.3 x 4.7 inches Medium base 3.7 x 3.2 inches Small base 3.2 x 2.7 inches Extra small base 2.8 x 2.4 inches
JOIN HALF A MILLION CRAFTERS & ACCESS MY FREEBIE VAULT!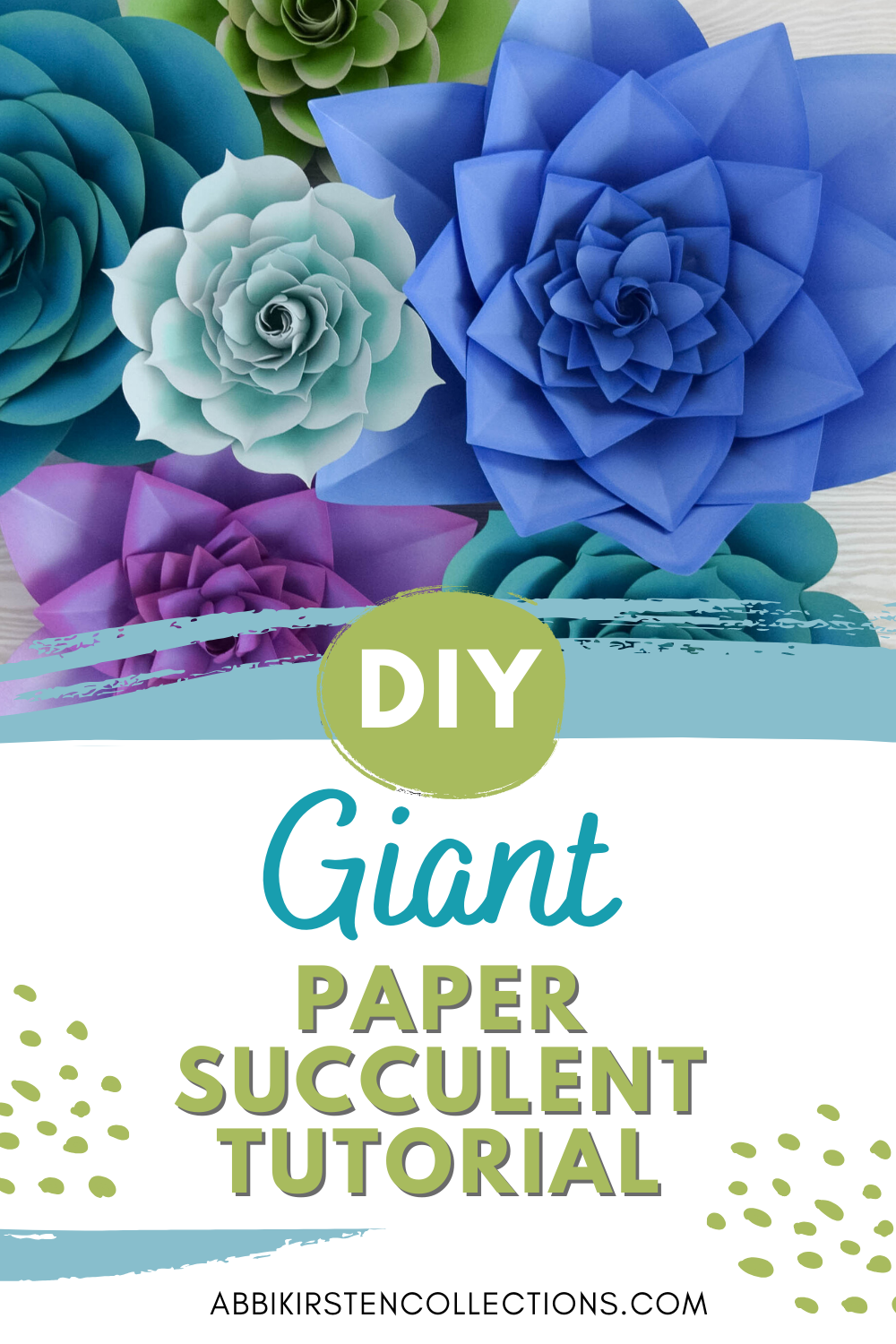 More Crafts to Love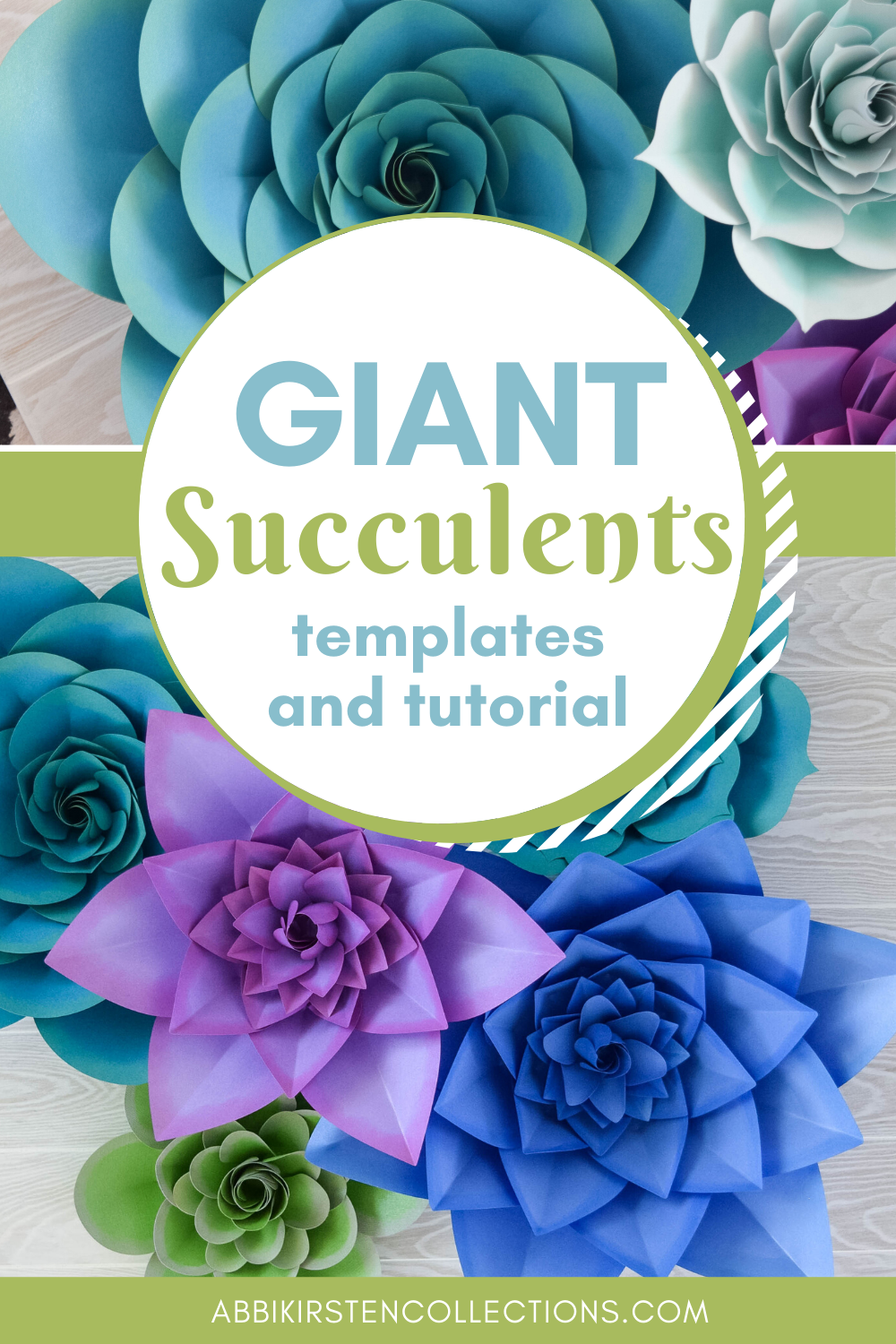 About Abbi Kirsten Collections
I have spent the last 10+ years building my creative skills and sharing them with others. My flower designs are created with simplicity, color, and crafty fun in mind. If you haven't yet, be sure to join the subscriber community to gain access to all my freebies or visit my signature design shop here!
Want to join my Facebook community to share your crafts and learn from the best? Click here to request access to my group, Crafters and Cricut Lovers.
For further color crafts and inspiration, join me on Instagram & Facebook.