Easter Candy Holder Craft – Easter Eggs, Bunny, and Chick Candy Holder Templates and Tutorial
This post may contain affiliate links that won't change your price but will share some commission.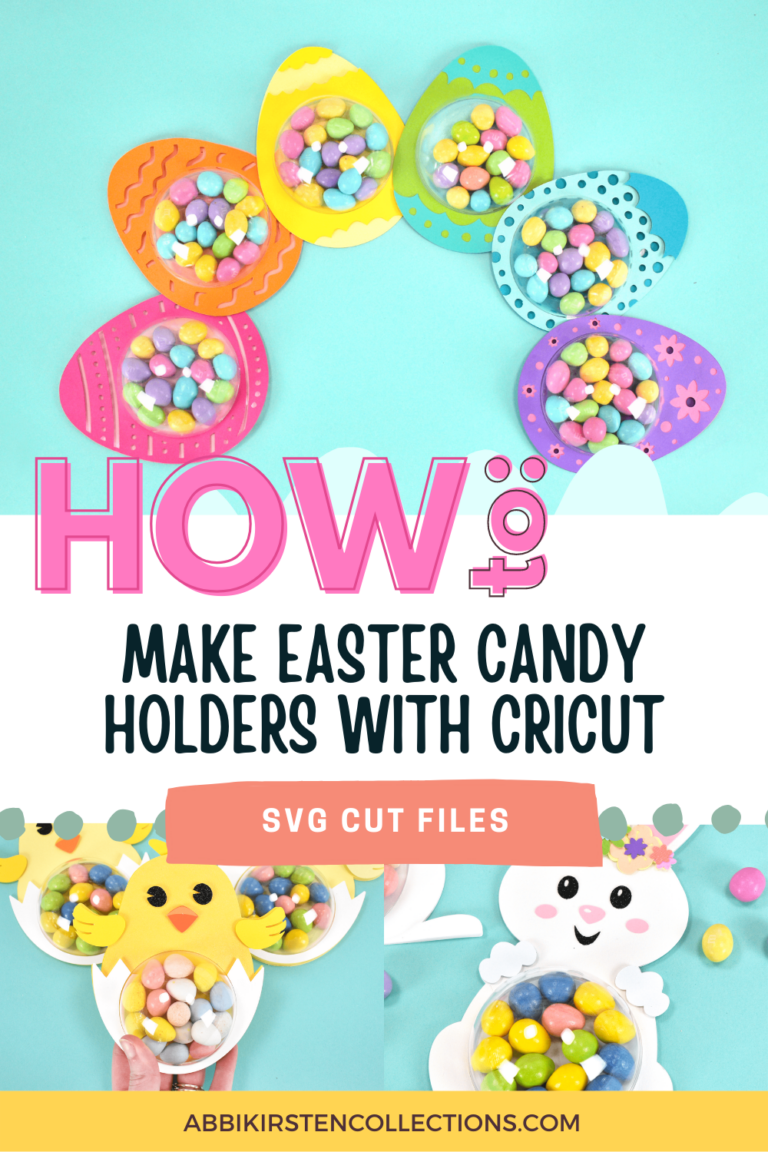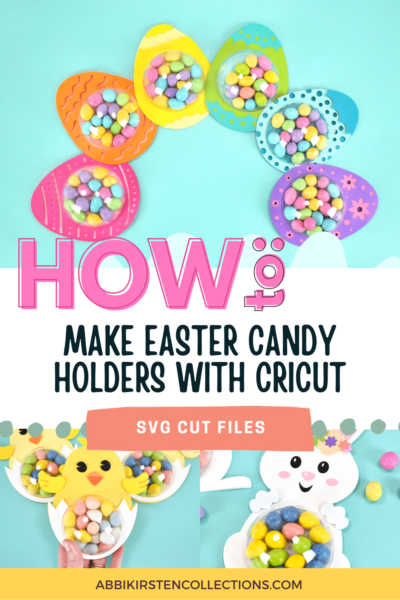 Easter candy holder craft
What crafts can I make for Easter? Well, there are so many cute ideas, but my favorite so far this year is this new Easter candy holder craft! This papercraft project is a fun and easy Easter craft for adults and kids. For this kid-friendly Easter craft, I am featuring an Easter bunny SVG, a chick (or peep) SVG design, an Easter basket SVG candy holder, and six free SVG easter egg holders!
You can use these Easter candy holder SVG cut files with your Cricut machine and put your favorite candy inside! I've recently fallen in love with candy holders made with my Cricut and created many other templates such as my dog and cat candy holders!
And if you are looking for more free Easter SVG files, be sure to check out my favorite collection of Easter designs here.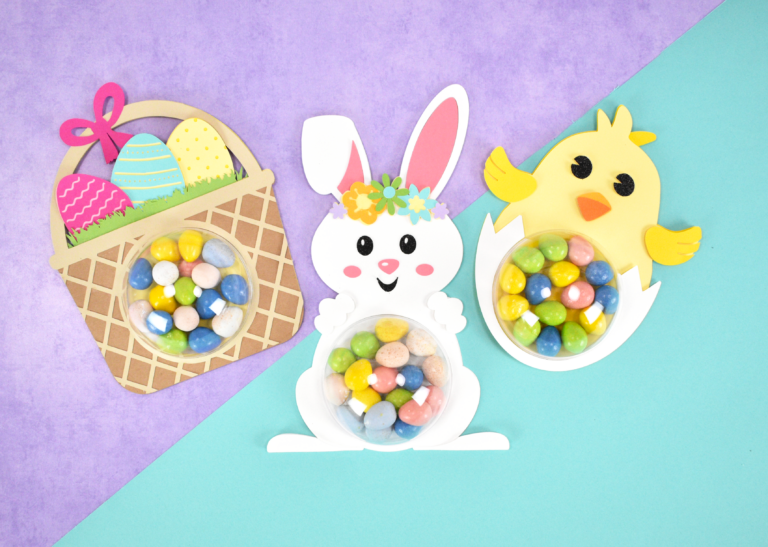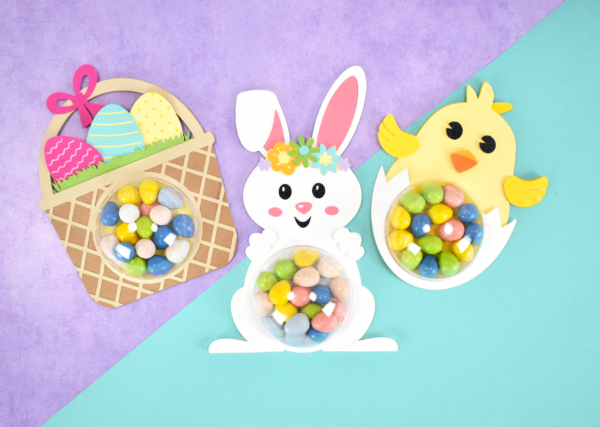 For those who want to avoid candy with this easter craft project, you can opt to fill these easter SVG files with anything small enough to fit – such as stickers or small toys!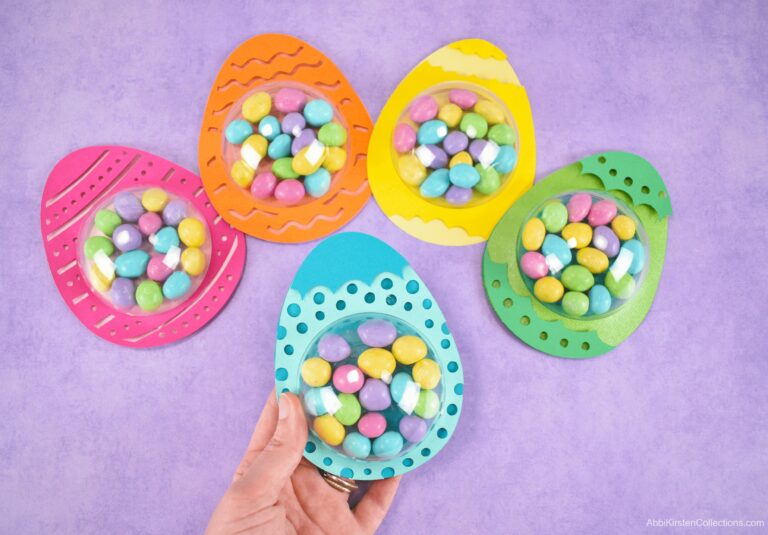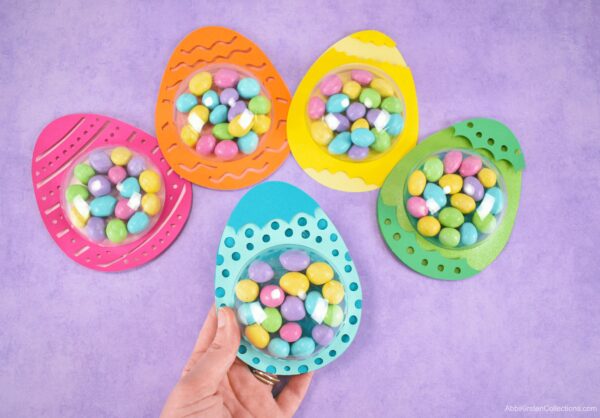 How to Download the Easter candy holder Templates – free svg easter egg holder Templates
I've created several Easter candy holder crafts, including a bunny, chick, easter basket with eggs, and six easter egg designs. The bunny, chick, and basket are available to our premium members, but you can get the Easter egg candy holders for FREE inside the Freebie Vault!
To access the free Easter egg SVG files, sign up via the form below or log into your existing account. Once inside, search design #477 for the Easter eggs at the top search bar. For AKC members, you can log into your account and download the bunny, chick, and basket by searching designs #478, #479, and #480 or keyword "candy holders."
THESE DESIGNS HAVE BEEN UPDATED TO INCLUDE PRE-PERFORATED OPTIONS IF YOU DO NOT WISH TO USE THE PERFORATION TOOL. YOU WILL NOW ONLY NEED THE FINE-POINT BLADE. YAY!
Become An Abbi Kirsten Premium Member
If you aren't a premium member yet, you will want to sign up to unlock access to all our crafts here. There are currently hundreds of designs, such as paper flower templates, holiday crafts, SVG cut files, and printables, plus new ones added each month!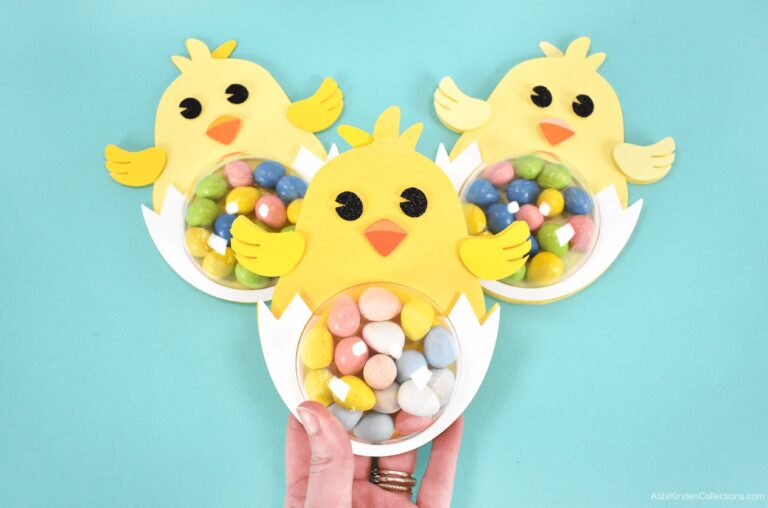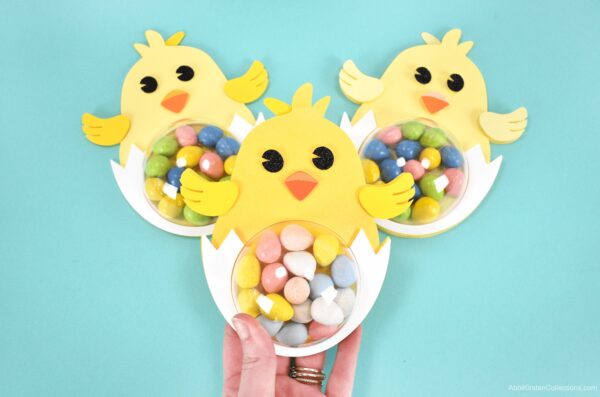 Supplies for Christmas Ornament Craft
Cricut machine (Explore Air 2, Explore 3, Maker, Maker 3 or Joy can work).
65-100 pound cardstock
Plastic half-ball ornaments. I use 8cm here but you can chose other sizes. Just be sure to follow the resizing instructions in the video.
Candy such as robins easter eggs, easter colored M&Ms, etc.
Perforation tool (works only with the Cricut Maker). If you do not have the Maker you can skip this part and let you recipient use a detail pair of sicssors to open the back without destroying the whole creation.
Easter egg, chick, bunny or basket candy holder templates. Find them in the Member Vault here. THESE DESIGNS HAVE BEEN UPDATED TO INCLUDE PRE-PERFORATED OPTIONS IF YOU DO NOT WISH TO USE THE PERFORATION TOOL. YOU WILL NOW ONLY NEED THE FINE-POINT BLADE. YAY!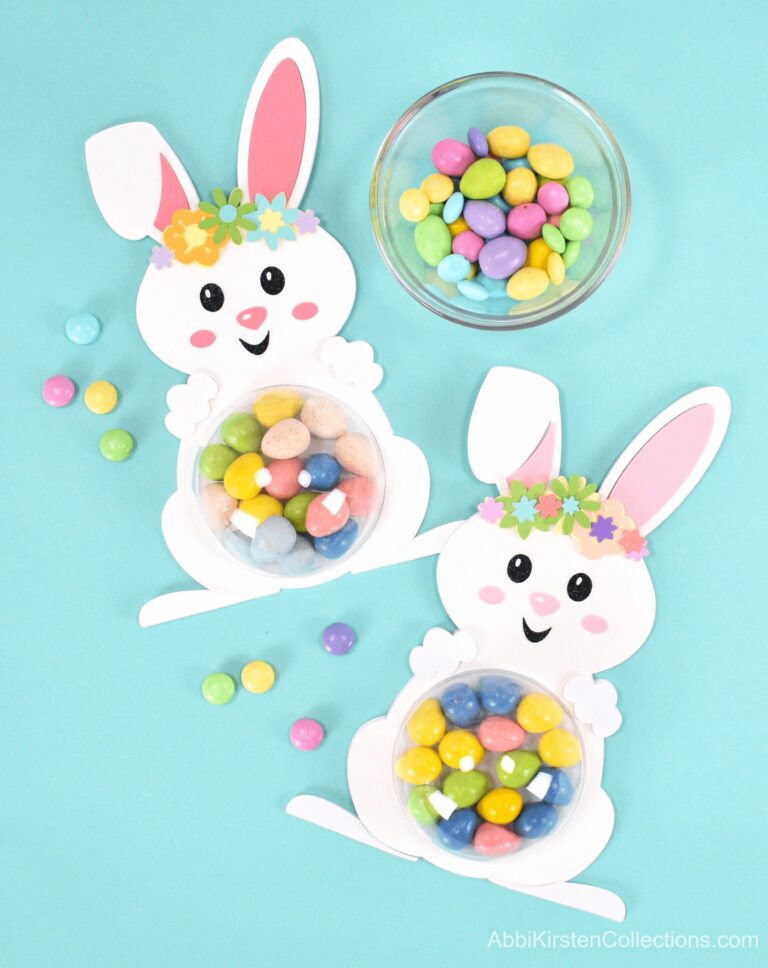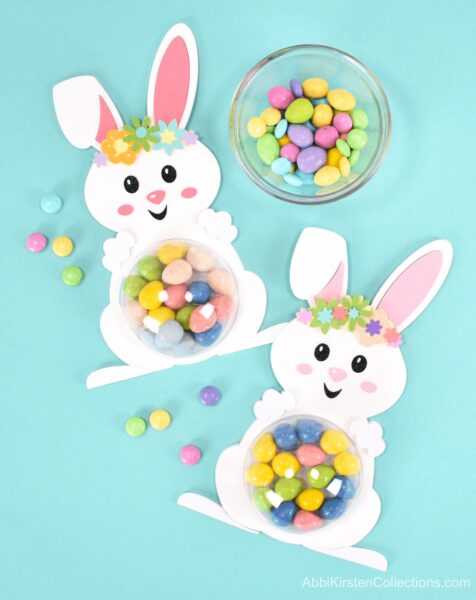 Easter Bunny, Chick, and Basket candy holder craft Video Tutorial
Watch the full step-by-step video for my Easter bunny, chick, and basket candy holders. You can also keep reading for a picture overview. I will also show you how to set up the files in Design Space!
Easter Egg Candy Holder Craft Video Tutorial
I created the Easter egg candy holders in a separate video below, but the mechanics are all the same as the rest of the candy crafts. You will need to watch the first video here if you need help setting the files up in Design Space.
Easter Candy Holder Craft – Design Space Set Up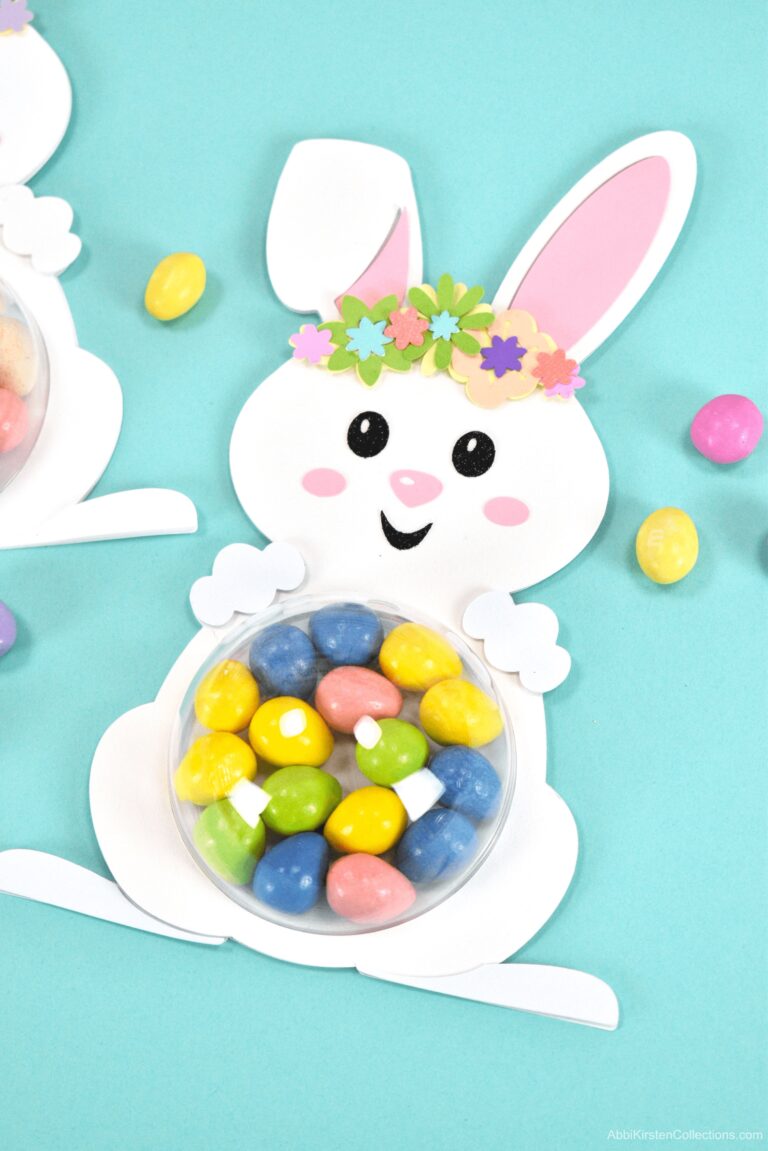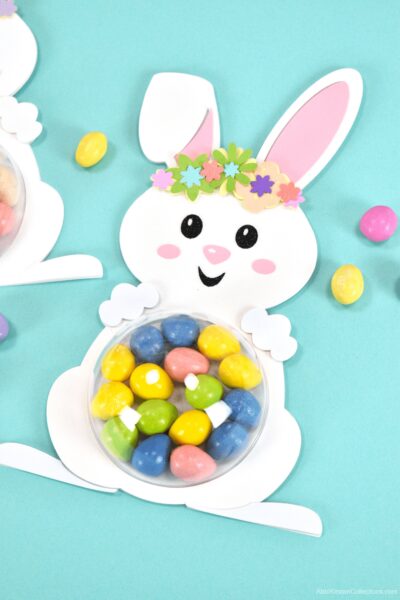 My favorite part about this easy Easter candy holder craft is how easy it is to peel the back off to access the candy or gift inside. The recipient can enjoy the cute springtime gift long after the candy gift is gone! I used the perforation tool that works with the Cricut Maker or Maker 3 machine to create an easy opening back.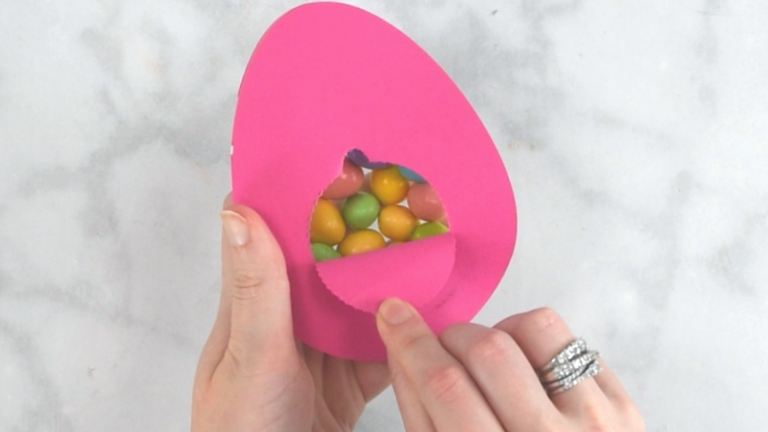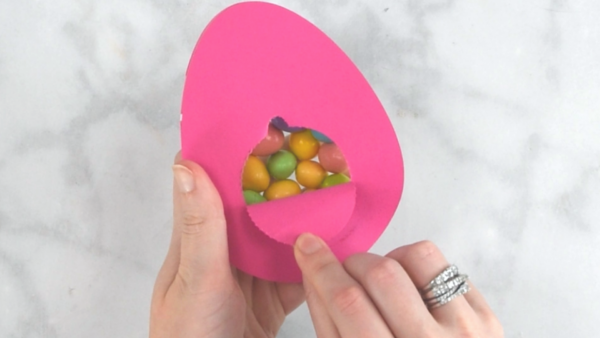 If you do not own a Maker model, which is required for any Quick swap tools (such as the perforation blade), you can score the back instead to mark the spot for opening and make it a little easier to open.
Changing Operation to Perforate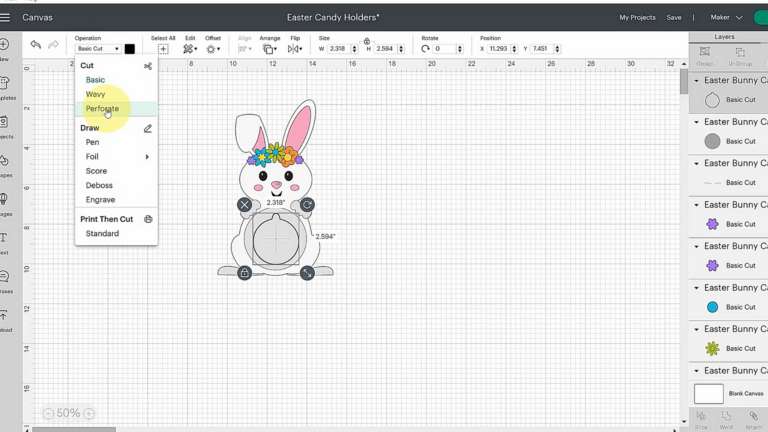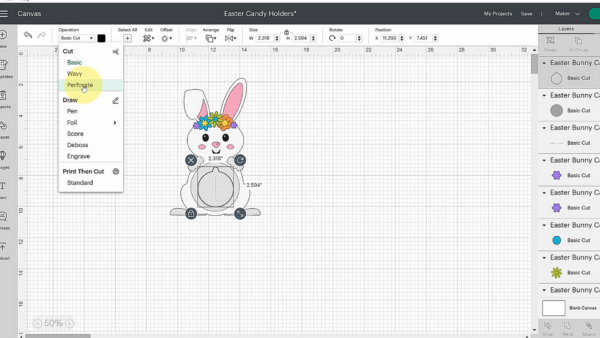 Once you have imported the files into Design Space, you will first want to scale the Easter SVG files to your desired size. I have the files set so that an 8cm plastic ball will work. If you wish to resize, then be sure to scale as a group and use that spare circle included in the files as a guide reference.
After you have set the size of your Easter candy holders, ungroup the layers by using the Ungroup tool to the top right. Select just the circle with the tab at the top and change the operation to Perforate.
Finally, hold your shift key and select the perforated circle and the solid base piece. Use the Attach tool to attach those two pieces together. This ensures that perforation occurs as shown on the screen when moving to the cut screen.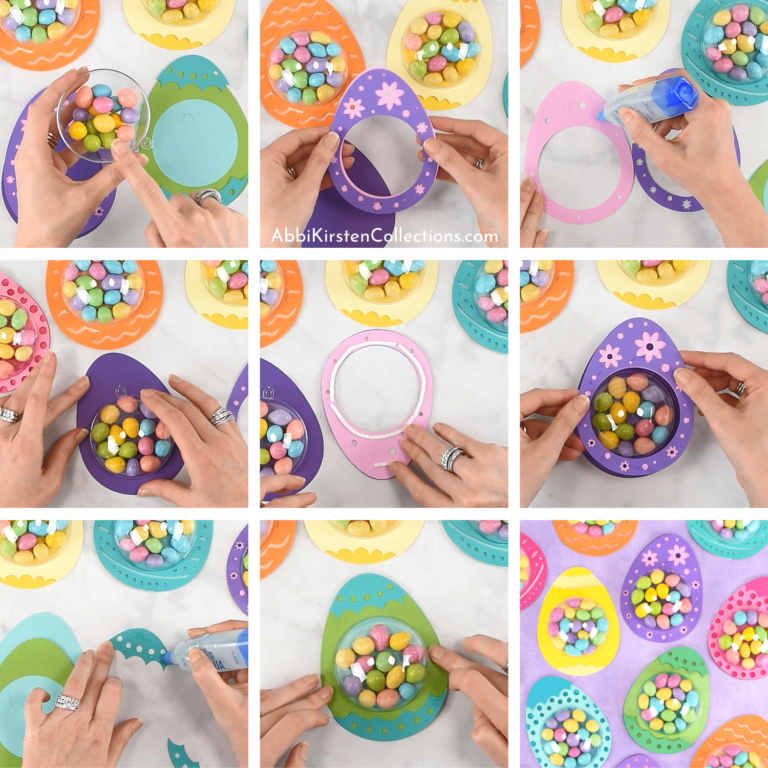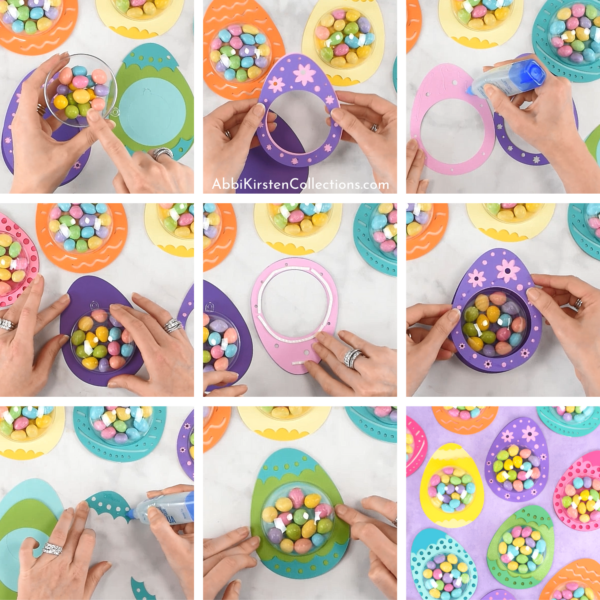 Easy Easter Candy Craft For Adults and Kids
Download the templates in our Member Vault. By joining the Abbi Kirsten Collections Member Vault you also will unlock hundreds of other designs just as cute as these! The Easter eggs only are free if you do not wish to become a premium member.
Import the files into Design Space. I used my Cricut machine for cutting the SVG templates. If you are new to Cricut read my tutorial on uploading an SVG file to Design Space.
To change the size of your Easter candy holder, then at this point you will need to scale the files as a group – this is important to keep proportions correct.
If you own a Maker model then set your perforation line and attach it to the base layer.
Once you have cut out all layers in your choice colors of cardstock start with the two largest layers (the base and the one with the hole for the half ball) which will sandwich the ornament ball.
Add foam tabs along the back of the layer with the hole.
Fill your plastic ball with candy and place it down on the solid base piece with the perforation or scorlines.
Layer the piece with the hole cut out over the plastic ball.
To complete each Easter candy holder add on the extra layer details. For some I use the tomobow glue (usually the more intricute pieces).
Repeat this with any of the Easter candy holder designs the same way.
And that's it! Make several and hand them out to family or friends and watch their faces light up!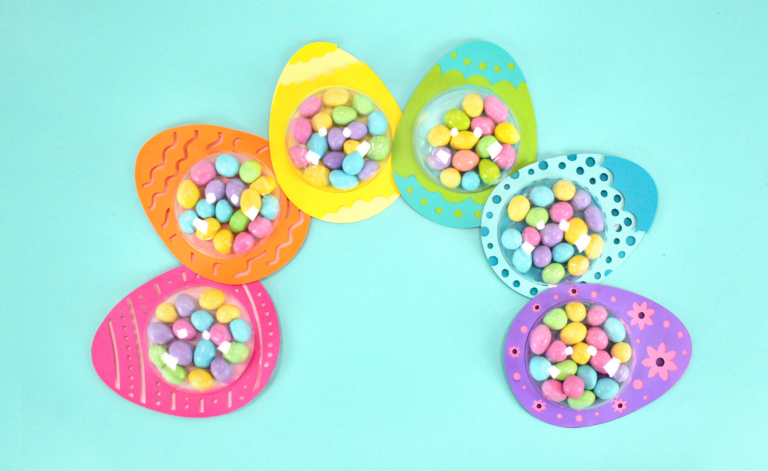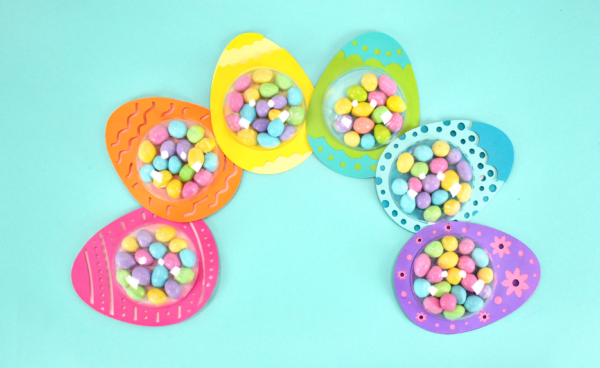 Did you enjoy this Easter candy holder craft? Which one is your favorite? The easter bunny SVG design, the chick, basket, or the free Easter egg candy SVG files? Tell me below!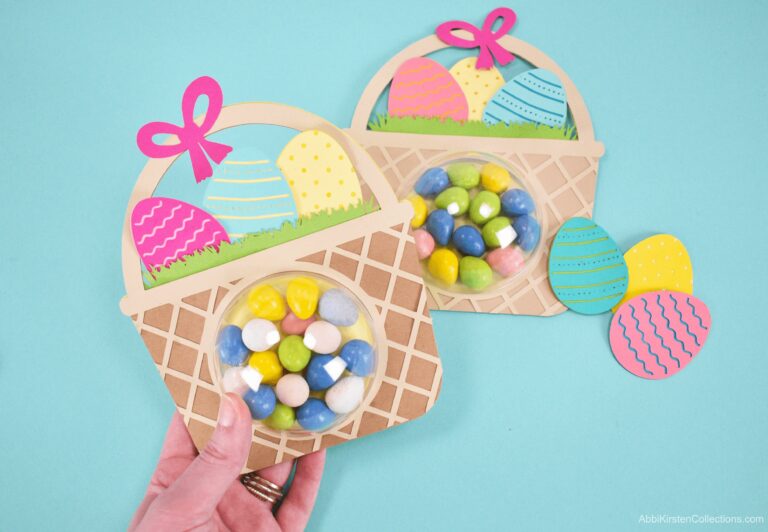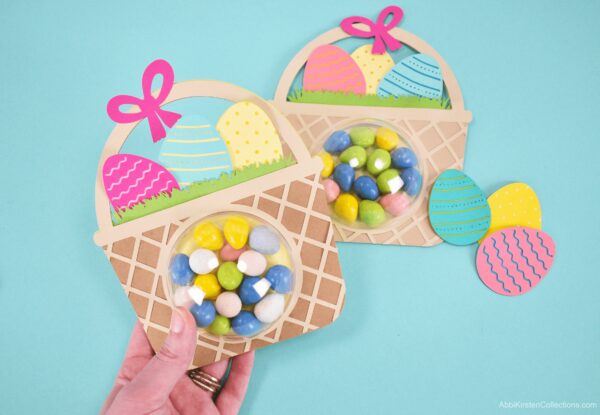 Free Easter SVG Files
There are loads more free Easter craft files in the Freebie Vault, like my FREE easter egg SVG 3d box template. I have a gorgeous freebie vault you will love playing in. Create a free account by signing up via the form below to access hundreds of crafts!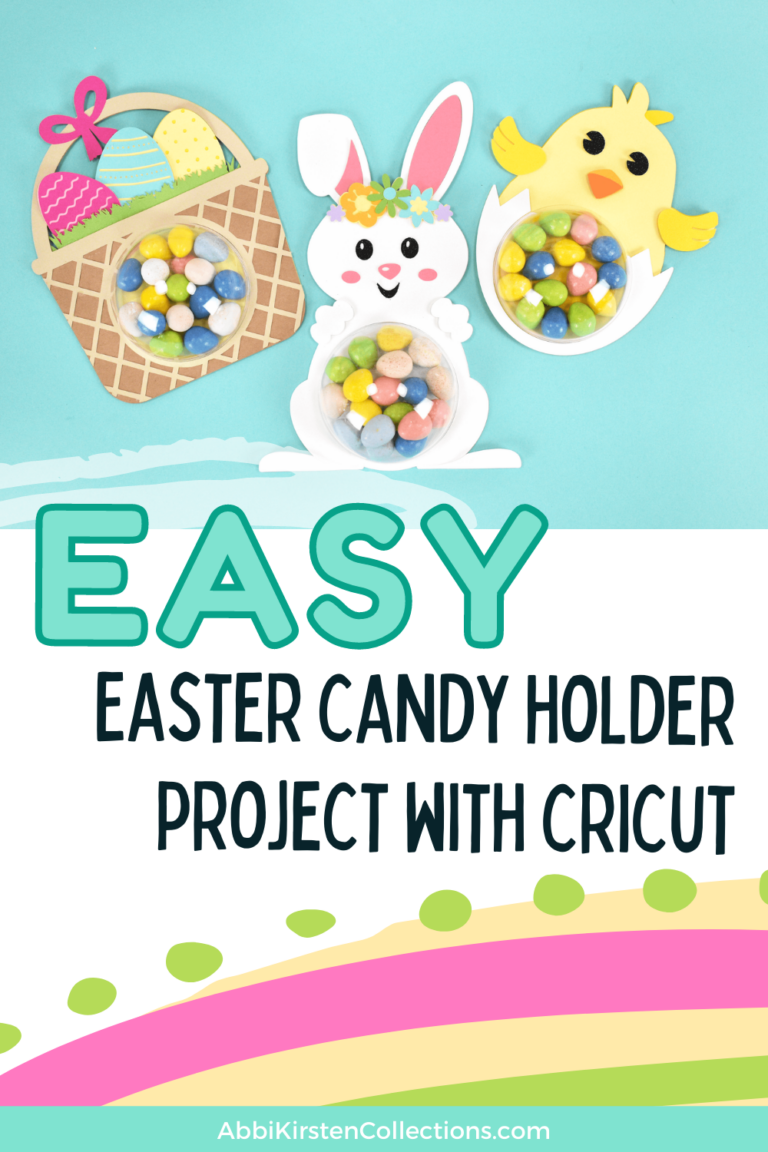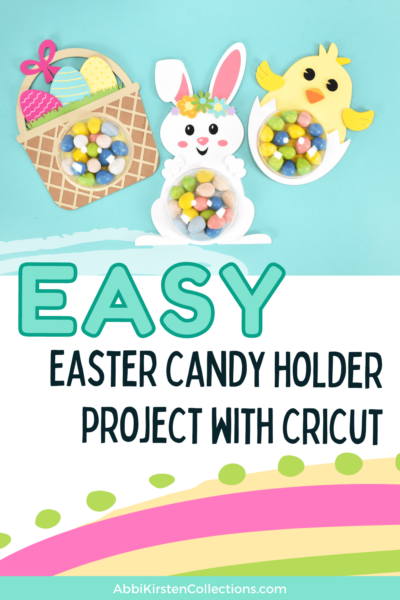 About Abbi Kirsten
Welcome to my colorful corner of the internet, where we play with vibrant crafts and unlock your creative magic! Hang out with me and get lost in a fun array of projects, tutorials, and products, from stunning papercraft ideas to flower templates, Cricut help for beginners, and endless crafter's hacks.
Join the Member Vault and participate in my monthly Craft-Alongs in my Facebook group to access all the magic!