DIY Freestanding PVC Backdrop – Step-by-Step Tutorial
This post may contain affiliate links that won't change your price but will share some commission.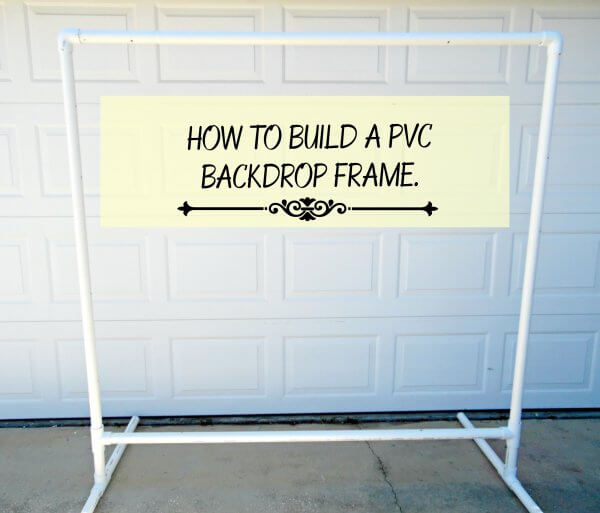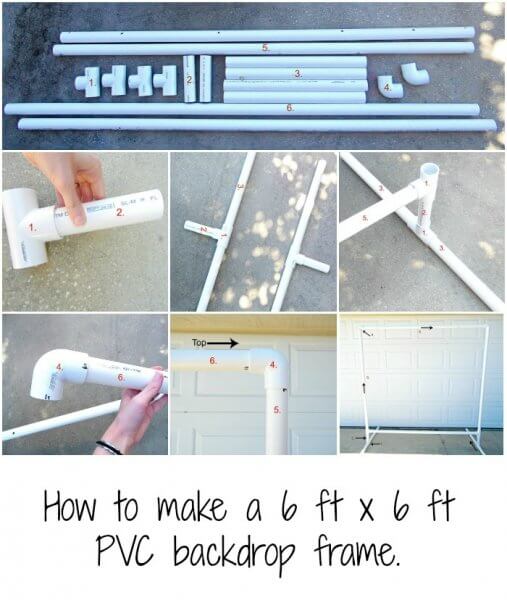 Creating stunning paper flowers is something we all love to do! But, what do we do once they are created? Obviously, we are going to want to display our beautiful decor. Well, if you're not going to hang your flowers on a wall then you may want to create a free-standing backdrop. Creating your own DIY Freestanding PVC Backdrop is perfect for parties, photo booths, etc. is the simplest and cheapest way to accomplish the job.
The frame we are building today measures 6 ft. high by 5 ft. wide once complete. If you prefer a larger or smaller frame for your type of project, adjust the lengths appropriately.
Generally, the most popular backdrop creation is one that includes flowers along the top and fabric hanging over the frame. Although there are a variety of ways to create a backdrop, I've discovered this particular design is by nature, the simplest and easiest to learn and is also the most cost-effective.
So, grab your supplies, pull up your sleeves, and let's build ourselves the perfect display for our lovely flowers!
DIY Freestanding PVC Backdrop

SUPPLIES
Using PVC tubing that's 1-1/4 inch in diameter, cut the PVC.
 2 5-1/2 ft. pieces PVC(#6)
 2 5-ft. pieces PVC (#5)
 4 20-inch pieces PVC (#3)
 2 6-inch pieces of PVC (#2)
 4 PVC tees- Make sure they are 1- 1/4 on all three sides. (#1)
 2 PVC elbows (#4)
 Clamps or claw clips
 Fabric
 Large cardboard boxes
 Box cutter
 Small saw for cutting the PVC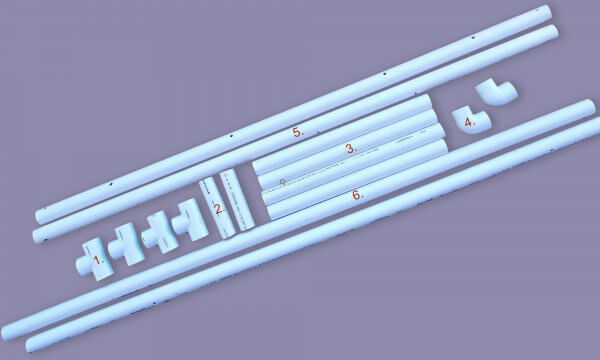 How to Make a DIY PVC Backdrop Stand for Paper Flowers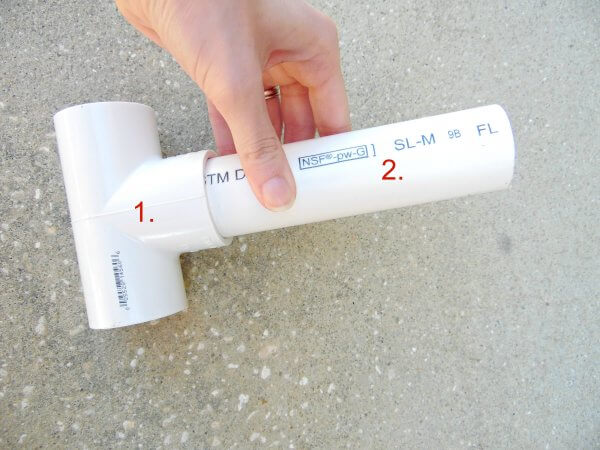 Step 1
First, we'll build the legs of the backdrop.
Numbers have been assigned to each piece in the photos for clarity. Start by connecting PVC tee #1 and your 6-inch piece (#2) together. Place piece #2 on top of the tee.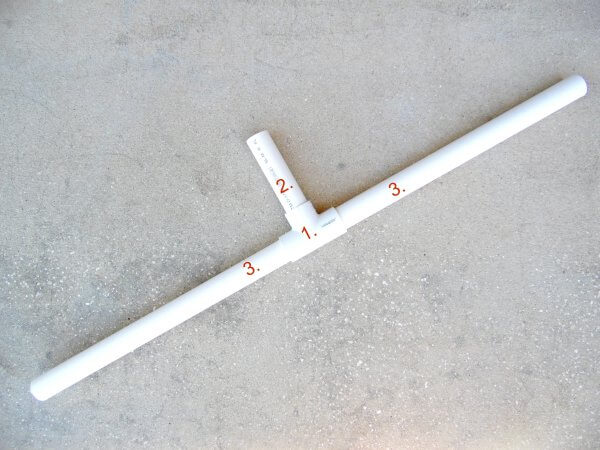 Step 2
After connecting pieces #1 and #2, connect the two #3 pieces to each side of the tee.
You should have one leg of the stand done. Now repeat steps 2 and 3 for the other leg of the stand, so that you have two of the same pieces as shown below.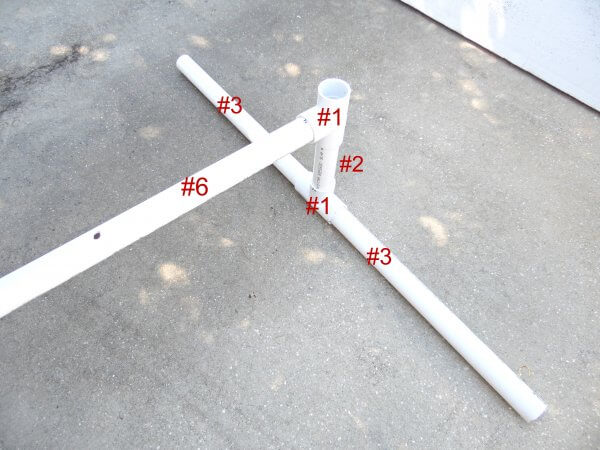 Step 3
Using another PVC tee, connect it to the top of the leg we just built. Then, join the two legs together by connecting one of the long #6 pieces to the inside of the tees. The horizontal bottom portion of your frame should be built at this point.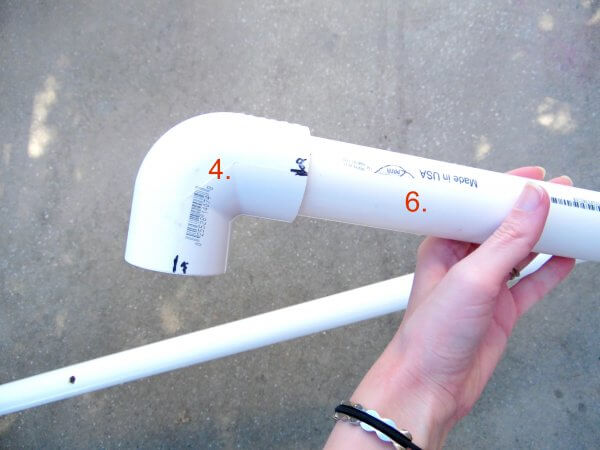 Step 4
Next, connect the two PVC elbows on each end of the remaining #6 piece which will go along the top. The elbows should be facing down. This is the horizontal top side of your frame.
For more paper flower tutorials, tips and tricks, and more, be sure to check out The Art of Giant Paper Flowers ebook!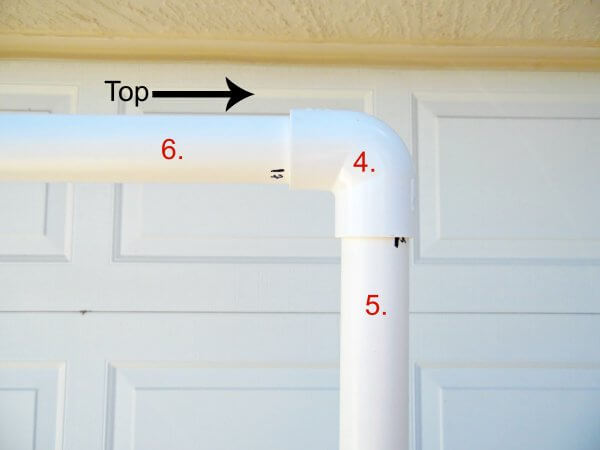 Step 5
The two remaining PVCs are the #5 pieces that will be the vertical sides parallel to each other.
Connect the two final pieces so that the whole frame is now together.
Check the picture below to make sure your numbered pieces all match correctly.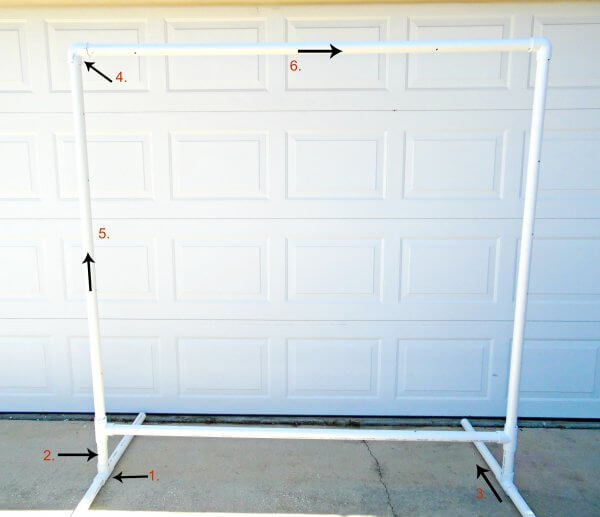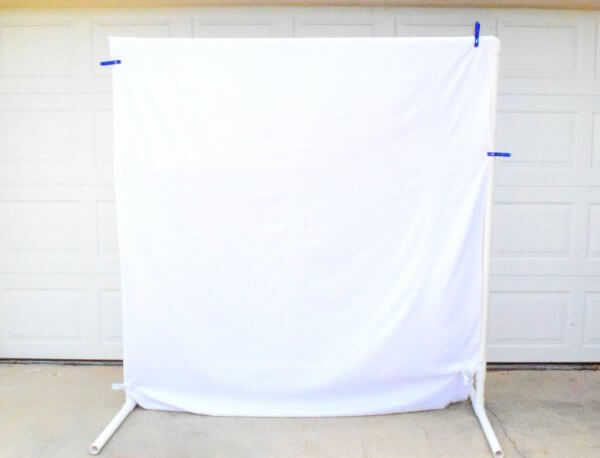 Step 6
Drape the fabric over the frame. Use your clamps to hold it in place. You could also affix mounting tape along the frame to keep the fabric on and pulled tight.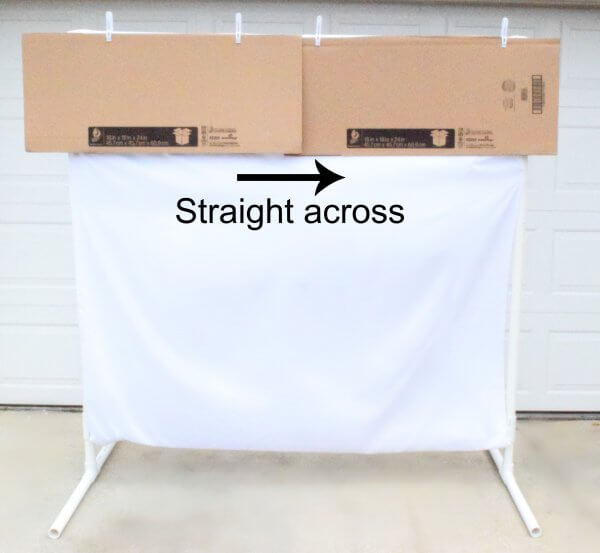 Step 7
The cardboard is going to be what you glue/mount your flowers to. If you want the flowers to be along the top, then just cut your box in half. Here I'm using a 24 x 18 x 18-inch box.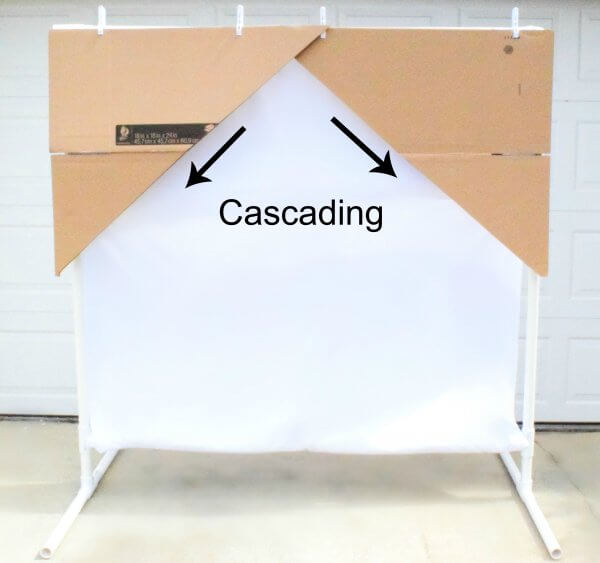 If you prefer a more cascading look, cut the box diagonally across the center. I use several extra large white clamps to hold the cardboard to the frame. To conceal the clips, simply glue your flowers or leaves so they stick up a few inches beyond the cardboard.
How to cover the whole backdrop frame with flowers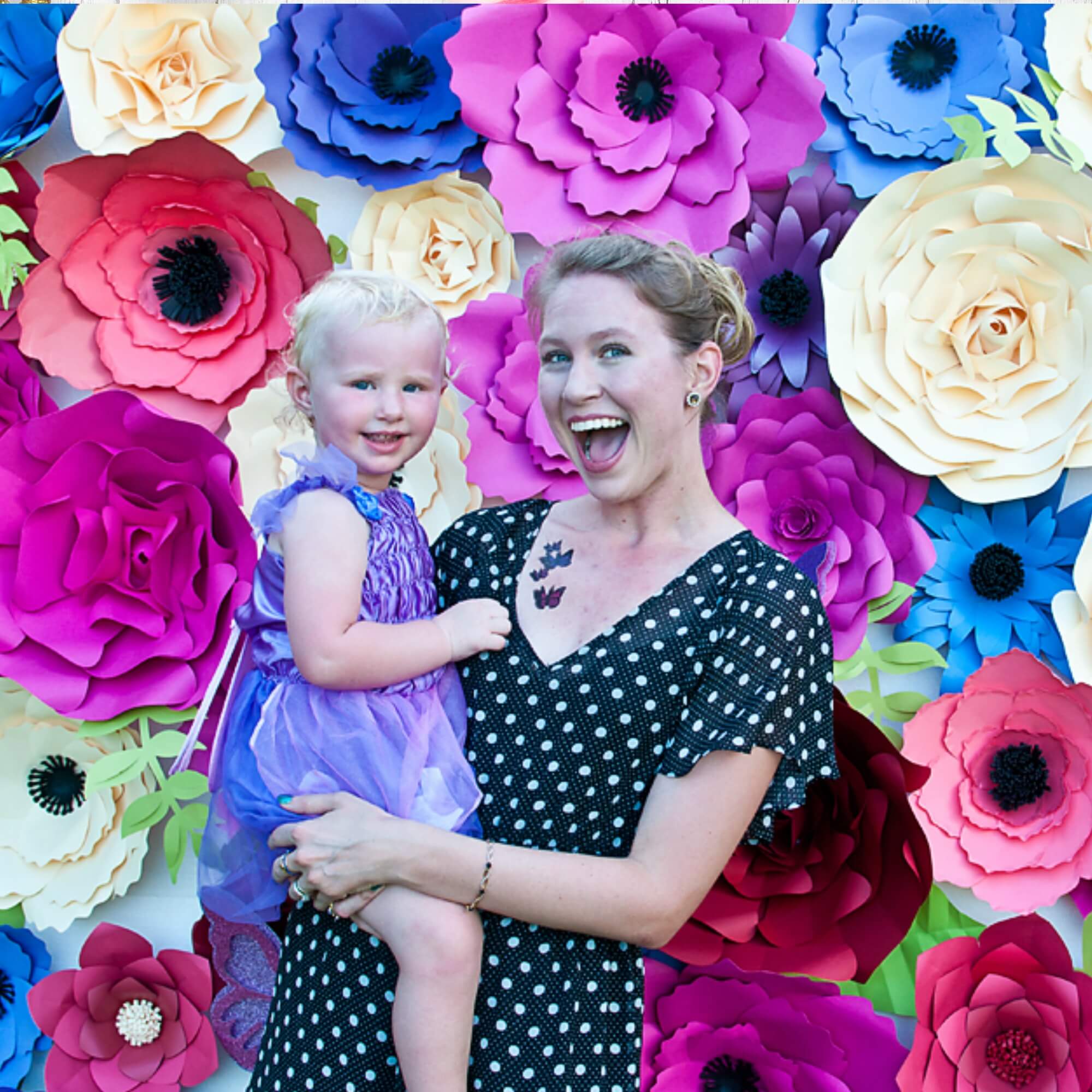 I'm sure some of you are wondering, "But what do I do when I want to cover the whole backdrop frame in flowers?"
That's easy! I gotcha covered girlfriend!
Foam insulation board
The first option is to go to your hardware store and pick up 1-2 large foam insulation boards and some large screws. Using the screws and reinforcing them with gorilla glue, attach the foam boards to your DIY PVC backdrop. Once secure you can attach your flowers by gluing them directly onto the board OR you can create hooks for your flowers and add nails to the board to hang them from.
Fabric attachment
If you prefer to have your flowers attached to the fabric then the first key step is to make sure you have secured the top of the fabric well to the frame with your heavy duty clips or even sewing a loop for it to hang from. I still recommend putting a foam board behind the fabric because it will offer some much need support. Once your fabric is in place then attach your flowers by using large flat back pins – gluing the flat back pins to the back of each flower first. For more clarity of hanging your flowers see this post here, 8 Ways to Hang Paper Flowers!
I can't wait to see how beautiful your paper flowers look displayed on your new freestanding DIY PVC backdrop. Be sure to leave a comment letting me know how it turns out!