How to Make Paper Pineapple Party Decorations: DIY Paper Pineapple Template
This post may contain affiliate links that won't change your price but will share some commission.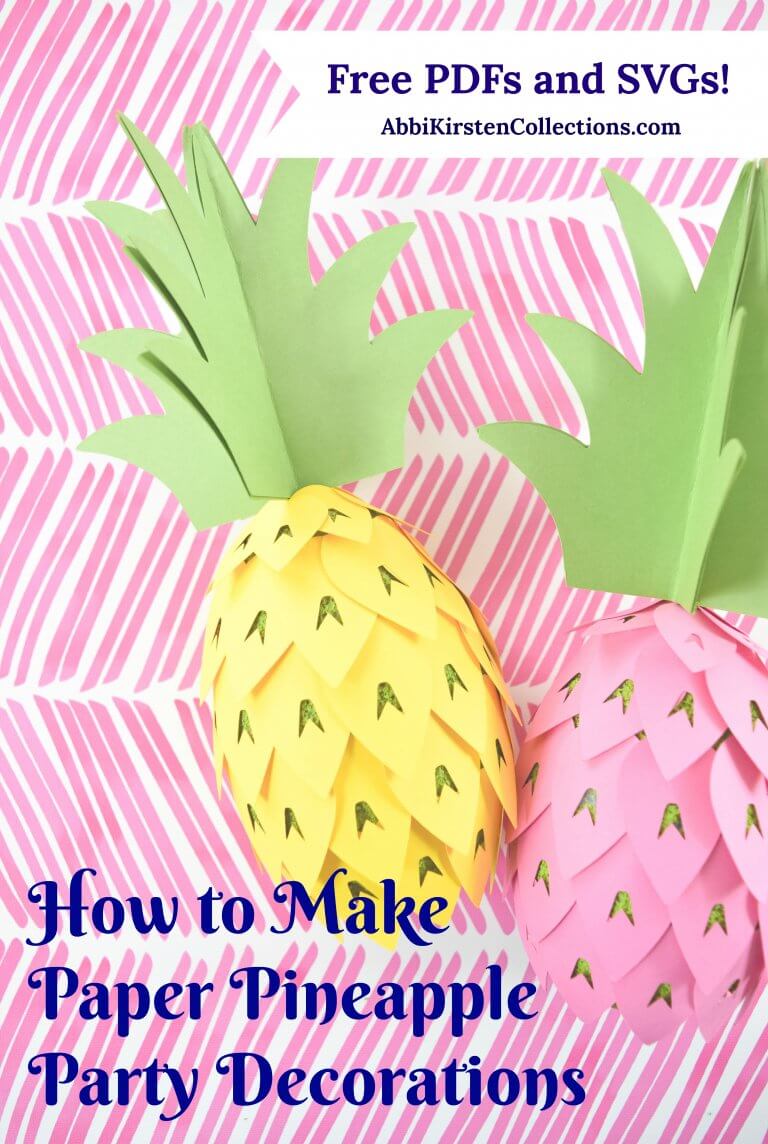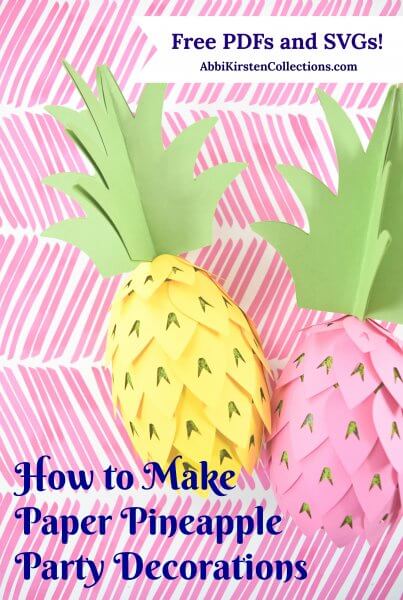 DIY 3D Paper Pineapple Craft
Today we are going a little outside the paper flower box and thought I would try some paper fruit – paper pineapple party decorations to be exact! This paper pineapple craft project is super easy and even a great option to let the kids get a little crafty this summer, even younger kids can do this craft with some basic Elmers glue! You will also receive free pineapple templates – both printable PDFs and SVG cut files are inside the Freebie Vault!
These paper pineapple decorations will give you the Ha-WOW-ii look you will want for any tropical party or luau. If you need a little more snazzy paper summer decor, I've got you covered with these Hawaiian paper flowers – Hibiscus paper flowers and even Chrysanthemum flowers!
Supplies for Paper Pineapple Party Decorations
Download Your FREE Paper Pineapple Templates
Download these free paper pineapple templates by signing up via the form below. If you are already a member, log in to your Member account and find it by searching 'pineapple' at the top search bar. Need help to enter the vault? Read this helpful Freebie Vault guide.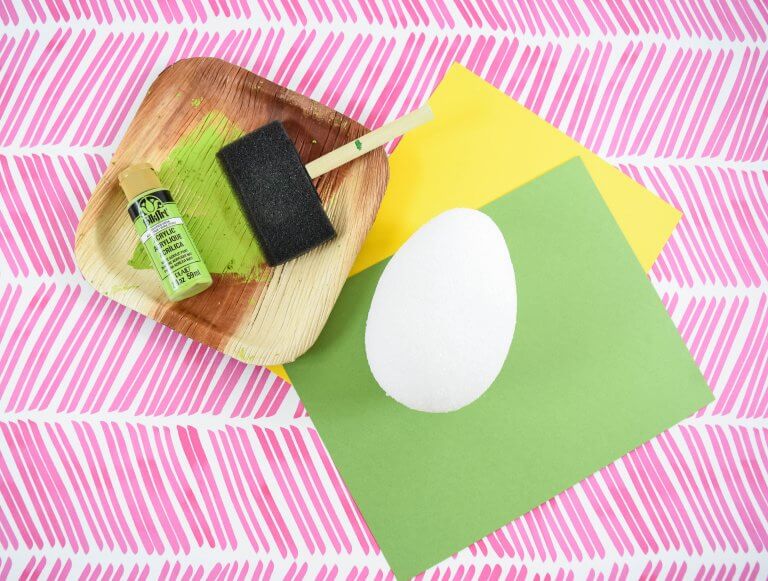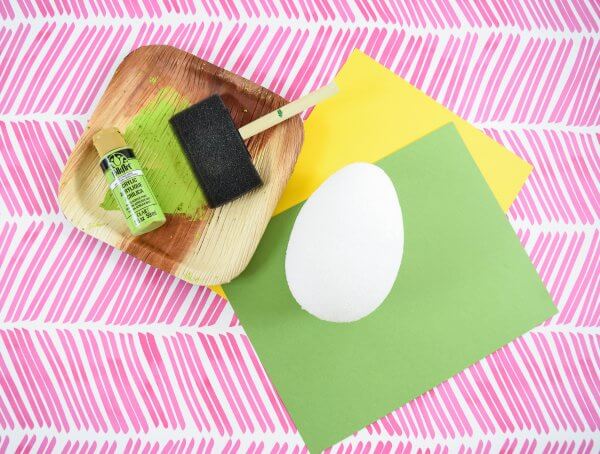 Paper Pineapple step-By-Step Instructions
Step 1: Paint Your Foam Egg Base
Gather your supplies from the list above. I chose to paint my foam egg green underneath because I didn't want the white to show through, and it also gives the pineapple a more authentic look! For best results with painting try using smooth foam. If you have to use the foam that sheds try to use a foam brush and sort of dab the paint on. You may not want to use a brush motion because it can cause the foam egg to shed, and you may get covered in paint (true story, ya'll!).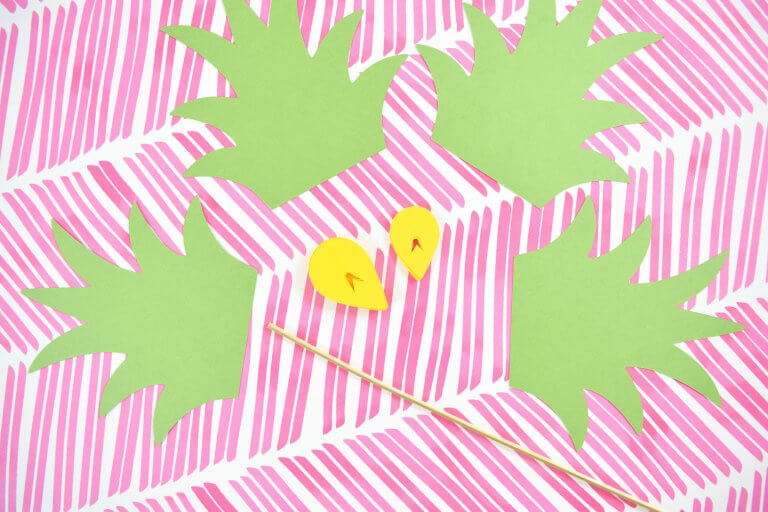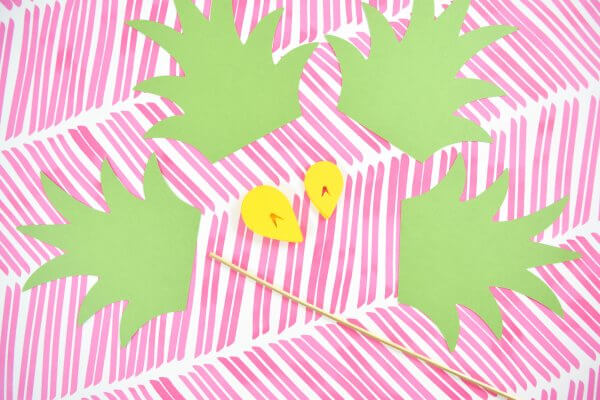 Step 2: Cut Out Your Pineapple Templates
Get all your paper pineapple template pieces cut out. The number of pineapple pieces you will glue on will vary for everyone, but I used about 40 for mine. You will also want to cut out 4 of the green-topped crowns for these paper pineapple decorations.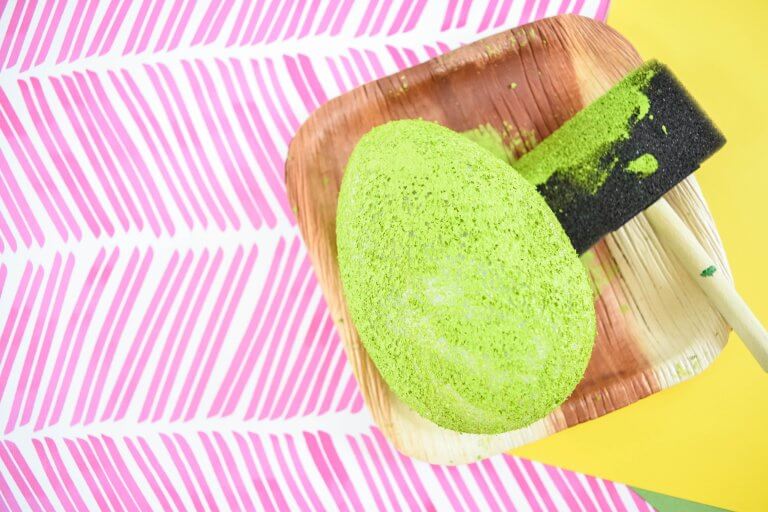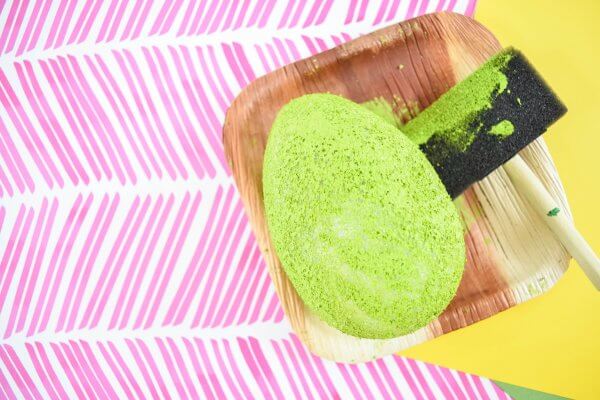 Step 3: Assemble Your Paper Pineapple
Begin gluing on each of the pineapple pieces. Glue in a circle to try and stay fairly even and slightly overlap on the bottom and sides as you go. Keep all the paper pineapple pieces flowing in the same direction for a nice uniformed look.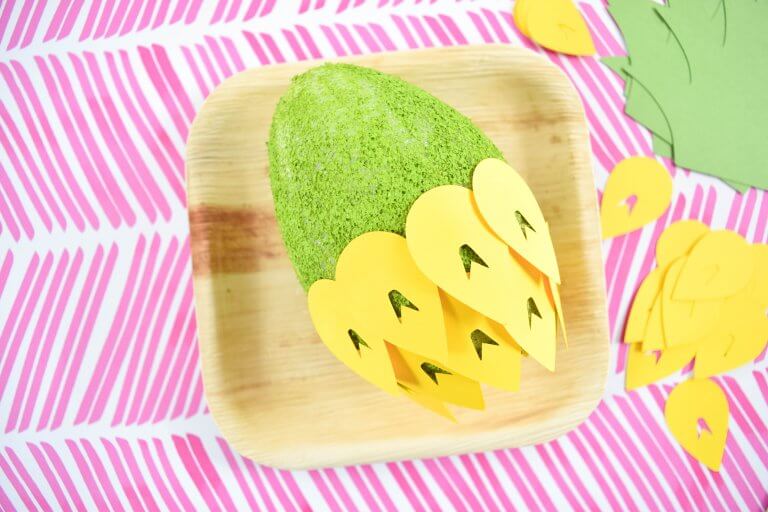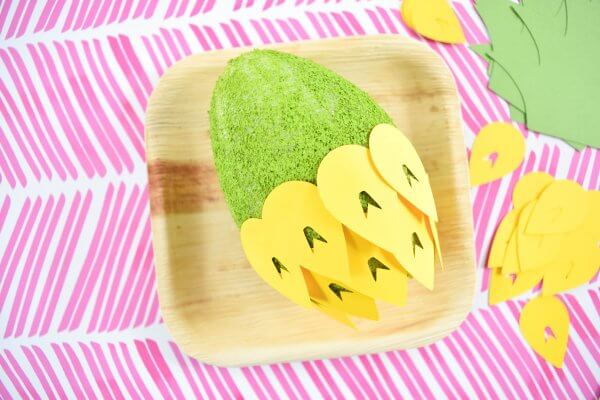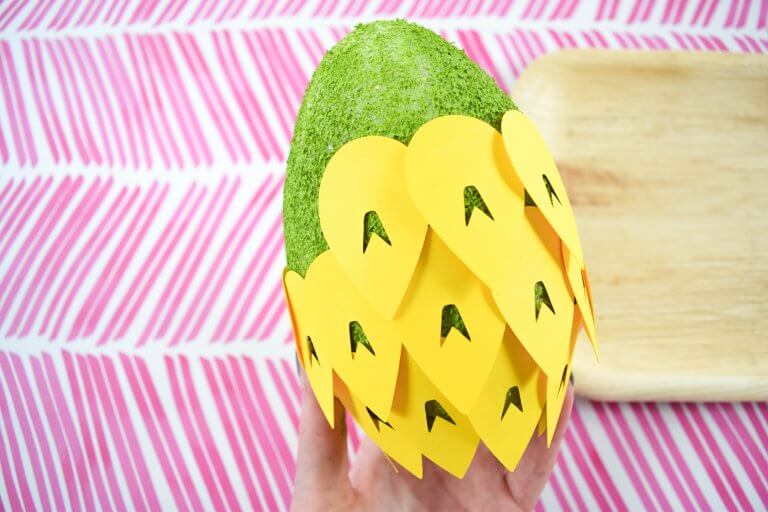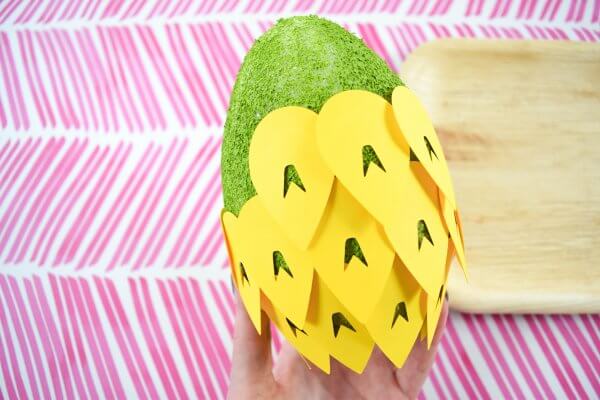 Keep going till the foam egg is totally covered. The idea here is to only have the green base showing through the center cutouts of each pineapple piece you are adding.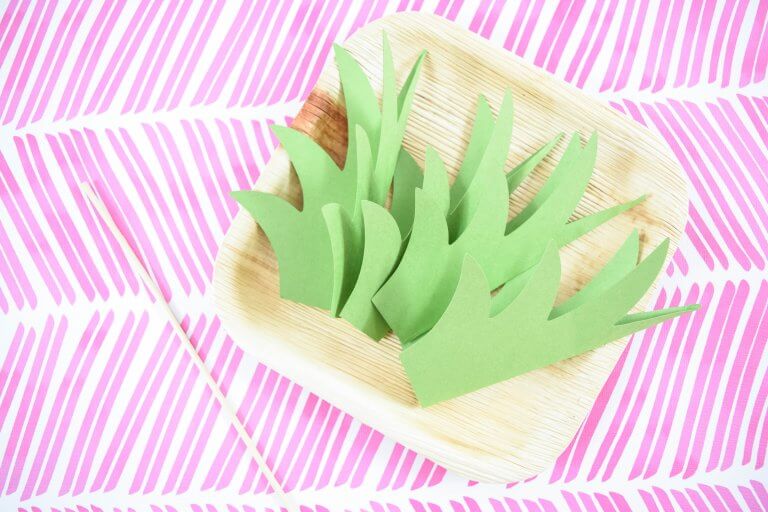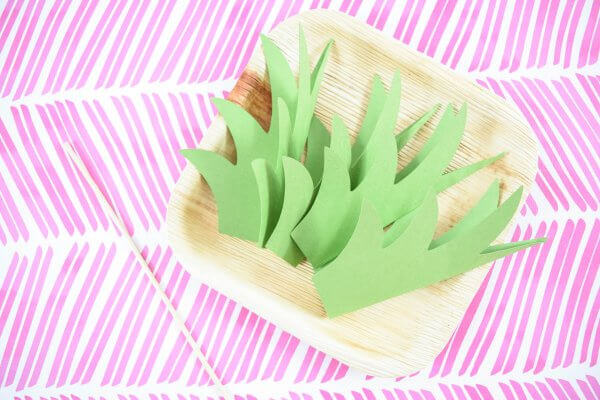 Step 4: Make Your Paper Pineapple Crown
To finish the top of the paper pineapple decorations, take your 4 pineapple crown cutouts and fold each one in half down the center. Next, glue all 4 folded crown pieces together in a stack.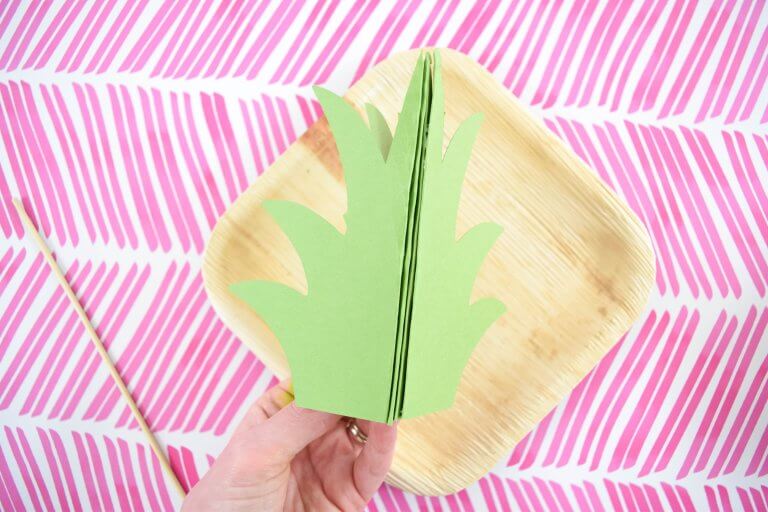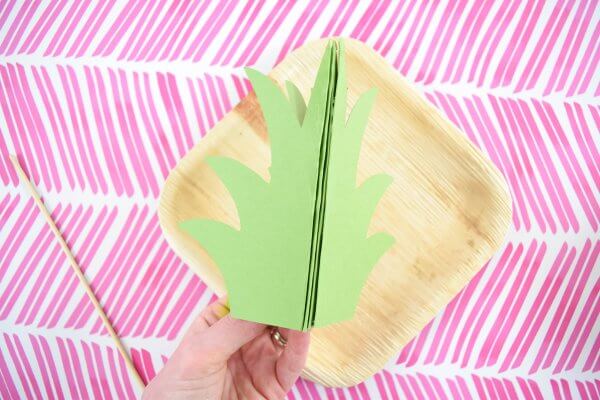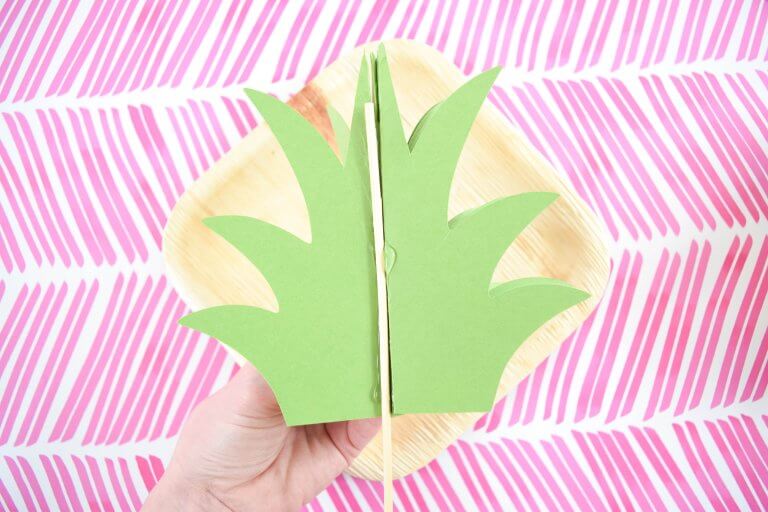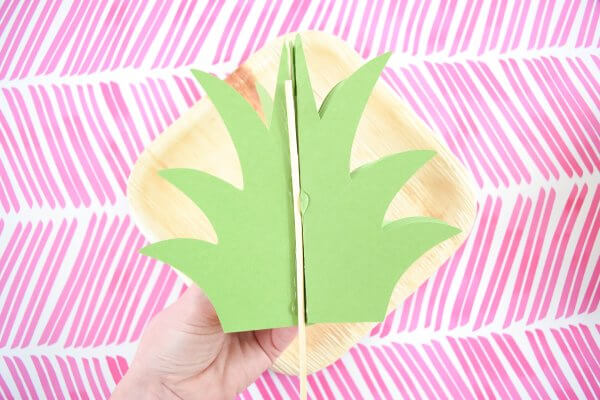 Before closing the pineapple crown, glue in your bamboo skewer into the center. Then glue the crown closed around the wooden stick.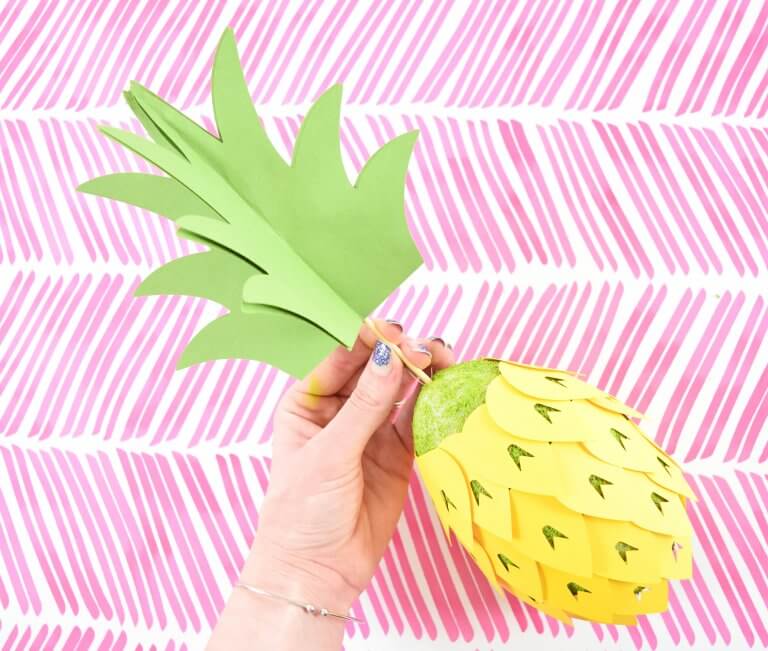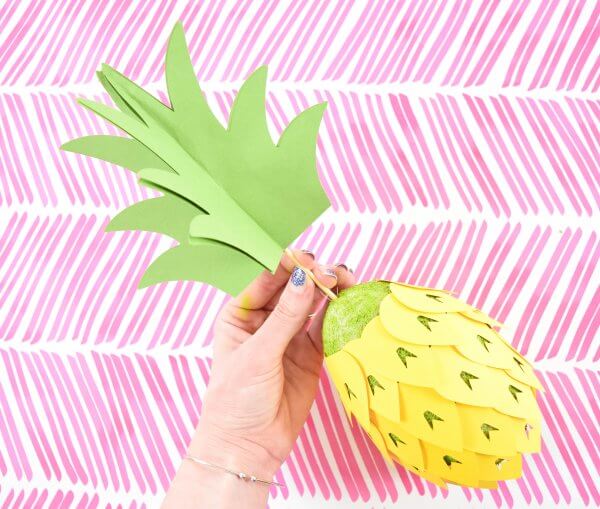 The final step to complete your paper pineapple decorations is to insert the crown into the base of the pineapple. If it feels like it is struggling to go in, use a gentle twisting motion to make it easier. You may also need to trim the bamboo skewer excess off the bottom – use scissors or wire clippers for this.
Finally, once your pineapple crown is on, add in any extra pineapple cutouts around the top to make a seamless transition from the bottom yellow part of the pineapple to the green crown.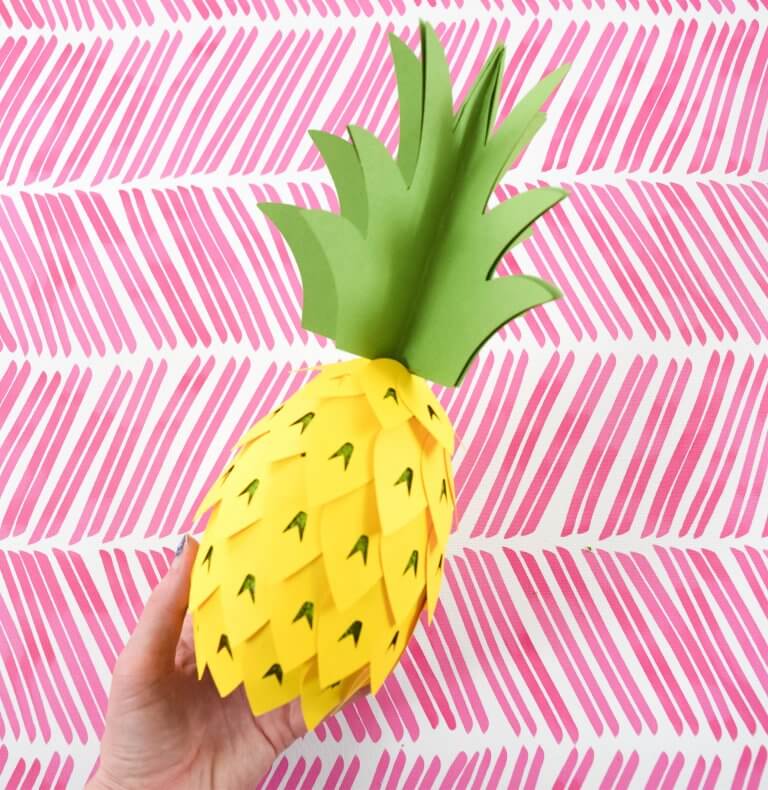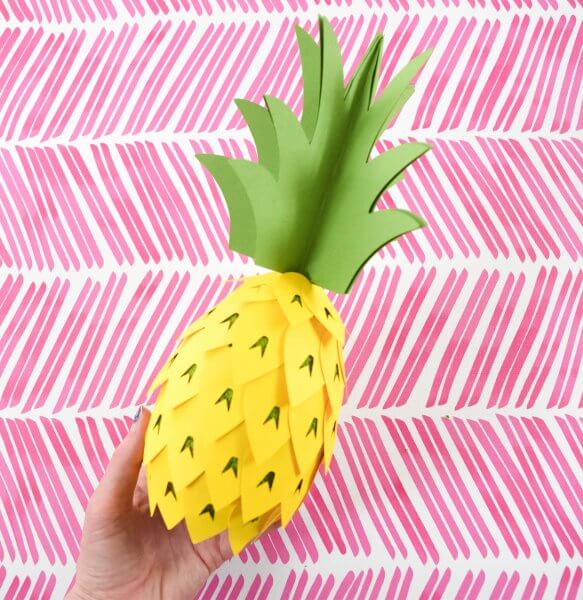 This project was so much fun to make. I really think I see some more fun paper fruit and food crafts in my future if I can ever get caught up with the other hundreds of ideas swarming in my head!
How would you use these fun-tastic paper pineapple decorations?! Is there anything you would like to see me create?! Tell me in the comments below!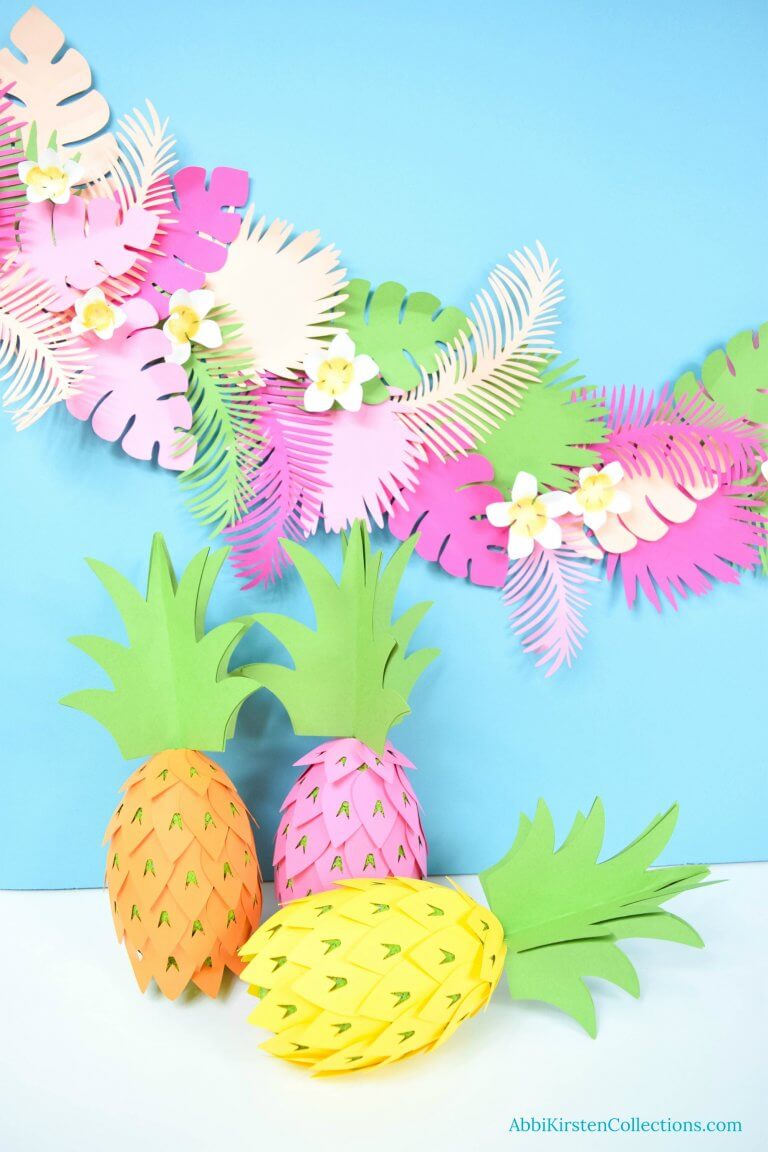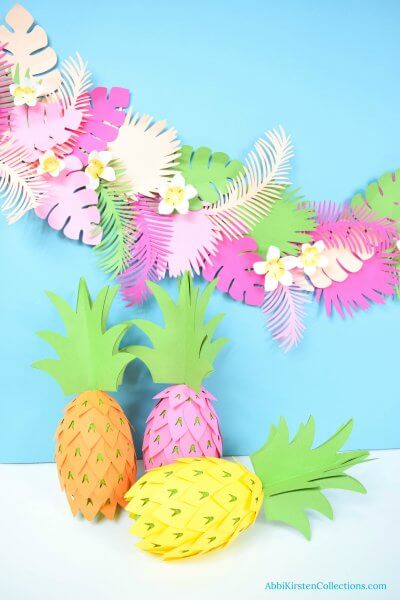 More Fruit-Themed SVG Files You May Love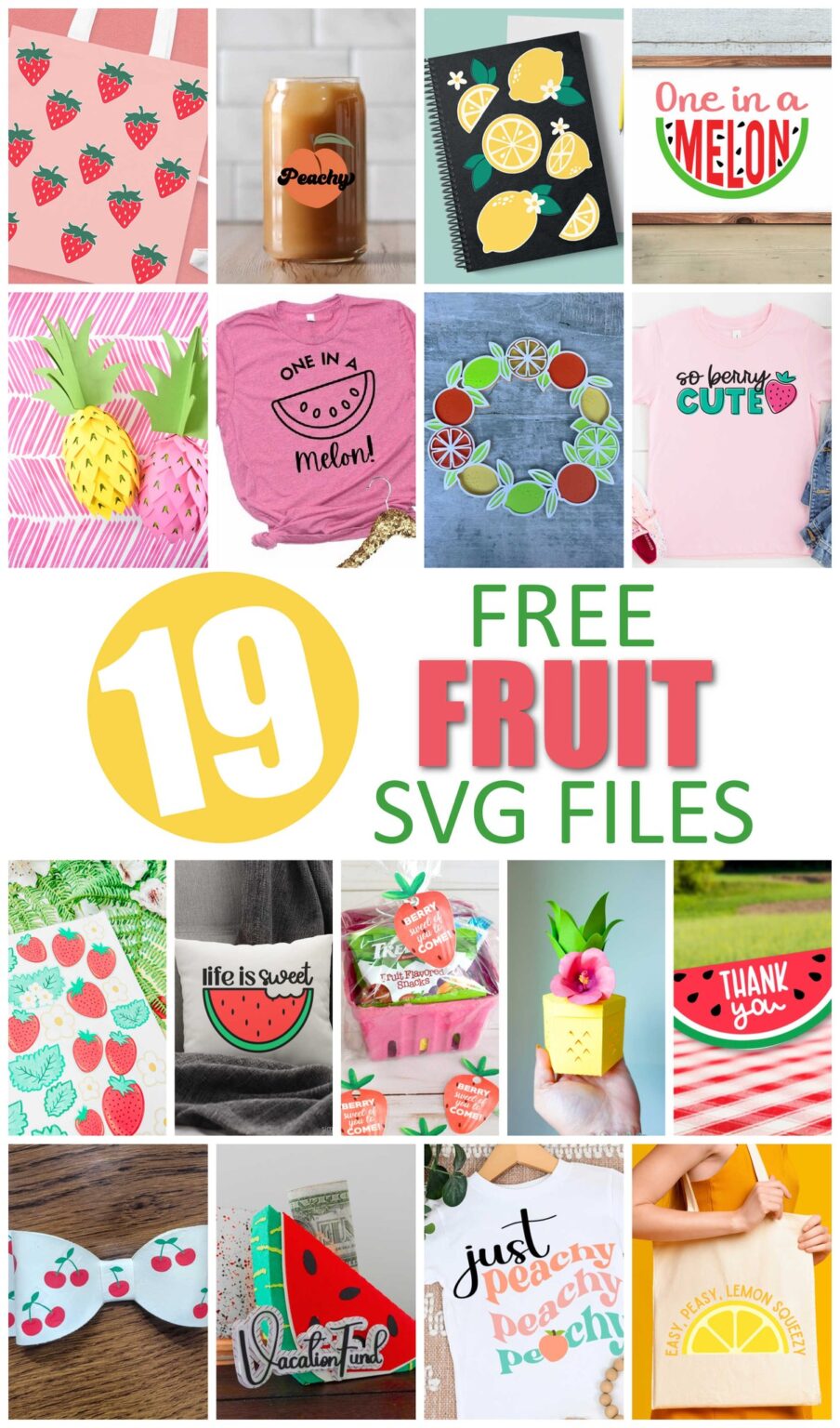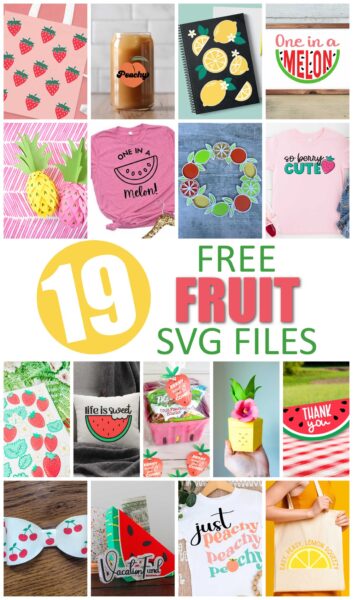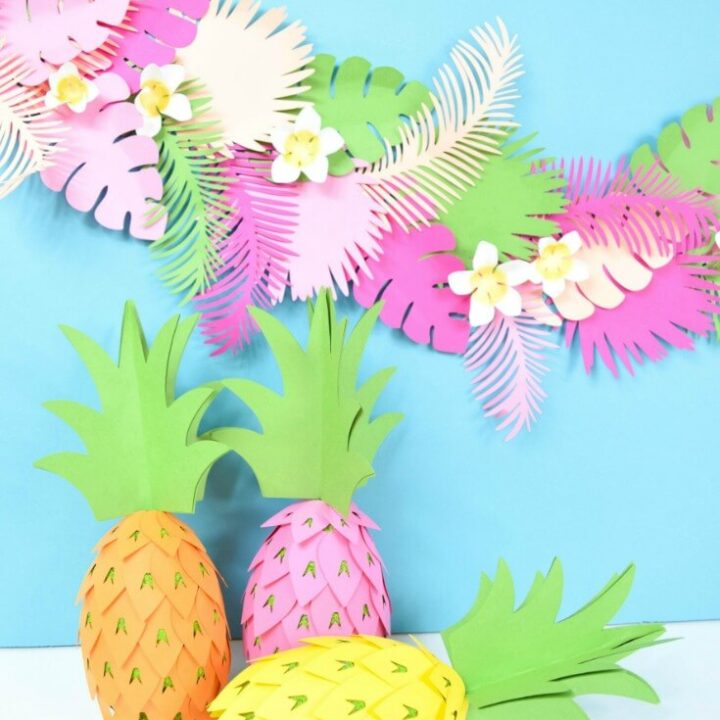 How To Make Paper Pineapple Party Decorations (with Templates!)
Aloha! Your tropical luau will be unforgettable when you make these easy, kid-craft-friendly paper pineapple party decorations! This papercraft is as sweet as the fruit itself and makes great centerpieces or decor for your buffet. You can add more Hawaiian flair with my Hibiscus paper flowers, and Chrysanthemum flowers! Grab your grass skirt, coconut cocktails and craft your way to summer fun! 
Instructions
Step 1: Paint Your Foam Egg Base
Gather your all supplies.
Paint your foam egg and let it dry.
Step 2: Cut Out Your Pineapple Templates
Cut out all the paper pineapple pieces from the templates.
About 40 pineapple pieces (depending on your foam egg).
4 green crowns for the top of the pineapple.
Step 3: Assemble Your Paper Pineapple
Glue the pineapple pieces on the foam egg in the same direction.
Start at the bottom, and proceed around the egg in layers.
Slightly overlap the sides and bottoms of the pineapple pieces.
Cover the whole pineapple except for the final top layer.
Step 4: Make Your Paper Pineapple Crown
Fold each of the four green crown cutouts in half.
Glue all the folded pieces together along the creased line in a stack. Remember, these pieces need to open for a 3D effect.
Glue the skewer into the center, then glue the crown closed around the skewer.
Open the crown and, using the skewer end, insert the skewered crown into the top of the pineapple.
Add more pineapple pieces around the crown to hide the bottom edge.
Congrats on finishing the paper pineapple party decoration, and aloha!
About Abbi Kirsten
Welcome to my colorful corner of the internet, where we play with vibrant crafts and unlock your creative magic! Hang out with me and get lost in a fun array of projects, tutorials, and products, from stunning papercraft ideas to flower templates, Cricut help for beginners, and endless crafter's hacks.
Join the Member Vault and participate in my monthly Craft-Alongs in my Facebook group to access all the magic!