12 Cricut Joy Accessories and Materials You Need
This post may contain affiliate links that won't change your price but will share some commission.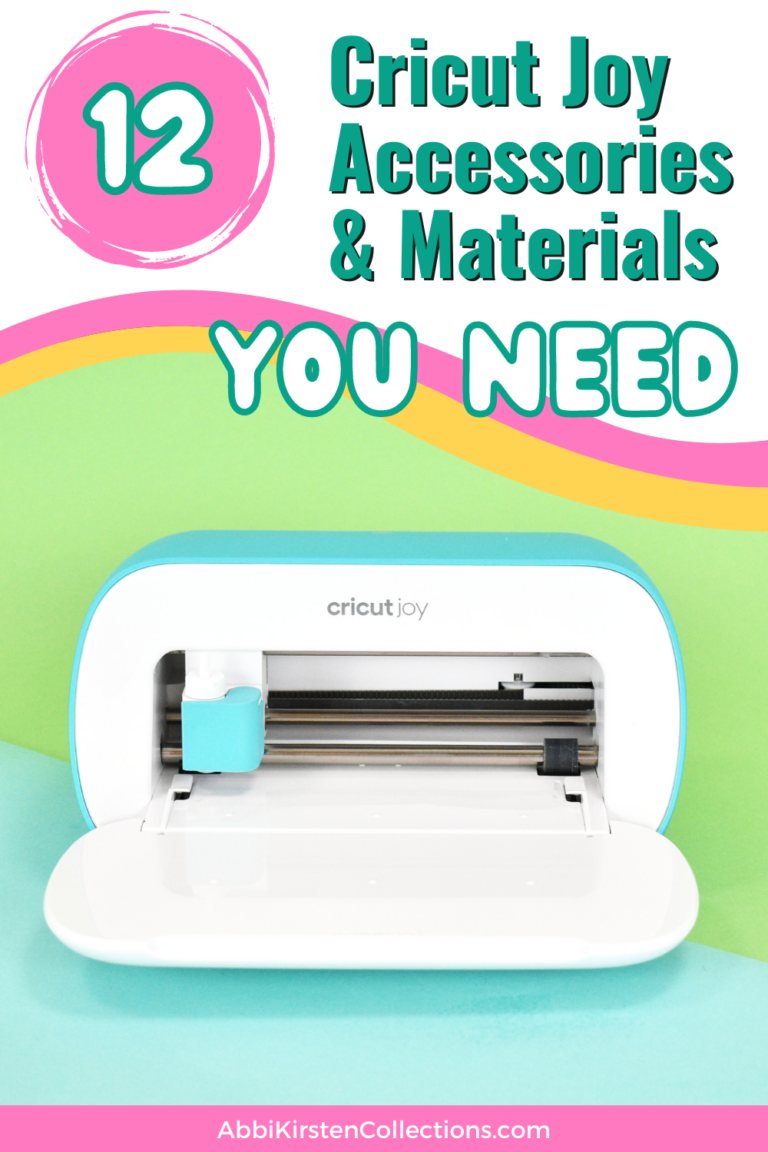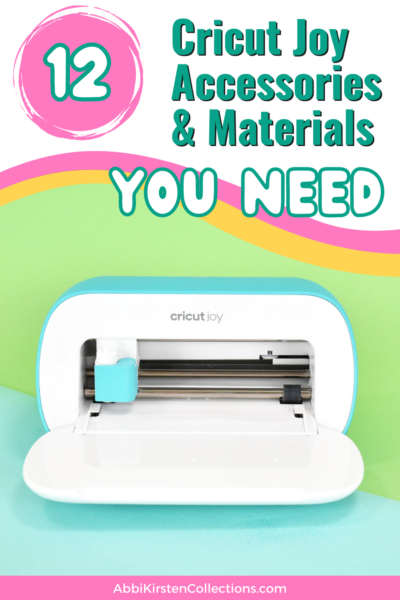 What Cricut Joy accessories and tools do I need to purchase to use with my machine? I get that question a lot from many Cricut beginners who wonder what else they need beyond just their Cricut machines. Today, I want to cover exactly what you need for the Cricut Joy machine; accessories and tools. I also want to list exactly what materials the Cricut Joy machine can cut so you know what material options to purchase and which to avoid.
First, let's start with the accessories made to work with the Cricut Joy machine, and then we will discuss materials your Joy can cut!
If you need more help understanding Cricut Design Space to make your Joy work be sure to download my Cricut Confidence Ebook.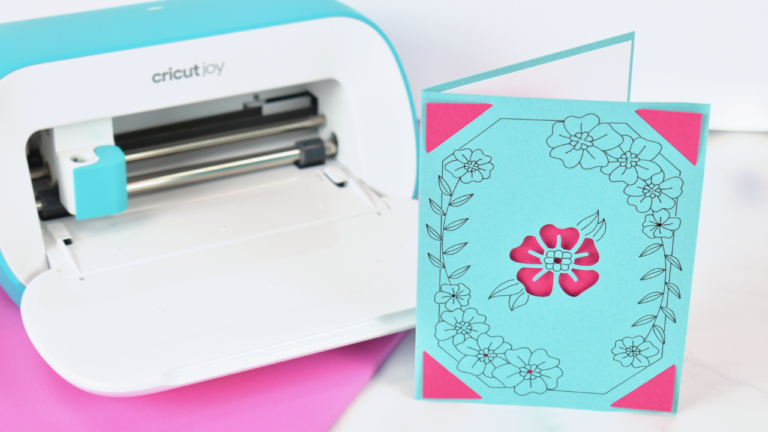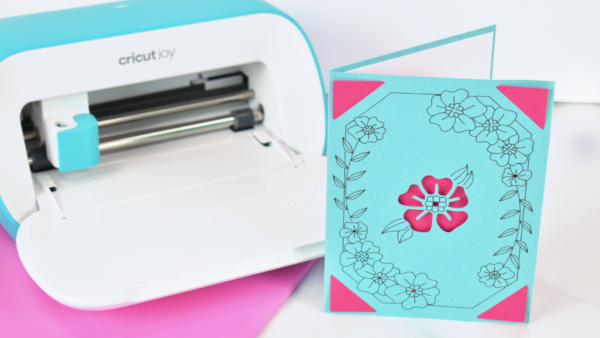 Joy Cutting Mats
The Cricut Joy was the very first Cricut machine that could cut matless with Smart Materials. While using Smart Materials like Smart Vinyl and Smart Iron-On is great, there are lots of cases you may want to add your materials to a mat. Vinyl aside, leather and paper require a mat, so be sure to grab the standard green mat and the blue light grip mat to use with your Cricut Joy machine.
Cricut Joy Card Mat Inserts
Whipping up handmade cards is super fast with the Cricut Joy machine. One of the reasons it's so effortless is the special Joy card mat. You can easily slide your card over the mat, and it will cut and write all at once. Reverse your card to have your Cricut Joy write the message on the inside too!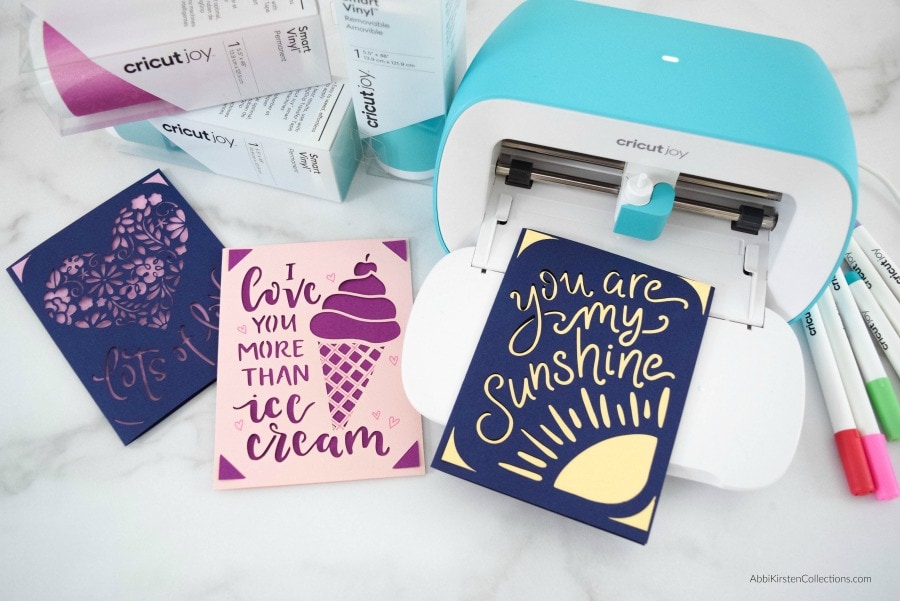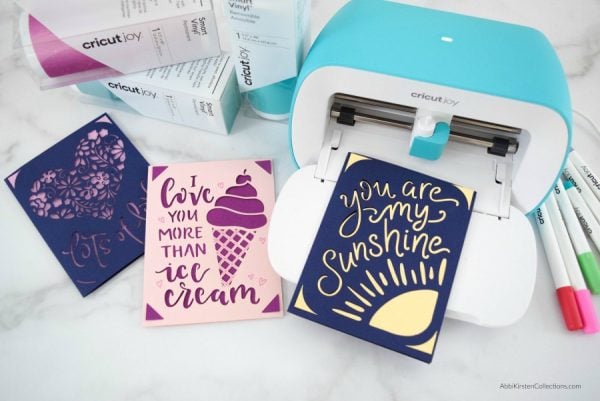 Card Kits for The Cricut Joy
Piggy-backing off the last accessory. Pre-cut Joy insert card kits can be purchased to use with the Cricut Joy card insert mats. One of the reasons I'm not too fond of the Joy insert card kits is the limited color selection. Using a straight cutter and the right measurements, you can make your own card inserts with any paper. Watch my full card tutorial here!
Weeding Tools and Cricut Scraper
Anytime you use vinyl or iron-on, you will need to have weeding tools on hand, and a Cricut scraper is also useful for removing debris from your Joy mats. Weeding tools last forever, so this is one accessory you can purchase and reuse endlessly!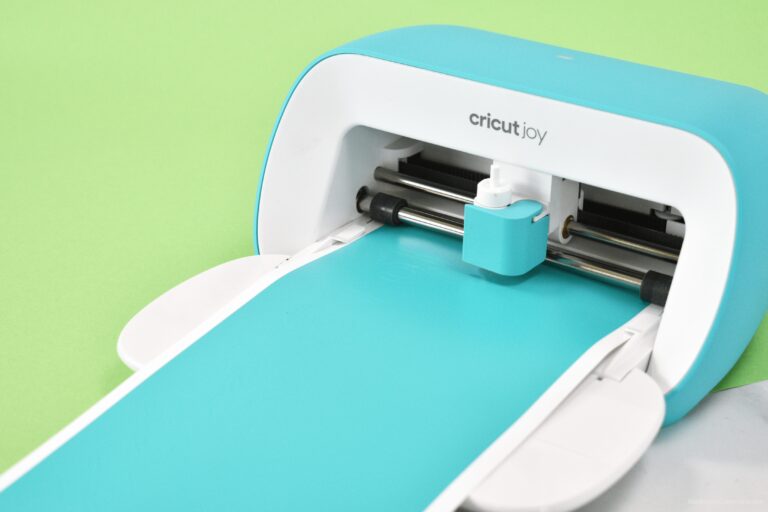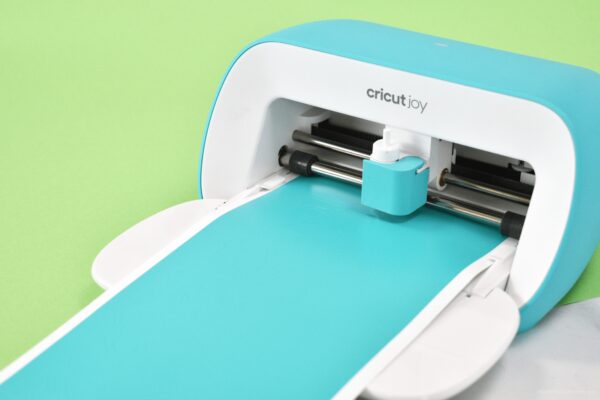 Cricut Joy Foil Tool
The Cricut Joy foil tool came out about a year after the Joy machine. I love that Cricut innovated it for the Joy too. If you want to add shimmer and shine to papercraft projects such as cards, then the Joy foil tool accessory is a great tool to have. You can also add foiling to leather!
Cricut offers foil sheets in a variety of colors. They often go in and out of stock so check back in case they are not currently available! Currently, my favorites are the jewel-tone pack, metallic pack, and the ruby pack.
Cricut Joy Pens
Cricut Joy pens are a must-have since the machine can draw and write on dozens of different projects. Make sure you only purchase Cricut pens that say they work with the Joy. Since the machine is smaller than the Maker or Explore models, you must have the smaller Joy pens to fit the machine.
Personally, these pens (not made by Cricut) are my favorite that works with the Joy because they have dual tips and always write smoothly.
Cricut Easypress
Lastly, if you plan to do any iron-on or Infusible Ink projects I recommend purchasing a Cricut Easypress or Easypress Mini with a heat-safe mat.
The Cricut presses are made specifically for Cricut materials and often work much better than traditional iron. If this isn't an option for you right now you can use your iron, just be sure to start at a low temperature so you do not burn your materials.
What Materials Can I Cut With Cricut Joy?
Okay, now that we understand the basic Cricut Joy accessories; let's go deeper and talk about what materials the Cricut Joy can cut. The Cricut Joy is known for cutting over 50 types of materials.
You can read the full list of materials that Cricut Joy can cut here.
This list is obviously significantly smaller than the Explore models (which cuts over 100 materials) and the Maker, which cuts over 300 materials, and I have heard some crafters express that they wish they could cut more. So if you are in the market for a machine, make sure to read my Cricut comparison and buyers guide here!
In my opinion, the Joy is a great starter machine that should be purchased with the intent of adding an Explore or Maker later on. Alternatively, purchasing the Joy is great as a travel companion to those who already own an Explore or Maker model.
Below are the Joy materials I have used most often with my machine and some Cricut Joy project ideas as well!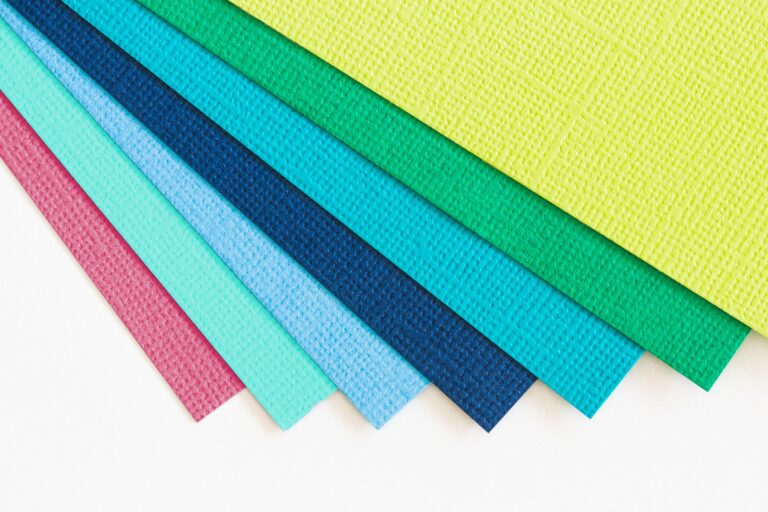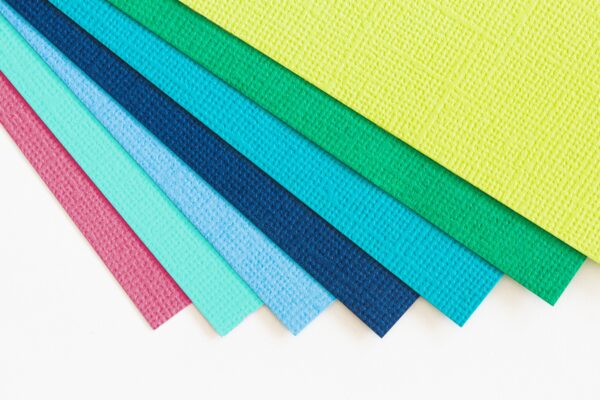 Cardstock
Choosing the right type and quality of paper can make or break the success of your papercrafts and using the Joy to craft with cardstock is a big part of what the machine does. Here is a list of all my favorite cardstock resources.
Some of the best ways to use cardstock and paper with your Cricut Joy are:
Layered paper designs (like these butterflies or mandalas)
Smart Cardstock
With the release of Smart Materials, Cricut also created Smart Sticker Cardstock which is fantastic for layered projects or using on anything you need tape to adhere it. Cricut offers pastels, brights, and regular black and white in choice colors.
Leather or Jelly Sheets
The Cricut Joy cuts thin faux leather very well. I have tested different textures and colors all with success. You can even use Jelly Sheets too! And you don't need any extra special Cricut Joy accessories to cut leather – the fine point blade works great! Check out this poinsettia leather earring craft here by my friend Amy Romeu!
Smart Iron-On
One of the best parlor tricks of the Cricut Joy is cutting matless with Smart Materials. One of those materials is Smart Iron-on vinyl. You can also use regular vinyl rolls and place the HTV on a Joy mat! I used Smart Iron-on to customize my kid's backpacks – see how here!
Did you know the Maker 3 and Explore 3 can cut with Smart Materials too? See how I used Smart Iron-On vinyl with my Maker 3 here!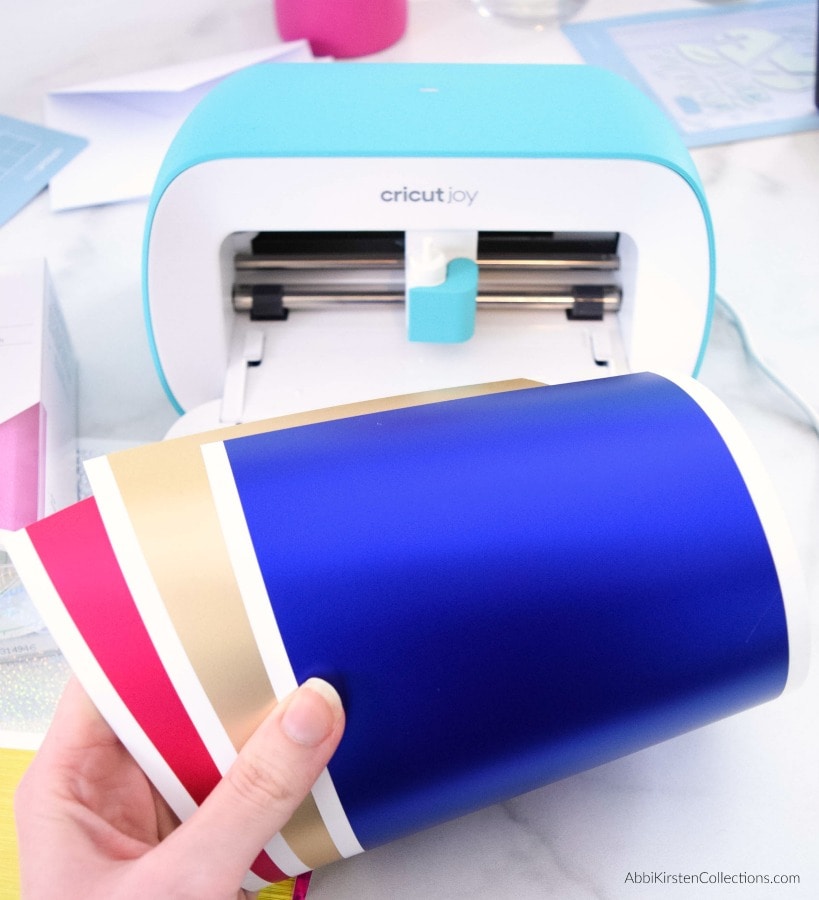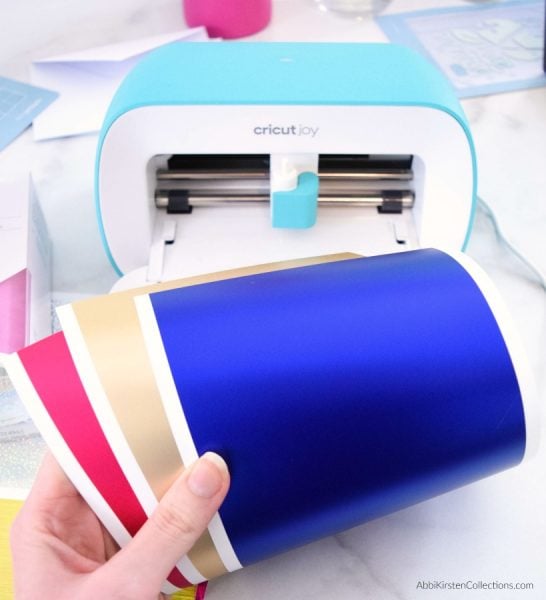 Smart Vinyl
Smart Vinyl both permanent and removable is available for the Cricut Joy as well. I used the removable Smart Vinyl for a wall decal and to dress up my new laundry room here!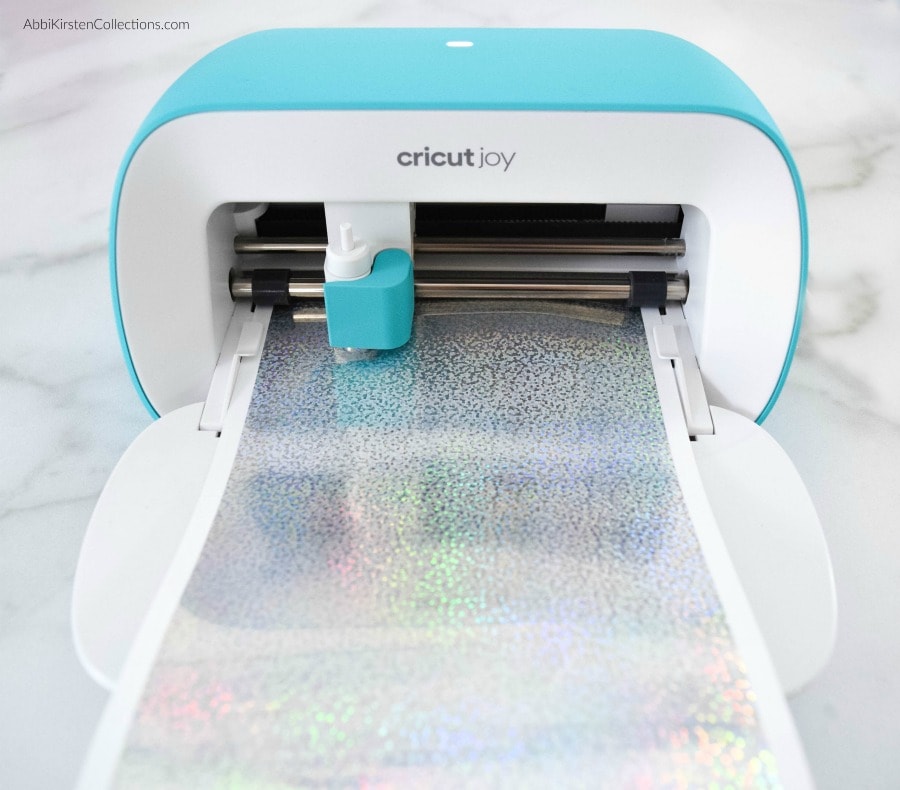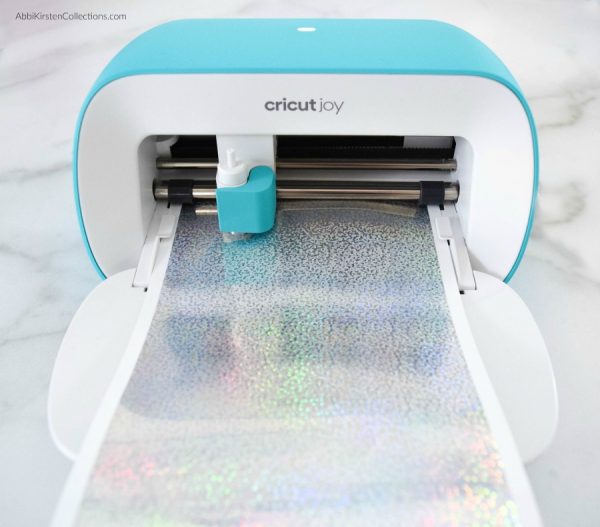 One complaint with Smart Vinyl is how hard it is to transfer the design to transfer tape because of the thick liner. Watch my video here to see how you can get a clean and easy transfer each time! Plus see all my Craft Vinyl Hacks here!
Smart Labels
Under the vinyl category also fall the Smart Vinyl Labels which are perfect for keeping jars and boxes organized with attractive labels to identify the contents.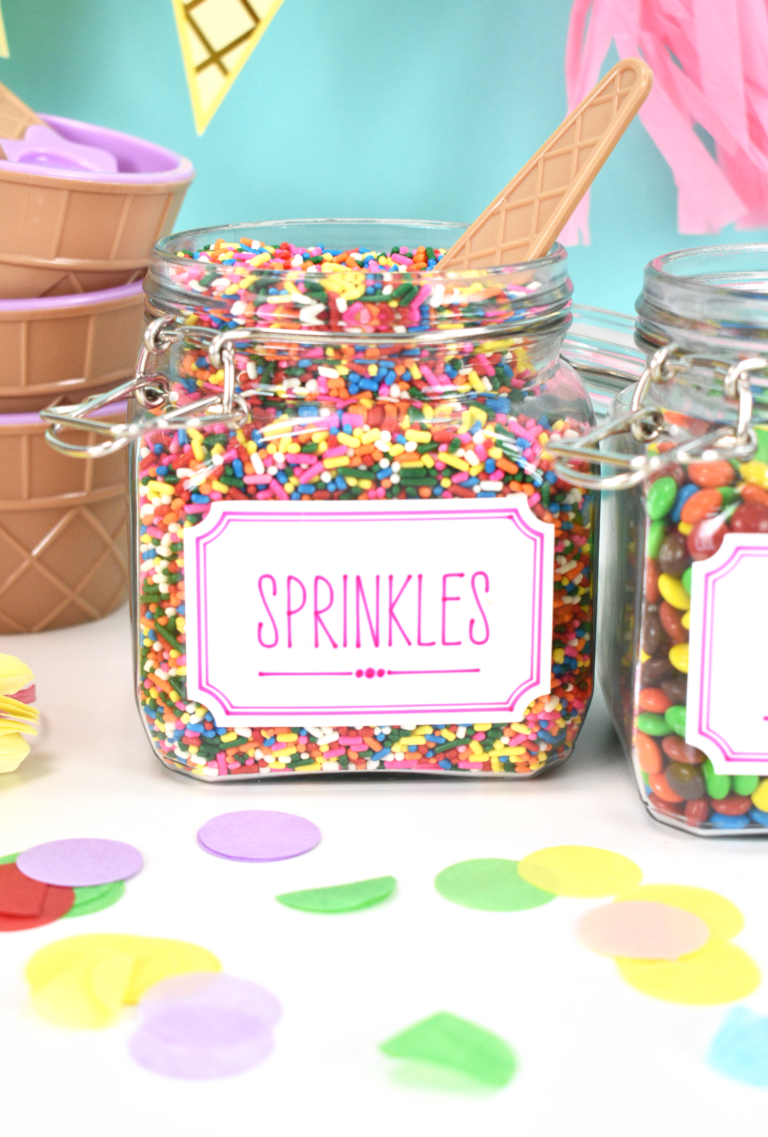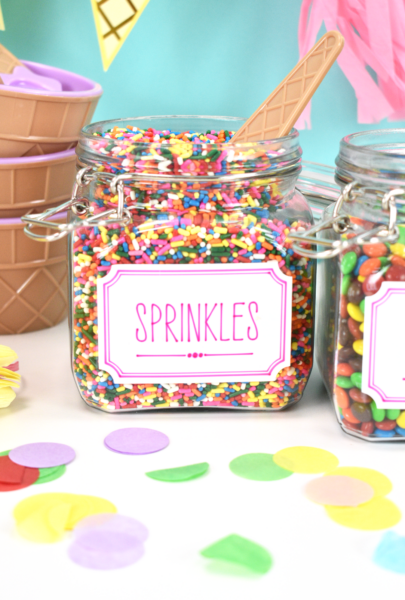 Infusible Ink
Infusible Ink is a great Cricut Joy accessory because you can use it on shirts, mugs, totes, or any sublimation blank! Check out my Infusible Ink Mug Tutorial here!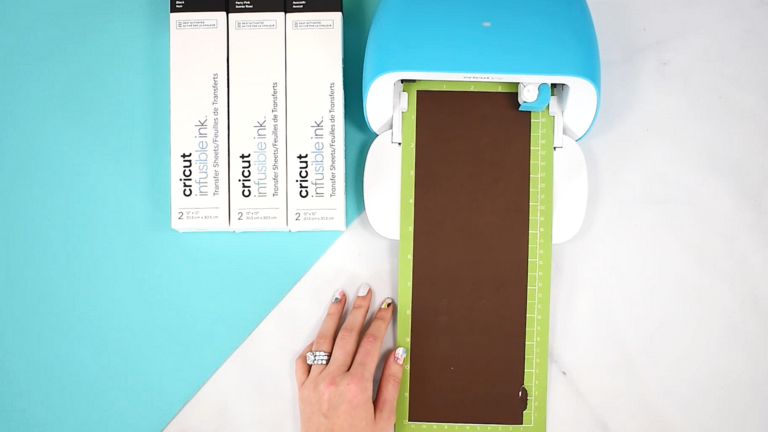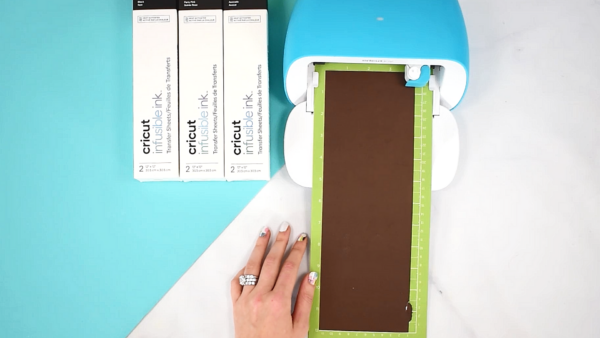 Party Foil
Party foil is a forgotten material in the Cricut world but I absolutely love to use it! Aside from adding it to cards or hanging party decorations it also makes wonderful confetti!
Writing/Drawing with the Cricut Joy
And we can't forget about writing and drawing with the Cricut Joy pens! As you collect Cricut Joy accessories make sure that pens in every color of the rainbow are one of them. Not only can you write with the Joy on cards, labels, etc but you can also draw pictures as well.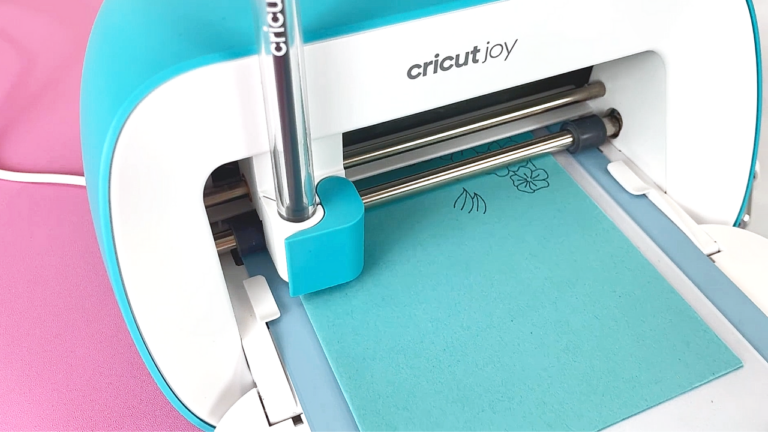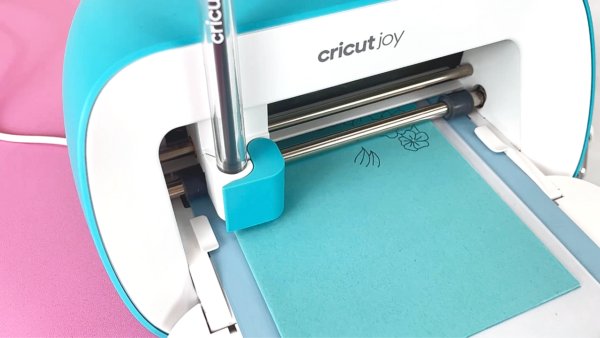 So now that you know what your Cricut Joy can cut and the best Cricut Joy accessories what will you craft first? Tell me in the comments!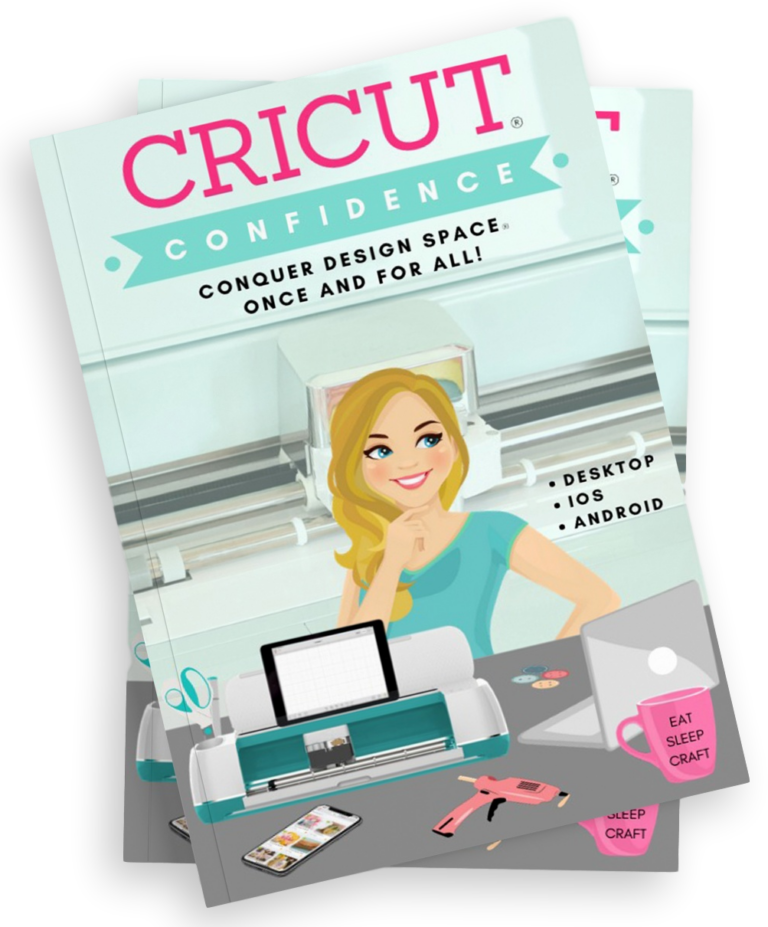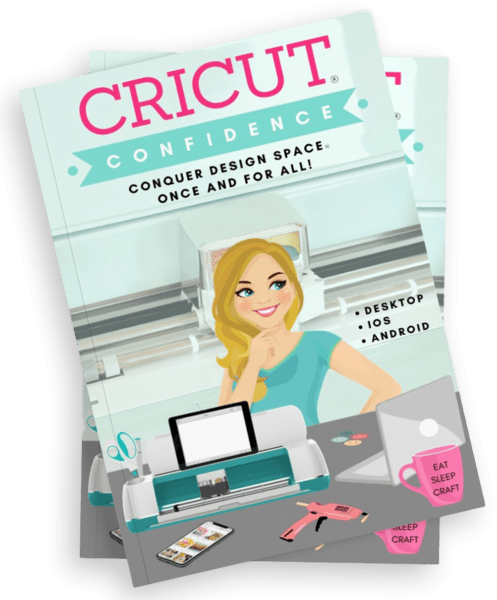 Not Loving Your Cricut Yet?
Does Design Space Tech Have You Confused? Overwhelmed? Let's Change That!
Introducing Cricut Confidence!
Easy to Understand Step-by-Step Lessons for Cricut Design Space Software. No more wondering what Weld, Attach, Flatten, Contour, this tool or that tool means. Finally, kick your confusion to the curb forever!
About Abbi Kirsten
Welcome to my colorful corner of the internet, where we play with vibrant crafts and unlock your creative magic! Hang out with me and get lost in a fun array of projects, tutorials, and products, from stunning papercraft ideas to flower templates, Cricut help for beginners, and endless crafter's hacks.
To access all the magic, join the Member Vault and participate in my monthly Craft-Alongs in my Facebook group!