What Pens Work With Cricut? How to Use Any Pen with Your Cricut Machine
This post may contain affiliate links that won't change your price but will share some commission.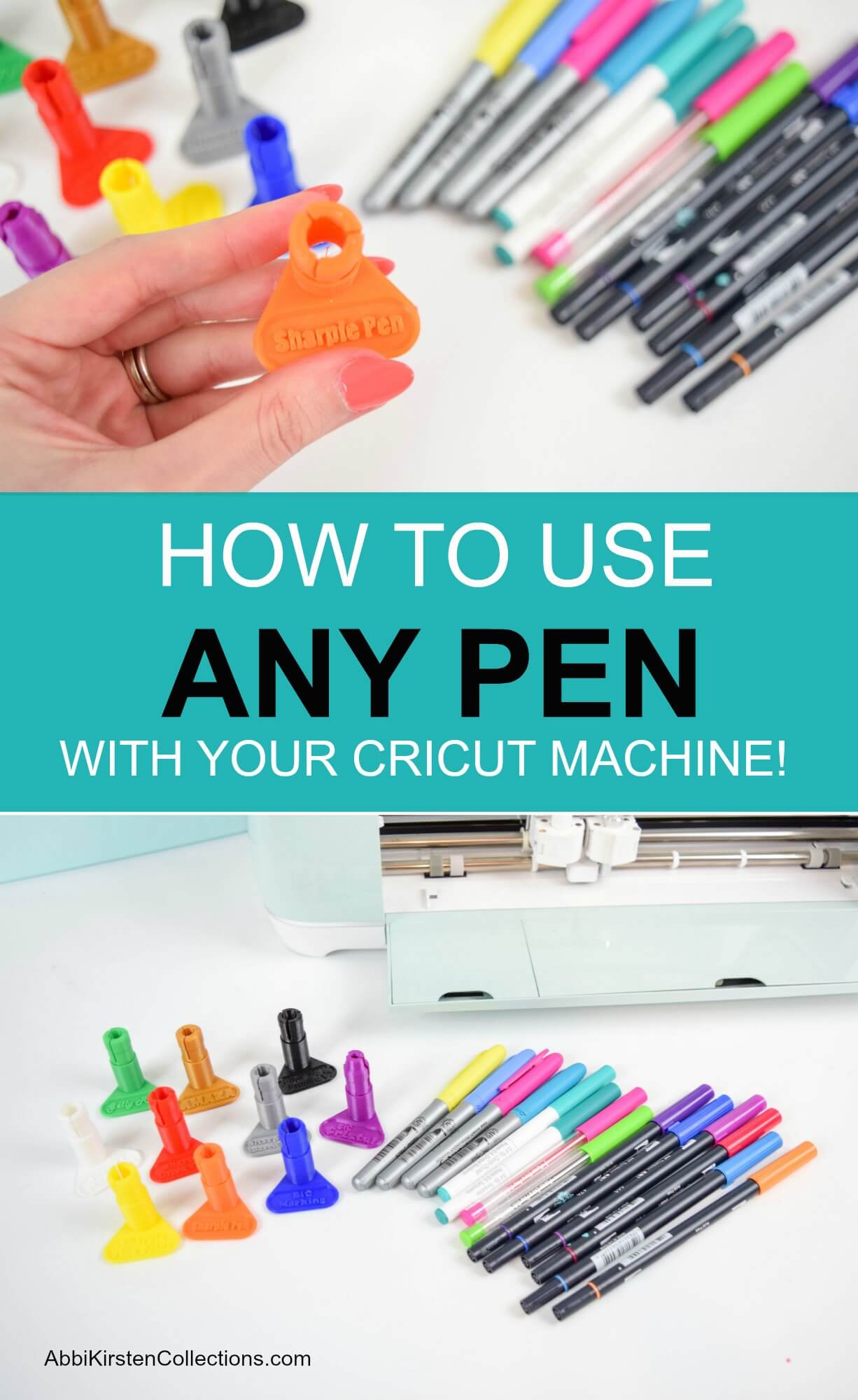 Owning a Cricut machine is wonderful! There is so much you can do with it. But sometimes, you want to venture out beyond the means of what Cricut provides, like with Cricut pens. I absolutely LOVE Cricut pens, their gel pens and calligraphy markers are great, but what if you want to use others like sharpies, brush markers, glitter pens, and more? I don't know about you, but I want to know all the pens that work with Cricut!
Fortunately, there is a very easy way to make nearly any pen work with your Cricut machine. This hack I will share with you today allows you to use other brand pens with your Cricut Maker, Explore Air 2, Explore 3, or Maker 3 machines! I will also include some tips for Cricut Joy as well.
Need a Beginner-Friendly Tutorial of Cricut Design Space?
Watch my FREE Cricut Freedom Workshop for beginners! I'll help you learn your Cricut the RIGHT way and avoid feeling overwhelmed and frustrated! Join me here!
What pens work with Cricut?
Pens that naturally work with your Cricut machine include any Cricut brand pens such as these gel pens, metallic markers, or calligraphy markers.
But what about making other markers and pens work with Cricut? Perhaps you already own or just love the look of some other brand's pens, so you wish you could use non-Cricut brand pens with your Maker, Explore Air 2, Explore 3, or Maker 3 machine.
How to use any pen with your Cricut machine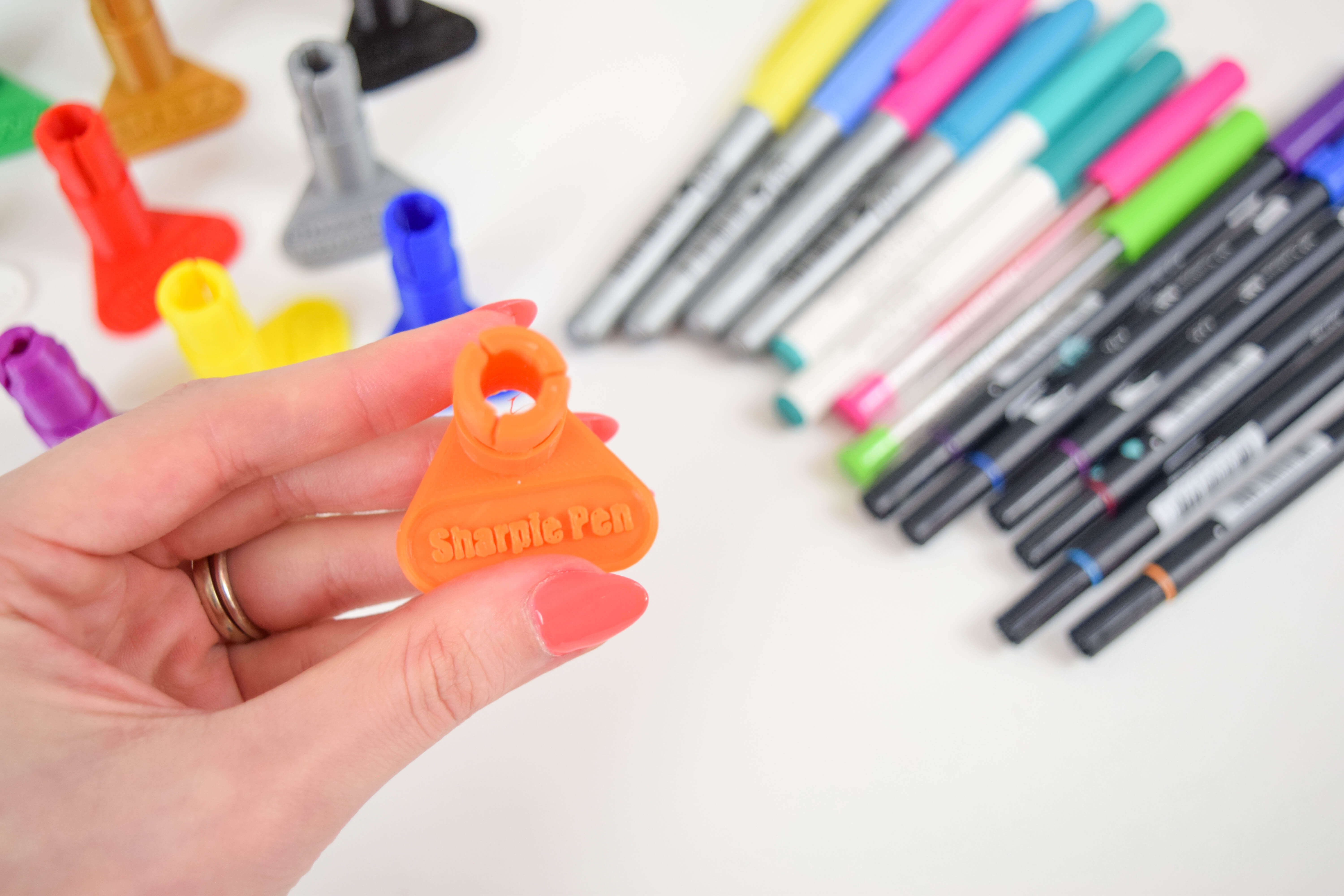 Here's the secret, clamp A of your machine holds a pen adapter. That adapter inside is actually removable! Why does this matter? Because if you can remove the Cricut pen adapter, then you can insert alternative adapters that will allow you to use any pen with your Cricut machine!
These alternative adapters allow you to use Sharpies, Bic markers, Tombow brush markers, Crayola fine-line markers, and many other options!
My two favorite pen adapter options are from this shop on Etsy or this brand on Amazon. Both work well with any Cricut Maker, Maker 3, Explore Air 2, or Explore 3 machine!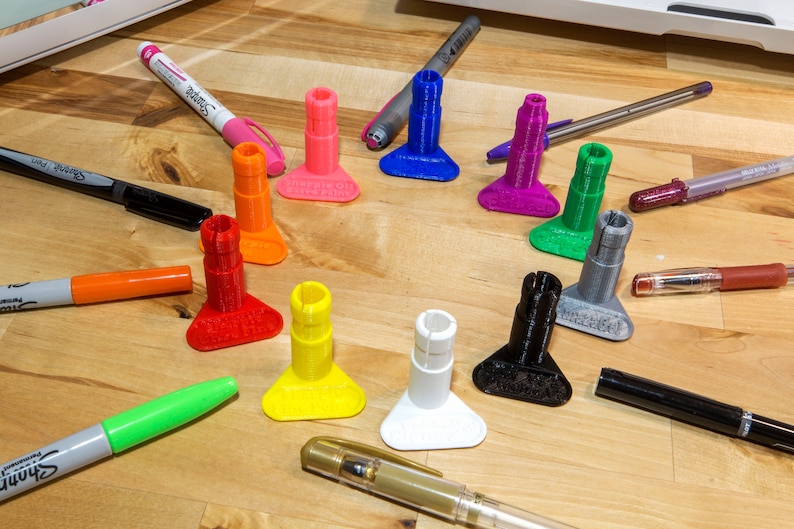 How to Remove Your Cricut Pen Adapter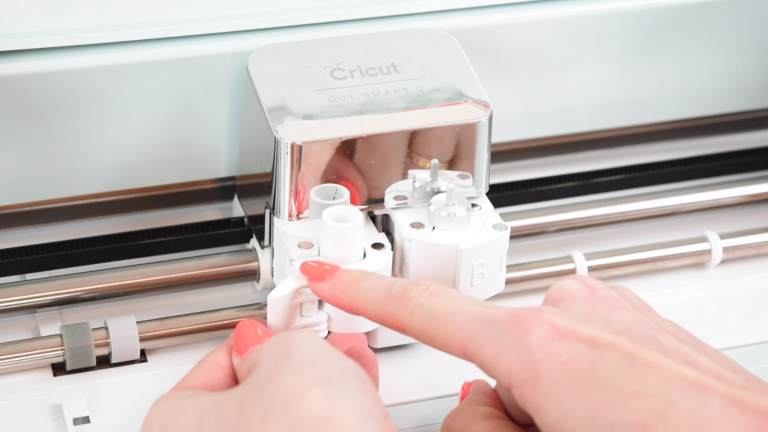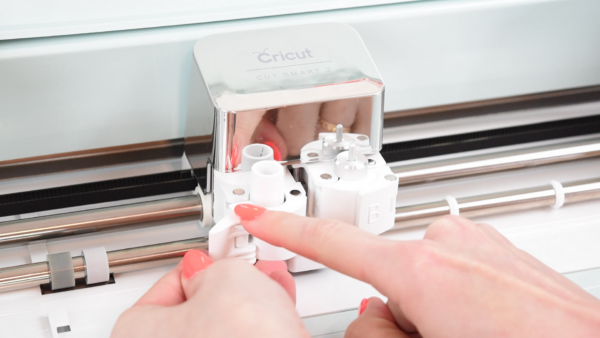 First, you need to know how to remove the pen adapter that comes with your Cricut machine. Open your Cricut machine, and the pen adapter is found in Clamp A to the left. Toggle open the clamp and start to press down on the clamp while wiggling the adapter up with your fingers.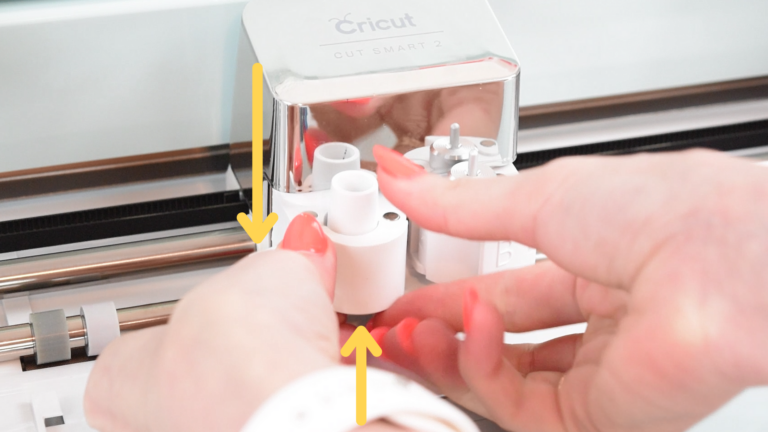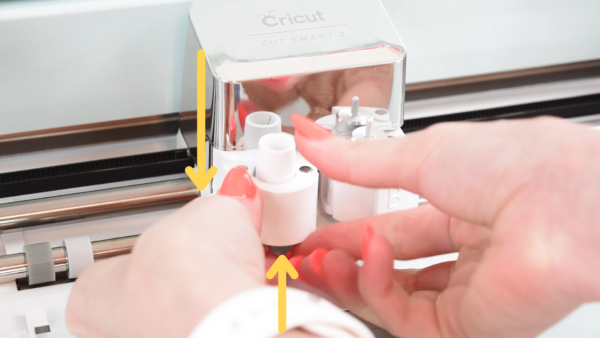 While pressing down on the center housing and up simultaneously on the adapter, from the bottom, release the pen adapter. You will need to be gentle but fairly firm.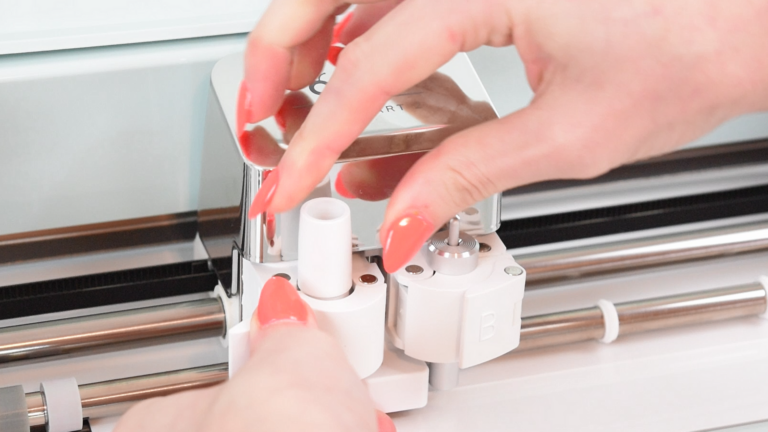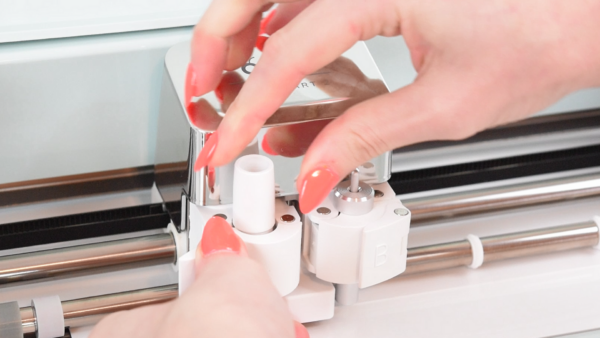 Once loosened, you will remove the white adapter from the inside of the Cricut center housing. There is only one was the adapter comes out, so it will be obvious.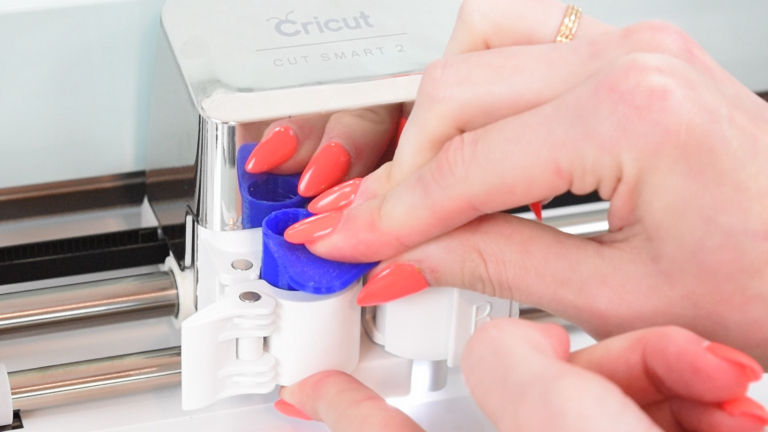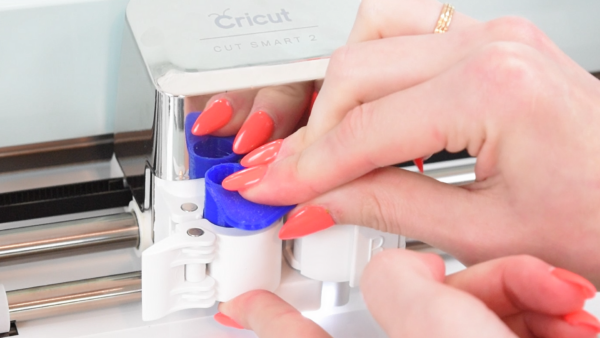 Now that clamp A's housing is empty, you can insert one of the adapters! Some Cricut pen adapters will label which pens they work with; others will leave it up to you to test various options with each adapter.
That means you can change out the Cricut adapter for new ones that will hold a variety of different pen brands.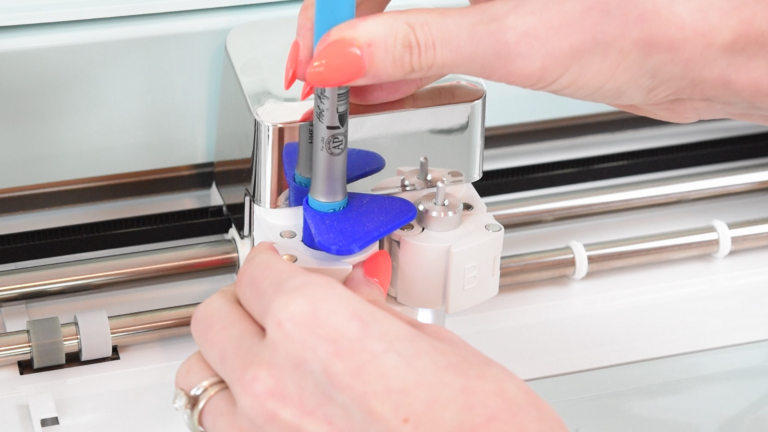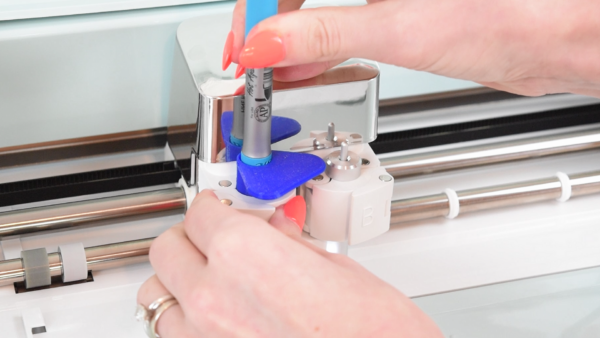 In the image above, I am inserting a Bic marker into my Cricut, and it worked great!
Remember, even if one of the adapters is labeled "BIC markers," that doesn't mean there may not be other brand pens that work with that adapter!
I discovered that my Tombow dual brush markers work with the Uni-ball Signo adapter. Using a brush marker with your Cricut like this could help you create lovely brush calligraphy art!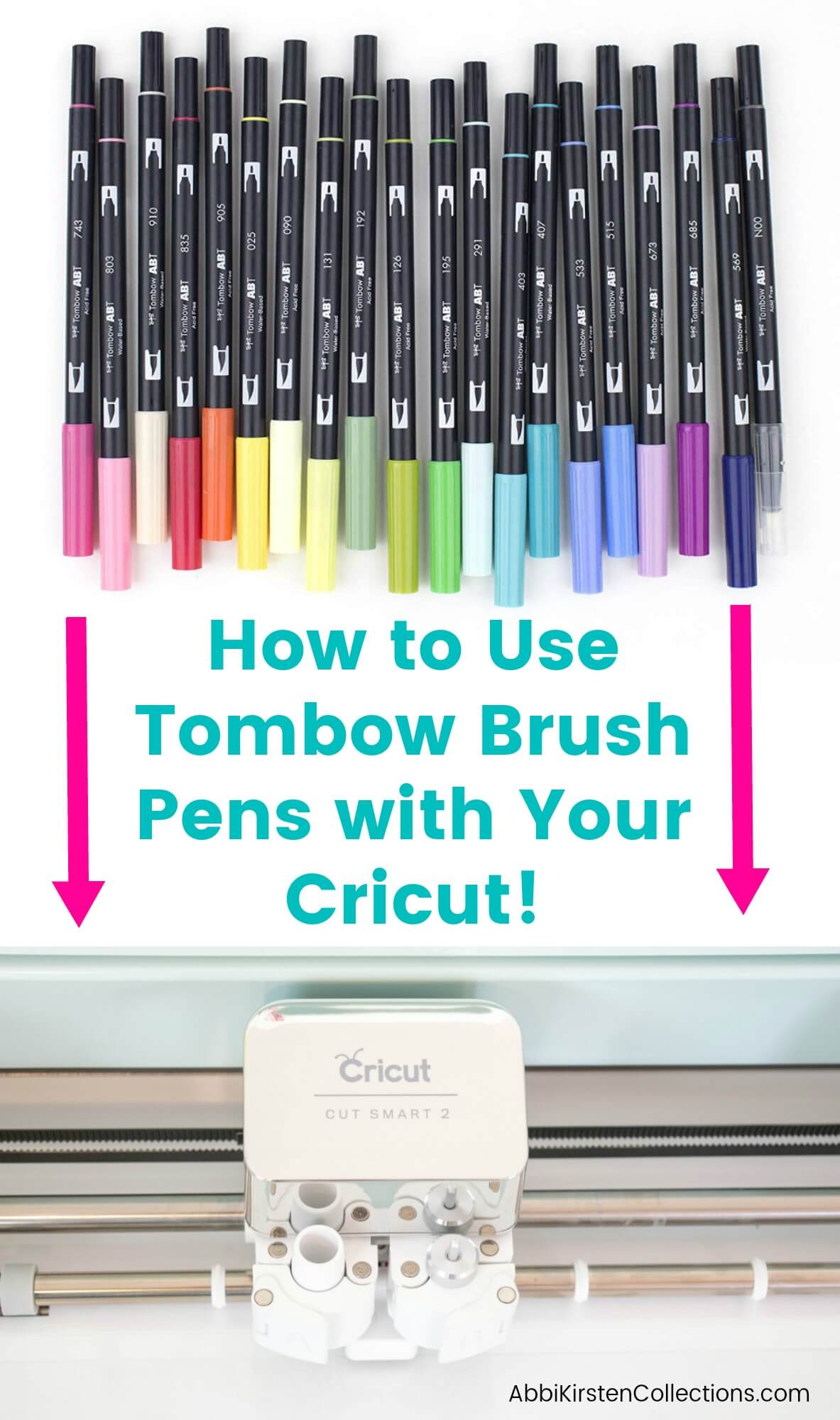 Are you looking for more Cricut hacks? Read my 28 Cricut and Design Space hacks every Cricut owner should know! You may also love my 25 sanity-saving craft vinyl hacks every crafter needs!
Cricut Compatible Pens
Non-Cricut Pens (you will need this adapter set here)
Crayola Markers that work with Cricut machines
Again you will need the pen adapter set.
Cricut Brand Pens
For those who want to stick with just the Cricut brand, here are some of my favorites to use!
Are you ready to try out this new Cricut hack? Learn how to write with Cricut inside a Joy card insert here or try out hatch-filing text in Design Space with this typography tutorial!
Note for Cricut Joy Users
This pen tutorial works great with the Cricut Maker, Explore Air 2, Explore 3, and Maker 3. However, the Joy machine works differently because it does not have a separate insert for pens. But I have tried and love these pens here for my Joy machine, which are dual-tip including both fine-point and marker tips. And they write very smoothly!
More Cricut Help for Beginners
I have many more Cricut hacks, help, and projects here on Abbi Kirsten Collections.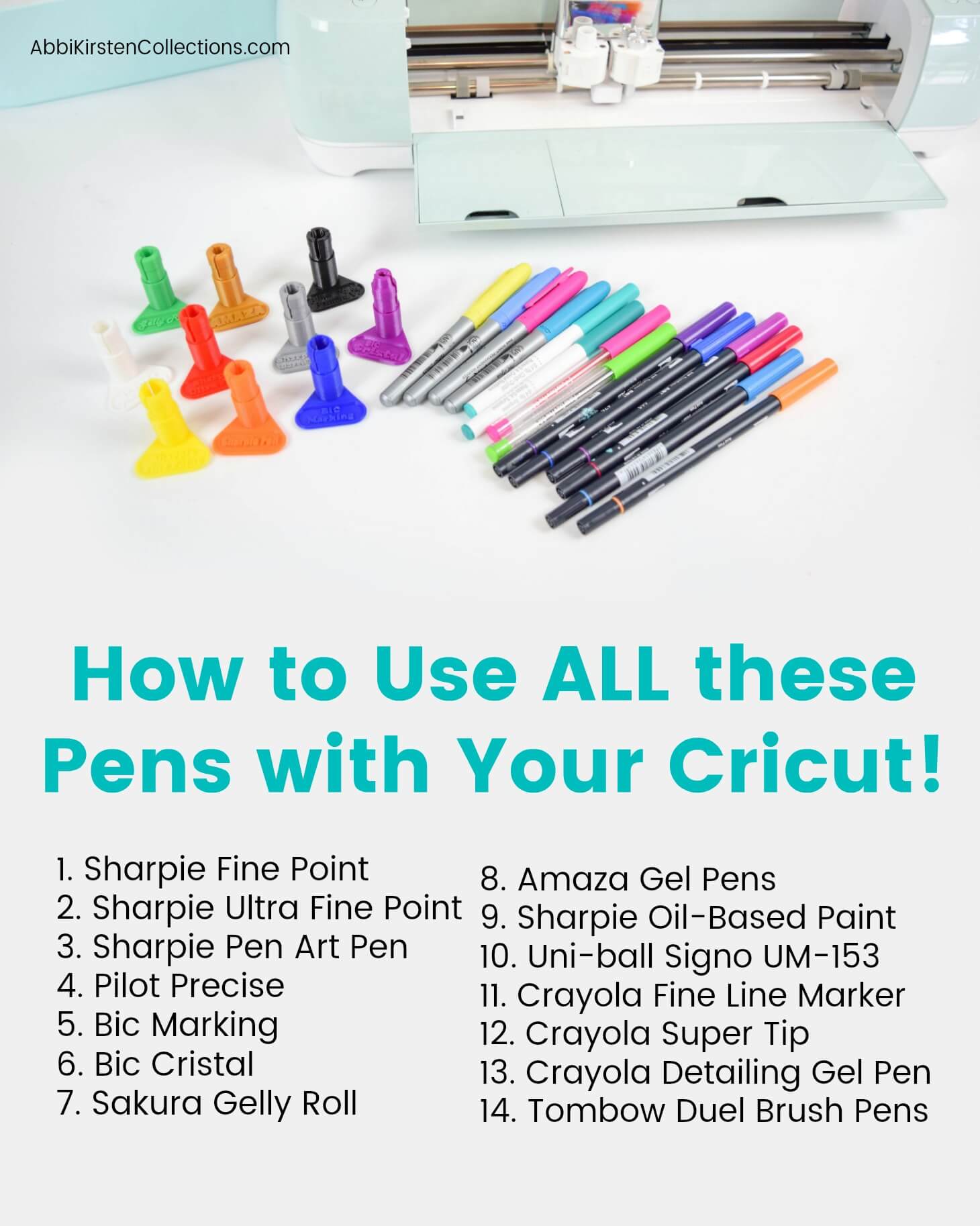 Love this Cricut tutorial? Don't forget to share it with your friends!
About Abbi Kirsten
Welcome to my colorful corner of the internet, where we play with vibrant crafts and unlock your creative magic! Hang out with me and get lost in a fun array of projects, tutorials, and products, from stunning papercraft ideas to flower templates, Cricut help for beginners, and endless crafter's hacks.
To access all the magic, join the Member Vault and participate in my monthly Craft-Alongs in my Facebook group!