Candy-Filled Easter Bunny Craft: Free Easter Bunny Template
This post may contain affiliate links that won't change your price but will share some commission.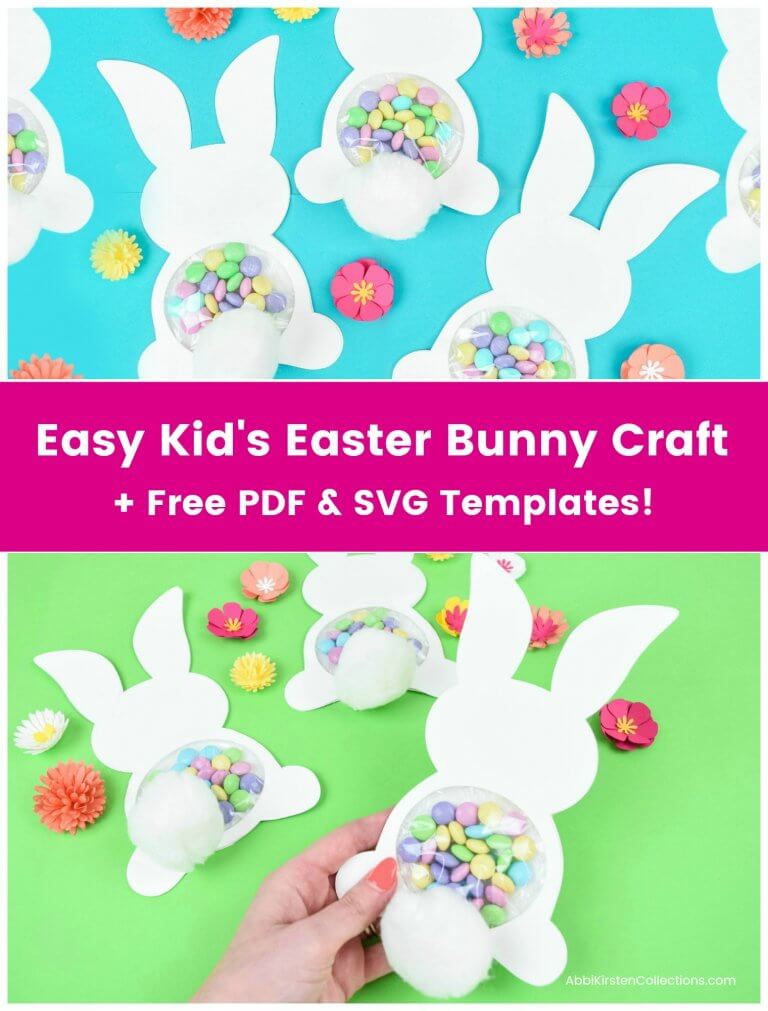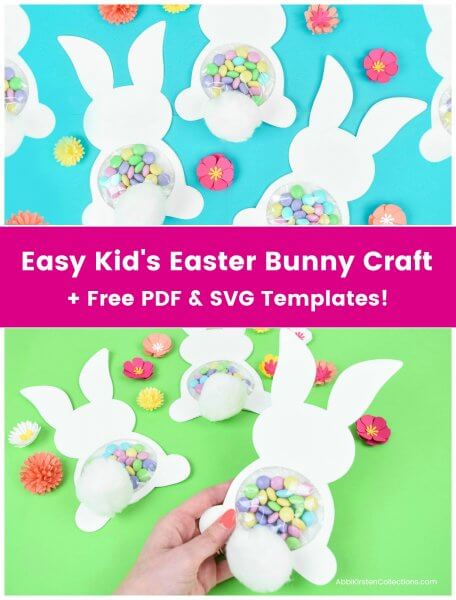 Easter is the first season of the year where you get to break into those bright vibrant colors! Every year I add new easy Easter crafts to the blog. Today's project is an Easter bunny craft perfect for easy easter crafts for kids to make or to gift! I'm including free printable Easter bunny templates and SVG cut files to use with your Cricut or cutting machine.
If you are a creative person like me, you may ask what crafts can I make for Easter? For more Easter crafts to make you will love my 3D Easter Egg Candy Boxes or my easy DIY Easter Bucket Project! Both crafts come with free Easter bunny templates and Easter egg templates too.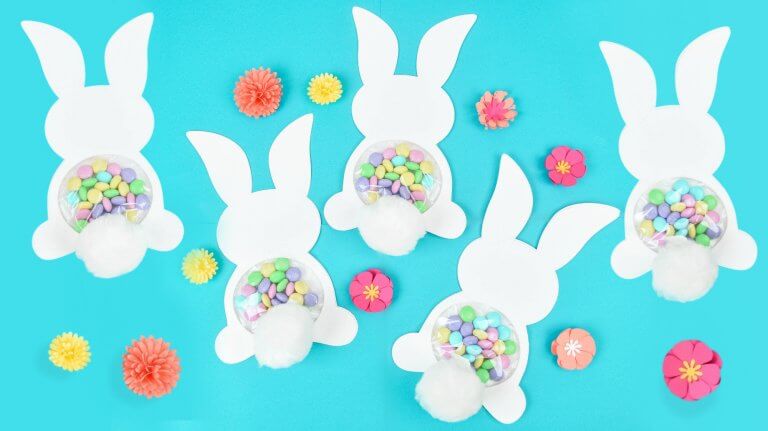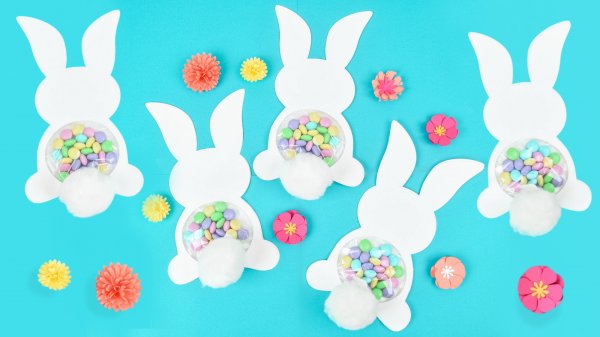 Candy Filled Easter Bunny Craft Supplies:
A full video tutorial is included below for instructions to make our candy Easter bunny craft but first, let's go over supplies you will need in addition to the Easter bunny templates.
If you need more Spring and Easter craft ideas or templates, be sure to check out all my cheerful springtime flower designs!
Download This Free Easter Bunny Template
Download these free Easter bunny templates by signing up via the form below. If you are already a member, then login to the Member site and find it by typing in the keyword "bunny" or searching Design #47.
Need help entering the Freebie Vault read this helpful guide here!
How to Make an Easy Easter Bunny Craft with Candy
The first step will be to get your bunnies cut out on your Cricut machine using the free Easter bunny SVG cut files.
For those using a Cricut or other cutting machine, scale your bunny to 6.5 inches high by 3.8 inches wide or your preferred size. Don't go too small, though, or you won't be able to add very many M&Ms.
If you are hand-cutting, go ahead and use the pre-sized PDF files. This craft is an easy enough Easter craft for kids to make with a little help from adults.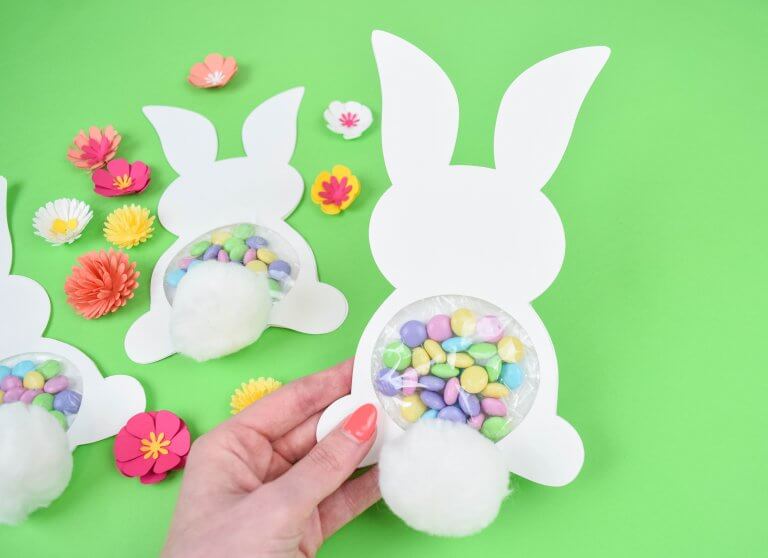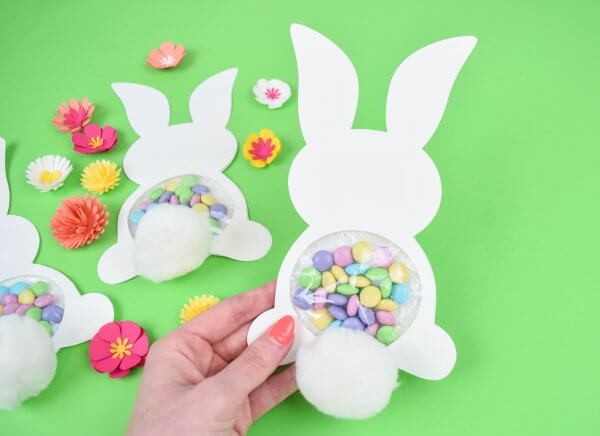 Candy-Filled Easter Bunny Craft Video Tutorial
The full video tutorial above will show you how to assemble this Candy-Filled Easter Bunny Craft. Keep reading for a picture tutorial overview.
Love candy crafts? You will adore my kitty and puppy dog candy crafts here.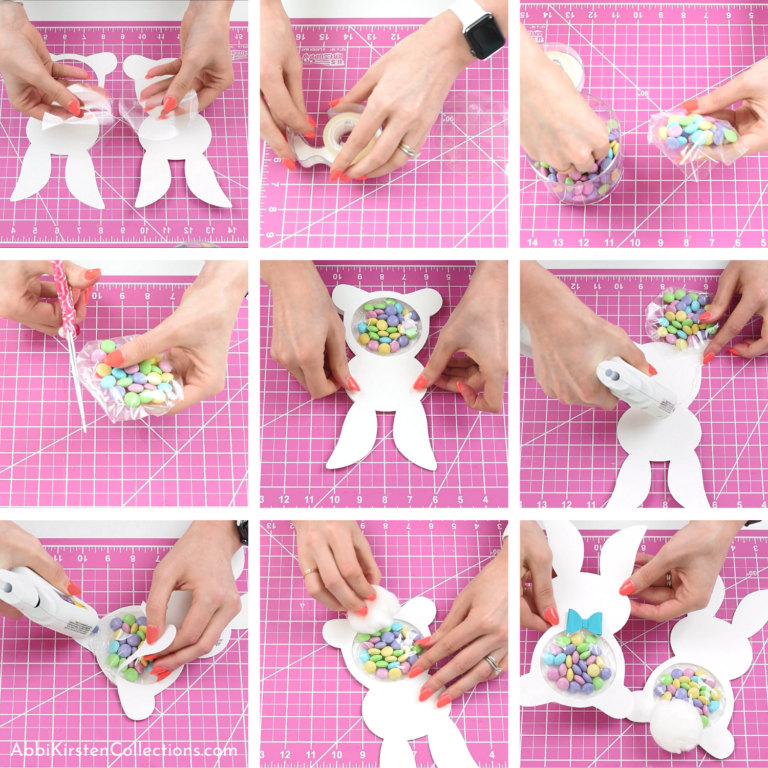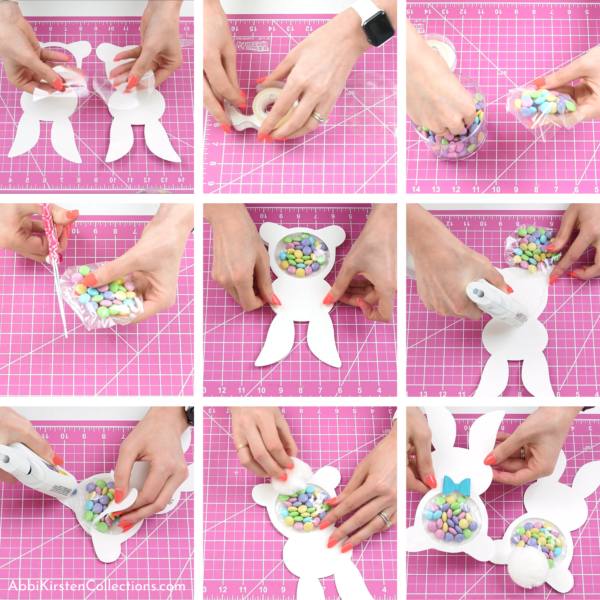 Cut out your free Easter bunny templates. These templates include a front and back to your bunny plus two circles which are to be cut out in cellophane.
Bring the two cellophane circles together and add scotch tape around the edges. It's a good idea to be generous and overlap the tape. Be sure to leave a little space open to add your candy.
Once you have added in the candy, close the cellophane complete with tape. Trim around the tape carefully to eliminate jagged edges.
Place your bag of candy on top of the Easter bunny template silhouette piece, and add a few dots of hot glue to the base to hold the candy bag in place.
Add the second Easter bunny template piece with the circle cut out on the top over the candy bag, and secure it with hot glue.
Use a pompom to complete your bunny with a little fluffy tail. You can also cut out tiny paper bows to dress up your bunny even more!
How cute is this kid-friendly, easy Easter bunny craft?! I'd love to see how you used the Easter bunny templates. Join my Facebook group to show off your work!
Find more Easter crafts for kids to make in our Freebie Vault! Just search "Easter" to see all the options!
Candy-Filled Easter Bunny Craft: Free Easter Bunny Template
This kid-friendly papercraft creates adorable candy-filled Easter Bunnies with fluffy white tails. You can use a Cricut cutting machine or scissors with my free PDF and SVG templates.
Instructions
Cut out your free Easter Bunny templates. Each bunny needs a front and a back in white cardstock.
Cut out the two cellophane circles.
Place the two circles of cellophane together using scotch tape around the edges, leaving a small opening to add your candy. Overlap the scotch tape to ensure the circles stay together.
Add the candy to the cellophane pouch and close the opening with tape. Trim jagged edges.
Add hot glue to the Easter Bunny cutout without the hole where the candy bag will be placed.
Add the cellophane bag of candy to the glue dots.
Add the second Easter Bunny with the hole over the bag of candy. Use dots of hot glue to hold the top bunny to the bottom bunny.
Add the pompom under the candy bag to mimic a bunny's fluffy tail.
Optional: You can add a little bowtie or other embellishments to your finished Easter Bunny.
Enjoy making these cute, kid-friendly craft Easter Bunnies!
Recent Craft Projects on Abbi Kirsten Collections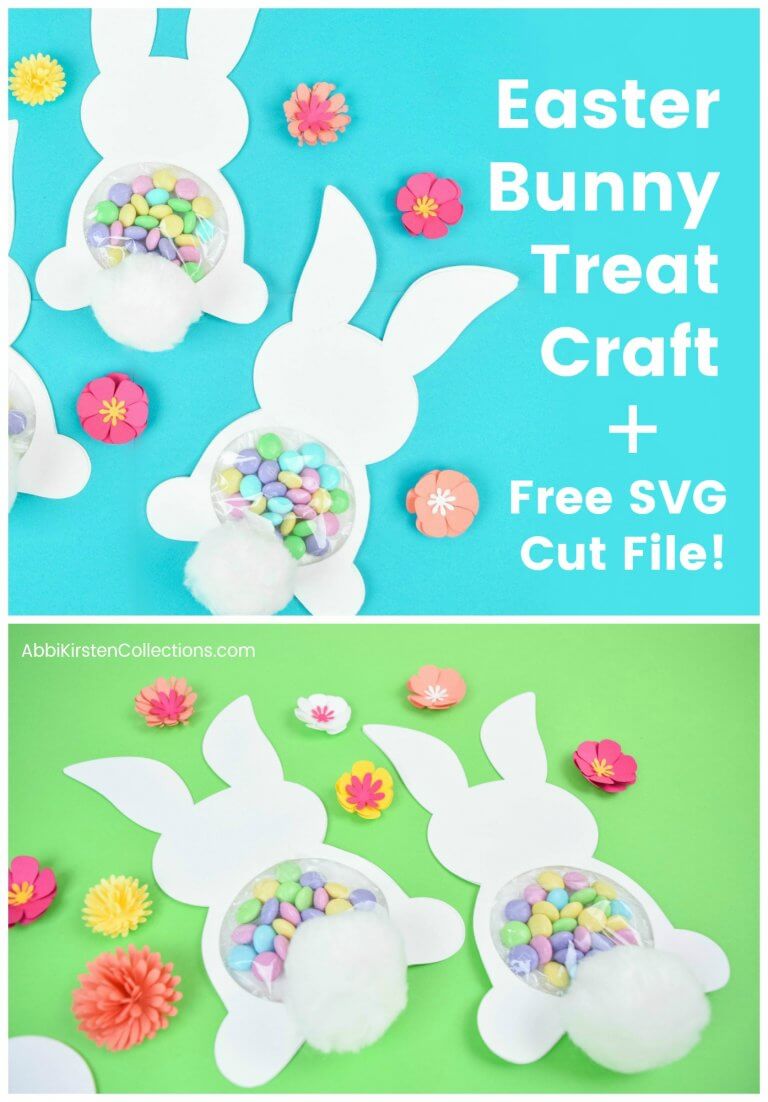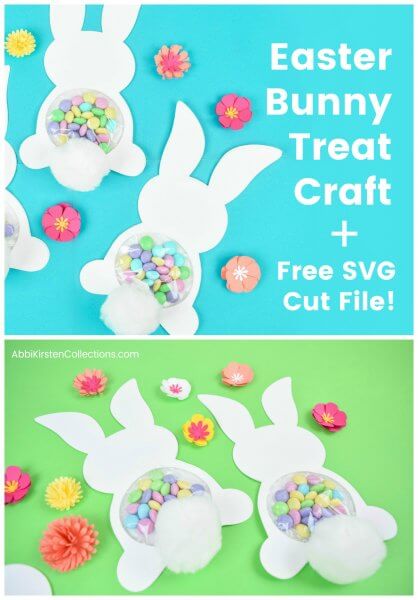 About Abbi Kirsten
Welcome to my colorful corner of the internet, where we play with vibrant crafts and unlock your creative magic! Hang out with me and get lost in a fun array of projects, tutorials, and products, from stunning papercraft ideas to flower templates, Cricut help for beginners, and endless crafter's hacks.
To access all the magic, join the Member Vault and participate in my monthly Craft-Alongs in my Facebook group!