Paper Succulent Template: How to Make Paper Succulent Flowers
This post may contain affiliate links that won't change your price but will share some commission.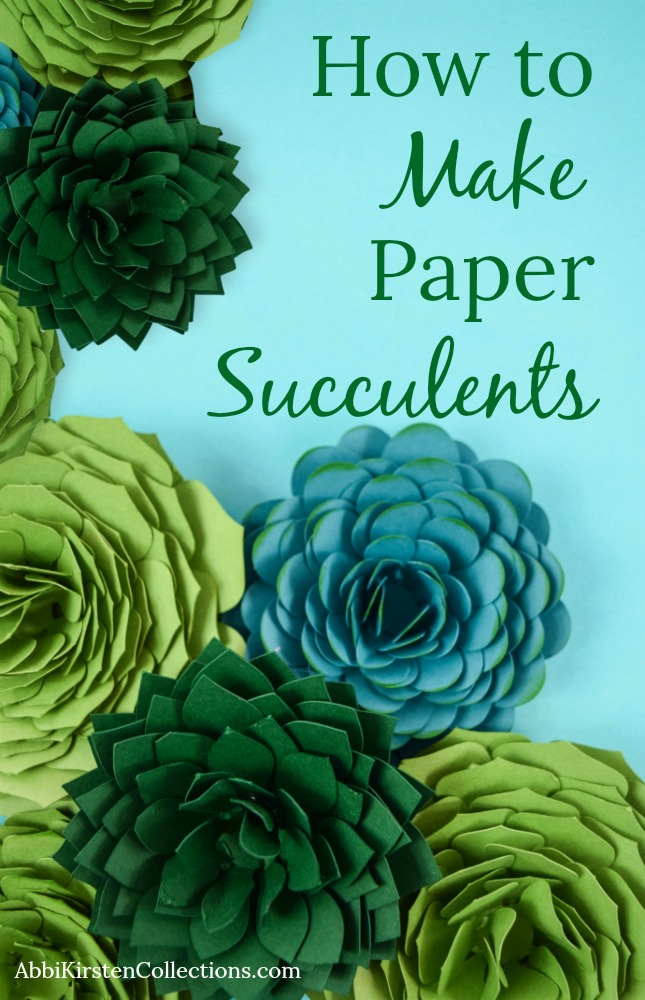 Paper Succulent Template: How to Make Paper Succulent Flowers
I've had many requests to create a Paper Succulent Template – yup you guessed it, we are making classic succulents as paper flowers! But what is exciting is that I am giving one of the templates as a sample away to you free today.
Succulents are a highly desired primitive desert beauty, so bringing them into my paper flower collection was a must! I took the time to create three different succulent designs! Despite the slightly different petal tips, you can make each of these succulents the same way. Let me share my supply list so we can get started!
You can even learn how to stem your succulents here or watch the full paper succulent video tutorial right here!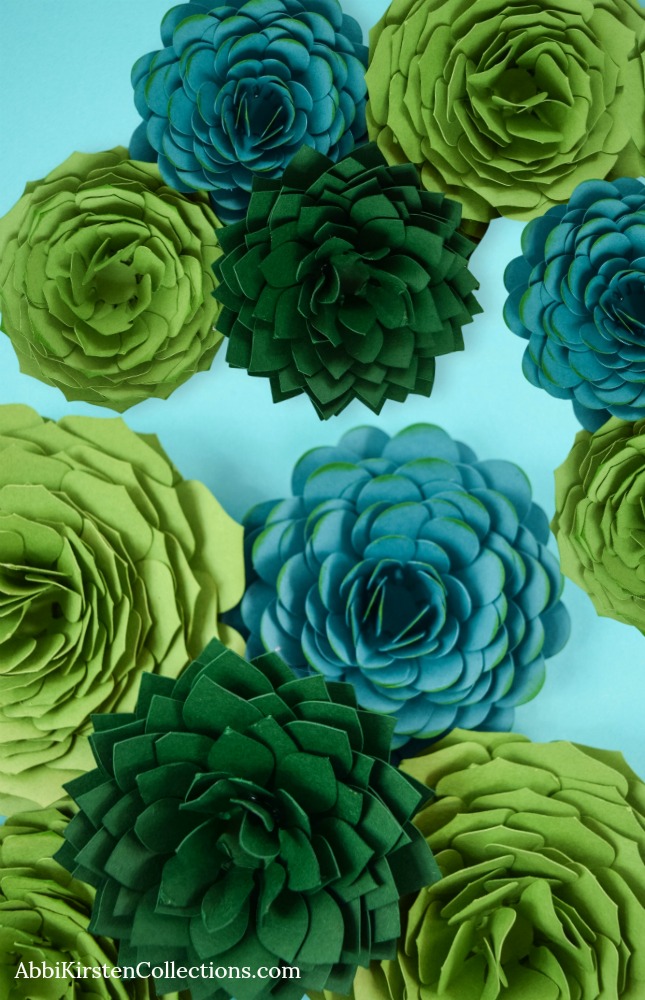 Supplies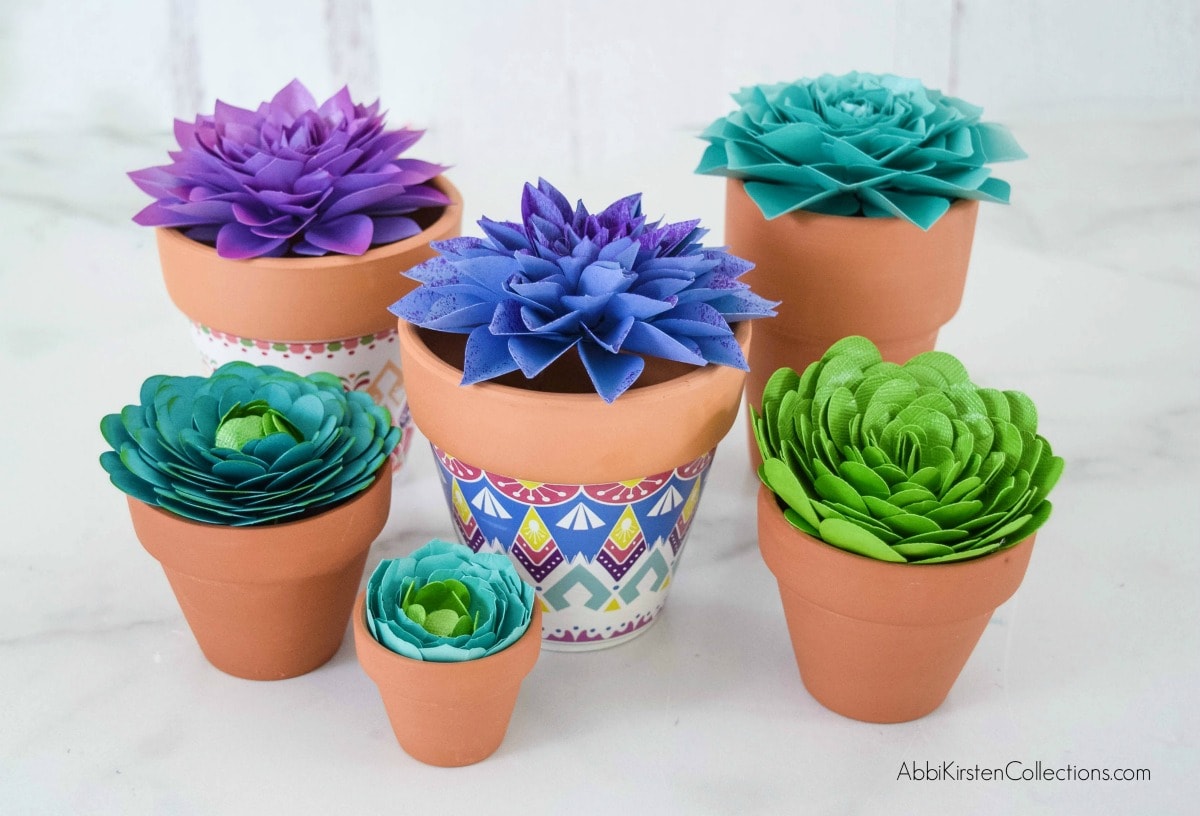 Grab your free succulent paper flower template in my Freebie Vault when you join my creative community! Find it under the small flower templates section – or download all styles and formats here in the shop!
Ready for more paper flowers?! Download The Joy of Paper Flowers ebook for 24 flower templates and tutorials including these succulents!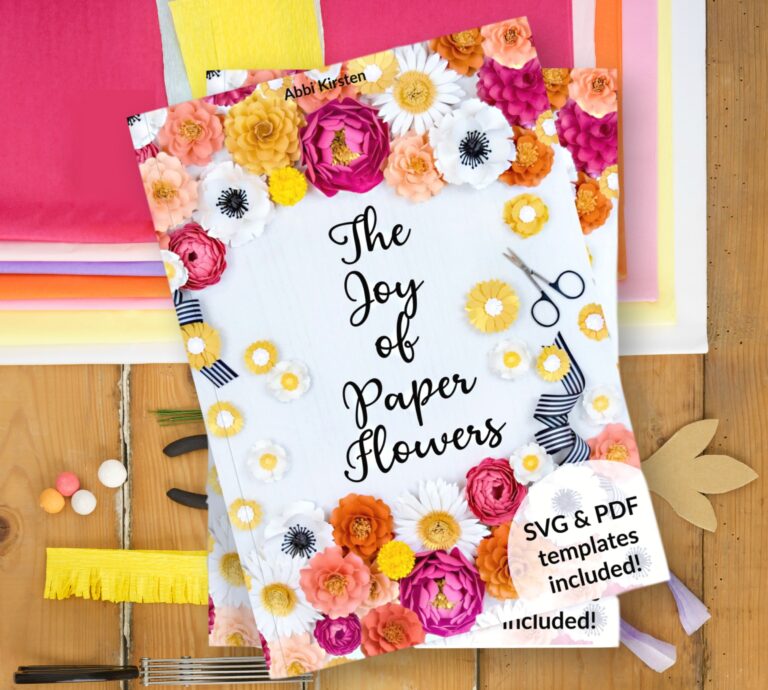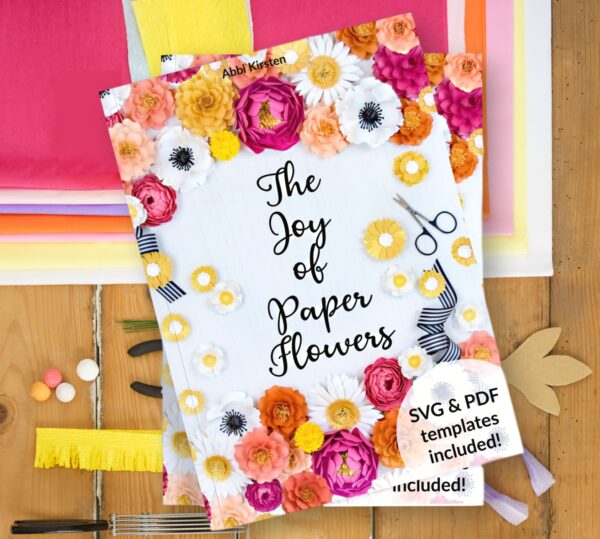 Related Posts
Spring Tulip Paper Flower Tutorial
DIY Paper Flower Pomander Balls
Step by Step Paper Peony Tutorial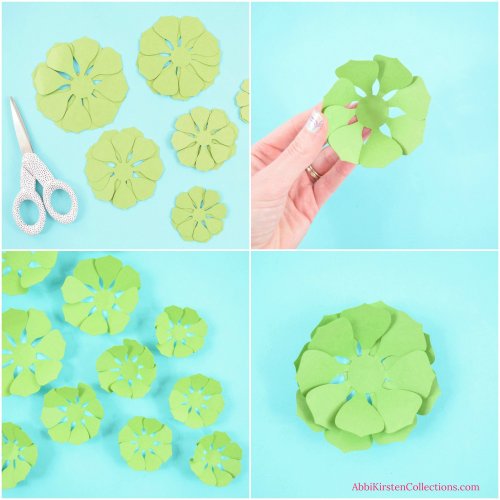 Step 1
Begin by cutting out all your petal layers. I use six different petal sizes – 2 of each for every flower. You will, therefore, have 12 petal layers per succulent. Cutting machine measurements are as follows:
1st (largest petal) – 3 x 3 inches
2nd – 2.5 x 2.5 inches
3rd – 2.2 x 2.2 inches
4th – 2 x 2 inches
5th – 1.6 x 1.6 inches
6th – 1.3 x 1.3 inches
Step 2
Fold all the petal points up; this is going to give the succulent depth. You can try to make it, so all the petals flow the same direction for a cleaner look.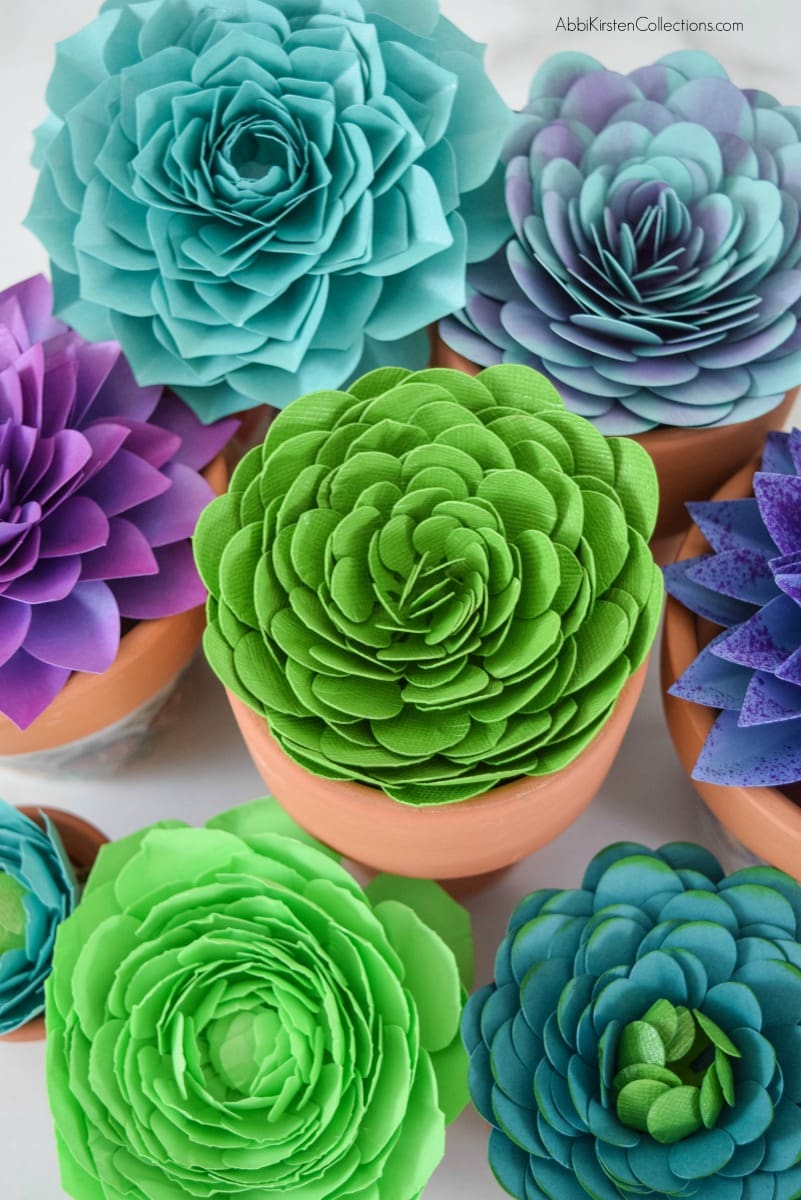 Step 3
The next step is to begin layering. Start with gluing your 2 most giant petals on top of another by adding glue to the center. Try not to stack them directly but have the petal alternate, as shown in the 4th block above.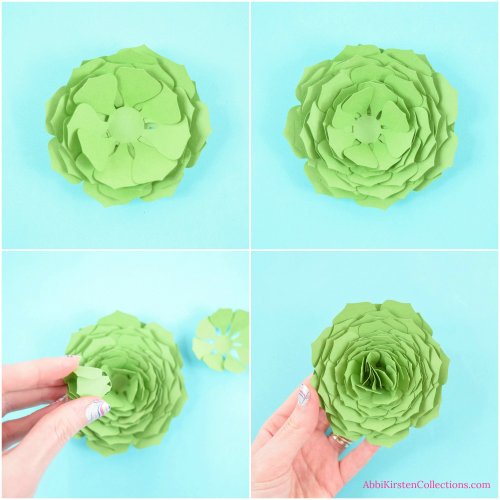 Step 4
You will continue adding in the remaining ten succulent petal layers until you reach the middle. When you get to the very last tiniest petal layer, try to curl the petals around each other a bit and pinch the bottom before gluing in for a more closed center. You can use a thin wood dowel for curling if you want to.
Step 5
Enjoy your lush beauty and tell me how you used this paper succulent template in the comments below! If you want to know how to stem a paper flower, you can find that tutorial here!
Ready for the Video? Paper Succulent Video Tutorial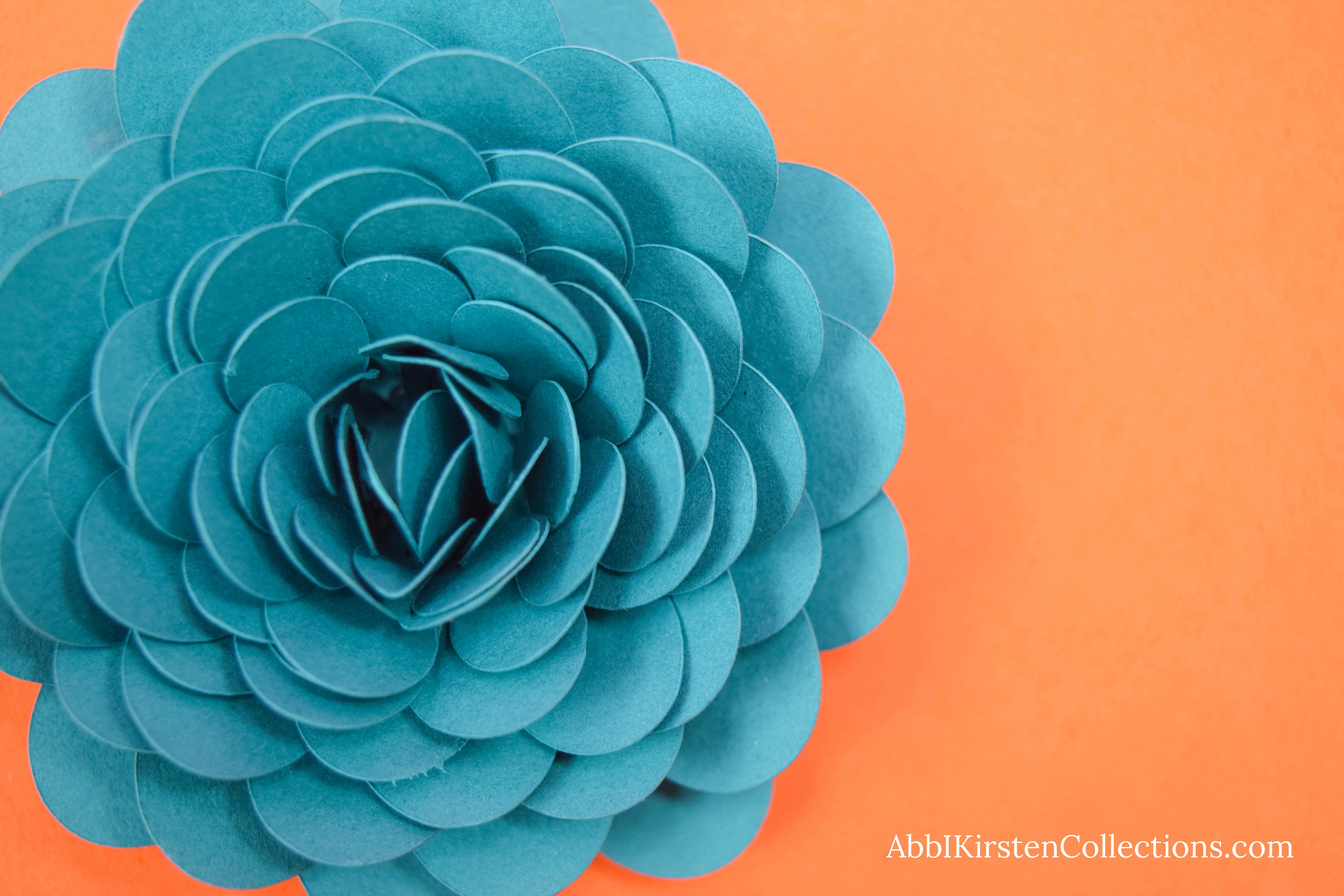 More Crafts to Love
About Abbi Kirsten Collections
I have spent the last 10+ years building my creative skills and sharing them with others. My flower designs are created with simplicity, color, and crafty fun in mind. If you haven't yet, be sure to join the subscriber community to gain access to all my freebies or visit my signature design shop here!
Want to join my Facebook community to share your crafts and learn from the best? Click here to request access to my group, Crafters and Cricut Lovers.
For further color crafts and inspiration, join me on Instagram & Facebook.
Other succulent finds we love!
If you enjoyed this and appreciate the free templates please share!