Cricut Design Space Combine Tools: Weld, Unite, Subtract, Intersect and Exclude
This post may contain affiliate links that won't change your price but will share some commission.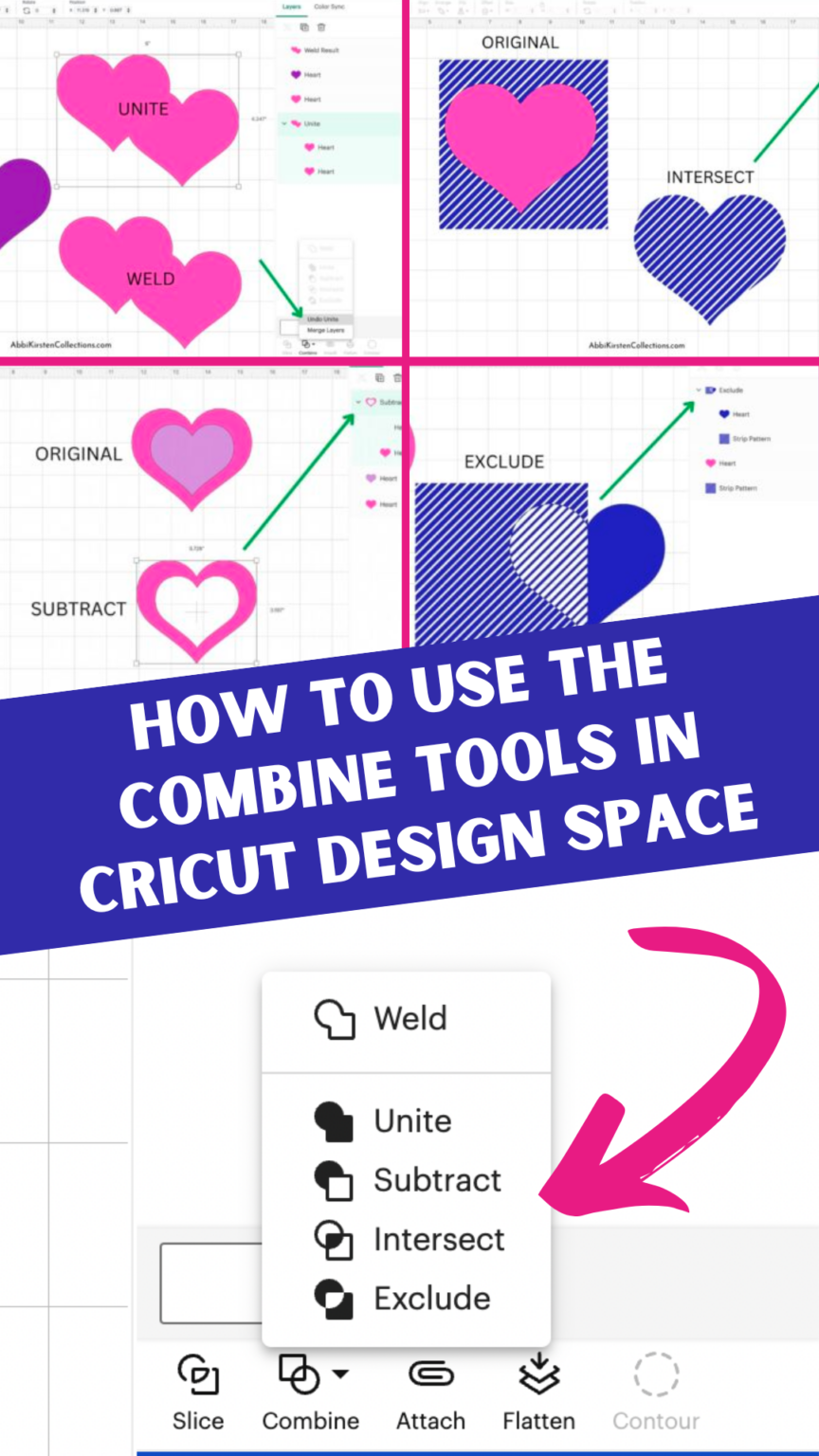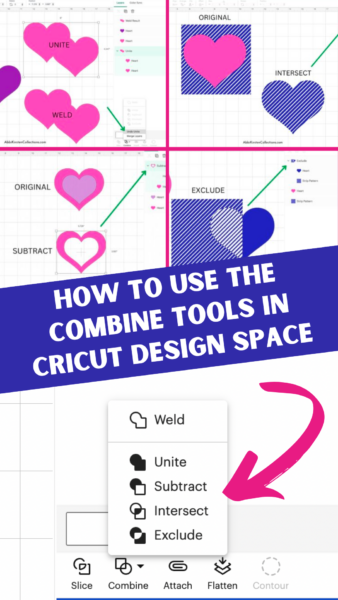 I love when Cricut Design Space comes out with an update! The combine tools are super practical when it comes to editing images and customizing designs for our projects. In this tutorial, I am talking all about the Cricut Combine Tools. Design Space's combine tools are the best way to edit and alter shapes or images in Design Space. Let's cover each one of these tools step by step. With the release of the combine tools, Design Space also gave a refreshed look to the Layer's Panel to the right of the Canvas. With the updated Layer's Panel, we also get the ability to rename your layers to stay organized!
Need help learning how to use Design Space? Grab my Cricut Design Space Map Key and Tool Guide.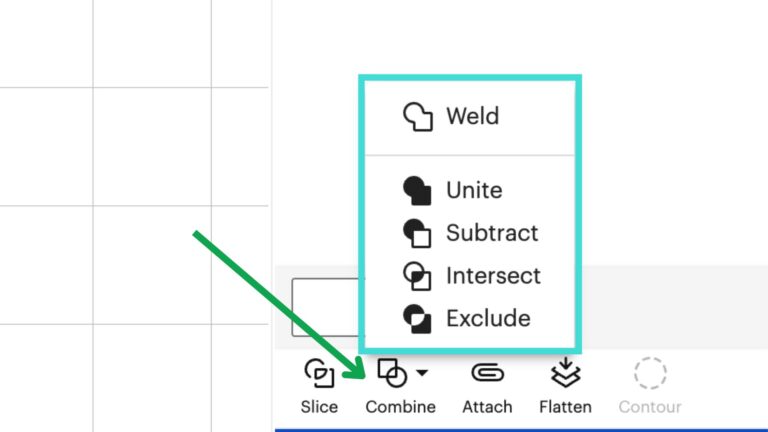 For beginners, this Cricut update may seem overwhelming or confusing. But don't worry, I will walk you through the example below so you can feel confident with these new tools.
However, if you have worked with programs like Inkscape or Illustrator, you may notice these tools mirror the path functions in traditional graphic software. In other words, Cricut is working toward making Design Space a more complete graphic design experience.
More Cricut Design Space Help for Beginners
Free Design Space Cheat Sheet: Cricut Combine Tools Printable
Get this free combine tool printable when you join my community below. Enter your name and email to get access to the AKC Freebie Vault. Once logged in, search the keyword "combine tools" to download this free design. If you already have an account, log into the Freebie Vault here and search the keyword "combine tools" or design #620 at the top search bar.
How to use the Cricut combine tools and layer's panel in Cricut Design Space
You can watch my video on the combine tools below. I will also cover naming and merging layers. Keep reading for a step-by-step tutorial!
How to use weld in Design Space
Weld used to hold the spot in the Layer's Panel where the Combine Tools icon now lives. Welding did not go away; you now just have to click on Combine and select Weld. But what exactly does weld do, and how do we use weld in Cricut Design Space?
Welding is combining two or more objects into one path (object) by eliminating any overlapping cut lines. Looking at the two hearts in the image below, if we select them and click combine > weld, the overlapping cut lines disappear, and the two hearts become one object on the canvas.
Welding cannot be undone once you've saved and closed out a project. In other words, welding is permanent, and there will be lots of times you wish you could undo the action of weld. That's where the Unite Tool comes in.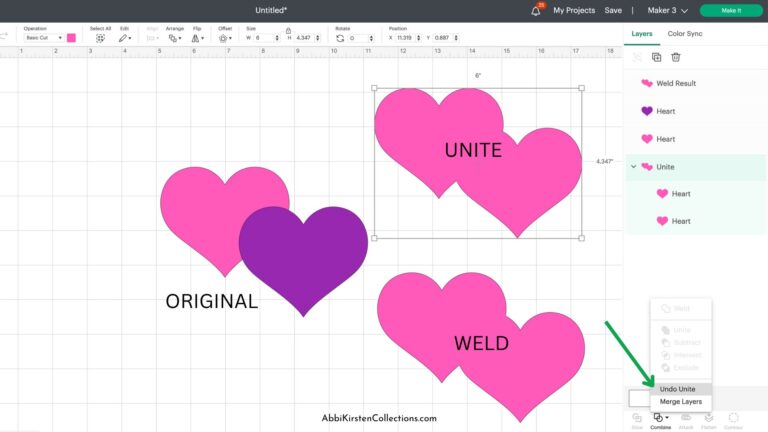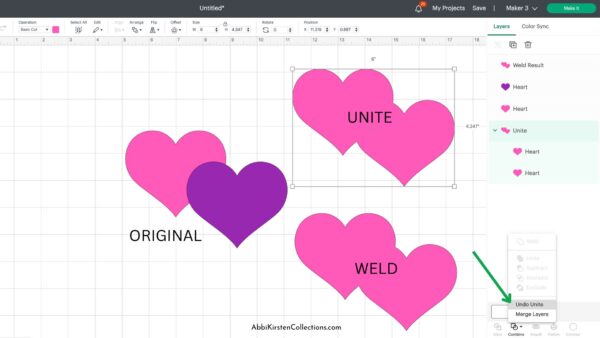 Unite Tool
Cricut users asked for a long time for a way to undo welding. Cricut finally delivered by introducing the Unite Tool to Design Space. Unite behaves just like weld, except you can undo it at any time! So if you want the functionality of welding without the permanent result, use the Unite Tool!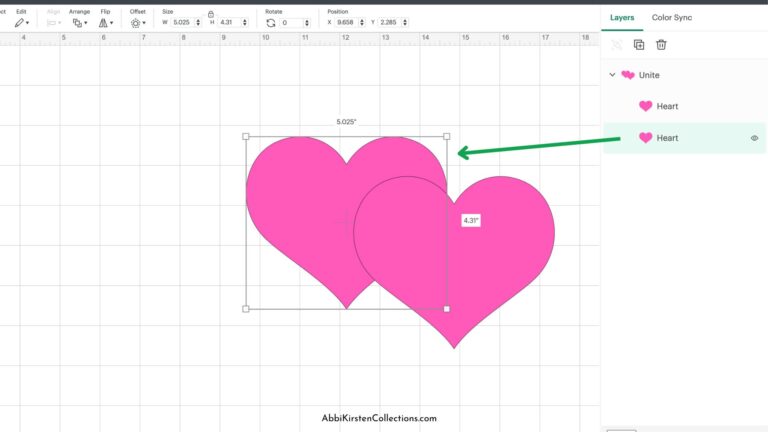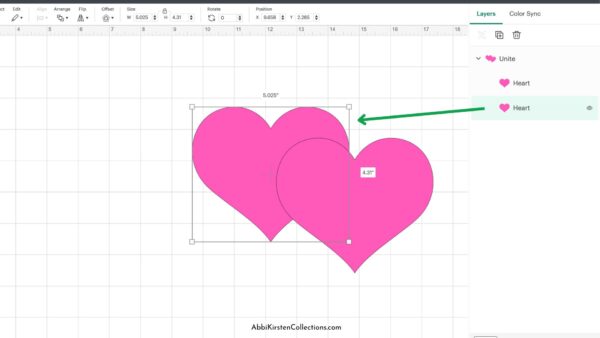 When we apply the Unite Tool, we see the same result on our canvas – two overlapping hearts combined into one path. But unlike weld, we can click on the combine icon and select Undo at any time to go back to our original two separate hearts!
Subtract Tool
If you are familiar with the Slice Tool, subtracting is much like slice except, again, it can be undone and you can use subtract with more than two objects at one time.
The Subtract Tool removes one shape from another one. The top object is subtracted from the bottom object at the overlapping point. In the image below, we see two hearts, one purple on top of the pink. Using the Subtract Tool removes the purple heart from the pink heart creating a new result.
You can also perform this action with more than two objects selected simultaneously, which is a great way to speed up editing an image! Just like the Unite Tool, subtract can be undone by clicking on combine again and selecting Undo Subtract.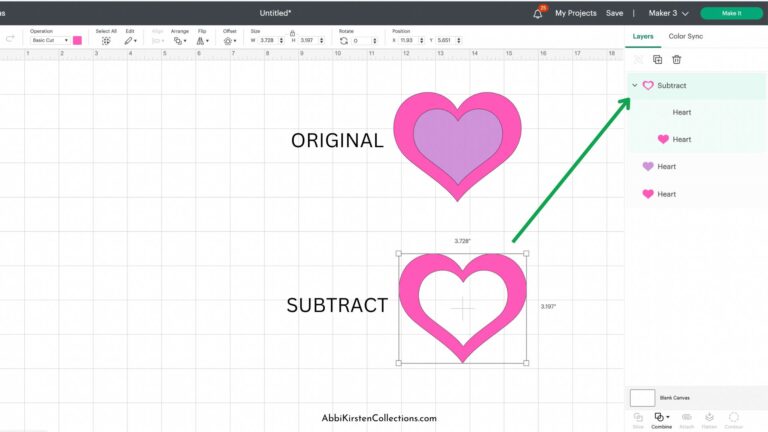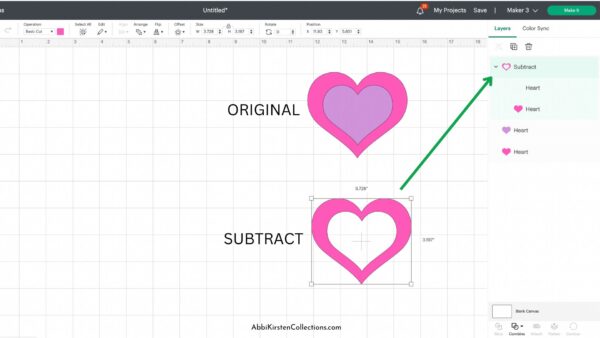 Intersect Tool
The Intersect Tool only keeps those parts covered by all selected paths. In other words, where two or more objects meet, the overlapping area will be your result. I like to use the Intersect Tool for cutting out patterns into a single set shape, but I am sure there are loads more tricks to using intersect also! In our example below, I place my heart over the stripe pattern and click on Intersect. The result is a heart full of stripes.
You can undo intersect at any time, just like unite and subtract!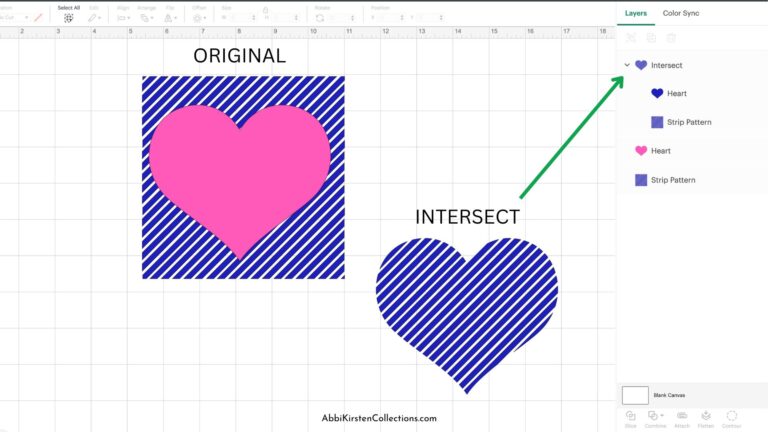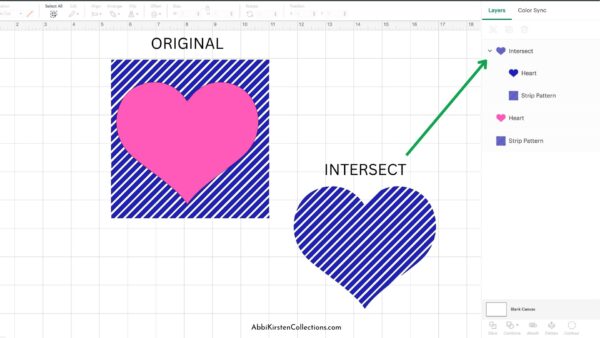 Exclude Tool
Exclude cuts out the area where two or more objects overlap. Essentially, those parts covered by one another are removed at their meeting point. The result is leaving behind one new path consisting of multiple sub-paths.
Except for weld, you can undo all these Cricut combine tools any time, even if the project has been closed out, so long as you have not yet, merged the layers.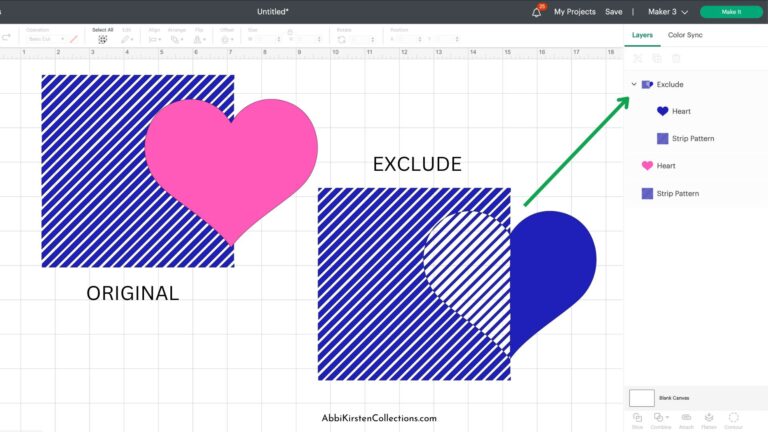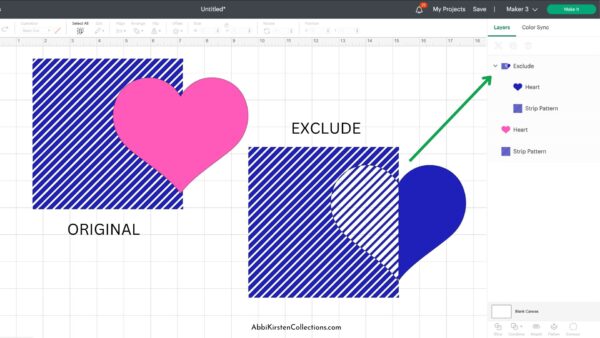 Naming and Renaming Layers
When Design Space added the Combine Tools, they also created the ability to rename layers in the Layer's Panel.
If you double-click on any layer in the Layer's Panel of Design Space, you can type out a custom name to help you identify that layer. Naming layers helps keep us organized when working with a lot of objects on the Canvas.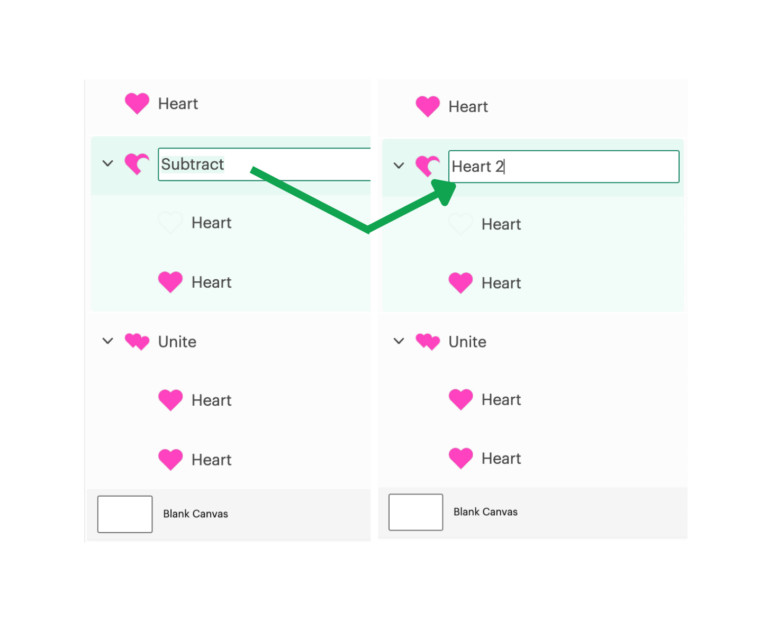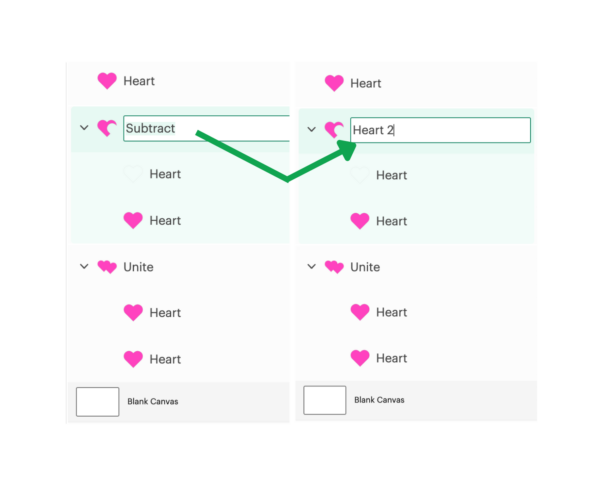 Merge Layers In Design Space
Because the Combine Tools, unite, subtract, intersect and exclude all can be undone, Cricut also gives us the option to use the Merge function, which makes those four actions permanent once applied. It also allows us to clean up and consolidated objects in our Layer's Panel.
Anytime you use the unite, subtract, intersect or exclude tools, you will be given the option to merge the layers.
To merge the layers, click on any result in the Layer's Panel, such as my subtract result in the image, then select combine again and choose Merge Layers. The result will be named, Merge in the Layer's Panel, where you can now double-click and rename that layer as we discussed above.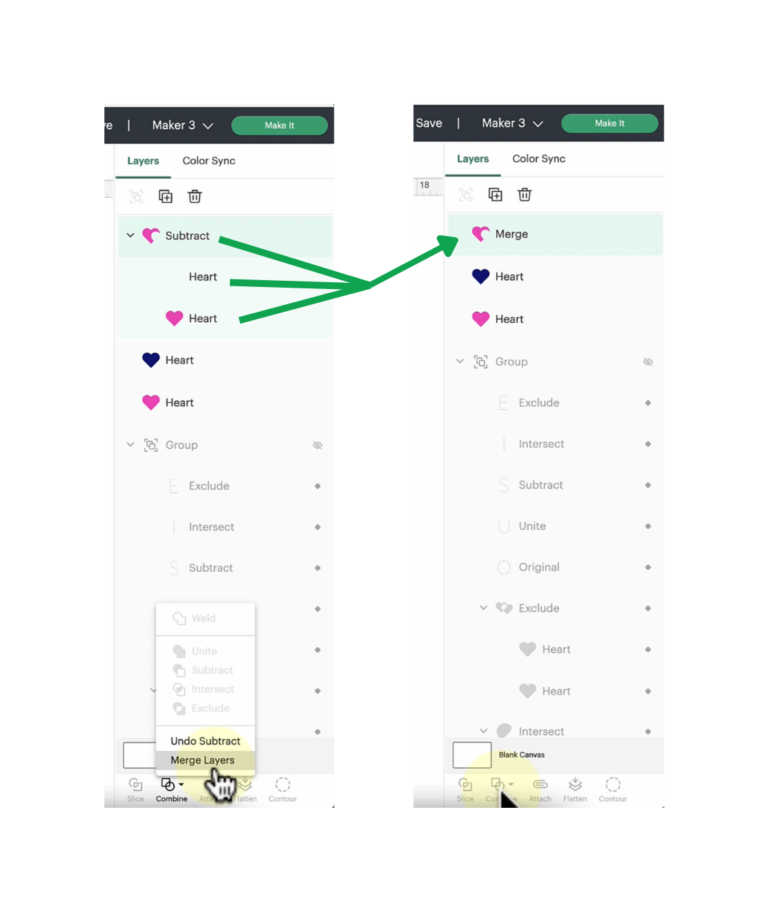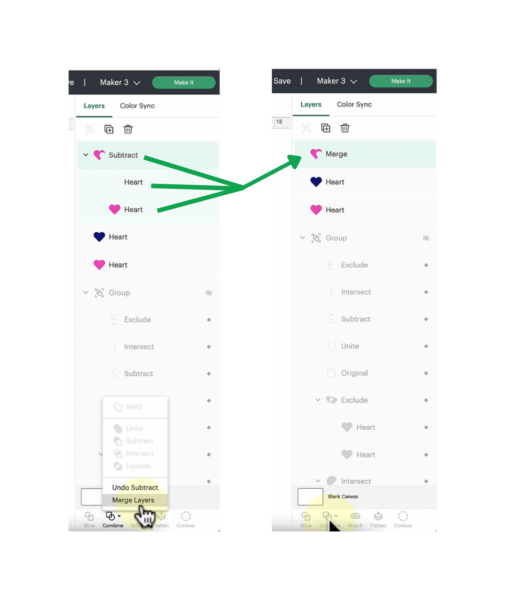 Do not merge until you are happy with the result you created using the Cricut combine tools. Once layers have been merged and a project closed out, it cannot be undone.
If you are unsure of your combined result, leave merge alone, and you will be able to edit later on!
What other questions do you have about the Cricut Combine Tools in Design Space? If working with your Cricut overwhelms you join my free beginner's Cricut workshop, and I can help you move from feeling confused to confident!