How to Decorate A Graduation Cap With Paper Flowers and Heat Transfer Vinyl
This post may contain affiliate links that won't change your price but will share some commission.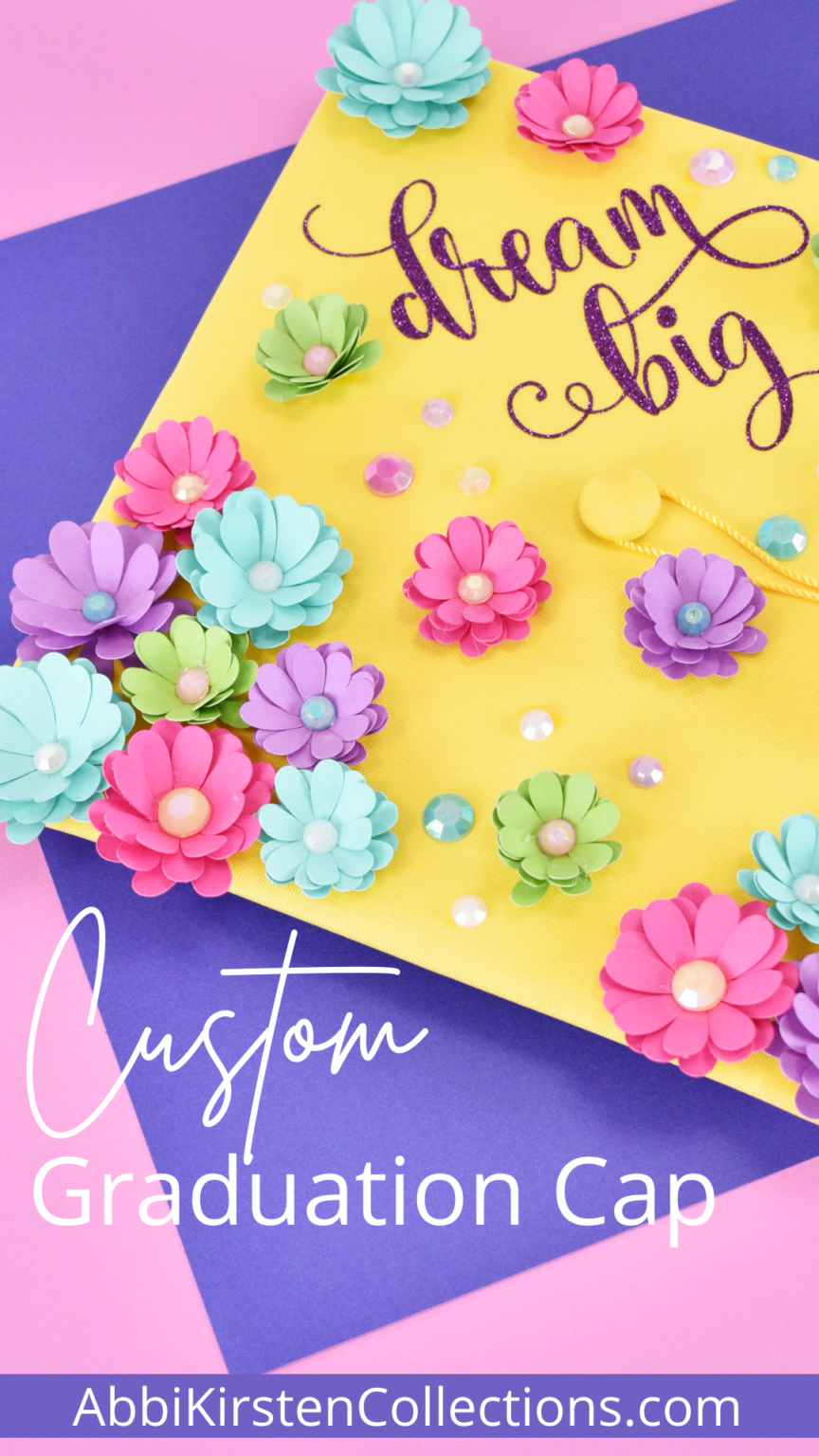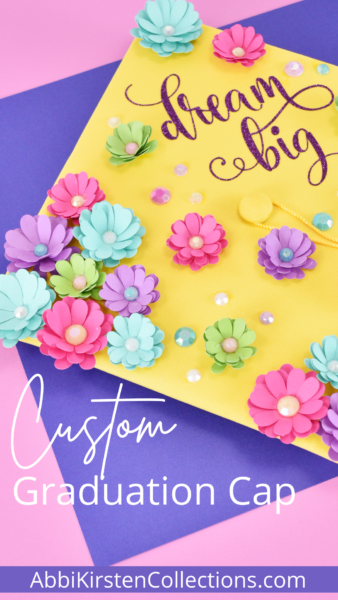 Graduation is such a special time to celebrate. Whether you are celebrating a high school, college, or even kindergarten graduation it can be fun to explore ideas to decorate a graduation cap. Today I am going to show you how to decorate graduation caps with paper flowers and how to apply heat transfer vinyl on a graduation cap.
Is life getting in the way of your crafting? Click here to save this tutorial for later!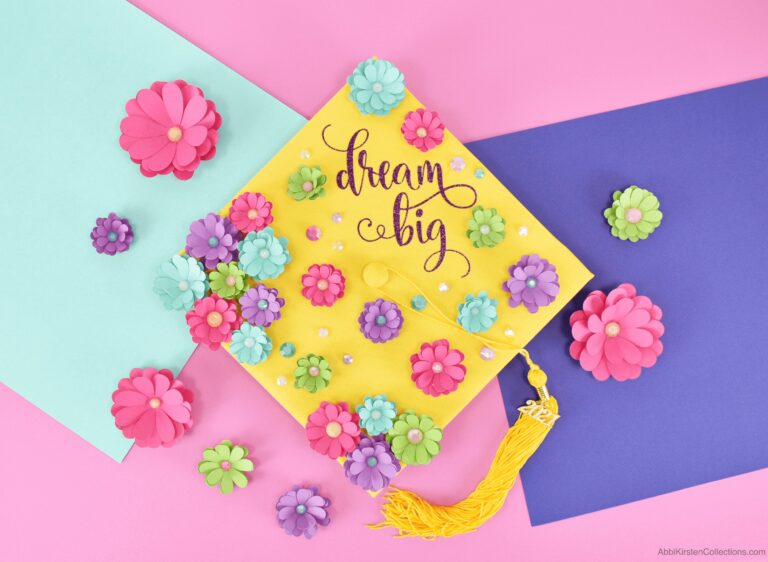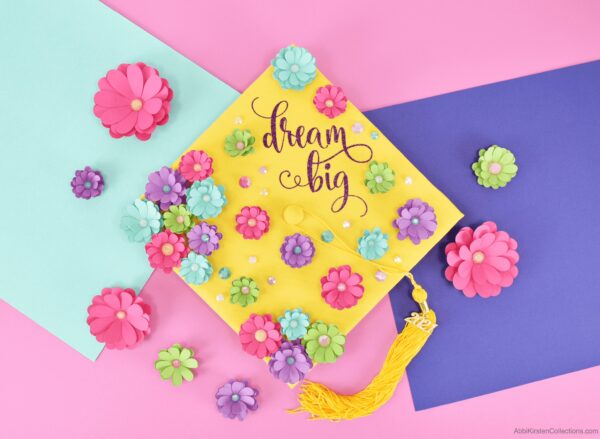 How to Decorate a Graduation Cap without ruining it
The first thing I hear when decorating a graduation cap is, how can I decorate the cap without ruining it? My best advice is to buy a super cheap one off of Amazon and do a practice run before decorating the real grad cap.
Applying Heat Transfer Vinyl On Graduation Cap (a.k.a Iron-On Vinyl)
Applying iron-on vinyl is a great way to add custom phrases to your graduation cap. In my tutorial, I used the words, Dream Big for my daughter's kindergarten graduation.
You can easily type out your phrase in Cricut Design Space for yourself and apply heat transfer vinyl on the graduation cap. Learn how to install fonts here to customize things even more! Check out the Carolina Script font here that I used if you want to type something else in the same font.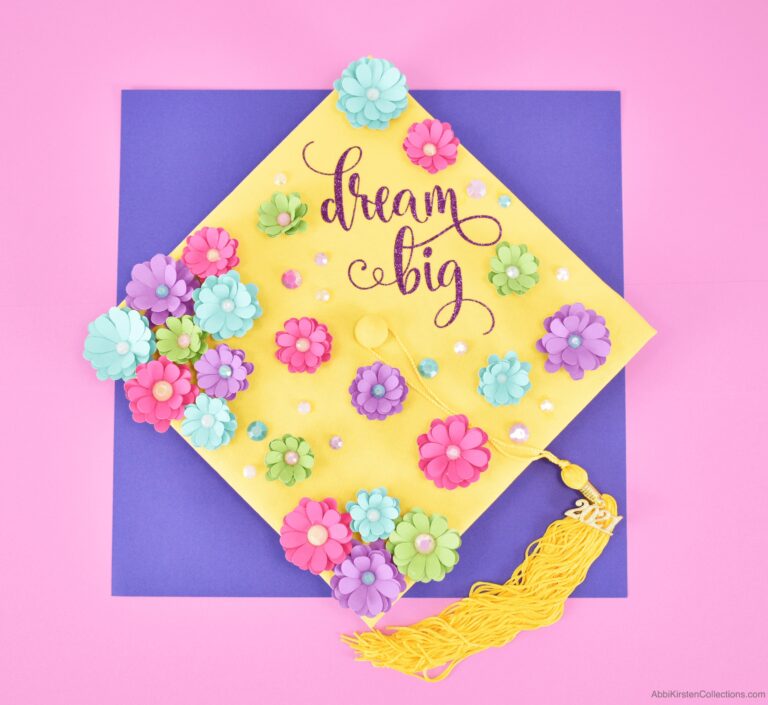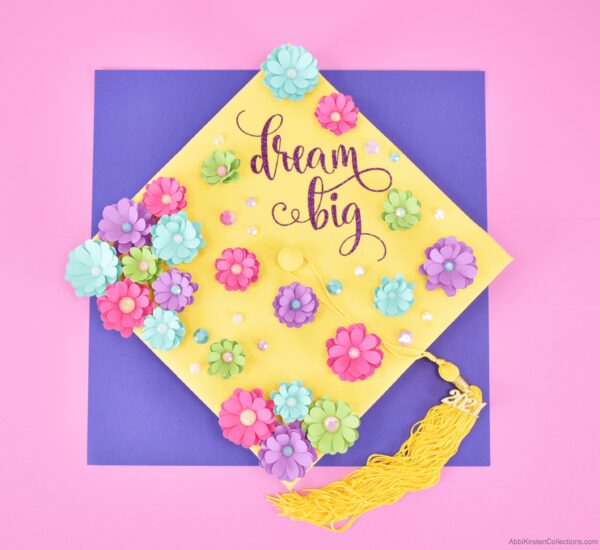 What kind of vinyl should I use on a graduation cap?
Because graduation caps are covered in fabric, iron-on vinyl (a.k.a heat transfer vinyl) is the best choice. I like to use glitter HTV personally but you can use matte or glossy iron-on as well. You will also need a weeding tool and a heat press to apply it. I used my EasyPress 2 in the video tutorial but you can also use the EasyPress 3 or EasyPress Mini.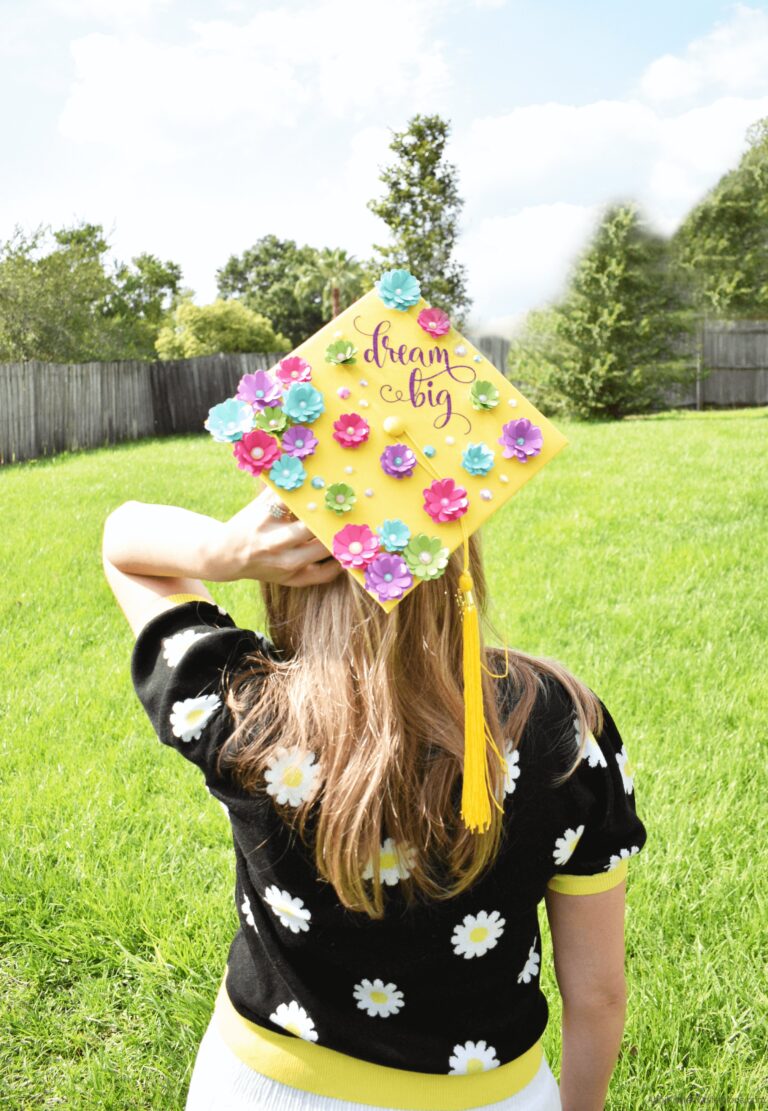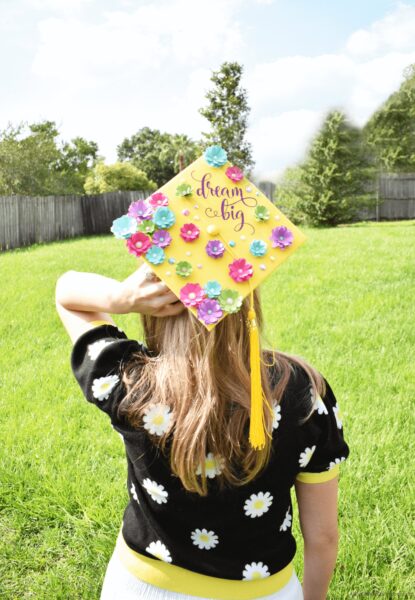 For additional decorations, I decided to add paper flowers to the graduation cap. I used my Comos paper flowers in bright colors to compliment the yellow cap. If you are looking for more small paper flowers to decorate your graduation cap with be sure to check out my rolled roses, buttercups, marigolds, or Ruby rose design.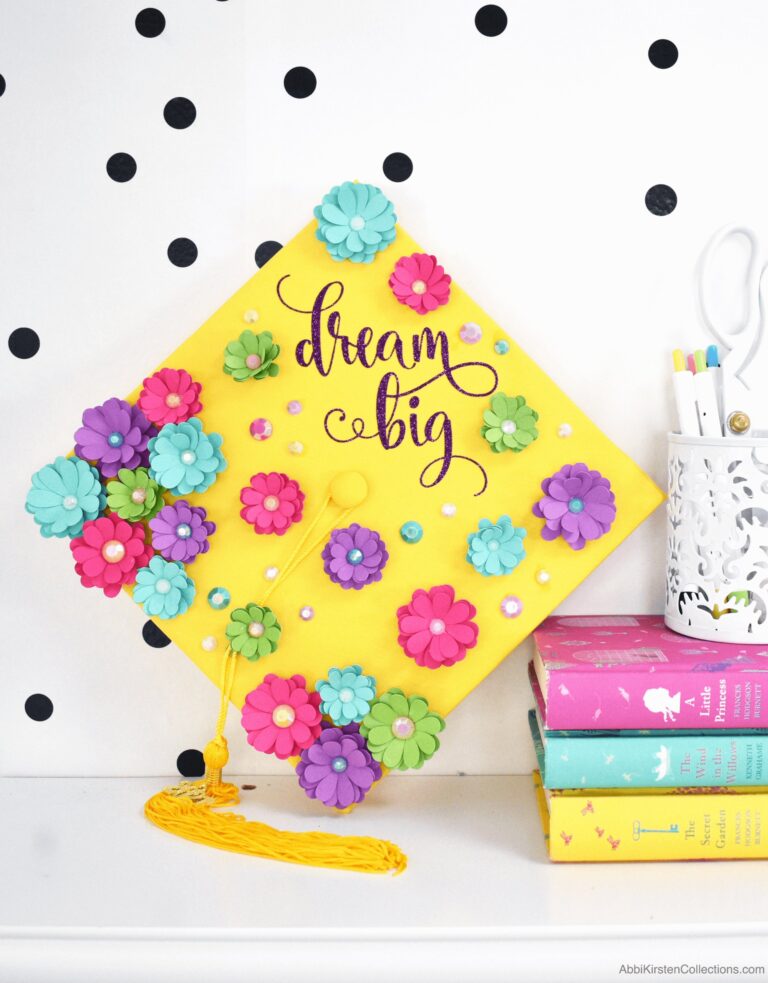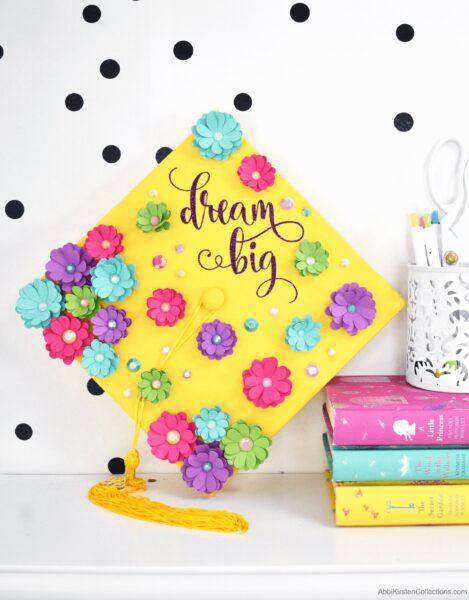 Decorate a Graduation Cap Wih Paper Flowers – Video Tutorial
Watch my full video below to see how and decorate a graduation cap with iron-on vinyl and paper flowers. Keep reading to view my supply list and get access to the templates that I used!
DIY Graduation Cap Supply List
Graduation cap (you may want to buy a cheap one to practice on first)
Iron-on vinyl
Fabric glue to adhere the paper flowers
Additional decorations such as paper flowers
Is life getting in the way of your crafting? Click here to save this tutorial for later!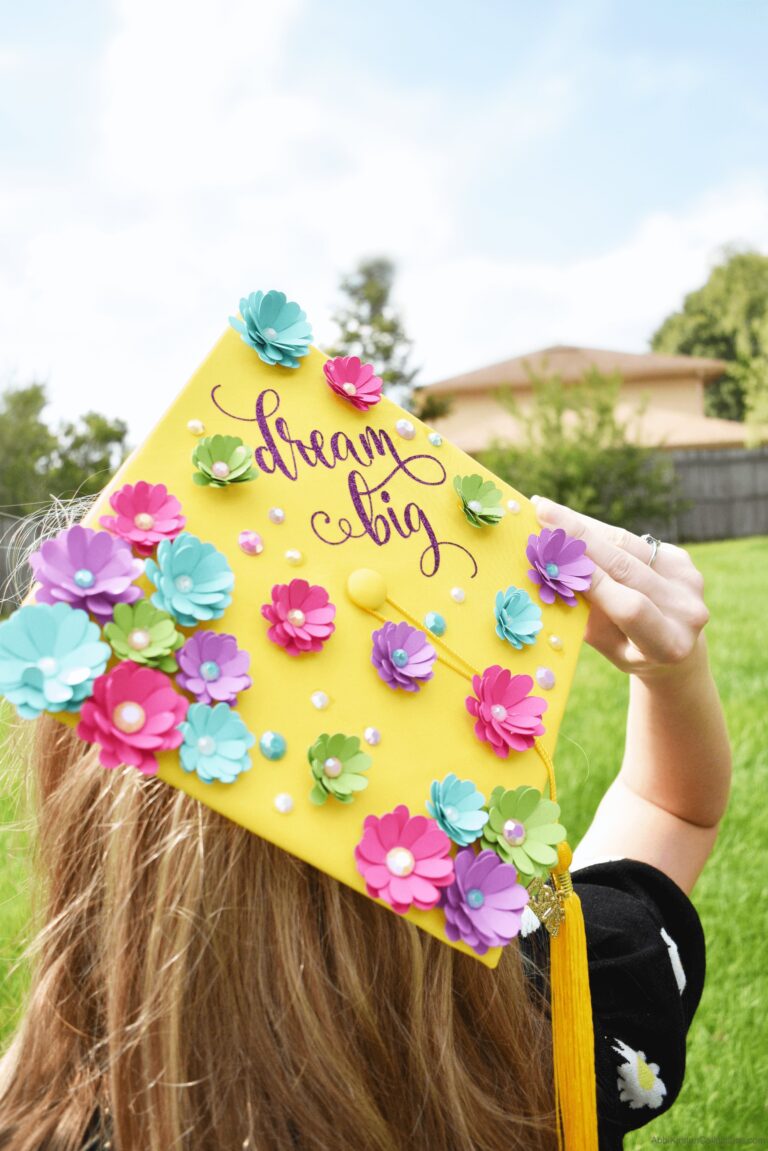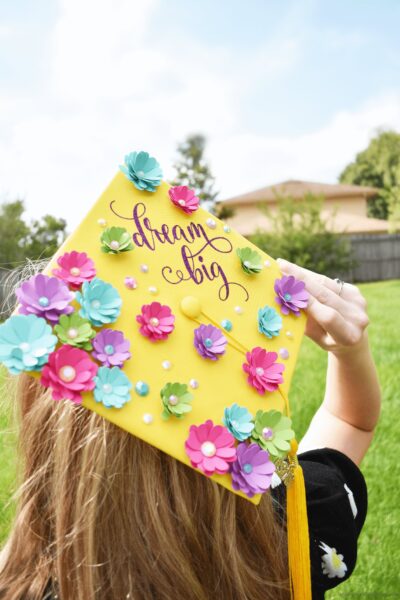 Download The Dream Big and Paper Flower Cricut Templates
If you would like to access all my paper flowers and the Dream Big typography SVG cut file shown in the video join my Premium Member Vault. If you are already a member just log in here and search design #514 or the keyword "graduation."
What do you think of decorating a graduation cap? How would you dress up yours and what other graduation cap ideas do you have? Tell me in the comments!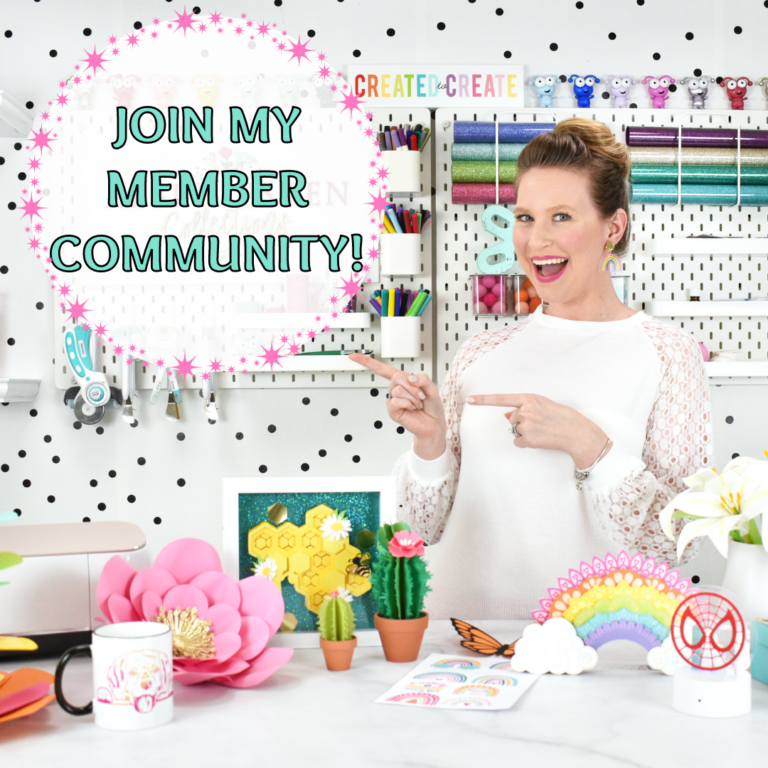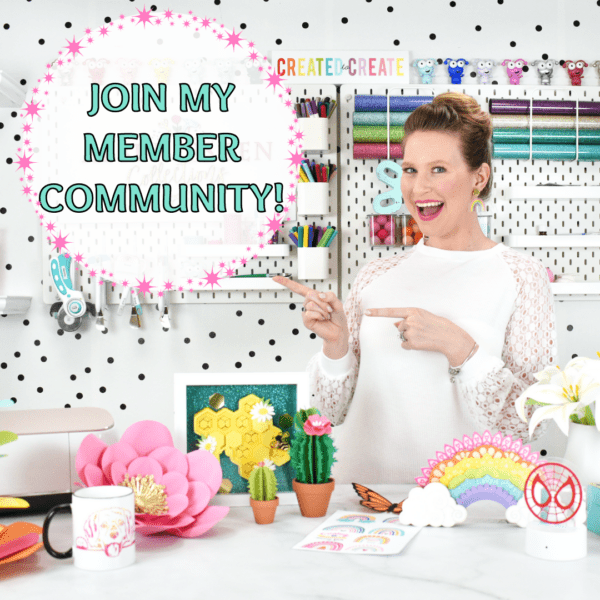 About Abbi Kirsten
Welcome to my colorful corner of the internet, where we play with vibrant crafts and unlock your creative magic! Hang out with me and get lost in a fun array of projects, tutorials, and products, from stunning papercraft ideas to flower templates, Cricut help for beginners, and endless crafter's hacks. 
Join the Member Vault and participate in my monthly Craft-Alongs in my Facebook group to access all the magic!