DIY Speech Bubble SVG Files for Notes with Dry Erase Cricut Vinyl
This post may contain affiliate links that won't change your price but will share some commission.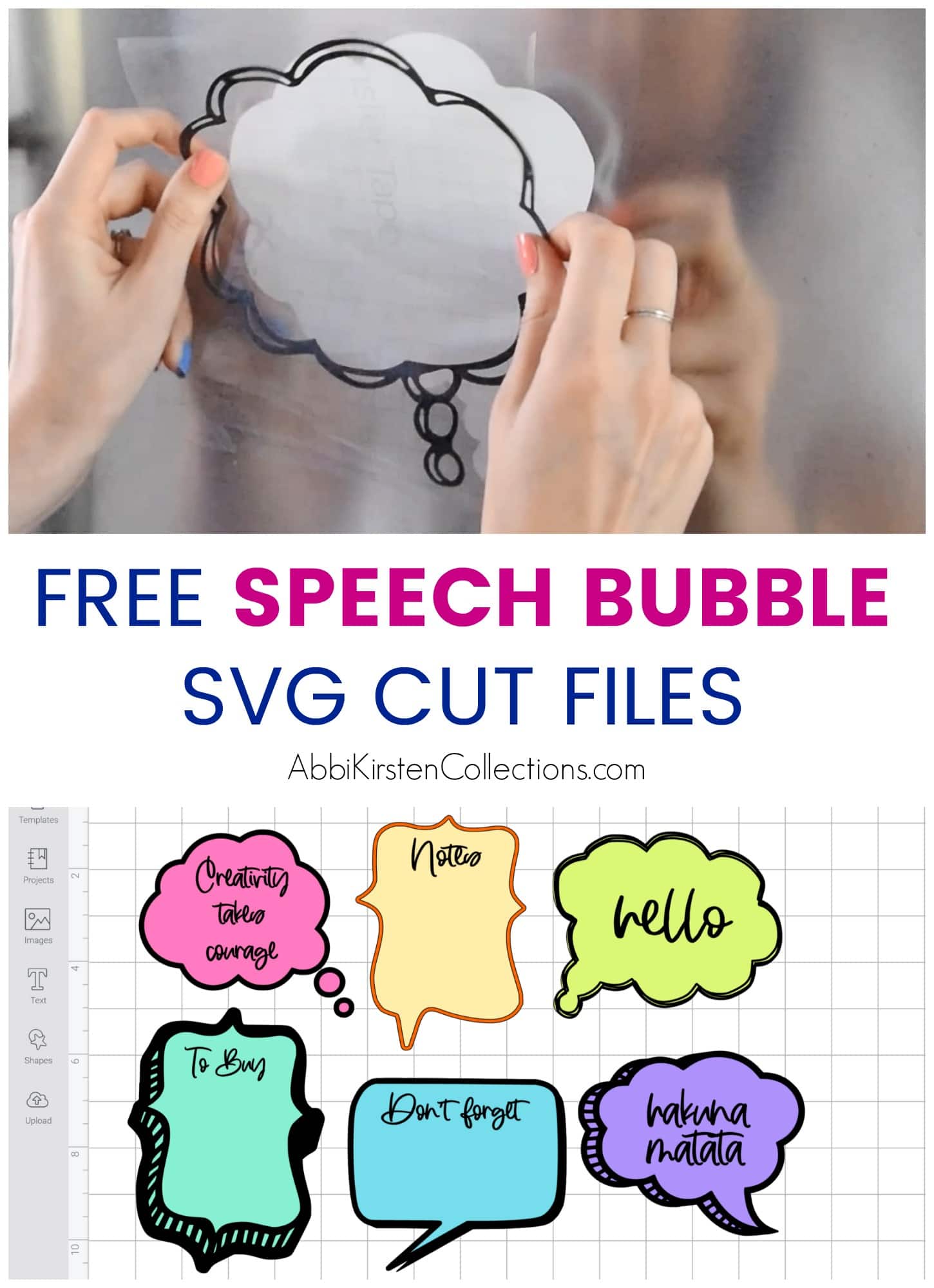 DIY Speech Bubbles with Free SVG Files
I don't know about you, but I always have a half dozen post it or pads of notes scattered around my kitchen at any one time. I decided to eliminate some of that clutter when I discovered Dry Erase Vinyl by Cricut that was included in one of their mystery boxes.
Since my refrigerator was quite bland because it is stainless steel, which does not work with magnets, I thought, why not decorate it with speech bubbles to use as note pads?! Below you can find the supplies I used for this fun project, and you can download these speech bubble SVG files for FREE!
If you are new to Cricut and feeling overwhelmed by it all, let me pause here to offer some advice:
All you need is the right Cricut tutorials for beginners.
Design Space is very easy to understand as long as you have some guidance and patience to learn the tools BEFORE jumping into a craft. Trust me, you will save yourself a big headache.
If you are new to Cricut or overwhelmed, please, please take the time to learn before you craft. I want to invite you to my FREE Cricut Freedom Workshop where you will Learn my 3 Key Secrets to Mastering Your Cricut Machine (WITHOUT TECH CONFUSION OR OVERWHELM).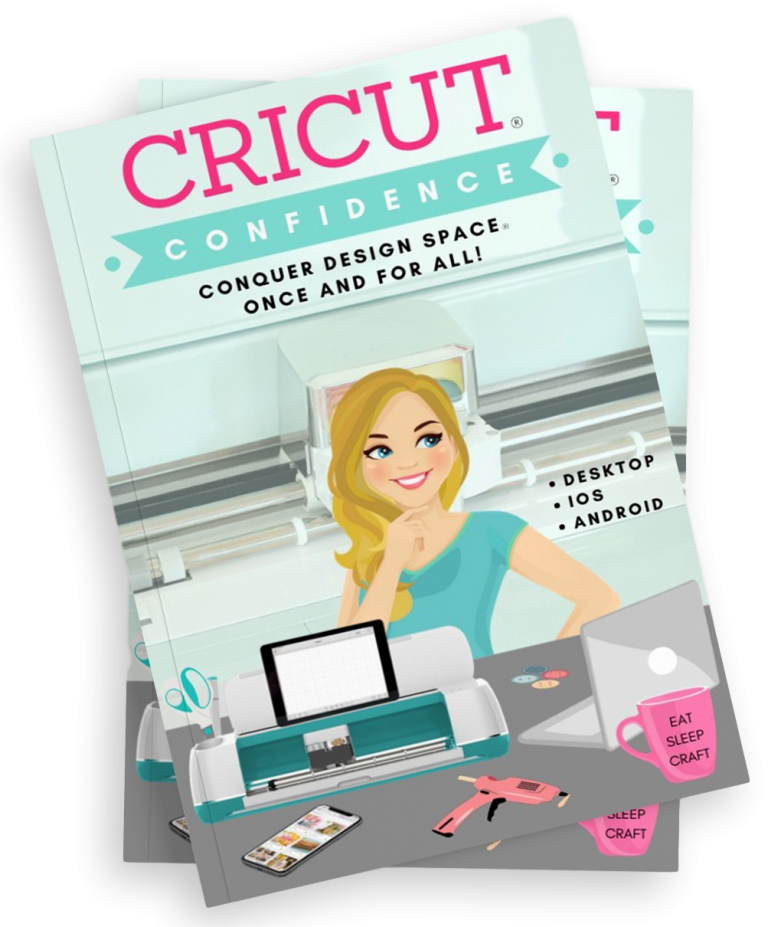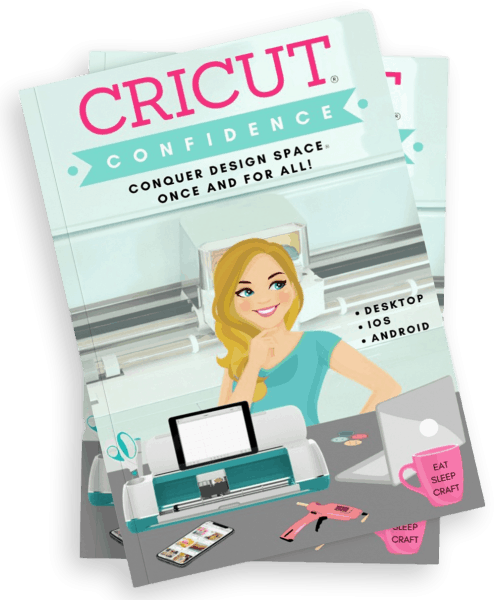 Additionally, I have created an ebook just for Design Space that can have you whizzing through projects like a pro in as little as a week!
Download the Cricut Confidence ebook and SVG bundle – A Step by Step Guide to Confidently Mastering ALL Design Space Functions on Desktop, iOS, and Android Devices! This book is stuffed with Cricut tutorials for beginners!
Okay, so back to the project! Here are the supplies you will need/want: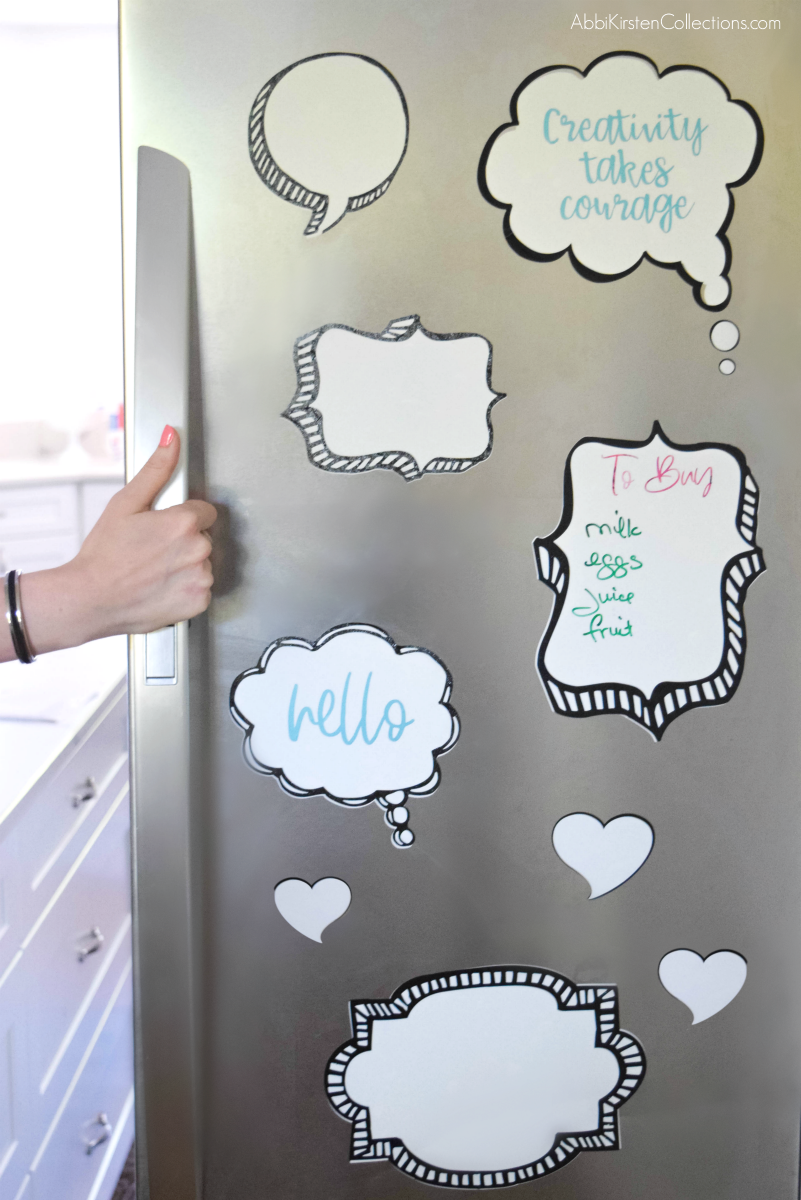 Supplies
Dry Erase Vinyl – I used Cricut brand.
A clean flat surface to place your design. Examples would include your frig, lockers, mirrors, windows, cabinets, and walls.
There isn't much to the instruction of this craft. Just upload the files into Design Space or any similar program, scale to your preferred size, and cut! Scroll down to learn how and download the files.
Below I have a short video tutorial on how I put mine together and added them to my refrigerator.
DIY Vinyl Speech Bubbles
Vinyl speech bubbles are just what you need for your stainless steel refrigerator! Clear up some clutter with these free SVG cut files.
Materials
Dry Erase Vinyl
Black vinyl or any other color
A clean flat surface to place your design.
Tools
Instructions
Step 1:
Upload the files into Design Space or similar program.
Step 2:
Scale to your preferred size.
Step 3:
Cut.
Step 4:
Display on a flat surface.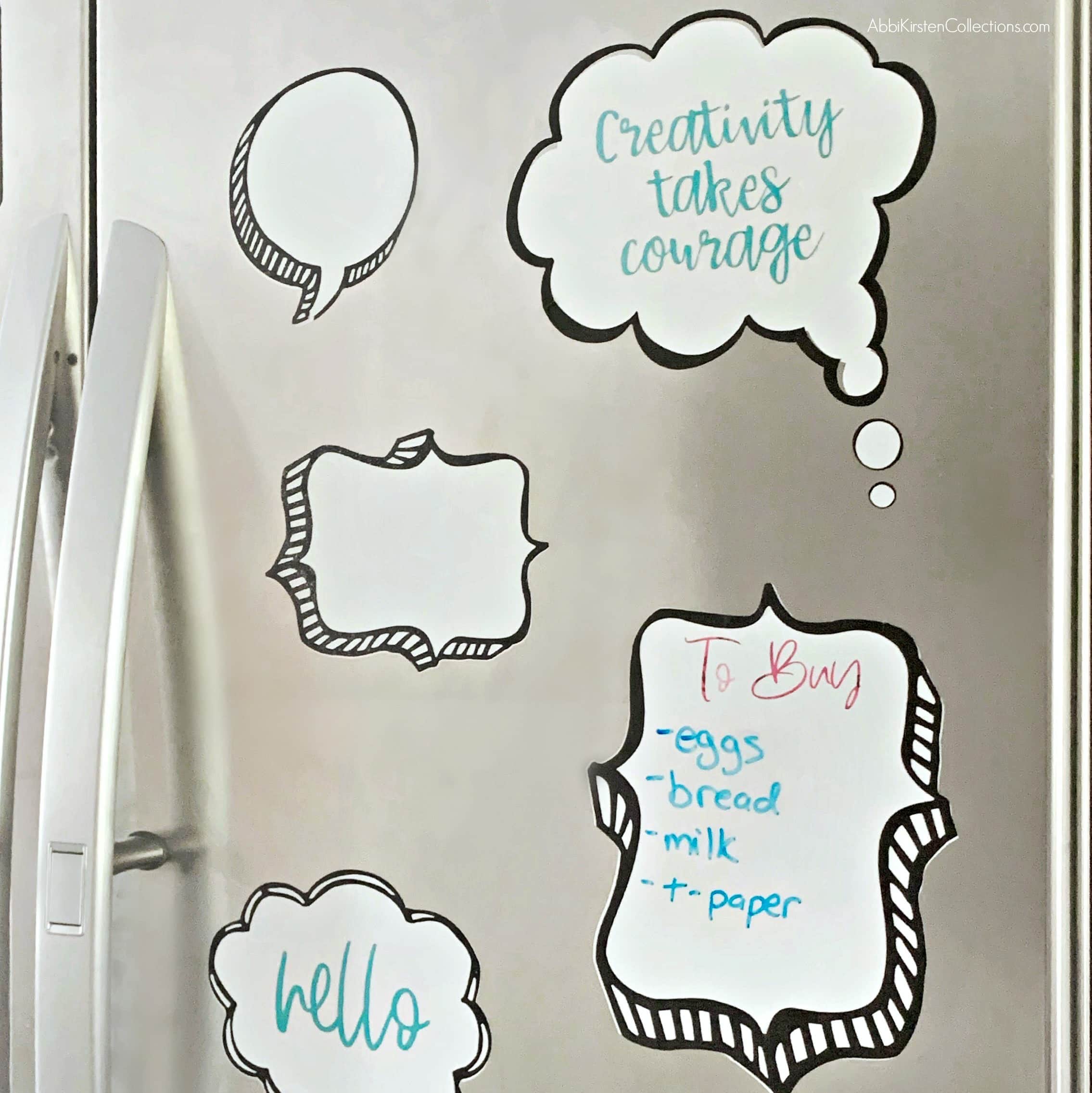 Whether you are looking to make a quick note before running out the door or want to leave a message to your sweetie before work, these speech bubble SVG files can be a practical and adorable addition around your home.
Where would you use these? Tell me in the comments, and download the free speech bubble SVG cut files below!
Download Your Free Speech Bubble SVG File
Download these free templates by signing up via the form below. If you are already a member, log in and find it by searching speech bubbles or design #110. Need help entering the vault? Read this helpful post.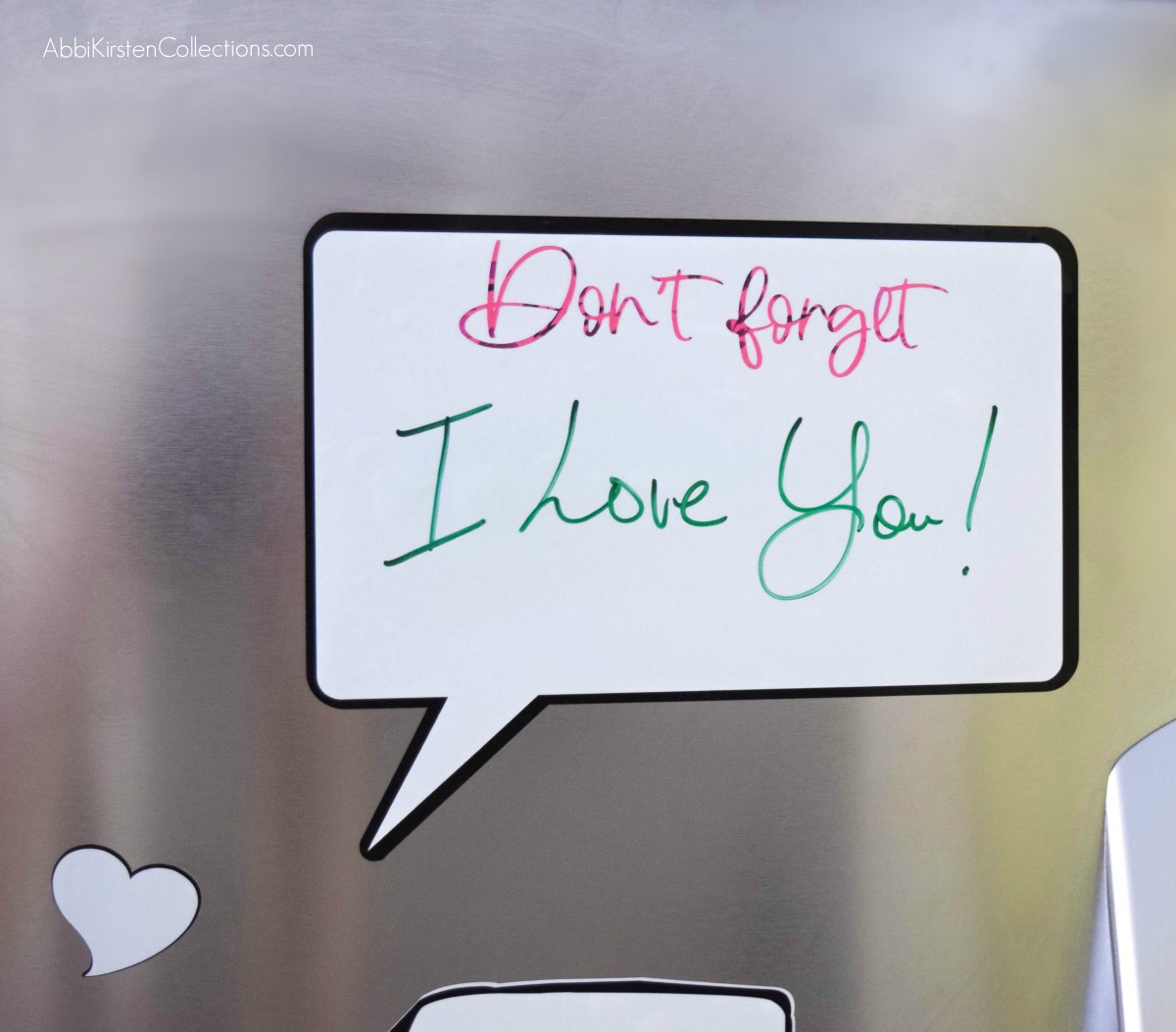 Latest and Greatest Craft Posts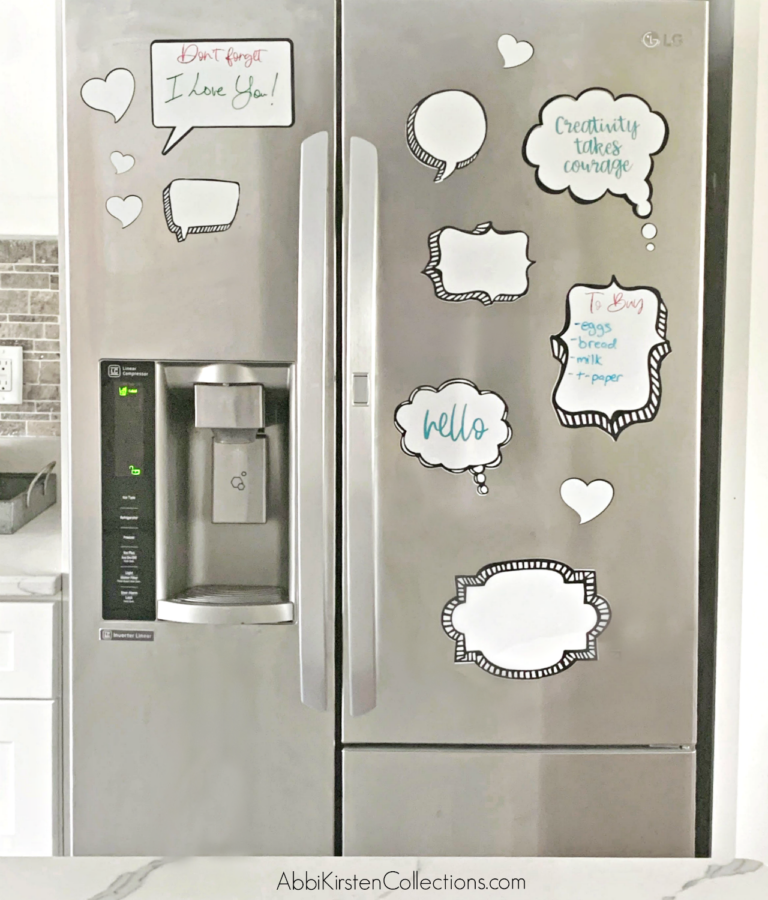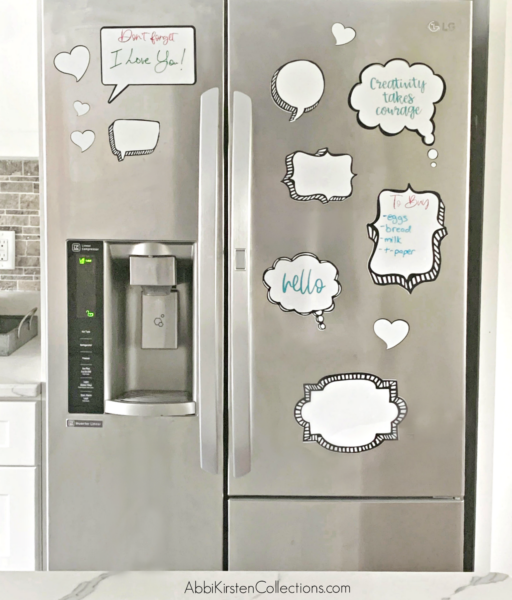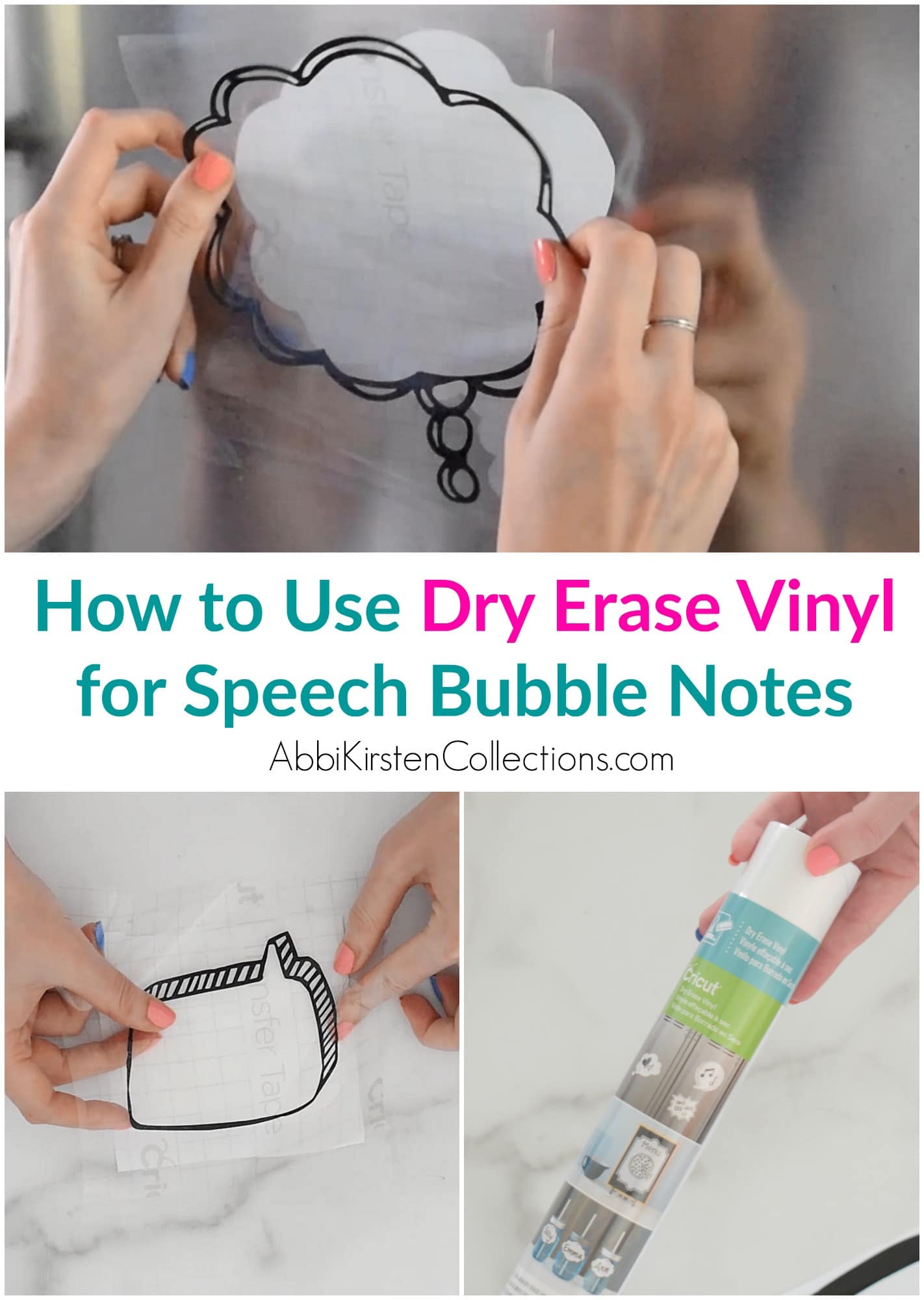 About Abbi Kirsten Collections
I have spent the last 9+ years building my creative skills and sharing them with others. My flower designs are created with simplicity, color, and crafty fun in mind. If you haven't yet, be sure to join the subscriber community to gain access to all my freebies or visit my signature design shop!
Want to join my Facebook community to share your crafts and learn from the best? Click here to request access to my group, Crafters and Cricut Lovers.
For further color crafts and inspiration, join me on Instagram & Facebook.