Giant Paper Sunflower Tutorial – Paper Flower SVG and PDF Printable Templates
This post may contain affiliate links that won't change your price but will share some commission.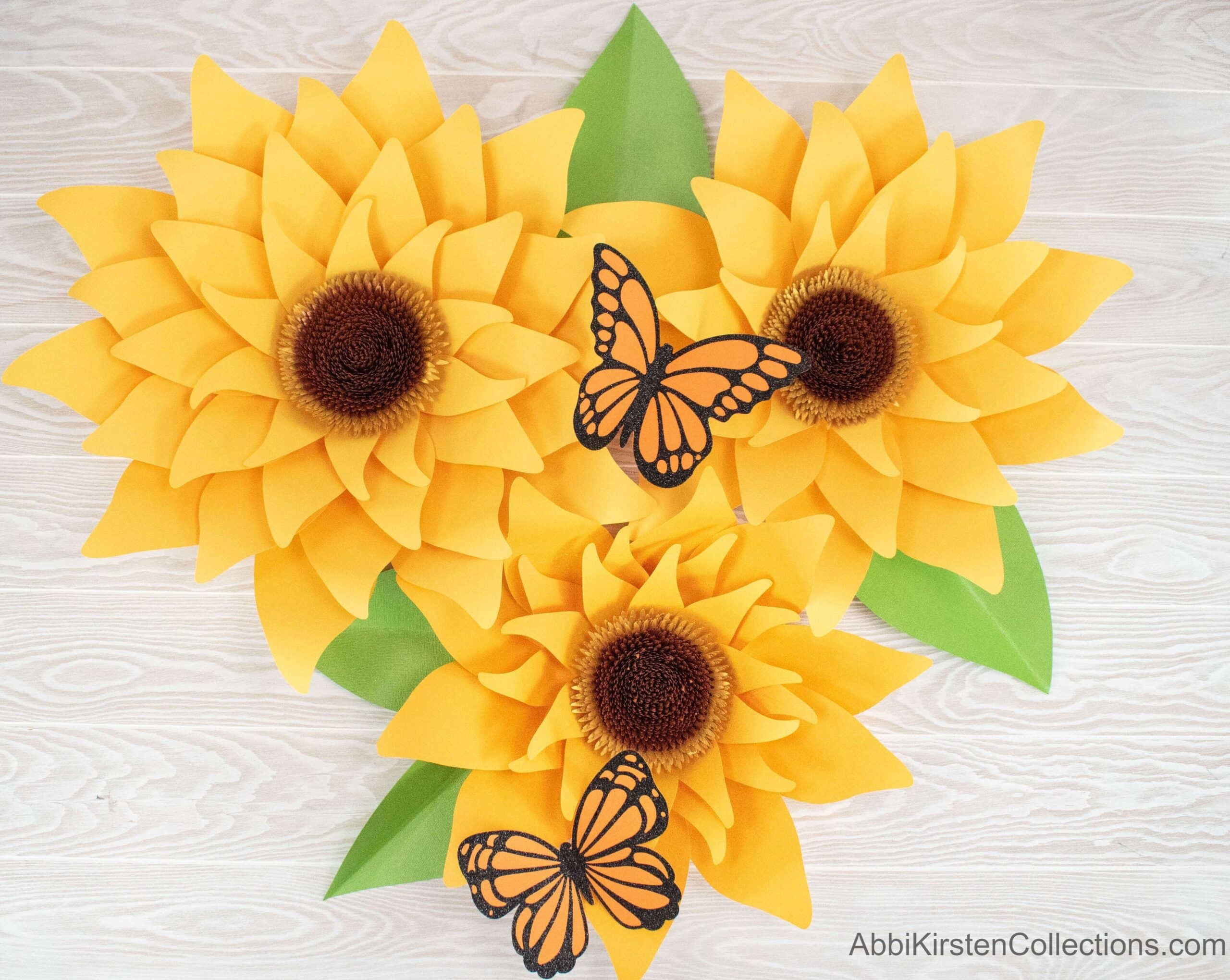 Paper Sunflower Tutorial: How to Make Classic Giant Paper Sunflowers
Sunflowers are one of the most beloved blooms! I captured a giant paper sunflower once, years ago with a rosette-inspired center. I decided it was time to reinvent the large sunflower with a new and improved center that was more true-to-life like a sunflower in nature!
If you love this giant paper sunflower, be sure to check out my small sunflower template design perfect for bouquets and arrangements!
This paper sunflower tutorial will make you feel bright and cheery in no time. Here are some fun ways you can use these big bright blooms or any giant paper flowers!
Craft room wall decor
Wedding/event backdrops
As a gift to a loved one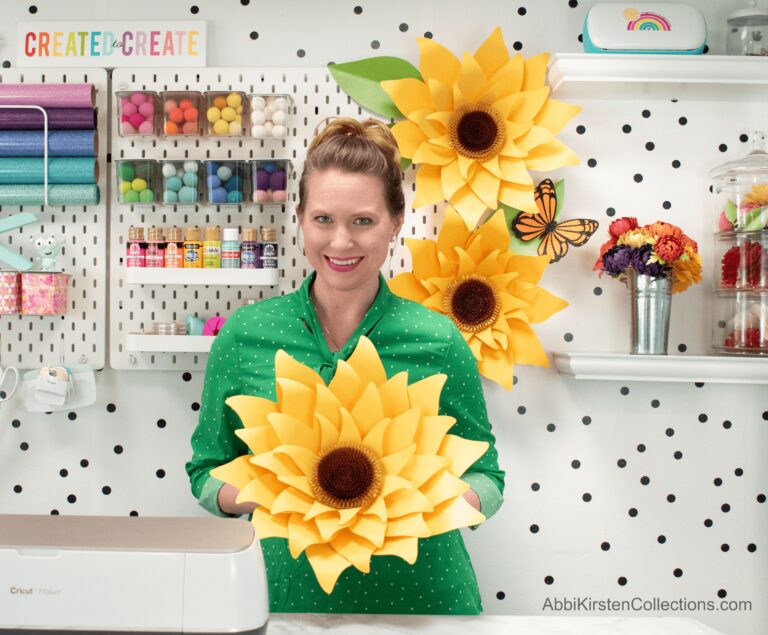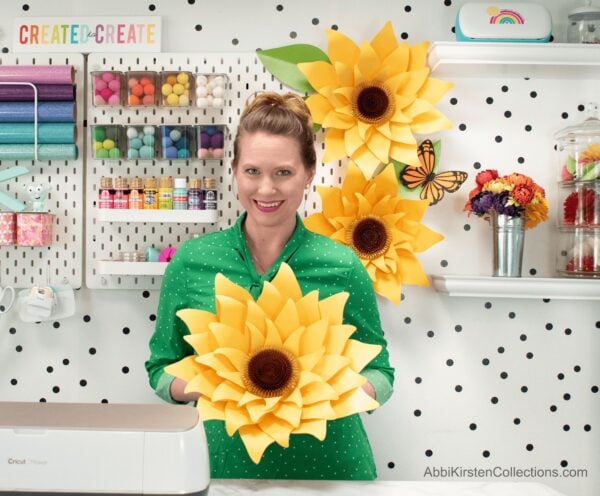 Here are the supplies you will need/want to create these giant paper sunflowers!
Supplies for Giant Paper Sunflowers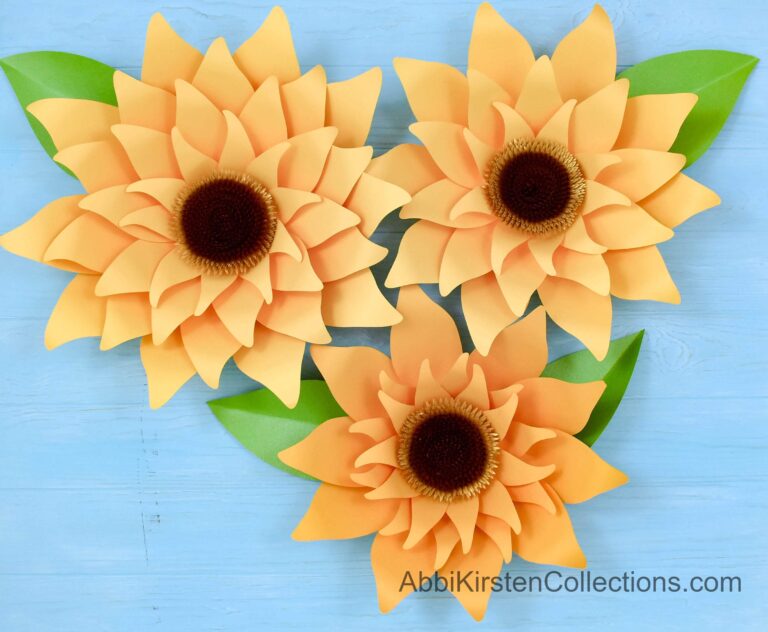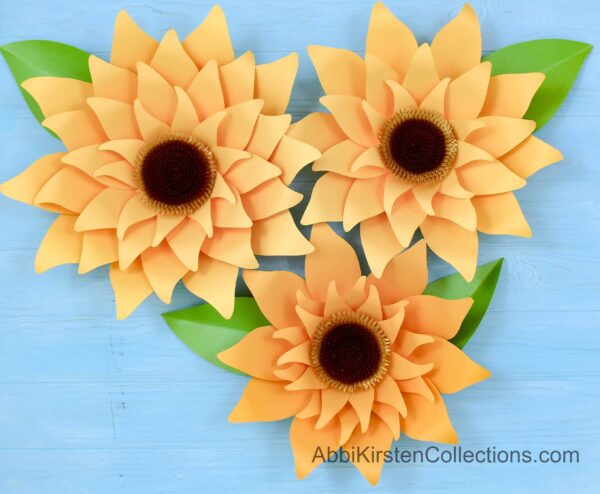 Cutting Machine Users
For those of you using a Cricut machine or similar cutting machine, the templates are pre-sized for you. If you are new to Cricut, check out this post on how to upload SVG cut files!
Cutting by Hand
This sunflower template can absolutely be cut by hand with just scissors! The petals are very easy to cut out. Now for the center, I want to show you an alternative faster than trying to cut the PDF center printable.
Essentially the center is just a long fringe strip, so I recommend cutting 11 inches by 1.5-inch strips of paper and then using fringe scissors to add the same effect! Here's a photo of what this would look like!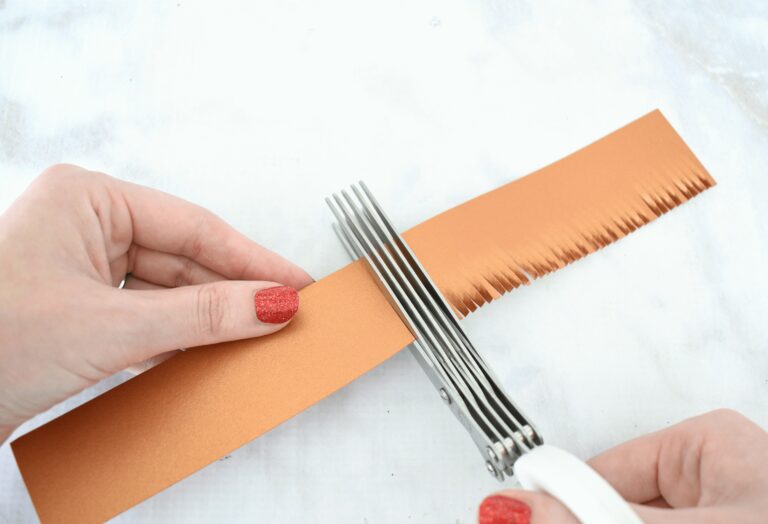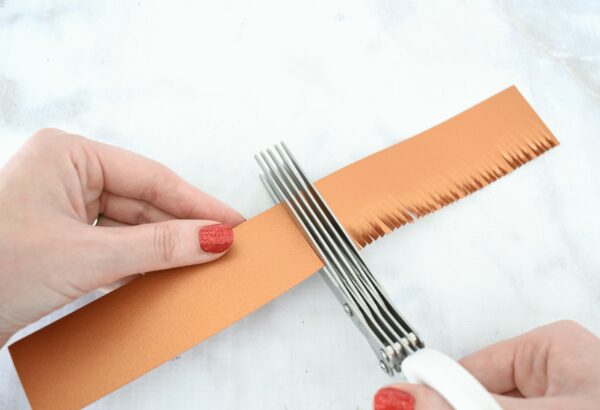 Cut out your petals
You will have 4 petal sizes for the sunflower petals plus the sunflower center pieces. To get started on your paper sunflower tutorial cut the following number of petals/fringe pieces out.
XL sunflower petals – 10
Large sunflower petals – 10
Medium sunflower petals – 10
Small sunflower petals – 10
Fringe center pieces- 25-30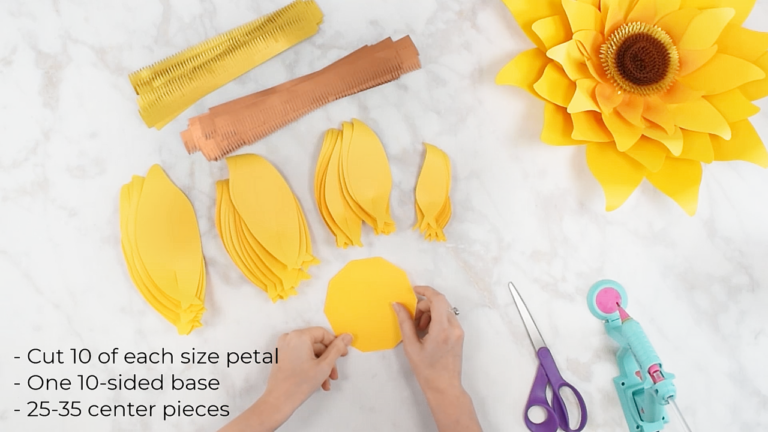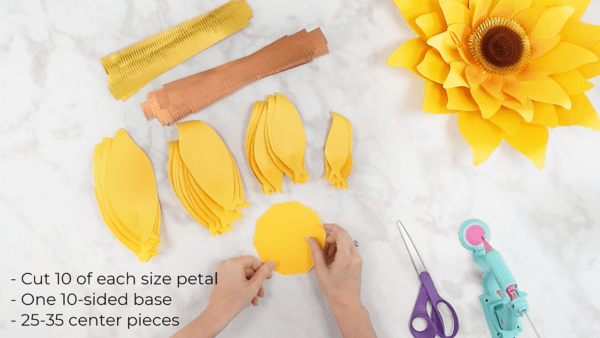 Assembling Your Giant Paper Sunflowers
Next begins assembly for your paper flower! Follow the steps below for written instructions or scroll down to watch the full video tutorial.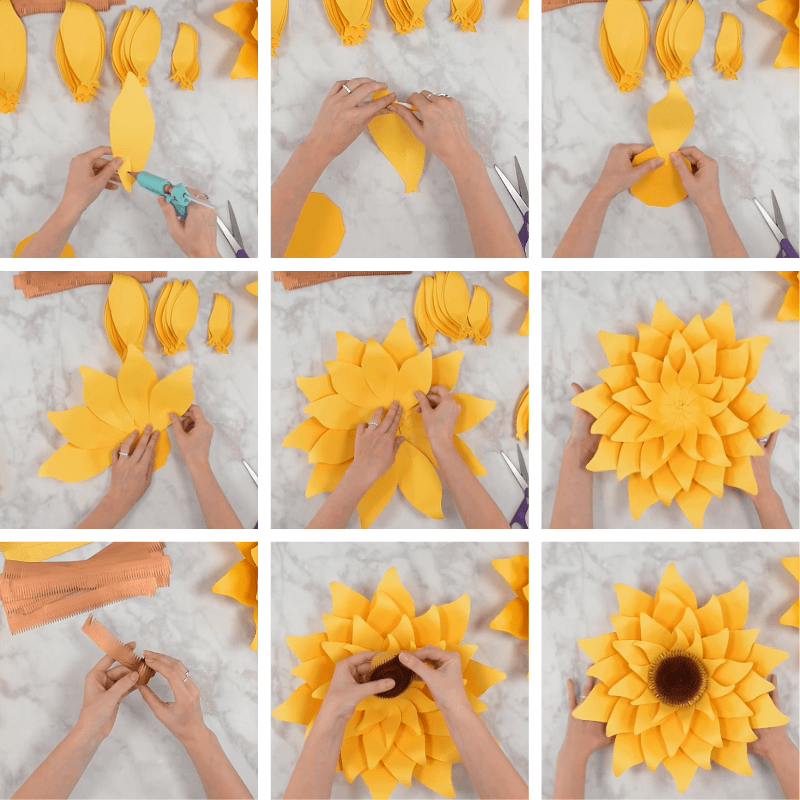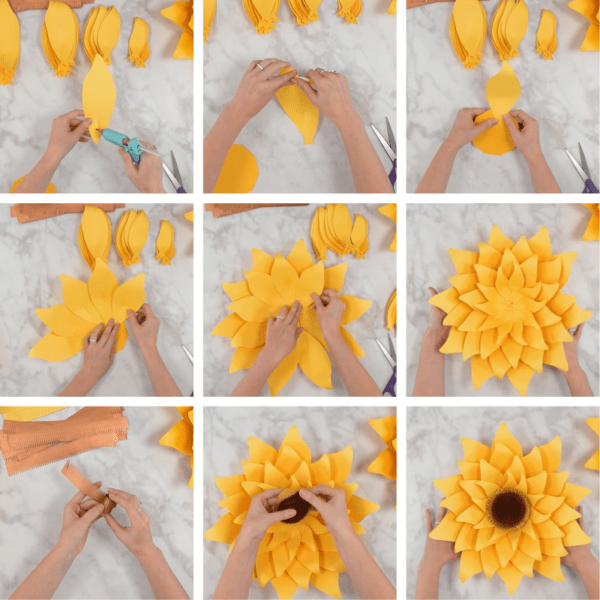 Once you have the petals cut out, you will need cut 1.5-2 inch slits at the bottom center of each petal and slightly overlap each one.
Next, curl the petal backward using the thin wood dowel or a pencil. I prep all my petals the same way. You can vary the direction you curl the petals for a more natural sunflower look.
Starting with the XL petals place one petal on each side of the 10-sided base. When you get to the last petal tuck the final side under the starting petal for a seamless look.
Continue you with your large petals adding each one in between the XL petals which is known as alternating your petals. Again, tuck the final petal under the beginning large petal for a seamless look.
Repeat step 4 until you have used all the petals through extra small to complete the giant paper sunflower.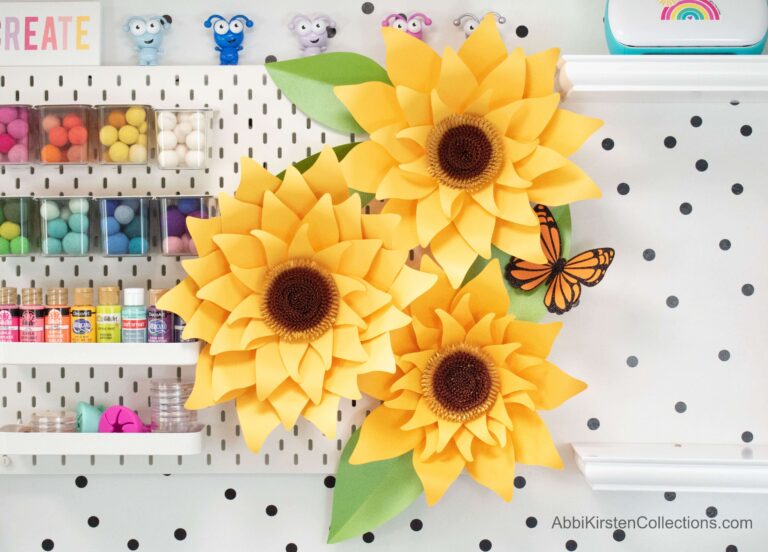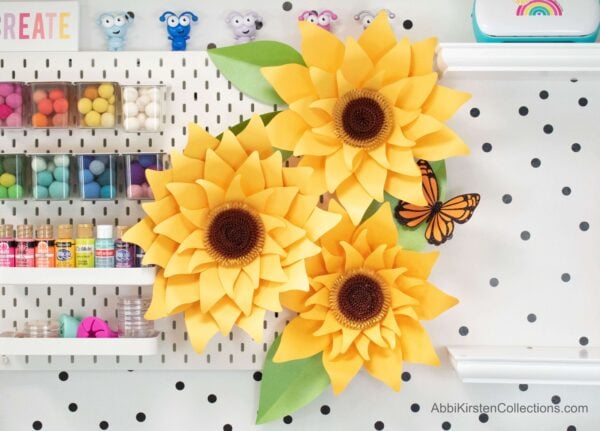 Making Your Giant Paper Sunflower Center
Cut out your fringe template on a Cricut machine. If you do not own a cutting machine then use fringe scissors as shown above.
Begin rolling the fringe center pieces like you would be rolling up a cinnamon roll. Repeat until you have added all 30 pieces for a full center for you giant paper sunflower.
Use your thumb to fluff and fan out the center. Then complete your large sunflower by gluing in the center!
To see the full assembly process click here to watch the video or scroll down and hit play! If you have questions after watching the video leave me a comment below!
Paper Sunflower Video Tutorial
I loved creating these giant paper sunflowers. Whatcha think? How would you use this paper sunflower tutorial? Tell me below!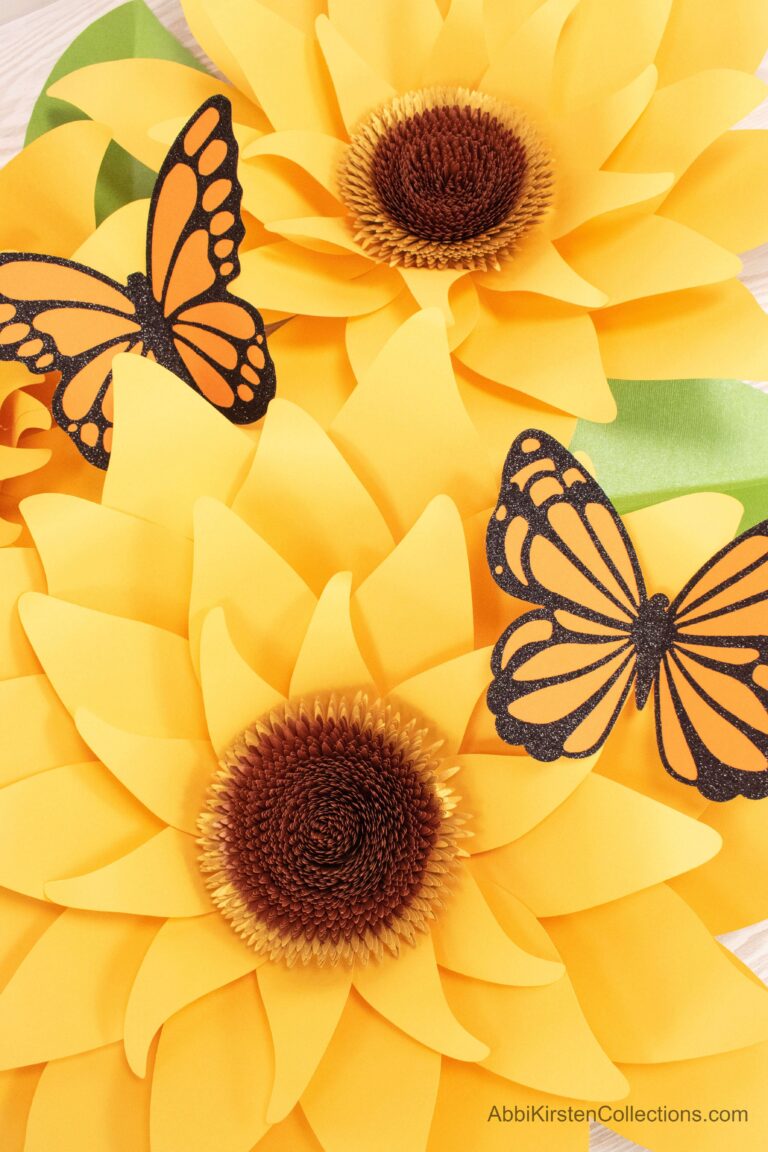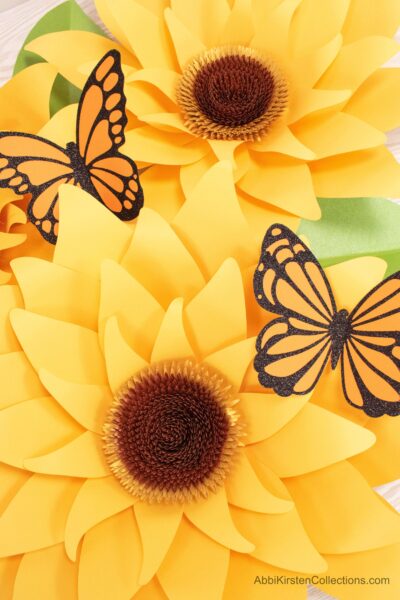 Looking for Paper Butterflies?!
I have created several butterfly templates plus an amazing tutorial on how to add iron-on glitter vinyl to dress them up! Find the butterfly templates and tutorial here!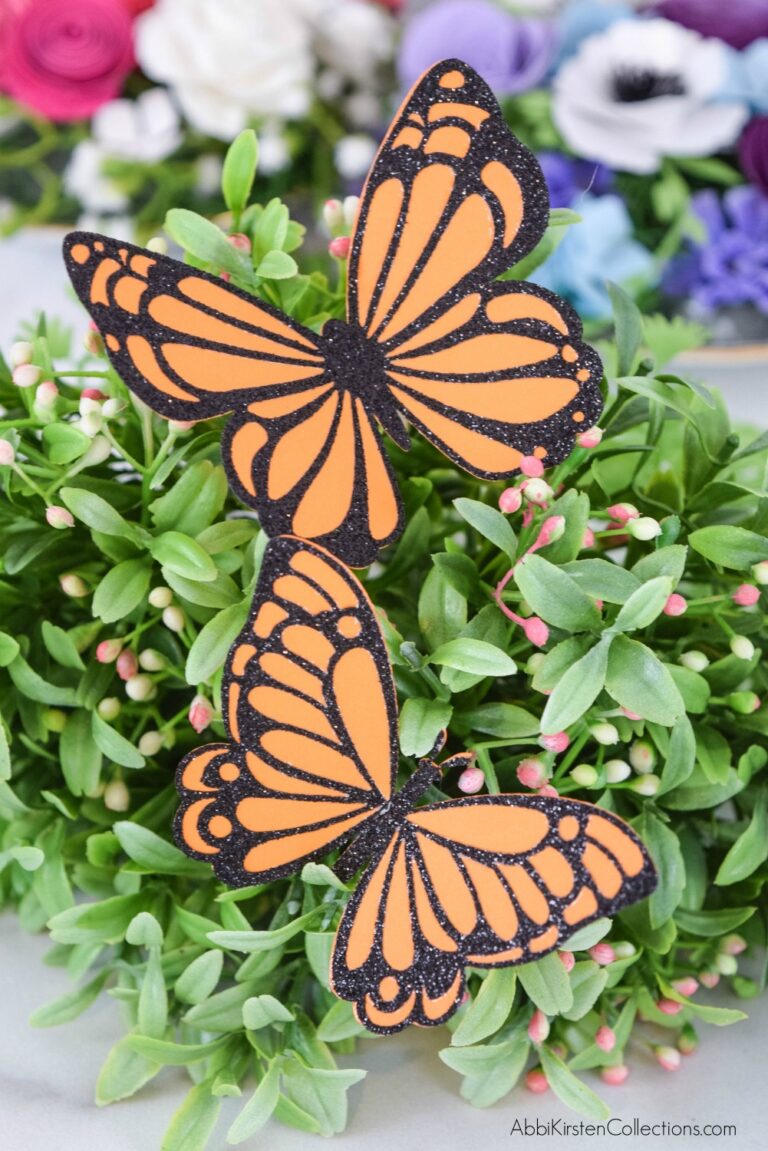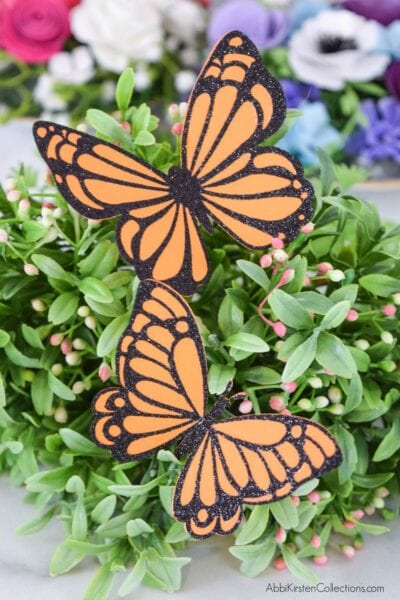 How To Make Giant Paper Sunflowers
Learn how to make these bright and cheery giant paper sunflowers that will bring some sunshine to any room.
Materials
Instructions
Step 1: Cut out the petals.
There are four petal sizes for the giant paper sunflower template in addition to the center part designs. Cut out the following petals:
XL sunflower petals – 10
Large sunflower petals – 10
Medium sunflower petals – 10
Small sunflower petals – 10
Fringe center parts- 25-30
Step 2: Cut slits.
Cut small 1.5" to 2" slits at the bottom of each petal.
Step 3: Shape the petals.
Curl the petals backward using the wood dowel or a pencil.
Step 4: Assemble the sunflower.
Glue the XL petals on each side of the 10-sided base. Tuck the last petal's side under the starting petals facing side.
Glue the large petals around the base above and between the XL petal layers.
Repeat with each descending paper petal size.
Step 5: Make the giant paper sunflower center.
Cut out the center piece using a Cricut cutting machine or fringe scissors.
Roll the center pieces from one end to the other.
Repeat with all 30 pieces.
Using your thumb, fluff and fan out the center.
Glue the center to the center of the sunflower.
Enjoy your beautiful bright bloom!
Hey, Crafty bestie! I'm Abbi!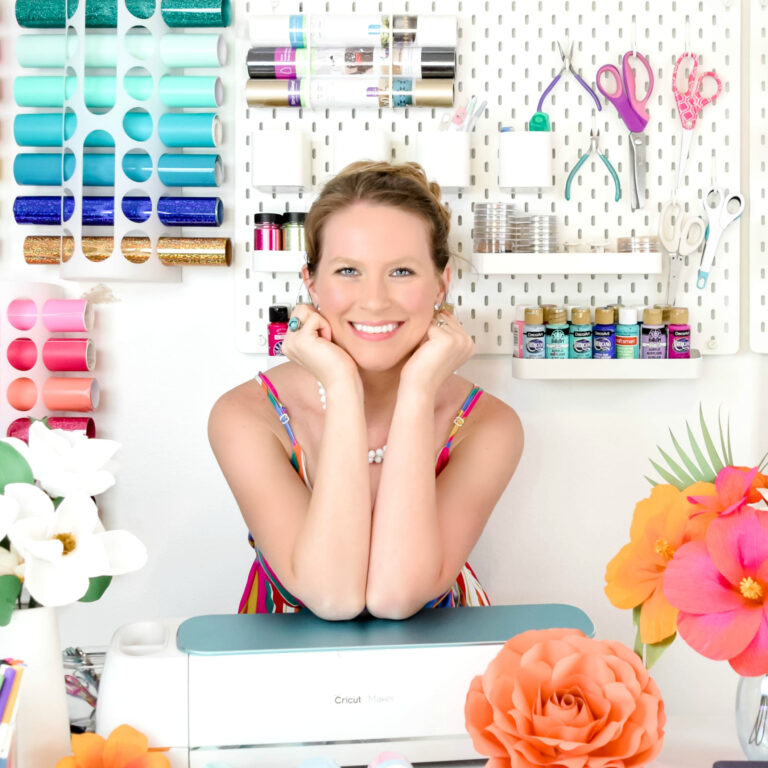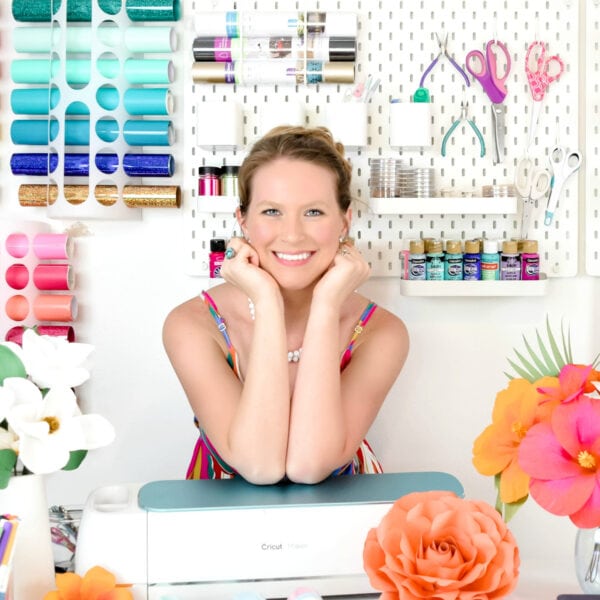 I'm thrilled you are here! I have spent the last 10+ years making messes and magic in my home studio to make the world a more colorful place, one craft at a time! I'm on a mission to nurture the creative magic inside your soul and bring that bursting imagination inside you to life with easy-to-learn tutorials. If you haven't yet, be sure to join the subscriber community to gain access to all my freebies or visit my signature design shop, Catching Colorflies!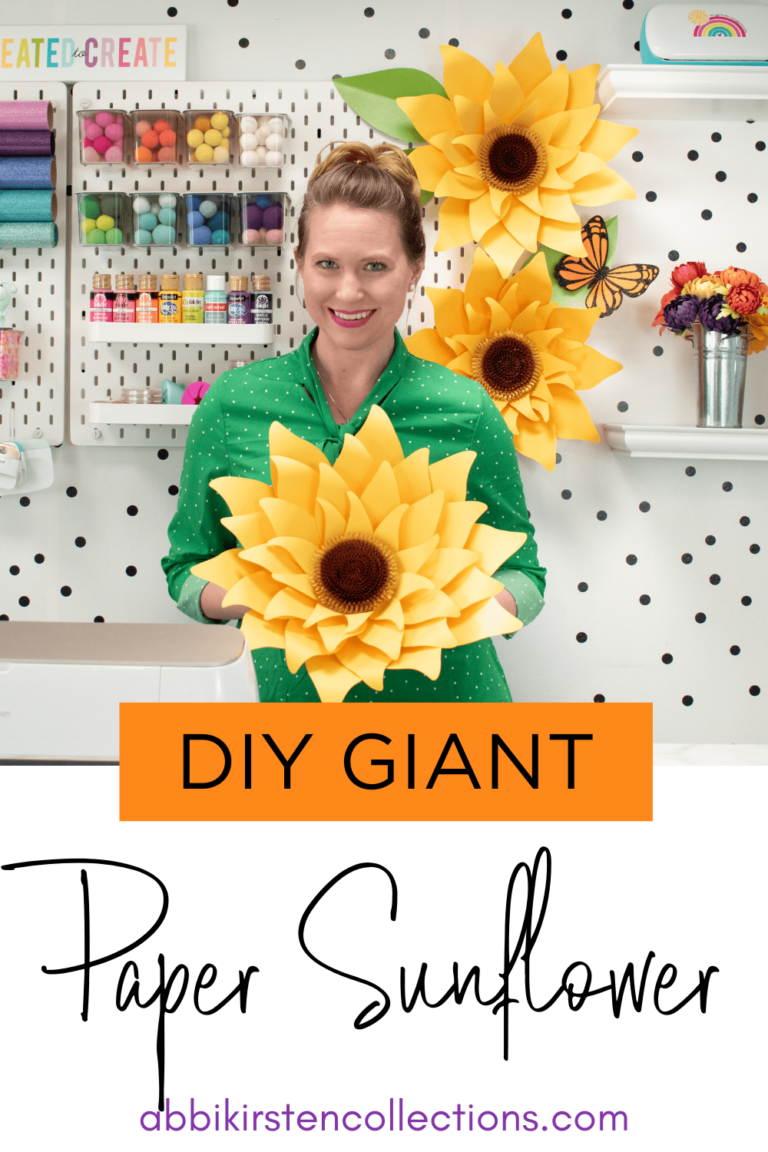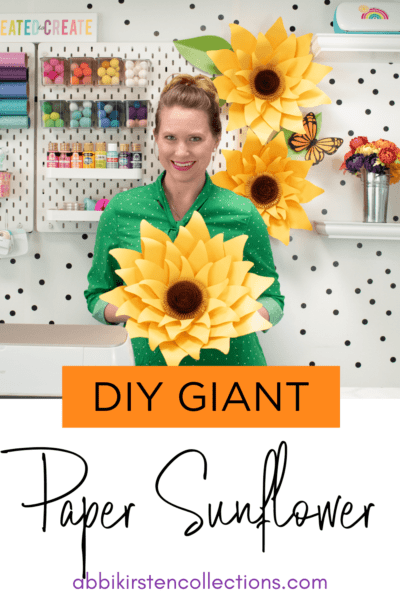 Did you enjoy this tutorial?! Please share this post!