How to Make Pop-up Flower Cards with Free Templates and Tutorial
This post may contain affiliate links that won't change your price but will share some commission.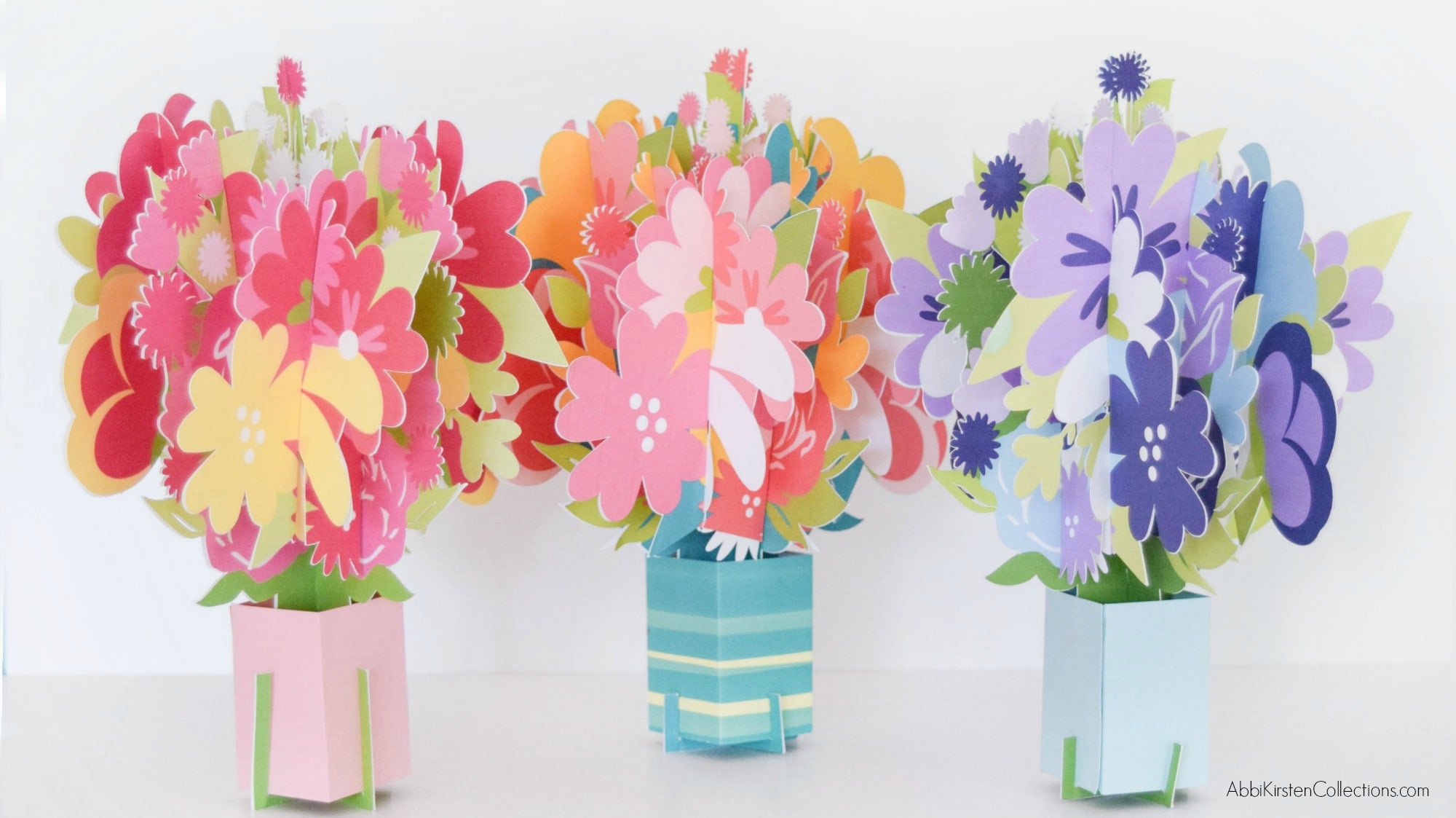 Recently, I discovered some beautiful "hallmark-like" pop-up flower bouquet cards online. I absolutely loved the look of them but as a crafter, my thoughts had me scheming how to DIY the project – just like I did last month with my new Floating Teacup Tutorial!
I received tons of requests inside my Facebook group for me to design a similar concept that could be handmade. Nine failed prototypes later, I finally came up with a design that worked.
In today's tutorial, I will teach you how to make these pop-up flower cards. These pop-up flower cards are perfect for Mother's Day or any occasion! While these cards are probably too advanced for a child I have lots of other kid-friendly inspiration for you here!
Sure, these pop-up cards may look less "perfect" than the store-bought ones, given I am not computer or machine manufacturing them. However, I still am happy with the results and I think you will be too! To say you were able to put the love into the handmade process of this type of card is quite an accomplishment!
While it is recommended to use your Cricut machine to craft this pop-up flower card you can print the PNG images and cut them with a pair of scissors too. New to Cricut? Read the most frequently asked questions and answers here!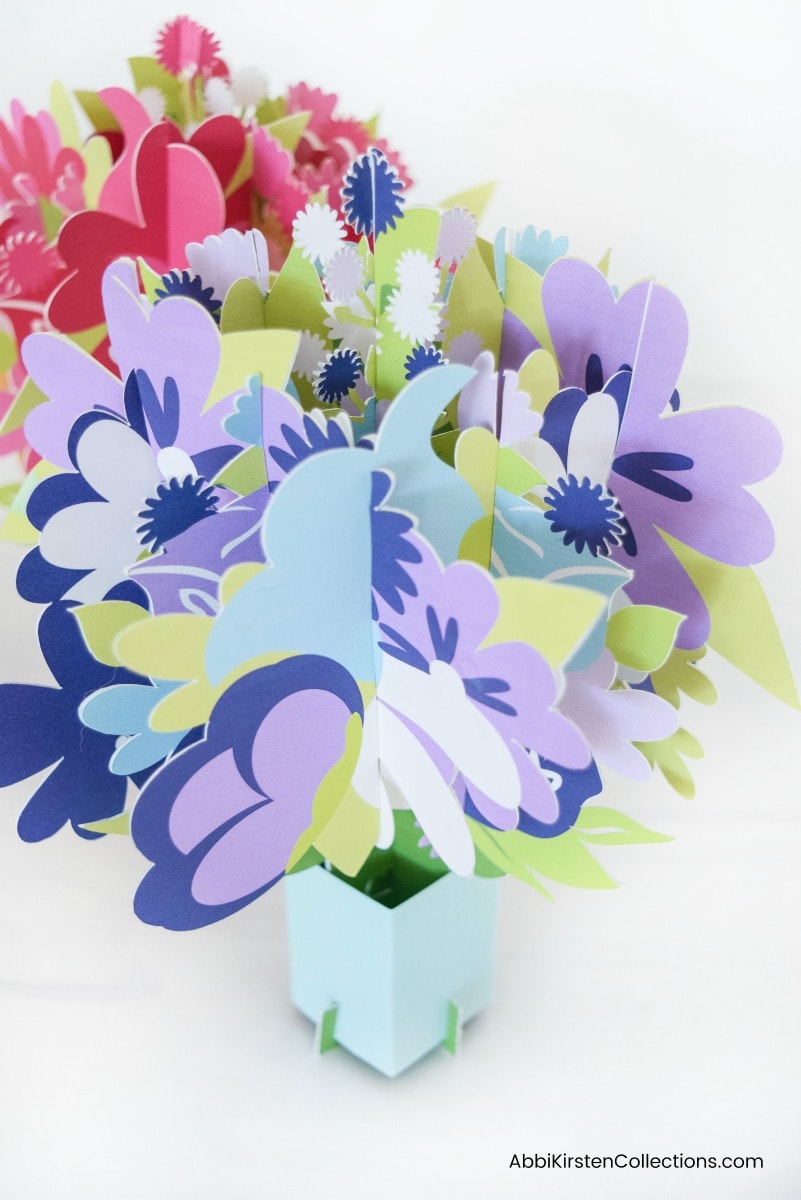 The best part is these templates are completely free for a limited time! Be sure to download them inside my Freebie Vault below.
Download the Free Pop-up Flower Card Templates
Download my free pop-up papercraft card templates by joining my community of 250,000+ other crafty besties! Find the templates inside my Freebie Vault. Sign up below or log into your account. Search Pop-up Card or Design #83 to find it!
Supplies
If you are new to Cricut let me encourage you to visit this post on uploading files. Additionally, downloading my Cricut Confidence ebook will also give you all the help you need to conquer your design space questions once and for all!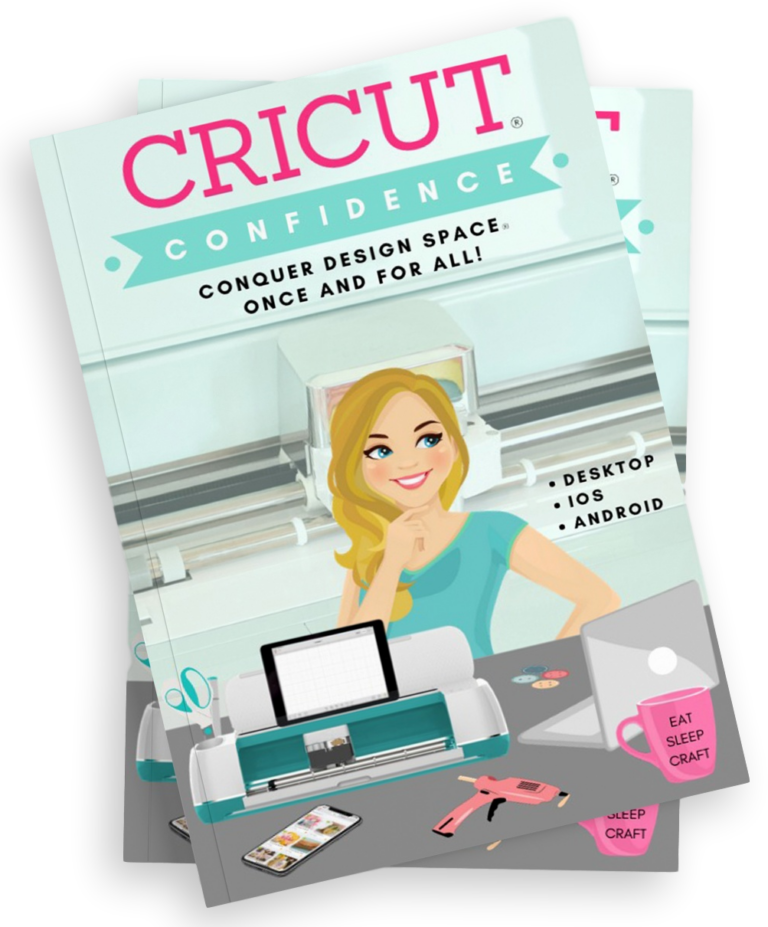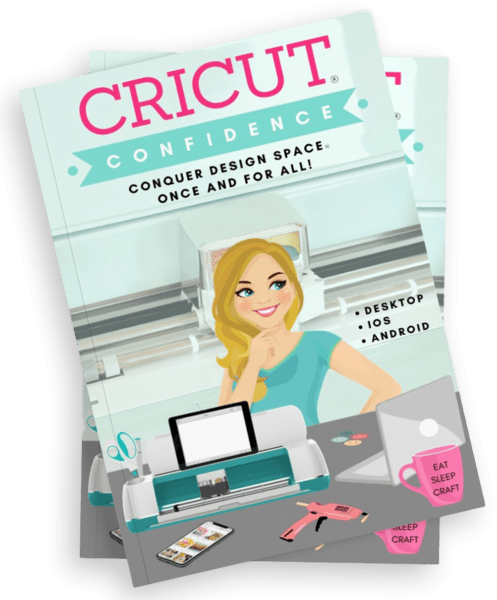 Not Loving Your Cricut Yet?
Does Design Space Tech Have You Confused? Overwhelmed? Let's Change That!
Introducing Cricut Confidence!
Easy to Understand Step-by-Step Lessons for Cricut Design Space Software. No more wondering what Weld, Attach, Flatten, Contour, this tool or that tool means. Finally, kick your confusion to the curb forever!
How to Make Pop Up Flower Cards – Cricut Design Space Tips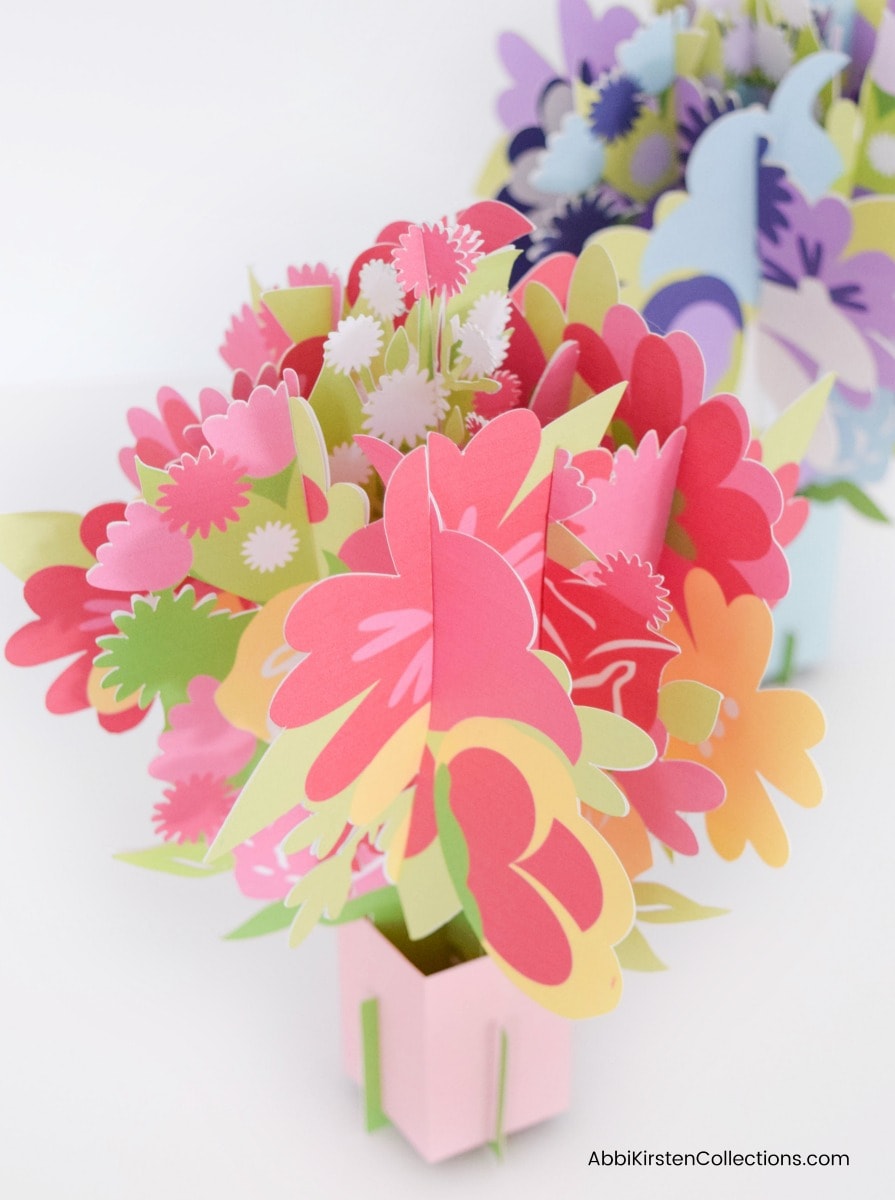 Importing the PNG images to Cricut Design Space will be the first step (there are PDF printables included for those who wish to cut by hand – I recommend having an Exacto knife on hand as well and detail scissors)
Because we are working with PNG images here the sizes may need to be adjusted. Follow these measurements to ensure your success and watch the opening of the video here to see how to set everything up and why we need to mirror the pieces.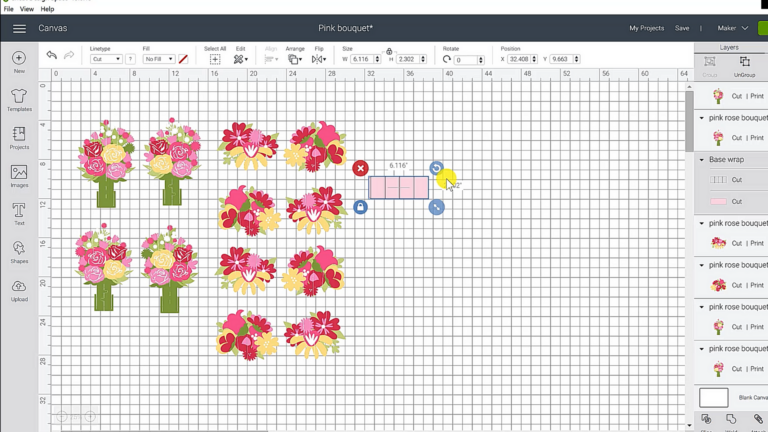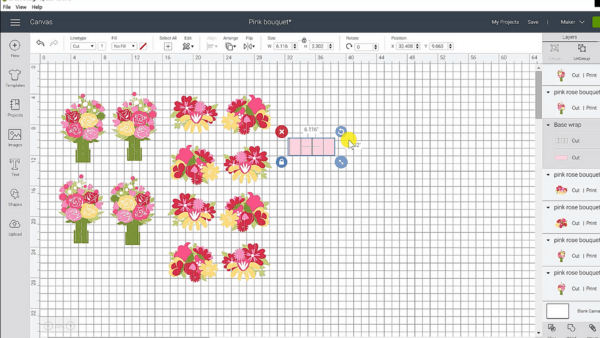 Cricut Measurements
One Bouquet Centerpiece 1 (mirrored 1x)- 6.062 W x 9.029 H inches
One Bouquet Centerpiece 2 (mirrored 1x) – 6.062 W x 9.029 H inches
Two Bouquet piece 3 (mirrored 2x) – 6.478 W X 5.296 H inches
Two Bouquet piece 4 (mirrored 2x) – 6.433 W x 4.931 H inches
Base wrap – 6.116 W x 2.302 H inches
Be sure to change the black outlines on the base wrap to Score under Operation/Linetype in Design Space.
Once you have downloaded the templates watch the full step-by-step video tutorial or review the picture tutorial below to make these beautiful pop-up flower cards that Mom or any loved one will appreciate!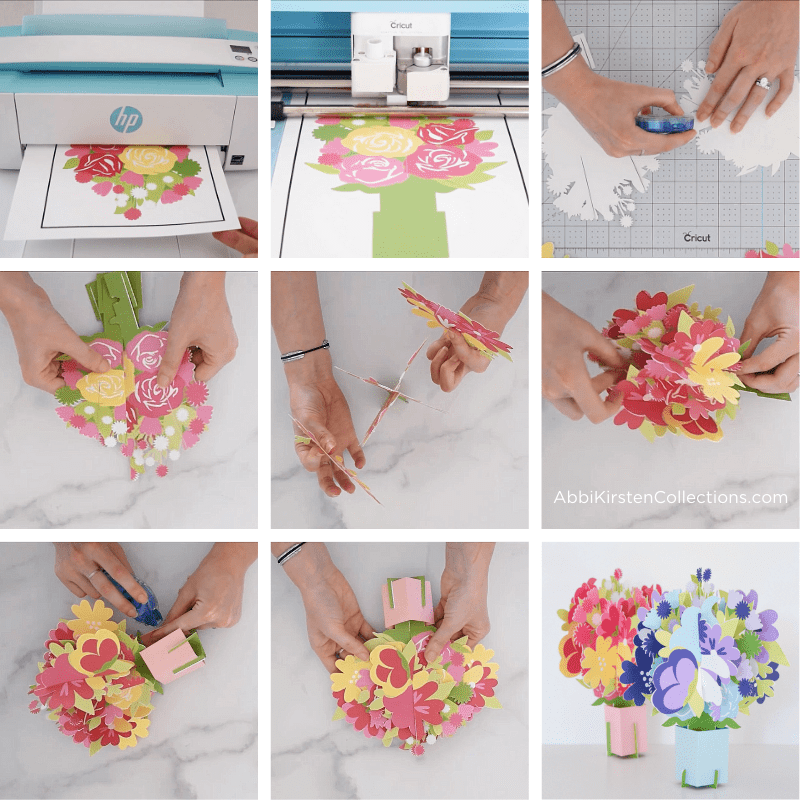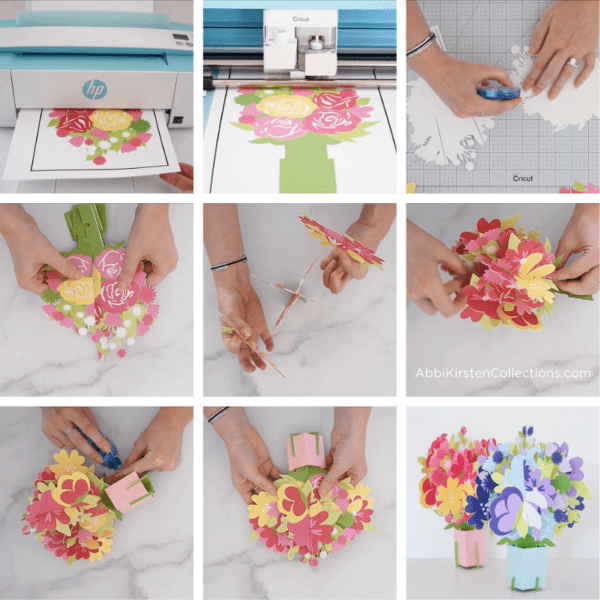 Download the free bouquet templates right here on Abbi Kirsten Collections, available above.
Print the free PNG images of the bouquets out through Cricut Design Space. Need help understanding Print Then Cut read more here. Make sure to mirror duplicates of each piece. View the video tutorial for full setup details.
Use scrapbook tape to tape the mirrored counterparts back to back with the color side visible. Repeat with all the pop-up flower card pieces.
Starting with the two largest center bouquet pieces slide them together.
Add on the next two largest flower prints on the sides.
Complete the floral details with the two small cut-outs sliding them over the outer edges.
In the templates, there is a rectangle that will fit around the base to help reinforce the base.
Practice collapsing and opening the pop-up flower bouquet card!
DIY Pop-up Flower Cards Video Tutorial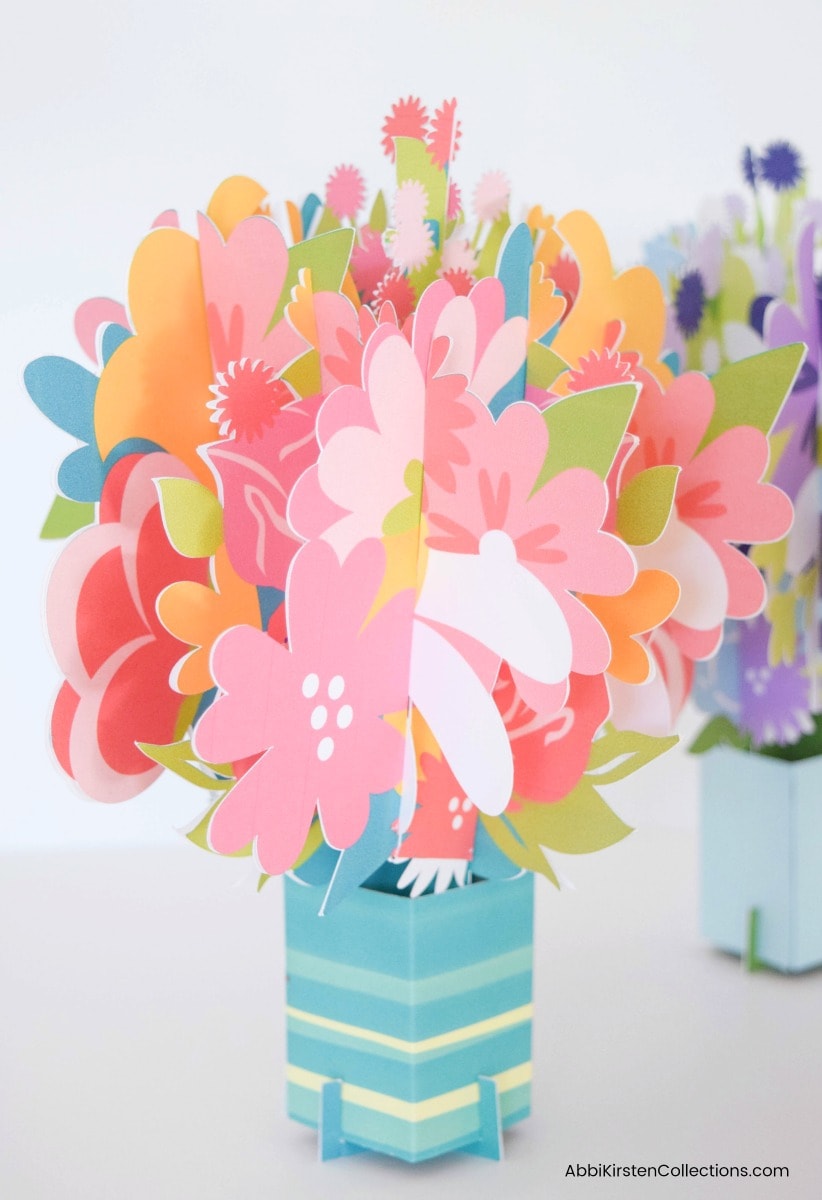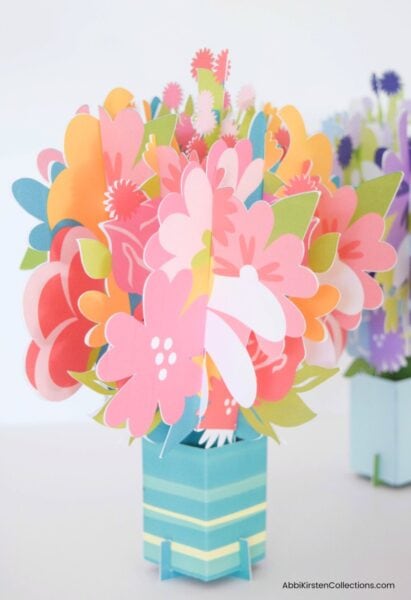 For more Mother's Day crafts try my Cascading Teacup with Paper Flowers or download my Mother's Day Printable Binder which makes gifts from the kids a snap – yup, I'm talking to you Dads!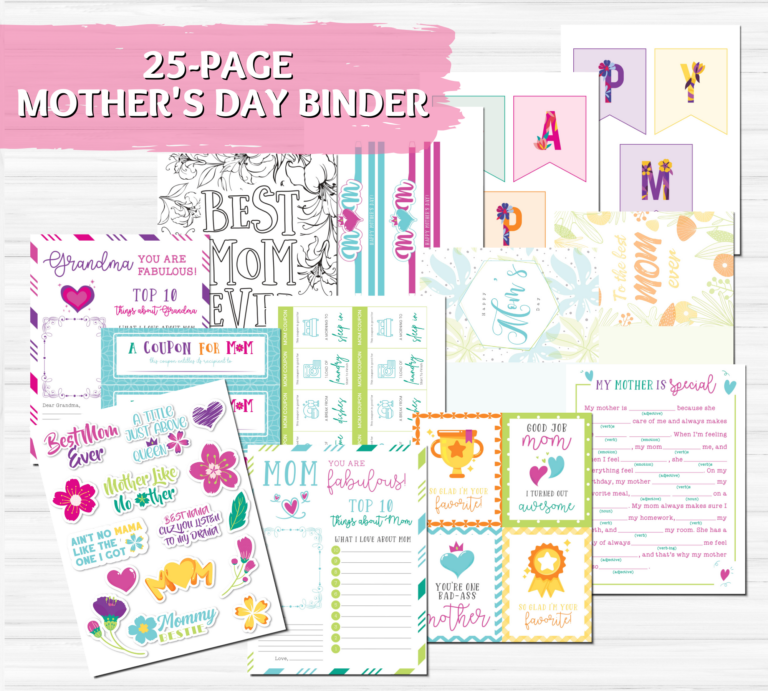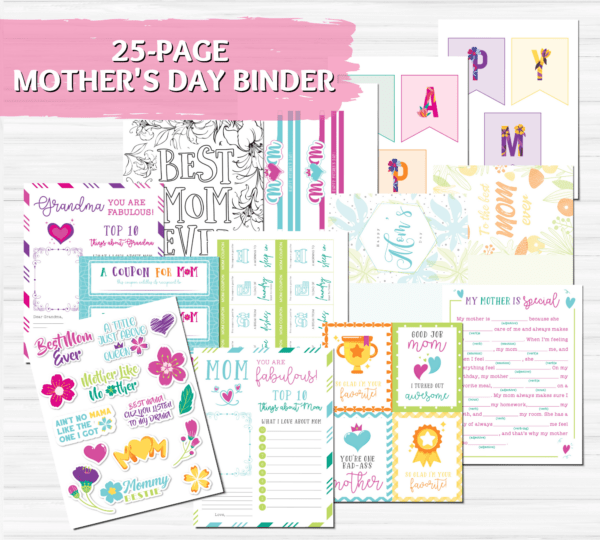 More Crafts and Tutorials to Love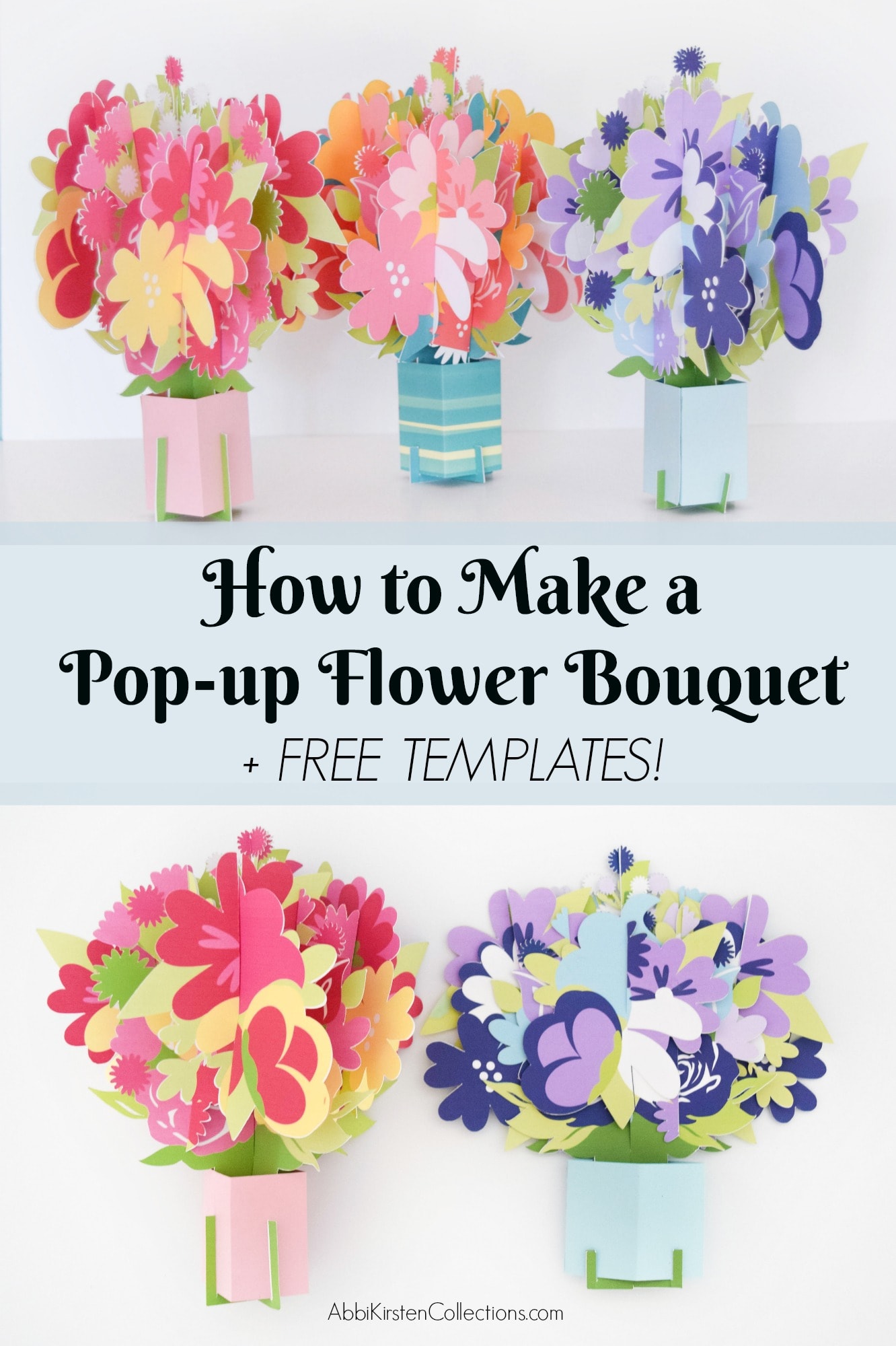 About Abbi Kirsten Collections
I have spent the last 9+ years building my creative skills and sharing them with others. My flower designs are created with simplicity, color, and crafty fun in mind. If you haven't yet, be sure to join the subscriber community to gain access to all my freebies or visit my signature design shop here!
Want to join my Facebook community to share your crafts and learn from the best? Click here to request access to my group, Crafters and Cricut Lovers.
For further color crafts and inspiration, join me on Instagram & Facebook.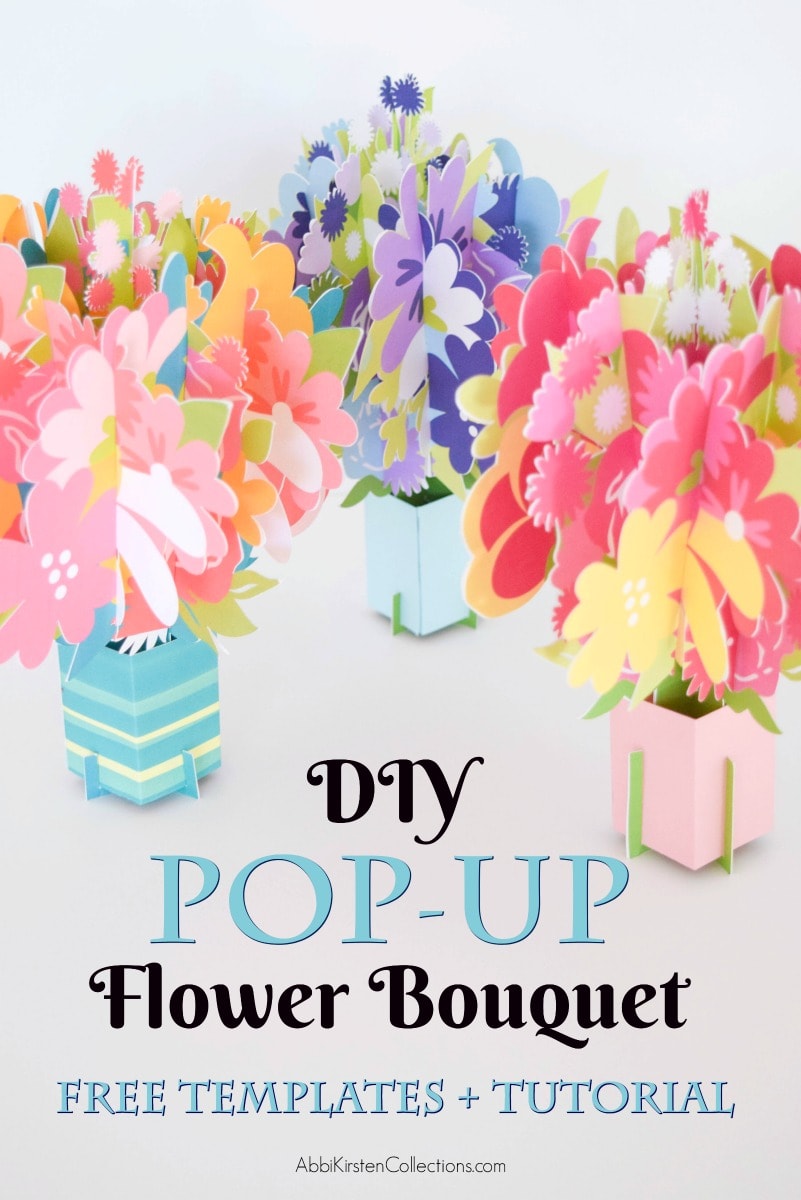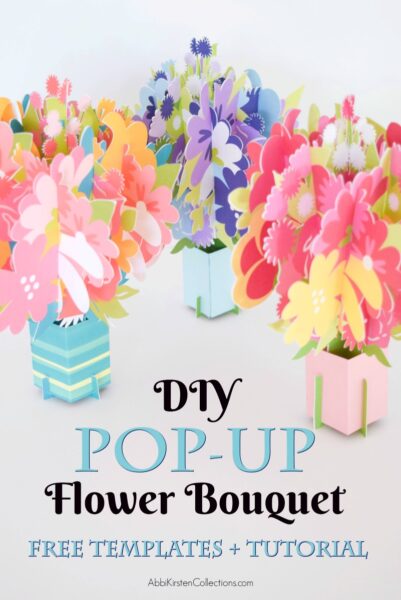 Hey, Crafty bestie! I'm Abbi!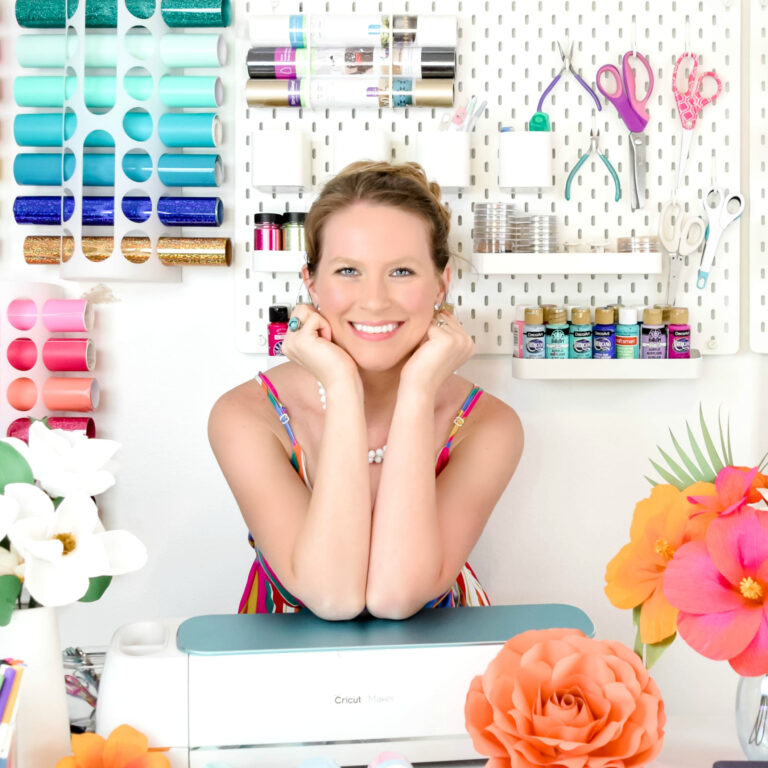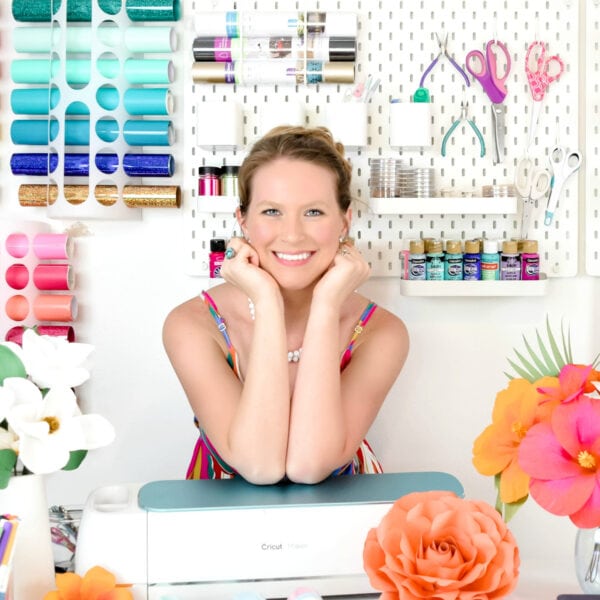 I'm thrilled you are here! I have spent the last 10+ years making messes and magic in my home studio to make the world a more colorful place, one craft at a time! I'm on a mission to nurture the creative magic inside your soul and bring that bursting imagination inside you to life with easy-to-learn tutorials. If you haven't yet, be sure to join the subscriber community to gain access to all my freebies or visit my signature design shop, Catching Colorflies!