DIY Christmas Garland – How to Make Giant Paper Holly Garland
This post may contain affiliate links that won't change your price but will share some commission.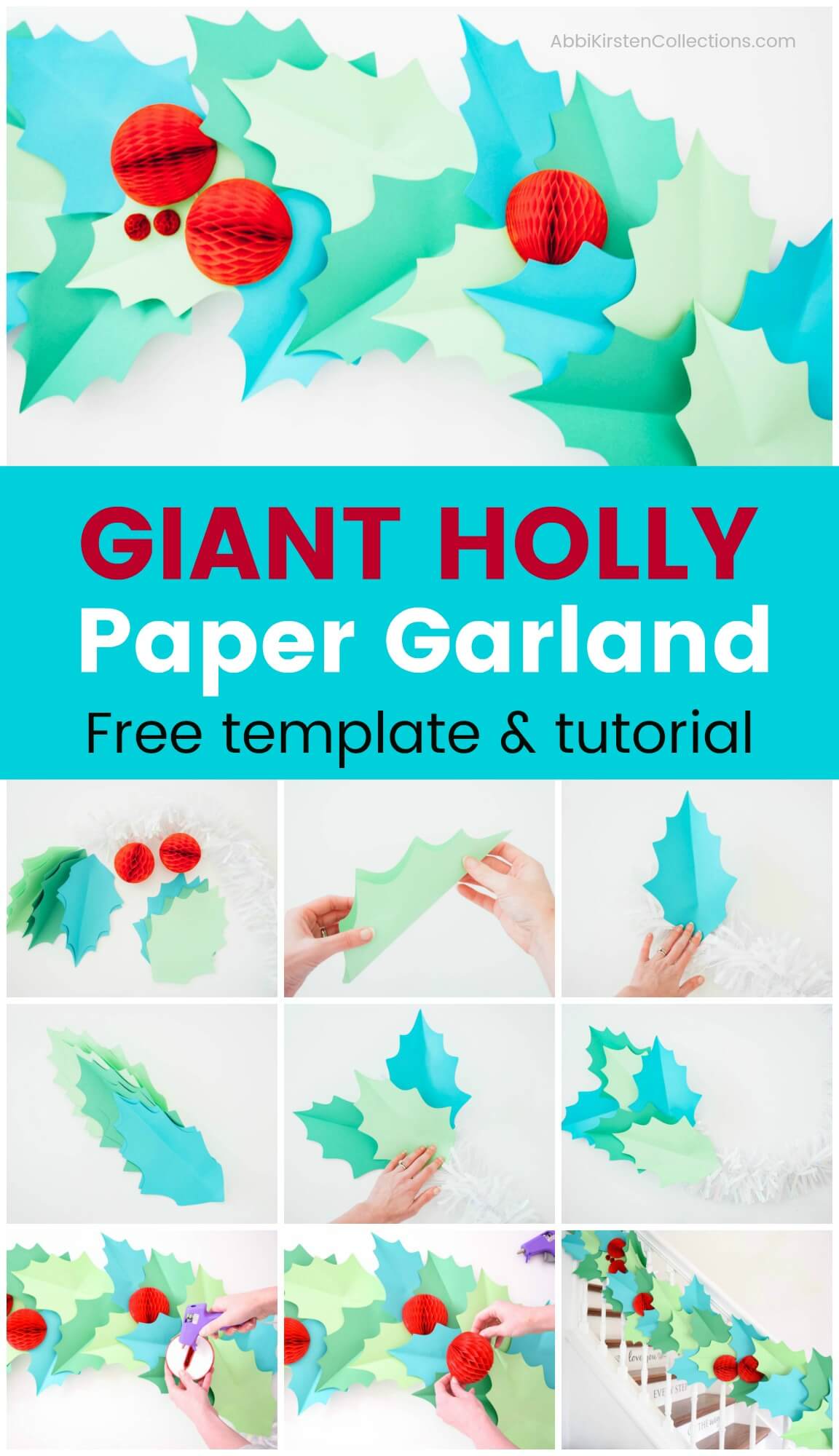 DIY Christmas Garland – How to Make Giant Paper Holly Garland
This is our first Christmas as home owners. After going through A LOT  of remodels on the house I was so eager this holiday season to decorate! Our new home is a two story, so I knew the banister would be getting in on the Christmas decor love. I wanted to create something that was a big statement piece and also stayed true to my colorfully crafty style. After some brainstorming and Pinterest inspirations I decide to draw a new holly template and build a paper holly DIY Christmas garland!
This whole project for a 5 1/2 foot garland only took my about 2 hours (that's just enough time to get through all my favorite Christmas songs!) and was so crazy simple but totally festive and gorgeous. Yes, I think even Santa would be proud!
So are you ready to make your own giant holly DIY Christmas garland? You will find a step by step picture tutorial below as well as a full video at the bottom! Let's do it! 
Supplies
Holly template (download below from my resource craft library)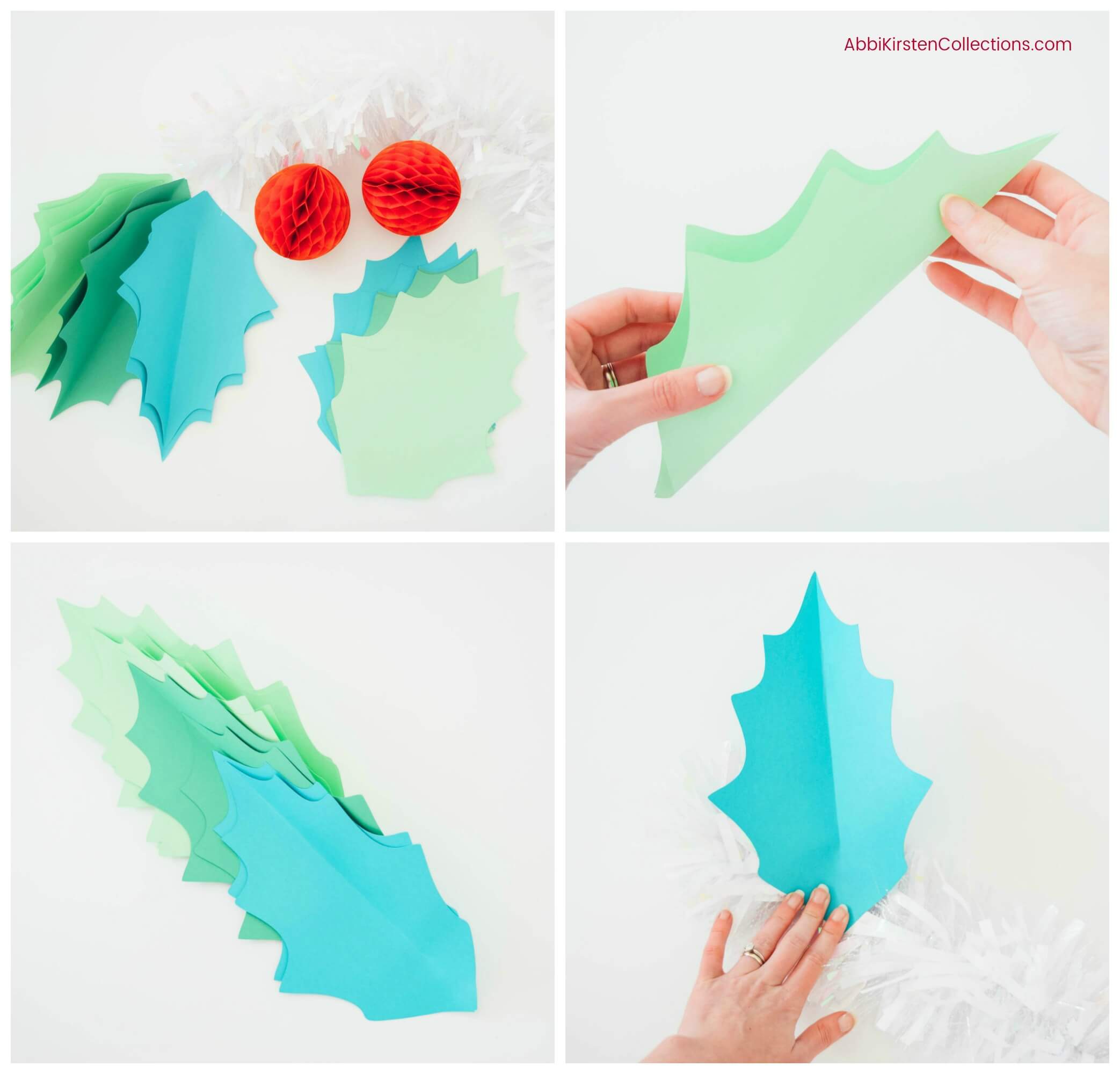 Step 1 – The first step is to cut out all your holly leaves. I used about 50 of them for my 5 1/2 foot garland here. You can use my free template below with your cutting machine or print to hand cut with scissors. Choose just one shade of green or 3 or more like I did!
Step 2 – Begin gluing the leaves to the tinsel garland starting at one end.
Pro tip: If you want your garland to be curved be sure to lay it out in that shape before gluing any leaves down. The holly garland will stiffen as you layer your leaves, so it's best to lay the blueprint of how you will display the garland, whether curved or straight, before adding on the leaves. 😉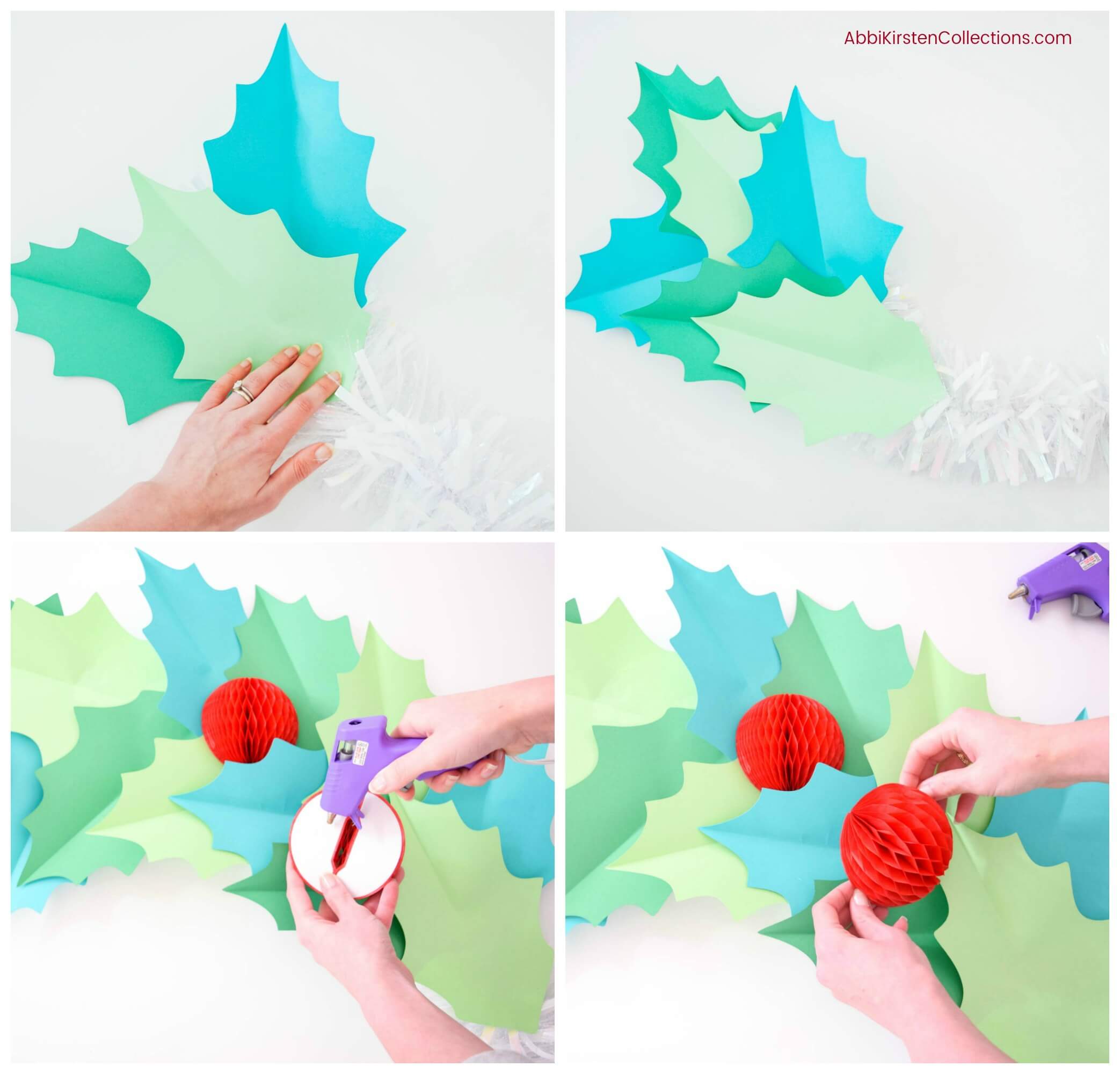 Related Posts
Free 12 days of Christmas Printables
3D Paper Pine Trees with Free Template
Step 3 – I like to glue the first 2 in a V shape at the tip of the garland and then glue one holly leaf below in between the two. This works particularly well if you are using more than one color like I am, to keep the pattern.
Step 4 – Once you have finished adding the holly leaves pick some spots on your garland to add on the honeycomb berries. Open the honeycomb balls half way and glue them down in clusters along the garland.
If you are not loving the berries you can always leave them off or add some small paper poinsettia flowers instead! You could even go giant to match the leaves!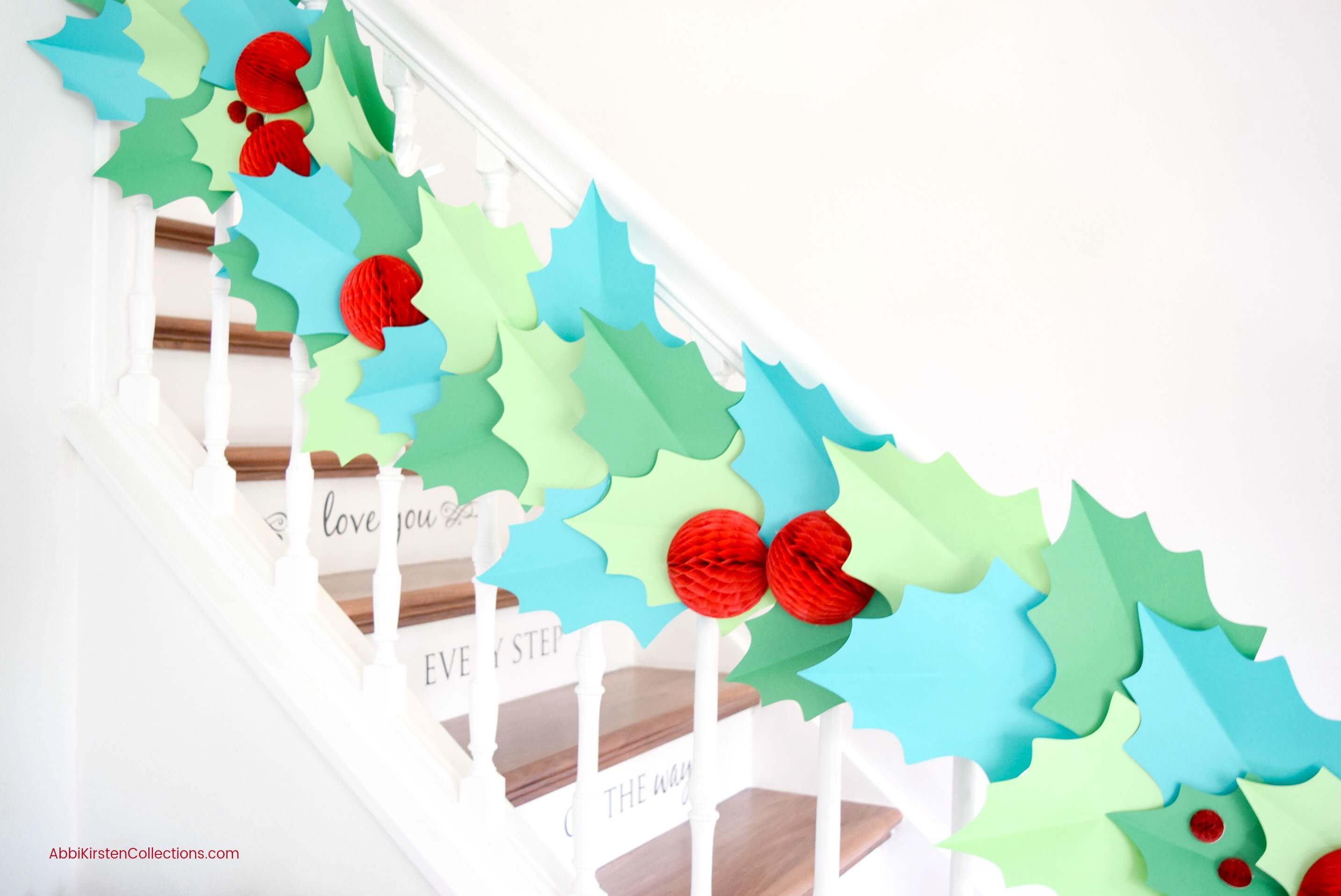 Step 5 – Hanging the garland might vary some for everyone depending on the location which you choose to display it. I hung mine on my stair banister by wrapping floral wire around the railing and the garland. You can also use command hooks or even mounting tape to make it work on the wall or archways.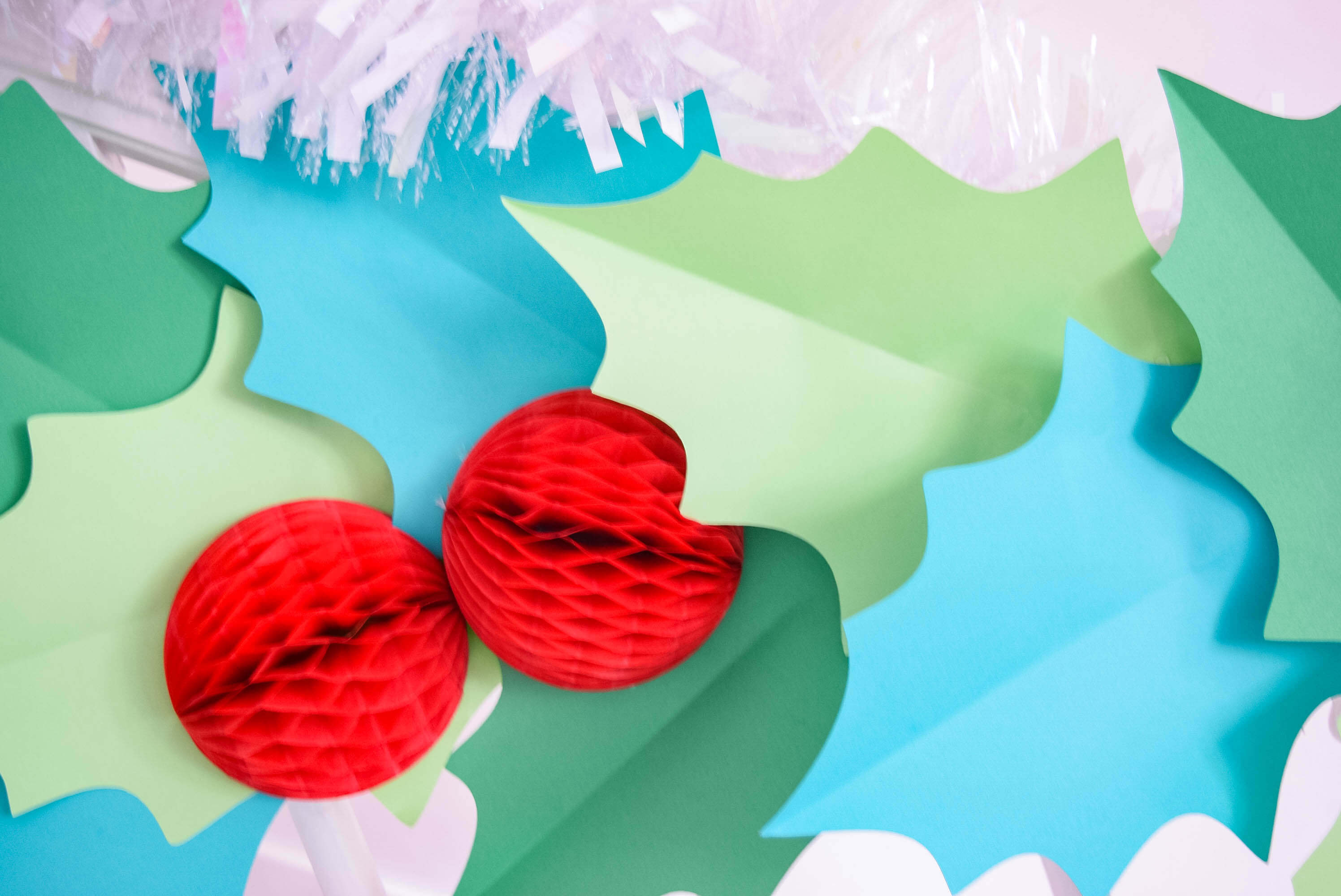 This easy peasy DIY Christmas garland craft captures simplicity and festivity all in one. I think this would even be a great group craft to do if you are planning to decorate for an event or party. Get some family and friends together, turn on Hallmark channel and get to making!
How would you display this DIY Christmas garland? Tell me in the comments!
Download Your Template Here
Find these and dozens of more templates in my craft resource library when you join my craft lovers community! This template can be found in the holiday section of the library. Click the pink button below!

Holiday Templates to Shop
There is always more in store over at the shop!
Small Holly Style Poinsettia Paper Flower Template
3D Paper Christmas Ornament Templates - Set of 9
Small Poinsettia Paper Flower DIY Template
Noel Style Giant Poinsettia
Merry Poinsettia Christmas Flower Template
Poinsettia Flower Template
Small Poinsettia DIY Flower Templates
Large Paper Snowflake Flower Template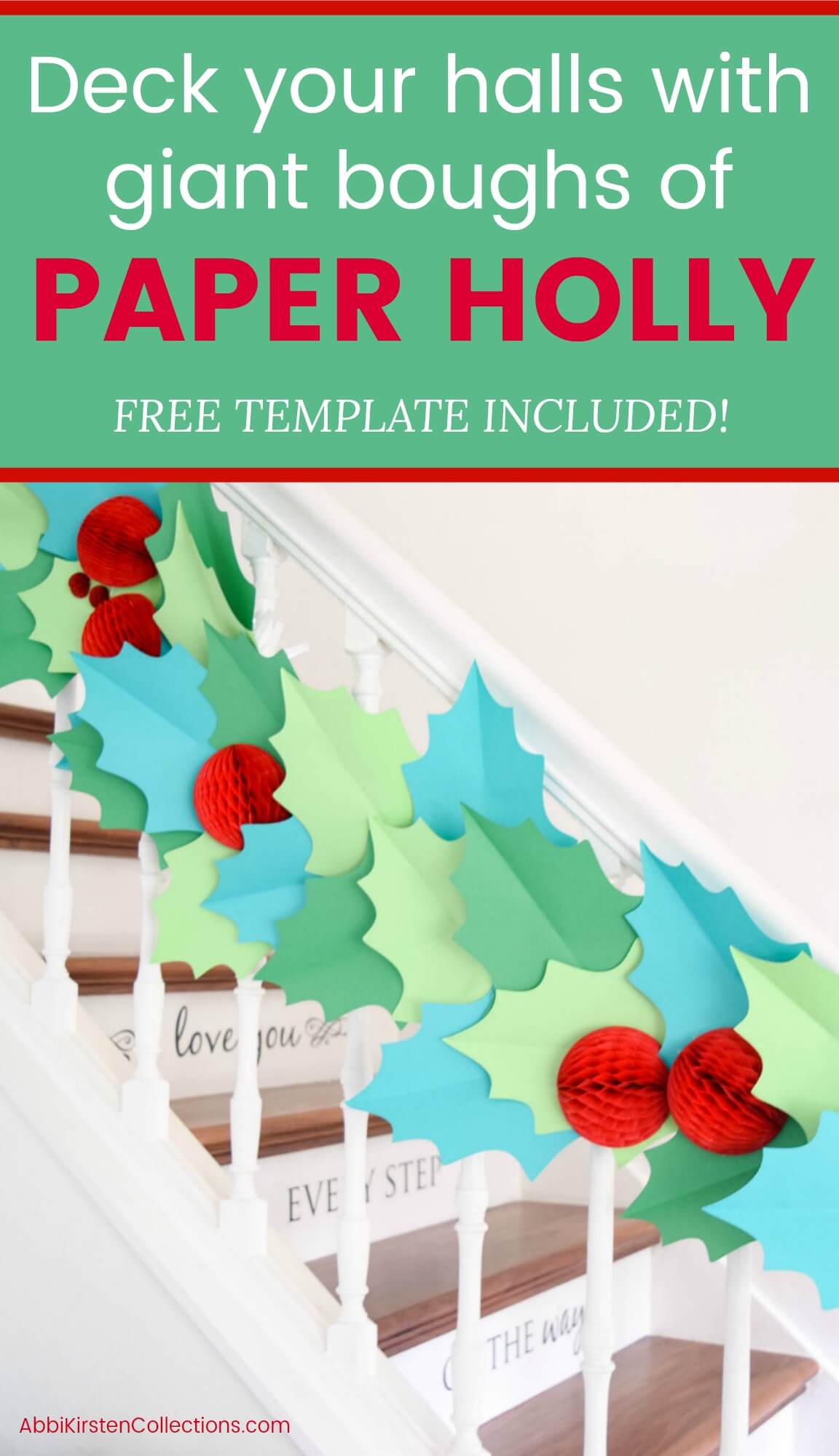 Full DIY Paper Holly Christmas Garland Video Tutorial