Christmas Candy Holder: Santa, Snowman, Reindeer, and Elf SVG Files
This post may contain affiliate links that won't change your price but will share some commission.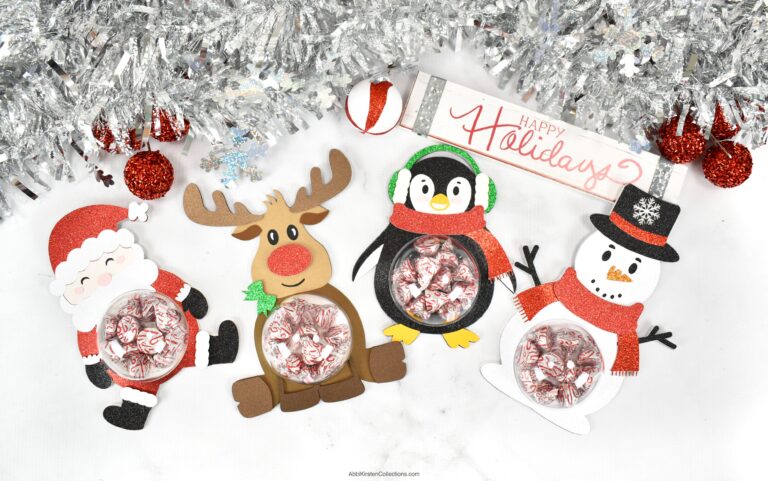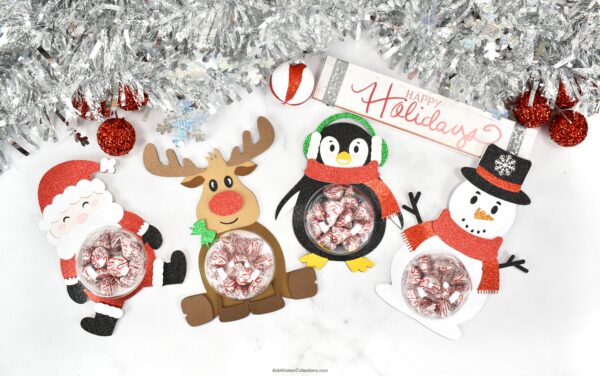 Candy Crafts For Christmas
Are you ready to make an easy and cute DIY Christmas craft perfect for handing out as gifts this holiday season? I created some puppy dog candy holders a while ago and Easter-themed candy crafts. But I wanted to create some Christmas candy holders that are just for the holidays! I made a Santa Claus, Penguin, Snowman, and Reindeer candy holder that you can make with the help of your Cricut machine! I also added an Elf candy holder template because I received a request from my community.
You use plastic ornament balls to create a candy-filled Christmas craft with a layered paper design cut out by your Cricut machine. They are super easy to make and can be used as gifts or stocking stuffers filled with favorite candies or treats!
Supplies For Christmas Character Candy Holders 
Any Cricut Maker or Explore Model
Alternatively, you Can Use The Plastic Dome Parfait Lids
Candy of choice (individually wrapped)
Candy holder templates. Download them below.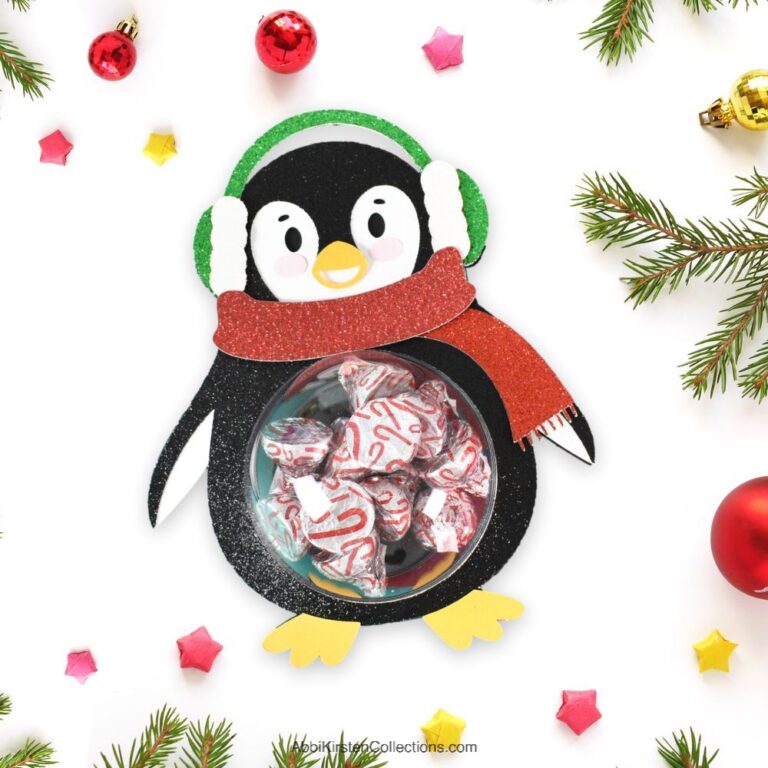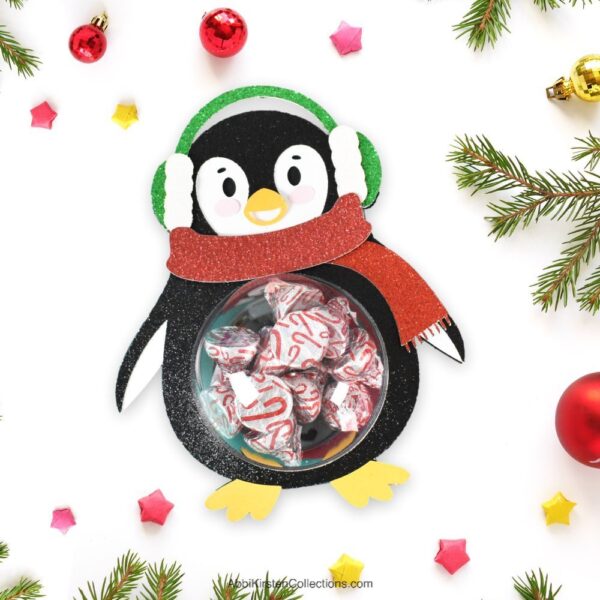 Alternatives To Candy
If you want to avoid too much extra sugar during the holidays, here are a few other ideas to place inside your Christmas candy holders.
Stickers
Tattoos
Balls
Jacks
Slinkies
Bracelets or slap bracelets
Mini rubik's cubes
Erasers
Mini popits
Keychains
Download The Christmas Ornament Candy Holder SVG Files
I've designed several Christmas candy holder SVG files you will love. Find all these designs inside the Abbi Kirsten Craft Vault! These candy holder crafts are included in the Premium Member Craft Vault. Login here or sign up below!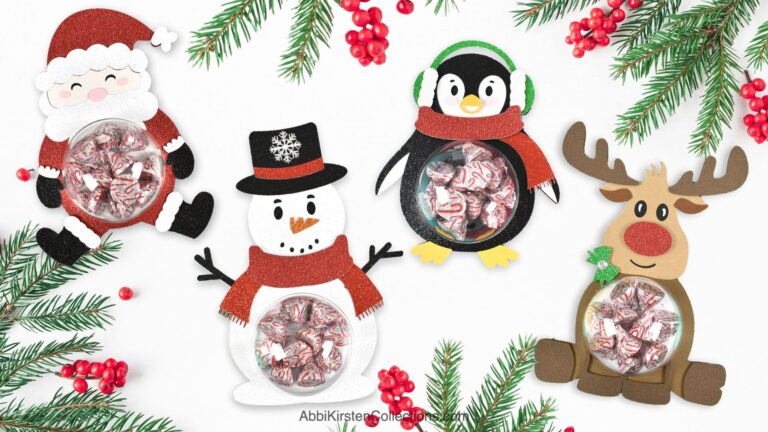 Member Vault (Best Value)
All my candy holder templates, the Santa, Penguin, Snowman, Reindeer, and Elf, are available inside the AKC Member Vault! You can log in below and find them by searching the keywords "candy holder" or designs #656, #657, #658, #659, #660, and #661.
If you aren't a member yet, you will want to sign up to unlock all Abbi Kirsten's crafts here. There are currently hundreds of designs, such as paper flower templates, SVG cut files, and printables, plus a dozen new ones added each month! You will also get access to all my other candy-holder designs!
Download The Templates In The Shop
While the Member Vault is the best value because you gain access to every template I've ever made, you can also pick up just the Christmas candy holders in the shop. Below are the shop links to purchase individually.
Christmas Character Candy Holders Video Tutorial
Here is the full step-by-step video for our Christmas Candy Holders below. There is also a picture overview below if you prefer to read it. I also cover setting up the files in Design Space!
Santa, Snowman, Penguin, and Reindeer Candy Holder
Elf Boy and Girl Candy Holder
I also made another video featuring the Elf boy and girl candy holders. You will see that all my candy holder designs are quite similar to the assembly process.
Upload the SVG: Design Space Set Up
Let's talk about how to set up your candy holder templates in Design Space.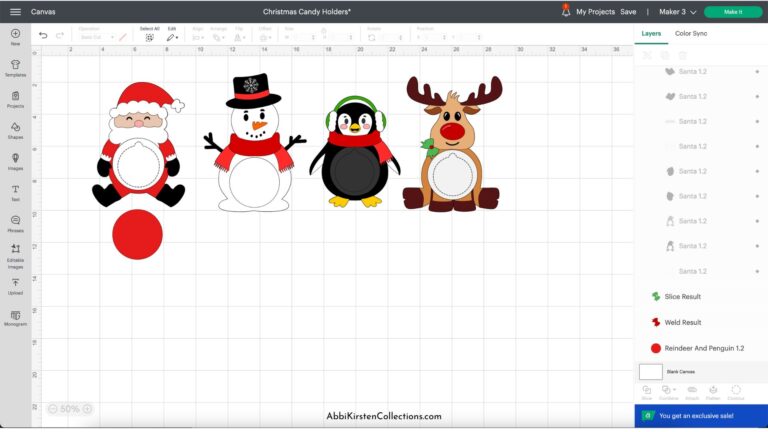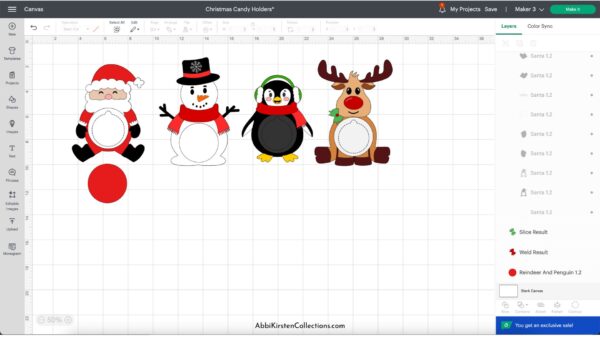 One of the best things about this Christmas craft is that you can peel the back off to access the candy or gift inside. This will allow your friends and family to enjoy the cute Christmas gift long after the candy gift is gone! I designed these templates with a perforation that works with the fine-point blade to make our Christmas candy ornament craft open effortlessly from the back.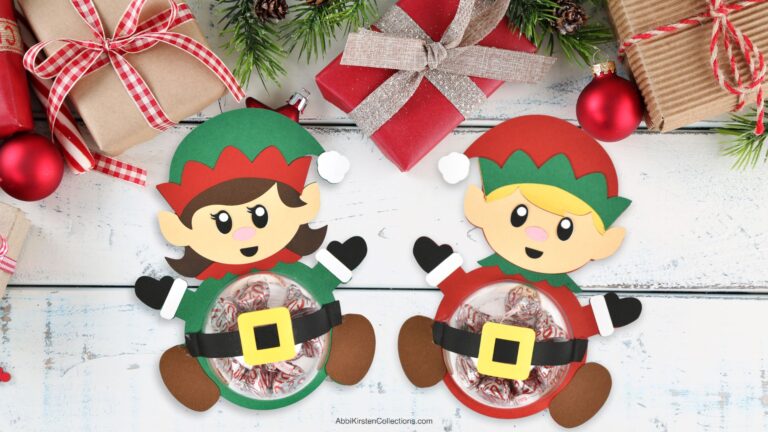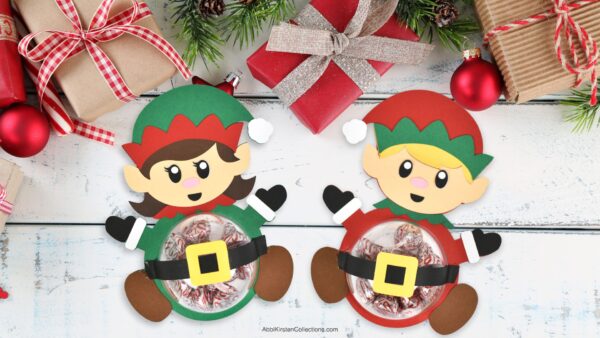 Go to our Member Vault and download the Chrismas candy holder SVG files. You also will unlock hundreds of other designs just as cute as these by joining the Abbi Kirsten Collections Member Vault!
Import the files into Design Space. I used the Cricut Maker 3, but any Cricut Explore will work as well for cutting the SVG templates. If you need help learning how to upload files into Design Space, read my tutorial on uploading an SVG file to Design Space.
Resizing Your Candy Holders
Once you have imported the files into Design Space, you will need to scale the characters to the size you want. I have the files set so that an 80cm plastic ball will work, but if you wish to resize, then be sure to scale as a group and use that spare circle included in the files as a size reference to the character's cut out where the ball goes. You can also use a dome parfait lid if you do not wish to use the plastic ball – I show you how to use a dome parfait lid here in my Reindeer video.
Candy Holder Measurements
For the 8cm plastic Christmas ornament ball, the circle cut out should measure about 3.125 x 3.125 inches.
If you use the dome parfait lid like mine, the character will need to increase very slightly. The circle cutout should be as close to 3.25 x 3.25 inches as possible. See the video here for resizing the candy holders in Design Space.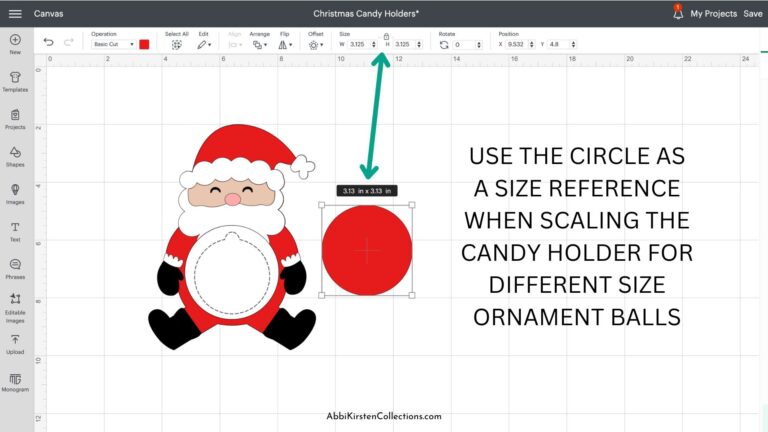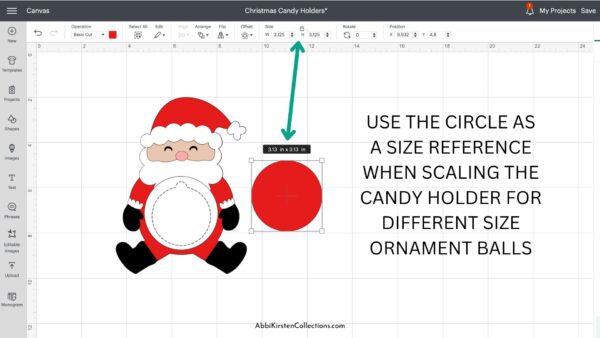 Once you have scaled the candy craft template, ungroup the design, right-click > Ungroup and delete the extra circle used for size reference – you don't need this to cut out.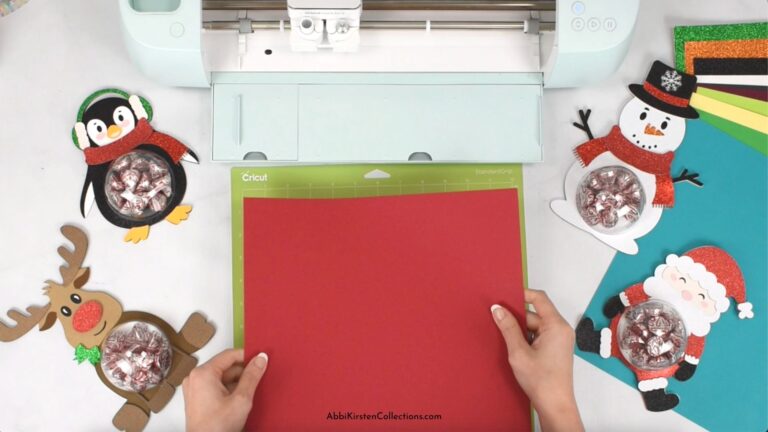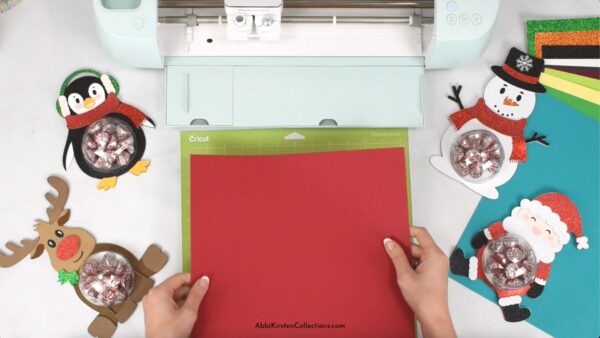 Now we need to cut out our layers in paper. I am using a 65-pound cardstock to cut out my candy holders. Click the Make It button and select medium cardstock for your material setting. I also used glitter cardstock, for which I selected the glitter cardstock setting. Load each color of cardstock as prompted by Design Space and cut out the layers on your Cricut.
DIY Christmas Character Candy Holders Assembly
In this post, I am featuring the Santa candy holder, but all my Christmas candy holders are assembled very much the same way. You can also check out my full video here for a quick look at the other designs.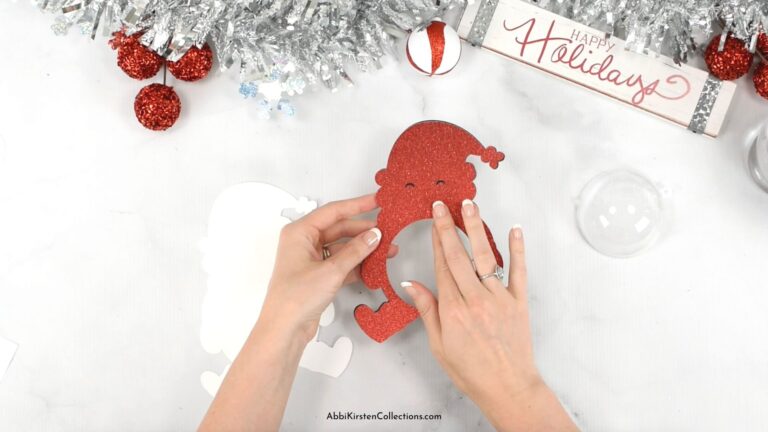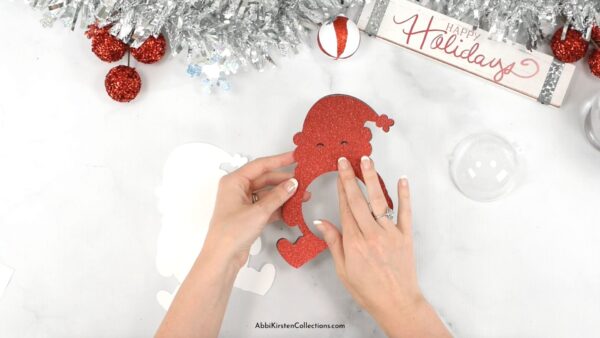 Once you have your cardstock cut out, match up the layers with the circle cut-outs and glue them together. I like to use Bearly Art glue.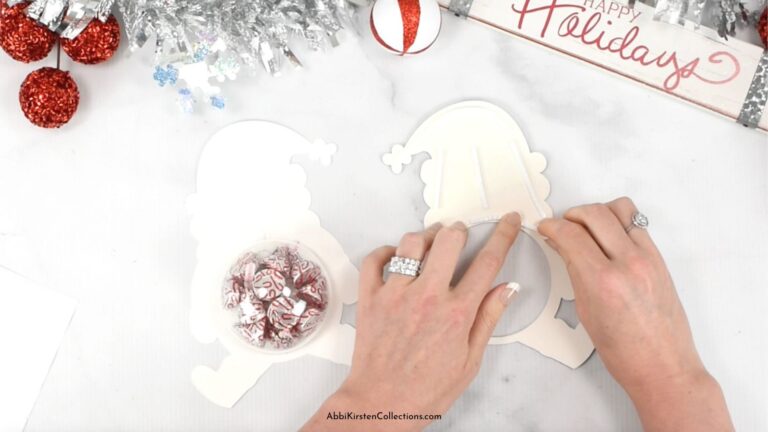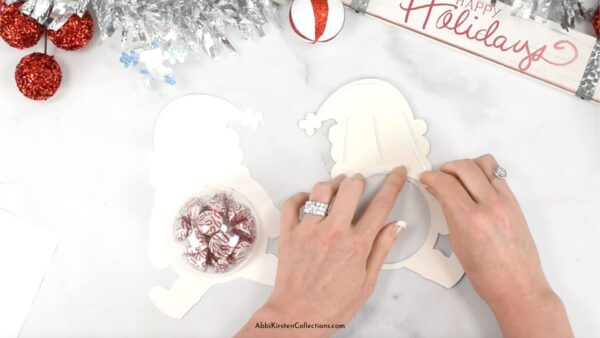 With the two largest layers, the base and the top layer with the hole for the half ball, apply the 3D foam strip tape to the layer with the hole cut out. Add prewrapped candy to the plastic dome ball and flip it onto the base with the perforation.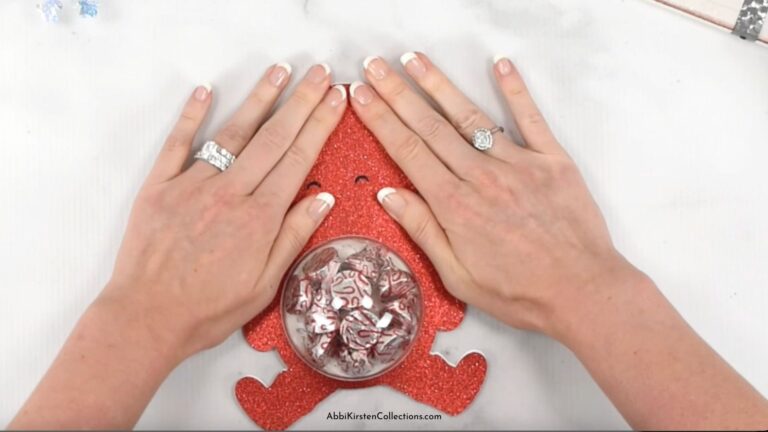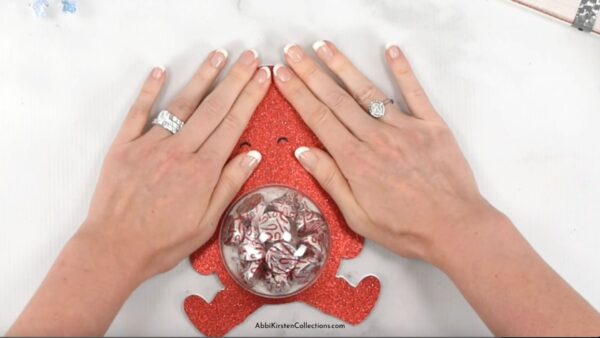 Press the top layer to the bottom layer sandwiching the plastic dome ornament ball in between the two cardstock pieces. If you struggle with getting the plastic ornament to stay put, you can always apply a little hot glue or Bearly Art glue around the rim of the dome lid before placing it down.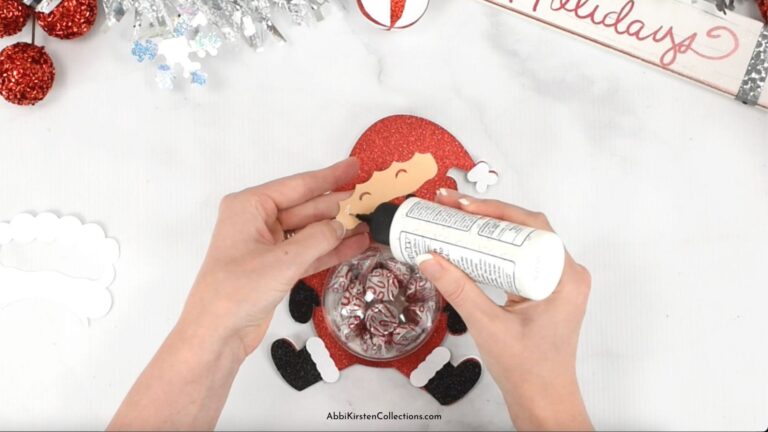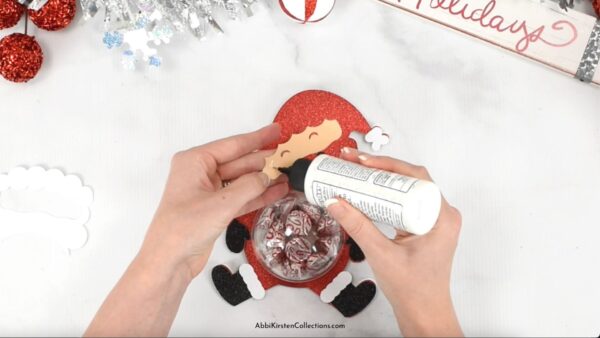 Add the facial features to complete the Santa candy holder. If you are looking for a more flat look, I use the Bearly Art Glue glue (usually for the more intricate pieces). For the white ruffles, I like to add more 3D dimension to the project; I will use the foam tabs again.
Likewise, all these steps will apply to the Snowman candy holder, Penguin, Reindeer, and Elf candy holders.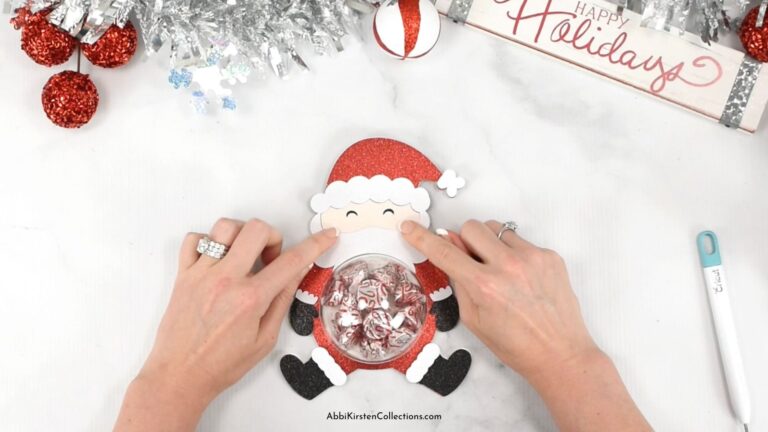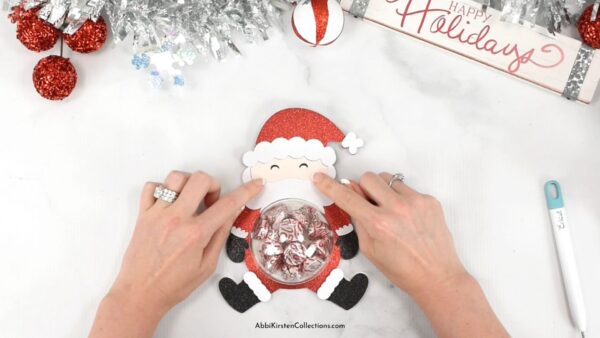 And that's it! Make several and hand them out to family or friends and watch their faces light up! If you are curious about using plastic dome parfait lids instead of plastic Christmas ornament balls, keep reading for my additional notes.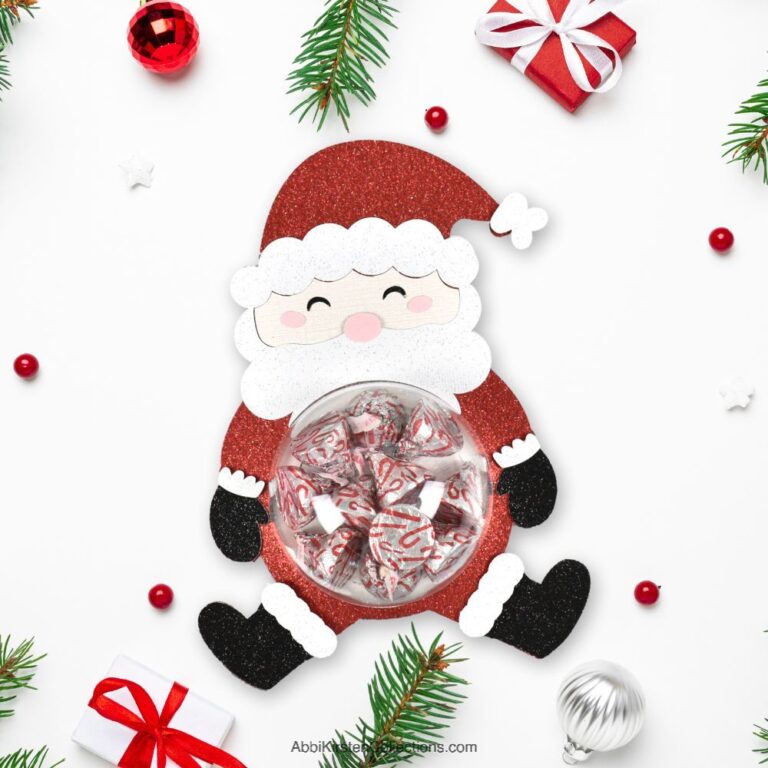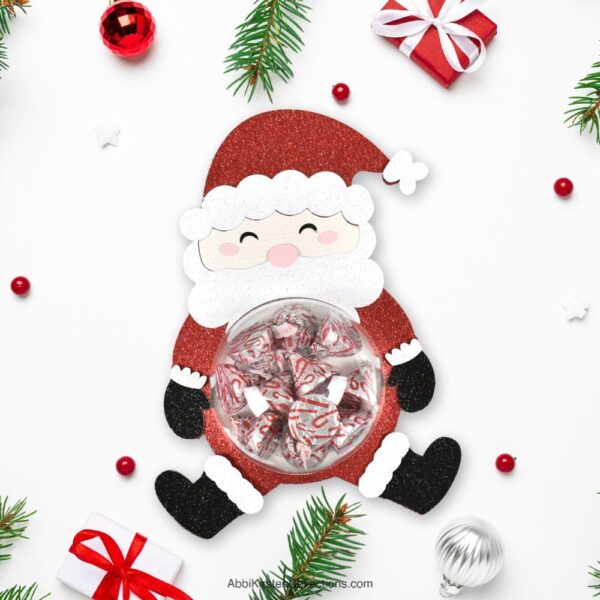 How To Use Parfait Dome Lids for Candy Holder
You can use plastic dome parfait lids with my candy holder templates as well. What I love about the parfait lids is you can snip the bottom edges and flatten them to create a better seal that works well with glue.
Watch the end of this video to see how I use the parfait lids with my reindeer design. The same steps otherwise still apply to create your Christmas candy holders.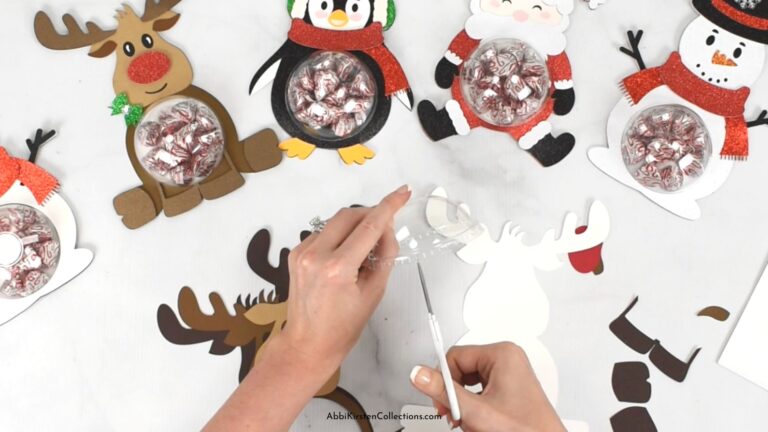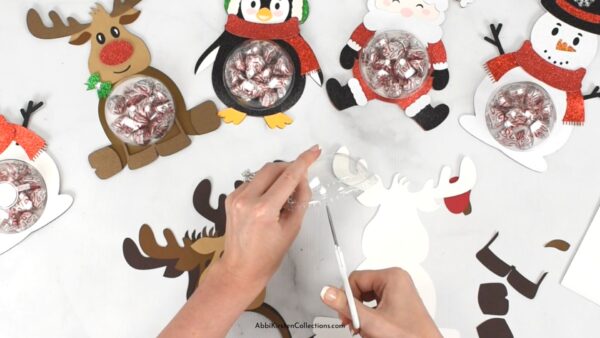 To prep your parfait dome lid, snip around the bottom edges of the plastic lid with a pair of scissors. Flatten the edges out to create more of a lip that can be sealed with glue. Add glue around the top lip of the lid and place the top of the reindeer with the circle cut out over the lid.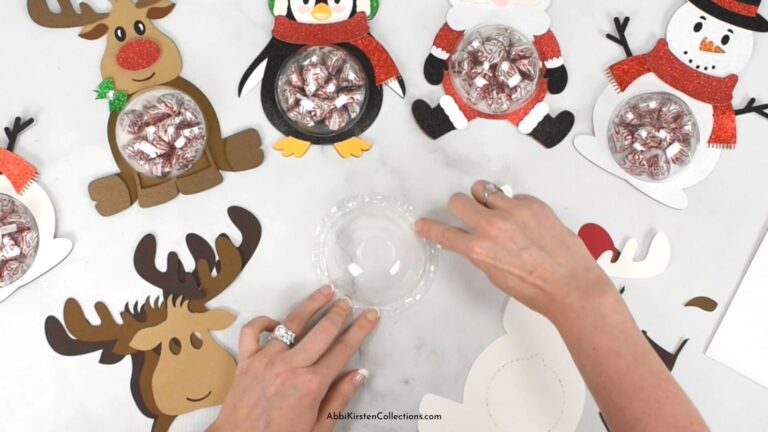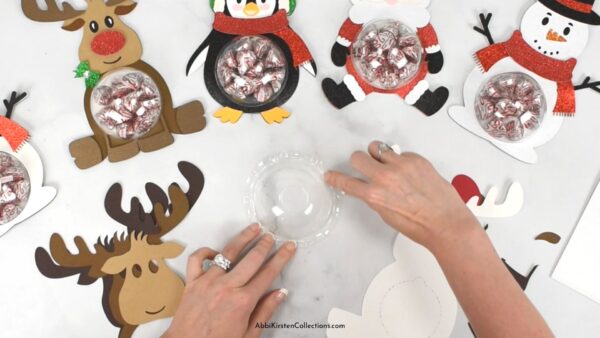 Add the 3D foam strip tape to the solid base piece with the perforation and align the two layers together to seal it. Finally, add any additional details to your design with glue.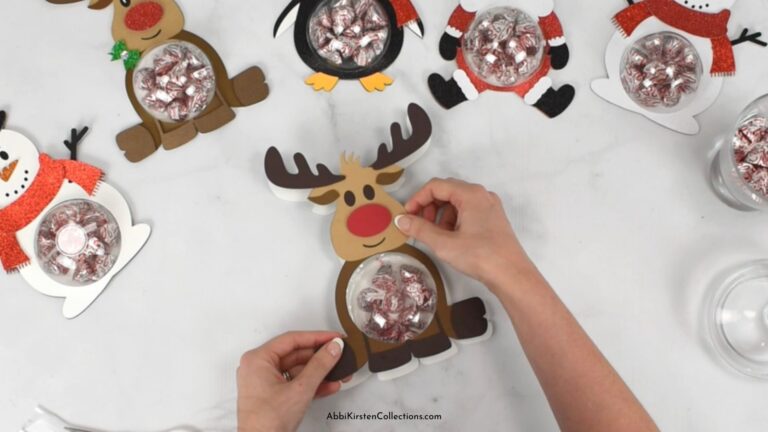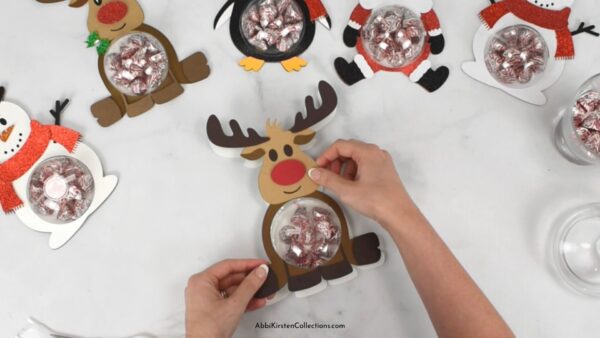 How much do you love these adorable Christmas candy holders made with Cricut? You can make a bunch of these for easy DIY Christmas gifts for kids, co-workers, family, and friends. What other candy-holder designs do you wish to see? Tell me in the comments below!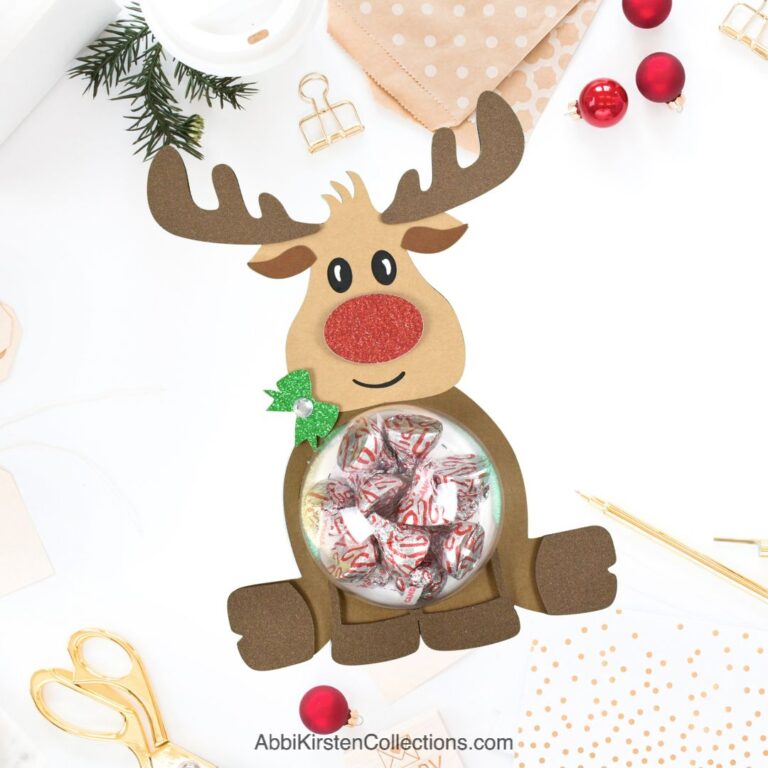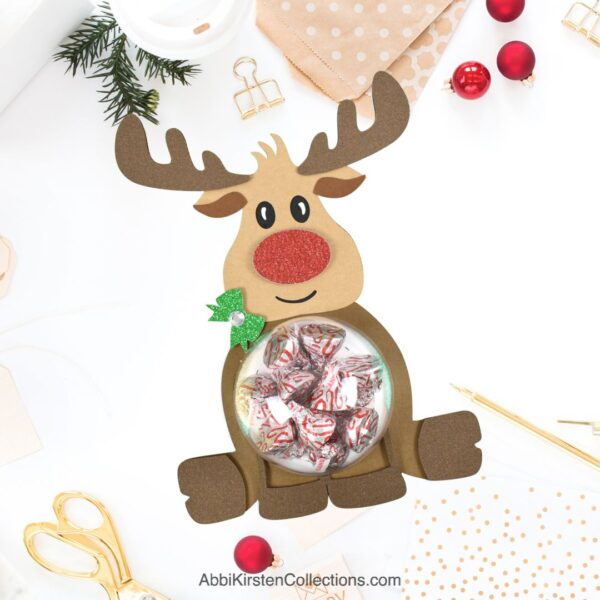 More Cricut Crafts You Will Love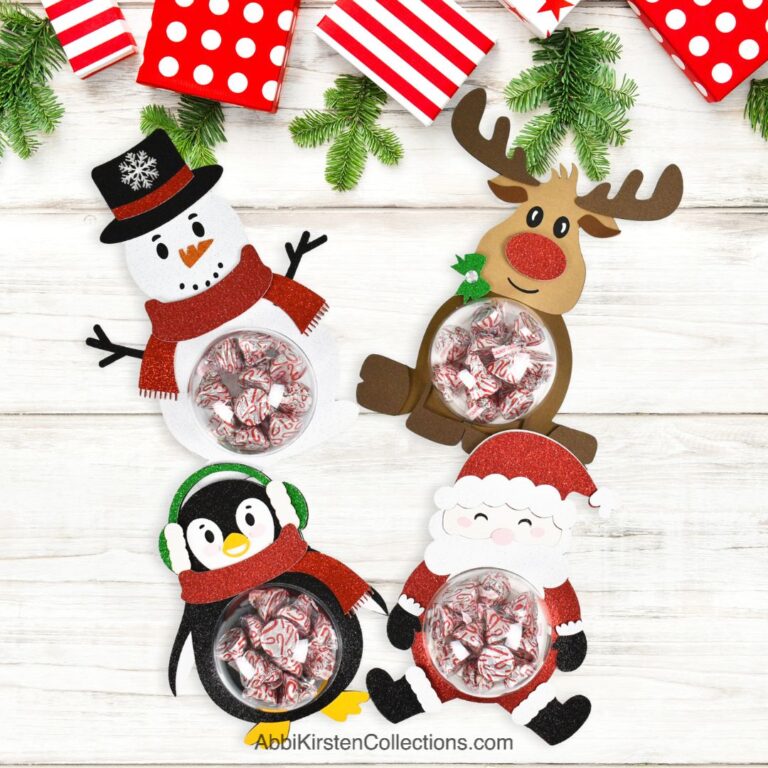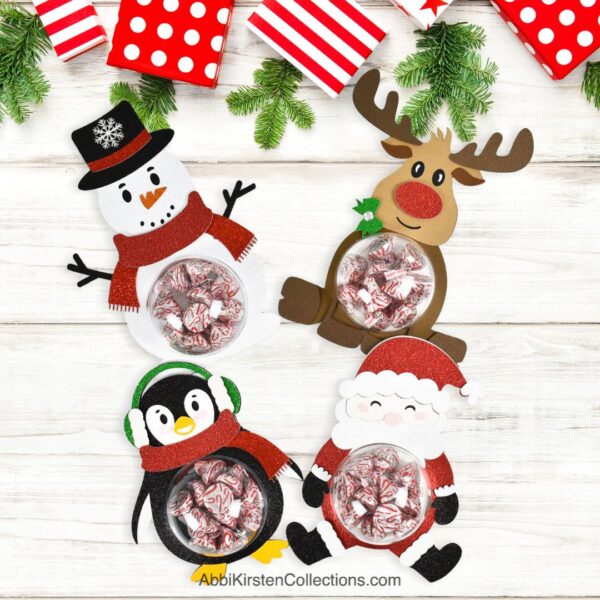 About Abbi Kirsten
Welcome to my colorful corner of the internet, where we play with vibrant crafts and unlock your creative magic! Hang out with me and get lost in a fun array of projects, tutorials, and products, from stunning papercraft ideas to flower templates, Cricut help for beginners, and endless crafter's hacks.
Join the Member Vault and participate in my monthly Craft-Alongs in my Facebook group to access all the magic!