DIY Paper Flower Supplies: Step-by-Step Guide to Crafting Realistic Blooms
This post may contain affiliate links that won't change your price but will share some commission.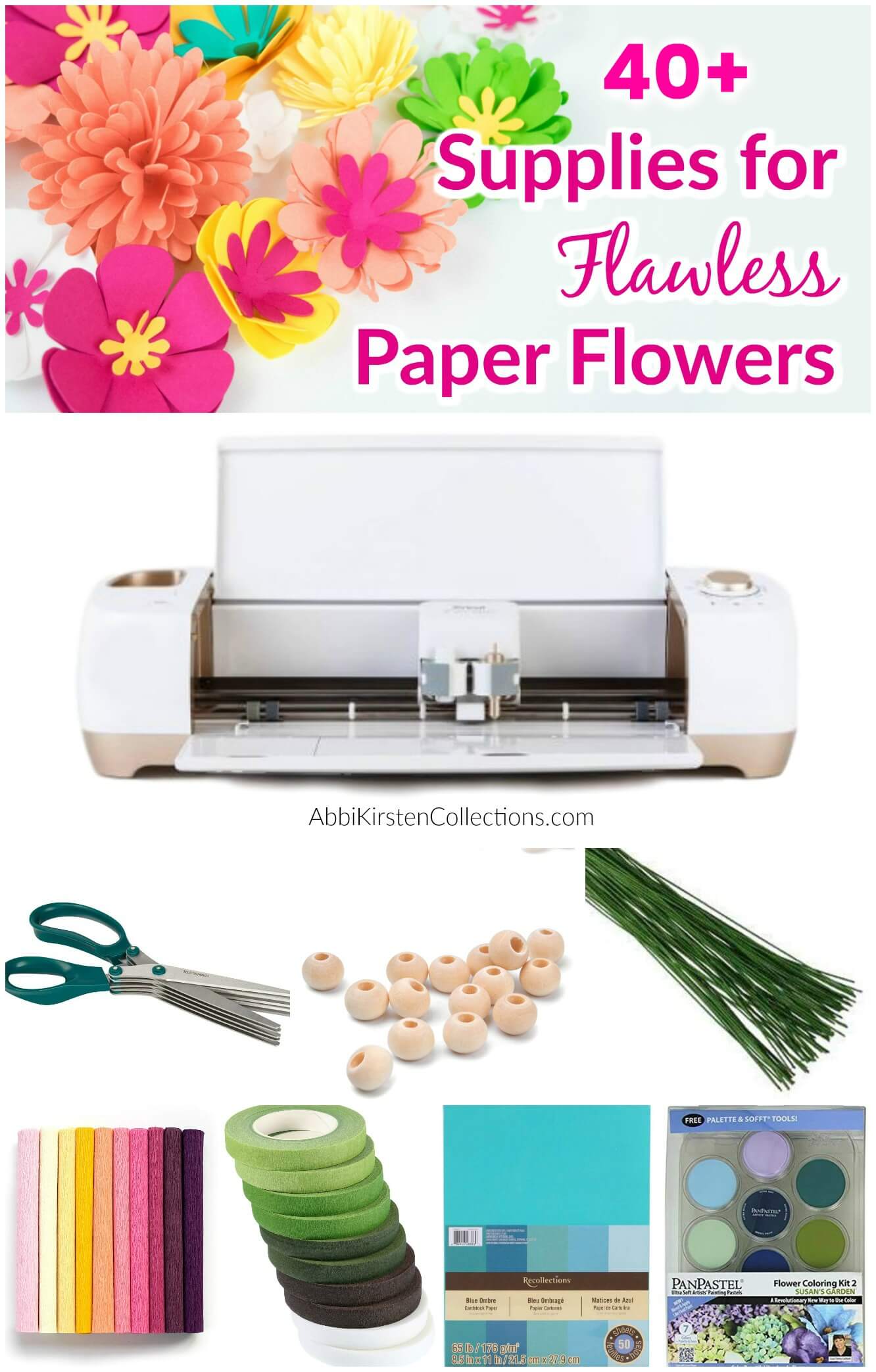 I wanted to create an updated and go-to resource for fellow paper flower artists and hobbyists to learn all the juicy tips I have discovered in my crafty career! In today's post, I am sharing all my paper flower supplies and resources to help you craft paper blossoms to perfection!
I've been making paper flowers now for over 10+ years. Every year I seem to unveil a new way to make paper come even closer to resembling real flowers from nature.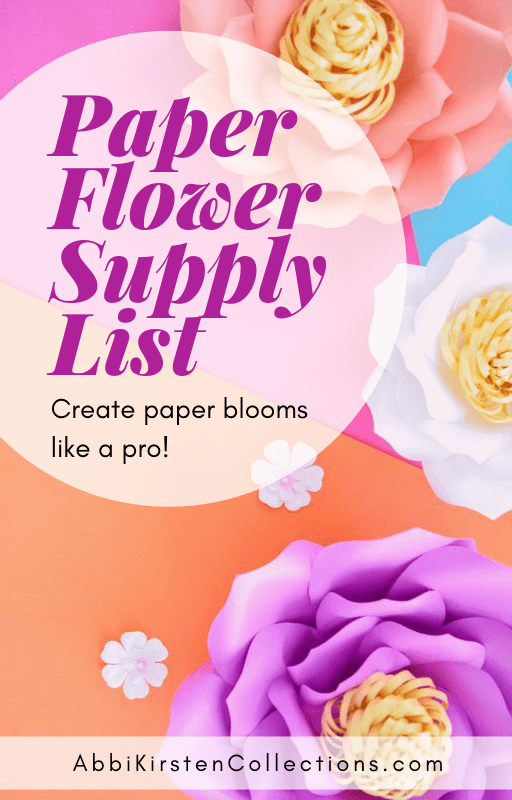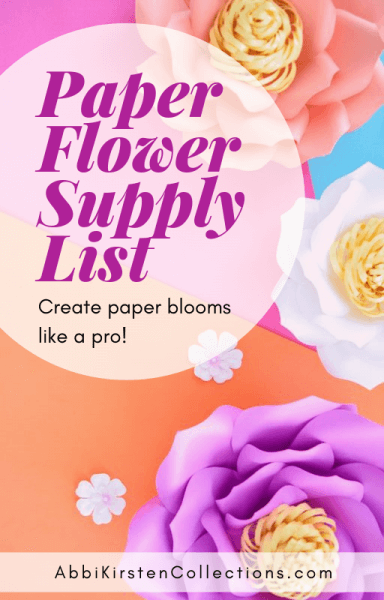 Free Printable Paper Flower Supplies List Download
Download this supply list as a printable PDF by joining my community via the form below. If you are already a member, log in right here and find it by searching 'paper flower supplies.' Need help entering the vault? Read this helpful post here. 
Paper Flower Supplies – Best Paper for Paper Flowers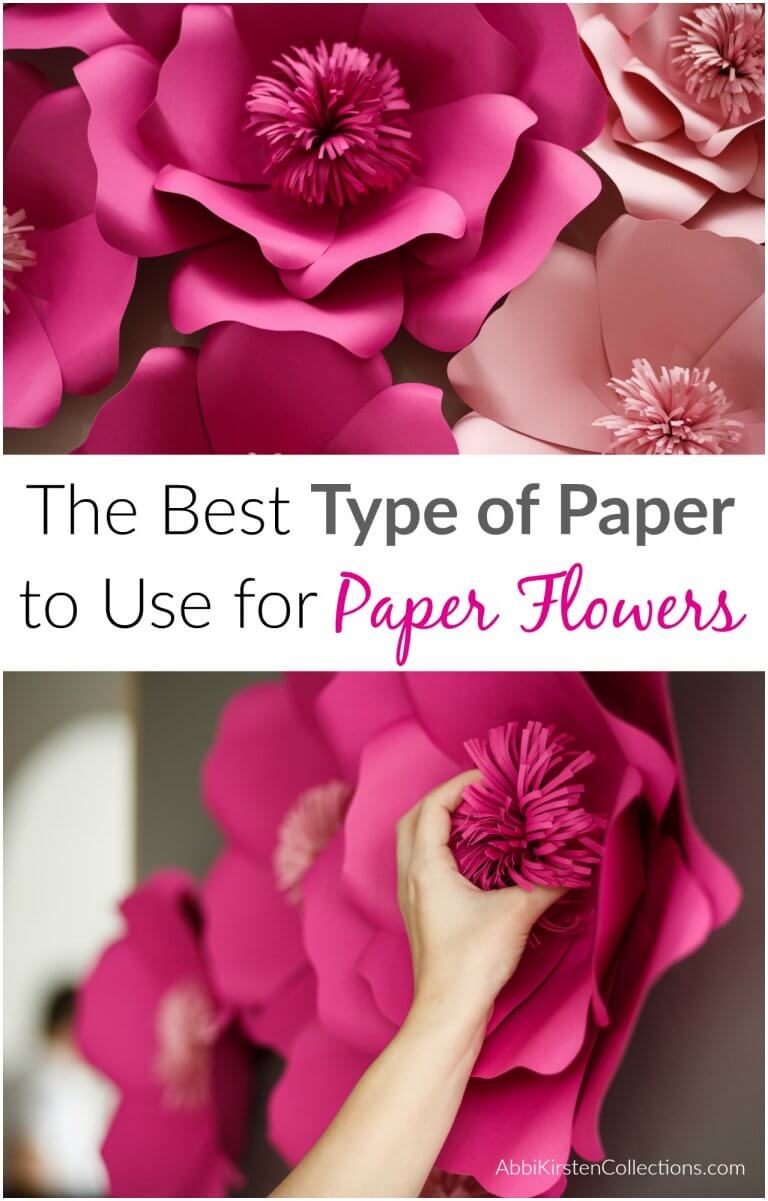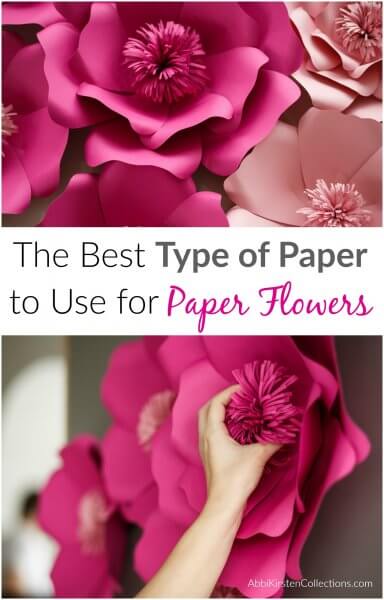 Let's start with the most important supply item – paper!
Being asked what type of paper I use for my flowers is as common as the sun rising in the East! I'm holding nothing back for you here, so you have all the paper resources I often use to make my paper flowers as well!
Let's talk about my top favorite sources below and for more details on these check out this dedicated post to paper for paper flowers!
The first place I buy my paper most often is from Michael's Craft store; I love the Recollections brand. They have many colors to choose from and sell 50 packs of paper, which are often on sale! Now, not everyone may have a Michaels store near them, but they do offer Recollections brand paper on their website. You can also find paper on Recollection's Amazon page!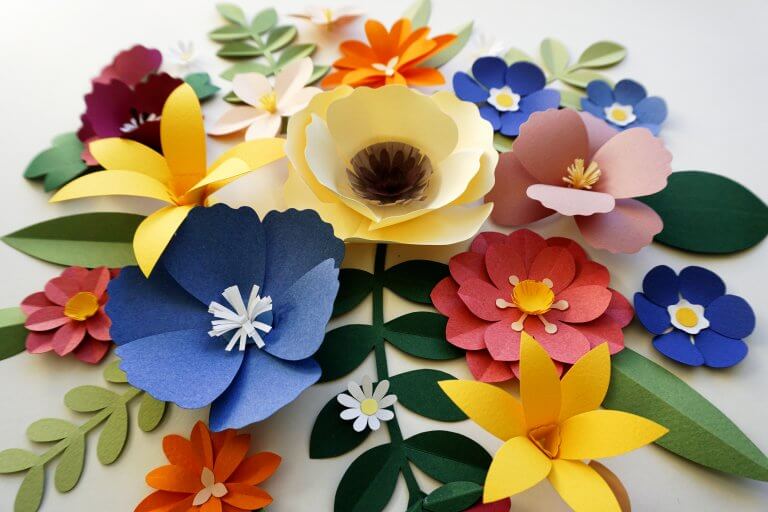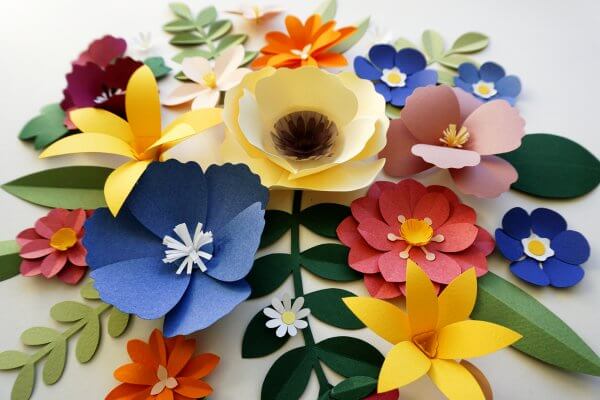 After the craft store, my next favorite place to buy paper is Cards and Pockets. They are exclusively online, but I love the color options – shades I cannot find elsewhere. Another reason Cards and Pockets is my favorite is because they offer metallic paper! If you want a sheen and frosted look to your petals, metallic is the way to go!
Here is one of my peony flowers I made with metallic paper from Cards and Pockets. So pretty, right?! If you want to see more flowers with metallic cardstock, check out my hydrangeas and Camellia roses!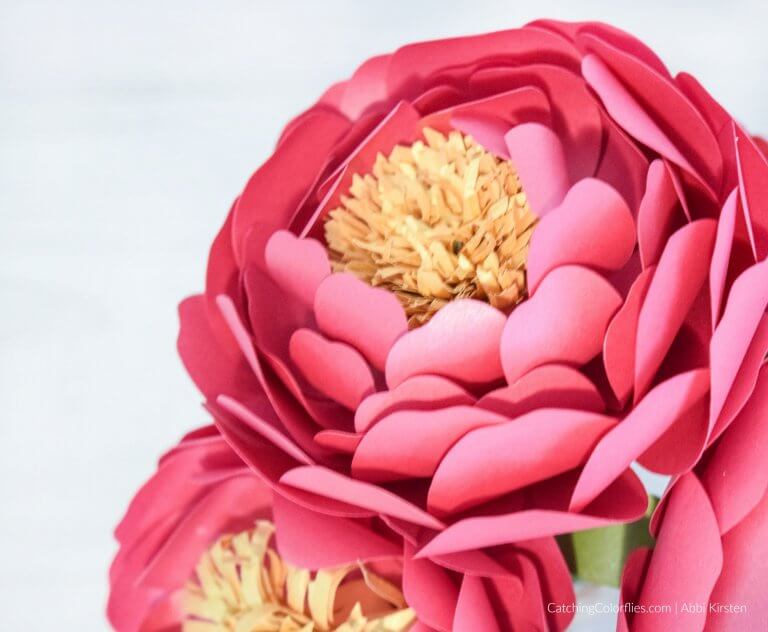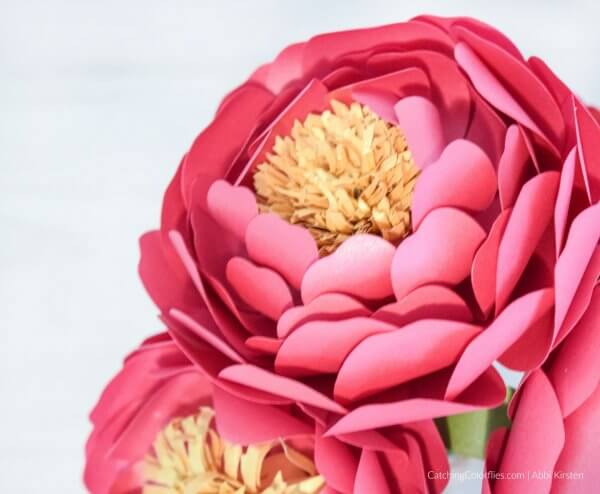 Paper Source is ideal when you want to buy paper in a variety of sizes. They also have a lot of different color shades that work flawlessly when trying to design paper flowers and they even carry ledger-size paper.
Is there anything Amazon doesn't have? My husband and I joke that Amazon and Disney are going to take over the world!
Amazon carries Recollections cardstock, as I mentioned above, and also has some other great paper brands.
If you are looking for A LOT of paper and need to be as cost-effective as possible, I highly recommend using the large paper rolls by Savage Universal. These are most traditionally used for photo backdrops but are thick enough to cut and use for paper flowers as well! See how I used Savage paper with my Poppy flowers!
At some point, you may want to venture into the world of crepe paper flowers. In that case, you will definitely fall in love with Cartefini crepe paper. I've tried other crepe papers out there, but this is by far the best there is.
On the note of crepe paper, did you know the Cricut Maker can cut it for you?! I even wrote a step by step guide for you!
Paper Flower Supplies – Paper Weights
There are a lot of different types and weights of paper to use when making paper flowers.
Here are the weights of paper I use for my flowers:
Cardstock: 50 – 80-pound paper. I do not ever go above 80 pounds because the paper is too thick to curl without wrinkling.
Crepe paper: 60-180 grams weight
Paper Flower Supplies – Templates/Tutorials
Inside the Freebie Vault, I offer several beginner-friendly templates, both giant and small paper flowers. If you want to get your hands on some for free be sure to join the subscriber community below and you will receive a link to access everything! Remember to refer back to these paper flower supplies when you start crafting!
I also offer dozens of paper flower tutorials on my Youtube channel!
Perhaps you really want to have options and a variety of templates to play with. I offer more than 200+ flower templates in my shop alongside my best-selling book, The Art of Giant Paper Flowers. In fact, in late Fall 2019 my new book, The Joy of Paper Flowers is making its debut!
Whether you are planning to cut the petals of the flower with scissors or use a cutting machine I've gotcha covered with PDF and SVG formats – both included.
Prefer to shop on Etsy? I have a shop there too!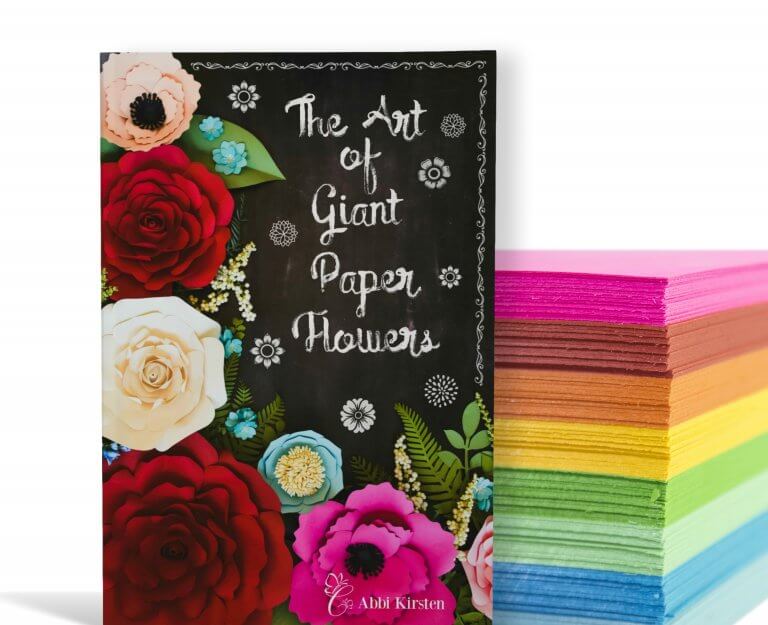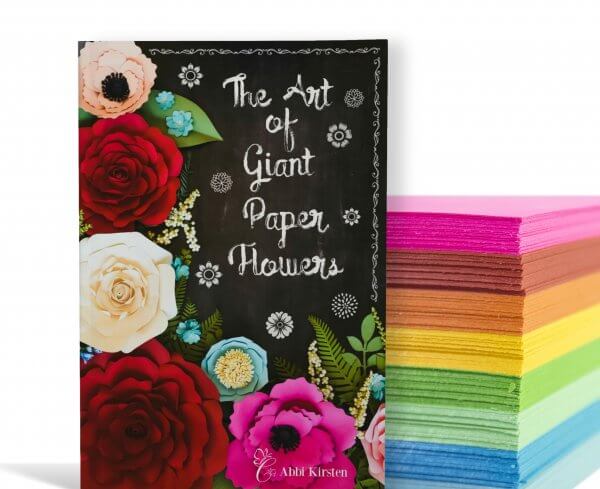 You may be excited to click over to the shop and I know 200+ templates sounds great but it can be overwhelming to weed through. Here are some of the top-selling flowers – any of these via the link below their photo.
Paper Flowers – How to Cut Your Petals
Cutting paper flower petals is a major aspect of crafting these beauties. There are some particular tools I recommend getting the cut just right.
For simplistic flower petal shapes and a patient hand, cutting with scissors and using printable PDF files is a great way to get started with easily making paper flowers. Even though I always use a cutting machine, it is necessary to have a good pair of craft scissors in your workspace at all times.
Cricut Cutting Machine
Maybe you are someone like me who really loves this paper flower thing then you are definitely going to want to invest in a cutting machine – this is a must-have on my paper flower supplies list! I personally use and HIGHLY recommend Cricut machines. Not only can the machine help you make stunning paper blooms, but it opens up a new world of craft possibilities!
If you aren't sure which machine is a good fit for you I can help with that too. Get a full comparison of the Explore and Maker machines here!
New to Cricut? Confused? Overwhelmed?
Perhaps you already have a Cricut but feel too overwhelmed to get started. I can help you get past the fear of cracking that Cricut box with my free workshop!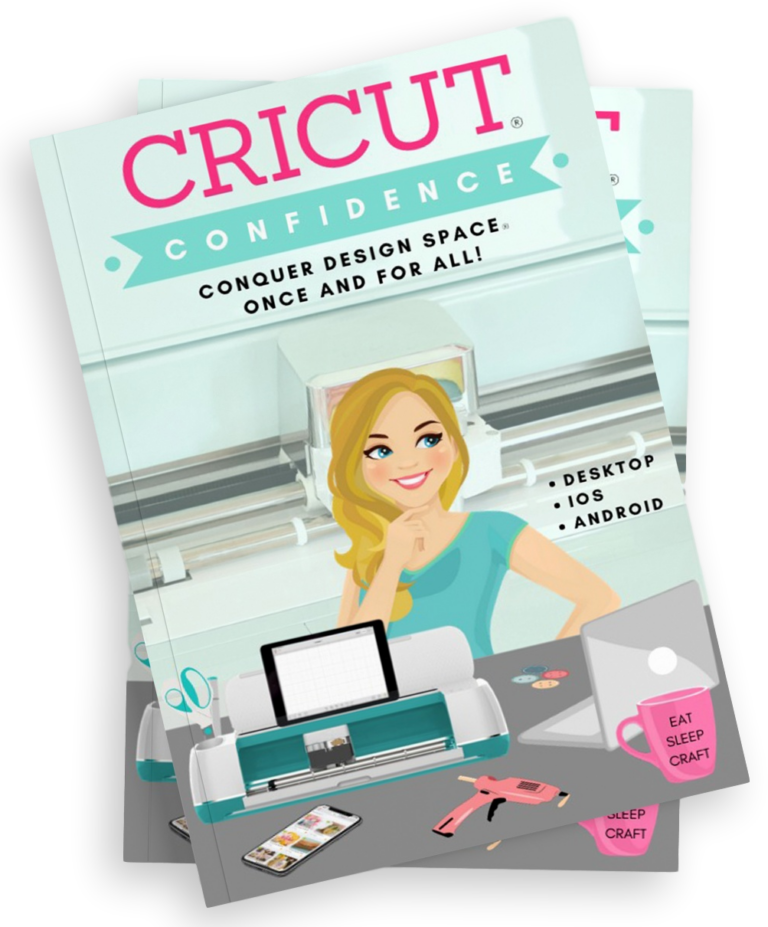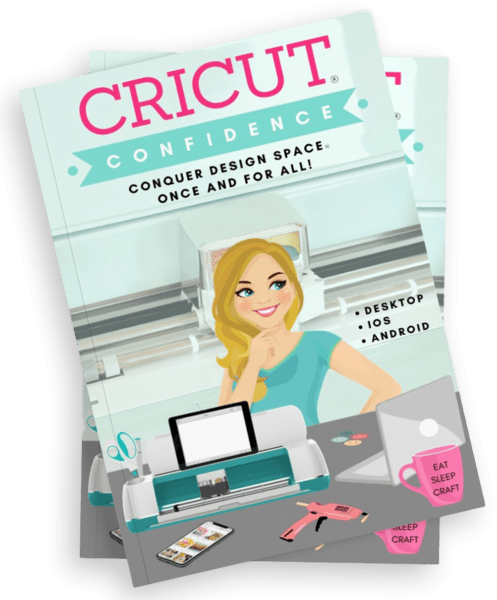 Get the Cricut Confidence ebook and SVG bundle – A Step by Step Guide to Confidently Mastering ALL Design Space Functions on Desktop, iOS, and Android Devices!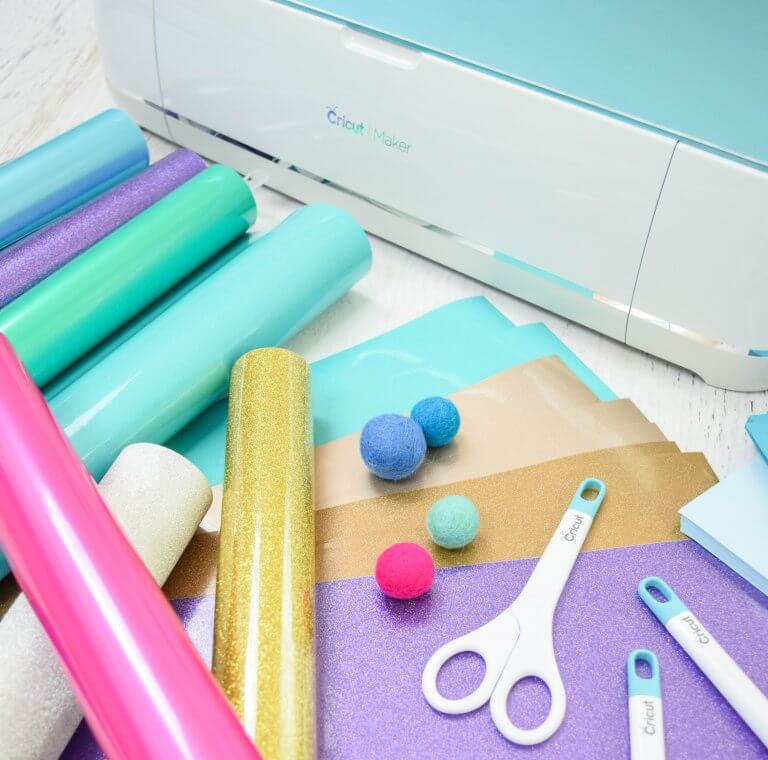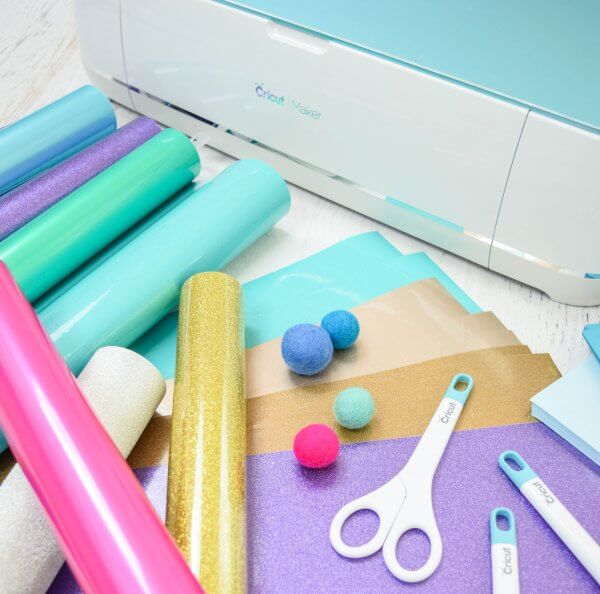 Every time I show off these fringe scissors in a video everyone wants to know where to find them! Most often I use these scissors for detailed flower centers.
Some of the best paper flower supplies are ones that you invent! This is a little trick to adding texture to the edges of your flower centers. I like to use this trick most often with my pompom center!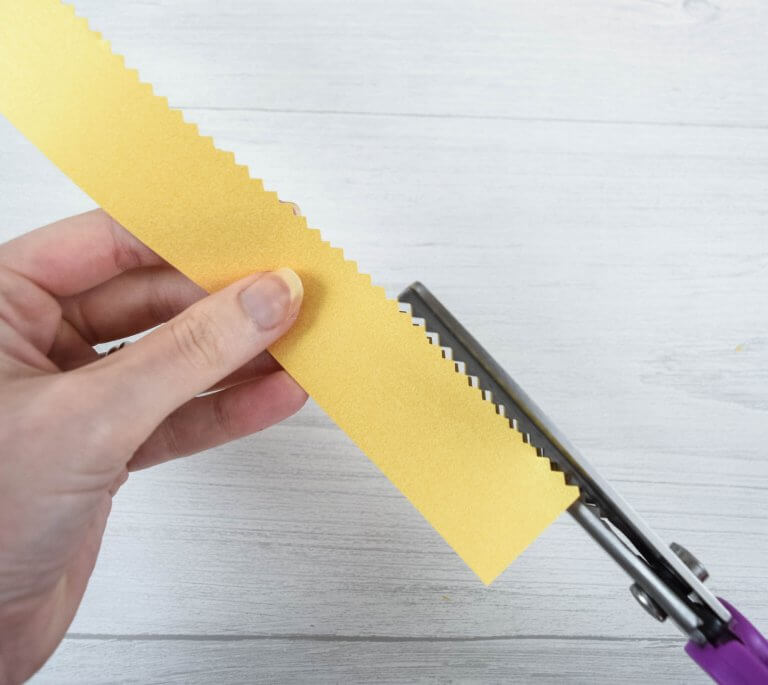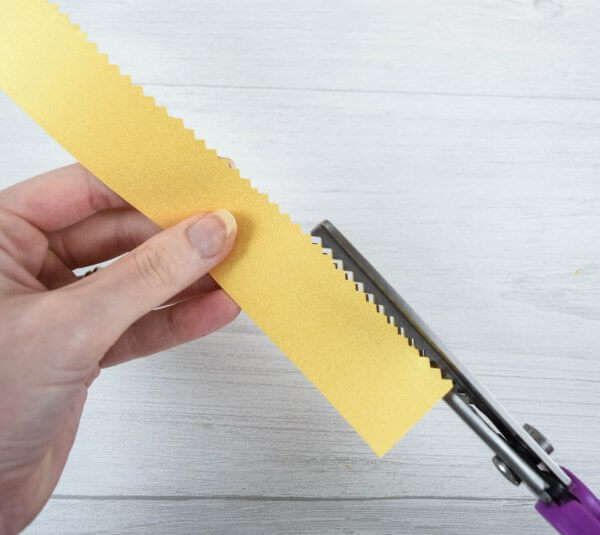 I didn't use to use detail scissors but after picking up a pair I realized how useful they are! Use these for correcting small cuts or adding intricate details.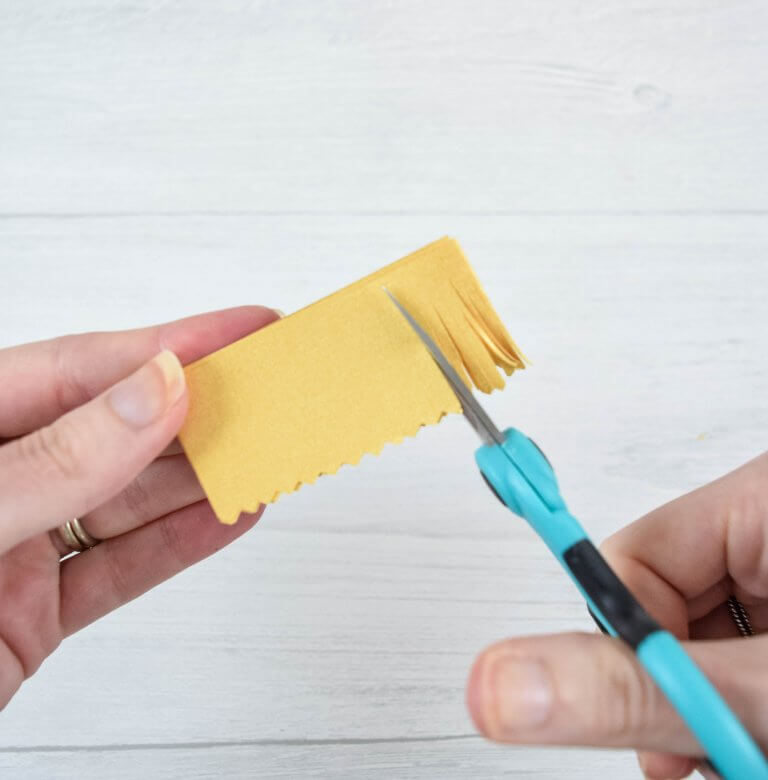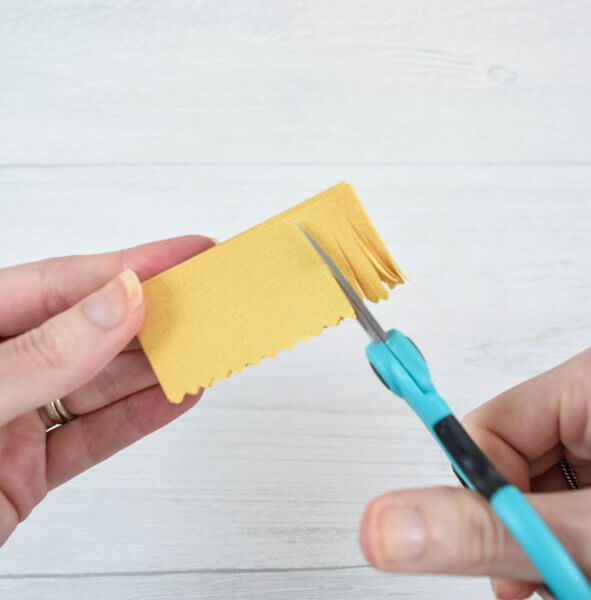 Paper Flowers – How to Curl and Shape Petals
Curing a paper flower petal is what makes the entire flower come to life. From a flat 2D piece of paper to a 3D blooming beauty jumping out at you, curling techniques are very key!
Here is how I make my paper flower easily bloom…
The first option I use most often is a thin wood dowel. Using a wood dowel is very effective in curling petals at angles. I usually opt for 1/4 – 1/2-inch wood dowels.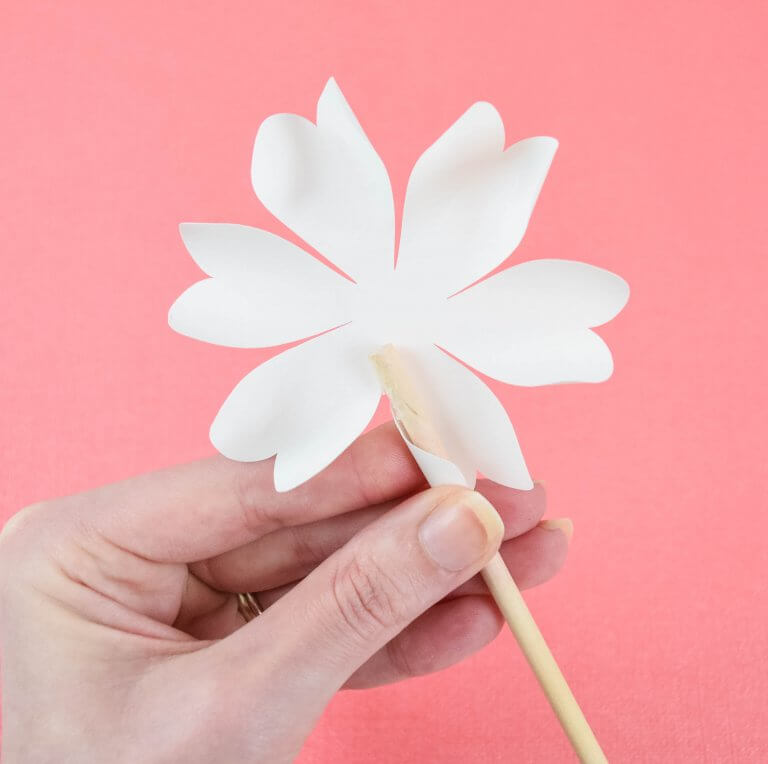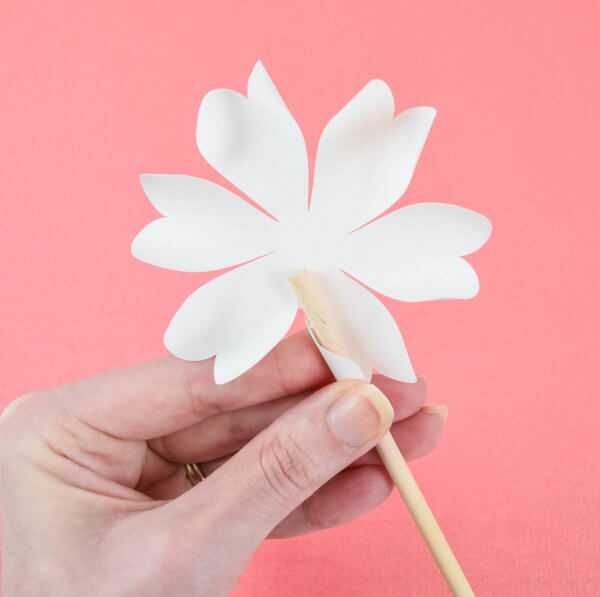 This is my absolute FAVORITE way to shape petals! The Paper Blooms shaping mat and toolset lets you cup petals, curl petals, add ridges and veins, and overall take your flowers to the next level!
If you want my secret weapon then this is a must-buy!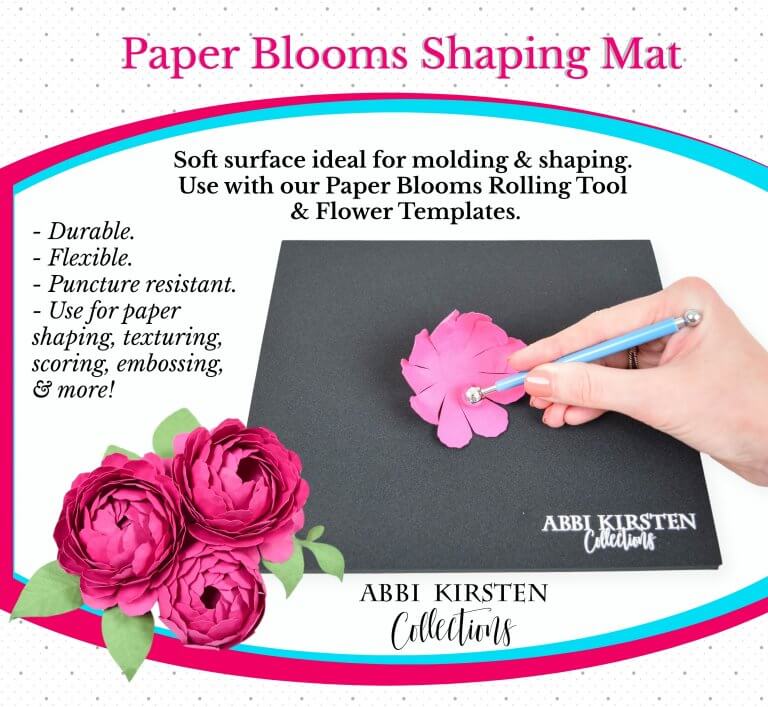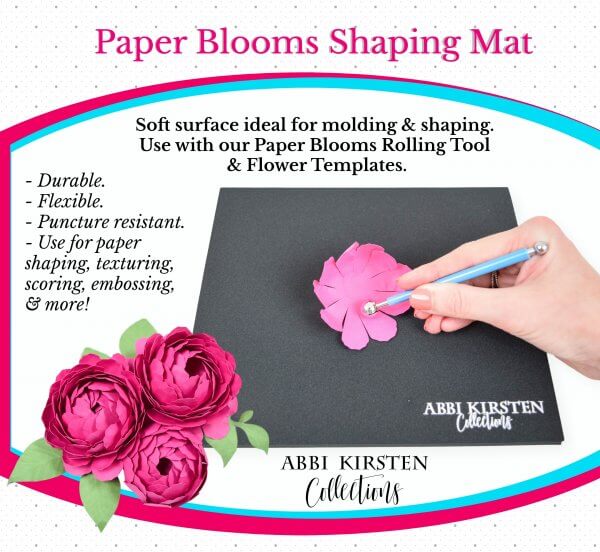 The last way I curl my petals or leaves is with a papercraft scraper tool. Since I use a Cricut machine I love the Cricut scraper here. This tool gives you the ability to curl crisp curves on leaves and petals quickly.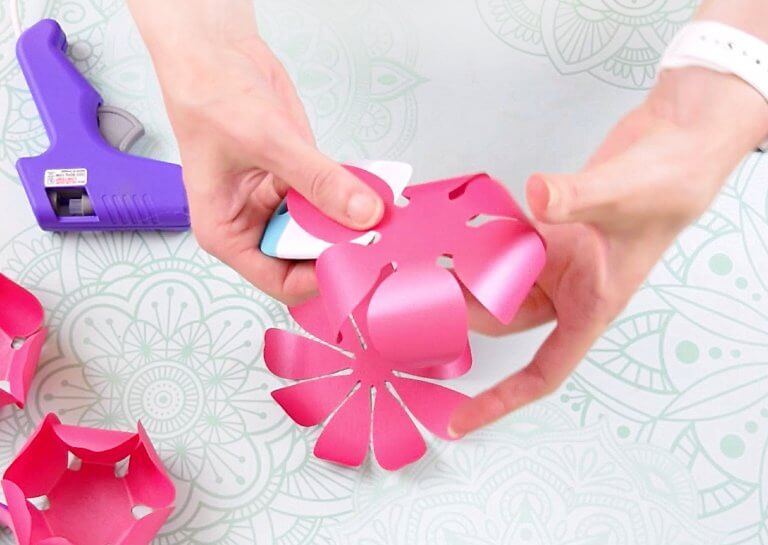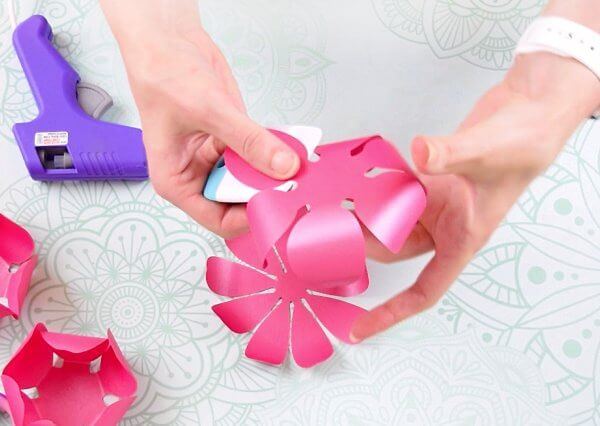 Quilling tools are perfect for helping you roll rosette flowers together in a flash! Take a peek at how I roll my flowers with these quilling tools on Instagram.
Paper Flowers – How To Distress Petals
If you really want to make your paper flowers look life-like consider adding some ink to the edges or centers. This step takes a little more time but is well worth the results!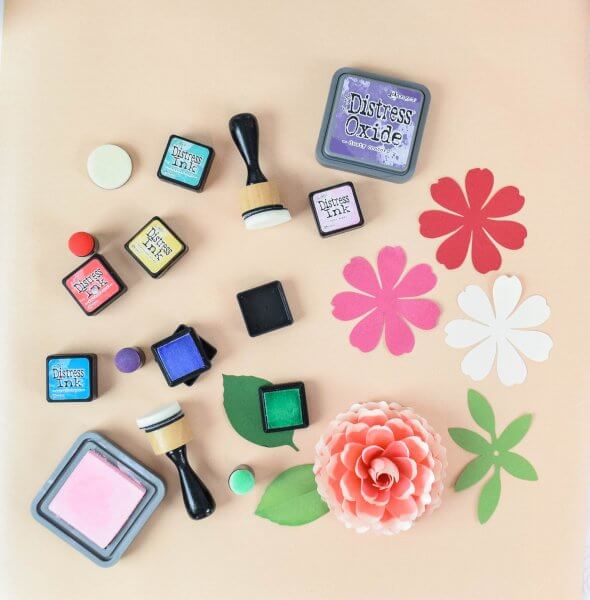 Using ink to distress my flower petals is usually my go-to option. There are so many great inks out there, but I highly recommend Tom Holtz ink and Color Box!
Pan pastels are a more recent discovery of mine. I love how easy it is to blend colors with the pastels. If blending is what you are after then pan pastels are for you!
Never underestimate the power of the pen! Pen and paints are a great option for dressing up any paper flower petal. Watercolors are the best for painting petals! Whether you want to free-hand some designs or have your Cricut draw some details onto a leaf, at some point be sure to give it a try.
The image below was a shared photo inside my Facebook group from a Grandmother who had her grandkids color the petals and then she built a flower out of it! Such an original idea and so beautiful!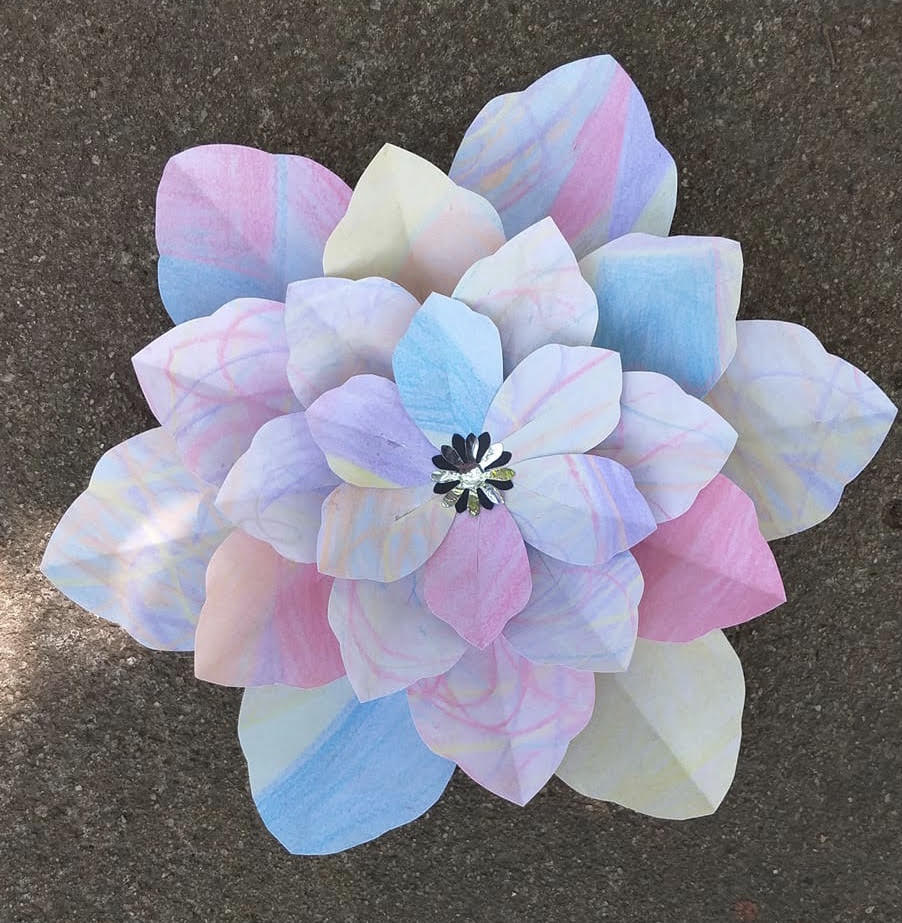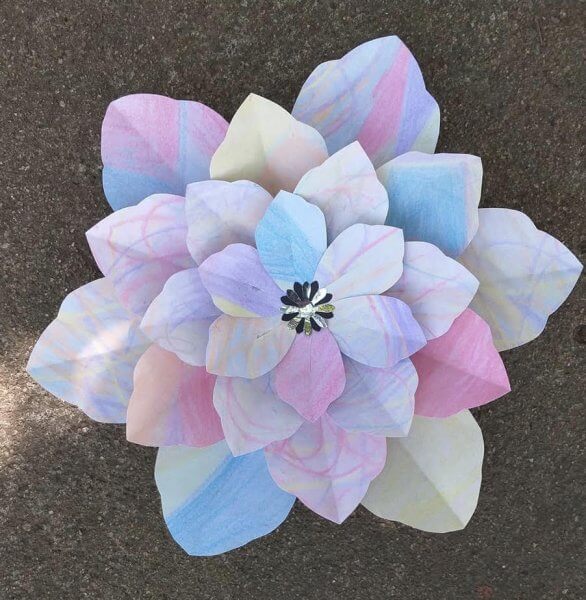 Paper Flowers – Other Materials
There are quite a few other necessary supplies for paper flower making. Let's cover those next!
Of course, we will need something to hold all those petals together! I always opt to use a glue gun because it holds well and dries quickly, which is exactly what you are looking for when you are making paper flowers!
It can be ideal to have both a larger and mini glue gun on hand for working with both giant and small paper flowers.
Occasionally there will be a paper type that hot glue may not agree with – this happens to me every once and a while with glitter or metallic paper. In that case, I love to use the Tacky glue brand! Dries clear and relatively quickly.
When it comes to stemming a paper flower, arranging them on a wreath, or in bouquets you need a reliable wire for your bloom. I have always been happy using 18-gauge wire. It is strong enough that your flower won't droop and flexible enough that you can bend it as needed. In some cases, you may need a thinner wire and I recommend 22 gauge wire.
To cover your wire with a more finished look opt for corsage tape in a variety of colors. Don't underestimate corsage tape – even the smallest details help bring flowers to life.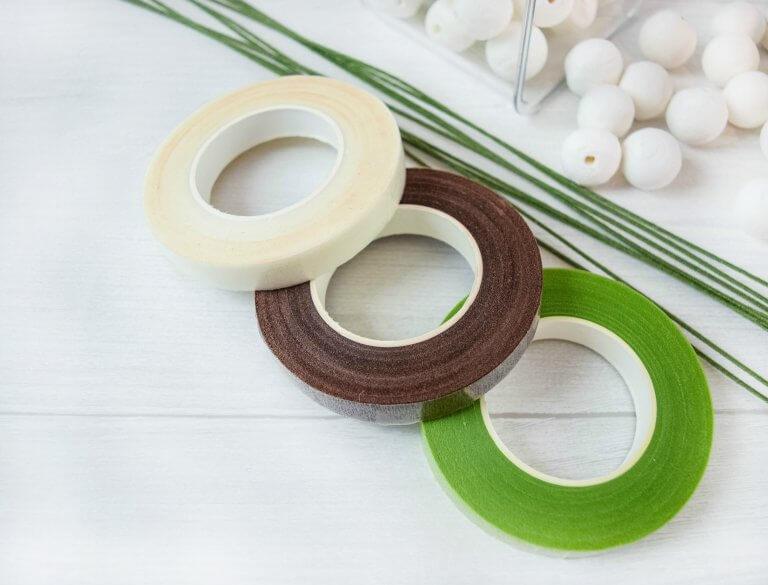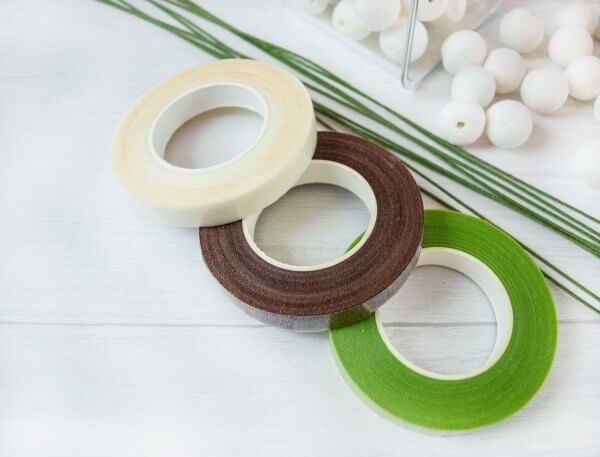 I love to find objects that I can use to build petals onto. Using these cotton spun balls and wood beads are perfect for detailed centers for flowers. I also have used 8-12mm pearls as stoppers on wires or to create small center stamen like this poinsettia here.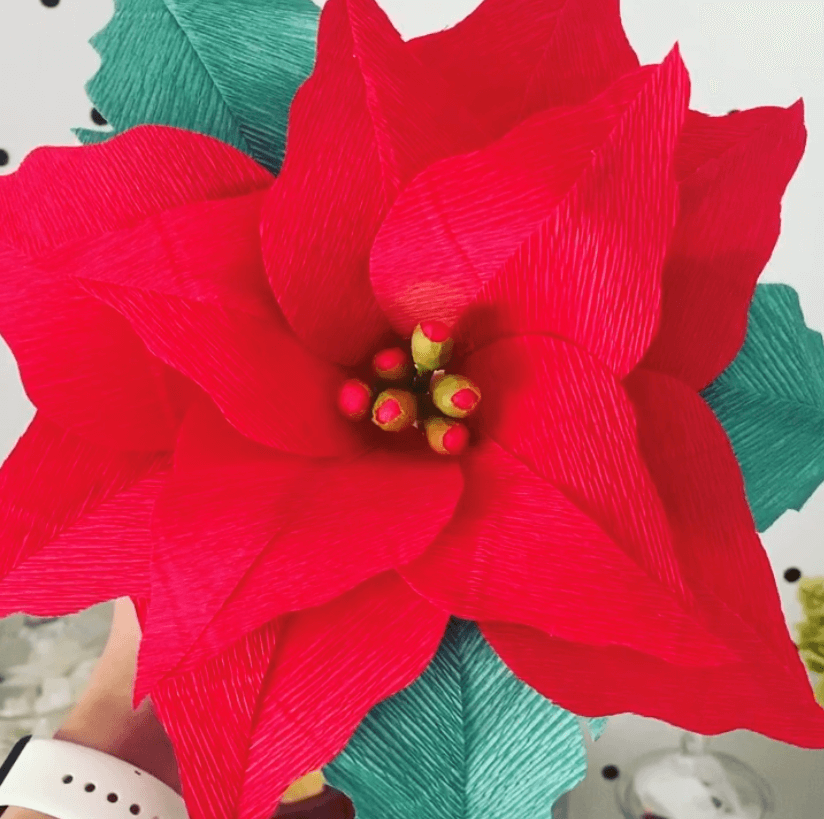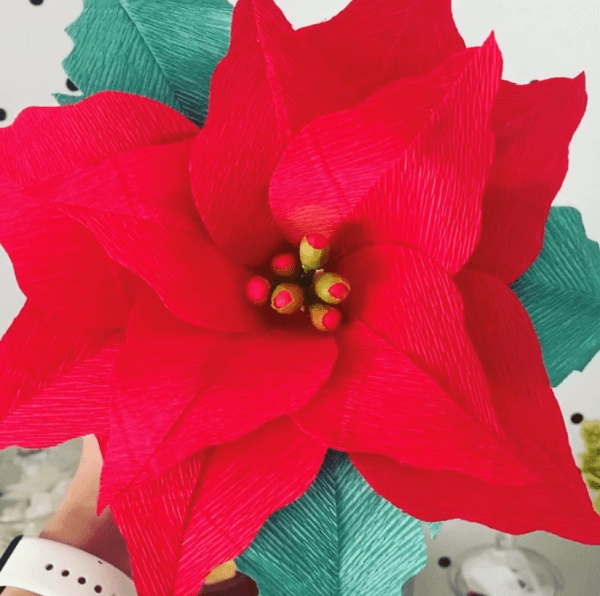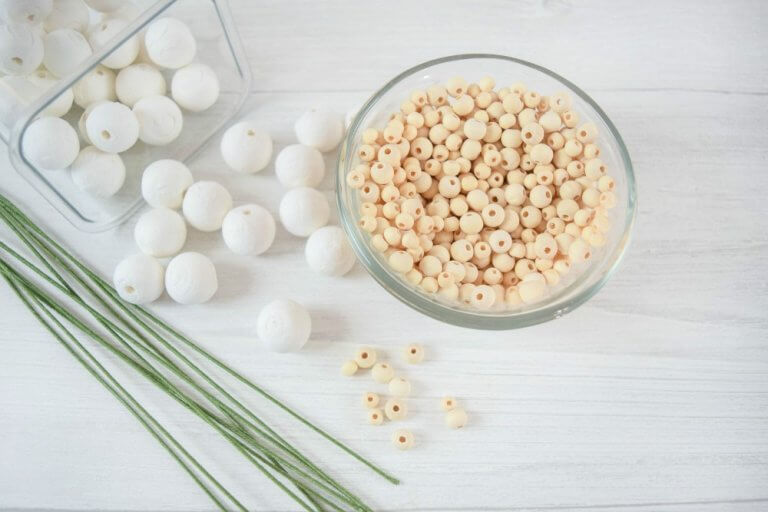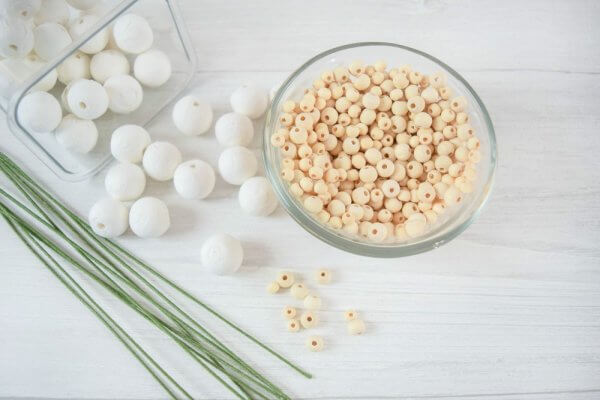 After creating your flowers, especially giant ones you may wonder how to hang your larger flowers – I've gotcha covered here!
All in all, the information I have given you above is what I use to create all the flowers you see on Abbi Kirsten Collections and you can totally create your own easy paper flowers with this guide.
I'd love to hear your thoughts, questions, or additional suggestions to add to the list!
Remember you can download and print this post for yourself!
Paper Flower Supplies – Arrangements and Bouquets
In addition to the supplies above, there are some other items that you may want for creating paper flower arrangements, bouquets, corsages, etc.
Pins are important when it comes to creating corsages and boutonnieres. To pin a boutonniere on lapels I like to use straight pins like these here. If you are working with a corsage you may want the option of a flat back pin that can be glued onto the back of your flowers and pin directly onto a dress.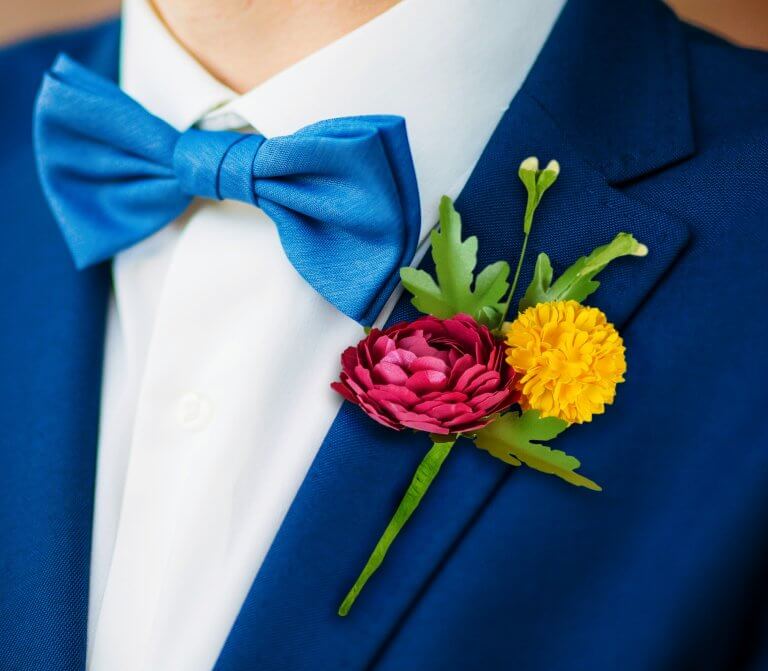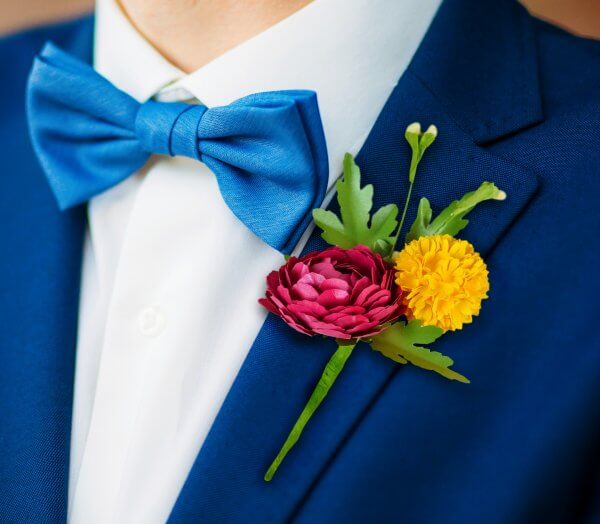 Okay, I know half of you are thinking did she just say, slap bands? Yes, slap bands – that's not a typo.
Slap bands work amazingly well for wrist corsages! This idea came to me when I was playing around with slap bands to hold my vinyl rolls together (an extra bonus idea for you!).
You can find inexpensive slap bands that can be wrapped in ribbon to dress them up and then glue your flowers right on top!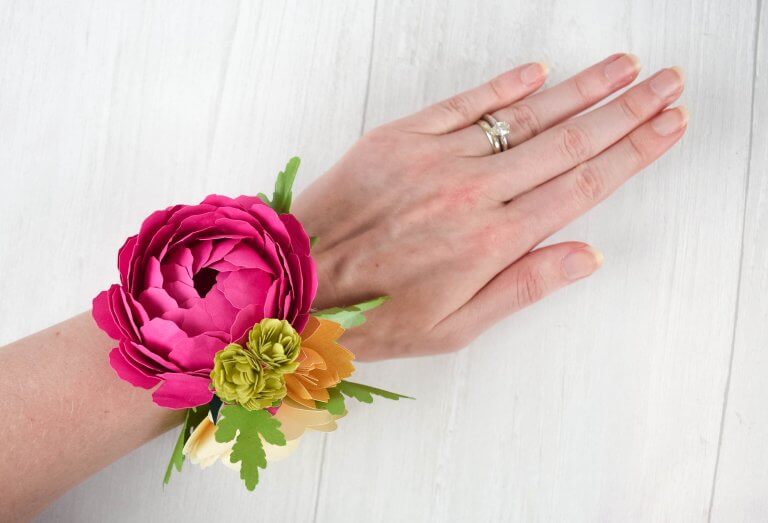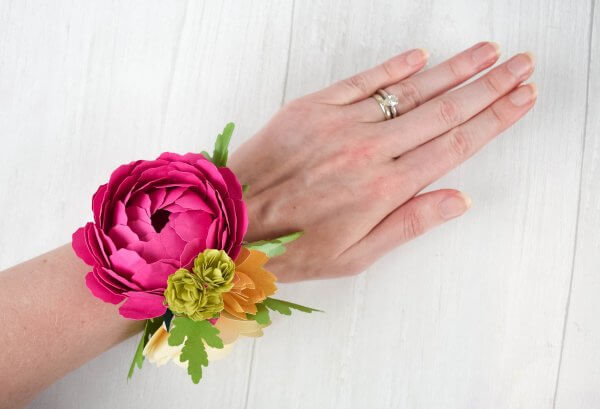 Where is there paper flowers there is ribbon! I LOVE to play with ribbon in my pictures and arrangements. I have one favorite source, Anastasia Marie Shop for specialty ribbon that really stands out.
We touched on foam and cotton spun balls above but you also may need larger foam balls when building a bouquet! I like to use an 8-inch foam ball for my bouquets but I have gone up to 10 or even 12-inch options for a bigger look. I always cut my foam balls in half for a more natural look.
In addition to foam balls, you may also want foam circles to stack inside vases or planters. This will help you arrange stems with support.
Creating wreaths with paper flowers is really fun. There are some different options for bases to build upon. The first option I like to use is a foam circle base.
As an alternative, you can also use a natural vine wreath or even embroidery hoops!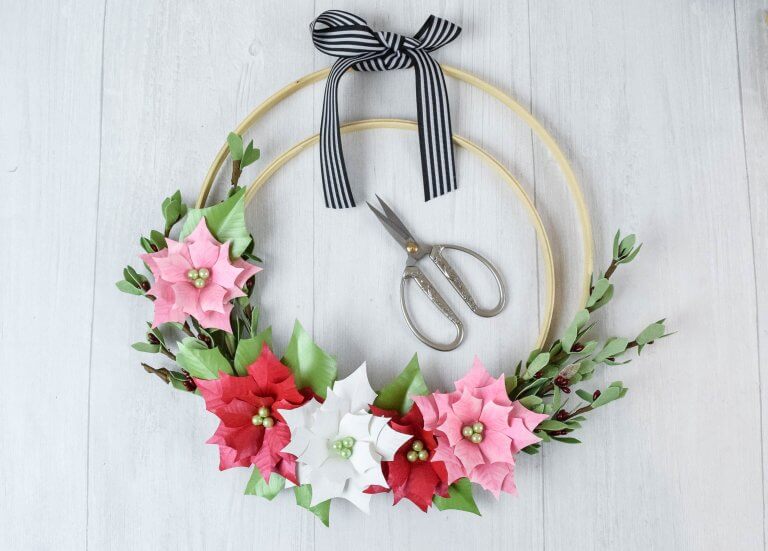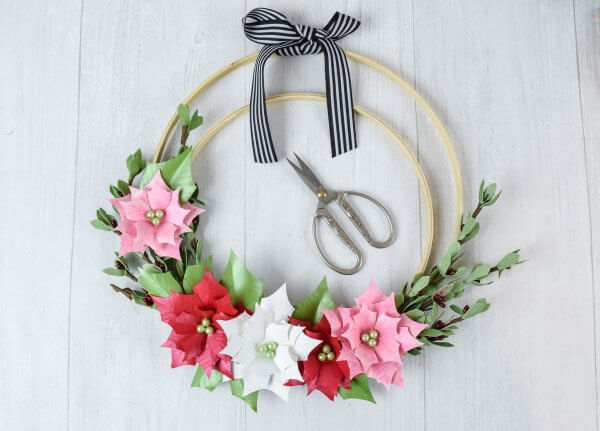 If you are building arrangements you will need vases. Vases can be found at home goods stores and craft stores but I also love and have bought several of these minimalist vases. Etsy also has some amazing vase options as well.
Vase fillers help your flowers stay stable and upright in your arrangements. Fillers can get expensive but I have found a few cheap alternatives.
First, when you need to just fill space, I recommend using foam beads (the kind you use for homemade slime) as vase fillers! This is a very economical option. You can also use some stone fillers.
More Crafts to Love
About Abbi Kirsten Collections
I have spent the last 8+ years building my creative skills and sharing them with others. My flower designs are created with simplicity, color, and crafty fun in mind. If you haven't yet be sure to join the subscriber community to gain access to all my freebies or visit my signature design shop here!
Want to join my Facebook community to share your crafts and learn from the best? Click here to request access to my group, Crafters and Cricut Lovers.
For further color crafts and inspiration, join me on Instagram & Facebook.